---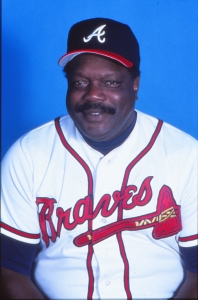 Long before launch angles, exit velocities, infield shifts, and OPS calculations, Clarence Jones taught the basics of hitting to some of the greatest players in Atlanta Braves history. Jones played 19 seasons of professional baseball as an outfielder-first baseman. Though his major-league career totaled 58 games with the Chicago Cubs, Jones won two US minor-league home-run titles and two more in Japan. In 1984 home-run king Henry Aaron, Atlanta's director of minor-league player development, hired Jones to groom hitters who helped produce the 1995 World Series victory, three National League pennants, and seven division championships from 1991 to 1998.
Jones emphasized patience, positive attitude, and mental preparation. "Stay back and be patient," he told the likes of Ron Gant, David Justice, Mark Lemke, and Jeff Blauser as he shepherded them as a hitting instructor from Class A to the major leagues. Gant needed to concentrate, work harder in the batting cage, and stop trying to pull every pitch out of the park, Jones recalled in 2019.1 In 1991 Gant became the Braves' first 30-home-run, 30-stolen-base player since Dale Murphy, whose trade to the Phillies made room for Justice. "I made him get up on the plate," Jones said. "They would try to sneak the ball inside and jam him and he would kill it."2 Justice hit 23 home runs after the 1990 All-Star break and won Rookie of the Year honors. Jones called Lemke and Blauser the best situation hitters on the 1995 team.3
Jones also stressed a positive approach. He told his pupils, "You've got two more" if they missed pitches or took a questionable strike. Teaching hitters to control their swing and hit to all fields produced confidence and results throughout Jones's Atlanta coaching tenure. After Jones told him to cut down on his swing, Dale Murphy socked eight homer runs over a two week-stretch in 1989.4 Catcher Greg Olson became a 1990 All-Star after Jones advised him to hit to right field more often.5 Center fielder Otis Nixon practiced putting the ball on the ground and hitting line drives up the middle every day ("If he hit it in the air, he came out of the cage," Jones said) and became a dangerous leadoff hitter.6
Mental preparation was the main thrust of Jones's coaching philosophy: Learn what pitchers throw in tight spots and be ready to hit with authority. "Most pitchers have command of one side of the plate," Jones said. "They go to that strength when they are in trouble. Once you learn that, you've figured out a lot of pitchers. If you're thinking too much, you don't see the ball. If you don't see the ball, you swing through it."7
Clarence Woodrow Jones was born in Mobile, Alabama, to Henry and Anna Pearl Jones on November 7, 1940.8 He grew up in Zanesville, Ohio, the fourth of 10 children – six boys and four girls.9 His father managed night clubs in Zanesville and Coshocton, Ohio, after working for the Zanesville sanitation department. His mother was a homemaker and worked part-time at an egg-processing plant. Clarence played football, basketball, and baseball at Zanesville High School with the goal of becoming a professional athlete. A fullback as a sophomore, Jones played tight end and linebacker in his junior and senior seasons, earning all-conference defensive honors in 1958, twice making a touchdown catch and an interception in the same game.10 He set a school record of 28 consecutive extra points and boomed kickoffs into the end zone.11 In his junior season, Zanesville's defending state champion basketball team lost in the semifinals in a battle of 24-0 teams.12
Jones's varsity baseball career featured a grand slam on May 1, 1958, at New Concord in a 14-0 victory.13 The Blue Devils lost in the Central Ohio League tourney finals, 3-0, Jones hitting a triple.14 That summer the Zanesville American Legion team won the 11th District Legion tournament. "PeeWee" Jones went 3-for-5 with three runs scored and an RBI triple. A week later, Jones homered in a first-round loss in the junior American Legion state tournament, played at Ohio State University. On a 1961 minor-league questionnaire, Jones typed, "I was proud to be part of a team that went to the State in baseball."15
After Jones graduated in 1959, a Philadelphia Phillies scout who had seen him in the Legion tournament signed him for $5,000. After playing three games for Class-D Johnson City (Tennessee) of the Appalachian League, Jones quit because of the discrimination in the Deep South. "I was the only black on the team; I couldn't go to theaters or hotels with the guys or eat with them in restaurants."16 Zanesville High School was 80 percent white and the students did everything together, Jones remembered. The ZHS Boys' Club Jones belonged to emphasized Christian living and good fellowship.17
In the fall of 1959, Jones enrolled at Santa Ana (California) College at the recommendation of Southern California head football coach Don Clark and played football and basketball, still hoping to make the pros. Jones studied criminology for two years and worked part-time at Sears Roebuck.18 In October 1960 Jones married Lorene Miller, whom he met on campus. Soon after, some friends encouraged him to try out for the Dodger Rookies, a team of high-school and college prospects. Jones met Dodgers hitting coach and manager of the Dodger Rookies Kenny Myers the Monday before the season opened. "He put me in the batter's box and I hit several line drives," Jones said. Myers told him he made the team. "In a week, he wanted to sign me (to a Dodgers contract)," Jones recalled. Jones wanted to finish the basketball season but the Dodgers gave him money and a new car. Jones dropped out of Santa Ana and played for the Rookies, then joined Myers at Vero Beach for Los Angeles Dodgers spring training.19
Jones said Myers taught players to use their hands and not try to pull every pitch. "He could show you and he could do it," Jones said of Myers, a 13-year minor leaguer who also batted left-handed. As the Braves' hitting coach, Jones adopted Myers' "show, don't tell" approach. "I could still do it and I would show them how to do it."20
Jones gained a power-hitting reputation at Class-D Kokomo of the Midwest League in 1961. Three of his eight home runs were grand slams against the Decatur Commodores. Decatur Herald and Review sports editor Forrest Kyle advised that Jones be walked with the bases loaded from then on.21 Later that season, Jones moved to Artesia, New Mexico, and hit nine homers in 36 games for Spider Jorgensen's Class-A Sophomore League team.22
In 1962 the Dodgers promoted Jones to the Great Falls Electrics of the Class-C Pioneer League. On April 23 his grand slam beat Billings 7-4 and won him a $75 suit and $5 in cash. On May 1 Jones hit a three-run homer off Clay Carroll to beat Boise. On July 1, Jones's grand slam against Idaho Falls traveled an estimated 515 feet at Legion Park. Jones set a new team home-run mark with his 21st on August 26, getting a handshake from the previous record-holder, right fielder Eddie Reed.23 In his first full season, Jones jolted 25 homers, drove in 89 runs and batted .280. He was determined to make it to the majors. "If you're a kid and you like what you're doing, after some time you get better and better," Jones said. "You have to want it and I wanted it." Jones called the Dodgers organization a "great family." Players helped each other and did everything together. "Naturally, you want to be like them," Jones said. "That made me want to be a major-league player."24 Jones's ambition was to play first base for the Los Angeles Dodgers.25
The Dodgers had other plans. Jones played left field for the Class-A Santa Barbara Rancheros of the California League in 1963 while teammate Wes Parker played first base. Jones hit 20 homers and batted .270, then joined Albuquerque of the Double-A Texas League for 12 games and hit two more homers. In 1964 Jones had an MVP season for the Salem (Oregon) Dodgers of the Class-A Northwest League, batting .344 with 33 home runs and a league-leading 120 RBIs. He also led the league with 114 runs scored, 168 hits, and 307 total bases. Topps Chewing Gum Co. chose Jones as one of 15 Minor League Players of the Year. He started in left field for the Class A West All-Stars and was voted the Northwest League all-star left fielder.26 On August 25 the man the local press called "Big Luke" set a new league record with his 31st home run. "Clarence Jones now ranks as the most productive slugger ever to wear a Salem uniform," the Salem Capital Journal crowed.27 The Dodgers and the Yakima Braves were .006 apart for the second-half title on September 3 but Salem's regular-season pennant winners missed the playoffs with a 7-6 loss to the Eugene Emeralds, Jones suffering an ankle injury stealing second base.28
Jones spent the fall of '64 with the Dodgers' Arizona Instructional League team, then joined Albuquerque for the 1965 season. He beat out future Cubs teammate John Boccabella for selection as the Texas League All-Star first baseman but lost a cow-milking contest to his Dallas-Fort Worth rival three weeks earlier. Afterward, Jones said the closest he got to a cow growing up in Zanesville was watching them from a car.29 Jones contributed 18 home runs, 79 RBIs, and a .281 average as the Dukes won the Texas League title.30
On November 29, 1965, the Chicago Cubs selected Jones in the Rule 5 draft. He played 26 games for Tacoma of the Triple-A Pacific Coast League before torn knee ligaments sidelined him for a month.31 In mid-June, Jones reported to Dallas-Fort Worth of the Texas League and hit 13 homers with 43 RBIs in 82 games. On July 5 Jones hit a tape-measure blast off Wayne Granger.32 Eleven days later, his two-run homer off Frank Funk spoiled a shutout and won the game.33 Jones repeated the trick against Danny Coombs on September 2.34
In the fall 1966 Arizona Instructional League, Jones played first base and drove in 28 runs for the Cubs, six more than Bobby Bonds of the Giants.35 In a March 8 intrasquad game, Jones homered off southpaw Bob Hendley and was hit in the helmet his next time up.36 On March 22 he homered off Gaylord Perry.37 After getting two hits against the California Angels, Jones said, "If the man (Cubs manager Leo Durocher) puts me at first base, I'll stay there."38 Durocher said, "The young man reminds me of Bill White in the field and I like the way he swings a bat," adding that Jones would platoon with future Hall of Fame first baseman Ernie Banks.39 Then Jones pulled a leg muscle and Banks got his job back.
Jones made the Opening Day roster and moved in with left fielder and future Hall of Famer Billy Williams, who called Jones "C." Jones recalled talking hitting with Williams nonstop from the house to the ballpark. Jones learned from Williams to take four pitches to see if he was over striding, dropping his hands, pulling his head, or not seeing the ball. On April 25 Jones got his first major-league hit, off Mets rookie Tom Seaver. On May 7 he hit a pinch-hit double with two outs in the bottom of the ninth off St. Louis ace Bob Gibson and scored the winning run on Don Kessinger's single. But a 4-for-22 start earned Jones a ticket back to Tacoma. He returned two months later and twice drove in Ron Santo in a 4-3 win at San Francisco. In late July, Jones went 7-for-20 on a road trip to St. Louis and Cincinnati as the Cubs fought to stay in pennant contention. He hit his first major-league home run on July 30, a two-run shot off the Reds' Gary Nolan.40
Defensively, Jones struggled as a right fielder in Wrigley Field, with its fierce afternoon sun angle and the wind off Lake Michigan. On August 1 he made a leaping grab of St. Louis catcher Tim McCarver's drive against the ivy in right-center but misjudged two fly balls that cost the Cubs a game against the Phillies. "He's willing to work and has the desire to play," said coach Pete Reiser, who hit countless fungoes to Jones every day. Reiser said Jones may have been afraid of having the ball hit to him. "You can't do that," Reiser said. "You've got to do the opposite – hope they hit everything your way and feel confident that you'll catch it." Jones sometimes flipped his glasses down too soon instead of shading his eyes with his glove until the ball got below the level of the sun. "I know you're not supposed to be thinking about anything else when you're at bat (but) I can't help it sometimes," Jones told a sportswriter.41 In 53 games Jones logged two home runs, 16 RBIs, and a .252 average. He said Durocher gave him "every opportunity in the world" to become a good major-league player, and "If I had been a good right fielder, I probably could have stayed there."42
In 1968 there was no room for Jones on the Cubs roster. Former Dodgers Lou Johnson and Jim Hickman and veteran Al Spangler roamed right field and Dick Nen backed Banks at first base. Jones responded with a league-leading 24 home runs for Tacoma. "You don't belong here," manager Whitey Lockman told him. "I'll do everything I can to get you out of here."43 Jones rejoined the Cubs in September and played his final major-league game on September 26, 1968, drawing a walk as a pinch-hitter against the Dodgers.
On January 9, 1969, the Cubs traded Jones, catcher Bill Plummer, and pitcher Ken Myette to the Cincinnati Reds for submarine-ball relief specialist Ted Abernathy, a two-time winner of the NL Fireman of the Year award. The Reds sent Jones to Indianapolis of the Triple-A American Association, where manager Vern Rapp told him he had to beat out Jim Beauchamp, who later coached with Jones in Atlanta. Jones hit 21 homers, tying Bernie Carbo for the team lead, Twelve circuit blasts occurred from July 7 to July 30 but Jones never got called to help Cincinnati in a five-team title chase in the NL West. "He didn't like me," Jones said of Rapp, who he said would not recommend him, though the Reds lacked left-handed power off the bench.
Jones once described himself as "one of baseball's real gypsies," estimating that he played professional baseball in 250 to 275 cities in his first 15 years, including eight minor-league stops, and eight seasons in Japan, where he won two home-run titles in the Pacific League and hit 246 home runs.44 Former major-league second baseman Don Blasingame, a player and then a scout for the Japan leagues, recruited Jones for the Nankai Hawks of Osaka. Former major-league outfielder George Altman – who filled in for Jones on the 1967 Cubs during his two-month demotion – let Jones stay in his house and gave him sound advice in dealing with Japanese umpires, who had wide strike zones. "The more you argue and complain, the worse they get," Altman told Jones. "They start calling you out on everything." Instead of arguing, Jones quit looking for inside pitches to pull over the right-field fence and started hitting to all fields, with excellent results. "Once you learn that," he said, "you come out on top."45
Jones estimated that half of his homers in Japan went to center or left field. In four seasons with the Hawks, he hit 132 home runs – never less than 32 in a season – but his best years were ahead. A salary squabble with Nankai led Jones to sign with the Kintetsu Buffaloes of Osaka in 1974. He became the first American to win a Japanese home-run title, pacing the Pacific League with 38, playing in all 130 games. He was a surprise All-Star selection because of his .226 average. Jones dropped to 29 homers in 1975 (his only season below 30 in Japan) but took another Pacific League home-run title in 1976 with 36 in 114 games. On May 31 Jones hit the 206th home run of his Japan career, breaking Altman's record of 205 (1968-1975).46
After an injury-plagued 1977 season with Kintetsu, Jones returned to California and became a booking agent for Redd Foxx Productions. (Former LA teammate Willie Crawford's wife was the firm's president.) Foxx hired Jones to serve as concierge, make hotel and travel arrangements, review scripts for the Sanford and Son television show, and book acts for Foxx and the company's 28-member troupe of entertainers. That included Foxx's Las Vegas nightclub shows. "Dean Martin, Frank Sinatra and Sammy Davis Jr. rented the Playboy Club for their parties," Jones recalled. In an interview published in the July 28, 1991, Los Angeles Times, Jones said the job "wasn't me. I had to wear a suit and tie (and) go to luncheons and parties." The job lasted six months and Jones left to play for the Aguascalientes Raileros in the Mexican League, with Willie Crawford as a teammate. They helped the Raileros ("railroad workers") win the 1978 league championship. Jones and Crawford homered off Cordoba's Diego Segui in game five of the second-round playoff series that the Raileros won in six games. They defeated the Union Laguna Algodoneros in the finals.
Jones chose not to return to Redd Foxx Productions ("He got mad when I quit"), but painful knees ended his playing career. Jones looked for jobs while enduring a custody battle with his first wife, Lorene, whom he divorced in July 1979. "She got the kids," said Jones, who spent summers with Clarence Jr. and Richard.
Jones got his dream job when the Braves hired him as a roving minor-league hitting instructor in 1984. In the middle of the 1985 season, he joined Atlanta to help manager Eddie Haas revive the offense. When the Braves fired Haas at the end of the season and hired Chuck Tanner, Jones was back in the minors, a move that would pay off in the future. Jones coached Ron Gant for three minor-league seasons in Class A, emphasizing hard work, concentration, and patience at the plate. In 1986 Gant logged 31 doubles, 10 triples, 26 homers, 102 RBIs, and 35 stolen bases as starting second baseman for the Durham Bulls of the Class-A Carolina League. "He had more ability than anybody we had," Jones recalled. "Big power, he could run, and he was fearless."47 Gant joined the Braves in September 1987 and placed fourth in the National League Rookie of the Year voting in 1988. Mark Lemke and David Justice spent 1986 at Sumter (Class-A South Atlantic League) in 1986 while shortstop Jeff Blauser batted .286 with 13 homers and 52 RBIs as Gant's keystone mate at Durham.48
On May 22, 1988, Atlanta general manager Bobby Cox fired Tanner – who had hired Jones as hitting instructor to improve the National League's worst offense– and four coaches. Cox, a Dodger signee and a teammate of Jones at Tacoma in 1966, named Russ Nixon manager, Jones as hitting instructor and first-base coach, and future Atlanta manager Brian Snitker as bullpen coach.49 Jones could show the players what he wanted. He threw at least 100 pitches of batting practice every day and wanted the ball hit right back at him. "You need to learn a lot of things on your own," Jones said. "They've got to get in the batter's box and learn to control their nerves. The ones who do that are successful." Jones said 90 percent of hitters in the minors are fastball hitters. "Once they start changing speeds (in the majors), that starts them thinking. If you think a little bit, the ball is by you. You have to know what you want to do."50
When Gant had a dismal 1989 season, Jones said, "He has enough power where he shouldn't be going up there looking to hit home runs. They'll come." The following season, Gant hit 32 home runs and stole 33 bases and batted .303. "He prepares himself mentally for every game now," Jones said. "He's learned that when you come up to the big leagues you have to work just as hard as or harder than you had to work to get here."51
Justice was "quick enough to hit anything," Jones said, "either the hard stuff or breaking pitches." Justice hit 21 homers in 1991, despite missing two months with back injuries. In 1993 his 40 homers led Atlanta to a franchise-record 104 victories. Lemke hit .450 in the first five games of the '91 World Series and became a folk hero.52 "He was just waiting to bust out with the whole world watching," Jones said.53 Blauser learned to use his hands and quick wrists and to attack the baseball. Patience helped Javy Lopez and Ryan Klesko become .300 hitters.54 Even the pitchers led off batting practice every day. "They could hit and bunt," Jones said. "Our pitchers played a big part in winning games, on the mound or in the batter's box."55
Jones let some players excel with what got them to the majors. "The kind of player who comes along once every 100 years," Jones said of 2018 Hall of Famer Chipper Jones, "he always hit the ball hard in the gaps." When struggling at the plate, Jones recalled, Chipper would call his father for help when in a slump. "If his dad can help him more than me," the coach told Cox when asked if the calls bothered him, "I take my hat off to him."56 Fred McGriff "could hit good pitching," Jones said. "He never got too excited." In 1996 the Braves may have gotten the entire package in center fielder Andruw Jones. "Andruw was a young player who really did understand what he was doing," Jones said. Andruw was a great high-ball hitter, Jones recalled, but was later told to lay off those pitches. "When you get into major-league baseball and take away what they do best," Jones said in 2019, "you're in trouble."57
At the end of the 1998 season, Braves general manager John Schuerholz asked Jones to return to Triple-A Richmond as hitting instructor. "It was not in my best interest to do that," Jones said. "I would die there, too." Don Baylor took over in Atlanta and Jones went to Cleveland, reunited with David Justice and coaching Manny Ramirez and Jim Thome. "He'd be the first one at the ballpark and the last one to leave," Jones said of Ramirez. Both worked hard and had time for the kids seeking autographs.58 Thome slugged 49 homers in Jones's final year as Cleveland hitting instructor and was inducted into the Hall of Fame in 2018.
After retiring from baseball, Jones traveled the world from Alaska to Rome, Europe to the Caribbean. He had two hip replacements, knee surgery, and surgery to remove a stomach tumor. Still in good health, Jones and his second wife, Daphne Galloway Jones, live in Greensboro, Georgia. They met in Richmond in 1988 when Braves coach Willie Stargell introduced them on a double date. They married in September 1989 with Stargell as best man.
In 2019 Jones expressed gratitude for his baseball life. "I loved being a hitting instructor," he said. "I had good people around me and people who tried to help me."59 His hitting philosophy could be a handbook of life lessons: Be patient. Be positive. Be prepared. Have fun and enjoy what you're doing. Anyone could buy into that.
Clarence Jones's two sons have traveled different paths and had successful careers. Clarence Jr., born December 2, 1965, in Orange County, California, played basketball for Oral Roberts University (1983-86) and Hawaii Pacific University (1986-88), earning first-team all-conference honors at both schools. After playing in Japan (1988-89) and Australia (1989-92), Jones tried out for Lenny Wilkens's Atlanta Hawks in 1993 and 1994. He coached high-school basketball six seasons in California. As of 2019, he coached high-school basketball at Lake Dallas, Texas, a few miles north of Dallas, and taught middle-school social studies.60
Richard chose Tuskegee Institute, later pursuing an acting career. Born in Kobe, Japan, on January 16, 1972, he has had roles in dozens of television series since 1993, starring in Judging Amy (1999-2005) and playing recurring or supporting roles in Girlfriends (2007) and The Rookie (2019). He is best known for his leading movie roles in The Wood (1999) and Why Did I Get Married? (2007).61
Sources
In addition to the sources cited in the Notes, the author consulted Baseball-Reference.com and Ancestry.com.
Notes
1 Author interview with Clarence Jones on June 20, 2019.
2 Author interview with Clarence Jones on June 24, 2019.
3Joe Strauss, "Point of the Order," Atlanta Constitution, September 19, 1995: E5.
4 Joe Strauss, "Murphy Power Surge: 5 Homers in 9 Games," Atlanta Constitution, July 28, 1989: F5.
5 Mark Bradley, "Olson's Selection an All-Star Story," Atlanta Constitution, July 6, 1990: E1.
6 Jones interview July 29, 2019.
7 Jones interview June 24, 2019.
8 Jones's passport issued in 2015 says he was born in Alabama on November 7, 1940. In an interview, Jones confirmed that he was born in Mobile.
9 Jones interview June 20, 2019.
10 "Wildcats Clinch Vital Tilt in Last Seconds," Zanesville (Ohio) Times-Recorder, October 18, 1958: 9; "ZHS Trips Lancaster by 35-0," Times-Recorder, November 1, 1958: 11; "4 Blue Devils On All-COL Team," Times-Recorder, November 22, 1958: 9.
11 Jones interview July 29, 2019.
12 "Tech Ousts ZHS, 53-47; North Tops Middletown," Times-Recorder, March 22, 1958: 1.
13 "1 Hitter for Steele; Philo Rolls," Times-Recorder, May 2, 1958: 29.
14 Zanesville Blanked in Finals," Times-Recorder, May 21, 1958: 13.
15 Z-Legion Captures Tourney," Times-Recorder, August 5, 1958: 11; "Local Legion Handed 4-1 Loss in Opening Game of State Tourney," Times-Recorder, August 12, 1958: 16; William J. Weiss, Baseball Statistics – Publicity, Pacific Coast League, Western League, Northwest League, California League, Pioneer League, Sophomore League, Arizona Instructional League, Questionnaire, January 27, 1961; Ancestry.com., Clarence W. Jones in U.S. Baseball Questionnaires, 1945-2005. search.ancestry.com/cgi-bin/sse.dll?indiv=1&dbid=61599&h=33917&tid=&pid=&usePUB=true&_phsrc=VrV59&_phstart=successSource; https://search.ancestry.com/cgi-bin/sse.dll?dbid=61599&h=69077&indiv=try&o_vc=Record:OtherRecord&rhSource=61599.  
16 Jones interview June 20, 2019.
17 Jones interview, June 20, 2019; "Boys' Clubs Instill Christian Living and Recognize Good Fellowship," ZHS 1957 Yearbook: 62-63.
18 Jones interview June 20, 2019; Weiss questionnaire.
19 Jones interview June 20, 2019.
20 Jones interview June 20, 2019.
21 "Minor League Highlights, Class D," The Sporting News, June 14, 1961: 39.
22 baseball-reference.com/register/player.fcgi?id=jones-001cla. Accessed August 11, 2019.
23 "Clarence Jones Blasts Terrific Grand Slam," Great Falls (Montana) Tribune, April 24, 1962: 10; "Jones Assures Victory With Three-Run Homer," Great Falls Tribune, May 2, 1962: 14; "Jones Hits Four-Run Homer 515 Feet to Pace Sparkies," Great Falls Tribune, July 2, 1962: 16; "Elects Lose 8-4 to League-Leading Billings in Weird Contest Here," Great Falls Tribune, July 31, 1962: 11; "Jones Sets New Club Homer Mark as Electrics Sweep Doubleheader," Great Falls Tribune," August 27, 1962: 13.
24 Jones interview June 20, 2019.
25 Weiss questionnaire.
26 "NYP Nabs Seven Spots on Class A Eastern All-Stars," The Sporting News, December 5, 1964: 43; "Minors' Standouts as Saluted by Topps," The Sporting News, December 5, 1964: 41.
27 "Dodgers Blast Broncs," Salem (Oregon) Capital Journal, August 26, 1964: 25.
28 "Title Hopes Shot," Salem (Oregon) Statesman Journal, September 7, 1964: 9.
29 "Spurs and Braves Land 4 All-Star Berths Apiece," The Sporting News, July 17, 1965: 47; "Quartet of Austin Players Named All-Stars," The Sporting News, September 18, 1965: 39; "Boccabella Milking Champ," The Sporting News, July 10, 1965: 35.
30 Carlos Salazar, "Albuquerque Ends 11-Season Drouth – Texas Loop Champ," The Sporting News, September 25, 1965: 33.
31 "Coast Clippings," The Sporting News, April 30, 1966: 36.
32 "Texas Twinklers," The Sporting News, July 23, 1966: 48.
33 "Spurs Wreck Funk's Bid," The Sporting News, July 30, 1966: 38.
34 "Texas League," The Sporting News, September 17, 1966: 40.
35 "Arizona Instructional League" and "Cactus Cuties" (Final Unofficial Averages)," The Sporting News, December 17, 1966: 41.
36 Edward Prell, "Charlie Metro Says Cubs Won't Finish 10th," Chicago Tribune, March 9, 1967: 15.
37 Prell, "Holtzman Routed as Gigon Comes Up a Hero," Chicago Tribune, March 22, 1967: 56.
38 Prell, "Cubs Jolted, 5-2, for 6th Loss in Row," Chicago Tribune, March 23, 1967: 88.
39 Prell, "The Lip Shows Patience with Cubs' Phillips," Chicago Tribune, April 1, 1967: 46.
40 Prell, "Cubs Win 8-4; Drop 2d Game to Reds, 3-2," Chicago Tribune, July 31, 1967: 58.
41 Robert Markus, "Clarence Jones Flees Cubs' Coffin Corner," Chicago Tribune, August 15, 1967: 51.
42 Jones interview June 20, 2019.
43 Jones interview June 20, 2019.
44 Robert Obojski, "12 Million Watched Japanese Baseball in '74," The Sporting News, January 4, 1975: 46.
45 Jones interview June 24, 2019.
46 "Names in the News," Los Angeles Times, June 1, 1976: 34.
47 Jones interview June 24, 2019.
48 baseball-reference.com/register/player.fcgi?id=blause001jef. Accessed August 20, 2019.
49 "Notebook N.L. West," The Sporting News, May 2, 1988: 15; Gerry Fraley, "Tanner Fired; Nixon's the One," The Sporting News, May 30, 1988: 28.
50 Jones interview June 24, 2019.
51 Raad Cawthon, "The Return of Ron Gant," Atlanta Constitution, July 12, 1990: E1.
52 baseball-reference.com/players/gl.fcgi?id=lemkema01&t=b&year=0&post=1#8-12-sum:batting_gamelogs_post. Accessed August 20, 2019.
53 Thomas Stinson, "Lemke Fights Tooth and Nail to Pinnacle," Atlanta Constitution, October 26, 1991: D14.
54 I.J. Rosenberg, "Total Recall: Former Braves Hitting Coach Clarence Jones," AJC, Atlanta.News.Now, September 2, 2015, ajc.com/sports/baseball/total-recall-former-braves-hitting-coach-clarence-jones/X7rvAIybJkWkvWmWdxonFI/. Accessed August 14, 2019.
55 Rosenberg, "Total Recall: Former Braves Hitting Coach Clarence Jones," AJC, Atlanta.News.Now, September 2, 2015.
56 Jones interview June 24, 2019.
57 Jones interview June 24, 2019.
58 Jones interview June 24, 2019.
59 Jones interview June 20, 2019.
60 Author interview with Clarence Jones Jr. on August 2, 2019.
61 thefamouspeople.com/profiles/richard-t-jones-44619.php. Accessed August 11, 2019.
Born
November 7, 1941 at Zanesville, OH (USA)
If you can help us improve this player's biography, contact us.
https://sabr.org/wp-content/uploads/2012/01/44-Jones-Clarence.jpg
1624
1072
admin
/wp-content/uploads/2020/02/sabr_logo.png
admin
2012-01-04 20:28:00
2021-02-10 16:40:04
Clarence Jones