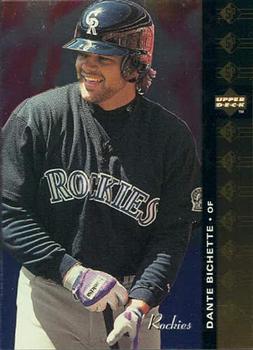 ---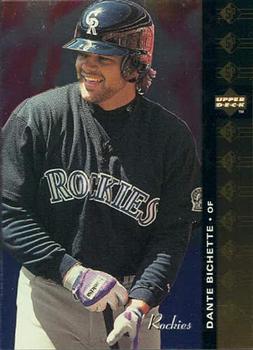 Dante Bichette is one of the most important figures in Rockies history. Though his major-league career began with the Angels, and included stints with the Brewers, Reds, and Red Sox, it was in Colorado that Bichette made a name for himself as one of the game's great sluggers in the mid-1990s.
Bichette holds a unique place in Rockies lore, having hit the first home run in franchise history and a game-ending home run in the first game at Coors Field, as well as becoming the first Rockies player to hit for the cycle.
What many don't know about Bichette, who was a four-time All-Star and hit 274 career home runs, is that he was unable to fulfill his full potential because of a knee injury that plagued him for much of his career. He was an avid student of the game, and there is much more to his story than the image of a free-swinging slugger in the hitter-friendly environment of Colorado.
***
Alphonse Dante Bichette was born on November 18, 1963, in West Palm Beach, Florida, to Maurice and Mary Bichette. He was named for his father's brother, who drowned in a storm as a child.
Bichette was one of seven children (three siblings from his father's first marriage, and three — two sisters and a brother — from the marriage of his mother and father) and grew up in Palm Beach Gardens. Bichette's father worked in construction, and his mother owned an antique shop.
Bichette first became enamored with baseball a month shy of his 10th birthday, when he watched on television as Reggie Jackson hit a two-run home run for the Athletics in Game Seven of the 1973 World Series against the Mets.
"For me, that was pretty much the goal after that," said Bichette. "To hit homers for a living."1
Bichette asked his parents if he could play baseball, and the next day his father took him to the local Little League field, where he signed up for the Juno Park Braves team. He pitched that very day.
The next year, Bichette was coached by Hondo Wilkes, who would become a lifelong influence, even after Bichette reached the major leagues.
When Bichette tried out for the baseball team at Jupiter High School as a sophomore, he didn't make it. He tried out again the next year, and made the team, though he mostly came off the bench. In his senior season, he played shortstop and hit four home runs in four games before being suspended for missing too many days of school.
After high school, Bichette, with Wilkes accompanying him, went to Palm Beach Community College to seek a tryout. Wilkes spoke with the head coach, Frank Cacciatore (who would later become a minor-league coach for several organizations). Tryouts had been completed, and Cacciatore said he needed only a catcher.
"So Hondo said, 'That's what he is, a catcher,'" recalled Bichette. "I'm 17 years old, and caught maybe twice in Little League. And this is a nationally ranked junior college."
Cacciatore told Bichette to show up at the field at 4 o'clock the following morning, during the team's "Hell Week," for two hours of running laps. Bichette did so, and Cacciatore allowed him to try out during a scrimmage later that day.
Bichette, as would have been expected, did not play well behind the plate. But in his two at-bats that afternoon, he lined out to left and homered. The home run is still spoken of at Palm Beach Community College; it hit the light standard in left field, landing on the adjacent racquetball courts. The prodigious power display landed Bichette a spot on the roster.
With Palm Beach Community College, among other smaller schools, competing against schools like the University of Miami and the University of Florida back then, major-league scouts began to take notice of Bichette's power.
First-year California Angels scout Preston Douglas was one of them, and being new to the area, he was given a list of players he didn't really know.
"He told me that when he got his list of players to see, I was 50th of 50 on the list," Bichette said. "I was just a real raw player at that point. I still hadn't played any serious baseball — Little League, high school, then junior college."
The Angels drafted Bichette in the 17th round of the June 1984 amateur draft, 424th overall. He reported to his first professional camp, which was held on the campus of California State University at Fullerton.
Bichette's first taste of professional baseball was at short-season Low-A Salem, Oregon. The jump from community-college baseball to the professional level was a big one.
"The game was just so fast, and it was every day," said Bichette. "I was sleeping on a basement floor, not even a bed that year. I was eating at Burger King every day. I didn't even have a ride to the ballpark. Those growing pains that a lot of young players go through aren't so much on the field, but how to live off the field."
In that first season, Bichette batted .232 with 4 home runs in 64 games. He played Class-A ball in 1985 at Quad Cities, Iowa, seeing an improvement in his performance at the plate: He batted .265 with 11 home runs in 137 games.
At Class-A Palm Springs in 1986, Bichette hit .272 with 10 home runs and 73 RBIs in 68 games.
"When I first started really understanding things was in Palm Springs," Bichette said. "I really found my niche as an offensive player: It was driving in tough runs. It was something I ended up doing my whole career.
"I played for a great coach, Tom Kotchman, who is also a Hall of Fame scout now. He was just good for me. I remember I was a week into that [1986] season, I had just swung at a bad pitch with the game on the line, and we lost the game. But I was hitting like .360, and I didn't think much of it. And the hitting coach, Rick Downs, comes in the clubhouse and said, 'You're not moving any higher than right here until you learn to swing at strikes.'"
It was then that Kotchman saw a rare opportunity, and gave Bichette some homework: to read The Science of Hitting, by Ted Williams.
"For player development, you need 'good cop, bad cop,'" Kotchman said. "It's not often you get to be the good cop as a manager. It was a chance for me to do that, and it was a book that, it's not like it's some guy you don't know. It was freaking Ted Williams."2
To that point in his life, Bichette had only his raw talent to guide him, while many of his contemporaries had been exposed to such instruction far earlier in their baseball careers.
"That was the first time in my life that I really started to understand that there was more to hitting than just trying to hit this next pitch over that light over there, or over that scoreboard," Bichette said. "It's the first time I went to a two-strike approach, hunting pitches, reading pitchers, picking up release points."
Midway through the 1986 season, Bichette was promoted to Double-A Midland, where he put up even better numbers: .284 (.335 on-base average, .514 slugging average), with 12 homers in 62 games. By the start of the 1987 season, Bichette was at Triple-A Edmonton in the Pacific Coast League.
"When I got to Triple A, I scuffled a little bit because I was told my mechanics were off," Bichette said. "That's where it took me about two years to realize that I've got to coach myself, and there's gonna be too many opinions out there to listen to everybody."
Even with his early struggles in '87, Bichette managed to finish the season with a .300 batting average, with 13 home runs in 92 games. In '88, he hit .267, with 14 home runs in 132 games for Edmonton.
Then came September of that season.
"Tom Kotchman was my manager again at Triple A; he was kind of moving up the chain as well," Bichette said. "He called me in and told me. I'm glad he was the guy. He just said, 'Hey, you're going to the big leagues.' Just like that. I was stunned."
On September 5, Bichette made his major-league debut as the Angels played the Royals in Kansas City. He entered as a defensive replacement, going in at center field to start the bottom of the seventh inning.
"I remember going into the game, and the crowd was chanting, 'Roo-kie! Roo-kie!'" Bichette said. "I couldn't feel my body from the neck down, I was so nervous."
Bichette's first major-league plate appearance came in the top of the eighth. With a runner on second, two outs, and the Angels leading, 3-2, he stepped into the box against veteran left-hander Charlie Leibrandt. Leibrandt got Bichette into an 0-and-2 hole, and Bichette then flied out to Bo Jackson in deep right field.
Bichette got an opportunity in spring training the following year. With outfielders Chili Davis and Claudell Washington both hurt, he stepped in and hit .367 with four homers.3 He impressed Angels manager Doug Rader enough that he wound up making the big-league club out of spring training.4
Bichette got off to a blistering start in the 1989 regular season, hitting .385 and slugging .731 in 29 plate appearances through April 22. But his performance then began to decline steadily, and he was hitting just .195 by June 14. He was sent down to Edmonton a few weeks later, and hit .243 with 11 homers in 61 games before being called back up in September.
Once Bichette returned to the Angels that September, his minor-league days were behind him. And once again, he got off to a hot start at the plate to start the 1990 campaign. Having put on about nine pounds of muscle over the offseason through a weight training regimen, he was hitting .302 with four home runs on May 11.
That day, the Angels traded for future Hall of Fame right fielder Dave Winfield.
"It was frustrating," Bichette said. "My year was pretty much part-time after that."
Bichette finished the 1990 season batting .255 with 15 home runs in 371 plate appearances.
"I think what it came down to was that, for Doug Rader, I wasn't his guy," Bichette said. "I was a little too much of a free swinger. I'd try to throw behind runners, throw everybody out. And I think he wanted more of a polished player at the time. But sometimes that's what you get with the young guys."
That offseason, Bichette was traded to the Brewers for 39-year-old designated hitter Dave Parker. Bichette had proved he could hit at the big-league level, and Milwaukee needed to bolster its outfield defense, having committed 28 outfield errors in 1990.
In Milwaukee, Bichette put up similar numbers in 1991, though his average was down somewhat. He batted.238 with 15 home runs in 134 games.
"I made one of the biggest mistakes of my career in '91," said Bichette. "When [Brewers manager] Tom Trebelhorn came to me after spring training, he said, 'I don't care how many times you strike out. What I want from you is 20-25 homers and 75-80 RBIs. And you'll be good. I don't care what you hit for average.'
"So I made the mistake of getting off my two-strike approach and by the All-Star break, I was hitting like .230 [actually .236] with 12 homers and 40-something RBIs. Right on pace for what they wanted. And they took my job away. I wasn't mature enough at the time to question it. I just got pissed, as a young player would do, and wouldn't talk."
That offseason, something happened that would affect the rest of Bichette's career, perhaps precluding him from being regarded as one of the best all-around players in the game some years later.
"I was playing flag football, and I intercepted a ball and I was trying to make a cut," Bichette said. "And I went right and my knee went left, and it swelled up on me. I didn't think anything of it; I just thought it would heal, like a sprained ankle. About two months later, my knee's still about as big as my head."
Bichette called the Brewers, and they flew him in to have his left knee scoped by the team physician. After being evaluated, he was told he had torn the anterior cruciate ligament (ACL). The injury would hamper him for the next six seasons.
"The injury actually helped me offensively by shortening my stride so I didn't jump at the ball," Bichette said, "but slowly but surely it hurt me defensively."
To that point in his career, Bichette had not been an everyday player, and had few opportunities to demonstrate his defensive ability. But according to Kotchman, a major-league scout for three-plus decades, Bichette had the raw tools to be a great defensive outfielder.
"I'd have to sit down and go through my rosters over the past 30 or 35 years to see if I had anybody that had as much of a five-tool raw package as him," Kotchman said.
Kotchman described Bichette's raw range in the outfield as "solid-average to plus," noting that while he needed refinement on his routes, he had a rocket for an arm and the underlying tool set to potentially become a Gold Glove outfielder.
Bichette was never able to fully reach his potential defensively because of the weakened left knee; lateral movement wasn't as much of an issue for him, but his ability to make the necessary cuts to chase fly balls was diminished.
"The reason I didn't have it reconstructed that year is because I waited too long and would've had to miss a season, and I couldn't afford to miss a season then," said Bichette. "And I ended up playing seven years without an ACL."
In 1992, Bichette's batting average climbed, while his power declined. Once again a part-time player, he hit .287 for the Brewers, but with only 5 home runs in 387 at-bats.
"To hit homers, you have to play every day, and I never was the everyday player that season," said Bichette. "But I did get back to my two-strike approach. The .287 batting average was actually because I slumped at the end. I was around .315 most of the year."
Bichette's stint in Milwaukee lasted just two seasons, but a relationship he developed in that period proved to be perhaps the most important of his career, and one of the most important in his life off the field.
Don Baylor was the Brewers' hitting coach in 1990 and '91. And the 1979 American League Most Valuable Player saw potential in Bichette that Bichette didn't know was in him.
"Don Baylor pulled me over one day, and he said, 'You don't realize how good you are. When you figure this league out, you're gonna run this league,' Bichette recalled. "I had never had anyone talk to me like that before."
Baylor was named the first manager of the Colorado Rockies, one of two expansion teams to debut in 1993, along with the Florida Marlins.
On November 17, 1992, the Rockies traded outfielder Kevin Reimer, whom Colorado had selected from the Rangers in the expansion draft the same day, to the Brewers in exchange for Bichette.
"I was the guy he wanted," Bichette said. "I didn't realize he believed in me that much."
On April 5, 1993, as the Rockies prepared to play the New York Mets at Shea Stadium in the franchise's first-ever regular-season game, Baylor penciled Bichette into the number-3 spot in Colorado's batting order. It would be only the second time in Bichette's career he had started a game batting third in the lineup.
While the Rockies were shut out by Dwight Gooden and the Mets on Opening Day, Bichette would make history in the next game. In the seventh inning, he belted a solo home run to left field off two-time Cy Young Award winner Bret Saberhagen. It was the Rockies' first home run and first run scored.
In a career-high 581 plate appearances during the 1993 season, Bichette posted the best offensive numbers of his career, batting .310 with 21 home runs, 14 stolen bases, and a 117 park-adjusted on-base plus slugging percentage (OPS+). With the league average OPS+ set to 100, Bichette was 17 percent above average at the plate even considering he played his home games in the thin air of Denver.
That year was monumental for Bichette off the field, as well. He married his wife, Mariana, in 1993 after they had dated for two years. Baylor was a central figure in bringing the two together.
When Baylor and Bichette were together with the Brewers in 1991, Milwaukee was in Boston to play the Red Sox for a three-game series in May. Bichette's routine while in Boston was to work out at a Gold's Gym across the street from Fenway Park, just behind the Green Monster. After taking early batting practice before one game, he walked over.
"I walk in, and this girl is walking away from me. And she turns around, and I'm thinking, 'Wow. I could marry this girl,' Bichette recalled. "I never said anything to her. I was too scared."
Bichette walked back to Fenway, where he saw Baylor.
"I said, 'Don, I just saw a girl I could marry.' And he said, 'Did you ask her out?'" Bichette remembered. "I told him I didn't, that I was too scared."
Baylor made Bichette walk back over to the gym and ask Mariana out. They celebrate their 25th wedding anniversary in 2018.
"God bless him. I owe Don Baylor a lot," said Bichette of his friend and former manager, who died on August 7, 2017. "He was put into my life for a reason."
That offseason, Bichette's salary more than tripled, from $230,000 to $735,000, as a settlement after Bichette filed for salary arbitration.
In 1994, Bichette turned in another strong campaign, albeit shortened by the strike that canceled the season in mid-August, as well as the postseason. Bichette hit .304 (111 OPS+) with 27 homers and 21 steals in 116 games, earning his first career All-Star selection.
The Rockies combined to go 120-159 (.430) in their first two seasons, but set a single-season major-league attendance record in 1993 (4.48 million, which remains a record as of 2018) and drew another 3.28 million to Mile High Stadium in the strike-shortened '94 campaign.
Meanwhile, construction of a new ballpark was underway in Lower Downtown Denver. Coors Field was scheduled to open the following season, but only after the strike ended.
Bichette's contract had expired at the end of the '94 season, and he was a free agent. That November, the Rockies made Bichette a three-year, $10 million contract offer, which he declined. There were no further developments on contract negotiations that winter, and Bichette began weighing an offer to play in Japan.
The Rockies, meanwhile, signed free-agent right fielder Larry Walker, who was coming off a career year for the Expos (.322, with 19 home runs in 103 games). At that point, having been Colorado's everyday right fielder the previous two seasons, Bichette figured his time with the Rockies was at an end.
"It was really a frustrating time," Bichette said. "We were working on a multiyear deal, and they weren't serious about it. At the last second, the only reason I signed back with the Rockies was Don Baylor called me personally, and I owed Don Baylor. He gave me the opportunity to play. There was no way I wasn't coming back to play for him when he called."
The strike ended in late March of 1995, and the regular season began in late April. The mood at 20th and Blake Street, site of the Rockies' new ballpark, was celebratory when the gates officially opened on the evening of April 26.
That night, the Rockies hosted the Mets. At first pitch, 5:38 P.M. Mountain Time, the temperature was 42 degrees.
In a seesaw affair, the teams were tied, 7-7, going into extra innings. In the 13th, each team scored to push the contest into the 14th. In the top of the 14th, Joe Orsulak's RBI double put the Mets on top, 9-8, setting the stage for one of the greatest finishes in Rockies history.
Rockies catcher Joe Girardi singled to open the bottom of the 14th, with the game now well into its fifth hour. Walker came to the plate next, and struck out. First baseman Andres Galarraga followed with a groundball that Mets third baseman Tim Bogar misplayed. With runners at first and second and one out, Bichette strode to the plate.
He faced left-hander Mike Remlinger, and worked the count to two balls and a strike. The game was nationally televised by ESPN, with Jon Miller providing the play-by-play, and Joe Morgan providing color commentary.
"Two and one to the dangerous Dante Bichette," Miller said as Remlinger came set. The next pitch leaked out over the plate, and Bichette hammered it.
"A high drive, way back, and there's the storybook ending for the Rockies!" Miller exclaimed as Bichette's blast landed halfway up the bleachers in left-center field to send Colorado to an 11-9 victory.5 Immediately after making contact, Bichette dropped his bat with a flourish, turned toward the home dugout and pumped his right fist as he began his trot around the bases.
"It could've been the World Series for me," said Bichette. "It probably was, for me. It was the most exciting homer I hit in my career. It was so exciting to open the new stadium like that."
The way Bichette dropped the bat after hitting the iconic homer became a signature move of his, but it wasn't premeditated.
"The name of that is 'the Shucky Ducky,'" said Bichette. "(Teammate) Marvin Freeman gave it that name. He'd say, 'OK, go and Shucky Ducky one for me here.'"
Bichette was an avid foosball player, beginning when as a boy he played at his older brother's fun and games shop at the mall. He even toured the country a notch below the professional level during the offseason of the strike year.6
"The signature shot is a move similar to my home-run swing," Bichette said. "The next time I picked up a bat, and hit a homer, I just reacted exactly like I did on a foosball table. It was the weirdest thing."
Opening Day in 1995 was a sign of things to come for the Rockies and, in particular, Bichette. That season became Bichette's finest, and he helped lead Colorado to its first postseason berth via the new wild-card position.
Bichette batted .340 with 40 home runs in 139 games, finishing second to Reds shortstop Barry Larkin in that season's National League MVP voting.
But by the middle of that season, many observers dismissed Bichette's surge as largely due to his home ballpark, and the mountain air that enables baseballs to travel farther.7 Those detractors had plenty of ammunition: By July 24, all 17 of his home runs on the season had come at Coors Field.
"It was totally getting in my head," Bichette said. "I didn't even realize it until the media got ahold of it, and man, the next thing I know, Don Baylor wants me to talk to a sports psychologist. It was like, 'Oh man, I better figure this out.'"
From that point forward, nine of Bichette's remaining 23 homers in the season came on the road, beginning with a five-day binge on the very next road trip, during which he hit three.
"It's so easy to be good in Coors Field, and it's so difficult to make that adjustment to go on the road," Bichette said. "When you go on the road and see a good breaking ball for the first time in two weeks [because of how the elevation flattens breaking balls at Coors Field], by the time you start getting used to it, you go back home and it's a vicious cycle.
"And playing at altitude is a drain on the body, there's no doubt about it. You get dehydrated, and you can never get loose."
Like any other player who spends most of his career playing home games in the altitude of Denver, Bichette's offensive statistics can be deceiving. But that goes for both home numbers and road numbers.
"I'm not saying I'm as good as my Coors Field numbers. Heck, nobody's that good," said Bichette. "But I'm not as bad as my road numbers were, either. I was somewhere in between. I felt like I was a .300 hitter, a 25-30 homer, 100-RBI guy. I didn't have the plate discipline to do more than that. If I had the plate discipline, I really could've been something with the power numbers."
With Bichette, Walker, Galarraga, and third baseman Vinny Castilla, the Rockies had four players in the middle of their lineup in 1995 who hit more than 30 homers, joining the 1977 Dodgers as the only major-league team with that distinction (Steve Garvey, Reggie Smith, Dusty Baker, and Ron Cey). Collectively, they came to be known as the Blake Street Bombers, a reference to the Blake Street address of Coors Field.
Bichette actually coined the term along with then-Rockies radio broadcaster Wayne Hagin. Hagin said it was really Bichette's brainchild.
"We got to Coors Field, and anytime the Rockies did anything late in a ballgame, I would use the phrase 'LoDo magic' (for Lower Downtown Denver)," Hagin said. "But I do recall in the clubhouse, talking with Dante, and I remember him saying, 'We need to come up with something.' And Dante was just a creative sort."8
The quartet of sluggers helped lead Colorado to a 77-67 record in the shortened season, earning the franchise's first postseason berth. Castilla remembered that time fondly, as well as the work ethic he saw in Bichette.
"He was in the cage every day for hours and hours," said Castilla. "He was always in the media room checking out all the pitchers. It's not easy to hit 40 home runs, man. I don't care if you're hitting in Little League or the majors. We did a couple of times. It was a lot of fun to celebrate that together and be teammates back then."9
The Rockies faced the Atlanta Braves in the 1995 NL Division Series, which meant facing the best starting rotation in baseball. It also meant facing a powerhouse that had reached the World Series twice in the previous three seasons (not counting '94, when there was no postseason), but had yet to win a championship.
In a best-of-five series, with a 2-3 format in which the lower-seeded Rockies hosted the first two games, Coors Field was electric for Game One on October 3, the first postseason game in franchise history. Colorado lost Game One, 5-4, and Game Two, 7-4.
As the scene shifted to Atlanta-Fulton County Stadium, Game Three was tied, 5-5, entering the 10th inning. With two outs and nobody on, Bichette doubled to left field off Braves reliever Mark Wohlers. Walker was intentionally walked, and Galarraga followed with a single to score Bichette. The Rockies won, 7-5, in 10 innings.
In Game Four, the Braves gave the ball to the best starting pitcher of the decade, right-hander Greg Maddux. The future Hall of Famer had won three consecutive NL Cy Young Awards, and was on the precipice of winning his fourth straight. Though the Rockies would lose that game, and the series, it was Maddux who was on the mound when Bichette's signature postseason moment took place.
With two on and one out in the third inning, Bichette stepped to the plate against Maddux in a scoreless game.
"The first pitch was a sinker inside that was a total ball that the umpire called a strike," Bichette recalled. "Most pitchers won't get that strike, but Greg Maddux gets that strike.
"I stepped out, and I'm thinking to myself, 'If he threw that pitch to get me out, I'm in trouble. But if he threw that pitch to set up the breaking ball away, I can hit that pitch. And I thought a little more: If Greg Maddux is gonna throw the breaking ball away, he's gonna hit the glove four to six inches off the plate and get the call."
The next pitch was a breaking ball just off the plate, away. Bichette lined it deep down the right field line and over the fence for a three-run homer.
Overall, Bichette hit .588 (10-for-17) with three doubles and that home run for the series. Four of the hits came off Maddux, and three apiece came against John Smoltz and Tom Glavine. The trio of Braves hurlers combined for seven career Cy Young Awards, and each is in the Hall of Fame.
Bichette referred to the at-bat against Maddux as "a Ted Williams at-bat." Ever since being presented with Williams's The Science of Hitting instructional for the first time in 1986, Bichette devoured the book every year, as he did with numerous other instructionals on hitting.
It was in February of 1996 that Bichette first met Williams, at the annual Ted Williams Hitters Hall of Fame dinner in Citrus Hills, Florida. Bichette was one of a handful of contemporary hitters invited to the event, which was held to honor new inductees Josh Gibson, Chuck Klein, Harmon Killebrew, Duke Snider, and Willie McCovey.
Williams quizzed Bichette, asking him questions about how to approach certain pitches and how to deal with slumps at the plate.
"He's only been around a few years," Williams told columnist Hal Bodley afterward. "He knows how he has to hit. I asked him a lot of questions. He answered them all. I've asked 500-home run hitters about inside-out hitting and they haven't answered as well."10
Williams invited Bichette to breakfast at his home the next day.
"I got to spend an hour with Ted in his kitchen, just me and him," Bichette said. "It was the neatest thing ever."
Following Bichette's big 1995 campaign, the Rockies signed him to a three-year, $11.1 million contract. When he arrived three hours late to the first full-squad workout in February of 1996, with shoulder-length hair that was in violation of Baylor's dress code, Bichette was viewed by some as having become smug after finishing runner-up in the MVP voting.11
Bichette had missed a flight to Arizona, resulting in the tardiness. And the haircut wasn't new, nor was the controversy over it.
"My haircut was always an issue when I came to spring training," Bichette said. "The long hair was a little taboo back then. Baylor wasn't about to put up with that. He asked me to cut it, and I cut it, no problem."
Bichette also struggled in that spring training, further emboldening his critics.
"I've gotta admit," Bichette said, "that spring training, I was absolutely burned out, because the year before, I absolutely grinded. I could never get up for the games in spring training [in '96]. And going into the regular season, a lot of people were pissed at me. It wasn't players or anything, but I had some people really kind of frustrated. And then by the All-Star break, I was hitting [.335]."
Bichette had a stellar first half in '96, even better than his first half during the prior season. By the All-Star break, he was batting .335 with 17 home runs and 14 steals. He was voted an All-Star for the third consecutive year, and for the first time as a starter.
Bichette not only put up big numbers at the plate in '96, he also stole 31 bases in 43 attempts to join the 30-home run/30-steal club. And he did so despite his left knee.
"I was still fairly fast straight on," Bichette said. "With an ACL tear, you can accelerate but you can't decelerate, and you can't cut left or right. But the reason I was able to steal bases was I had really strong legs to get a good jump. The first two or three steps were good, and I took pride in reading pitchers."
The Rockies finished the '96 season with a record of 83-79, third place in the NL West. That offseason, Bichette would finally have reconstructive surgery on his left knee.
Bichette's production at the plate dipped somewhat 1997; he posted a 103 OPS+, his lowest park-adjusted OPS since being traded to the Rockies. Colorado finished with an identical record and standing that season, at 83-79 and third place in the division.
Bichette bounced back in 1998, leading the majors with 219 hits and raising his OPS+ to 108, but his power numbers were down: his 22 homers were the fewest he had hit in a single season since 1993 (21).
"I got big that offseason (entering spring training at 263 pounds), but every bit of weight I put on was fat," Bichette said. "I got to camp and I realized I was way too fat. And by the time the season started, I was at 244, which was pretty much around my usual weight."
By the end of April, Bichette was red-hot, hitting .415. But he had only homered once.
"I'm thinking, 'This ain't OK,'" Bichette recalled. "But then I started thinking, 'OK, what's going good? I'm hitting .387 [by May 4]. So I just beared down and decided to see how many hits I could get."
In August of 1998, Denver Post columnist Mark Kiszla had his Rockies credentials removed after he was seen taking a bottle of supplements out of Bichette's locker. The supplements were androstenedione, the same used by Cardinals slugger Mark McGwire as he broke Roger Maris's single-season home-run record of 61 with 70 homers that season.12
Kiszla saw the bottle in Bichette's locker a week after Associated Press reporter Steve Wilstein noticed a bottle of the supplement in McGwire's locker, sparking a national story over whether his pursuit of the record was tainted.
Though the fallout over the McGwire story really wouldn't come for several years, Bichette would come to a crossroads in his own career shortly after.
"I'm no saint. I would've done the steroids very quickly, with no hesitation," Bichette said. "Because so many people were doing it and they were making gazillions of dollars and putting up huge numbers. And it was getting to the point where something's gonna come to a head, and you're gonna have to do them if you're gonna play in this game.
"So I was looking for a way to compete, and tried the androstenedione. It was legal at the time, I got it at GNC. And it didn't help me any. I tried my best, but it was getting crazy. McGwire was freaky large. And Sammy Sosa, I'm not sure he plays any longer and then I saw him that spring and it's like, 'Whoa, this is crazy.'
"Someone actually gave me the steroids, and my wife said, 'Absolutely not. I'm not going to be married to a druggie.'"
Bichette finished the '98 campaign with a .331 batting average and a career-high 48 doubles. He earned his fourth All-Star selection in five years, and on June 10 against the Rangers at Coors Field, he became the first Rockies player to hit for the cycle. After starting the game 0-for-2, he doubled, homered, tripled, and hit a walk-off single in the 10th.
That September, Bichette signed a three-year, $21 million extension with the Rockies.
But the 1999 season would be Bichette's last in Colorado. He batted .298, hitting 34 home runs in 151 games. That September, Dan O'Dowd, who had been the assistant general manager for the Cleveland Indians, took over as Rockies GM.
O'Dowd said that offseason that he wanted the Rockies to become "more athletic and more versatile."13 Bichette waived his no-trade clause and accepted a trade to the Cincinnati Reds on October 30. In exchange, the Rockies received right-hander Stan Belinda and outfielder Jeffrey Hammonds.
"The honeymoon was over," Bichette said of the situation in Colorado. "It was just a little different feel at that time. That was Don Baylor's final year, too. I had no reason to stick around."
Bichette was traded to Cincinnati at an exciting time for that franchise. The Reds would soon acquire one of the best all-around players of his generation in center fielder Ken Griffey Jr, whom the Mariners traded to Cincinnati the next February.
Hitting cleanup for Cincinnati, behind Griffey, Bichette batted .295 with a 103 OPS+, with 16 homers in 125 games. With the Reds out of postseason contention, they traded Bichette to the Red Sox on August 31, in exchange for minor-league pitchers John Curtice and Chris Reitsma.
Bichette put up those impressive numbers with Cincinnati despite a slow start: Through May 19 (40 games), he was hitting just .213. From May 20 through August 31, when he was traded, Bichette batted .331 with 11 homers.
Bichette produced in his lone month with Boston that season, batting .289 with seven homers in 30 games. The Red Sox finished 2½ games behind the Yankees in the AL East, and missed the postseason. In 2001, Bichette posted a 104 OPS+ with 12 home runs in 107 games for Boston.
With the Reds and Red Sox, Bichette played his home games closer to sea level. He didn't have to contend with the effects of leaving the thin air of Denver to play on the road, and the toll it took on his body.
Over those final two seasons, at age 36 and 37, Bichette hit .291. While some might argue that he was playing his home games in the hitter-friendly Cinergy Field and Fenway Park, his park-adjusted OPS was 104. During his seven seasons with the Rockies, Bichette's road OPS was .734. Over the final two seasons of his career, it was 37 points higher.
After the 2001 season, Bichette still felt, as evidenced by his production, that he had more in the tank. He signed a minor-league contract with an invitation to spring training with the Dodgers.
But just prior to the beginning of the regular season, Bichette made the decision to retire from professional baseball.
"I kind of saw that my time was gonna be reduced with the Dodgers, and I had just missed my oldest son's first home run in Little League," Bichette said. "I just pulled off to the side of the road on my way to a spring-training game one day, and said to myself, 'Why am I playing now?' I wanted to be with my boys. I didn't want to miss any more home runs."
Bichette became the coach for his oldest son Dante Jr.'s Little League team, guiding it all the way to the semifinal round of the Little League World Series in 2005.
"That was the coolest thing I have ever done in baseball, period," said Bichette.
Both of Bichette's sons, Dante Jr. and Bo, were in major-league farm systems in 2018. Dante Jr., a corner infielder, signed a minor-league contract with the Rockies in December 2017. Bo, a middle infielder, was the Blue Jays' number-2 prospect per MLB.com.14
Bichette served as the Rockies' hitting coach in 2013, but decided not to return the following season because he wanted to continue coaching his boys.
"It's been a blast, and it's allowed us to really develop our relationship even further," he said. "I can't tell you how precious it is to me that I have that relationship with them. I'm glad God blessed me with kids who love baseball, and I can pass that on to them."
Bichette passed to his sons a baseball legacy that is founded on a passion for the game.
"You know, I tried to model my game after my father," said Bichette, who never spent a day on the disabled list. "I never remember my dad missing a day's work. And he was always there when it counted. I felt like I was a clutch hitter, and came through with an at-bat when the team needed it."
The league batting average with two strikes during Bichette's career was .188. His average in that situation was 31 points higher. In "late and close" situations, defined by Baseball-Reference.com as seventh inning or later while tied, ahead by one or with the tying run on deck, Bichette batted .301.
Bichette was also at his best against the game's elite pitchers. He hit .478 (11-for-23) against Roger Clemens, .381 (8-for-21) against Trevor Hoffman, .327 (17-for-52) against Glavine, and .319 (15-for-47) against Maddux.
After a 14-year major-league career, Bichette passed the torch to his sons. But as one of the Blake Street Bombers, he is revered in Colorado for his place in Rockies history.
"I was blessed with a really quick bat and great hand/eye coordination," said Bichette. "I was never a five-tool player, but I had all five tools at some point in my career. I'm thankful that Colorado is where I got my opportunity. If I got my opportunity somewhere else, maybe it would've been different. But that's where I got my shot, and I had to make the most of it."
Last revised: March 1, 2018
This biography originally appeared in "Major League Baseball A Mile High: The First Quarter Century of the Colorado Rockies" (SABR, 2018), edited by Bill Nowlin and Paul T. Parker.
Notes
1 Personal interview conducted with Dante Bichette, October 16, 2017. Unless otherwise indicated, all quotations attributed to Bichette are from that interview.
2 Personal interview conducted with Tom Kotchman, December 5, 2017. Unless otherwise indicated, all quotations attributed to Kotchman are from that interview.
3 The Sporting News, April 3, 1989: 21.
4 Tom Singer, "Bichette Gets Reprieve," The Sporting News, March 27, 1989.
5 youtube.com/watch?v=TVFO_BhUOHk.
6 Tim Kurkjian, "Mere Child's Play," Sports Illustrated, July 3, 1995.
7 Greg Guss, "Bichette Happens," Sport Magazine, June 1996
8 Personal interview conducted with Wayne Hagin, December 15, 2017.
9 Personal interview conducted with Vinny Castilla, June 20, 2017.
10 Hal Bodley, "Idol Talk: Bichette, Williams Hit It Off," USA Today, February 28, 1996.
11 Tracy Ringolsby, "Bichette Eager to Lighten Mood at Rockies' Camp," Rocky Mountain News (Denver), February 24, 1996.
12 Rod Beaton, "Columnist Caught Raiding Bichette's Locker," USA Today, August 12, 1998.
13 "Reds-Rockies Trade: Bichette Is Dealt to Cincinnati," Associated Press, October 31, 1999.
14 toronto.bluejays.mlb.com/mlb/news/prospects/index.jsp?c_id=tor.
Born
November 18, 1963 at West Palm Beach, FL (USA)
If you can help us improve this player's biography, contact us.
https://sabr.org/sites/default/files/BichetteDante.jpg
600
800
admin
/wp-content/uploads/2020/02/sabr_logo.png
admin
2018-02-20 10:52:59
2020-04-09 14:40:23
Dante Bichette