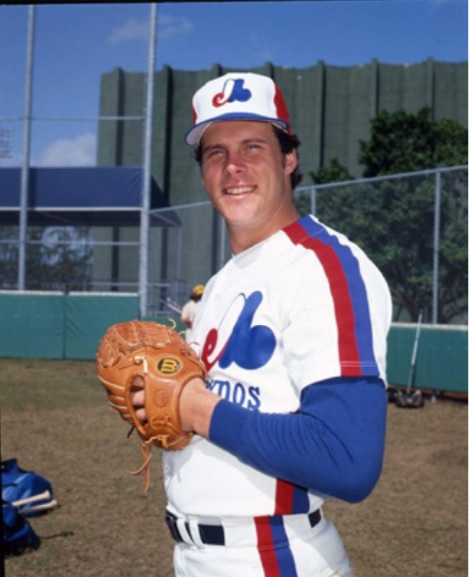 ---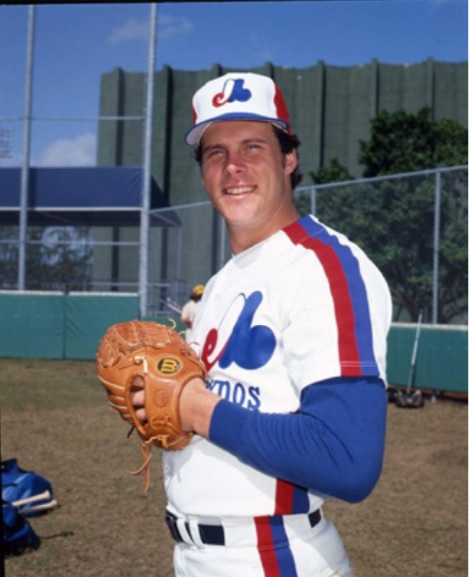 David Palmer was an example of local boy makes good. Sort of.
Palmer, who played for the Montreal Expos, Atlanta Braves, Philadelphia Phillies, and Detroit Tigers, used to make the 3½-hour drive to Montreal from his hometown of Glens Falls, New York — which is halfway between Montreal and New York — to watch the Expos play at Jarry Park. On September 9, 1978, he became a player that other people from Glens Falls drove up to see.
"I don't know that I ever pitched a game in Montreal where family, coaches, and classmates and friends weren't there," said Palmer. "That made it so much more special to be able to share with the people I grew up with and the people who helped to influence my life and career."1
David William Palmer Jr. was born on August 19, 1957, the second of six children born to David Palmer Sr. and Gwen (Lewis) Palmer. His father was a corrections officer and his mother was a nurse. Although his father never played baseball because of a childhood illness, he coached Palmer all through his formative years.
"He coached my first Little League game and he coached my last amateur American Legion game," said Palmer. "Other than high school, he was the only coach I ever had."2
Palmer played all positions in his younger years before finally pitching full-time. He pitched for the Glens Falls High School Indians, where future major leaguer Dave LaPoint was a teammate and, it seems, a rival.
Coach Pete Davidson "had me and Palmer together," said LaPoint. "The competition we had between ourselves was better than what we had with other teams."3
That competition stood both pitches in good stead, as they both had successful major-league careers. For Palmer, that began when he caught the eye of Expos Canadian scout Bill McKenzie. McKenzie persuaded the Expos' scouting brain trust, which included minor-league director Jim Fanning, to draft Palmer, and they selected him in the 21st round of the 1976 amateur draft. He began his professional career with the Lethbridge Expos in the Rookie-level Pioneer League. The 18-year-old fared poorly, going 0-5 with a 7.20 ERA, tied for highest on the team; by his own assessment, he was the worst pitcher in the league. After the season, Palmer decided that he was going to have to stick to it, literally, if he was going to succeed.
"That winter, I went home and someone told me I needed to hold the fingers together to get the ball to move a little bit," Palmer recalled. "So I taped my fingers together and held a baseball all winter."4
It's hard to say whether that particular tactic was successful. It is true, though, that Palmer's career shifted because of a video game. More precisely, he broke off his fingernail while shifting down on a racing video game at a mall during spring training of 1977. He pitched the next day anyway because he wasn't sure if he was going to make the team. The injury forced Palmer to alter his grip on the ball to avoid putting pressure in the injured digit. Suddenly he had a very effective cut fastball and he started getting batters out.
The Expos promoted Palmer to the West Palm Beach Expos of the Class-A Florida State League for 1977. He joined a pitching staff that included Bill Gullickson and Scott Sanderson. (When the three of them eventually reached the Expos, they combined with veteran Steve Rogers — Rogers was Palmer's idol growing up — to form the nucleus of the great Expos pitching staffs of the late 1970s and early 1980s.) Palmer went 6-8, but his significantly improved 2.87 ERA showed how effective his new pitch was.
"Back then, (the Expos) didn't mind moving players up if they thought they were ready," said Palmer. Manager Dick Williams "always liked to have a young pitcher on his staff."5
Palmer began the 1978 season in West Palm Beach, and went 4-2 with a 1.94 ERA, then moved up to the Doublke-A Memphis Chicks, where he compiled a record of 8-10 with a respectable 3.05 ERA. Felipe Alou, who had managed him in West Palm Beach, was also Palmer's skipper in Memphis, and continued giving Palmer the benefit of his tutelage.
"To have someone like Felipe Alou as your manager in A ball and Double-A, you know, how special is that?" said Palmer. "He comes out to take me out of the game; I wanted him to sign the baseball and put it in my trophy case."6
It would be inaccurate to attribute Palmer's reverence for Alou simply to a young player's awe of a major leaguer. Gullickson and Sanderson were much higher draft picks than Palmer, yet Alou recognized Palmer's ability.7
"He believed in me and gave me the ball," said Palmer. "He was in my corner. … He gave me a chance to pitch."8
Alou's guidance and confidence in Palmer prompted the Expos to include him among the September call-ups that year. He got into his first game on September 9, 1978, pitching a scoreless ninth inning in a 6-3 loss to the Chicago Cubs at Olympic Stadium. Gene Clines was his first strikeout victim. Palmer ended up pitching in five games that September, all in relief, going 0-1 with a 2.79 ERA in 9⅔ innings pitched.
The 1979 season was a special one for the Expos as they took part in their first pennant race, going 95-65 and finishing two games behind the eventual world champion Pittsburgh Pirates. Palmer made the team out of spring training, but not before he learned a valuable lesson about how hard veteran major leaguers work to get ready for the season.
"The first day of spring training … the veteran pitchers — they don't need to run as hard as they're running, but they are," recalled Palmer. "When you see the franchise pitcher [Rogers] leading the guys in sprints at the end of practice and the way he went about his business, that really impressed me. There's no getting here and slacking off — if anything you've got to work harder to stay here."9
Palmer went north with the team, but didn't pitch much the first half of the season. He got his first major-league win on April 10 at Shea Stadium, pitching three scoreless innings as the Expos won, 3-2. He made 20 relief appearances before making his first career start against San Diego on July 13. The Expos won the game 10-7, but Palmer got a no-decision. He pitched several more times in relief before joining the rotation for the remainder of the season on July 30. He won that game, 5-1, over St. Louis to bring his record to 3-2.
Williams went to a seven-man rotation, including Palmer, to deal with the load. Palmer won again, and again, and again, eventually winning eight times in a row (including one in relief), to finish the season at 10-2, with a 2.64 ERA.10 Palmer was positively blazing; he won three times during a team 10-game winning streak from August 28 to September 6, with a 0.82 ERA.That streak was invaluable in keeping the Expos in the race during September, when the team was forced to play a brutal schedule of eight doubleheaders due to rainouts early in the year.
After the season Palmer had the first in a series of medical procedures he would have to endure during his career. In this case, he had surgery to remove excess cartilage from his right knee. He had to spend several weeks on crutches, but he was ready for spring training for the 1980 season. However, it seems spring training wasn't ready for him. More precisely, the Players Association and Major League Baseball were in the midst of contentious labor negotiations, and the Association stopped the players from playing any exhibition games after April 1. Although players from other teams stayed in Florida or Arizona to continue training, chaos reigned supreme at the Expos' facility. Players were told that they wouldn't have access to the team facilities and to go home. Palmer returned to Glens Falls, only to find out that his teammates were working out and playing intrasquad games; he missed some valuable training time, and so wasn't ready to start when the season began.
Palmer spent the first month of 1980 working out of the bullpen in order to get in playing condition. He returned to the starting rotation on May 1, and proved that the winning streak of 1979 was no fluke by winning his first three decisions. The third one ended up being a nailbiter, as Palmer left after eight innings with an 11-1 lead, only to see reliever Fred Norman give up seven runs (six earned) before Stan Bahnsen and Woodie Fryman, who got the save, put out the fire.
By mid-July, however, Palmer began feeling soreness just below his right elbow. He pitched once in August and was pounded for five runs, four earned, in just one inning. He won two and lost two in September; one of the losses was a heartbreaking 2-1 decision in Philadelphia when he gave up a walk-off home run to Bake McBride. He finished with a flourish, pitching an 8-0 shutout against the Cardinals.
That soreness under the elbow ended up requiring surgery on a ligament that ultimately cost Palmer the entire 1981 season and, perhaps, a World Series berth for the Expos.11 Without one of their best pitchers, they made it to the National League Championship Series before losing to the Los Angeles Dodgers on a ninth-inning home run by Rick Monday in the fifth and deciding game.
Missing those playoffs served as motivation when a nervous Palmer arrived at spring training in 1982. His initial Grapefruit League outing was encouraging, as he gave up one hit in two scoreless innings. More importantly, he felt no pain.
"I was nervous at first, and I had to adjust to a flatter mound than the one I'd been training on," he said. "But in my second inning I pitched with more confidence."12
Nonetheless, the Expos decided to go slowly on Palmer's comeback, and had him start the season with their Memphis affiliate during the cooler months of April and May. He went 3-2 with the Chicks with a 3.51 ERA in nine outings before returning to Montreal, where he made his first start on May 25 at Houston, going six innings and giving up only one run in a 6-1 Expos victory. It wasn't a classic — Palmer walked six batters and hit another — but it was pretty good for someone who hadn't faced a major-league hitter in more than 18 months and whose wife, Beverly, was late in giving birth to their first child (son John).
Palmer continued to pitch well into August. After 12 starts he had a 6-4 record with a 3.30 ERA. Then, in an August 13 start at Philadelphia, he had to leave the mound in the third inning due to arm soreness. The team physician, Dr. Larry Coughlin, told the media that Palmer had calcium deposits in his elbow and ordered rest. The Expos put him on the 21-day disabled list, but Palmer ended up missing the rest of the 1982 season and all of 1983 after Tommy John surgery.
Palmer returned for the beginning of the 1984 campaign, and began his first outing of the year on April 7 against the Braves with a bang, literally, as he blasted a two-run home run off his mound opponent, Pete Falcone, in the third inning. It was the first of five dingers Palmer hit in the majors. The Expos went on to win 7-2, with Palmer going six innings. But as Al Jolson used to say, you ain't seen nothin' yet.
Palmer's next start was in St. Louis in the second game of a doubleheader on a dark and stormy night in the Gateway City. He went only five innings, but he was perfect. No Cardinal got a hit or reached base. The game was called after five due to rain, but Palmer got the win, 4-0. (In 1991, MLB changed the rule regarding no-hitters, deeming that a game had to go at least nine innings to be considered a no-hitter. The rule was applied retroactively, which means that Palmer is no longer officially credited with a perfect game.) Of the 15 batters he faced, 11 grounded out, one lined out, one flied out, and two struck out.
"It was a long, long, long night," recalled Palmer. "There were two or three rain delays during the first game. The game went on until after midnight."13
Those two starts began a fine season for Palmer, who went 7-3 with a 3.84 ERA. He probably would have gone into double figures had he not missed the entire month of August because of shoulder stiffness.
Palmer seemed to be channeling the Alan Alda movie Same Time Next Year, because he went on the disabled list for a tender shoulder again in 1985. He attributed the problems to inconsistency with his delivery; he also had pitched more innings by that time, 118⅔, than he had since 1980, when he threw 129⅔ innings. The inconsistency in Palmer's motion may also have contributed to an inconsistent season. He went 7-10, with a 3.71 ERA, but he was streaky. He lost his first two decisions, won his next two, and had a three-game losing streak in July, during which his ERA climbed almost a full run, from 2.79 to 3.79. He also had control issues, having given up 67 walks.
Palmer became a free agent after that season and decided it was time for a change, so he signed a one-year contract with the Braves, partly to get a change of scenery, and partly because his family lived in Memphis, one hour away from Atlanta.14
"I wanted to leave Montreal," he said. "I want to find out what it's like to play for another team. Atlanta was really my first choice."15
Maybe it was the chance to eat grits instead of poutine, but the new environment worked out well for Palmer. Even though the Braves were an awful team — they finished last in the National League West with a 72-89 record — Palmer had career highs in starts (35), wins (11, to go with 10 losses and a 3.65 ERA) and innings pitched (209⅔). He also led the team with a 3.6 Win Above Replacement (WAR). Palmer's effectiveness depended on how much rest he got between starts. He was 1-6 with a 5.09 ERA in starts after only three days' rest, but was 10-4 with a 3.02 ERA when he had four or more days' rest between assignments.
For Palmer, moving to Atlanta represented not only a change of scenery from Montreal, but a change in team culture as well. "In Montreal, we were family," he recalled. "All the players and the wives and the families came to Montreal for one reason, for the Expos. Going to Atlanta, a lot of players lived in the area. … It wasn't the same. It was a little more laid back. It was a lot different atmosphere than Montreal."16
The lowlight of Palmer's season came on July 11 against the eventual world champion New York Mets. After former teammate Gary Carter smacked a three-run homer off Palmer in the first inning, he plunked the next Mets batter, Darryl Strawberry, in the hip. Strawberry rushed the mound, and Palmer knew immediately he was in a jam.
"I didn't know what to do when Strawberry came out," said Palmer. "I threw the glove instinctively. I knew he wasn't coming out to shake hands."17
Order was restored without much difficulty, and the umpires didn't throw anyone out of the game. Palmer probably wished he had been thrown out, as he ended up allowing seven earned runs in 1⅔ innings — Carter drove in all seven runs as he hit a grand slam off Palmer in the second — as the Mets won 11-0.
That little brouhaha was a blip in an otherwise fine season, and Palmer re-signed with the Braves for 1987, in what was probably the easiest arbitration case in history, as both Palmer and the Braves submitted the same figure, $725,000, to the arbitrator. The Braves even sweetened the pot by promising that Palmer would have a hotel room to himself on road trips.
The privacy didn't prevent Palmer from visiting the disabled list again, after he strained ligaments backing up a play at third base on June 18. Until then he was having a topsy-turvy year, losing his first four decisions, winning his next four, then losing the four after that. He returned with a bang on July 25, going 6⅓ scoreless innings for the victory as the Braves beat Philadelphia 2-1. He went 4-3 after his return from the DL, for an overall record of 8-11 with a 4.90 ERA.
The Braves wanted to ink Palmer to a contract again for 1988 but they offered him less money, so he signed instead with the Philadelphia Phillies for $675,000. It was another inconsistent season for Palmer; he lost his first five decisions, but rebounded to finish 7-9, with a 4.47 ERA. The highlight of his season was a complete-game one-hitter against St. Louis on August 2. He also won his next start, going six innings in a 7-4 Phillies win against the Cubs. He didn't know it at the time, but it was his last victory in the big leagues. He didn't pitch at all in September and went under the knife again on September 21 when he had surgery in Los Angeles for a torn rotator cuff.
The Phillies cut Palmer after the season and he signed with the Detroit Tigers for 1989, but after he went 0-3, the Tigers released him on July 13. The Cleveland Indians signed him on July 27 and sent him to their Triple-A team in Colorado Springs of the Pacific Coast League. He went 2-2 with the Sky Sox with a 4.23 ERA. The Indians cut him after that season. He signed with the Reno Silver Sox, an unaffiliated team in the Class-A California League in 1990, and, after going 1-0 in three starts, called it a career.
After his baseball career ended, he and his family moved to Atlanta where his wife at the time –they later divorced — had relatives. He became the pitching coach at Parkview High School in Lilburn, Georgia. In the eight years he coached there, Parkview won five Georgia High School Association championships and finished second the other three times. The team was voted national Team of the Year by Baseball America in 2012, his last year with the club.
As of 2015, Palmer coached the baseball team at his old high school, and divided his time between Glens Falls and Atlanta, where he worked as a real-estate title examiner. He has two daughters Liza and Leah, in addition to his son.
Despite the injuries that hampered his career, Palmer looked back fondly on his time as a pitcher. "I had signed 10 one-year nonguaranteed contracts, so whether my arm hurt or not, I felt like I had to go out there and pitch," he said. "I was pitching for my job every year. "I have no regrets about that. It was what it was and I wouldn't change any of it."18
He also takes great pride in having played for an organization which, at the time, was one of the best in baseball. "In my mind, Montreal was one of the top two or three organizations in baseball," Palmer said. "I am so glad and so proud that I got to be a Montreal Expo during that period of time."19
Last revised: February 2, 2017
This article was published in SABR's "No-Hitters" (2017), edited by Bill Nowlin.

Sources

In addition to the sources listed in the notes, the author consulted:
Chicago Tribune.
Galveston Daily News.
The Gazette (Montreal).
Gwinnett (Georgia) Daily Post.
Le Devoir (Montreal)
Ottawa Journal.
Troy Record.
Wustl.edu
Notes
1 David Palmer, telephone interview, October 25, 2015.
2 Palmer interview.
3 Tim Wilkin, "A conversation with … former major leaguer Dave Lapoint," Times Union (Albany, New York), July 18, 2010.
4 Alain Usereau, The Expos in Their Prime (Jefferson, North Carolina: McFarland & Company, 2013), 61.
5 Palmer interview. Williams became the Expos' manager in 1977.
6 Palmer interview.
7 Gullickson was drafted in the first round of the 1977 draft and Sanderson was drafted in the third round that same year.
8 Usereau, 62.
9 Palmer interview.
10 Charlie Lea broke Palmer's team record of seven straight wins as a starter in 1983.
11 He did pitch 11 innings for the Class-A West Palm Beach Expos in 1981 and had one start at Memphis where he gave up one earned run without getting anybody out.
12 "Expos hurler says arm pain gone," Galveston Daily News, March 10, 1982.
13 Palmer interview.
14 "N.L. West," The Sporting News, February 24, 1986, 38.
15 Mike Dyer, "Palmer, Glad to Be Free of Expos, Looking Impressive With Braves," Schenectady Gazette, March 21, 1986.
16 Palmer interview.
17 "Strawberry Not "Hip" With Palmer," Kerrville (Texas) Times, July 13, 1986.
18 Palmer interview.
19 Palmer interview.
NOTE 14
The Sporting News
Monday, February 24, 1986 (Page 38)
(3.02 ERA)
4 Days 83 IP 33 ER
5 Days 36.1 IP 10 ER
6+ Days 26.2 IP 6 ER
49 ER x 9 / 146 IP = 3.02 ERA
http://www.baseball-reference.com/players/split.cgi?id=palmeda01&year=1986&t=p
Born
August 19, 1957 at Glens Falls, NY (USA)
If you can help us improve this player's biography, contact us.
https://sabr.org/sites/default/files/PalmerDavid.jpg
600
800
admin
/wp-content/uploads/2020/02/sabr_logo.png
admin
2017-02-09 13:27:18
2017-02-09 13:27:18
David Palmer