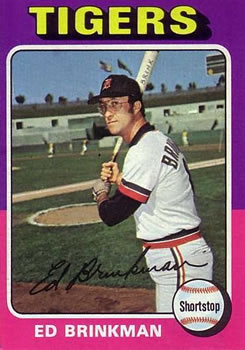 ---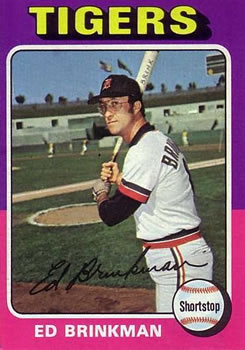 A Gold Glove shortstop but perennial weak hitter, Edwin Albert Brinkman played 15 seasons in the majors, the first 10 of them with the expansion Washington Senators.
Traded to Detroit in October 1970 in the infamous Denny McLain deal, he led the Tigers to a division title and was voted Tiger of the Year in 1972, despite a .203 batting average. He made his only All-Star team in 1973. He finished his career with the second lowest batting average — .224 — by a player with 5,000 or more at-bats.1
Ed Brinkman was born in Cincinnati on December 8, 1941 — the day after the attack on Pearl Harbor. His parents were Edwin R. Brinkman, a streetcar motorman2 and one-time semi-pro catcher, and the former Marie Roth, a dressmaker. Ed's brother, Chuck, born in 1944, played parts of six seasons as a catcher for the White Sox.
Brinkman grew up in Cincinnati, playing alongside Pete Rose. By 1954, both were members of a youth team that advanced to a regional tournament. Rose was the catcher and Brinkman, still just 12 years old, the shortstop. They each homered.3. At Western Hills High School, where they were again teammates, Brinkman was considered the bigger star, both as a pitcher and a power-hitting third baseman.4 Growing up, Brinkman idolized Ted Kluszewski, the big Reds slugger.5
Their high school coach, Pete Nohr, described Rose as "a good ballplayer (but) not a Brinkman."6 Brinkman pitched and played the infield for two championship American Legion teams in 1958, '59 and '60. He threw a no-hitter in May 1959. He also starred in basketball at Western Hills, where he graduated in 1961.7 He was named to Cincinnati's all-city teams in both basketball and baseball in his senior year.
Scouts were keenly interested in signing Brinkman either as an infielder or a pitcher. After weighing offers from 15 teams, Brinkman signed in late May 1961 with the Washington Senators' chief scout, Jack Sheehan. He was recommended to Sheehan by fellow scout Charles (Tommy) Thompson.8 The bonus, variously reported as between $60,000 and $75,000 to be paid out over five years, was the largest either Washington A.L. franchise had agreed to until then. Brinkman said he signed with Washington because he felt he had a better chance to move up fast.9 The Senators viewed him as a third baseman or shortstop.
"Pete always kidded me that the Washington Senators brought me my bonus in an armored truck. Pete said he cashed his at the corner store," Brinkman said early in his career.10
"He was our home-run hitter," in high school, Rose said in 1968, baffled by Brinkman's low batting average. "Ed hit the long ball."11
The Nats initially assigned Brinkman to Middleboro in the Appalachian League, where he went 13-for-26 in seven games before moving on to Pensacola in the Alabama-Florida League. There, he hit .290 with a .339 on-base percentage in 232 plate appearances against Class D competition. He was right about being able to advance quickly. He was rushed to the majors in late August and made his debut at Yankee Stadium on September 6. Pinch hitting in the fifth, the 19-year-old flied out against Whitey Ford as the Nats were losing the seventh game in what would become a 10-game losing streak.
Two nights later, Brinkman made his first start, playing third against the Orioles in Baltimore. He went 0-for-3 with a walk. He didn't play again until September 17 at home in Griffith Stadium against Kansas City.12 Again, he started at third base. In the fifth inning, facing Lew Krausse, he singled to center for his big league hit. He finished the season appearing in four games, with that one single and a walk in 12 plate appearances.
He lasted until late March with the Nats in the spring of 1962 before being sent to Raleigh in the Class B Carolina League. Brinkman played 40 of his 58 games there at shortstop and hit well: .324 with a .402 OBP and 45 runs batted in; 27 of his 72 hits went for extra bases. With Washington going nowhere, he again was summoned to the majors. The day he was called up, he started at shortstop. He split time there with Ken Hamlin the rest of the season as the Senators finished in last place. Brinkman hit just .165 in 145 plate appearances. This was the first of four seasons after his brief '61 call-up in which he would hit less than .190.
That fall, he was assigned to Florida Instructional League to be tutored by Senators coach George Case. "It was a wonderful break for me…We practiced daily from 10 a.m. until game time" at 1:30. "It was drill, drill, drill," Brinkman said in 1963. "He's the most coachable lad I've encountered," Case said.13
The 20-year-old made a good impression with his range and strong arm. He began the 1963 season as the Senators regular shortstop and proceeded to lead the league's shortstops in turning double plays. He appeared in at least 132 games a season through 1966, exclusively at shortstop. He led all shortstops in defensive wins-above-replacement (a retrospective stat) in 1966.
Brinkman credited veteran infielder Don Blasingame with helping him learn how to play different hitters. "He has great instincts… He's always yelling advice to me or moving me over," Brinkman said in the spring of 1964. "Don wants me to take the relay because he says I have the stronger arm…I've learned to judge the runners better and I'm cutting down on the senseless throws."14
Despite a strong spring training with the bat, Brinkman showed little improvement at the plate during the 1964 season, hitting just .224. In 73 fewer plate appearances, he struck out more and walked less than in '63. Things got worse in 1965. Although he played in 154 games, he hit a bare .185 with a .251 on-base percentage.
On November 6, 1965, Brinkman married the former Donna Lee Raber, a woman he met with Pete Rose on a blind date.15 That year, Brinkman had begun a close friendship with the Senators massive slugger, Frank Howard, acquired from the Dodgers in December 1964. He and Howard became roommates on the road. The 6-foot-7, 255-pound, Howard called the slender shortstop "Wimpy," while Howard was usually on the receiving end of Brinkman's gentle barbs. The pair, teammates from 1965-70 and again in 1972-74, could usually be found playing pinochle in the clubhouse before games.
"He was an absolute delight to be around," Howard said in 2008. "We were like brothers."16 Throughout his career, Brinkman "was known among fellow ballplayers as congenial and fun-loving," the Washington Post wrote in his obituary.17
By 1967, however, Senators management could no longer ignore Brinkman's anemic offensive production. Although the team improved and finished tied for sixth, he started just 95 games and hit .188. He led A.L. shortstops in fielding percentage, however. The next season — 1968, admittedly the year of the pitcher — was no better for Brinkman. The Nats acquired veteran Ron Hansen in the off-season to provide more punch at shortstop. Hansen was the regular until he was dealt to the White Sox in early August, when the Senators had fallen into the cellar. Brinkman was back at short.
Brinkman and wife Donna had their first child, daughter Kimberly, in late August 1967. A second daughter, Sheri Lynn, was born in January 1970.
Like many other players, Brinkman enlisted in the National Guard during the Vietnam buildup. He was activated after rioting began in Washington following the assassination of the Rev. Martin Luther King Jr. in April 1968. In his military uniform, he sat in the left-field stands during a Senators game while on active duty and he slept outside the stadium one night with his unit.
"They say you laugh at such things as you get older, but after what I saw" following the rioting and destruction, "I know I will never laugh about it," Brinkman said.18
After his sub-.200 averages in 1967 and '68, Brinkman became the recipient of expert advice that, for two seasons at least, turned him into an adequate major league hitter. The Senators new owner, Bob Short, lured the legendary Ted Williams out of retirement to manage the team. Williams made Brinkman his pet project, saying there was no way that his shortstop should hit less than .200. Williams told him to wait back for his pitch and to swing down on the ball to hit it on the ground. Coach Nellie Fox, another former MVP, told him to use a fat-handled bat and spray the ball to all fields.
The tutelage worked wonders. In a season when most of his teammates also responded well to Williams' guidance, Brinkman was named the team's outstanding player for 1969. Presidential son-in-law David Eisenhower presented the award at a January ceremony.19
"Williams beat it into my head what I had to do," Brinkman said after the season. "He never messed with my stance or my feet."20 Williams also got on Brinkman about his cigarette smoking. The shortstop had quit earlier in his career, only to start again after the 1966 season. The team had suggested he put on some weight, but inactivity led him to overdo it.
"If I hadn't gone back to cigarettes, I probably would have shot up to 220 pounds," the six-foot Brinkman told a reporter in April 1967.21
Whatever Williams did, Brinkman was suddenly a threat with a bat in his hand. He hit a career high .266 in '69 with a .328 OBP. He followed that by hitting .262 the next season with a .330 OBP and a career-best 60 base-on-balls.
The concentration Williams insisted on "helped me, and then I got a little confident. You put confidence and the concentration together, and that's why I think I did better," Brinkman told author James R. Hartley in February 1997.22 Despite all that Williams did for Brinkman's hitting, the shortstop told Hartley he considered Gil Hodges "probably the best of the four (managers) that I played for" in Washington "as far as managing a game from inning one through inning nine."23
All the while, his outstanding fielding continued to be his calling card. His throwing arm was one of the best. "What a gun!" first baseman Ken Harrelson said when he played with Brinkman. "When he cuts that ball loose, he gives me bone spurs."24
In 1969, Brinkman again led shortstops in defensive WAR, in a season that saw the Senators post their only winning year, an 86-76 record, good for a fourth-place finish in the newly-minted American League Eastern Division. In 1970, his range factor at short was tops. He led all shortstops in putouts and assists the same season. Brinkman was at the top of his game, but his team could not repeat its 1969 success. The Senators ended 1970 by losing the final 14 games.
Senators Owner Bob Short, who acted as his own general manager, was determined to make changes. On October 9, he traded Brinkman, young third baseman Aurelio Rodriguez and pitchers Joe Coleman and Jim Hannan to the Tigers for former MVP and Cy Young Award winning pitcher Denny McLain, outfielder Elliott Maddox, infielder Don Wert, and pitcher Norm McRae. The last three were essentially throw-ins. Short believed McLain would be a drawing card. Instead, McLain lost 22 games for a last-place team. Brinkman was in disbelief when he first heard about the deal. He learned of it from teammate Darold Knowles, who called Brinkman after hearing about it on the radio. Brinkman thought it was a practical joke, and even more so when Knowles listed the players involved.25 But the move turned out to be the best thing that could happen to him. The Tigers won 91 games in 1971 and would win the Eastern Division title in '72.
In his first year with the Detroit Tigers, Brinkman set a single-season record with 56 consecutive games without an error at shortstop. The next season, he topped that with 72 straight errorless games, from May 21 to August 4. The streak ended on a throwing error as he was trying to complete a double play. His single-season record stood until it was topped by Cal Ripken Jr. in July 1990.
During his streak, Brinkman also set a record with 331 assists without an error. His seven errors all season were the fewest ever at the time for a shortstop who played in 150 or more games. His .990 fielding percentage was the best for any shortstop who had played in at least 100 games. (All those marks have since been exceeded.)
"It wasn't until later that I realized I accomplished something rare," Brinkman told a reporter after Ripken broke the record.26 The veteran shortstop was rewarded for his 1972 performance by winning his only Gold Glove. He finally beat out the Orioles' Mark Belanger, who had won in 1969 and '71 and would win six more Gold Gloves from 1973 through 1978.27
Brinkman's outstanding performance in the field drew less attention that it might have because the Tigers were locked in a tight battle with the Red Sox for the division title. The season had begun more than a week late after a brief players' strike over pension benefits. When play started, the two sides agreed that the lost games would not be made up. The twist was that some teams would play a different number of games. The Tigers clinched the division in Boston on October 3, at 86-69, one and a half games ahead of the Red Sox, at 84-69. Each team had a game to play, but for the Tigers, it would game 156; for the Red Sox, game 155. The Sox won to finish half a game behind Detroit, denied a chance by the weird schedule to forge a tie.
Interviewed after the clincher in the Tigers' clubhouse, an exuberant Brinkman dropped an F-bomb on live TV. "I love these (expletive) guys!" he blurted.28
The Tigers met the Oakland Athletics in the A.L. Championship Series. Brinkman went 1-for-4 with a double in the first game, but began complaining of numbness in his legs and feet. He was diagnosed with a ruptured disk in his back and missed the rest of the series. Oakland won, three games to two, on the way to a World Series title.
Brinkman, who played in every game in the regular season, underwent back surgery on October 13, but was fully recovered by spring training. He played in all 162 games in 1973, hit .237 and made his only All-Star team.
Although the aging Tigers slipped to last place in the East in 1974, Brinkman hit a career-high 14 home runs. It was obvious by year's end, however, that Detroit needed to embark on a rebuilding program. On November 18, the Tigers were part of a three-team, eight-player, deal that sent Brinkman first to the San Diego Padres and then to St. Louis.
The Cardinals, after finishing a game and half out of first in 1974, saw Brinkman as a key addition to their infield. As it turned out, Brinkman, at 33, no longer had the range to handle the speed of balls hit on Busch Stadium's artificial turf. He committed six errors in his 24 starts before being replaced in the starting lineup.29 In early June, he was traded to the Texas Rangers, which days later, sold him to the New York Yankees. He started 19 games at short and appeared in a few others at second and third for the Yankees over the last three months of the season.
He went to spring training with the Yanks in 1976, but was released in late March, which effectively ended his big league playing career. "Baseball has been my whole life," Brinkman said after his release. "I want to stay in the game as a player or a coach or a minor league manager. I'm not prepared to do anything else."30
Less than a month later, the Tigers hired Brinkman as a roving minor league instructor and scout.31 Late in the year, the Tigers named him manager of Montgomery in the AA Southern League. His team, which had the good fortune of having young Alan Trammell and Lou Whitaker up the middle, won its division by 24½ games. Brinkman managed Montgomery again in 1978 on a team that featured pitcher Dan Petry, a starter on the Tigers' 1984 World Series championship team.
Brinkman returned to the majors as a Tigers coach for Manager Les Moss in 1979. He stayed on after Sparky Anderson replaced Moss, but was back managing the following season in the Florida State League. His Lakeland team, a Tigers Class A farm organization, was a stop for future home run champ Howard Johnson, then 19.
Old friend Frank Howard was hired to manage the Padres after the 1980 season and soon reached out to Brinkman to join his coaching staff. Howard was let go after the season, so Brinkman rejoined the Tigers organization as manager of AA Birmingham in the Southern League.
In 1983, Chicago White Sox Manager Tony La Russa brought Brinkman on as a coach, just in time for him to be part of the team winning a division title. The Sox won 99 games and finished 20 games in front of second-place Kansas City, but lost the league championship series to the Orioles. Brinkman stayed on as a White Sox coach after Jim Fregosi took over during 1986. When Fregosi was let go at the end of the 1988 season, Brinkman joined the White Sox scouting staff, where he remained until he retired in 2000.
Brinkman returned to his hometown of Cincinnati after he left baseball. He died there on September 30, 2008. The cause was a heart ailment related to previously diagnosed lung cancer.32 He was buried alongside his parents in Cincinnati's Spring Grove Cemetery.
Brinkman was "one of the best shortstops ever to wear a Detroit uniform," Jim Hawkins wrote in the Sporting News in 1975.33 "When Brinkman made an over-the-top throw, he had no equal," author Bruce Markusen wrote in 2013.34
"He loved the game," retired Detroit News sports writer Dan Ewald said of Brinkman. "He loved being around ballparks. He felt his best at them."35
Acknowledgments
This biography was reviewed by David Lippman and fact-checked by Kevin Larkin.
Notes
1 Lyle Spatz, editor, The SABR Baseball List & Record Book (Scribner, New York, 2007): 21.
2 1940 U.S. Census, accessed through familysearch.org
3 "One-hitter Tossed by Knothole Youth," Cincinnati Enquirer, September 5, 1954: 12.
4 Western Hills High also produced Don Zimmer, Russ Nixon, and Art Mahaffey, among others.
5 Bob Addie, "Nats Pin Super-Special Tag on Brinkman," Washington Post, April 18, 1964: page unknown, from Brinkman's Hall of Fame clip file.
6 David M. Jordan, Pete Rose, A Biography (Greenwood Press, 2004): 6.
7 Baseball Reference and various editions of Baseball Register list Brinkman as having attended the University of Cincinnati. However, although he was admitted for the fall semester in 1961, he would have missed the first month of classes — he spent September with the Senators. An April 24, 2018, email from Matt Koesters, public information officer in the Government Relations and University Communications office, said Brinkman was placed on probationary status and did not return to the university for any subsequent semester.
8 Addie, "Nats Pin…"
9 "Brinkman Inks Senators' Pact," Cincinnati Enquirer, May 24, 1961: 21.
10 Jordan, 7.
11 Francis Stan, "And They Thought Brinkman Was Lucky for Bypassing Minors!" Baseball Digest, June 1968: 63
12 This was one of the final three games played at Griffith Stadium, the last coming on September 21. After Brinkman played his last game in 1975, only Jim Kaat, Brooks Robinson and Carl Yastrzemski remained as having played a regular season game at the old stadium. (Hank Aaron had an at-bat there in the 1956 All-Star Game.)
13 Huck Finnigan, "Fall Baseball Made Brinkman," Boston American, early 1963 (exact date unknown) column in Brinkman's Hall of Fame clip file.
14 Addie, "Nats Pin…".
15 Merrell Whittlesey, "Ted's Tips Load Brinkman's Bat With Explosive Charge," The Sporting News, May 24, 1969: 10.
16 Joe Holley, "Ed Brinkman, 66, Senators Shortstop," Washington Post, October 3, 2008: B6.
17 Holley, "Ed Brinkman, 66…".
18 Whittlesey, "Brinkman Loses Five Pounds in One Week of MP Service Patrolling DC After Riots," Washington Post, May 4, 1968: 8.
19 "Tiny Tim and Nixon: They Might Drop In," The Sporting News, January 10, 1970: 49.
20 Holley, "Ed Brinkman, 66 …".
21 George Minot Jr., "Nats Value Brinkman's Talents," Washington Post, April 16, 1967: D4.
22 James R. Hartley, Washington's Expansion Senators (1961-1971), (Corduroy Press, Germantown, Md., 1997): 105.
23 Hartley, 76.
24 Francis Stan, "Great driver off tee, Harrelson eyes drives out of the park," Baseball Digest, March 1967: 45
25 Shelby Whitfield, Kiss It Goodbye, Abelard-Schulman, New York, 1973, p. 168
26 Marc Stein, "For Brinkman, Hoopla Conspicuous by Absence; Ex-Record Holder's Streak Was Secondary," Washington Post, July 29, 1990: D8. Kevin Elster of the New York Mets had topped one of Brinkman's marks with an 88-game errorless streak over two seasons in 1988 and '89.
27 Belanger, so similar to Brinkman in the field and at bat, finished with a .228 lifetime average, third lowest ever, right behind Brinkman. The Deadball Era's George McBride, another Washington shortstop, tops the futility list with a .218 lifetime batting average in 5,000 or more ABs.
28 John Love, "Great Tigers shortstop dies," Detroit Free Press, October 1, 2008: 27
29 RetroSimba, "Why Ed Brinkman was not a shortstop savior for the Cardinals," posted November 9, 2014, https://retrosimba.com/2014/11/09/why-ed-brinkman-was-not-a-shortstop-savior-for-cardinals/
30 Augie Borgi and Phil Pepe, "Mets Drop Alou; Yanks: Brinkman," New York Daily News, March 31, 1976, page unknown, from Brinkman's Hall of Fame clip file
31 Detroit Tigers press release, April 23, 1976, in Brinkman's Hall of Fame clip file.
32 Bruce Markusen, "Brinkman was one of the best defensive shortstops of his era," Detroit Athletic Co., posted August 21, 2013; https://www.detroitathletic.com/blog/2013/08/21/brinkman-was-one-of-the-best-defensive-shortstops-of-his-era/
33 Jim Hawkins, "No Promises, Just Production, Nate Tells Tigers," The Sporting News, April 19, 1975: 18.
34 Markusen, "Brinkman…".
35 Love, "Great Tigers…".
Born
December 8, 1941 at Cincinnati, OH (USA)
Died
September 30, 2008 at Cincinnati, OH (USA)
If you can help us improve this player's biography, contact us.
https://sabr.org/sites/default/files/BrinkmanEd.jpg
600
800
admin
/wp-content/uploads/2020/02/sabr_logo.png
admin
2018-07-25 17:10:59
2020-04-09 14:38:43
Ed Brinkman