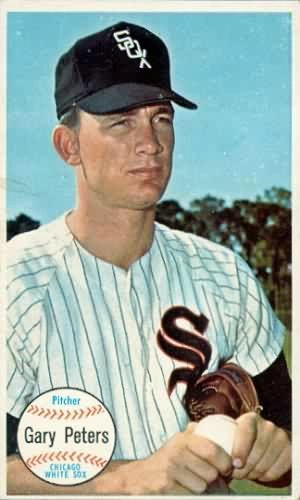 ---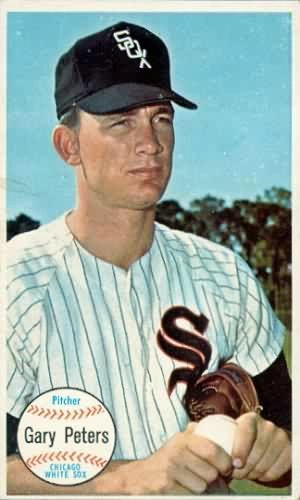 He took a long time to find his place in the major leagues. After four brief callups, a successful emergency start in 1963 gave Gary Peters a job with the White Sox on his fifth and final trial. He still managed to put up a few big seasons and 124 wins, coming agonizingly close to the World Series a few times. He was also a remarkably good hitter — 19 home runs in his career made him a frequent pinch-hitter.
Gary Charles Peters was born on April 21, 1937, in Grove City, Pennsylvania, about 50 miles north of Pittsburgh, to Thomas Peters, a gas heater plant foreman and longtime semipro baseball player, and Elizabeth Rowe Peters. Gary grew up in nearby Mercer, and starred in basketball at Mercer High School, being named All-State in his senior year of 1955. His school did not field a baseball team, and Gary's only Organized Baseball experience was a year of American Legion ball and several years on the sandlots playing semipro ball. Peters was mainly a first baseman, occasionally a pitcher, and a great left-handed hitter. He played for several years with his father, who played ball for 30 years in the area.
After Peters' high-school graduation White Sox scout Fred Shaffer took him to Chicago for a tryout at Comiskey Park. Suitably impressed, the White Sox signed Peters to a contract that would pay for him to attend college and allow him to report to play baseball after his spring classes were over. Gary enrolled at Grove City College, majoring in mathematics, with a basketball scholarship.
When Gary arrived in Holdredge, Nebraska, to begin his professional career in the Nebraska State League (Class D but comparable to later rookie leagues), he discovered that the team already had a first baseman — future major-league catcher J.C. Martin. Peters played the outfield for a while before turning to pitching. He had a fine debut, finishing 10-5 with a 2.81 ERA, leading the league in innings pitched (128) and strikeouts (142) and being named the league's outstanding left-handed pitcher. He also hit .321 in 84 at-bats.
The next season the White Sox promoted Peters to Dubuque, Iowa, of the Class-D Midwest League, and he had a very similar season — 10-6 and a 2.75 ERA. He again did not report until June, after the finish of his college year. After the season Gary had the pleasure of going on a brief barnstorming tour of Pennsylvania with the Nellie Fox All-Stars, a group of Pennsylvania residents including Fox, Dick Groat, Roy Face, and others. The tour was mostly for fun and laughs, but Peters got to spend time with big-leaguers for a few weeks.
The 6-foot-2, 202-pound left-hander started the 1958 season with Colorado Springs of the Class-A Western League. After a rocky start — a 7.43 ERA in 23 innings — Peters was reassigned to Davenport in the Class-B Three-I League, and had another good year there, winning 12 of 20 decisions in 25 games. He was selected to the league's All-Star second team. "When I started," Peters later recalled, "all I could do was throw hard. That got me by all right in the low minors. But as I moved up, I found out I had to have something else, too."1  He added a slider, which came quickly, and a curve, which he struggled with for a few years. As his repertoire was broadened, he learned better control of all his pitches.
For 1959 Chicago sent Peters to its top farm club, Indianapolis of the Triple-A American Association.  Gary won 13 games while losing 11, and posting a 3.56 ERA. The highlight was his no-hit, no-run game on July 24 against Minneapolis. At the end of the season he was recalled to the pennant-bound White Sox and pitched in two games. On September 10 in Washington, he threw the bottom of the eighth inning in an 8-2 loss, allowing two hits and no runs. Four days later he pitched in Boston, walking both batters he faced in an 8-3 loss.
Over the next few years, Peters built a reputation as a decent Triple-A pitcher who might not have the talent to stick with the White Sox. He pitched both the 1960 and 1961 seasons with San Diego of the Pacific Coast League, finishing with 12-9 and 13-10 records, and joined the White Sox in September both seasons. In 1960 he pitched twice, allowing one run in 3⅓ innings. The next year his three appearances netted two runs in 10⅓ innings.
In 1962 Peters made the club in the spring for the first time. After a few solid appearances, he had two rough outings and was demoted to Indianapolis in early May. Back in Triple A, he finished only 8-10 for the season, his first losing record in his seven-year professional career. The White Sox were concerned that he wasn't throwing as hard as he had earlier in his career. "He'd throw hard in some games, but not in others," said manager Al Lopez. "He was trying to pinpoint his pitches too much."2
Heading into the 1963 season, Peters was getting his last shot.  He was out of options, meaning that the White Sox had to either keep him on the club or place him on waivers. He spent the winter pitching in Puerto Rico, but being used as a relief pitcher — which Peters understood to suggest that his prospects were fading away. He reacted to this disappointment by deciding to reach back and fire his fastball as hard as he could at all times. Suddenly, his ball was harder and livelier.
After a decent spring, Peters again made the White Sox club in 1963, although in those years major-league teams could carry 28 men until May 15, when rosters were further reduced to 25. Peters was surely vulnerable to be one of the three players cut. In the opening weeks of the season he was a situational reliever, not pitching particularly well. Through May 2 he had pitched in six games, losing twice, with a 4.63 ERA in 11⅔ innings. On the 6th he was handed an emergency start because Juan Pizzaro had the flu, and he beat the Athletics 5-1, allowing just four hits in eight innings, and helping his own cause with a third-inning home run off Ted Bowsfield.
Sometimes in life you are handed an opportunity when you least expect it, and the story told of Peters in later years was that he was an overnight sensation. But he had worked very hard for several years in the minor leagues and every winter — hardly "overnight." He had not pitched much before signing with the White Sox, and it took him six years to become a pitcher worthy of the major leagues. When it came together, it came together quickly.
Although he was still used occasionally in the bullpen for the few weeks after his first start, by early June 1963, Peters was in the rotation to stay. On June 30 he shut out the Indians to bring his record to 5-4. After losing to Whitey Ford in Yankee Stadium on July 4, Peters won his next 11 decisions, including two more shutouts. On July 15, he one-hit the Orioles, striking out 13. The only Baltimore hit was a single by opposing starter Robin Roberts in the third inning.
Through September 18, Peters had run his record to 19-6, but he lost his two bids for his 20th victory. He finished the season 19-8, with a league-leading 2.33 earned-run average and 189 strikeouts in 243 innings. After the season he garnered the league's Rookie of the Year award, beating out teammate Pete Ward, who hit 22 home runs and batted .295 in his debut as the team's third baseman.
By this time Peters had relocated his winter home to Sarasota, where the White Sox trained. He spent the winter there working on his curveball, making it harder and snappier. In 1964 he got through a rough patch early in the season, allowing eight home runs in his first 41 innings, before settling down to another big year. Making up for the disappointment in 1963, he ran off four straight wins in September to get his 20th win on the 26th. He had to be relieved in the seventh, but Hoyt Wilhelm threw 2⅓ one-hit innings to nail down the win. The White Sox lost a torrid three-team race for the pennant in 1964, winning their last nine games but finishing one game behind the New York Yankees.
For the 1964 season, Peters finished 20-8, tying Dean Chance for the most wins in the American League. His 205 strikeouts and 2.50 ERA were both good for fourth in the league and, though Chance won the Cy Young Award, Gary did finish seventh in the voting for league MVP award. He was named to the league's All-Star team, but did not play in the game.
Peters had also developed a reputation as a good hitter by this point, slamming seven home runs in his first two seasons. He was used 18 times as a pinch-hitter and eight more times as a pinch-runner in these two years. On July 19, 1964, against the Athletics, he pinch-hit for Hoyt Wilhelm in the bottom of the 13th inning, with the White Sox down 3-2 and a runner on first. After twice failing to lay a bunt down in fair territory, he ended the game with a home run into the right-field stands. After that dramatic game-winner, he was the White Sox' primary left-handed pinch-hitter the rest of the season. As the White Sox had difficulty scoring runs, there was some talk of letting Peters play a position on occasion when not pitching, a notion that Lopez quickly dismissed.
Peters struggled a bit in 1965, slowed by a groin injury that bothered him all season. He finished 10-12 with a 3.63 ERA, a far cry from his great averages his first two seasons. The next season he came back nicely with a 1.98 ERA to again lead the league, though he managed only a 12-10 record. The White Sox were a notoriously poor-hitting team, finishing ninth in the league (of 10) in runs per game while boasting a league-leading 2.68 ERA. Among Peters's 10 losses were three shutouts at the hands of Denny McLain (1-0), Jim Kaat (1-0), and Sam McDowell (2-0), three of the better pitchers in the league. In a 6-0 three-hitter over the Yankees on July 30, Peters threw just 75 pitches, only 25 of which were called balls. He walked no one and struck out just three in a game that took just 1 hour, 57 minutes to play.
After trailing well behind the Orioles in 1966, in the following season the White Sox engaged in a four-way pennant fight with the Boston Red Sox, Minnesota Twins, and Detroit Tigers. Chicago led for two months in midsummer and stayed within a game of the lead all through September before finally succumbing and finishing three games behind the Red Sox. Peters' season highlight may have been pitching three perfect innings in the All-Star Game (won by the NL in the 15th inning), striking out four pretty good hitters: Willie Mays, Roberto Clemente, Orlando Cepeda, and Dick Allen.
The 1967 club was again led by its pitching, especially Joel Horlen and Peters, who finished first and second, respectively, in the league in ERA. Peters put up a 16-11 record and 2.28 ERA, but fell victim to his club's lack of hitting all season, especially down the stretch. In September Peters won only one of his eight starts despite a 2.48 ERA for the month — his monthly ERA's for the season were all between 2.05 and 2.51. On September 27, trailing the Twins by a single game, the White Sox dropped a doubleheader to the lowly Athletics in Kansas City, as both Peters and Horlen were defeated. Though they were still just 1½ games behind, they were now in fourth place, making their task nearly impossible.
After 17 consecutive seasons over .500, the White Sox finally collapsed in 1968, and Peters did his part, dropping all the way to 4-13, with a 3.76 ERA. Peters suffered a back injury early in the season that still bothered him decades later. One highlight came on May 5 when he six-hit the Yankees, 5-1, and hit a grand slam off Al Downing to provide more than enough offense for his own cause. Three weeks later, playing the Yankees in New York, manager Eddie Stanky hit Peters sixth in the batting order, ahead of Duane Josephson, Luis Aparicio, and Tim Cullen. Peters was hitless in two at-bats as the club only managed four hits in a loss to Mel Stottlemyre.
The next season, 1969, Peters hurt his arm in spring training — it was diagnosed as a rotator cuff injury long after he had retired — and finished just 10-15 with a 4.53 ERA, easily the worst of his career. After the season, he was traded with catcher Don Pavletich to the Red Sox for infielder Syd O'Brien and pitcher Billy Farmer. When Farmer chose to retire instead, the Red Sox substituted Jerry Janeski.
It was a productive change for Peters, as he went from a team that struggled to score runs to one of the better offenses in the league. After a wonderful spring in which he gave up no runs in 32 innings, Peters started on Opening Day for the Red Sox in Yankee Stadium, and earned the 4-3 victory. He had a terrible May, losing all five of his decisions and posting an 8.04 ERA, but had four solid months the rest of the way. He finished 16-11, with a 4.05 ERA, thanks in part to an offense that led the league with 203 home runs.
In 1971 the 34-year-old Peters had another decent but unspectacular season, putting up a 14-11 record and a 4.37 ERA. Manager Eddie Kasko used him frequently as a pinch-hitter, and he hit .271 with three home runs and 19 RBIs in 96 at-bats. The next season the club acquired or promoted a number of new starting pitchers, and Peters lost his job in the rotation. Although he stayed with the team all year, he had just four starts among his 33 games, splitting six decisions and posting a 4.32 ERA. After the season he was released by the Red Sox. He tried out with the Kansas City Royals the next March but retired when he did not make the club.
Peters was very active in the fledgling Players Association in those years. He was the player representative in Chicago and Boston, and in his last season he was the American League representative, attending high-level meetings with owners' representatives, including those that led to the first players' strike in 1972.
In January 1958, Gary married Jean A. Jackal and soon afterward the couple began making their winter home in Sarasota, Florida, where the White Sox trained for many years. Gary and Jean raised two daughters. After his retirement he went to work for a construction company in Sarasota as a general superintendent, in charge of field work and quality control.
In 2000 Peters was named to the White Sox All-Century Team, one of nine pitchers representing the first 100 years of their existence. He still kept in touch with the team through old-timers events or celebrations on the field, though it became harder when the club left its longtime spring home of Sarasota for Tucson in 1998.
An earlier version of this biography originally appeared in SABR's "Go-Go To Glory: The 1959 Chicago White Sox" (ACTA, 2009), edited by Don Zminda.
Sources
Appel, Marty. Yesterday's Heroes (New York: William Morrow, 1998).
Heiman, Lee, Dave Weiner, and Bill Gutman. When the Cheering Stops (New York: Macmillan, 1990).
Furlong, Bill. "Gary Peters & Juan Pizzaro—Southpaw Sorcery," in Baseball Stars of 1965 (Ray Robinson, ed.). Pyramid, 1965.
Notes
1 Bill Furlong, "Gary Peters & Pete Ward—Chisox Wonder Boys," in Baseball Stars of 1964 (Ray Robinson, ed.) (New York: Pyramid Publications, 1964), 140.
2 Ibid.
Born
April 21, 1937 at Grove City, PA (USA)
If you can help us improve this player's biography, contact us.
http://bioproj.sabr.org/bp_ftp/images5/PetersGary.jpg
600
800
admin
/wp-content/uploads/2020/02/sabr_logo.png
admin
2016-01-30 09:58:33
2021-10-05 15:58:39
Gary Peters