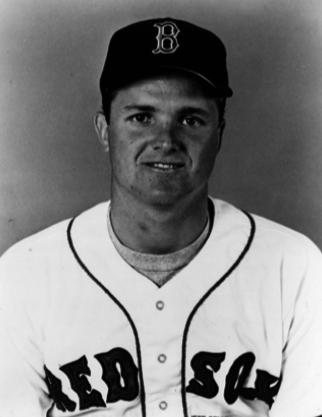 ---
May 11, 1964, was a good day for pitchers to be born to the majors. On that day, Red Sox hurler Jeff Sellers, 16-year veteran Bobby Witt and Expos staffer Floyd Youmans were all delivered into the world. It was the world at the height of the Cold War. Nuclear tests being performed in Nevada and ordinary citizens huddled around their TVs watching the British Invasion and a witty television show about a team of comedy writers. The Beatles had just debuted on The Ed Sullivan Show in February and three weeks after that trio of arms were born, The Dick Van Dyke Show won five Emmy Awards. Television was an escape from everyday life, especially for Sellers, who for the next 18 years came face-to-face with the inner city, especially where he grew up in Paramount, California.
It was a city in Southern California landlocked by freeways, the 91 to its southern border, the 105 to the north, and 710 to the west. Neighboring cities include Compton, Lynwood, Downey, Bellflower, and Long Beach. The city's most famous resident? Frank Zamboni Jr., he of the eponymous ice resurfacer.
If Sellers wanted to go to the beach, he took the city bus. In a heavily black neighborhood, Sellers described it to the Boston Globe in 1988 as "a tough neighborhood, even dangerous." But Sellers was surrounded by friends, ignored the gangs and its temptations, and instead chose hoops and the diamonds because he had "confidence in myself."1
Sellers first caught the attention of scouts in high school, in a league then known as the Suburban League. Scouts were there to watch Cerritos High School's Rob Parkins (the 18th overall pick in the 1982 draft, also to the Red Sox). There in the bleachers that day was longtime Red Sox scout Joe Stephenson, who played in 29 major-league games during and just after World War II, and who signed Brady Anderson (UC Irvine), Dwight Evans (Santa Monica), and Fred Lynn (USC), among others.2 Stephenson told Nick Cafardo of the Quincy Patriot Ledger half a dozen years later, "There were several scouts there to watch Parkins, but Sellers outdueled him. I made it a point to see him again and kept impressing me with his competitiveness."3
The Red Sox took a flyer on Sellers and selected him in the eighth round in 1982, a round that also yielded major leaguers Mitch Williams and Rafael Palmeiro. That draft also included first overall selection Shawon Dunston to the Cubs and fellow first-rounder Dwight Gooden (Mets). Spike Owen, whom Red Sox fans would remember as their shortstop in the mid-'80s, was the sixth overall pick, selected by the Mariners. The Red Sox draft produced future major leaguers Sellers, Sam Horn (their first pick via the Rangers), Kevin Romine, and Mike Greenwell. The Red Sox had three first-round picks in 1982: Horn, Parkins, and Jeff Ledbetter.
Sellers started his pro career with Greenwell and Horn in short-season Elmira later in 1982, pitching in 17 games with eight starts, and producing a 3.06 ERA. Greenwell hit .269 and Horn .300 on a team filled with 18-year-olds.
His first full season came in Class-A Winter Haven, where Sellers in 1983 was joined by Todd Benzinger and future ace Roger Clemens on his rapid ascent upward. (Clemens made four starts with a 1.24 ERA.) Sellers' second full season, in 1984, was even better, when he went 12-10 with a 3.41 ERA, as the 20-year-old tossed 182 innings, using finesse to strike out 94 and control to walk only 80. Sellers was joined by outfielder Ellis Burks and infielder Jody Reed on the team of up-and-comers.
On a talented 1985 Double-A New Britain club, Sellers was one of six Eastern League All-Stars that season, joining top prospect and shortstop Rey Quiñones, Burks, Horn, Chris Cannizzaro, and John Mitchell. By September, Sellers was 14-7 with a 2.78 ERA, at one point winning 13 of 16. He would get the call.
The scouting report on Sellers in 1985 was that he had "good velocity, ball movement, and control" and "attacks the hitters well." Pawtucket manager Ed Nottle noted at the time that Sellers was "too wound up" and overthrowing and simply wasn't in "control of himself." In Triple-A the thought was that once a tighter breaking pitch developed, the slider would be his out pitch.4
The 1985 big-league club, under new skipper John McNamara, 13 years younger than the retired Ralph Houk, was beginning to make a run for the East Division title. The Red Sox traded away starter Dennis Eckersley, along with Mike Brumley to the Cubs for veteran first baseman Bill Buckner. Clemens was in his second year in the majors. The lineup featured Rich Gedman behind the plate, and fellow 20-somethings Marty Barrett at second and Wade Boggs at third. Veteran outfielders Jim Rice and Dwight Evans defended the corners. The starting rotation featured a 22-year-old Clemens, Oil Can Boyd, who won 15 games, Bruce Hurst, Al Nipper, and Bobby Ojeda, who would face off against the Red Sox with the Mets a year later in the 1986 World Series. The team, though, was in the midst of an 81-81 season when Sellers was called up.
In a 4-2 win on September 15, before a quiet 11,124 at County Stadium in Milwaukee, Sellers struck out his first major-league batter, Mike Felder, and won his debut with 6⅓ innings of two-run (one earned), eight-hit ball. Glenn Hoffman pushed across the go-ahead single in the sixth.
"He threw groundballs and I was very impressed with him especially with his poise. We decided to get a look at him right away rather than wait until spring training," said McNamara.5 "He was not over-awed by anything."6
Sellers finished the season with two no-decisions against Baltimore and Detroit (giving up a combined four runs) and a complete-game win on September 26 over 16-game-winner Doyle Alexander and the Toronto Blue Jays. Sellers gave up one run on three hits in a 4-1 win. He finished the year 2-0 with a respectable 3.63 ERA.
For fellow starter Bruce Hurst, Sellers showed something late in the year. "He pitched great ball against teams that were still in the race. He has outstanding control and he keeps the ball down," said Hurst a year later.7
In 1986 spring training, Sellers was the "talk of the Boston camp" early after his first three starts before his Grapefruit League ERA "swelled to 5.29."8 Sellers had been battling for one of the final spots on the staff.9
Sellers was sent to Triple-A Pawtucket to start the season, and the Red Sox fell to as many as four games back as of April 25. With an 8-5 victory at California, the Red Sox caught the Yankees in the AL East. They would play at a .578 clip the rest of the season and never relinquish the lead, despite a number of injuries.
Buckner battled bone spurs in his left ankle, Rice had a deep thigh bruise, Tony Armas battled with a hamstring, and Wade Boggs with back problems. Sellers was called up in June, leaving behind his wife and two sons, still in Rhode Island.10
Again at Milwaukee's County Stadium, the site of his 1985 debut, Sellers gave up five unearned runs over 6⅓ innings in a 7-5 loss on June 5. He was wearing No. 19, which Dan Shaughnessy dubbed the "unofficial Southern California digit" worn by the last two Southern Californian natives, Lynn and Ojeda. The Red Sox pitchers were also battling injuries as both Nipper and Hurst were on the disabled list and Sellers was the third member of the Pawtucket pitching staff to get the call-up, following Mike Brown and Rob Woodward.
"He's a gutty little competitor," said Red Sox general manager Lou Gorman. "We rushed him a little (last year) but I figured it would be good to give him some experience in the big leagues."11
Five days later, in Toronto, Sellers again reached the seventh, as he gave up three early runs in another 6⅓ innings; the Red Sox won in extra innings. The team, however, lost three of his first four starts (as Sellers was 0-3). In fact, Sellers reached the seventh in each of his first seven starts of 1986 (as the Red Sox went 4-3).
Sellers' first win of 1986 came on June 29, when he threw a complete game at Baltimore, giving up three runs (two earned) on nine hits. He pitched into the eighth against Seattle and Oakland, both wins, as his ERA lowered to 3.20, and he was 3-3 over his six weeks in the majors. He did not win another game that season. Over his last four games in July, Sellers gave up 16 runs in 15⅓ innings. By August he was back in Pawtucket for the rest of the Triple-A season.
With September call-ups, Sellers made three starts in mid- and late September, tossing a combined 16 innings and giving up 11 runs. He was a question mark for the postseason, as it was between him and fellow rookie Rob Woodward as to who would take Tom Seaver's spot (sore right knee). Seaver had come to the Red Sox in late June for Steve Lyons and was 5-7 with a 3.80 ERA in what would turn out to be his 20th and final major-league season. Seaver's last start lasted four innings on September 19 to open a three-game series in Toronto. Sellers gave up nine earned runs over 10⅔ innings in two starts, Woodward came out of the bullpen as the starting staff for the final two weeks for the Red Sox remained Nipper, Clemens, Boyd, and Hurst.
After the Red Sox lost to the New York Mets in the World Series, questions remained about both Sellers and Woodward. Sellers had surgery to clear bone chips in his foot. He pitched in Venezuela for four weeks of winter ball and battled to be the fifth starter in 1987 behind Clemens, Hurst, Boyd, and Nipper. He started the season with the club, going 2-1 before heading back to Triple-A in late May. He returned in June for the rest of the season. The overall numbers, 7-8 and a 5.28 ERA, do not look pretty for the 23-year-old Sellers and fifth-place Red Sox, but he made an impression in the rotation during the season's second half. Starting in July, he tossed four complete games, including shutouts of Oakland and World Series-bound Minnesota. Five of his losses came when the Red Sox managed just one run or none.
Never a strikeout pitcher, Sellers struck out 10 against Minnesota on August 23 (Detroit was 13½ games ahead by that point) and on October 2 he gutted out 11 innings and struck out nine as the Red Sox won in the 12th over Milwaukee, 3-2.
"Geez, that kid can pitch," said Dwight Evans at the time, as the Salem News proclaimed that he "went 11 STRONG innings against the second-best hitting team in the American League."12 The Red Sox brass was auditioning candidates for their 1988 rotation behind Clemens, Hurst, and Boyd. (Nipper had been traded to the Chicago Cubs.)
During the latter half of 1987, Sellers' fastball was hitting 90 and his slider and breaking ball were baffling batters. He credited adding weight, to a high of 200 pounds, and working with pitching coach Bill Fischer. Most importantly, it was about staying consistent. All of that helped toward 1988, when the Red Sox were focused on the health of Boyd and Hurst.13
The accolades continued into spring training in 1988, as Clemens, whose locker was next to Sellers', told The Sporting News in February, "He's got great stuff, a very good fastball and has the makings of a very good pitcher."14 A month later Clemens continued the praise: "Jeff Sellers has more natural ability than I do. He also has a better slider. The sky's the limit as far as he's concerned."15
With the chance to get the ball every fifth day, Sellers was slated to be the fourth man in the rotation for John McNamara. Again, he suffered from a lack of run support. The Red Sox managed just three runs in his first three starts; Sellers was 0-2 with a 2.35 ERA. He tossed into the sixth inning in each of his first five starts, but the Red Sox lost them all as Sellers' record was pushed to 0-4. He kept his team in the game despite three rainouts to start the year and, at one point, 15 days of rest between starts. The offense sputtered with Sellers on the mound, scoring one run or fewer on average in seven of his 12 starts; he was 0-6.
When Sellers was struck by a line drive off the bat of Cleveland's Joe Carter on June 21, the Red Sox were seven games back and just 34-32. He was expected to miss two months. By the All-Star break, McNamara was out as manager and Joe Morgan was in. The Red Sox recovered, going 46-31 after the break (.597), finally taking over first in September and taking the AL East.
Sellers spent six weeks on the disabled list and after a rehab assignment in Pawtucket in August, he returned to the majors. In what would be his final major-league win, he tossed three shutout innings against AL champion Oakland on August 20. He again landed on the disabled list with bone chips in his right ankle and returned for the stretch drive on September 11, appearing just two times.
On October 1, 1988, a day after Boston clinched the division, Sellers came within five outs of a no-hitter at Cleveland. It was broken up by Luis Medina's eighth-inning homer. The final score? 1-0, dropping Sellers' record to 1-7 on the next-to-last day of the season.
After the Red Sox' division loss to the Oakland Athletics, Sellers, Todd Benzinger and Luis Vasquez were traded to the Cincinnati Reds in mid-December for first baseman Nick Esasky and pitcher Rob Murphy. The trade offered a new start for Sellers, who was 13-22 with a 4.97 ERA over 61 games for Boston.
He was to join a young staff of Jack Armstrong and Norm Charlton along with John Franco and Rob Dibble coming out of the bullpen. There were two openings on the 1989 staff for manager Pete Rose. Instead, Sellers tore his rotator cuff and missed 1989 and 1990. When he was ready to play again, he was released by the Reds.
Over the span of four seasons and six years following his near no-hitter, Sellers appeared in 18 minor-league games with four clubs, hanging up the spikes in 1994 with Colorado's Class-A affiliate after a combined five shutout innings.
In August 2011, he saw his son, Justin, debut at Dodger Stadium. An infielder who was born two months before the start of the 1986 season, Justin credited his father with his all-out fearlessness on the diamond. "My dad guided me in the right direction, with just enough pressure and just enough push."16 In 2012 Justin was one of the six sons of big leaguers on the Dodgers, telling Jim Caple, "My dad helped me with what I can expect down the road. Travel. Interacting with the media. What to say and what not to say. Anything. Everything. He played a big role in this. He's given me an edge in every way."17
Jeff Sellers' travels from rough-and-tumble Paramount to Fenway Park traversed many directions. He may not have pitched in a World Series, but he accomplished many of the dreams that a boy playing catch in the street always dreams of.
Notes
1 Mark Blaudschun, "Sox Seem Sold on Sellers," Boston Globe, February 29, 1988.
2 Baseballcube.com on Joe Stephenson thebaseballcube.com/players/profile.asp?P=Joe-Stephenson&Page=Jobs.
3 Nick Cafardo, "Smith's ready to achieve some fame," Sunday Telegraph (Nashua, New Hampshire), February 21, 1988.
4 Larry Dorman, "Laid Back Sellers Aims for the Strike Zone," Hartford Sports Extra, June 13, 1985.
5 Joe Giuliotti, "Red Sox Pitchers Blamed for Plunge," The Sporting News, September 30, 1985.
6 Dan Shaughnessy, "Cool Kid Hopes Boston Is a Sellers' Market," Boston Globe, June 5, 1986.
7 Ibid.
8 Ibid.
9 Larry Whiteside, "Sellers Thrives on Pressure," Boston Globe, March 20, 1986.
10 Shaughnessy.
11 Ibid.
12 Mike Grenier, "Sellers Makes Pitch for '88," Salem (Massachusetts) Evening News, October 3, 1987. 
13 Nick Cafardo.
14 The Sporting News, February 22, 1988.
15 Joe Giuliotti, "A Market for Sellers," The Sporting News, March 21, 1988.
16 Baxter Holmes, "Justin Sellers Gets a Lot of Ink With the Dodgers," Los Angeles Times, May 30, 2012.
17 Jim Caple, "The Next Generation," ESPN.com, March 14, 2012, espn.go.com/mlb/story/_/id/7684649/los-angeles-dodgers-camp-features-seven-sons-former-major-leaguers.
Born
May 11, 1964 at Compton, CA (USA)
If you can help us improve this player's biography, contact us.
http://sabr.org/sites/default/files/SellersJeff.png
600
800
admin
/wp-content/uploads/2020/02/sabr_logo.png
admin
2012-01-04 20:33:57
2021-02-11 16:08:55
Jeff Sellers