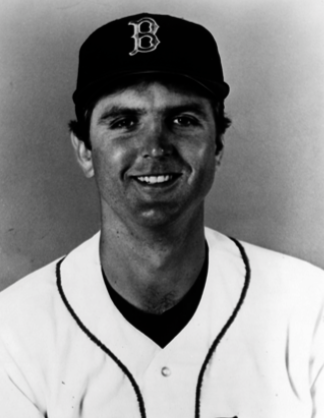 ---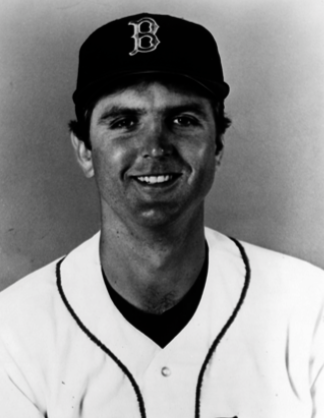 Glenn Edward Hoffman played nine seasons of major-league baseball (1980-1987, 1989). He spent the vast majority of his career with the Boston Red Sox (1980-1987) and much briefer stints with the Los Angeles Dodgers (1987) and California Angels (1989). He was a member of the Red Sox' 1986 American League championship-winning team. The right-handed hitting and throwing Hoffman played primarily at shortstop and third base but he played occasionally at first base and second base as well. Though only a .242 career hitter, Hoffman distinguished himself at the plate in several seasons, including his rookie year of 1980, when he hit .285 in 114 games. After his playing career, Hoffman has served as a coach and a manager at both the minor- and major-league levels. In 1998 he was the interim manager of the Los Angeles Dodgers for 88 games after the dismissal of Bill Russell. Hoffman is the older brother of former San Diego Padres closer Trevor Hoffman, a seven-time All-Star whose 601 saves are the second most in the major leagues (as of 2016).
Glenn Edward Hoffman was born on July 7, 1958, in Orange, California, the son of Edward and Mikki Hoffman and the middle of three brothers. (Greg, the oldest, was born four years before Glenn, and Trevor nine years after.) Edward Hoffman was a veteran of World War II who was a professional singer for a time but spent most of his working life with the US Postal Service and working as an usher for the California Angels after they moved to Anaheim in 1966.1 Edward came to be known to Angels fans as the "Singing Usher." He led the Anaheim crowd in the singing of "Take Me Out to the Ball Game" during the seventh-inning stretch and often sang the National Anthem as well.2 Mikki Hoffman received the George and Barbara Bush Little League Parent of the Year award in 2002 for her involvement in the Northwest Anaheim Little League program during her sons' tenures in the league.3
Like his father and younger brother, Glenn Hoffman grew to be tall, 6-feet-1-inch. He graduated from Savanna High School in Anaheim, after starring on the Savanna Rebels baseball team, a perennial Orange County power. (Savanna High School has produced a number of prominent major-league players, including Glenn's brother Trevor, Al Hrabosky, Greg Mathews, Marty Castillo, and Don Aase.) Hoffman was named to the All-County and All-League teams and broke the school records for hits and doubles. He also starred on the Savanna Rebels basketball team, earning All-League honors as a guard.4
The Red Sox selected Hoffman in the second round of the 1976 amateur draft. Boston sent the highly-touted young prospect to Elmira of the Class-A New York Penn League. The 17-year-old Hoffman played shortstop next to 18-year-old Wade Boggs at third base. Hoffman's .272 batting average bested Boggs' .263 on the 1976 NYPL champion Elmira Pioneers. The next season, Hoffman moved up to Winter Haven in the Class-A Florida State League. He excelled on the Rac Slider-managed 1977 Winter Haven Red Sox, posting a team-leading .289 batting average with 61 RBIs in 126 games. After Winter Haven's season ended, he played in four games for the Pawtucket Red Sox. In 1978 Hoffman was with Triple-A Pawtucket for the full season and again excelled. He hit .282 as the PawSox' everyday shortstop. Despite his strong numbers in 1978, Hoffman remained in Triple-A since the left side of the Boston infield, Rick Burleson at shortstop and Butch Hobson at third base, was strong. In 1979 Hoffman continued his excellent production at the Triple-A level, batting .285 for the PawSox and splitting his time between shortstop and third base.
After a strong performance in 1980 spring training, Hoffman made the Red Sox Opening Day roster as a third baseman. Initially, Red Sox manager Don Zimmer used him primarily as a late-inning defensive replacement for Hobson at third base and an occasional starter against left-handed pitchers. Hobson's nagging shoulder injury during June 1980 helped Hoffman break into the starting lineup.5 He played well, posting a .285 batting average with 4 home runs, 42 RBIs, and 37 runs scored. Hoffman's production at the plate helped him keep the starting job at third base for the remainder of the season. Hoffman was named to the Topps and Baseball America 1980 All-Rookie teams.6
The Red Sox revamped the left side of their infield after the 1980 season with the idea that Hoffman would become a fixture on that side of the diamond. In December 1980 Boston traded Hobson and shortstop Burleson to the California Angels for third baseman Carney Lansford, right-handed pitcher Mark Clear, and outfielder Rick Miller. With standout third baseman Lansford on the team, Boston moved Hoffman from third base to shortstop in 1981. Despite questions about his range at shortstop due to his large frame, general manager Haywood Sullivan expressed his confidence in Hoffman's ability to excel at the position defensively.7 Hoffman opened the 1981 season as the Red Sox' starting shortstop. Glenn's father, Ed, sang the National Anthem at the Red Sox' home opener at Fenway Park. (Years later, Glenn described that moment as the most memorable of his major-league career.8) Hoffman played a solid defense at shortstop in the strike-shortened 1981 season, but he struggled at the plate, hitting.231 with 20 RBIs and 28 runs scored.
Hoffman was the Red Sox' everyday shortstop again in 1982. Questions persisted about his lack of range at shortstop, but he fielded the position well again that season. Hoffman struggled at the plate though, hitting a mere .209 but enjoying an uptick in his power with 7 home runs and 49 RBIs. He displayed a marked improvement in his hitting for the 1983 season, batting .260 in 143 games as the everyday shortstop. But the trajectory of Hoffman's career changed considerably on September 24, 1983, when he dislocated his left knee in a collision at second base with Lance Parrish of the Detroit Tigers on a force play. Hoffman had surgery and tried to make a comeback the following spring, but he struggled at the plate and in the field early in the 1984 season. A cumbersome brace on his left knee limited his mobility in the field and his power at the plate considerably. He lost his starting job to rookie Jackie Gutiérrez in mid-May.9 Hoffman batted .189 in 64 games, and played the entire season in excruciating pain.10
Hoffman made a major comeback in 1985. Despite continuing knee problems, he had his best season in the major leagues since his rookie year. He hit .276 in 96 games, sharing the shortstop position with Gutierrez. Defensively, Hoffman played his best season at shortstop, with a .975 fielding percentage and 10 errors in 93 games. The Red Sox went 50-30 when Hoffman played shortstop and 31-51 when Jackie Gutiérrez played the position.11 "I worked at my hitting last winter," Hoffman said of his preparations for the 1985 season, "I lifted weights every day, strengthened my knee and I took extra batting practice whenever I could."12
Hoffman opened the 1986 season as the starting shortstop, but his season was derailed when he suffered a severely sprained ankle as a baserunner in the second game of the season. Compounding his new leg injury was a bout of severe headaches, characterized by blurriness in his vision, that he suffered beginning in spring training. Hoffman was diagnosed as having a defective micro-valve in his heart, a condition his doctors said was curable. He spent most of the season rehabilitating his body, working out with a doctor in Worcester to improve his overall physical health.13 Hoffman played in only 12 games: eight games in April and May and then four games in September and October. He also played in four games for the Double-A New Britain Red Sox. Hoffman was not a member of the Red Sox postseason roster in either the American League Championship Series or the World Series. Because Jackie Gutiérrez had been traded to the Orioles in December 1985, the Red Sox were forced into a shortstop-by-committee situation during the 1986 season: Ed Romero (who got most of the starts), Rey Quiñones, and Spike Owen.
Owen asserted himself as the Red Sox starting shortstop during the 1987 season, relegating Hoffman to the bench. In 21 games, Hoffman hit .200 for the Red Sox before being demoted to Triple-A Pawtucket in June. He played in 46 games for Pawtucket before being traded to the Los Angeles Dodgers in August 1987 for a player to be named later, who turned out to be minor-league pitcher Billy Bartels. Hoffman became the Dodgers' everyday shortstop for the remainder of the 1987 season, playing in 40 games and hitting .220 in 132 at-bats, but was released after the season. Boston re-signed him in March 1988 to a minor-league contract. He spent the 1988 season with Pawtucket, hitting.240 in 109 games.
After the 1988 season, the Red Sox released Hoffman. In January 1989 the California Angels signed him as a free agent. Again plagued by nagging knee and leg injuries, Hoffman played in only 48 games for the Angels, batting .212 in 112 plate appearances. After the season, the Angels released the 31-year-old Hoffman.14 The Dodgers signed him to a minor-league deal and assigned him to Triple-A Albuquerque (Pacific Coast League). Hoffman played in 24 games for Albuquerque in 1990 before retiring as a player. As a major leaguer he batted .242 in 766 games with 247 runs scored, 524 hits, 23 home runs, 210 RBIs, and 106 doubles. He posted a .966 career fielding percentage.
In 1991 Hoffman began a long coaching career in the Dodgers organization. He coached for three farm teams in the early 1990s: the rookie league Great Falls Dodgers (1991), the Class-A Vero Beach Dodgers (1992), and the Double-A San Antonio Missions (1993). From 1994 to 1996 Hoffman was the Dodgers' minor-league field coordinator. In 1997 and 1998 he coached for Albuquerque. Over five seasons as a manager in the Dodgers' minor-league system, Hoffman compiled a 246-302 (.449) record.15
Hoffman became the interim manager of the Dodgers when Bill Russell was fired on June 21, 1998, after the club's 36-38 start. Hoffman guided the Dodgers to a 47-41 (.534) finish in 88 games. The team finished in third place in the National League West with an 83-79 record, 15 games behind the division and eventual National League champion San Diego Padres.16 Hoffman was not considered for the managerial position in 1999;17 Davey Johnson got the job and Hoffman was named the bullpen coach. In late May he was named the third-base coach, and held the job through the 2005 season. The Red Sox considered hiring Hoffman as manager in both 2002 and 2003, but he declined their overtures, preferring instead to stay on the West Coast and not disrupt his family's life in California.18 Hoffman left the Dodgers when Grady Little became manager in 2006 and joined the San Diego Padres as third-base coach. As of the 2015 season he still held the position.19 His brother Trevor played for the team from 2006 to 2008.
Hoffman and his wife, Cheryl, settled in the San Diego area. They have three daughters, Sarah, Stacy, and Sabrina, and twin boys, Drake and Dylan.20
Last revised: December 1, 2016
This article originally appeared in "The 1986 Boston Red Sox: There Was More Than Game Six" (SABR, 2016), edited by Bill Nowlin and Leslie Heaphy.
Sources
Newspapers and magazines
Hartford Courant
Las Vegas Sun
Los Angeles Times
New London (Connecticut) Day
Ocala (Florida) Star-Banner
Sports Illustrated
The Sporting News
Websites
ESPN.com
SanDiegoPadres.com
UTsandiego.com
Notes
Born
July 7, 1958 at Orange, CA (USA)
If you can help us improve this player's biography, contact us.
http://sabr.org/sites/default/files/HoffmanGlenn.png
600
800
admin
/wp-content/uploads/2020/02/sabr_logo.png
admin
2012-01-04 20:33:29
2021-01-20 17:21:36
Glenn Hoffman