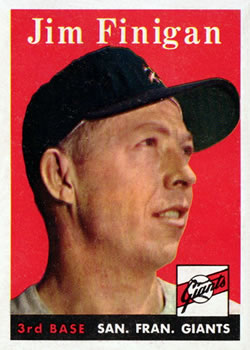 ---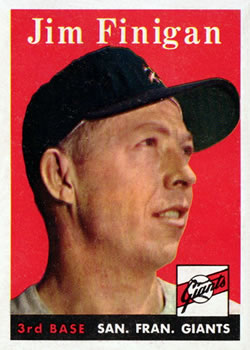 In April 1954, as Philadelphia Athletics third baseman Jim Finigan was launching his major-league career, The Sporting News contributor Art Morrow characterized him "as a fellow who could not miss major league stardom."1 Earle Mack, a son of future Hall of Fame skipper Connie Mack, echoed the sentiment five months later: "[Finigan] played good, steady baseball … I don't see how he can miss becoming one of the game's standouts."2 The last All-Star representative and last regular to hit over .300 for the Philadelphia Athletics, Finigan became the first All-Star starter for the franchise when the club moved to Kansas City in 1955.
But success did not follow Finigan to the City of Fountains or places beyond. After a strong first half in the 1955 season (.286/.358/.484), failing eyesight contributed to the sophomore's dismal finish of just 51 hits in his final 237 at-bats. A year later, struggling through a series of injuries and nagging ailments to a meager .216 average, the press observed that Finigan "only faintly resembles himself."3 He was relegated to a reserve role with the Detroit Tigers in 1957, and over his last three big-league seasons, bouncing among three clubs, he averaged a mere 106 at-bats.
James Leroy Finigan was born on August 19, 1928, the third of five children (and youngest of two boys) of John "Clifford" and Anna A. (Kemner) Finigan, in the Mississippi river town of Quincy, IL. His father, born with the surname Larcans in Kirksville, MO, in November 1890, was orphaned nine years later when his parents were killed in a horse and buggy accident. Mary Finigan, a widow and close family friend of his parents, adopted the boy, and he took on her name. Years later he crossed the Mississippi and settled in Quincy where, in 1925, he married Anna Kemner, an Illinois native five years his junior. Clifford's shoe repair shop supported his growing family before his untimely death in 1931. The the Finigan childrens' "athletic gene" appears to have come down from their mother. Decades later Caren Marie Kemner, Anna's great-niece (later inducted into the International Volleyball Hall of Fame), helped lead the US National Women's Volleyball Team to a bronze medal at the 1992 Summer Olympics.
The Finigan children attended Quincy Notre Dame High, a Roman Catholic school on the southwest side of the Gem City. Both Jim and his brother John excelled at football, basketball, and baseball with John, a quarterback, earning All-State honors in football.4 After graduating from high school in 1946 "Jim attended St. Ambrose College [now University] in Davenport, Iowa on a baseball scholarship."5 He also played halfback for the St. Ambrose Fighting Bees football team. After his freshman year Jim returned to Quincy to play sandlot ball alongside his brother.
In 1946 the Class-B Illinois-Indiana-Iowa League resumed play after a 13-year hiatus during the years of the Great Depression and World War II. Quincy, which had dabbled in professional baseball in the Three-I and other circuits since 1883, was one of eight locales fielding a team in the newly reformed league. The Quincy Gems, as a Class-B affiliate for the New York Yankees, would help propel the careers of such future major-league notables as Hank Bauer, Lew Burdette, Whitey Herzog, and Tony Kubek. In the summer of 1947, Gems president Oscar Shannon offered John Finigan a contract to play for the team. As the eldest son, John had long served as a surrogate father to his younger siblings, and he was uncomfortable relinquishing these responsibilities while his two youngest sisters were still minors. John urged Shannon to consider Jim, who around this time had drawn his own attention from St. Louis Cardinals scouts. Shannon eventually inked John's younger brother to a $400/month Yankees contract.6
Instead of starting with Quincy in 1948, Jim spent most his first professional season with the Class-D Independence (KS) Yankees in the Kansas-Oklahoma-Missouri League. He also 18 games with the Class-C Joplin (MO) Miners in the Western Association. In 411 at-bats with the Independence team he was among the club leaders in every offensive category while also placing among the circuit leaders in hits (127), total bases (160), and average (.309). Promoted to the Miners for a full season in 1949, Finigan batted .320 while pacing the Western Association with 180 hits, 19 triples, and 273 total bases. Another advance in 1950 took him to Norfolk, VA, where he played with the Class-B Tars (he also played six games with the Class-A Binghamton (NY) Triplets in the Eastern League). Finigan batted a respectable .260 in 99 games in the offensively challenged Piedmont League (circuit average: .248) while placing among the Tars leaders in hits (94), doubles (17) and total bases (122).
His upward ascent in the Yankees farm was temporarily halted on November 21 when, five months after the start of the Korean War, Finigan enlisted into the US Army. He spent most of his service at Fort Leonard Wood, MO, 140 miles southwest of St. Louis. Finigan played on the fort's Hilltoppers baseball team throughout his two-year enlistment. This richly talented squad included major-leaguers Dick Weik and Preston Ward. On May 8, 1951, Finigan was the fort's hitting star his grand slam led the Hilltoppers to an 18-5 win over the University of Missouri. In February 1953, three months after his military release Finigan, who had been closely monitored by the Yankees, was invited to the club's preliminary spring training instruction at Lake Wales, FL. Conducted by Yankees manager Casey Stengel, the school's attendees included returning serviceman Whitey Ford and prized prospects Bill Skowron and Norm Siebern. Among this impressive trio only Ford won a job as the reigning world champions had few roster spots available.
Reassigned to Binghamton, Finigan helped lead the club to a franchise-best 96 wins while placing among the Eastern League leaders in nearly every offensive category (including a circuit leading 38 doubles). His team-best .306 playoff average paced the club through the post-season and on September 30, 1953, he drove in four runs in an 11-7 championship clinching win over the Reading Indians. Finigan's surge attracted attention from several major-league teams, most notably from Athletics scout Joe O'Rourke. Before the A's accepted a proposed 11-player trade with the Yankees, O'Rourke convinced the them to take Finigan instead of proffered Triple-A third baseman Woody Smith. "[D]evotees regard [Finigan] as a sleeper [in the deal,]" Morrow wrote.7
In the spring of 1954 Finigan, whom many observers considered a dead ringer for former A's second baseman Cass Michaels, was initially perceived as needing an additional development year before advancing to the majors. This notion got quickly dispelled when Finigan got 11 hits in his last 20 at bats to finish the grapefruit league season with a .405 average. Finigan appeared a godsend to Philadelphia who, since the departure of Hank Majeski after the 1949 season, had used no fewer than 15 third baseman over the following four seasons. Although concerned about his defense, the club looked anxiously to Finigan to arrest this revolving door.
Sidelined at the start of the season by a chipped bone in his right index finger (from an errant hopper in batting practice), Finigan made his major-league debut on April 25, 1954, in Philadelphia's Connie Mack Stadium during a doubleheader against the Yankees. Appearing in the first game as a ninth inning defensive replacement, Finigan got the start at third in the nightcap. In his first major-league at-bat he got an RBI double to centerfield against rookie righthander Bob Grim but was thrown out at third trying to stretch it into a triple. Finigan collected a walk and a single in three additional plate appearances in the Athletics 4-2 win. Six days later he got a 10th inning walk-off RBI single against Baltimore Orioles righty Lou Kretlow in a 2-1 victory.
His first major-league home run, a solo shot against Tigers righthander Steve Gromek, came on May 18 in an 8-3 Athletics loss. Eleven days later Finigan capped off a 10-game hitting streak with a game-wining two run homer against Washington Senators' righty Spec Shea. Selected by Stengel as the Athletics sole All-Star representative, Finigan did not play in the midsummer classic (likely still recovering from a severely pulled thigh muscle that sidelined him a week earlier). Far from a speedy runner, Finigan got his first major-league stolen base on August 13 on the front end of a double steal, scoring the winning run against the Senators in the process. Nine days later he launched a career best 14-game hitting streak in route to a season ending .302/.381/.421 in 487 at-bats, a terrific start that included an AL best .343 average (58-for-169) at night. Finigan's league high 25 errors at third was about his only blemish. Runner-up to former Norfolk teammate Bob Grim in the AL Rookie of the Year voting, Finigan was named to The Sporting News' All Rookie squad alongside future Hall of Famers Hank Aaron and Ernie Banks. He also received slight consideration for AL Most Valuable Player, finishing 12th in the voting.
During the offseason, the Yankees tried several times to get Finigan back via trade. They were hardly alone. In December, the Orioles inquired, and three months later the Chicago White Sox reportedly offered a package of five players that included future five-time All-Star catcher Earl Battey for the third baseman. "[T]hese stories have added to [my] confidence," Finigan confessed. "[I]f all the clubs mentioned really want me, I can't be too bad. . . . I believe that has a good effect."8
In 1955, the Athletics moved to Kansas City. Despite the excitement of hosting a major-league club for the first time, the locals had Finigan and few others to point to with pride for a club that had finished in the second division in 19 of the last 21 seasons. At first the sophomore third baseman did not disappoint the fans. On April 19, before a crowd of 11,558 in Kansas City's Municipal Stadium, Finigan clubbed a two-run homer against the Cleveland Indians off rookie lefthander Herb Score, helping ignite an 8-7 comeback win for the Athletics. A week later, during an 11-game hitting streak, he collected a career high four RBIs with a three-run homer and an 11th inning walk off RBI single in another 8-7 victory, this time over the Boston Red Sox. On the strength of a league leading .493 slugging percentage through June 13, Finigan surpassed former AL MVP Al Rosen in fan voting to earn the start at third base in the 1955 All-Star Game. Though he went hitless in three at-bats in the July 12 midsummer classic, Finigan did reach base on a second inning error by Milwaukee Braves third baseman Eddie Mathews. Two weeks a large contingent of Quincy residents travelled to Kansas City to honor their favorite son, showering him with gifts that included a new automobile.
But Finigan's golden season began crumbling. Immediately after the All-Star break he plunged into a 15-for-95 hole that shaved 30 points off his batting average. Besides a brief six game surge through September 4 and a seventh inning double on September 7 that robbed Yankees lefty Whitey Ford of a no-hitter, Finigan finished the second half with a horrific .193 average. Several reasons were posited for the disaster. Through July 6 Finigan had played in 712 of the A's 719 innings, and many observers believed he had simply run out of gas. Others pointed to his being moved to second base three weeks before the All-Star break. Athletics manager Lou Boudreau shifted rookie Hector Lopez, the club's second baseman since his May 12 recall, to third and moved Finigan to second after Lopez, who had never played second base until he was given a crash course in Triple-A before his promotion, experienced great difficulty turning the double play. Finigan who lacked a particularly strong arm, was expected to thrive at second. Instead the move seemed to distract his focus at the plate. But the reason for Finigan's plunge was most likely the abrupt onset of slight astigmatism. Though not diagnosed until a year later, in late 1955 Finigan began to have difficulty simply seeing the ball. Once this was discovered, he took to wearing glasses for the remainder of his career.
Despite the second half bumps, the Athletics were far from ready to give up on Finigan. "I am convinced he can be of great help to us next year," Athletics owner Arnold Johnson said in November. "He had the problem of getting used to second base . . . and I have the hunch that next year he will be planted on solid ground and will be one of the stars of the league."9 Other clubs seemed to think so too. Throughout the offseason, the Athletics were bombarded with queries about Finigan, with especially aggressive pursuits by the White Sox, Orioles, and Tigers. Despite the anticipated reemergence of Spook Jacobs, the Athletics 1954 rookie second baseman, the club was unwilling to part with Finigan.
To make room for Jacobs, the Athletics moved Finigan back to third base and shifted Lopez to centerfield. But four games into the 1956 season Finigan suffered a severely pulled leg muscle sliding into third base and was sidelined. Perhaps rushing his return, he plunged into a 3-for-30 slump after reentering the lineup six days later. Finigan later missed time in May with a stomach ailment and in July with a sprained ankle. Jacobs failed to live up to expectations, and Finigan was moved back to second in June. Despite his better career fielding percentage, the move apparently aggravated his offense again.10 At times Finigan displayed glimpses of his former brilliance. On May 23, in a marathon game against the Senators, he launched a 17th inning leadoff homer helping lead the Athletics to a 7-6 comeback win. Ten days later he got three hits, scored three runs, and drove in two on a ninth inning triple in an 11-3 rout of the Red Sox. But disappointment was far more frequent. Benched on June 20 following a 2-for-30 skid, Finigan returned from the ankle injury in late July to discover that the Athletics were increasingly turning to veteran first baseman Vic Power and third base rookie Clete Boyer to play second base. He got just 43 plate appearance and 10 starts over the last two months to finish the season with a disappointing .216/.298/.284 line in fewer than 300 plate appearances.
During the season the Athletics had offered Finigan to the Tigers for righthander Frank Lary. Negotiations broke down when Detroit countered with veteran hurler Ned Garver. But on December 5, the Finigan-Garver swap happened amid a four-for-four player trade that also sent $20,000 to Kansas City. With plans to install Finigan at third base and shift Ray Boone, who had struggled at the hot corner, to first, Tigers manager Jack Tighe ecstatically declared: "I believe Finigan will be able to cover more ground than Boone did."11 But further consultation with his new boss, the Tigers just appointed GM John McHale, might have better tempered Tighe's enthusiasm. Counting on bonus baby Reno Bertoia to fill the club's future third base needs, McHale was negotiating with his Indians counterpart Hank Greenberg to swap Finigan for former All-Star righty Mike Garcia just weeks after the December trade. (Cleveland was looking to fill the third base vacancy created by the retirement of Rosen, but this trade never happened.)
Finigan did little to endear himself to McHale at the Tigers 1957 spring training camp, when he reported to camp overweight. A near lifelong smoker, Finigan had gained 10 pounds during the offseason when he tried to quit the habit. "Start smoking again," was the only advice McHale offered to the veteran third baseman.12 After sitting out much of the spring training season with a hand injury, Finigan came roaring back in April to wrestle the starting third base job from Bertoia. It was a short-lived victory: after going hitless in the first three games of the regular season, Finigan was benched. Bertoia immediately caught fire, and Finigan did not get another start for more than a month. Used sparingly thereafter, mostly during stretches when Bertoia was sidelined with a nagging shoulder injury, Finigan finished the season with a .270/.357/.316 line in a mere 174 at-bats, more than 70 percent of them during the last two months of the season. During the offseason, McHale offered Finigan to the Senators and Indians in several multi-player proposals, each of which were declined. Placed on waivers in January, Finigan was claimed by the San Francisco Giants. On January 28, the clubs worked out a deal to send him and $25,000 to the Giants for first baseman Gail Harris and third baseman Ozzie Virgil.
Finigan was initially expected to compete with newly acquired veteran Ray Jablonski for the Giants third base job, but these expectations had not anticipated the 1958 spring training surge of rookie Jim Davenport. Relegated to the far end of the bench, Finigan made just 23 appearances (only three starts) through July 13 before he was sent to the Triple-A Phoenix Giants in the Pacific Coast League. Platooning at third with future major-leaguers Joey Amalfitano and Bobby Prescott, Finigan collected 66 hits and 22 RBIs in 60 appearances to help lead the club to its first league championship. When the season ended, he was traded to the Vancouver Mounties for infielder Jim Brideweser and lefthander Art Ceccarelli. In October, Finigan was purchased by the Mounties parent club, the Baltimore Orioles.
Acquired as a reserve infielder, Finigan hit a quick streak of good luck. He batted .400 in spring training while incumbent third baseman Brooks Robinson appeared rusty after his six-month stint in the military. Robinson, the future Hall of Famer was eventually assigned to Vancouver, and on April 16, in the fourth game of the season, Finigan moved into the starting lineup. He responded with four singles, three doubles, and five RBIs in 12 at-bats to lead the Orioles to four straight wins. Over a two-game stretch on April 25-26, Finigan made his only major-league appearances at shortstop, contributing a ninth inning pinch-hit RBI single in the latter game to help the Orioles to a 5-4 comeback win over the Yankees. "[C]reating hopes that he . . . can come back," the 30-year-old veteran finished the month with a .324 average in 34 at-bats.13
But Robinson's return was inevitable. On July 5, Finigan started at third against the Red Sox in Baltimore's Memorial Stadium. It was his last major-league appearance, and he went hitless with one strikeout in three at-bats before being lifted in the sixth. Three days later, Robinson was recalled and Finigan was assigned to Vancouver. He returned to the Orioles amid the late-season call-ups in September but did not make an appearance. A month later the O's released him from the 40-man roster. Over the next three seasons he bounced between Vancouver and the Triple-A Rochester Red Wings. In 1961, his late-season homer (dubbed "Finigan's Rainbow") lifted the Red Wings into the post-season but it proved one of few highlights to his fading career. Released from the Mounties in May 1962, he then retired to his home in Quincy.
Except for 1956, when he spent the winter working at a processed food products company in Kansas City and an instructor at the St. Augustine (Florida) Baseball School alongside baseball greats Enos Slaughter and Eddie Lopat, Finigan had normally spent his off-seasons enrolled at Quincy College. In 1963 he graduated with a degree in physical education. A year later Quincy Gems president Mel Tappe, a Quincy native and former minor league hurler, tapped Finigan to manage the non-affiliated Class-A club. After a dismal 13-45 start, he was replaced by former major-league catcher Les Peden.
Though Finigan launched a long career selling advertising for the Catholic Missal, a liturgical prayer book, he was unable to refrain from sports. In the 1960s he coached a local high school football team and eventually took over as manager of an amateur baseball team. This led to Finigan's stepping into the head coach role for the Quincy College baseball team. These ventures were hardly new to him as, throughout his professional career, Finigan had always been generous with his time. In January 1956, he had joined Red Schoendienst and other professional athletes at a charity event benefitting the Quincy YMCA membership drive. A year later Finigan participated in an exhibition fundraiser in Washington, Missouri, on behalf of the disabled 5-year-old niece of former Athletics teammate Morrie Martin. The next year Finigan was one of five Tigers players involved in a March of Dimes fundraiser in Detroit. Moreover, when he had served as the Athletics player-representative in 1956, Finigan was one of many players who voted in favor of a measure to secure improved health benefits and a stronger pension for veteran players.
On December 28, 1955, Finigan married Peggy Jeanne Reason in Kansas City. A Greene County, North Carolina, native four years his junior, Peggy had earned a sociology degree at the Woman's College of the University of North Carolina the year before. She probably met Finigan while working as an airline attendant after graduating from college. Peggy settled into a long teaching career in Quincy after they married.
In 1981, Finigan was poised to take over as the athletic director at Quincy College when on May 16, three months shy of his 53rd birthday, he died of a sudden heart attack. He was buried at St. Peter Cemetery in Quincy. His high school alma mater soon established the Jim Finigan Scholarship Committee at Quincy Notre Dame High, and in 1992 the school inducted him into its Athletic Hall of Fame.
Six decades after his major-league career had ended, author Phil Reyburn wrote that "[f]or a season or two, Jim Finigan was as good as the best and better than the rest."14 Actually, Reyburn's observation likely applies to Finigan's marvelous rookie season. He was never the same after that. The scrappy right-handed hitter earned consecutive All-Star honors, and many observers believed he was en route to a sterling future. Unfortunately, and somewhat inexplicably, that expectation was never realized. He concluded a six-year big league career with 422 hits, 19 homers, and 168 RBIs in 1,600 at-bats.
Acknowledgments
This biography was reviewed by Tom Schott and fact-checked by Kevin Larkin.
Sources
In addition to the sources cited in the Notes, the author consulted Ancestry.com and Baseball-Reference.com. The author wishes to thank Gregg and P.J. Finigan, the nephew and great-nephew of the ballplayer, for their valuable assistance.
Notes
Born
August 19, 1928 at Quincy, IL (USA)
Died
May 16, 1981 at Quincy, IL (USA)
If you can help us improve this player's biography, contact us.
https://sabr.org/sites/default/files/FiniganJim.jpg
600
800
admin
/wp-content/uploads/2020/02/sabr_logo.png
admin
2017-05-08 00:41:02
2017-05-08 00:41:02
Jim Finigan