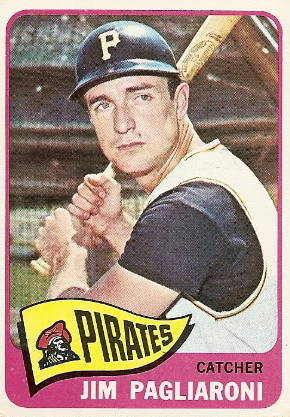 ---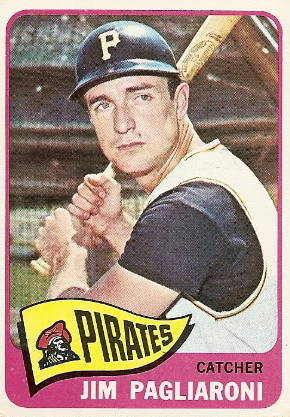 Possessing Hollywood-good looks and a keen sense of humor, Jim Pagliaroni was a beloved teammate and fan favorite who knew how to work a room. "Pag is a 6-4 stack of happiness … [who] seems to have been born with a gift of laughter. He refuses to take either himself or baseball seriously … [and his] wit make[s] him the bright spot of any club he happens to be with,"1 The Sporting News wrote of him. In October 1960, with just 62 major league at-bats to his name, the young catcher was already drawing comparisons to New York Yankees greats Bill Dickey and Yogi Berra while his own teammate, future HOF slugger Ted Williams said, "Pagliaroni was one of the most exciting young players to come up to the [Boston Red Sox] in years."2
But Pagliaroni's career in Boston was short-lived after management grew "weary of the joke-a-minute Californian."3 In November 1962 he was traded to the Pittsburgh Pirates, where he established a franchise record for home runs by a catcher. But clowning notwithstanding, there was one role Pagliaroni took very seriously: that of player representative for the Pirates. In 1967-68 his advocacy for players' rights helped spur MLBPA Executive Director Marvin Miller to many of the nascent union's earliest gains.
James Vincent Pagliaroni was born on December 8, 1937, the only child of Giovanni V. "Jack" and Mary T. (Frederick) Pagliaroni, in Dearborn, Michigan. Giovanni traced his family roots to Fossaesia, Italy, a small city just inland of the Adriatic Sea about 200 miles east of Rome. Born in September 1897, Giovanni boarded the German ocean liner Kӧnig Albert in Naples before the outbreak of the Great War and arrived in New York City on May 14, 1914. A hotel waiter fluent in five languages, Giovanni traveled extensively throughout Canada and the United States and appears to have returned to Italy on at least one occasion. In 1921 he married Amanda Strand in Canada, a union that ended in divorce.4 The Great Depression found Giovanni in Michigan where, it is believed, he met Alabama native Mary Frederick. Around 1940, following the birth of their son, the small family made the short move to Detroit. A few years later a much longer jaunt ensued, to Long Beach, California.
Growing up in a severely dysfunctional home, Pagliaroni coped by spending as much time as possible outside of the home. At 14 he went to work at a fish cannery and spent any spare time on varied ballfields. He briefly tried football before a broken collarbone in either his sophomore or junior year of high school dissuaded him further. But Long Beach, a breeding ground for baseball, proved a perfect fit for the athletically inclined youngster. Pagliaroni excelled at all levels of play – Little League, American Legion and prep school competition – and in 1955, his senior year at Woodrow Wilson High School, he earned All California Interscholastic Federation honors with a .456 batting average. Throughout this time major-league scouts were swarming all over the right-handed hitter.
Pagliaroni's most aggressive suitors were the Red Sox, the Brooklyn Dodgers, and the Milwaukee Braves, but in fact there was little competition. A lifelong fan of Ted Williams, Pagliaroni was determined to sign with the Red Sox even in the face of more lucrative offers. The youngster had little to fear. Shortly after his high-school graduation Pagliaroni signed with scout and former major-league catcher Joe Stephenson for an eye-popping $85,000, to be paid out over 10 years. Because of his bonus-baby status, the Red Sox were required to place Pagliaroni on the major-league roster and on June 23, 1955, the club sold veteran outfielder Sam Mele to the Cincinnati Redlegs to clear space.
Two months later Pagliaroni made his major-league debut in Boston's historic Fenway Park as a late-inning replacement for veteran backstop Sammy White. Over the last two innings of an August 13 lopsided loss, Pagliaroni was flawless behind the plate. In the ninth he came to the plate with runners on second and third and drove a pitch from Washington Senators reliever Pedro Ramos to center field for a sacrifice fly. (In Boston Red Sox IQ, author Bill Nowlin points out that Pagliaroni is the only Red Sox nonpitcher to drive in a run without an official at-bat, then wait five years until his next RBI.) Except for this singular appearance Pagliaroni spent the season learning his profession at the hands of former All-Star receivers Sammy White and coach Mickey Owen. "Pagliaroni is going to be a great catcher," observed Boston hurler Ellis Kinder. "He never gives up."5
In 1956 Pagliaroni was among 31 select prospects reporting to the club's specialized training school in Sarasota, Florida, in advance of spring training. The Red Sox were still required to keep him on the major-league roster but, as opposed to watching him while away the time on the bench, management persuaded the 18-year-old to enlist in the US Army "to complete his service hitch before settling down to a career in Organized Ball."6 (During the Cold War the likelihood that Pagliaroni would be drafted at some later point was very high.) On May 4 Pagliaroni left Boston for Los Angeles and enlisted two months later. In between he married his childhood sweetheart.
Pagliaroni initially met his neighbor and future wife Linda Miller while both were in middle school. The only child of Bill and Lois Miller, Linda was a striking, brown-eyed brunette who just a few years later was modeling at Buffums, Long Beach's upscale department store. These glamorous pursuits did not mask Linda's tomboy instincts, and it was her interest in sports that forged an instantaneous and lifelong friendship with Pagliaroni. A year younger than he, they married on June 17, 1956, shortly after her high-school graduation. A 54-year union ensued and produced two children, with the youngest arriving on the date of their fourth wedding anniversary.
After his nuptials Pagliaroni traveled 300 miles up the California coastline to begin basic training at Fort Ord in Monterey, California. This was followed by an assignment outside Frankfurt, Germany, where he was accompanied by his wife. Coached by future San Diego sportscaster Jerry Gross, in 1957 Pagliaroni led the 87th Regiment Conquerors with 17 homers before a fractured right wrist abruptly ended his play. The injury did little to diminish interest stateside: Throughout his tour of duty the Red Sox were bombarded with trade queries for the promising catcher.
Pagliaroni received his military discharge in time to join the Red Sox in the 1958 spring camp and despite his two-year absence he remained the club's youngest player by a nearly three-year margin. On March 27 Pagliaroni made his Grapefruit League debut with a noteworthy catch while leaning far into the dugout, a caught stealing, and a tremendous drive that all observers concurred would have cleared the bounds of Fenway Park. Yet with Sammy White and backup Pete Daley available – a third catcher, Lou Berberet, was added in May – Pagliaroni's status never rose above third string. With bonus-baby rules relaxed that year, the Red Sox assigned their prized prospect to the Memphis Chickasaws in the Double-A Southern Association. On June 13 Pagliaroni delivered a walk-off home run against righty Ray Rippelmeyer in a 7-6 win against the Atlanta Crackers. The blow proved to be one of Pagliaroni's few highlights of the 1958 campaign. A catching platoon resulted in intermittent play that yielded a mediocre .227 average in 119 at-bats. In July he was demoted to the Allentown (Pennsylvania) Red Sox in the Eastern League (Class A) and finished the year with a combined .243 with 10 homers in 259 at-bats.
Despite the disappointing season, Pagliaroni's explosive potential and defensive prowess garnered an offseason promotion to the Triple-A Vancouver Mounties7 in the Pacific Coast League. A fast starter throughout his career, in March 1959 Pagliaroni laced a 400-foot triple and fence-clearing home run in an exhibition series in San Diego that seemingly spelled a breakout season. Instead, a continual string of injuries produced a meager .215/.322/.363 line in 223 at-bats. Despite the paltry numbers, the Red Sox selected Pagliaroni among their September call-ups. That plan fell astray when, in his last appearance with the Mounties, Pagliaroni suffered a severe ankle sprain that prevented him from reporting.
In 1960, five years removed from signing his first professional contract, Pagliaroni remained the youngest player on the Red Sox' 40-man roster. The 22-year-old reported to spring training restored to full health and immediately "opened a lot of eyes with his long-range … bombing."8 But the Red Sox catching corps underwent a sea change on March 16 when the club traded Sammy White and utility player Jim Marshall to the Cleveland Indians for catching prospect Russ Nixon. Though the trade was voided nine days later when White announced he would not report to the Indians, the Red Sox eventually acquired Nixon in June in a four-player swap. In the interim Boston pursued a platoon of two 29-year-old rookies and assigned Pagliaroni to the Spokane Indians9 in the PCL. But before his departure the team had some fun at the youngster's expense. The club had hired a hypnotist in a failed attempt to cure All-Star outfielder Jackie Jensen of his fear of flying. But "[i]n one instance, the hypnotist succeeded in mesmerizing catcher Jim Pagliaroni into thinking he was a chicken. The players went into hysterics as Pagliaroni ran up and down the aisle cackling."10
In Spokane Pagliaroni was paired with his former American Legion teammate Ron Fairly as the duo helped lead the Indians to their first league title. Months before the club basked in postseason glory, Pagliaroni was back in Boston when, on July 31, the club assigned catcher Eddie Sadowski and promoted the youngster. Four days later Pagliaroni got his first major-league starting assignment. In the first inning he lashed a two-run double – his first big-league hit – against former World Series hero Don Larsen to lead the hometown club to a 9-1 win over the Kansas City Athletics. Two days later Pagliaroni earned his second start, this time in Detroit's Briggs Stadium. In the fifth he connected for his first home run, a two-run shot to deep left field off Tigers southpaw Pete Burnside that knotted the contest in an eventual 11-9 Red Sox win. On September 4 Boston manager Pinky Higgins inserted Pagliaroni in the cleanup spot against Washington lefty Jack Kralick. "He must figure we'll get rained out," Pagliaroni joked before accounting for four of Boston's five runs with a home run and two doubles as the Red Sox squeaked by the Senators 5-4.11 At the beginning Higgins intended to use Pagliaroni primarily against left-handed pitchers – the role previously served by Sadowski – but the skipper soon turned to Pagliaroni on a regular basis. He finished with 19 hits in 62 at-bats (.306) with nearly half the hits for extra bases. "Pagliaroni is one of the best-looking young catchers I've seen around all season," said future HOF catcher Al Lopez. "He swings a good bat, has a strong arm and he does a wonderful job behind the plate."12 Pagliaroni was selected to The Sporting News' 1960 All-Rookie team while the magazine's publisher, J.G. Taylor Spink, declared that the young catcher "may reach stardom."13
In 1961 Pagliaroni earned the bulk of play in a platoon with Nixon as his long-ball potential made it impossible to keep him out of the lineup. On May 16 his two-run homer proved the decisive blow in an 8-7 win over Cleveland; a month later he celebrated his fifth wedding anniversary with a game-winning two-run pinch-hit home run against the Senators. The next day, June 18, Pagliaroni led the Red Sox to a doubleheader sweep with dingers in both contests, including his first career grand slam. On September 8 he established a single-game career-high five RBIs and came within a triple of the cycle in leading the Red Sox to a 9-2 win over the Tigers. By season's end Pagliaroni trailed center fielder Gary Geiger for the team lead in homers (18-to-16) despite 161 fewer plate appearances.
The only blemish to Pagliaroni's season – albeit a big one – was a league-leading 10 errors, one more than Russ Nixon. These defensive lapses appear to have contributed to the Red Sox' decision to elevate catcher Bob Tillman to the major-league roster in 1962. Though Pagliaroni again earned the bulk of play behind the plate, he made 30 fewer appearances (33 fewer starts) –a scenario that may have played out worse if an injury-plagued Nixon had not missed most of the season's first half. Despite his defensive challenges – a matter that Pagliaroni worked hard to improve upon in later years – his arm appeared fully intact after he became only the second catcher to throw out HOF stolen base threat Luis Aparicio three times in one season. On August 1 Pagliaroni was behind the plate and scored the only run when righty Bill Monbouquette tossed a 1-0 no-hitter against the Chicago White Sox. Pagliaroni missed nearly two weeks behind the plate after he was plunked on the elbow by Kansas City Athletics righty John Wyatt.14 The injury, combined with the club's apparent decision to go in a different direction, limited Pagliaroni to just eight appearances (12 at-bats) over the season's last 33 games. On November 20 he and righty Don Schwall were traded to the Pirates for pitcher Jack Lamabe and first baseman Dick Stuart. To some observers the moves by the Pirates were motivated strictly by the bottom line; Stuart was the second of three high-priced players to exit within a nine-day period (the others being Dick Groat and Don Hoak), providing an estimated $100,000 in savings to the club. To others, the trade of Pagliaroni and Stuart in particular made perfect sense as both were expected to fill the voids left when 35-year-old Pirates catcher Smoky Burgess and 34-year-old Red Sox first baseman Pete Runnels retired. "I'm surprised the Pirates were able to get [Pagliaroni]," Schwall said. "He's young and has tremendous potential."15
When the Pirates' 1963 spring training opened the camp was abuzz over the startling resemblance of Pagliaroni to Dick Stuart, and he was initially assigned Stuart's uniform number 7. Ten games into the season Pagliaroni connected for his first home run as a Pirate, a towering shot over Forbes Field's left-field scoreboard that stirred the 18,000 fans in attendance. But nagging injuries spelled much of Pagliaroni's first season in Pittsburgh as jammed thumbs and sprained ankles resulted in intermittent stays on the bench. On June 16, shortly after connecting for a three-run homer against St. Louis Cardinals lefty Curt Simmons, Pagliaroni injured his right ring finger. Two days later x-rays revealed a break. He missed six games in September and was hospitalized for days after taking a foul tip to the Adam's apple. Throughout it all, Pagliaroni garnered fewer at-bats than in 1962 and finished with a disappointing .230/.330/.381 line.
Pagliaroni went to the Arizona Winter Instructional League, where he was tutored by George Sisler. The young hitter had developed a bad habit of pulling everything, a tendency that was pushed upon him years earlier by Boston coaches because of Fenway Park's short left-field wall. The HOF first baseman worked with him on hitting to all fields. Initially the instruction yielded little as Pagliaroni opened the 1964 season 1-for-15. But May told another story as he exploded with a .362 average in 47 at-bats, including his second career grand slam. Three months later Pagliaroni hit what is believed to be his first career homer to right field – clear evidence that Sisler's instruction took hold. Pagliaroni finished the season with a career-high .295 average (100 or more at-bats) to trail only Braves' Joe Torre for the best mark by a NL catcher. But injuries remained Pagliaroni's constant companion. He missed the last 15 games of the season after his right thumb was fractured by batting-practice pitcher and backup catcher Jerry May. More disturbing was the neck injury sustained on August 20 as Pagliaroni slid into second base. This injury would resurface three years later, contributing to a sharp career decline and eventual retirement.
The 1965 season would prove the exception when, save for a pulled knee tendon in July, Pagliaroni remained relatively healthy. He established single-season marks across the board including a franchise record 17 home runs for a catcher (once again trailing only Torre16 for the NL mark). During a trip to Houston he won the hearts of baseball purists everywhere when, in regard to exploding scoreboards and musical accompaniments in the newly built Astrodome, Pagliaroni caustically remarked, "If they dropped peanuts from the roof, the whole thing would be a circus."17 On July 23 he connected for two home runs against Chicago Cubs' lefty Dick Ellsworth – it was the only multi-homer game of Pagliaroni's career. Moreover he did his part in the Pirates' season-ending 11-2 run by collecting 11 hits, 3 homers and 13 RBIs in his final 31 at-bats. The surge included two game-winning hits over the last three games (one being a come-from-behind walk-off single on October 1). "[Pagliaroni] was our leader," said Bucs skipper Harry Walker. "The other players looked up to him and they listened to him. These are the qualities of a leader."18
Pagliaroni's leadership qualities were not limited solely to his on-field generalship. The following spring, on his own initiative, he attended the MLB Players Association meeting in Miami where Marvin Miller was chosen as executive director. A week later Pagliaroni was elected the Pirates' player rep. Teammates noted his conscientious approach to the job and honored him "for services above and beyond the call of ordinary duty."19 On June 22, 1967, Pagliaroni was one of only two players who accompanied Miller and union attorney Dick Moss to New York to negotiate for a minimum salary and put teeth in the players' pension plan. (Putting family first, Pagliaroni missed a follow-up the next month to be with his wife while she sought treatment for bursitis.) Throughout his life Pagliaroni remained an effective advocate for players' rights, spending countless hours participating in old timer's games and golf tournaments to raise funds for the Alumni Association and the Baseball Assistance Team.
In the wake of the club's strong 1965 finish, pennant fever gripped the city of Pittsburgh when the Pirates opened the 1966 season with a first place, 13-5 mark. Seemingly on course to his best season ever, Pagliaroni placed among the NL leaders with 22 hits, three homers and eight RBIs in his first 60 at-bats (a brisk .367), including a tremendous 450-foot drive in St. Louis's Busch Stadium on April 23. But injury found Pagliaroni when he hurt his right side in a throw to second. He tried to play through the pain but it eventually affected his game: just two hits in 55 plate appearances. Pagliaroni rebounded in July before he suffered yet another injury, a severe bruise to his right foot. Unable to shift his weight properly, Pagliaroni became mired in another slump (.133 in his final 60 at-bats). He attempted to compensate with his fine glove work – a NL-leading .997 fielding percentage – but it was not enough. On September 11 the Pirates lost their grip on first place. It was closest Pagliaroni ever came to postseason play.
A surprisingly different environment greeted Pagliaroni in the spring of 1967. As he competed with catchers Jesse Gonder and Jerry May for first string, manager Harry Walker shocked all participants when he unsuccessfully attempted to recruit 36-year-old coach Hal Smith out of retirement. When May won the starting role, an upset Pagliaroni requested a trade. "I feel they've lost all confidence in me," he said. "I can't play ball or live under these conditions."20 Further insult followed in July after May went on the disabled list and the Pirates called up 23-year-old Manny Sanguillen to share the catching duties. With intermittent play, Pagliaroni struggled far below the Mendoza line, finally creeping above .200 on August 4. His season ended the next day when the neck injury resurfaced. In November, while Pagliaroni underwent surgery to repair two ruptured discs, rumors surfaced of his imminent trade to the Minnesota Twins. Instead he was sold to the newly relocated Oakland Athletics on December 3 for $15,000 with an additional $60,000 to follow if he made the squad. "Pagliaroni will be a valuable asset to us," said A's executive vice president Joe DiMaggio. "He will help us a good deal with our young pitchers and get us some runs."21 Pagliaroni was equally thrilled. In 1963 he and his family had settled 140 miles northeast of Oakland in Grass Valley, California. For the first time in his career he would have the opportunity to play close to home.
In 1968 Pagliaroni's spring training accomplishments included two walk-off hits in Grapefruit League competition. With an eye toward the AL Comeback Player of the Year award, he began the regular season. The 30-year-old backstop admitted he'd lost arm strength – an issue that had begun to surface two years earlier – but Pagliaroni felt he could still contribute. On May 8 he earned a $1,000 bonus from the Athletics' tight-fisted owner Charlie Finley and an engraved gold watch from HOF righty Catfish Hunter after being on the receiving end of Hunter's perfect game against the Twins. Twenty days later Pagliaroni became the first major-league player to hit a home run with a man on base in the Oakland Coliseum. He was seemingly on pace for Comeback Player with a .305/.380/.427 line in May, but Pagliaroni's soar came to an abrupt end on June 7 when his right wrist was broken on an HBP from Baltimore Orioles hurler Eddie Watt. Upon his July return he was upset to discover he would be sharing the catching duties with 22-year-old Dave Duncan. By September the writing was on the wall when Pagliaroni had a mere six appearances over the last 27 games. In spite of these setbacks he was able to maintain his sense of humor. On September 14 the baseball world turned its eyes to Detroit as righty Denny McLain pursued his 30th win of the season against the visiting Athletics. The wisecracking Pagliaroni, who had claimed that future HOF second baseman Bill Mazeroski "can fall faster than he can run"22 walked around batting practice on this historic date with a homemade sign on his back that read "Chuck Dobson goes for No. 12 today."
In the October 15 AL expansion draft Pagliaroni was neither protected by the Athletics nor selected by the two incoming clubs. Two months later rumors surfaced of a trade to the Kansas City Royals but nothing became of this. Instead, on May 27, 1969, after just 27 at-bats with the Athletics, Pagliaroni was traded to the Seattle Pilots. He arrived having already been assigned to the disabled list with a fractured finger sustained in his last game with Oakland. The expansion Pilots shuffled through 53 players en route to a 98-loss season. In the midst of this revolving turnstile Pagliaroni, for the first time in his professional career, played positions other than catcher. On September 30 he collected a hit in his last official at-bat. It proved to be his last appearance in the majors. Two months later he was released.
Throughout his playing career Pagliaroni dabbled in varied business ventures with his father-in-law: an A&W Root Beer franchise beginning in the mid-'60s; selling and investing in real estate thereafter. After his career Pagliaroni entered the food industry as a sales representative and eventually rose to an executive position handling multimillion-dollar accounts in the Northwest. Years later Pagliaroni became a partner in U.S. Science & Technology (USST), a renewable-energy project development company.
Always willing to give of his time, Pagliaroni became the marketing director for the Jim "Catfish" Hunter Chapter of the ALS Association, commonly known as Lou Gehrig's disease. In 2006 Pagliaroni was a guest speaker at the national convention of the Society for American Baseball Research in Seattle. (Click here to listen to the Seattle Pilots panel from SABR 36.) Two years later he was inducted in to the Woodrow Wilson High School Athletics Hall of Fame in Long Beach, California.
Pagliaroni enjoyed golf, astronomy, and a shared interest in landscape painting with his wife. Around 2002 health issues began to overtake him as he fought off varied forms of cancer, while the radiation and chemotherapy started to take a toll on his heart. On April 2, 2010, Linda Pagliaroni turned to her husband and asked, "Whatever happened to that cute couple that was us?" With a smile he replied, "We're still in there somewhere." That night, four months after his 72nd birthday, Pagliaroni died in his sleep. He was cremated and his ashes were spread in Boston and in the Pacific Ocean off Carmel-by-the-Sea.
Over an 11-year major-league career Pagliaroni produced a .252/.344/.407 line in 2,852 plate appearances, including 266 career at-bats as a cleanup hitter. A slugger who thrived on the high fastball, Pagliaroni was capable of some of the game's most prodigious blows. But offense was not his sole contribution. Pagliaroni worked hard at defense and, through 2015, his .991 fielding percentage for a catcher ranks 75th all time. His further contributions as a player rep yielded benefits enjoyed by professional players to this day.
Acknowledgments
The author wishes to thank Dean Giampola for research assistance. Further thanks are extended to SABR member Len Levin for review and edit of the narrative.
Sources
Ancestry.com
Jim Pagliaroni interview with author Brent Kelley, January 21, 1992, SABR Oral History Collection.
Laura and Linda Pagliaroni, telephone interviews, May 2 and 3, 2016, respectively.
Notes
Born
December 8, 1937 at Dearborn, MI (USA)
Died
April 3, 2010 at Grass Valley, CA (USA)
If you can help us improve this player's biography, contact us.
http://sabr.org/sites/default/files/PagliaroniJim.jpg
600
800
admin
/wp-content/uploads/2020/02/sabr_logo.png
admin
2016-08-18 11:13:17
2021-10-05 15:42:25
Jim Pagliaroni