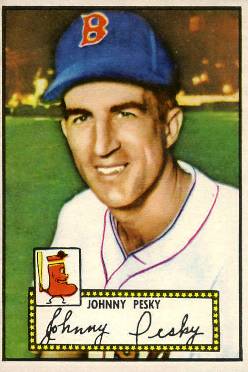 ---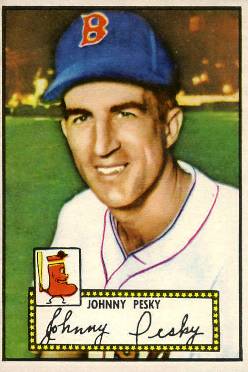 Johnny Pesky's career got off to an unparalleled start, and could have propelled him into the Hall of Fame had World War II not pulled three prime years out. Pesky set a rookie record with 205 hits his freshman year (1942) but then served in the Navy for the next three years. When he came back, he twice more produced over 200 hits, in the Red Sox pennant-winning year of 1946 and in 1947. Had he managed over 200 hits for each of his three missing years, there is every possibility this lifetime .307 hitter could have made the Hall.
Born John Michael Paveskovich in Portland, Oregon, on February 27, 1919, Johnny Pesky (he changed his name legally in 1947) was the son of Croatian immigrants. His father, Jakov, never did really understand baseball, but he and Johnny's mother, Marija, were both supportive of their middle of three sons when he took to hanging around the Portland Beavers ballpark, a few blocks from the family home. Johnny was just one of the kids around the park, but groundskeeper Rocky Benevento invited him in and put him to work. Before too long, Johnny was one of the visitors' clubhouse kids — and clearly recalled hanging up the laundry of Pacific Coast League players only a year or two older than himself — players with names like Ted Williams and Bobby Doerr.
Johnny had an older brother, Anthony, a younger brother, Vincent — who spent a little bit of time in the New York Yankees' system — and three sisters: Anica (Ann), Milica (Millie), and Danica (Dee). Jakov worked in the sawmills until asthma forced him to retire. The older children took jobs; Vincent was the youngest and Johnny next-to-youngest. There was enough money coming in that it freed up the two boys to play some baseball.
From an early age, Johnny was doing everything he could to better himself at baseball. The young middle infielder also played American Legion ball, and on a number of city teams in Portland, as well as on some semipro teams. Before he graduated from Lincoln High School in Portland, he spent the summer of 1937 with the Bend Elks in the town of Bend, Oregon, and led the league with a .543 batting average. The team won the state league title. The summers of 1938 and 1939 were spent with the Silverton Red Sox. Both the Bend and Silverton teams were summer-league teams associated with local timber companies. Surprisingly, Boston Red Sox owner Tom Yawkey owned the Silver Falls Timber Company, so Johnny was actually with the Red Sox (albeit the Silverton Red Sox) even before Boston's scout Ernie Johnson signed him. Twice Pesky was part of a Northwest team that went to the semipro tournament in Wichita and competed nationally. The Silverton team won 34 games and lost two, and sometimes played exhibition games against touring teams like the House of David aggregation and the Negro League Kansas City Monarchs.
Pesky was offered $2,500 as a bonus by the St. Louis Cardinals, but signed with Boston for $500, because Johnson had so impressed his parents. They felt he'd look out for Johnny if he signed with the Red Sox. Johnson had offered an additional $1,000 if Johnny stayed in the organization for two years. His pay was $150 per month, and the Red Sox sent him the full thousand after just his first year.
Johnny's first year in pro ball, after signing with Boston, was 1940 in Rocky Mount, North Carolina, playing for the Rocky Mount Red Sox of the Piedmont League, under manager Heinie Manush, whom Johnny credited as a major influence. He hit a club-leading .325. He had 55 runs batted in but, ever the table-setter, scored 114 times. Pesky led the league with 187 hits and 16 triples. That .325 average placed him third in the league.
In 1941 Pesky progressed from Class B ball in Rocky Mount to Louisville, where he played for the Colonels, again hitting .325. Louisville was a Double-A team in the American Association, managed by Bill Burwell. Pesky hit for precisely the same average — .325, and once again led the league in hits, this time with 195. He won the MVP award in the American Association for 1941.
By year's end, Pesky was bound for Boston, offered $4,000 for his first year's salary. He joined the Sox for spring training just three months after the Japanese attack on Pearl Harbor. War loomed large over all of baseball, and during Pesky's rookie year; he spent three evenings a week beginning in May taking classes for the United States Navy, where he was in training to become a naval aviator, in the same program as teammate Ted Williams. Pesky won the shortstop spot in spring training and was assigned number 6. Despite the need to balance baseball with naval training, Johnny Pesky finished the season with a .331 batting average, second only to Williams (.356) in the American League. He led the league in sacrifice hits. There was no "rookie of the year" award yet. That same year, The Sporting News named Johnny the shortstop on its All Star Major League team. And he came in third in the MVP voting, behind Joe Gordon and Ted Williams.
Tom Yawkey had his own prize for Pesky. At season's end, there was a $5,000 bonus for the rookie shortstop — enough to buy his parents a home in Portland. Johnny Pesky never forgot Tom Yawkey's generosity at a time when Johnny was off to military service, perhaps never to return. Yawkey won fierce loyalty from many of his players; with gestures like this, one can understand why.
World War II took three years out of Pesky's baseball career, but while in the Navy he met his future wife, Ruth Hickey. She was a WAVE whom Johnny met while serving as an operations officer in Atlanta. Ruthie and Johnny remained very happily married for more than 60 years. In 1953 they adopted a five-month-old son through Catholic Charities — David Pesky, who was born in December 1952. Like a lot of ballplayers, Johnny had many opportunities to play baseball during the war and even played in the AL vs. NL All-Star Game at Furlong Field, Honolulu, in 1945.
In 1946, the war over, Johnny and the Red Sox won the pennant, and took the fight right down to the ninth inning of the seventh game of the World Series against the St. Louis Cardinals. Johnny hit safely a league-leading 208 times that season, with a .335 average (third in the league), scoring 115 times (second behind Ted's 142.) The Series was a disappointing one for Pesky, as it was for two other players, named Musial (who batted .222 in Series play) and Williams (.200). And generations of baseball aficionados have heard that "Pesky held the ball" on a key play in the eighth inning of Game Seven, allowing Enos Slaughter to score the winning run from first base on Harry Walker's hit to left center. Cardinals 4, Red Sox 3. Films of the play do not show a clear hesitation, and perhaps sportswriter Bob Broeg was right in arguing that credit should go to Slaughter for his "mad dash" around the bases rather than blame being assigned Pesky for what was, at most, momentary surprise that Slaughter was streaking toward the plate rather than secure at third.
The following year, Pesky again collected his 200 hits (207 this time around) — the third year in a row he'd led the league. He and Dom DiMaggio were the table-setters for Ted Williams, and the speedy Pesky was usually discouraged from stretching a single into a double, because a double just meant the other team would walk Ted to fill the unoccupied sack at first. Pesky was a clever infielder as well; three times he pulled the rare hidden-ball trick, and would have done so a fourth time had the pitcher not stepped off the rubber at the wrong moment.
The Red Sox came within a game of winning the pennant in 1948 and 1949, and were only four games behind in 1950. These were some great Red Sox teams. Pesky's place, though, never seemed secure — a strange spot to be in for a top-ranking shortstop. When Johnny joined the team for spring training in '48, he was unsure where he'd be playing, since Boston had acquired Vern Stephens from the St. Louis Browns and it looked as if Billy Goodman — another infielder — would make the team. Stephens contributed 137 RBIs in '48; clearly manager Joe McCarthy's decision to play him proved wise. (Stephens led the league in RBIs in '49 and '50. Goodman stuck, and hit .310. In 1950 he won the AL batting title with a .354 average — with a bit of an assist from Pesky. Johnny approached 1950 manager Steve O'Neill late in the season and offered to take himself out of the lineup so that Goodman could accumulate the necessary at-bats to qualify.)
The problem was an embarrassment of riches. There were just too many good hitters on these Red Sox teams. Johnny Pesky's average fell off sharply in 1948, down to .281. Almost certainly part of the reason was that McCarthy slotted Stephens in at short, and shuffled Pesky over to third. He put a brave "team face" on it, but being asked to learn a new position was unsettling. So, too, was the pay cut Joe Cronin imposed on him after the 1947 season. All he'd done was led the league in hits for each of his first three years, but Cronin cut his $20,000 pay to $17,500 for 1948. "They asked me how many home runs I hit and how many runs I had knocked in," Johnny explained 50 years later. This was certainly a discouraging situation, and Pesky did pop a career-high three home runs in 1948. He may have been pressing more than a little.
The 1949 season saw a bit of a rebound, Pesky's average back up to .306 and, with an even 100 walks, an on-base percentage of .408. Johnny, always a team booster, allowed, "What a lucky guy I am. Instead of wearing these shoes, I'd probably be shining them for some other guy in the Coast League." There were endless rumors, though, about trades said to feature Pesky. From time to time, he admitted, these rumored trades proved distracting for him.
The 1950 season was a tremendous year offensively for Boston. Pesky hit .312, walked 104 times, and boosted his OBP to a solid .437. His fielding at third base drew frequent accolades in the Boston press. Scoring 112 runs, he joined teammate Ted Williams as the only other player to have scored 100 or more runs each of his first six seasons of major-league ball. This was the year Pesky, in effect, took himself out of the lineup so that Billy Goodman could have a shot at the batting title. Boston Herald sportswriter Bill Cunningham wrote, "The sporting part about his gesture is that he made it for the man who took the job away from him." Years later, in 1985, the Lynn Sunday Post editorialized that Johnny Pesky led the majors in "Most Friends."
By 1951, though, the bloom was off the rose, and when the Marines called Williams back in 1952 to fly combat in Korea, the golden days were gone. There were signs that Pesky was slowing a bit. He stole only two bases each in '50 and '51, down somewhat from earlier years. He maybe wasn't getting to as many balls as an infielder as he had earlier. Lou Boudreau had been brought in by Yawkey, and was projected as the shortstop. Even though Pesky's career .316 average at the time ranked him fifth among active players, here he was — once again — having to fight for a spot. Johnny got off to a slow start, but wound up the season at .313. Boudreau hit .267.
Johnny's 1952 season began poorly, and he was hardly ever used by Boudreau, now the manager and seeking a "youth movement" in Boston. Hampered by injuries, he was hitting a pitiful .149 when he was traded to the Tigers in a monster deal. Boston sent five players to Detroit, a full 20 percent of the 25-man roster. In exchange for Pesky, Walt Dropo, Fred Hatfield, Don Lenhardt, and Bill Wight, they got four Tigers (Hoot Evers, George Kell, Johnny Lipon, and Dizzy Trout). Johnny pulled it together a bit and hit .254 for Detroit. It truly was a subpar season.
Pesky cracked 300 at-bats in 1953, and hit .292 but he was in decline. After appearing in 20 games for the Tigers in '54, he was traded to Washington, where he finished his playing career with a .246 mark between the two teams.
Johnny Pesky wound up his major-league career with a .307 average, and an on-base percentage of .394.
His life in baseball, though, was just entering a new phase. Johnny coached with the Denver Bears in the Yankees organization in 1955, then managed five different minor-league teams for the Detroit Tigers from 1956 to 1960.
Most of Pesky's 60-plus years in baseball, however, were with the Red Sox. After his years managing for Detroit, the Red Sox called him back after the 1960 season. Johnny managed the Sox' Seattle minor-league team in 1961 and 1962, and managed the big-league Red Sox in '63 and '64. As manager, he brought some fire to the position, after years of yawns under the likes of Pinky Higgins. Some felt Pesky was a little too fiery; he had a few run-ins with "Dr. Strangeglove" Dick Stuart, who committed 29 errors at first base in 1963, but hit 42 homers and collected a league-leading 118 runs batted in. He also clashed with Carl Yastrzemski a number of times, and Carl made clear his discontent. As much as anything, that may explain Yawkey's refusal to find a position for Pesky within the organization when Higgins (by then the general manager) finally dismissed him late in 1964. Yaz was like a son to Yawkey, and Higgins was one of Yawkey's drinking buddies. Pesky had originally been brought in as manager despite Higgins' opposition.
When relieved as manager, Pesky hooked on with the Pirates and served as a major-league coach for three years, then managed the Pirates' Columbus club for a fourth.
From 1969 to 1974, he served as a broadcaster for Boston, working with Ken Coleman and Ned Martin as a color commentator. Though he worked hard at improving himself, Johnny never felt comfortable except during rain delays when he could really stretch out with stories about players from his era.
During the same period, Pesky called on clients for the Sox, initiating a fledgling marketing department for the club, working in tandem with former catcher Bob Montgomery. Pesky probably appeared at more banquets and events around New England than any other figure in Red Sox history.
He's also one of the few people in baseball to have a part of a ballpark named after him. Fenway Park's famed Pesky Pole — the right-field foul pole — was given the nickname by Red Sox broadcaster Mel Parnell. A former teammate, Parnell was poking a little fun at Johnny's lack of power — he hit just 17 home runs, and only six at Fenway — every one of which went out past the right-field foul pole, as of 2014 the shortest distance for a home run in major-league ball.
From 1975 to 1984, Pesky was first-base coach under Red Sox skippers Darrell Johnson, Don Zimmer, and Ralph Houk. From 1985 until his passing, Johnny was listed as a special-assignment instructor, evaluating players at lower levels in the Red Sox system, but also working with generations of Red Sox players at spring training and at Fenway Park. As late as 2003, Johnny Pesky — "Mr. Red Sox" in the eyes of decades of New Englanders — could be found on the field at Fenway before games, hitting fungoes to infielders and generally serving as a goodwill ambassador throughout the region.
It was a good year in 2004. Not only did Johnny enjoy some extra attention when his biography Mr. Red Sox was published, but he was able to revel in the Red Sox finally attaining the Holy Grail of Baseball, a world championship. For three years he proudly wore the championship ring the Red Sox presented him on the day that he and Carl Yastrzemski walked across the field to hoist the 2004 World Series banner on the Fenway Park flagpole. After the Red Sox won the Series again in 2007, he sported a second companion ring.
Johnny Pesky is a charter member of the Boston Red Sox Hall of Fame.
"Mr. Red Sox" died on August 13, 2012, in Danvers, Massachusetts.
 This biography originally appeared in the book "Spahn, Sain, and Teddy Ballgame: Boston's (almost) Perfect Baseball Summer of 1948" (Rounder Books, 2008), edited by Bill Nowlin. It also appeared in "Van Lingle Mungo: The Man, The Song, The Players" (SABR, 2014), edited by Bill Nowlin.
Sources
Most of the information for this article was gleaned from many hours of conversation with Johnny Pesky, who gave unsparingly of his time as I worked on the book Mr. Red Sox: The Johnny Pesky Story, published by Rounder Books in 2004, with a new edition published in 2012, In addition to the newspapers cited in the text, I consulted Total Baseball (7th edition) for statistics, and the microfilmed records of the Boston Globe newspaper for the years of Pesky's career. Other information was provided by personal interviews with Ken Coleman, Bob Montgomery, and Vincent Paveskovich.
Oral History
Born
February 27, 1919 at Portland, OR (USA)
Died
August 13, 2012 at Danvers, MA (USA)
If you can help us improve this player's biography, contact us.
http://bioproj.sabr.org/bp_ftp/images3/PeskyJohnny.jpg
600
800
admin
/wp-content/uploads/2020/02/sabr_logo.png
admin
2012-01-04 20:00:52
2021-10-05 15:56:45
Johnny Pesky