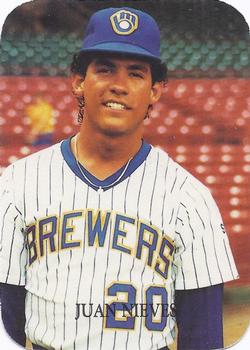 ---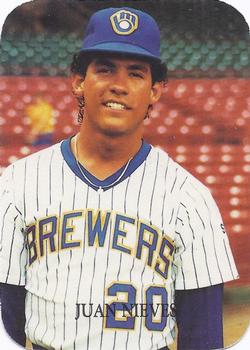 "Hit in the air . . . Yount . . . makes a GREAT CATCH! Juan Nieves has thrown the first no-hitter in Milwaukee Brewer history!"
That was broadcaster Jim Paschke's call on April 15, 1987. More than 30 years later, the masterpiece by Nieves remained the only no-hitter in franchise history, and only one other Puerto Rican pitcher has thrown one in the majors: Jonathan Sánchez in 2009. Robin Yount later admitted that he didn't really have to dive for the ball in the right-center gap at Baltimore's Memorial Stadium. Nonetheless, his grab of Eddie Murray's slicing liner was one of the most dramatic concluding outs of any no-no.
Alas, the highly promising Nieves never pitched another big-league game after 1988. What started as a tired shoulder that year progressed to a "slight" tear of his left rotator cuff in spring training 1989. He was able to pitch in just ten more minor-league games over the subsequent two seasons, as he never did regain his fastball after two operations. Nieves gave it a go in minor-league camp in both 1991 and 1992 before becoming a well-respected pitching coach.
Juan Manuel Nieves Cruz was born on January 5, 1965, in Santurce, Puerto Rico. His mother, Iris Cruz (a postal worker), had one other older daughter. His father, also named Juan, trained fighting cocks for a living. Cockfighting is both popular and legal in Puerto Rico, as Nieves told People magazine not long after his no-hitter. "It's been the family tradition for years. . . . The pride of our family is in our roosters." By that time Juan owned and trained 90 gamecocks himself.1
"Juanchi" Nieves came to baseball as a young boy. He did not start pitching, however, until he was 14.2 He was attending Academía Menonita in Guaynabo, another suburb of San Juan, when his life changed because of a prep school scholarship. Peter Evans and Juan Comella, who were coaches at Avon Old Farms in Connecticut, took their team to Puerto Rico to play ball in the spring of 1980. Vic Power, the former star first baseman who was then a scout for the California Angels, had helped make arrangements for the school. He told Evans, "I know a boy you might be interested in. He's a great kid, a great student, a great pitcher. But he needs a scholarship."3
Although it was quite an adjustment for young Juan – in terms of weather and food, to name just two things – he flourished at Avon Old Farms from 1980 through 1983. He did well academically, became a school leader, and served as captain in three sports: cross-country, basketball, and baseball. During his prep career, he was 19-1 with a 1.05 ERA, striking out 288 batters in 196 innings. He also hit .525 with 10 homers.
Scouts had been following the southpaw for some time, including two Milwaukee representatives. Felix "Fellé" Delgado, the former Puerto Rican star and Negro Leaguer, had seen him in American Legion ball on the island. Tom Bourque, a Connecticut scout, watched the action at Avon Old Farms. Nieves attracted bonus offers as early as 1981. At that time, Puerto Rican players were not subject to the amateur draft; that would not change until 1989, following a bidding war over Melvin Nieves (no relation).
Some 75 colleges were also interested in Juan; out of all of them, he liked the University of Southern California the best. He said that May, however, "If the money's right, I'll probably go pro. College would be great . . . but my parents need the money."4 He didn't want to settle for anything less than six figures, and Milwaukee won the bidding with a reported bonus of $150,000.5
There were factors beyond the money, though: one was the Brewers' confidence. Ray Poitevint, Milwaukee's director of player procurement (and one of the pioneers in international talent hunting), made a presentation about the team's three-year plan for the young man.6 The other was their willingness, at least initially, to let him play first base and DH.7
Nieves signed on July 1, 1983, and reported to Beloit in the Class A Midwest League. After getting his feet wet with two scoreless relief appearances, he threw six hitless innings in his first start. He came out of the game, though, because Milwaukee management had him on a 75-pitch limit.8 Over the rest of the summer, Nieves burnished his reputation as a phenom by posting a 7-1 won-lost record and a 1.30 ERA with 89 strikeouts in 69⅓ innings. Brewers general manager Harry Dalton said, "Great delivery, compact, smooth, easy. [Frank] Tanana was that way." Andy Etchebarren, the former Orioles catcher who was then an instructor in the Milwaukee farm system, added, "[Jim] Palmer too." 9
Other raves came from Beloit manager Tim Nordbrook, who said, "There aren't enough superlatives in the world to describe that young man," and assistant farm director Dan Duquette, who observed, "He's two, maybe three steps ahead of the average player his age. We were impressed with his maturity, his ability to handle himself."10
Nieves went to spring training with the Brewers in 1984 as part of their development plan, and he threw three perfect innings in his first exhibition game. At Stockton in the California League (high Class A) that year, he was 10-3, 3.54, striking out 133 in 139⅔ innings. He worked on developing his breaking pitch, a slider.
In 1985 Nieves got a good look in big-league camp but started the year at Double-A with El Paso in the Texas League. In early July he won promotion to Triple-A Vancouver. His combined record for the year was 16-5, 3.63 with 145 K's in 188⅔ innings pitched. That November, Milwaukee added him to the 40-man roster.
The phenom, whose total minor-league record was 33-9, completed his rapid ascent in 1986. As early as February, manager George Bamberger had given him a spot in the starting rotation; he could only lose the job in camp. He won attention not just for raw stuff but also for poise, confidence, competitive instinct, and intelligence on the mound.11 His performance that spring was impressive; in early April the Atlanta Journal-Constitution called him "a pure power pitcher with a truly nasty slider."12 As a 1989 article put it, "Fans didn't ask, 'Will he be a 20-game winner?' They asked, 'How soon will he win 20?' "13
Despite no-decisions in his first three big-league starts, Nieves had a shot at fulfilling that prediction as a rookie. Although his ERA fluctuated, and was mostly in the 4's, his record was 10-4 as of July 28, including three shutouts. He then went into a tailspin, though, losing eight straight decisions before winning in relief on the last day of the season. "He had mechanical problems, No. 1," Dalton said. "No. 2, he was still 21 years old. . . . For the first time he had to cope with losing . . . [and] he had to cope with it on the major-league level." Juan himself added, "I stopped pitching. . . . I thought my ability could take over. You can't do that."14
Nieves pitched for the San Juan Senadores in the Puerto Rican Winter League in the 1986-87 season. The league champion that year was Caguas, which then went on to represent Puerto Rico in the Caribbean Series in Hermosillo, Mexico. But as author Tom Van Hyning related, "(T)he Criollos were desperate for pitching help." Nieves received permission to join as a reinforcement, and he was voted to the Series All-Star team after pitching six innings of one-hit shutout ball against the Dominican Republic to help Puerto Rico win.
In retrospect, Nieves has viewed that game as even more meaningful to him than his no-hitter.15 He told Van Hyning, "On the field, there is so much pride in terms of representing your country. Puerto Rico was in our heart. Off the field, we would share moments with opposing players and hear music at the night spots and discos, talk about our big league aspirations. But when we played, it was serious business."16
Nieves reached his big-league peak in his second start of the 1987 season. Milwaukee was already off to an 8-0 start and sought a sweep of the Orioles on the night of Wednesday, April 15. It was a drizzly night, with near-freezing temperature, and so just 11,407 fans were on hand at Memorial Stadium. The lefty didn't have good stuff early – "I had a mediocre fastball and my slider was awful," he later said.17 He had thrown 85 pitches through six innings, and manager Tom Trebelhorn got his bullpen up, even with the possible no-hitter.18 "I just went after them in the final three innings and my slider finally showed up," Nieves said.19
The Brewers made a number of sparkling plays behind their pitcher. Left fielder Jim Paciorek made a diving catch to rob Eddie Murray in the second inning. Third baseman Paul Molitor speared liners by Cal Ripken, Jr. in the fourth and Floyd Rayford in the fifth. By the sixth inning, Jim Paschke said in 2011, "you start to think." He asked color man Mike Hegan about the superstition of mentioning a no-hitter in progress, and the traditionally minded Hegan said, "Don't."20
With two outs in the ninth, Nieves fell behind the dangerous Ripken, and then "veteran catcher Bill Schroeder decided to put Ripken on base. "I didn't want this to slip away," Schroeder said later. "I didn't want this kid to lose a no-hitter on a 2-0 pitch."21 One pitch later, Robin Yount ended it with a flourish. According to Paschke, years later Yount confided that he did not need to dive for that ball and that he would have gotten to it on the run.22 "I didn't have time to think," Yount said at the time. "I wasn't going to do anything but catch it. You don't think about it, you just react. I'm just happy we accomplished a no-hitter."23
Baseball's locker-room humor was also on public display after the game. The story has been told in slightly different ways, but in those days, the Brewers passed around a gag prize to their player of the game: a large sexual aid known as the "John Rambone Award." As ESPN interviewed Nieves after the game, the Rambone was clearly visible on the air, despite – or more likely because of – Harry Dalton's efforts to keep it from view.24
Nieves finished the year with a record of 14-8, but his ERA was a rather lofty 4.88. Consistency was a big issue. That June, Tom Trebelhorn said, "Every time you think he's got it going, like three good starts in a row, you think he's OK, and then, oops."25 He also issued 100 walks; the superior plate discipline of major-league hitters was a factor.26
After another winter in Puerto Rico, Nieves went 4-4 with a 5.76 ERA in his first eight starts of 1988. In the middle of May his shoulder started feeling sore, and near the end of the month he went on the disabled list. He returned to action in July and spent a 20-day rehabilitation assignment in Triple-A Denver. He came back to Milwaukee in August and pitched well enough the rest of the way to lower his ERA to 4.08, including a three-hit shutout over the White Sox on September 13.
During the 1988-89 offseason, Nieves didn't play winter ball. In an effort to increase his endurance, he also added 20-25 pounds, largely in the upper body, by lifting weights. Yet when spring training rolled around, Trebelhorn said, "He can't get loose and he can't throw the ball hard. It looks again like he's the victim of the vanishing fastball. He can't pitch that way."27
Soon after, a slight tear in his rotator cuff was detected. Milwaukee rested him for a couple of weeks, sent him to extended spring training, and then to another rehab stint in Denver. His first time out was promising on the surface – five hitless innings – but his velocity still was subpar.28 After three games (2-1, 6.43), the pain returned. In early June Nieves underwent arthroscopic surgery, and the team hoped that he would be back in action by September.29
That was not the case, although he attended fall instructional league. Nieves started 1990 on the disabled list, worked through tendinitis, and then went to Beloit for another rehab assignment. He made seven starts there, which totaled just 29⅓ innings. The numbers were passable (2-3, 3.99), but the pop still wasn't back on his fastball. Harry Dalton said, "I don't figure to let him stay at Beloit and throw 81, 82."30 Pain as he warmed up prevented Nieves from making his eighth start, and as Dalton feared, more aggressive treatment was needed.31
In August Nieves went to the noted surgeon James Andrews in Birmingham, Alabama. This time the procedure consisted of open surgery to repair the capsule in his left shoulder, and to tighten and stabilize the shoulder socket.32 In March 1991 he turned down a Triple-A offer from Milwaukee after being released. The Yankees signed him to a Triple-A deal, and though he worked out at their minor-league complex in Tampa in March, he was not able to get into a game.
In January 1992 the Yankees re-signed Nieves to a deal that would have paid him $300,000 if he made the big club. On the last day of spring training, though, he decided to pack it in. "Bless their hearts," he said in 2009. "They gave me every possible chance. . . . But even after two years of rehab, it was too hard to come back."33
As Peter Evans noted, though, Nieves wasn't one to wallow in self-pity.34 Later that year he started the next phase of his baseball career: pitching coach. He remained with the Yankees organization through 1996 at various minor-league stops, including the Gulf Coast Rookie League (1992), Oneonta in the New York-Penn League (1993), Greensboro in the South Atlantic League (1994; 1996), and Norwich in the Eastern League (1995). He also served in that capacity with San Juan in the Puerto Rican League for a couple of winters during this time. In December 1994 the New York Times described Nieves as "refreshingly upbeat and positive."35 Both the organization and the young farmhands trusted and respected him. Juan said, "My body may be relaxed, but my mind is intense.36
Nieves went in a different direction during 1997, as he worked for a new sports agency headed by Dick Moss and André Dawson. An intriguing insight into his playing career also emerged that year. "At the time of his injury, it was thought Nieves' weight training program may have contributed to the shoulder problem. But Nieves said different doctors have made different diagnoses over the years and one even told him his arm may have been genetically predisposed to the injury because his shoulder was too flexible."37
In 1998, after six years away from the mound, Nieves launched a comeback effort at the age of 33. Ed Wade, general manager of the Philadelphia Phillies, considered giving him the opportunity to pitch in extended spring training. He got a workout with the San Francisco Giants in May; in June, he signed with the Sioux Falls Canaries of the independent Northern League as a player-coach. He went 0-3, 8.06 in five starts. That year, he got a small part in the Kevin Costner baseball film For Love of the Game, which was released in 1999.
Nieves served as general manager and manager for Caguas in 1998-99. Meanwhile, He joined the Chicago White Sox organization in December 1998. He was the pitching coach with the Winston-Salem Warthogs of the Carolina League through May 2002, whereupon he was promoted to Double-A Birmingham. From 2005 through 2007, Juan was the pitching coach for the top White Sox affiliate, the Charlotte Knights. After the 2007 season, the big club reassigned longtime bullpen coach Art Kusnyer, who was suffering from vision problems, and named Nieves as his successor. Among other things, he has pitched batting practice, translated for Spanish speakers (such as José Contreras and Bartolo Colón), and filled in when pitching coach Don Cooper had to be away.
When Jonathan Sánchez of the San Francisco Giants threw his no-hitter on July 10, 2009, Nieves was proud of his fellow Puerto Rican. He also observed that in his homeland, "Pitching has been diluted quite a bit." He said that he'd heard from scout Jorge Posada, Sr., father of the Yankees catcher, that "more of the best and tallest athletes in Puerto Rico are pursuing basketball."38
Nieves remained White Sox bullpen coach through the 2012 season. That November, the Boston Red Sox named him their pitching coach. He held that position until he was dismissed in May 2015. The Miami Marlns hired him as pitching coach ahead of the 2016 season, and he remained in that role as of 2018.
Juan Nieves has been married twice. He met his first wife, Nicola Shimbo, while he was in Greensboro. They got married on October 7, 1995, and had one daughter, named Natalia. Nieves and his second wife, Marilia, have three daughters: Andrea, Isabella, and Alondra. They enjoy a quiet family life in South Carolina.39
Even for the most gifted young pitchers, the odds against success are staggering. Simply staying injury-free is a remarkable feat in itself. In a Cassandra-like prediction, back in 1983 Harry Dalton and Andy Etchebarren likened Nieves to Wally Bunker, the Orioles phenom of the early '60s whose major-league career was finished at age 26. "That will not happen with Nieves, not if a doting Dalton has anything to say about it. This kid has been stamped 'Handle With Care.' "40
Still, as Nieves said in 2009, "I have had nothing but blessings."41 His optimistic outlook also shined through in 1994. He admitted, "It hurt, leaving," but added straight away, "It was brief, but it was really early in my life. Unfortunately, we're human and we break down. But, with the no-hitter, I took a little bit of history with me."42
Originally published: September 20, 2011. Updated on June 18, 2018.
Last revised: July 19, 2021 (zp)
Sources
Online
www.baseball-reference.com
www.retrosheet.org
Avon Old Farms website, Athletics Hall of Fame page (http://www.avonoldfarms.com/page.cfm?p=248)
Print
2015 Boston Red Sox Media Guide
Photo Credit
Trading Card Database
Notes
1 Reed, Susan. "Juan Nieves and the Brewers: Miracles on Tap in Milwaukee." People, May 11, 1987.
Born
January 5, 1965 at Santurce, (P.R.)
If you can help us improve this player's biography, contact us.
https://sabr.org/sites/default/files/NievesJuan.jpg
600
800
admin
/wp-content/uploads/2020/02/sabr_logo.png
admin
2012-01-04 20:34:24
2021-07-19 14:42:56
Juan Nieves