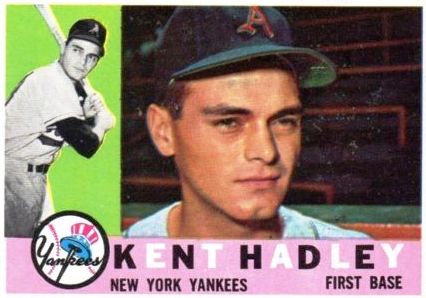 ---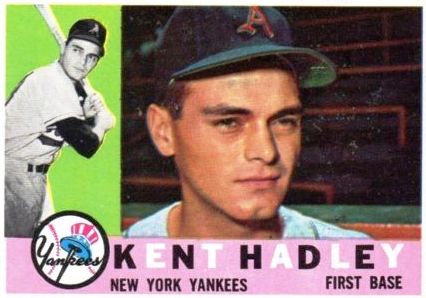 It was one of the most famous trades in baseball history. On December 11, 1959, the Kansas City Athletics sent Joe DeMaestri, Kent Hadley, and Roger Maris to the New York Yankees for Hank Bauer, Don Larsen, Norm Siebern, and Marv Throneberry. For Hadley, the trade effectively ended his major-league career.
Kent William Hadley was born in Pocatello, Idaho, on December 17, 1934, the only child of Dorothy and Glenn Hadley, a law-enforcement officer.1 Young Hadley was influenced toward baseball through his father and grandfather Otto Henry Barthold's love of the game.
Hadley's interest in the game surfaced when he was 13 through an essay he sent to the Pocatello Cardinals of the Pioneer League. His piece was an entry in the Cardinals' contest to select a batboy for the coming season. Kent wrote in part, "If I get to be batboy I would consider it one of the greatest thrills a boy my age could have." His entry won and he got the job. Later, at Pocatello High School, he became the baseball team's star player, excelling at first base and showing power at the plate.
During high school, Hadley became focused. A memo he prepared as he graduated listed goals he hoped to achieve, among them a desire to play professional baseball and "reach the major leagues." He also wished to "travel many oceans and seas," and not have any financial problems.2 Hadley was on his way to the first objective as he drew attention from several major league scouts.
Hadley was also interested in getting a college education. A scout for the Yankees suggested that he contact the University of Southern California. USC baseball coach Rod Dedeaux told him he should attend Pasadena City College, a community college, for a year to adjust to college life. After attending Pasadena, Hadley received a baseball scholarship from USC and made the baseball team.3 He came under the guidance of one of the most accomplished college baseball coaches in the nation. Dedeaux, who wound up coaching at USC for 45 years, sent 59 of his players to the majors.4 Hadley said he considered Dedeaux the most influential man in his professional career, even more than major-league and Japanese managers.
Hadley flourished under Dedeaux. In 1956 he was voted the All-American first baseman. His power was legendary; in one game the 6-foot-2-inch, 200-pound slugger hit a ball 470 feet. Graduating from USC with a degree in anthropology, Hadley was approached by several major-league teams.5
Accompanied by his father, Hadley had tryouts at Chicago, Cincinnati and Detroit.6 Before a major league game at Briggs Stadium in Detroit, Hadley put on a power display, repeatedly reaching the upper deck in right field. Hadley recalled hearing fans yelling, "You better not let that guy out of town." He said he was "flabbergasted" when Tigers first-base coach Joe Gordon told him, "You put on a hell of a show." A few days later Hadley signed with Detroit. Briggs Stadium's beckoning right-field fence and the team's weakness at first base were factors in his decision.
Initially assigned to Terre Haute of the Class B Three-I League, Hadley played only four games before being sent on to Augusta of the South Atlantic League and Syracuse of the Eastern League, both clubs a step upward from Augusta to Class A. For the three teams he hit a combined .244 with seven home runs in 60 games. Despite this modest beginning, The Tigers invited Hadley to spring training for the next season, 1957. Several articles in The Sporting News described him as a solid prospect.7
More than baseball occupied Hadley's mind during the offseason. On December 28, 1956, he married Mary Catherine Banyard, a high-school classmate and the sister of Mickey Banyard, a high-school baseball teammate and close friend of Hadley's. Settling in Pocatello, Kent and Mary had two children, Lynn, born in 1957, and Kirk, born in 1960.
Playing the full 1957 season in Augusta, Hadley hit a creditable .279 with nine home runs. It was his last season with the Detroit organization. After the season the Tigers traded him to Kansas City in a 12-player deal that probably escalated Hadley's advance to the major leagues. Detroit seemingly found its first baseman in 1958 as Gail Harris, who had come over in a trade from the San Francisco Giants, had a career year, hitting 20 home runs and driving in 83 runs. Meanwhile, in midseason the Athletics aided Hadley's cause by trading first baseman Vic Power to Cleveland.
Hadley was invited to spring training with the Athletics in 1958 and showed potential. No less an authority than Earl Averill, possessor of a .318 lifetime batting average and later to be elected to the Baseball Hall of Fame, rated Hadley as "an uncommonly good prospect."8 But there was concern that he did not exhibit enough aggressiveness. This and a need for more seasoning resulted in Hadley's being assigned to the minors. He was not about to dislodge Vic Power from first base and was thought to be better off playing regularly in the minors. Upon being optioned to the Little Rock Travelers in the Southern Association Hadley told the A's he would be back.9
Hadley set out to make good on his vow to work his way back to the A's. He proved successful, ending the year with a league-leading 34 home runs. Hadley's performance with Little Rock marked him as a solid prospect and earned a late-season call-up to the A's.
Within days of joining the team, Hadley appeared in his first major-league game. Playing against the Yankees on September 14, Hadley pinch-hit against pitcher Ryne Duren, who fanned him on a called third strike. He next played against the Chicago White Sox, singling off future Hall of Famer Early Wynn for his first major-league hit. Hadley appeared in three games for the season, getting two hits in 11 at-bats. He had made good on his promise to come back to the A's and fulfill his goal of playing in the majors.
During the offseason Hadley played in the Florida Winter League and led the league in home runs. He impressed the Athletics' player personnel director, George Selkirk, who referred to Hadley as "our big league first baseman."10 Entering spring training in 1959, Hadley began competing for the first baseman's job with veterans Harry Simpson, Preston Ward, and Dick Williams. Competition was hard enough, but Hadley had to overcome another hurdle, a perceived lack of aggressiveness.
A piece in The Sporting News at the time said that while Hadley's physical skills were impressive, there was some concern that his lack of assertiveness could mitigate his natural abilities. Hadley agreed with this perception: "I guess I was overawed. I felt I wasn't ready and probably showed my feelings by what I did." His performance with Little Rock changed his attitude. Speaking of his more assertive play during spring training, Hadley noted, "I guess it's because I feel I belong. I know I feel a lot better about my career now than I did last spring."11 What seemed unusual about this article was a willingness to discuss his attitude in an era when few players opened up, especially when expressing self-doubt.
A sleeper as spring camp began, Hadley turned eyes with his hitting and defense. Athletics manager Harry Craft took notice of his play, saying, "Right now I would have to say Hadley has a chance to start the year for us." He made the Opening Day roster and started off well. In his third start of the season, against the White Sox, Hadley slammed a two-run homer to help propel the A's to a 10-8 win. Later in April he homered against the Yankees as the Athletics made a run for the first division. Their success was short-lived as they went into a tailspin in June, Hadley slumping with them. The A's temporarily improved, an 11-game winning streak propelling them into third, with Hadley providing some key hits during the streak. Injuries to key players, notably Roger Maris, eventually caused the team to fall back into seventh place in the eight-team, one-division league, though Hadley continued to perform well.
On September 5 Hadley exhibited what might have been, hammering two home runs at Detroit's Briggs Stadium as the season drew to a close. For the year, Hadley finished with ten home runs and a .253 average. While not spectacular, he exhibited potential and was expected to help the Athletics in 1960. Events soon unfolded however, that altered his career.
At the age of 41 two-time American League batting champion Mickey Vernon had been released by the Milwaukee Braves. The Yankees began discussions with him about joining the team as backup first baseman. As talks began, his old friend Danny Murtaugh, manager of the Pittsburgh Pirates, offered Vernon a coaching job. Vernon accepted, leaving the Yankees needing a backup first baseman.12 Within weeks the Yankees and A's made a deal to fill that need.
During the 1959 season Casey Stengel and infielder Gil McDougald were talking before a game with the A's when Stengel asked if there was one player the Yankees ought to get. McDougald pointed and said, "There's the man out there," indicating Roger Maris.13 That conversation was one of many held over the years by the Yankees concerning Maris.
The Yankees wanted to unload Norm Siebern. Outfielder Siebern had lessened himself in Yankee eyes through several fielding mishaps during the 1958 World Series. Veteran Hank Bauer was viewed as over the hill, hurler Don Larsen had reached the point that, perfect game or not, he had outlived his usefulness. Marv Throneberry had not proved himself as a backup to injury-prone Bill Skowron.
The Athletics, doubting Roger Maris' potential, felt that Siebern, was a solid player. They thought Larsen and Bauer still had value. While Throneberry disappointed the Yankees, he had hit more than 40 home runs twice in Triple-A competition. The Yankees liked Hadley's potential; he and Throneberry were essentially traded for each other. Besides Maris and Hadley, the A's also sent shortstop Joe DeMaestri to the Yankees as they expected minor leaguer Ken Hamlin to be their shortstop.
Announcement of the transaction drew immediate protests from the rest of the league. It was the 15th deal between the two clubs since the Athletics had moved to Kansas City in 1955, and with few exceptions they favored the Yankees. Maris and Siebern were the key players in the deal.
The Yankee Yearbook for the 1960 season summed up Hadley's status succinctly: "When Bill Skowron came up with a series of injuries last season, the Yankees had to resort to moving Ellie Howard to first base. General Manager George Weiss was determined to remedy this situation and he obtained Kent Hadley. …"14
The Yankees had come off a subpar season as injuries, age, and subpar play generated a third-place finish. They were under heavy pressure to improve, with the burden falling on 69-year-old Casey Stengel. By then Stengel was losing touch with his younger players, such as Clete Boyer and Bobby Richardson. They were often taken out of the lineup at the first sign of a slump or miscue, which did little to boost their confidence.15 It was this environment Hadley entered. Years later he reminisced, "I was apprehensive because of all the talent they had." On a team of stars, Hadley was overwhelmed. Years later Yogi Berra recalled Hadley as a quiet individual, perhaps remembering him as a man too much in awe of his famous teammates.16
Hadley opened the season on the bench. By the end of April he had played in just three games, two as a pinch-hitter and one as a defensive replacement. The writer of an article in Sport Magazine that season about players who had performed for both clubs asked Hadley if players on pennant contenders approached the game the same as those who played for second-division clubs. Hadley observed, "With Kansas City we got beat, so we got beat. We knew we didn't have a good ballclub and all it meant was maybe we'd finish seventh instead of sixth. Here, the attitude is they'll have to play a good game to beat you, and when you win, it really means something."17 Hadley's comments reflected a candid appraisal of the game that probably did not set well when seen in print.
As the season progressed Maris became a star. Hadley, a young outsider, had difficulty fitting in. He later recalled, "There were cliques on the team, I was never one of the boys. I went to breakfast one morning by myself and two of the star players on the team [Mantle and Ford] were the only ones in the place. I was seated next to them but wasn't invited to join them."18 Hadley also said he felt Stengel resented his being a college graduate.19
Although Hadley was not impressed with several Yankee stars, he respected one a great deal. Hadley admired Roger Maris, a close teammate at Kansas City, for his sheer decency. "If I was going to introduce you to a ballplayer that would make you feel like you just met somebody, it'd be Roger. He was the nicest guy I knew."20
While Hadley did not care for Stengel and team dynamics, he was quick to point out his own shortcomings. "I was not cut out to be a pinch-hitter. I was cut out to be a starter, get my four turns at bat. I'm an emotional person and I couldn't deal with it. If I'm going to have to make my living as a pinch-hitter, I was going to have a tough row to hoe. If I was starting, I could strike out in the first at-bat and still think I was going to win the game somewhere. But don't give me one at-bat. Pinch-hitting killed me."21.
Hadley had appeared in just a handful of games by mid-June when Skowron sprained his wrist, sending him to the bench for several games. Hadley started against Detroit and hit two home runs, only to be benched the next day. The following game, Hadley, back in the lineup, homered against Cleveland, only to be benched as Skowron returned to the lineup.
Within days after Hadley's show of power, disaster struck, irreparably damaging his major-league career. On June 26 the Yankees played a doubleheader at Cleveland. Locked in a tight pennant race, they had to fend off a surging Indians team that was just 2½ games behind. The Yankees won the first game. Hadley started the second game, which went into the bottom of the 11th inning tied 6-6. With two outs and the winning run on first base, pinch-hitter Bob Hale came to bat for the Indians. Hale smashed the ball down the first-base line. Leonard Shecter described the play in his biography Roger Maris: Home Run Hero: "Right there a career was ruined. Kent Hadley panicked. Instead of stepping in front of the ball, he sort of danced away from it, stabbing at it with his glove. He missed and Casey Stengel, the kindly old manager, from that point forward thought him a coward." The effect of Hadley's misplay was amplified when the ball, after eluding him, went into right and through Roger Maris's legs, allowing the winning run to score.
It was a game the Yankees could ill afford to lose. Shecter wrote, "Stengel considered Hadley a player of no worthy consideration after that and the word got out around the league. Hadley never made it in the majors"22
From then on Hadley's playing time dwindled. Over the next two months he started only two games, performing poorly. By the end of August, the Yankees sought to add a veteran player to the club. On August 21 Hadley was announced as a pinch-hitter but was called back for another hitter. It was the last time he would appear in a major-league box score (and he didn't even get into the game). The Yankees' search for a veteran was rewarded that day as they obtained first baseman Dale Long from the San Francisco Giants and sent Hadley to their Triple-A team in Richmond, Virginia.
Years later Hadley recalled that day. After being told he was being sent to Richmond, he had to take the train from Washington to New York with his now former teammates. "Once you are released you're kind of a leper," Hadley said. "They needled me in the clubhouse, 'Are you still here Hadley, because we heard Dale Long's coming to New York?' " No one would come near Hadley except Yankees broadcaster Mel Allen, who could only commiserate with him.23 It was a bitter experience.
That Shecter's observation about Hadley was on target was mirrored in The Sporting News, where Dan Daniel wrote, "Stengel was dissatisfied with Hadley. … This was no secret around the Stadium. Kent was 13 for 64 and .203 as a batter. His glove work, from what little he showed of it, did not have the classic touch."24
The Yankees made an inspired September run, winning the pennant. Long contributed by hitting .366. For Richmond, Hadley batted just .244 with one home run. He watched the Yankees' loss to the Pittsburgh Pirates in the World Series on television from Pocatello. Slight consolation for his effort came to Hadley in the form of a World Series half-share worth $2,607.32. Long received $3,476.43 for his contribution.
During the winter, the expansion Los Angeles Angels and Washington Senators drafted players for their new teams. Hadley's loss of status with the Yankees was reflected in his not being made available for the draft. Hadley was reassigned to the San Diego Padres of the Pacific Coast League, where he hit just .233 with 11 home runs. After the 1961 season he was eligible to be selected by a major-league team in the annual draft. He was passed over.25
"I had a bad year," Hadley said. "I felt my chances of getting back to the major leagues were slim so I took the opportunity to go to Japan."26
His connection with Japan went back to his playing days with Rod Dedeaux at the University of Southern California. Every year Dedeaux took his players to Japan and during these visits established a close relationship with the Nankai Hawks. The Hawks had achieved success by signing former White Sox pitcher Joe Stanka and, based on his performance, were willing to sign another American. Dedeaux recommended Hadley. During the spring of 1962, Kazuto Tsuruoka, the Hawks manager, contacted the Yankees about Hadley. Clearance from the Yankees and Commissioner Ford Frick allowed discussions to begin between Hadley and the Hawks which generated a significant offer to him.27
Not only would his salary be substantially more than he was getting in the States, his contract would include rent on a house during the season as well transportation for Hadley and his family. The Hawks also offered to sign Hadley for the 1963 season as well as 1962. Hadley came to terms and arrived in Japan a month after the 1962 season started.
Four days after his arrival, Hadley appeared in his first game and promptly homered, becoming only the fifth person to do so in his first at-bat in Japan and the first foreign player to accomplish this feat. Despite this auspicious beginning, Hadley quickly fell into a slump. Lack of spring training, a larger strike zone, and different pitching styles combined to generate a slow start. Eventually adjusting, Hadley contributed to the Hawks' second-place finish. He hit .266 with 11 home runs.
Hadley enjoyed his career in Japan. Japanese magazine reporter Tomio Kurihara's interview of Hadley in 1981 about his career in Japan revealed as much. Kurihara probed Hadley's attitude toward Japanese baseball. Hadley saw in the Japanese approach to the game, a team effort compared with the individualistic attitude taken by Americans. He observed that "Japanese players have a respect for authority — there is no quarrelling with the umpires, manager, or front office over trivia. Some American players give the impression they're doing the team a favor by putting on a uniform."28 Hadley later expanded on this: "The unselfishness of the players made an impression on me. Take today's Yankees for example. They are nine individuals. Over there they don't give a damn whether you are hitting .300 or .150 as long as you help the team."29
Hadley's positive attitude was buoyed by the fact that his family was with him. His children were able to receive a unique education, gaining considerable exposure to Japanese culture. The desire expressed in high school — to "travel many oceans and seas" — was fulfilled.
Hadley's career in Japan benefited from the fact that he played for the legendary Tsuruoka, the longtime manager of the Hawks and an eventual inductee into Japan's Baseball Hall of Fame. Tsuruoka was known for his expert handling of players as well as his frequent departures from traditional Japanese baseball strategies.30 That he was successful is reflected by an 18-year run during which the Hawks finished no lower than second.
Hadley played six seasons in Japan, averaging more than 20 home runs per year. Along the way he achieved several distinctions. Although Americans had been named to fill the roster for the two annual all-star games, Hadley was the first voted to the team. This occurred in 1963, when he had his most successful season, hitting .295 with 30 home runs. His efforts helped the Hawks win three straight Pacific League championships (1964-1966) and the Japan Series in 1964.
Although Hadley hit poorly in championship games, compiling a composite average of .169, he did provide several dramatic postseason hits.31 In the 1964 Japan Series he hit a "sayonara" (walk-off) home run against the Hanshin Tigers to win Game Four as the Hawks won the Series in seven games.
In 1966 the Hawks played the Yomiuri Giants, led by legendary home-run hitter Sadahuru Oh. Down three games to one going into Game Five, the Hawks entered the bottom of the 14th a run down. Hadley came to bat with a runner on. With the count 2 and 2, he connected. "I was waiting for the sign to hit-and-run but the pitcher kept throwing to the outside corner. The next ball was a shoot ball [screwball] and breaking from the center to the outside. I never thought it would be a sayonara home run."32 The team went crazy as Hadley's homer kept them in the Series. As thrilling as the ending was, it only postponed the Giants' taking the next game and the Series.
Hadley's production declined in 1966. After averaging nearly 30 home runs a season for three years, he managed just 18 that year, although his first home run of the season was the 100th of his career in Japan, making him the first foreigner to achieve that plateau. The next year, 1967, his performance declined again as the Hawks fell to fourth place.
The Hawks decided not to renew Hadley's contract for 1968. After the last game of the 1967 season, his teammates showed their regard for him by carrying him on their shoulders around the stadium to the delight of the fans, a homage rarely paid to foreign players. Where Americans had been viewed as loud and condescending, and frequently underperformed, Hadley showed a willingness to be a quiet team player who minded his own business, traits the Japanese found refreshing.
At the age of 32, with baseball behind him, Hadley looked toward the next phase of his life. buying into a local insurance business, which prospered over the years. He became known in Pocatello as a quiet, unassuming individual, almost an introvert.33 Terry Brower, a local businessman, knew of his sports background, yet never recalled Hadley discussing it. A friend, Ron Johnson, recalled that Hadley never talked about himself, reflecting the humility that had served him well in Japan.
As the years went on, Hadley's family grew, and he spent much of his time with his four grandsons. An avid outdoorsman, he organized hikes and expeditions into wilderness areas around Southern Idaho for the young boys, enjoying their company immensely. While his grandchildren were a joy, for reasons only the parties involved knew, he and Mary were divorced in the late 1990s. Hadley, on his own save for his dog, Mitzie, cut back on his involvement in business endeavors. His father, Glenn, who had served as his mentor all Hadley's life, died in 2003. Almost simultaneously, Hadley's health began to fail. After a series of setbacks, he died of a liver ailment on March 10, 2005.
When Hadley was a young man he set out to become a big-league player, travel many oceans, and avoid financial problems. Not many people accomplish the dreams of their youth. Although Hadley suffered disappointments throughout life, both personal and professional, he was able to achieve his goals.
Notes
1 Interviews with Lynn Hadley on December 3, 2009, and Mickey Baynard on February 15, 2010. For details on Hadley's early life and family, mementos and insights, appreciation is expressed to Lynn Hadley.
Born
December 17, 1934 at Pocatello, ID (USA)
Died
March 10, 2005 at Pocatello, ID (USA)
If you can help us improve this player's biography, contact us.
http://bioproj.sabr.org/bp_ftp/images4/HadleyKent.jpg
600
800
admin
/wp-content/uploads/2020/02/sabr_logo.png
admin
2012-01-04 20:09:03
2012-01-04 20:09:03
Kent Hadley