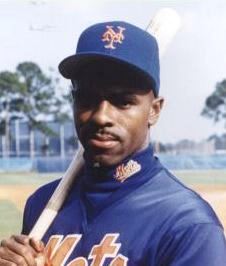 ---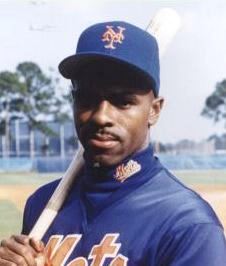 This whippet-quick outfielder made jaw-dropping catches wherever he played. Unfortunately, he didn't hit enough to stay in the majors. The only time he spent at the top was parts of the year with "The Worst Team That Money Could Buy," the 1992 New York Mets. Yet as late as 2004, Pat Howell was still chasing balls down in the independent Atlantic League. He spent six seasons in indie ball after stints in Mexico and Taiwan.
Patrick O'Neal Howell was born on August 31, 1968, in Mobile, Alabama. This city and its environs have given the game many fine African-American players. They include Hall of Famers like Satchel Paige, Hank Aaron, and Billy Williams, plus the venerable Negro Leaguer Ted "Double Duty" Radcliffe (who should be enshrined, many believe). The Amazin' Mets of 1969 had two men who grew up in Mobile playing side by side in their outfield: Tommie Agee and Cleon Jones. Whereas Agee won two Gold Gloves during his career, another Mobile centerfielder won three during the 1970s: Amos Otis.
Pat grew up in Prichard, a city bordering the north side of Mobile. By the time he reached his teens, the population was 80% black, and it was far from affluent. Prichard had lost much of its economic base; poverty, crime, and drugs were rife.1 Ex-con turned author Chris "Champ" Napier, who was born in 1971, gave an unsparing account of the grim side of life in Prichard's "ghetto hoods" in his 2010 book.2 In 1992, Pat told Tom Robinson of the Norfolk Virginian-Pilot how it was for him growing up.
"'We don't stay in that good an area. It's kind of poor, the street's raggedy, the house was never that good.' Quiet and friendly, Howell always had his faith, and often missed Sunday baseball practices to spend hours in church. He had his circle of friends, too, until many entered a lifestyle Howell chose not to embrace. 'I had to let them go 'cause they were doing too much stuff. Drugs and all.'"3 Although Pat's father did not live with the family, he and his younger brother and sister were fortunate to have a good relationship with their stepfather, a man named Tommie Love.
Howell attended C.F. Vigor High School in Prichard. He hit .556 as a junior and went on to hit .353 as a senior. His high school coach, Ed East, called him "the best baseball player Vigor, a football power, has produced."4 Pat also played football; his blazing 4.3 speed in the 40-yard dash made him a wide receiver. As one might expect, he was a sprinter for the school's track team, too.
The two local college football powerhouses, the University of Alabama and Auburn, both recruited Howell.5 After graduating from Vigor, though, he went with baseball. On the recommendation of scout Joe Mason, an Alabaman, the Mets selected Pat in the ninth round of the 1987 amateur draft. The new pro used his modest bonus to buy his family a used car.6 He reported to Kingsport, Tennessee, a rookie-ball club in the Appalachian League. Among other outfielders on that club were Lee May Jr., who rose to Triple-A with Howell but never made the majors, and Curtis Pride.
That winter, one of Pat's Instructional League coaches was Butch Hobson, the former Red Sox third baseman who would later manage Howell with the Nashua Pride in the Atlantic League. In 2002, Hobson told Tom King, sports columnist for the Nashua Telegraph, "I had him when he was 17 [sic] years old. And I couldn't understand a word he said. . . He was just a baby."7 Butch, another fellow Alabaman, was referring to the young man's shy and soft-spoken ways rather than any heavy accent.
The lithe outfielder hit little more than singles in the minors, and not so many even of those. He also struck out often and walked seldom, not desirable in a leadoff man. Yet his defensive prowess and base-stealing ability enabled him to climb gradually through the Mets chain. In 1989, at Pittsfield, Pat led the NY-Penn League with 45 steals. In his fourth year as a pro, 1990, he hit a mild .264 with 111 Ks and just 22 walks — but he stole 79 bases. Baseball America named him the most exciting player in the Class A South Atlantic League.8 Like Tris Speaker generations before, Howell "played at an abnormally shallow depth. . .because of his tremendous speed, he is generally able to run down and catch any balls hit over his head."9
In the Rule V draft that December, Baltimore Orioles general manager Roland Hemond coveted Howell. 10 The Minnesota Twins picked him first, though, since scouting director and future GM Terry Ryan had seen him often.11 According to longtime Mets trainer Tom McKenna, New York did not want to lose their prospect.12 "Howell's speed is the main reason the Twins drafted him," the St. Paul Pioneer-Press wrote in spring training 1991. "Patrick Howell is so fast he is known variously as Flash and Willie Mays Hayes (the speedy outfielder from the movie 'Major League')."13
Kirby Puckett was in his prime, though, and Howell would have been at best the sixth outfielder in Minnesota. Yet still they pondered long. Near the end of camp, the Minneapolis Star-Tribune wrote, "The Twins, after assessing Patrick Howell for six weeks this spring, have reached a conclusion: The 22-year-old outfielder is not ready to play in the major leagues. But that doesn't mean he won't open the season in the major leagues."14
Instead, it became a case study in small GM maneuvers. Under Rule V, the Twins had a choice: either Howell had to spend the whole year on the big-league roster or they would lose half their $50,000 flyer. In early April, they reluctantly decided to waive him and he became a Mets farmhand again, but only after New York turned down their offer. The Mets could have kept pitcher Doug Simons, their Rule V selection from Minnesota, and sent him to the minors if they let the Twins keep Howell.15 Instead, they stuck with Simons for the whole season and took Pat back.
Howell spent the second half of that season in Double A and finally reached New York's top farm club, Tidewater, in 1992. Again he became a fan favorite. One reason, as Tom Robinson wrote, was his exceptionally nice and gentle nature; Hurdle and Ed East had urged him to become more assertive. Family remained a big reason Pat wanted to make the majors; his mother was sickly and his stepfather was disabled.
The other theme of Robinson's article, naturally, was dazzling glovework. "Howell had just stretched reality with another seemingly impossible catch, a regular phenomenon this season at Met Park," he wrote. Steve Phillips, the future Mets GM who was then their farm director, said, "He makes catches that normal human beings don't make." Manager Clint Hurdle added, "If there's a hump in it, Patrick's going to get it." Raw speed was just one ingredient in Howell's "flying defensive circus," as Robinson later called it. Reflexes, good jumps, and daring combined to make his outfield play "a delicious anticipatory pastime."16
Pitcher Dave Telgheder in particular benefited from having Pat behind him. On April 25, Telgheder retired the first 22 Rochester Red Wings to face him and finished with a two-hitter. "Any other help came from his defense, especially centerfielder Pat Howell."17 Then on May 15, he threw a no-hitter, which Howell twice preserved.18 Pat might have gotten his first call-up in that span, as the Mets suffered a rash of injuries, but he fouled a ball off his foot. First baseman Terrel Hansen went to New York instead.19 Hansen became a "phantom major leaguer" — on the roster for two games without playing in either. He didn't get to taste his only cup of coffee.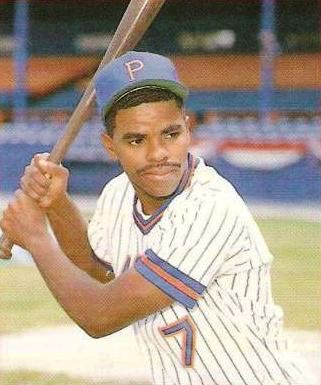 On July 9, the Mets did summon Pat after placing closer John Franco on the 15-day disabled list with an inflamed elbow. Left fielder Vince Coleman had been out since late June with a bad hamstring. The plan was to use Howell for defensive help and to pinch-run.20 (Former A's owner Charlie Finley, the leading proponent of "designated runners," would have loved him 15 years earlier.) The rookie made his debut the very next day as a starter, though, as manager Jeff Torborg moved Howard Johnson to left field. Starting HoJo in center field was among the many benighted things the Mets tried that year, but shifting the veteran in favor of a brand-new kid still shocked the club. Howell "was known mostly to veterans for having struck out in a spring-training game against Clint Hurdle."21
Nonetheless, Pat made a splash with his speed: bunting, stealing bases (which he did in each of his first three games), and of course with his acrobatics in the outfield. One of his grabs was truly remarkable. It was arguably better than Tommie Agee's pair in the 1969 World Series and Endy Chávez's in the 2006 NLCS — except, of course, more was at stake in those games. Howell sprinted from left-center to the gap in right, climbed the Shea Stadium wall, and hauled in the ball in full flight. It's hard to remember whom he robbed, though, because that was just one of several great catches he made that month.
The Mets kept Howell around even after Coleman returned in late July. Mark Herrmann of Long Island's Newsday wrote, "What was meant to be a weekend visit has become an extended and open-ended stay for Pat Howell, The Centerfielder Who Came to Dinner. . . The 23-year-old from Prichard, Ala., never had been in the majors or seen New York before the Mets summoned him. . .Howell has been somewhat intimidated by the city, but, he said, 'It's got a nice stadium.'"22
In August, though, Howell yo-yoed between New York and Tidewater. At the beginning of the month, the Mets recalled Chris Donnels; two days later Bobby Bonilla and HoJo went on the DL and so Pat came back. Less than a week later, though, Kevin Bass came in a trade — and the back and forth got even more rapid. On August 9, Mark Herrmann wrote, "The dizzying speed with which Pat Howell tracks down fly balls in centerfield is nothing compared to the turnarounds he has made lately between the Mets and. . .Tidewater. Sometimes, like yesterday, it seems he's in two places at once."23 Almost immediately after the Bass deal, Dave Magadan's injury gave Pat a reprieve, but then on August 12 he was sent down again as pitcher Eric Hillman was called up.
New York brought Howell back once more in early September, and he started eight more games in center that month. In the season's finale, he sprained a knee as he crashed into the wall trying to take a homer away from Barry Bonds. Back then at least, Bonds showed a different side of his personality, saying, "I was more concerned that Pat Howell hurt himself on the play. He's a good young player and doesn't need to get hurt."24 Pat underwent arthroscopic surgery later that month and reported late to the Arizona Fall League.
The Mets had acquired Ryan Thompson in September as part of the deal that sent David Cone to Toronto, and so Howell was expendable. That November, as the Colorado Rockies prepared for their expansion draft, the Denver Post floated him as a possible candidate.25 A few days later, though, the Twins reacquired Pat for another outfielder, Darren Reed. Reed was a good-looking but injury-plagued player to whom the Mets had given a chance early in the 1990 season. The Twins felt they had too many righty bats; Howell was a switch-hitter.26 Both sides pined for what they had given up before; as the Star-Tribune put it, "[Twins GM Andy] MacPhail was able to put an end to a lengthy pout by his assistant, Terry Ryan."27
As it turned out, though, Reed's ill luck continued: a bad hamstring disabled him for all of 1993. Meanwhile, Howell spent the year with Minnesota's top Triple-A club, Portland. He hit just .209, but Baseball America still ranked him as the fastest baserunner and best defensive outfielder in the Pacific Coast League.28
Howell rejoined the Mets organization in November 1993, signing a minor-league contract. He got a good look in spring training with the big club in 1994 but rejoined Norfolk (as Tidewater had come to be known in 1993). He played 89 games with the Tides, hitting .230, and also spent an eight-game stretch at Double-A Binghamton.
In March 1995, amid the players' strike and lockout, Howell considered being a replacement player for the Atlanta Braves. Instead, he wound up playing in Mexico for three years, batting .313 with three homers and 59 RBIs in 210 games. In 1995 and 1996, he was with the Tigres of Mexico City. He moved on to Mexico City's other franchise, the Diablos Rojos, for his last season south of the border.
Howell crossed the Pacific Ocean for the 1998 season, hitting .264 in 24 games for Taiwan's Brother Elephants. The money there at that time was not bad, recalled Ted Wood, another former big-leaguer who played with the Elephants — Taiwan's most successful and popular franchise — from 1997 through 1999. A rivalry between leagues fueled salaries. Gambling and game-fixing scandals plagued Taiwanese baseball, however, and the bottom dropped out.
Howell then came back to America, seeking his way in the independent leagues. At the end of May 1999, he signed with the Duluth-Superior Dukes of the Northern League, but he got into just 10 games.
At age 31, Howell remained determined to make it back to the majors as he entered the 2000 season.29 He went to the Atlantic League, playing for three teams: the Atlantic City Surf, the Long Island Ducks, and the Nashua Pride. He had originally started with the Pride that spring, but before the season started, Nashua traded him to Atlantic City. They made room for another of Pat's Kingsport teammates, Alex Díaz, a big-leaguer from 1992 to 1999 — but Díaz decided to stay home in Puerto Rico.30
After rejoining Nashua in August 2000, Howell remained there for four more seasons, playing some second base and shortstop in addition to the outfield. His offense was still light, though he did hit .336 for the Pride in 2000. The club had other former big-leaguers in the outfield too, such as Milt Cuyler and Lance Johnson. Yet Pat continued to delight fans in the field and he contributed in other ways. In 2002, Hobson remarked, "We want him on this club because he's a quality person. He's very well liked by everybody in the clubhouse and everybody in this league." Injuries started to grind Howell down, though — "his back, his wrist, you name it."31
In addition to the wear and tear, Pat lost his stepfather during 2004. Pat missed Tommie greatly, for they often discussed how things were going in the game. Tom King's article also noted, "Hobson loves him like a son. . .Pat Howell, they say, will do good things for you on and off the field."32
Howell's playing career ended in July 2004 after a knee injury. Tom King wrote, "One of the more popular players the team has had, in the clubhouse and in the community. . .he's hung around Holman Stadium since, acting more or less as a coach, suiting up for some games. . . walking around the clubhouse, keeping everybody loose."33 "He stayed around after his knee surgery at the manager's request."34
In May 2005, as Howell continued to rehab from the operation, King wrote, "It was assumed he'd retire, although he spoke with. . .Hobson at the start of the season about a possible return." Previously King had mused, "Somehow, it just isn't the same around Holman Stadium without Pat Howell occupying a locker in the Nashua Pride clubhouse."35 Howell returned to the Mobile area, rejoining his wife and two sons. As of fall 2010, Patrick Jr. was a senior at Vigor High, starring as a linebacker on the football team. Pat Sr. has remained involved with baseball, serving as an instructor with the annual winter clinic in Thomasville, Alabama.
If only Pat Howell could even have hit as well as Gary Pettis, they might have wound up with similar careers. Nonetheless, Howell left a lasting impression on quite a few fans with the skill he possessed in the field.
Sources
www.baseball-reference.com
www.retrosheet.org
www.newspaperarchive.com
Treto Cisneros, Pedro, editor, Enciclopedia del Béisbol Mexicano. Mexico City, Mexico: Revistas Deportivas, S.A. de C.V., 1998.
Taiwanese statistics: http://twbsball.dils.tku.edu.tw/wiki/index.php/%E8%B1%AA%E5%A8%81P.H
Notes
1
Watson, Douglas J., Handley, Donna Milam, and Wendy L. Hassett. "Financial Distress and Municipal Bankruptcy: The Case of Prichard, Alabama."
Journal of Public Budgeting, Accounting & Financial Management
, July 1, 2005.
Born
August 31, 1968 at Mobile, AL (USA)
If you can help us improve this player's biography, contact us.
http://bioproj.sabr.org/bp_ftp/images4/HowellPat1.JPG
600
800
admin
/wp-content/uploads/2020/02/sabr_logo.png
admin
2012-01-04 20:25:19
2012-01-04 20:25:19
Pat Howell