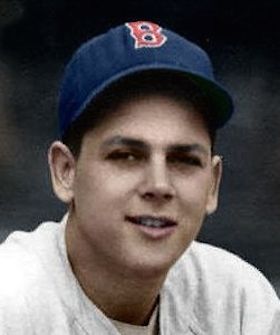 ---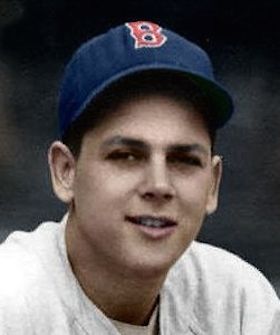 Roy Partee's career as a scout rivaled that of his career as a catcher. He caught for the Boston Red Sox for five seasons, 1943-48, and he scouted (mostly for the Mets) for more than a quarter of a century. He also managed in the minor leagues and helped win World War II.
Partee was a native of Los Angeles who grew to 5-foot-10 and 180 pounds. He batted and threw right-handed. Partee's parentage was French, Spanish, and German.1 His father Clair C. Partee (1893-1973) was a stonemason, a native of Ohio. He came to California and met Eutha Ethel Wyehl (1894-1979); Roy appears to have been their only child.
Had he not shown a special talent for baseball, Roy would have continued to work in the aircraft industry. At the time of the 1940 census, he was employed as a painter in an airplane factory.
Roy Robert Partee was born on September 7, 1917. He attended public school, including three years at Bret Harte Junior High and three years at George Washington High School, where he also played football all three years. He played baseball throughout, and Sunday semipro ball, too.
How did he get signed? He told John Drohan of the Boston Traveler, "I had caught for George Washington High School just one full season when the Los Angeles club of the Coast League advertised they were holding a baseball school to get some prospects for their club. I wasn't too sure I had enough ability to make even a Class D club but quite a few of the boys on the high school team were trying out and urged me to go along. 'What have you got to lost anyway?'
"One of the instructors in the baseball school was Truck Hannah, former big-league catcher and Coast League manager who was working for the Los Angeles club. Truck became quite enthusiastic over my ability. He saw me only a few innings when he tells Oscar Reichow, business manager, to sign me quick before I change my mind. It seems he told Reichow, as I learned afterwards, that I reminded him of Muddy Ruel, who made Truck the No. 2 catcher with the Yankees.
"Anyway, Reichow takes his advice and signed me."2
Drohan's story may have been a little condensed. In a much longer interview with Brent Kelley, Partee explained that he kept coming by the Angels' park and working out, helping catch batting practice at Wrigley Field. "As soon as I graduated (1937), I had already filled out a questionnaire and at the end of my school year I went to Catalina Island for about two months — $70 a month. Then I came home and they offered me a contract to go out the next year."3
Partee had an excellent year at Bisbee. It was a four-team Class-D league (Bisbee finished first in the standings), but he got the chance to play, and he played in 125 games, all but five he missed because of a split finger at one point. He hit for a .365 average, finishing just behind the .367 posted by league leader Mike Simon of Tucson. Partee hit nine home runs. He told Drohan he led the league in assists, with 105.
He also confessed that he put on some weight during the offseason, early in 1939 after he married Fay Edith Bickle, who featured lemon meringue pies as her specialty. In fact, he said, "I really went on a pastry jag" and when he reported to St. Joseph in the springtime, he weighed over 200 pounds. "The manager took one look at me and asked me if I happened to be related to the late Fatty Arbuckle by any chance. Right away he calls me Tubby and tells me I'd better do something about it." He put himself on his own diet of fruit juice and salads "and nearly starved myself. I lost 24 pounds in a month but was so weak I could hardly lift a pen to write home…I had such a poor year they don't want to see me again – ever."4
He didn't get along with Goldie Holt, the manager at St. Joseph. "He couldn't handle young fellas, didn't have the patience."5 Whatever the reasons, Partee only hit .245 at the Class-C club, and was released a month before spring training began in 1940. He told two apparently differing stories of how he hooked on with Salt Lake City for 1940. In 1943, he told Drohan that New York Yankees scout Joe Devine asked him if he'd like to play for Salt Lake. "I wouldn't have minded if he sent me to Baffin Bay," Partee joked.6 He told Kelley that a jeweler in L.A. named Dan Crowley said Salt Lake was looking for a catcher, so Partee contacted them, went up for a workout and was signed.
In the offseasons, he worked at the Lockheed airplane plant at Burbank, California.7
He was back on track, hitting .284 with seven homers at Class C, and was acquired by Charley Graham to the San Francisco Seals, jumping up to the Triple-A Pacific Coast League for 1941 and working under Lefty O'Doul. He didn't get to play much, though, only appearing in 27 games and only hitting .180. He did win the September 18 game with a ninth-inning single. But Tony Lazzeri was the second baseman on the Seals and he saw something in Partee (he also felt Partee had not been given a fair shake) and, when he was named player-manager with the Class-B Piedmont League Portsmouth (Virginia) Cubs, he recommended Partee.8
He actually trained with the Seals in the spring of 1942, but on March 27, he got his break. Portsmouth bought his contract for cash. Partee played in 114 games in 1942, and got off to a tremendous start, hitting .390 by June 4, when Lazzeri said, "You can tell everyone that Roy Partee has a great future in baseball…He really is a ball player. I frankly think he's the finest looking prospect in the Piedmont League."9 By year's end, Partee had hit for a .299 batting average. He'd also improved to his best season defensively behind the plate, with a .993 fielding percentage. The team finished with a winning percentage of 592, just points behind the Greensboro Red Sox (.595); Greensboro won four games to two in postseason playoffs.
Apparently at least a couple of major-league teams had approached Portsmouth about buying his contract, because Lazzeri asked him which team he'd rather go to if he had a choice – the Phillies or the Red Sox. He said the Red Sox, and that's how it all worked out – the Red Sox bought his contract on September 21 per the Associated Press. Partee was married, with one child, and was 3-A in the draft.10
Partee says that team owner (a local banker) Frank Lawrence mailed him a $1,500 bonus check at Christmas time. "He was a real gentleman, as it was not in my contract."11
He was one of the first to report to the Red Sox for spring training in 1943, held in the north at nearby Tufts University because of wartime travel restriction, and he made the team. He became the team's first-string catcher in both 1943 and 1944, with Johnny Peacock and Bill Conroy backing him up in '43 and Hal Wagner and Conroy in '44.
Partee was 0-for-4 with an error in his April 23 debut, in Philadelphia, but made up for it on the 24th, 2-for-5 with a double and three runs batted in (albeit in a 6-6, 12-inning loss.) He hit pretty well, still over .300 in mid-May, though he faded to .281 by season's end, quite good for a catcher at the time. He didn't hit a home run, but he drove in 31 runs and scored 30. At least twice he scored the winning run. His best game was probably another 12-inning game, on July 31 against the Indians at Fenway Park; Partee drove in four runs in the 5-4 Red Sox victory. He only made six more errors on the season (in 91 games) and posted a .983 fielding percentage.
He played some winter ball in Southern California in October, among other things playing against Satchel Paige's Baltimore Colored Giants in Los Angeles, but was among a dozen major leagues fined by Commissioner Landis for playing unauthorized postseason exhibition games.
Heading into 1944, manager Joe Cronin let it be known, "Roy Partee will again be our number one catcher, and the top backstop in the league, for my money."12 Once again, Partee started the season strongly, batting .333 after the first month of the season, but then tailed off significantly, dipping to .243 at season's end. He drove in 41 runs, including a 14th-inning game-winning sacrifice fly on April 25.
There had been uncertainty throughout the season about his status with the military draft. The Sox were uncertain and picked up Hal Wagner for insurance. At one point, on June 6 (D-Day), three Sox players – Leon Culberson, Bobby Doerr, and Partee – were all called for a physical at the Boston induction center, but all were rejected for different reasons (Partee with an injured elbow).13 It was said they would likely be called back later. On June 8, Partee hit his first major-league home run, a game-winner solo home run in the bottom of the ninth against the New York Yankees. He only ever hit one other, off Early Wynn on August 4.
The very next day, the three players who had been 4-F (Culberson, Doerr, and Partee) were all reclassified 1-A and subject to immediate call. The Red Sox themselves were in a pennant race at the time, in second place as late in the season as August 29. But ace Tex Hughson was called, with his last game on August 9. Wagner's last game was August 27. The team was only 1½ games out of first place on September 2 (Partee hit a bases-loaded single in the ninth inning to win the day's first game). Bobby Doerr's last game was September 3. The team slid to a fourth-place finish, 12 games out of first place.
On October 19, Partee was inducted into the United States Army at San Pedro, California. He was the 26th Red Sox player to be taken. There was no extended boot camp or training, Partee later said. He'd come east but then "I went through two weeks trainings in the infantry. We were gonna go to Europe – to Germany – and then they changed that so I came back across the United States to the West Coast and I ended up gettin' on a boat to go to the South Pacific, and I ended up on Leyte Island. I was in there for a year."14
The first forces of the Sixth Army landed on Leyte on October 20, and combat operations continued well until the very end of December. After the Japanese surrender in September 1945, Partee got a chance to play some baseball, playing for the Leyte team (Al Milnar was on the team, too) against Subic (which had Dom DiMaggio) and against teams in Manila.15
He was discharged from the Army in early April 1946 and joined the Red Sox on the 13th. He pinch-hit in the April 24 game against the Yankees and drew a base on balls. His second plate appearance was more than a month later, on May 30; again, he drew a walk. By the time, the Red Sox were in first place – which they never left – and already 6½ games games ahead of the second-place team. Hal Wagner did most of the catching, but Partee backed him up, appearing in 40 games – and batting .315 in 128 plate appearances (with a .387 on-base percentage). He drove in nine runs.
No one had known whether he'd be able to contribute at all, given his time away, but by late August, Ed Rumill offered an appreciation in print: "A championship-bound ball club like the Red Sox will always have one or two unsung heroes – fellows whose steady, dependable work is overshadowed by the routines of more "colorful" players. In such a spot at Fenway Park is Roy Partee."16 None other than Jimmie Foxx chimed in at the end of September: "Nobody says too much about that fellow, but I'd class him as a topnotch catcher right now." Tex Hughson agreed, saying that all the pitchers on the staff liked working to him. Clif Keane summarized, "He's established himself practically on a par with Hal Wagner the past month and a half."17
And he played in five games of the 1946 World Series against the St. Louis Cardinals, including complete games in Game Five and Game Six. He injured his thumb in the sixth inning of Game Two, and though it was not broken, his thumb was numb, causing him to miss Games Three and Four. He had 10 at-bats, but just one hit, a single in the bottom of the second in Game Five. He came around to score the second run of the game, the game-winning run in the team's 6-1 win. He was credited with one RBI in the seventh, reaching on an error at third base on a bases-loaded grounder, as two runs scored.
And he was behind home plate in the bottom of the eighth inning of Game Seven, when Harry Walker looped a little hit in front of center fielder Leon Culberson and Enos Slaughter, who had been off with the pitch, made his "mad dash" and scored all the way from first to home. This isn't the place to re-tell the whole story, but Partee later told the story at considerable length to Brent Kelley. He was even-handed, faulting Culberson for the casually routine way he handled the ball but also said shortstop Johnny Pesky should have seen Slaughter breaking hard from first to second, and known he might have tried for the plate.18 Slaughter himself said it was when he saw Pesky with his back turned to him as he went out to take the relay throw that he decided to try and score.19
He was the next-to-last one of the Sox to sign for 1947 (Rudy York was last.) He had a solid year, appearing in 60 games as primary backup to Birdie Tebbetts. The Red Sox finished third. Partee hit .231 (though with a .305 on-base percentage) and drove in 16 runs. It was a competent, but not spectacular year.
On November 17, Partee was part of an eight-player deal with the St. Louis Browns. The Red Sox sought Vern Stephens and pitcher Jack Kramer; they gave up Pete Layden, Joe Ostrowski, Roy Partee, Eddie Pellagrini, Al Widmar, Jim Wilson, and (no small consideration) $310,000 cash. It was quite a good deal for the Red Sox, in that none of the players were ones key to their success, while Stephens and Kramer both had significant upside.
Partee got the chance to play, for the Browns. Though Les Moss was their main catcher, Partee appeared in 82 games, with 258 plate appearances. Browns manager Zach Taylor appreciated his contribution to the team. In early June, he said, "That boy is a grand catcher. He's been a big help to me this year. He's just coming into his own. He's an intelligent youngster and a real credit to baseball."20
Partee was 30, and in retrospect we can see he did not have a good future in front of him. It was his most disappointing season on offense, however; he barely cracked .200 (he hit .203), with 17 RBIs. His .986 fielding percentage was his career best. The 1948 season was his last year in the big leagues.
He finished with a .982 career fielding percentage, and an even .250 at bat. He'd played in 367 major-league games.
On December 13, 1948, he and Fred Sanford were both traded to the New York Yankees for Red Embree, Sherm Lollar, Dick Starr and $100,000. The Browns made out well on that trade, though Sanford was 12-10 for the Yankees over the next three seasons. Partee, sportswriters understood, was intended to become a minor leaguer in the Yankees system.
He was put on the roster of the Newark Bears, but was sold to the San Francisco Seals in mid-January 1949 and Partee wound up playing in the Pacific Coast League again in 1949 and 1950. He hit. 281 in 90 games for the 1949 Seals, and .232 in 80 games in 1950.
He caught for the Kansas City Blues (American Association) in 1951 and 1952, batting .242 and .252 respectively. The 1952 team won the playoffs and went to the Little Word Series, though lost there.
His final year in the Yankees organization was with Syracuse in 1953, but he sprained his back and threw a disc out. He only hit .178. He refused to report to Syracuse in 1954 and was released outright.
In 1952, he had married again, to Helen Mae Ivanac.
In just 26 games in 1954, he hit .200 for Sacramento and .303 for the Class-A Edmonton Eskimos (Western International League). Sacramento had signed him to replace the injured Johnny Ritchey, and let him go in late June; he then moved on to Edmonton.
Beginning in 1955, Partee managed the Stockton Ports (Class-C California League) for three years. The team finished third, then second, then seventh. He was a player-manager, and batted a combined .240 over the three seasons in 892 at-bats. He also pitched in six games, at least once each year, with a combined 2-1 record.
We worked as a coaching instructor on the Giants' minor-league staff in 1958, but somehow found time to sign one player as a scout for the Detroit Tigers, Dick Egan.
In 1959 he managed in Oregon for the Eugene Emeralds (Class-B Northwest League), a Giants farm club, and played in one game, his last one in organized baseball. He was 2-for-3 in the game. The team finished fifth in the six-team league.
Partee then went into scouting. In April 1961, he signed as one of the first group of scouts working for the New York Mets. He scouted for them all the way to 1988 and is credited with signing an impressive number of players including Bud Harrelson, Tug McGraw, Curtis Brown, Danny Frisella, Bob Heise, Tom Robson, Don Rose, George Theodore, Ned Yost, Kelvin Chapman, Randy Johnson, La Schelle Tarver, Steve Springer, and Rick Aguilera.21 In 1989 he retired as Northern California scout supervisor.
Roy Partee died at St. Joseph Hospital in Eureka, California on December 27, 2000. He was survived by two sons, Raymond Clare Partee and Gary Robert Partee.
Sources
In addition to the sources noted in this biography, the author also accessed Partee's player file and player questionnaire from the National Baseball Hall of Fame, the Encyclopedia of Minor League Baseball, Retrosheet.org, Baseball-Reference.com, Rod Nelson of SABR's Scouts Committee, and the SABR Minor Leagues Database, accessed online at Baseball-Reference.com.
Notes
Born
September 7, 1917 at Los Angeles, CA (USA)
Died
December 27, 2000 at Eureka, CA (USA)
If you can help us improve this player's biography, contact us.
http://sabr.org/sites/default/files/ParteeRoy.jpg
600
800
admin
/wp-content/uploads/2020/02/sabr_logo.png
admin
2016-02-23 18:46:09
2016-02-23 18:46:09
Roy Partee