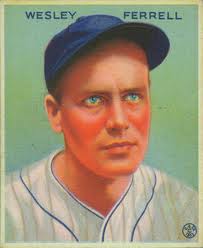 ---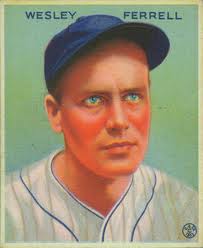 Right-handed pitcher Wesley Cheek Ferrell was born on February 2, 1908 in Greensboro, North Carolina, to Lonnie and Clora Alice Ferrell. He was the fifth of seven children, all brothers. His father Lonnie was employed by the Southern Railroad, first as a fireman and then as an engineer. Two years after Wes's birth, however, he purchased land about six miles west of what was then the Greensboro city limits and established a 150-acre farm where the Ferrell boys were raised. The operation of the farm was left largely to them, since Lonnie continued to work for the railroad. Hay, wheat, corn, tobacco, and sorghum were the chief crops. The Ferrells also owned a herd of dairy cattle.
Growing up, the chief form of recreation for Wes and his brothers was baseball. As he explained in an interview with Donald Honig: "We'd go out into the fields after harvest time and hit for hours. Just hit an old beat-up nickel ball as far as it'd go and chase it down and throw it around. Saturday and Sunday were our big days, of course. That's when we played team ball, around the countryside here."1 This early experience stood the Ferrell brothers in good stead. Four of them, including Wes, went on to play professionally. George (born April 14, 1904), an outfielder, starred in the Piedmont League for several seasons, while Marvin (born December 1, 1910), a pitcher, reached as high as the American Association. The most successful Ferrell brother, however, was Rick (born October 12, 1905), who enjoyed a lengthy major-league career (1929–1947) as a catcher for St Louis, Boston, and Washington, all in the American League. In 1984, Rick Ferrell was elected to the Baseball Hall of Fame.
Like all of his brothers, Wes played for the baseball team at Guilford High School, where he was also a star center on the basketball team. Throughout his high school years he played baseball for amateur teams in the Guilford County League as well. After graduation in 1926 Wes enrolled at the Oak Ridge Institute (now Oak Ridge Military Academy), about 15 miles north of Greensboro, once again excelling at two sports, and attracting the interest of Bill Rapp, a scout for the Cleveland Indians.
The following year, 1927, he played semipro ball in East Douglas, Massachusetts. While there, he was offered contracts by two major-league teams, Cleveland and the Detroit Tigers, but due to Rapp's influence he opted for the Indians. After signing with them, he spent the last two months of the 1927 season with the team. He pitched only a single inning, during which he gave up three hits and two walks, allowing three earned runs, which saddled him with an ERA of 27.00 for the season. The next spring, 1928, he made the opening day roster, but was demoted shortly afterwards to Terre Haute in the Three-I League. There he soon redeemed himself. Pitching in 33 games, 23 of them complete, he won 20 and lost only 8, posting an ERA of 2.74. Recalled to the parent club at the end of September he appeared in two games, losing both, but managed to improve his ERA to 2.25.
Next season, 1929, Wes made the big leagues for good. In the course of his career, he would play for five other major-league teams in addition to the Indians: Boston (1934–1937), Washington (1937–1938), and New York (1938–1939) in the American League, and Brooklyn (1940) and Boston (1941) in the National, but arguably he was at the peak of his career while at Cleveland. In his five seasons with the Indians from 1929 to 1933 he won more than 20 games four times in a row, only dropping to 11 victories in his final season with the club. In 1930, when he finished up with a 25–13 won-lost record and a 3.31 ERA, even though playing for a fourth-place team with a suspect defense, he was, other than Lefty Grove, probably the best pitcher in the American League.
While at Cleveland, Ferrell became noted for three things. The first, of course, was his pitching. He had an excellent fastball, which he combined with a good curve and a deceptive change of pace. His size, control, and seemingly effortless motion led a number of contemporary witnesses to compare him with Christy Mathewson, the Giants' legend who had set the standard for all right-handed pitchers earlier in the century.
The second notable thing about Ferrell was his batting. He played in an era when good-hitting pitchers were not as unusual as they are today, but even by the standards of that time he stood out for his solid work at the plate, in particular his power and his ability to come through in the clutch, often as a pinch hitter. From 1929 to 1933, his batting average was .274. In his best year at the plate with the Indians, 1931, the right-handed hitting Ferrell compiled a .319 average with 30 runs batted in, 9 home runs, and 6 doubles in 48 games. Only outfielder Earl Averill (32) and first baseman Ed Morgan (11) had more home runs among his teammates.
The third thing, unfortunately, was Ferrell's temperament. This became evident as early as the 1932 season. During that campaign, his ire was easily aroused by what he judged to be a bad umpire's call or a defensive lapse on the part of one of his teammates, of which there were all too many, to the detriment of his pitching. As one observer noted, "Ferrell is too easily provoked. He has the experience, the ability, and all the necessary requisites to be of greater value to his club and himself if he would remain undisturbed when the breaks of the game turn against him."2 An outspoken, competitive individual, Ferrell did not hesitate to speak his mind when angry, and his complaints led to difficulties between him and his teammates and his manager, Roger Peckinpaugh. These, in turn, inspired trade rumors, one of which had the pitcher going to the Yankees in an even swap for Lefty Gomez, which never materialized. Matters came to a head during a game against the Boston Red Sox on August 30, 1932 when Peckinpaugh walked out to the mound to remove Ferrell, who was pitching poorly, and he refused to hand over the ball. As a result the pitcher was suspended for ten days without pay for insubordination.
One reason for Ferrell's temperamental behaviour may have been the growing anxiety he felt about his pitching arm. He first experienced pain in his right shoulder while warming up for a game against the Boston Red Sox on May 8, 1931. For the rest of that season he could only throw his fast ball intermittently. Increasingly, he came to rely upon his off-speed pitches. Late in 1932, he was asked if he was still as good a pitcher as he had been in 1930. His answer was revealing: "No," he replied, "I have had bad trouble with my pitching shoulder for two seasons. There is some sort of infection there, or nerve restriction. Some days my shoulder tightens up and I can't throw the ball as fast as when the shoulder is free."3 The nature of the ailment affecting Ferrell's arm is puzzling. In one start he would throw just as hard as he did when he first broke into the major leagues. In the next, he would have absolutely nothing on the ball. No one, least of all the pitcher himself, could predict which Wes Ferrell would take the mound on a given day.
Matters grew worse in 1933, so much so that near the end of the season the Indians experimented with playing Ferrell in the outfield. The experiment was not a success as he had difficulty in fielding the position properly. He finished the 1933 season with an 11–12 record, losing more games than he won for the first time in five years. In an interview with F.C. Lane published in June of that year, Ferrell spoke candidly about his physical ailments and the anxiety they induced, observing: "It isn't only the pain, however, it's the mental unrest. It's the worry, the fear that perhaps the arm will not come around and it weighs on a pitcher. Plenty of times it has kept me awake nights."4
By this time both Cleveland and Ferrell had probably decided it was time for a change. The team tried unsuccessfully to trade him over the winter. In March 1934 the pitcher returned his contract unsigned and refused to report for spring training. Finally, on May 25, a trade was agreed with the Boston Red Sox: Ferrell and outfielder Dick Porter were exchanged for pitcher Bob Weiland, outfielder Bob Seeds, and $25,000 in cash. The Boston club, having been purchased by Tom Yawkey in 1933, was in the process of rebuilding after the lean years of the 1920s. Among the members of the team Ferrell was about to join were his nemesis, Lefty Grove, purchased from the Philadelphia Athletics a few months earlier, and his older brother Rick, who had been acquired from the St Louis Browns the previous year.
Ferrell bounced back to enjoy three good seasons in Boston, with his brother as his battery mate in each. No longer a power pitcher, he relied on control and his knowledge of the hitters for success. He ended the 1934 season with a 14–5 record. In 1935 his record was 25–14. The following year, 1936, he won 20 and lost 15. As a result of his mound prowess, Ferrell finished second in the voting for the Baseball Writers Association of America MVP award in 1935, losing out to Hank Greenberg, and finished fifth in the balloting for the Sporting News MVP.
Nor was the Ferrell bat idle during this period, especially in clutch situations. Over the 1934–1936 seasons he averaged .303 at the plate, peaking with a .347 average, 7 home runs, and 32 RBIs in 75 games in 1935. Figures like these would be impressive for a position player, let alone a pitcher.
His temper remained volatile as well. In a game against Philadelphia on August 8, 1934 Ferrell took the mound in the bottom of the third inning with a 10–1 lead but then proceeded to give up six runs on a pair of homers. When the manager, Bucky Harris, came out to relieve him, not only did he refuse to hand over the ball; when he was finally persuaded to return to the dugout he punched himself in the jaw with his fist and slammed his head against a concrete wall. He had to be forcibly restrained to prevent him from doing further harm to himself. During the 1936 season, Ferrell walked off the field in disgust and refused to continue pitching twice in the space of five days, angered each time by his teammates' defensive shortcomings. On the second occasion he was fined $1,000 and suspended for several days. Ferrell's reaction was to threaten to punch the manager, Joe Cronin, in the nose.5
In 1937, Ferrell's record fell to 14–19. After a slow start, resulting in a disappointing 3–6 record, he was traded to the Washington Senators on June 11, along with his brother Rick and outfielder Mel Almada, for pitcher Bobo Newsom and outfielder Ben Chapman. For the Senators, Ferrell managed to win an additional 11 games while losing 13. He began the 1938 season with Washington. By August 2, he had won 13 games, more than anyone else on the team, while losing only seven. Nevertheless, 10 days later, the Senators released him. His continued temperamental behavior seems to have been the chief factor underlying this decision, although the fact that he had accused the club's owner, Clark Griffith, of being cheap cannot have helped. Two days later, on August 14, Ferrell signed with the New York Yankees, who were in need of pitching, and finished out the season with them, winning two games and losing two, compiling an overall record of 15–10 for the year.
Following an operation to remove bone chips from his elbow after the end of the 1938 season, Ferrell spent the next few years trying unsuccessfully to hang on in the major leagues. In 1939 he saw action in three games for the Yankees. The following year he moved over to the National League, where he played in two games for the Brooklyn Dodgers. His career in the big leagues came to an end in 1941, when he took part in only four games for the Boston Braves. His pitching record during this three-year period was an inconclusive 3-3.
Between 1941 and 1949 Ferrell served as manager (sometimes player-manager) for a number of minor-league teams based in the southeastern states. He had not lost his hitting touch. In 1942, as player-manager for Lynchburg in the Virginia League he batted .361 with 31 homers and 99 RBIs in 123 games. As late as 1948, with Marion in the Western Carolina League, he hit .425 with 24 homers, 30 doubles, 14 triples, and 119 RBIs in 104 games. Ferrell later managed at Rock Hill in 1963 and Shelby in 1965, both in the Carolinas League. He did this more for love of baseball than out of any necessity as sound real estate investments in North Carolina and Florida had given him financial security. He died on December 9, 1976, in Sarasota, Florida, and is buried in New Garden Cemetery, Greensboro, North Carolina.
Ferrell's mound record over 15 major-league seasons was an impressive one. He won 193 games and lost 128, giving him a career winning percentage of .601. He gained 20 or more victories six times during his career, performing the feat four times in succession from 1929 to 1932, his first four full seasons in the majors. He pitched a no-hitter against the St Louis Browns on April 29, 1931. His lifetime earned run average was 4.04, with 985 strikeouts in 374 games and 2623 innings. Although his ERA may seem high by today's standards, during the peak years of his career, 1929–1936, Ferrell only once outside the best ten in ERA in the American League, once (1930) finishing second with an ERA of 3.31. Likewise, he consistently finished in or near the top ten in wins, complete games, shutouts, innings pitched, and strikeouts.
His statistics at the plate are no less impressive. His career batting average was .280. He hit more home runs in a single season (9) and during his career (37) than any other pitcher. (He hit a 38th while pinch-hitting.) He once drove in six runs in a single game. On five occasions he hit two home runs in one game. His 329 lifetime hits also included 57 doubles and 12 triples. Altogether he drove in 208 runs and scored 175. In recognition of his abilities, both on the mound and at the plate, Ferrell was voted a member of the American League All-Star team twice, in 1933 and 1937.
This performance is all the more remarkable when one considers that Ferrell never played for a really strong team. Of those teams for whom he played more than a handful of games, the Cleveland Indians finished third, fourth, fourth, fourth, and fourth with Ferrell as a member of the squad, the Boston Red Sox, came fourth, fourth, sixth, and fifth, and the Washington Senators, sixth and fifth. In addition, the fielding behind him was frequently unreliable. He was often denied the benefit of pitching in a fixed rotation, and was regularly called upon to relieve as well as start. On July 8, 1932, for instance, Ferrell pitched and won a complete game against the Senators. Only two days later he worked 11 innings in relief during an 18-inning contest with Philadelphia from which he ultimately emerged as the loser. In 1930, 1931, 1932, 1935, and 1936, Ferrell led his club's staff in innings pitched. Between 1935 and 1937 he topped the major leagues in games started (111), complete games (85), and innings pitched (904 1/3).
Playing for mediocre teams in an era when pitchers were supposed to finish what they started and the specialist relief pitcher had not yet come into existence, it is not surprising that Ferrell was overworked, with the result that his arm wore out. It is a tribute to his intelligence and competitive spirit that he was able to continue pitching for so many years after this had happened. Perhaps he was born too early. In today's game, when the number of pitches thrown by a starter is closely monitored and he is removed from games after reaching the prescribed limit, and the dominating closer who only enters a game in the final inning or innings to preserve a victory is ubiquitous, Ferrell might have become a superstar in either role. He may even have achieved greatness as a designated hitter.
Sources
Baseball-Reference.com
Donald Honig, A Donald Honig Reader (New York, London, Toronto, Sydney, Tokyo: Simon and Schuster Inc., 1988).
Peter Golenbock, Fenway: An Unexpurgated History of the Boston Red Sox (New York: G.P. Putnam's Sons, 1992).
Frederick Lieb, The Boston Red Sox (New York: G.P. Putnam's Sons, 1947).
Joseph Reichler (ed.), The Baseball Encyclopedia, Seventh Edition (New York: Macmillan Publishing Company, 1988).
Glenn Stout and Richard A. Johnson, Red Sox Century (Boston and New York: Houghton Mifflin Company, 2004).
Dick Thompson, The Ferrell Brothers of Baseball (Jefferson, North Carolina, and London: McFarland & Co., Inc., 2005).
Notes
1
Quoted in Donald Honig,
Baseball When the Grass Was Real
, reprinted in
A Donald Honig Reader
(New York: Simon and Schuster, 1988), p. 18.
2 Quoted in Dick Thompson, The Ferrell Brothers of Baseball (Jefferson, North Carolina, and London: McFarland & Co., Inc., 2005), p. 99.
5 Glenn Stout and Richard A. Johnson, Red Sox Century (Boston and New York: Houghton Mifflin Company, 2004), p. 202.
Born
February 2, 1908 at Greensboro, NC (USA)
Died
December 9, 1976 at Sarasota, FL (USA)
If you can help us improve this player's biography, contact us.
http://bioproj.sabr.org/bp_ftp/images5/FerrellWes.jpg
600
800
admin
/wp-content/uploads/2020/02/sabr_logo.png
admin
2012-01-04 20:32:05
2012-01-04 20:32:05
Wes Ferrell