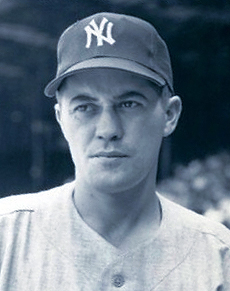 ---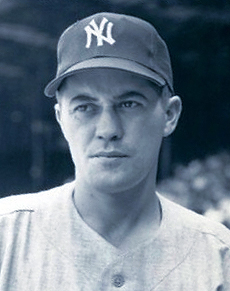 Unlike quite a number of major leaguers, World War II veteran Art Schallock didn't play baseball during his time in the service. He worked as a radio operator in the United States Navy in the Pacific Theater of Operations, serving aboard the USS Coral Sea. Per the aircraft carrier's tribute site, the Coral Sea saw combat "at Makin Island, Kwajalein, Emirau Island, New Guinea and Saipan where she sustained minor battle damage."1 At one point, reports Gary Bedingfield, "Schallock had a 'near miss' when a Japanese submarine launched torpedoes and sank the ship alongside the Coral Sea."2 He entered professional baseball only after the war was won.
The slight left-hander (5-feet-8½, 160 pounds) won three world championship rings, though his only appearance in the World Series came in 1953 — his best year.
Schallock pitched five seasons for the New York Yankees from 1951 into 1955 and finished the 1955 season with the Baltimore Orioles. His time in the minor leagues ranged from 1947 through 1956. His record in the big leagues was 6-7 with a 4.01 earned run average, pitching in 170⅓ innings over 58 games, split almost evenly between the two teams. He pitched almost as much for the Orioles in 1955 (80⅓ innings) as he had for the Yankees in the prior four-plus seasons.
Arthur L. Schallock was born on April 25, 1924 in Mill Valley, Marin County, California, north of San Francisco and more than a decade before construction of the Golden Gate Bridge in 1937. His parents were Alice and Arthur Schallock, a lineman who worked in telephone and telegraph installation. Both parents were California natives, her parents having immigrated from France and his from Germany. They had four children — Melvin (born 1911), Alice (1913), Julia (1915), and, nine years later, Art.
Art's father died in October 1938 at the age of 51. At the time of the 1940 census, Melvin and Art lived with their mother. Melvin worked as a salesman for a fruit broker.
Art Schallock starred in pitching at Tamalpais High School, pitching a 1-0 no-hitter in March 1941 against San Francisco's Lincoln High School.3 He also played first base. His idol was another Mill Valley native, also a "runt-sized southpaw" — Tony Freitas.4 Coaching Schallock at "Tam High" was George T. "Pop" Wendering, who had previously seen Sam Chapman, Karl Olson, and Joe DeMaestri all make the majors.5
That summer he pitched for the semipro San Rafael Merchants, and then joined the San Mateo Blues. As of mid-September, he was averaging more than 14 strikeouts per game for San Mateo.6 Still in high school, he played for the Blues again in 1942, into November, given baseball's longer seasons on the West Coast.
A senior in 1942, he registered for the draft on June 30, 1942. In 1943 he was taken into the Navy. "I was two weeks out of high school when they drafted me. I went in the Navy and I didn't see a baseball for three years."7
The Coral Sea (renamed the USS Anzio in September 1944) saw a lot of combat action in the Pacific; Schallock reportedly saw action in 11 engagements aboard the carrier including the invasions of Iwo Jima and Okinawa.8
Gary Bedingfield reports that Schallock trained at "lovely downtown Farragut, Idaho" before departing for the Pacific to serve as a radio operator on the USS Coral Sea (CVE-57). After sailing for Hawaii in October 1943, the aircraft carrier supported American forces as they invaded the Gilbert Islands.9
As for the "near miss" from Japanese torpedoes, Schallock confirmed the incident. It was the ship built immediately prior to the Coral Sea, and the two had traveled in tandem to the area. "We used to call them Kaiser coffins. Before the war, Kaiser built big tanker ships and they converted them into aircraft carriers. The first one was the Liscome Bay and we were the second one. We had 12 fighters and 12 what they called TVNs. It was a kind of plane that hunted for submarines. We were more or less an escort carrier."10 The Liscome Bay was CVE-56, another escort aircraft carrier. "It went down in about 20 minutes." The sinking occurred early in the morning of November 24, 1943 and resulted in the loss of 644 crewmen. The story of the torpedoing and loss of the Liscome Bay is told on the website of the Naval Aviation Museum. There were 272 men who survived.11
After returning to San Diego for repairs, and shipping out again as the Anzio, Schallock's escort carrier went back to the Pacific. "Since there were too many crew members stationed in the radio room during combat," Bedingfield says, "Schallock was stationed in the crow's nest as a lookout that included some pretty frightening moments during kamikaze attacks. Schallock was discharged in 1946."12 His rank on discharge was radio operator, second class.
Not long after returning home, he met his future wife Donna Bernard on a blind date. "A friend of mine had a girlfriend and he wanted to go to a dance. I had a car and he didn't. So he fixed me up with a blind date, which was Donna."13 The couple had two daughters — Dianne and Nancy — and as of the time of a December 2019 interview were still married and living in Sonoma, California.
After the war, Schallock says, "When I came out of the service, I had a chance to go to USC or Santa Clara on a baseball scholarship, but, no, I wanted to go to Marin Junior College because all my buddies from Tam — my high school — were going to the junior college. Made a name for myself in baseball and then I signed up with the Dodgers."14
Before joining the Dodgers' organization, he returned to semipro baseball in 1946, pitching for South San Francisco's Moffat Mantecas, a team that went all the way to the California state championship series. The "frail little southpaw" took the ball for the first game in the three-game series against the Signal Oilers of Los Angeles.15 Schallock recorded a complete-game win, 4-3, with eight strikeouts.16
That winter, he seems to have pitched in Cuba, returning to Miami from Havana on April 6 aboard the SS Florida.17
He pitched for the Montreal Royals, the Dodgers' Triple-A affiliate, during spring training in 1947. In April the Royals optioned him to the Pueblo Dodgers, managed by Walter Alston, of the Class-A Western League. His 3.61 earned run average in 157 innings ranked him tops on the club. He was 13-8, tied with Turk Lown in wins and only two behind Larry Shepard.
In 1948 he only got in 50 innings of work for Montreal. He was 2-1 with a 3.78 ERA but simply wasn't used that much by manager Clay Hopper. Jack Banta and Don Newcombe got most of the starts. The Royals had five pitchers with 10 or more wins, and won the International League pennant. Hopper might have farmed out Schallock — and it might have been better for his development had he done so — but Art was married and with two young children. In mid-June it was reported that the confidence Donna had shown in moving the family from San Francisco to Montreal "impressed General Manager Buzzie Bavasi so much he canceled earlier plans to farm out the young lefthander."18 Schallock did appear in 24 games, all but one in relief.
"I was with Montreal in '48 and we won the pennant and the Little World Series. Duke Snider was in right field, Don Newcombe was one of the pitchers, and the first baseman was 'The Rifleman,' Chuck Connors."19
"The next year, instead of going all the way back to Vero Beach with my wife and two kids, I found out the Dodgers had a working agreement with the Hollywood Stars and they traded me from Montreal to Hollywood, for a buck. I went to Hollywood in 1949 and damned if Hollywood didn't win the pennant. I've been lucky as far as being on pennant winners, I'll tell you that."20
In both 1949 and 1950, Schallock pitched for the Hollywood Stars of the Triple-A Pacific Coast League. Manager Fred Haney led the Stars to the pennant in 1949, then finished third in 1950. Schallock got off to a 7-1 start. A pulled muscle in his side cost him a considerable period of time in recuperation. By season's end he was 12-9 (4.24) with 24 starts (and 10 complete games) in 1949 and another seven appearances in relief. In 1950, he worked more in relief (15 starts, but in 23 other games). His ERA was better, at 4.01. His record was 5-7.
Heading into the 1951 season, the working agreement between the Dodgers and Stars was scheduled to end when the season ended. Schallock was one of three Stars the Dodgers were granted an option to purchase.21 He set to work in the spring, hoping to get the call-up to Brooklyn in September. He believed that advice he'd received from Haney and Gordie Maltzberger would help him regain the control he felt he had lost a bit in 1950.
He got off to a great start with the Stars again, and was 11-5 with an ERA of 3.40 when the Dodgers traded him to the New York Yankees on July 12. In the deal, the Dodgers got minor-leaguer Bob Landeck, catcher Eddie Malone, and cash estimated at $50,000. It was a complicated transaction that involved six different ballclubs.22 Malone had played in 86 games for the White Sox in 1949 and 1950, and had been purchased by the Yankees a year earlier, but never played for them — or in the majors again.
Art Shallock enjoyed his major-league debut four days later. On July 16, the Yankees were in Detroit playing at Briggs Stadium. Schallock got the start. He gave up two runs in the first, one in the second, and another run in the bottom of the third. After 2⅔ innings, manager Casey Stengel summoned Spec Shea in to relieve. At no time had Schallock been behind in the game, however, since the Yankees scored twice in the first and four more times in the top of the second, Having departed early, he received a no-decision in the game the Yankees won, 8-6. He'd walked three and given up seven hits. In his two times at bat, he grounded back to the pitcher, who threw the ball to second for a force out, and he struck out.
When Schallock joined the Yankees, they had to cut a player to keep at the limit. The 19-year-old player who was optioned out — to Triple-A Kansas City — later made a name for himself. His name was Mickey Mantle.23 Schallock told Ed Attanasio, "To get on the Yankees' roster, they had to send someone down and it turned out to be Mickey Mantle. He came back quickly, but for many years Mickey and I would joke about it. Mickey was a wonderful person and when he first came to New York, he was drinking root beer floats. But, then some of the other players introduced him to alcohol and that's when his problems started. Later when I was pitching for the Orioles, he hit a monster home run against me and smiled all around the bases."24
Schallock talked about his first roommate on the Yankees. "I didn't know who they would assign me to be with. I figured it would be with another rookie or another young player, but when they told me it would be Yogi Berra, I was surprised. It was a great experience, because Yogi knew all of the batters in the American League at that time. He knew how to pitch to them and what their weaknesses were. Yogi never wrote anything down; it was all up there in his head. He knew his stuff and I learned a lot from him. People used to joke about Yogi being not that smart, but he was sharp as a tack and a wonderful guy."25
In his second outing, five days later, Schallock fared better, pitching against the St. Louis Browns. The game was tied, 3-3, when he departed after five innings, and once more Shea picked up a win. One of the three runs scored on his watch came on his first base hit, an RBI single.
Schallock's first decision was a 6-0 loss to the Tigers at Yankee Stadium on August 2. His teammates gave him no run support, so the two second-inning runs he allowed cost him the game. There were three other decisions for Schallock in 1951, and he won every one of them — three starts in the second half of August. His first win was an August 16, 5-3 win over the Senators for "the diminutive southpaw from the Coast." He'd allowed just one run and six hits, but wilted in the "broiling sun."26 Seventeen base hits helped him beat the Tigers on August 21. On the 26th, even though Allie Reynolds coughed up a couple of runs in relief, the White Sox went down, 8-6.
The Yankees beat the Giants in the 1951 World Series, but Schallock saw no action.
In 1952, he went to Florida for early instructional work. He made the team out of spring training and pitched the final inning in games on April 30 and May 7, but was optioned to Kansas City on May 12 and spent the rest of the season there. He was 8-6, starting 13 games and relieving in 13 games. His ERA was 5.49. The Yankees beat the Dodgers in the World Series, but again Schallock played no part. He did, however, pitch in the postseason for Kansas City. The Blues won the American Association pennant, beating Milwaukee in a seven-game playoff series, but the Rochester Red Wings came from a three-games-to-one deficit and won their last three games, beating Kansas City in the Junior World Series.
Once again Schallock was among those summoned by Stengel to early spring training, this time in Glendale, California. He began the 1953 season with Kansas City and got off to a very strong start, 9-3 with a 3.15 ERA in, again, a mixture of starts and relief work. Roster space opened up when outfielder Bill Renna broke a toe, and right-hander Ewell Blackwell went on the voluntarily retired list, so that Schallock could be called up to New York in mid-July.27 Joe McDuff of the Kansas City Star praised Schallock, calling him "the smartest and most skillful pitcher in the league this season." Of him, he wrote, "Schallock doesn't have overpowering stuff, but he is a master in keeping hitters off stride. He mixes his pitches into a master blend. His fastball is an effective weapon, not because of its speed but because of the surprise element involved. Schallock isn't a stand-patter. He works constantly to improve himself and this year has come up with a screwball. Since Schallock's effectiveness is based on control and deception rather than brute force, it's essential that he have a variety of pitches and if he masters the screwball it could very well be the difference between him being a minor or a major league pitcher."28
He started against the Browns on July 17. The Yankees built up a 5-0 lead but after Schallock loaded the bases with one out in the bottom of the fifth, Stengel brought in Allie Reynolds to relieve him. Schallock was touched for only one run, but Reynolds got the win. Schallock worked in six other games, all in relief. He was without a decision on the year, but had a 2.95 ERA. Stengel decided he wanted him on the postseason roster.
Schallock's work in the 1953 World Series was his only time in the postseason. He pitched the final two innings in Game Four, coming into the game at Ebbets Field with the Dodgers up, 6-2, in the bottom of the seventh. He got Jackie Robinson to line out to right field and then struck out Gil Hodges, but he walked Roy Campanella and Duke Snider doubled him in, Campy surprising everyone by running all the way around the bases from first base. Schallock gave up one single in the eighth, and the game was over when the Yankees got just one run back in the ninth. Johnny Mize pinch-hit for Schallock and flied out to center. The Dodgers won Game Four, 7-3, evening the Series at two games apiece, but the Yankees then won the next two games and the World Series, their fifth world championship in succession.
In 1954, Schallock was used sparingly in the majors. He was 0-1, a complete-game 5-1 loss to the Philadelphia Athletics in the next-to-last game of the season. He'd otherwise appeared in relief, once in April, once in May, twice in August, and twice in September. His ERA in the big leagues was 4.15. About half of his year was spent in the Pacific Coast League with the Oakland Oaks; he was optioned there in mid-May, recalled at the end of July. For the Oaks he was 12-4 (4.20) in 20 games, 15 of them starts. On August 9, while with the Yankees, he pitched two hitless innings against the Cincinnati Redlegs in the annual Hall of Fame game at Cooperstown.
Schallock spent the entire 1955 season in the major leagues, but not in the way he had anticipated. He worked in a pair of April games for a total of three innings, giving up two runs in the first game but none in the second. The Yankees placed him on waivers, and the Baltimore Orioles selected him on May 11. He worked six games for the O's in May, the last one being his first start of the year — a 1-0 complete-game loss to the Yankees on May 29 when Elston Howard singled in Mantle with the winning run in the top of the ninth. That stint followed six innings of scoreless relief against the Red Sox on May 25. At that point, he had a season ERA of 1.42.
Three unearned runs cost him another loss on June 3, but he worked eight games that month, and then seven each in July and August. He won a couple of games in relief (including one on June 17 when he singled with two outs and then scored the winning run from first base on Chuck Diering's double to left in the 11th inning), lost three starts, then won his final start, against the Senators on September 16. For the season he was 3-5 in 32 games, with a 4.21 ERA.
Schallock went to spring training with the Orioles in 1956, but on April 2, his contract was sold to the Seattle Rainiers and he was on his way back to the Pacific Coast League. In the 1956 Coast League season, he was 11-9 (3.42) for the Rainiers including six consecutive wins over the San Diego Padres.29
On March 5, 1957, Schallock announced his retirement from baseball from his home in San Rafael, California.30
His minor-league record comprised 1,091⅔ innings in 243 games and a record of 83-52 (3.89 ERA). His career stats in the majors were 6-7 (4.02) in 58 games and 170⅓ innings with a WHIP (walks and hit per inning pitched) of 1.703.
He had been working in the offseasons for his brother-in-law as a salesman for a sporting goods dealer in San Rafael and now entered the work fulltime. "I did that for a while and then somebody offered me a job at a title company as a PR man, to bring the realtors in, to wine and dine them and bring them in. I did that for 10 or 15 years. My father-in-law owned Redmond's Realtors, but I never worked for them. The first company I went with was Title Insurance and Trust, and then I was with California Land Title."31 His titles included public relations director and head of the business development department.
For several years, Schallock was active and very successful in competitive golf tournaments in and around Marin County. He played golf right-handed. Donna Schallock was a very successful golfer as well. Both won a number of championships through the 1960s and into the 1970s. He occasionally attended old-timers baseball events in the Bay Area.
"I retired when I was 65. I'm 95, going on 96 now. I did play a lot of golf up until about a year ago, when I gave it up. I played two or three days a week. I just can't handle it anymore. My balance is terrible, but otherwise — health-wise, I'm fine."
In March 1973, tragedy struck his extended family as his older brother Melvin was shotgunned to death at his home in Mill Valley along with his wife Ruth and their 19-year-old son Daniel. The house was then set on fire and a fleeing man fired a couple of gunshots into the unoccupied cars in the family's driveway.32 Five months later, 22-year-old Brent Bedayan was convicted at trial but determined to be innocent by reason of insanity.33
One of Daniel's brothers, David, was lead guitarist for a while with Big Brother and the Holding Company and in the group Sons of Champlin.
In Ed Attanasio's 2005 interview with Art Schallock, the former pitcher declared Joe DiMaggio as the greatest player of all time. The best pitcher he had seen? "That's easy, it was Allie Reynolds. He was such a competitor, it was unbelievable to see him in important games. One thing that may have affected his career is that he didn't get along with some people, including the press. The press in New York could be brutal and if you had one bad game, they would trash you, unless you were a major star. We called Allie 'Super Chief' because he was part American Indian and a terrific teammate. He was also a smart businessman who got rich after his career by buying a bunch of oil wells."34
Looking back on his Pacific Coast League days, Schallock said, "Growing up in the Bay Area, I wanted to play for the San Francisco Seals, but that never happened. I played for the Oakland Oaks, Hollywood Stars and Seattle Rainiers and it was a great experience. When I was pitching for Hollywood, I started a few times against the Seals and did really well. Their manager Lefty O'Doul used to say that he should have signed me when he had the chance, which made me feel great. The fans in the Pacific Coast League were so supportive and to be honest, the talent there was in some ways, better than with some of these second division MLB teams."35
On major-league baseball in the early 21st century, Schallock said, "I used to go to Giants and A's games, but no more. As a former player, it's hard to sit there and watch the game, because I figure I should be in the dugout or out there playing. The game has changed a lot and the big money they make now is crazy. I don't even want to think about what I would make today. Also, those players who cheated by using steroids, I hope they never get into the Hall of Fame. If Ted Williams or Mantle had used those drugs, they would have hit 1,000 home runs each, so the steroid users should have their records thrown away forever."36
Schallock still follows the game, though. "I follow it in the paper and I watch the games during the season. I watch the World Series every year, and the playoffs."37
Did he have a favorite team? "The Yankees, I guess. It has to be the Yankees are my favorite team. In the Bay Area, I like Oakland."38
He summed up, telling Attanasio, "I had a great career; I can't complain. I played with some of the best that ever played and I have three World Series rings. Sure, playing in the majors was stressful at times, but overall I loved every minute of it and I always look back fondly."39
Last revised: March 23, 2020
Acknowledgments
This biography was reviewed by Phil Williams and Norman Macht and fact-checked by Kevin Larkin.
Sources
In addition to the sources cited in the Notes, the author also relied on Baseball-Reference.com, Retrosheet.org, and Schallock's player file from the National Baseball Hall of Fame.
Notes
1 https://usscoralsea.net/names.php
2 Gary Bedingfield, "Art Schallock," Baseballinwartime.com. http://www.baseballinwartime.com/player_biographies/schallock_art.htm
3 He was arguably overshadowed a bit by his teammate George Beckley, who pitched two no-hitters that same year. See United Press, "Tamalpais High Boy Hurls Second No-Hitter," Sacramento Bee, May 14, 1941: 12.
4 Frank Finch, "Schallock Hopes to Become A Bum," Los Angeles Times, May 2, 1951: C2. Freitas played five seasons in the majors in the 1930s.
5 Associated Press, "Maker of Champions Smiles at Artie's Sale," Los Angeles Times, July 14, 1951: B2.
6 Harvey Rockwell, "Schallock to Hurl for Blues," San Mateo Times, September 13, 1941: 5.
7 Author interview with Art Schallock on December 5, 2019.
8 Frank Finch. As a result, Schallock has 11 battle stars to his credit.
9 Gary Bedingfield.
10 Author interview with Art Schallock.
11 "The Story of USS Liscome Bay," Naval Aviation Museum, November 24, 2014. https://www.navalaviationmuseum.org/history-up-close/sinking-uss-liscome-bay/
12 Gary Bedingfield.
13 Author interview with Art Schallock.
14 Author interview with Art Schallock.
15 Phil Norman, "Schallock to Oppose L.A. Nine Tonight," Oakland Tribune, September 21, 1946: 6.
16 "Moffat Nine Tops Signal Oil Nine," Los Angeles Times, September 22, 1946: A7.
17 None of the standard sources on Cuban baseball list Schallock, but he was accompanied aboard the Florida by what looks to be a full baseball team's roster of men.
18 "International League," The Sporting News, June 23, 1948: 20.
19 Author interview with Art Schallock.
20 Author interview with Art Schallock.
21 Al Wolf, "Hollywood's Divorce from Dodgers Final," Los Angeles Times, January 31, 1951: C1.
22 Al Wolf, "Yankees Purchase Artie Schallock," Los Angeles Times, July 13, 1951: C1. The transaction was predicted in "Yankees May Buy Stars' Schallock," Los Angeles Times, July 1, 1951: B6.
23 "Mantle, Yankees' Prize Rookie, Shipped Back to Kansas City to Make Way for Schallock," New York Times, July 16, 1951: 28. Mantle returned to the Yankees on August 24.
24 Ed Attanasio interview with Art Schallock, http://www.thisgreatgame.com/art-schallock.html, accessed December 2, 2019.
25 Ed Attanasio interview with Art Schallock.
26 John Drebinger, "Schallock Subdues Senators, 5-3, For Sweep of Series by Bombers," New York Times, August 17, 1951: 20.
27 Associated Press, "Blackwell Goes On Voluntary Retired List," Boston Globe, July 7, 1953: 8.
28 Braven Dyer, "Sports Parade," Los Angeles Times, July 13, 1953: C1. Dyer quotes from McDuff at considerable length.
29 "Rainiers Win, 7-4," Seattle Post-Intelligencer, August 18, 1956: 7.
30 Associated Press, "Pitcher Art Schallock Retires from Baseball," Los Angeles Times, March 6,1957: C5.
31 Author interview with Art Schallock.
32 Associated Press, "Triple Slaying," Los Angeles Times, March 16, 1973: 1.
33 Associated Press, "Man Found Insane in Slaying of Family," Los Angeles Times, August 29, 1973: B8.
34 Ed Attanasio interview with Art Schallock.
35 Ed Attanasio interview with Art Schallock.
36 Ed Attanasio interview with Art Schallock.
37 Ed Attanasio interview with Art Schallock.
38 Author interview with Art Schallock.
39 Ed Attanasio interview with Art Schallock.
Full Name
Arthur Lawrence Schallock
Born
April 25, 1924 at Mill Valley, CA (USA)
If you can help us improve this player's biography, contact us.
https://sabr.org/sites/default/files/ShallockArt.jpg
600
800
admin
/wp-content/uploads/2020/02/sabr_logo.png
admin
2020-03-23 16:28:07
2020-04-09 14:37:25
Art Schallock