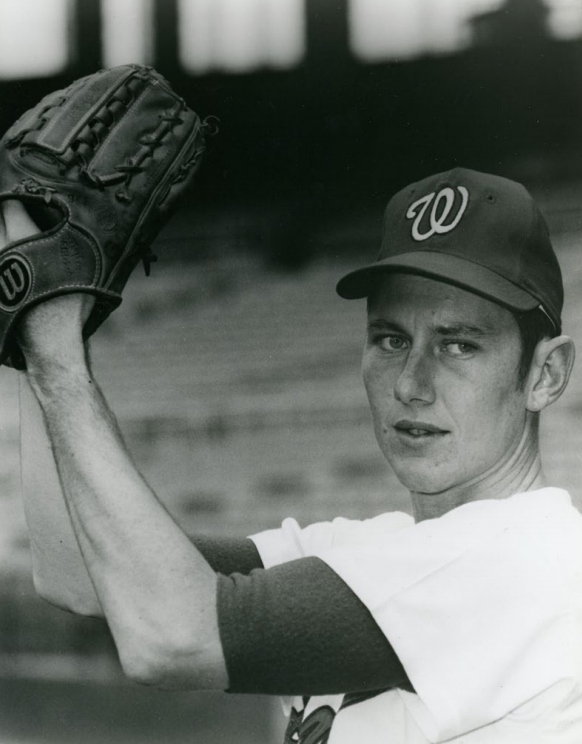 ---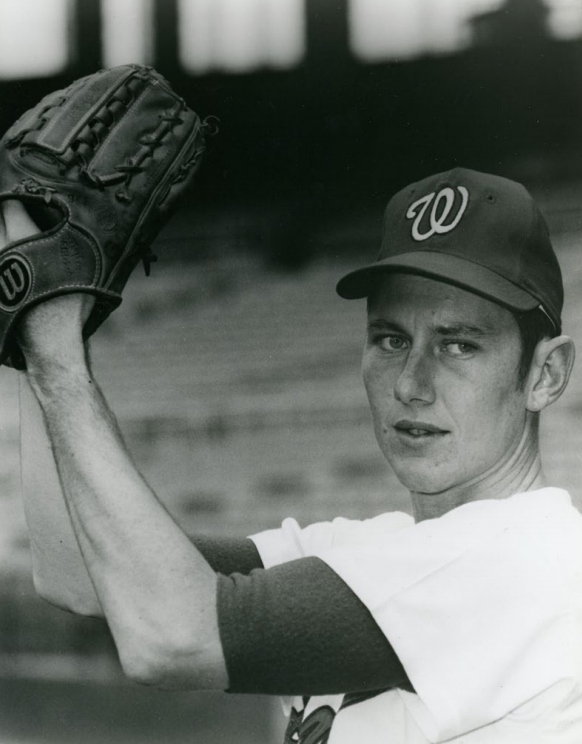 On September 12, 1972, Bill Gogolewski, a 24-year-old right-hander who had struggled thus far in his second full season in the big leagues, was pitching the game of his life against fireballer Nolan Ryan and the California Angels. While the Ryan Express was racking up 15 strikeouts, Gogolewski held the Halos hitless through 7⅔ innings. "I made one bad pitch, one bad decision, and it cost me a hit," recalled the pitcher in an interview with the author.1 He settled for a one-hit shutout, and the best pitched ballgame in the Texas Rangers' first season in Arlington.
Part of the baby-boomer generation, William Joseph Gogolewski (pronounced Gogo-les-ski) was born on October 26, 1947, in Oshkosh, a city of 40,000 residents nestled on the western banks of picturesque Lake Winnebago, about 90 miles north-northwest of Milwaukee. He was the third and final child (following Karen and Gerald) of Alois and Theresa (Kempinger) Gogolewski, both native Wisconsinites who married in 1939. Alois, whose grandparents emigrated from Poland at the turn of the 20th century, worked as an assemblyman for Rockwell International. Of German stock, Theresa had been a seamstress in a local dress factory and was a full-time homemaker.
As a youngster Bill played baseball, football, and basketball as the seasons progressed. By the time he was about 10, he started playing organized baseball in a local recreation league. His coaches soon recognized that the tall, lanky youth had a strong right arm, and made him a pitcher. "When I was in high school," explained Gogolewski, "I got my first real coaching from Harlan Quandt. He was quite a good pitcher at the University of Wisconsin." With Quandt's mentorship at Oshkosh High School and under coach Norm Kumbier for his local American Legion team, Gogolewski made a name for himself as a hard thrower who regularly racked up double-digit strikeout totals. As a junior, he tossed a no-hitter and struck out 17, but that was just a prelude to his senior season.2 He hurled three one-hitters, two two-hitters, and one four-hitter to go 5-1, and then fired another one-hitter and whiffed 17 to help his club capture the district championship.3
On the day he graduated from high school in 1965, Gogolewski was selected by the Washington Senators in the 18th round of Major League Baseball's first amateur draft. He wasn't surprised that he was selected – scouts had been following him for two years – but he was surprised by which team chose him. "We never knew Senators' scout Burt Thiel was around," said Gogolewski, who signed his first professional contract as a 17-year-old. "Thiel came to our home. We didn't know what to expect. He made an offer with a bonus, I think it was $3,500. Back then we didn't have agents; and being drafted in the lower rounds, we didn't expect a lot. I was just happy I was drafted and going to play professional baseball." Gogolewski's parents supported his decision to pursue his dream. "No matter where we played," recalled Gogolewski, "they were there."
Gogolewski began his long journey to the big leagues with the Wytheville (Virginia) Senators in Rookie-class Appalachian League. "That was the first time I was ever away from home," admitted the pitcher. "It was a little scary. Lee Anthony, my coach, was very laid back and understood that players needed to go through a transition. I stayed at a house – four of five of us – and that helped out a lot." Standing 6-feet-4, but rail-thin at just 165 pounds, Gogolewski was the youngest player on the team, and got by with a fastball. He went 5-1, led the team with 92 strikeouts, and carved out a 4.50 ERA in 82 innings.
Promoted to the Burlington (North Carolina) Senators of the Class A Carolina League in 1966, Gogolewski responded with a team-high 24 starts, producing an 11-9 record and 3.18 ERA in 164 innings for skipper Wayne Terwilliger. Washington added the 18-year-old hurler to its 40-man roster after the season.
Gogolewski's career began just as America's involvement in the Vietnam War began to intensify. As they had during World Wars I and II, as well as the Korean War, professional ballplayers had to reckon with the prospect of military service. Wanting to balance his duty to his country and continue playing baseball, Gogolewski decided to enlist in the National Guard after discussing matters with his former coach Harlan Quandt. "If I wouldn't have signed up, I would have been drafted," he said. "They had just started the lottery, and my number was 3." Gogolewski served beginning in November 1966, and went on active duty in January 1967. He was with the 1157th Transportation Company, stationed in Oshkosh.
Discharged in late April, Gogolewski missed spring training with the Senators and joined the York (Pennsylvania) White Roses in the Double-A Eastern League. Needing time to transition back to baseball, he made just nine starts (12 appearances) and went 4-3 with a sturdy 2.55 ERA in 60 innings. The Senators were still impressed with their 19-year-old hurler and assigned him to the Florida Instructional League for extra seasoning in the fall.
The most important pitch Gogolewski threw in 1967 was to Susan Paulick of Oshkosh. They married that year, and raised two boys. For the remainder of Bill's professional baseball career, his wife and children accompanied him to spring training and then on to where ever he was assigned to play, providing both support and levity to an often-hectic lifestyle. In the offseasons, the family returned to Oshkosh, except for 1972-1974 when they lived in the Dallas metropolitan area year-round.
In 1968 Gogolewski participated in his first big-league spring training, with the Senators at Pompano Beach. "I don't know if I was intimidated," he replied when asked about his first impressions. "I was a little in awe of the players and the facilities. What we had in the minors – that wasn't real good like it is today." Gogolewski had little chance of landing a spot in the starting rotation, which already included three young starters from the previous year (Joe Coleman, Frank Bertaina, and Barry Moore). "The coaches watched us pitch on the side and BP," said Gogolewski, "but they didn't pay too much attention to us." He was assigned to Savannah in the Double-A Southern League, where he was still the youngest player on the club. Gogolewski's numbers (7-7, 112 innings, 4.42 ERA) lost some of their luster.
The mood at the Senators' spring training in 1969 was transformed by team owner Bob Short's improbable hiring of living legend Ted Williams as manager. Gogolewski, given another look-see in camp, did not impress the Splendid Splinter, who dismissed the young hurler as erratic and lacking control, and transferred him to the minor-league affiliate camp at Plant City.4 "I was young, and had some time to make it," said Gogolewski of his demotion. "It was disappointing, but I thought I'd overcome it." But just as his season with the Buffalo Bisons of the Triple-A International League got under way, Gogolewski came down with elbow problems that plagued him the entire year. Just a step away from his dream, the good-natured hurler's ERA soared to 5.25 (a team high among starters) and he was limited to just 84 innings in 18 appearances (13 starts). Given Gogolewski's ethnic heritage, it was fitting that he tossed a complete-game victory over Louisville at Niagara Falls on Polish-American Night on August 19.5
Gogolewski arrived at the Senators' spring training in 1970 with his career at a crossroads. He had been left unprotected in the Rule 5 draft the previous December, but was not selected. In camp, Gogolewski's elbow still ached, making pitching difficult. "I was getting hit all over the place," he told the author. "I was concerned that I wasn't going to make it to the big leagues." He needed a break, and was about to get one from an unexpected source. "My catcher, Rich Stelmasczek, came to me and asked if I can throw a slider," recalled Gogolewski, who had been playing around with one for a few years but had not thrown one in games. "So I say, 'I can now.' I started gripping the ball differently and it became my out pitch."
The slider eventually proved to be Gogolewski's ticket to the big leagues. "Ted Williams was a true believer that every pitcher should throw a slider," explained the Wisconsin native. "That was the most difficult pitch for him to hit. When I came up in 1965 I threw more of a slow, big breaking ball, a slurve." Gogolewski's pitching arsenal also included both a two- and four-seam fastball, thrown predominantly from an upper three-quarter delivery. "I threw a knuckle curve, too," recalled Gogolewski. "That got changed by Texas Rangers pitching coach Sid Hudson in the spring of 1971. I started throwing a conventional curve, snap the wrist and pull the shutter down."
Armed with an explosive fastball and an emerging, dangerous slider, Gogolewski had the best year in his career in 1970 with the Pittsfield (Massachusetts) Senators in the Eastern League. He was frustrated about being dropped down a class to Double-A, but he took it in stride. Finally pain-free, Gogolewski fanned 14, 13, and 15 batters in his first three starts, and quickly proved that he was the best pitcher in the circuit, winning his first eight decisions.6 Despite missing almost three weeks in July fulfilling his obligations to the National Guard, Gogolewski led or co-led the league in wins (14), complete games (15), and strikeouts (146), while posting a career-low 2.47 ERA in 171 innings. He was the only player chosen unanimously to the Eastern League all-star team.7
"We were on the road," reminisced Gogolewski about promotion to the majors in 1970. "Joe Klein was my manager and he called me in and told me, 'You've been called to the big leagues.'" Somewhat perplexed, Gogolewski responded, "'What do I do? I've got a wife and child sitting at home back (in Pittsfield). Does someone give me a car to go back home and get them?' Well, I stayed with the team until we returned home. When I packed to leave, the water pump broke in my car, and we were delayed another day. By the time I got to Washington, they say 'Where have you been? We called you up a week ago.'"
On September 3 Gogolewski, who had now bulked up to about 205 pounds, made his major-league debut for the last-place Senators in front of a sparse crowd of just 5,550 spectators at Robert F. Kennedy Stadium in the nation's capital. He scattered three hits in 3⅔ innings of relief and gave up a run in an eventual loss to Cleveland. "I remember getting in the bullpen car," recalled Gogolewski about his debut. "We had a Corvette. We drove to the first-base dugout and I handed the batboy my jacket, and took the mound." Eight days later, he picked up his maiden victory in his first start, despite surrendering seven hits and walking four in 5⅔ innings (two runs) against Detroit in Tiger Stadium. Lauded by Washington beat writer Merrell Whittlesey as a "September sensation," Gogolewski held Baltimore to two hits over seven innings to win his next start for another victory.8 He finished with a 2-2 record and 4.81 ERA in 33⅔ innings.
Gogolewski seemed destined for a spot in the starting rotation in 1971, but suffered a gruesome injury at the beginning of the season. "When we were doing our outfield drills, recently signed pitcher Denny McLain spiked me and almost ruptured my Achilles tendon." He missed almost three weeks. Assigned to the bullpen upon his return and then missing almost three weeks in June with the National Guard, "Gogo," as he had been called since his high-school days, moved into the starting rotation on July 6. He made 16 consecutive starts and produced a stellar 2.67 ERA in 101 innings in the best stretch of pitching in his big-league career. He tossed his first shutout, a four-hitter against the New York Yankees on September 1. "I felt really good about my pitching," said the hurler, whose final numbers (6-5, 2.75 ERA in 124⅓ innings) suggested an even better season in 1972.
Though many pitchers have complained about Ted Williams as a manager, Gogolewski had a surprisingly different take. "I had a good relationship with him," said Gogolewski. "He didn't think real highly of pitchers, but he was smart about pitching." The lanky Wisconsinite recalled an episode with Williams in spring training to prove his point. "He called me over to sit next to him in the dugout. He started to call the pitches that the opposing pitcher was going to throw. He was correct about 90 percent of the time."
"I was disappointed that we were leaving D.C.," admitted Gogolewski about Bob Short's decision to relocate the struggling club to Arlington, a suburb in the Dallas-Fort Worth metropolitan area, after the 1971 season. "We heard about the rumors, but that wasn't a distraction for me." Gogolewski liked pitching in RFK Stadium. "We had good infield grass and dirt. It wasn't a hitter's park. It was basically enclosed, and there was no wind taking balls over the fences."
Gogolewski wasn't sure what to expect in Arlington and North Texas, where baseball played second fiddle to the state's unrivaled pastime, football, but he was pleasantly surprised. "The fans embraced the team, and also Tom Vandergriff, the mayor of Arlington and the big backer who worked with Bob Short to get the (team's relocation) done." Arlington Stadium, where the rechristened Texas Rangers played their games, had been built in 1965 and, as Turnpike Stadium, served as the home of the Double-A Dallas-Fort Worth Spurs. The seating capacity had been increased from 10,000 to over 35,000 by 1971, but retrofitting was not yet completed by the time the season kicked off. "They had to redo both of the locker rooms to meet major-league standards," recalled Gogolewski. "We dressed out in the center-field locker room until the new ones under the stands were finished." But the biggest transition, according to the pitcher, was getting used to the weather. "They had some day games scheduled and they had to (reschedule) them because even for the players being out there in 104-degree heat trying to play a ballgame was hard."
Gogolewski's first season in Texas, however, was anything but smooth. After the season started 13 days late because of the first players' strike in baseball history, Gogolewski was pummeled in his first start (eight hits and eight runs in 3⅔ innings) in a loss to Chicago, and lasted only a third of an inning in his next one. It appeared as if he turned it around, yielding only four runs in 28⅓ innings in his next four starts, winning three of them. But the big right-hander pointed to a relief outing during that stretch as the beginning of his troubles. "Sid Hudson called down in the third in a game against Cleveland May 14, and I started to warm up and then again in later innings. I finally got in in the ninth inning," said Gogolewski who pitched a 1-2-3 frame. "After that, I told him I was done. But I went back out in the next inning and gave up a home run to Chris Chambliss to lose the game. That was the start of my slide and all my losses. I don't blame that game, it was just a coincidence." Shunted to the bullpen for much of July and August, Gogolewski returned to the starting rotation on August 26 to hurl three straight strong starts (six runs in 22 innings), yet came away winless with two losses to drop his record to 3-9. In his next start, against California at Anaheim Stadium, "Gogo" pitched the game of his professional career. He held the Angels hitless for 7⅔ innings before light-hitting Billy Parker doubled. "We had a joke between pitchers," said Gogolewski with a chuckle. "If you throw a shutout, you'd have a chance for a no-decision." Settling for a one-hitter and a 3-0 victory, he outdueled the game's hardest thrower, Nolan Ryan. The masterpiece proved to be Gogolewski's last of two shutouts and six complete games in his career. For the cellar-dwelling, 100-loss Rangers, Gogolewski posted a 4-11 record and a 4.24 ERA in 150⅔ innings, and started in 21 of 36 games.
The Rangers' second season in Arlington got under way with a new skipper, Whitey Herzog, who replaced the unhappy and increasingly apathetic Williams. "Great manager," responded Gogolewksi when asked about his reaction to the 41-year-old first-time skipper. "He was a player's manager. Whitey surrounded himself with good baseball people (such as coaches Chuck Estrada, Del Wilber, Frank Lucchesi, and Jackie Moore). And he proved himself." With the offseason acquisition of starters Jim Bibby and Jim Merritt, and Sonny Siebert in early May, Gogolewski was moved to the bullpen. "I didn't mind relieving as long as I was in the major leagues pitching," said the hurler, who didn't view the assignment as a demotion. "If that's where they need me, that's where I'll go." Capable of warming up quickly, Gogolewski was well suited for long relief, a necessity for the league's worst ranked pitching corps (4.64 team ERA). After he saw action in 14 games through May, Gogolewski's workload increased when two unfortunate incidents happened. "Rookie Steve Foucault dislocated his shoulder on June 30; he was our short right-hander. And Charlie Hudson, the left-hander, shot himself in the hand on June 9."9
That summer Gogolewski pitched in one of the most storied games in Rangers history. Bob Short, in financial straits since he had purchased the Senators in 1968, drafted Texas high-school phenom David Clyde with the first pick in the 1973 amateur draft. In an effort to drum up interest for his club, Short signed the 18-year-old, who made his big-league debut on July 27 in front of the first-ever sellout crowd in Arlington Stadium. "I was in the bullpen," said Gogolewski. "They called down and told me exactly what they were going to do. If Clyde gets through the fifth, they'd send him out in the sixth, but take him out so he could get an ovation. And then I'd come in." Teenager Clyde got the headlines (one hit in five innings, plus seven walks), while Gogolewski scattered three hits over four innings, yielding just an unearned run to preserve the victory and earn his sixth save.
Gogolewski admitted that he didn't think Clyde was ready for the big leagues. "That was one of the biggest mistakes that the organization made – bringing guys up too early," he said. "Let 'em get seasoned a little. Bob Short needed the money and didn't care about winning." Gogolewski also pointed to the crippling effect the acquisition of Denny McLain had on the club as the most egregious example of Short's lack of baseball acumen. In order to obtain McLain (whom Commissioner Bowie Kuhn had recently reinstated and pronounced "not mentally ill"10 and three toss-ins (Elliott Maddox, Norm McRae, and Don Wert), the Senators surrendered workhorse right-hander Joe Coleman and future Gold Glove infielders Ed Brinkman and Aurelio Rodriguez, as well as right-hander Jim Hannan, in a trade many consider among the worst in baseball history.
In last place, 33½ games behind Oakland in the AL West, the Rangers replaced Herzog with Billy Martin, who had been suspended by Commissioner Kuhn and subsequently fired by the Detroit Tigers after ordering his pitcher, Joe Coleman, to throw spitballs in a game against Cleveland on August 30. The busiest reliever in Herzog's bullpen, Gogolewski appeared in only four games for Martin. "I must have ruffled his feathers because I didn't pitch much for him." For one of the worst big-league clubs of the decade (57-105), Gogolewski led the team with 49 appearances (tied for 10th most in the AL), ranked third on the club in innings (123⅔), while posting a 3-6 record and 4.22 ERA.
On March 23, 1974, Gogolewski was shipped to Cleveland to complete a trade for Steve Hargan from the previous December. "I found out about being traded from my neighbor, teammate Steve Dunning," said a bemused Gogolewski. "It was in the paper. No one in management told me. We had purchased a home in Texas in '72. That was supposedly a no-no if you wanted to stick around with the club. As soon as you buy a house, you get traded." Gogolewski joined the Indians for their final week of spring training before they reassigned him to Oklahoma City, their Triple-A affiliate in the American Association. He posted a 10-11 record and 3.63 ERA in 181 innings with the 89ers and was a September call-up with the Tribe, logging 13⅔ innings in five relief outings.
Gogolewski, just 27 years old, was released in the offseason, but was not yet ready to give up what he had worked his entire life to attain. "I got hold of Chicago GM Rollie Hemond and told him my situation," said Gogolewski. "He signed me to a contract." Playing just a few hours' drive from his home town, Gogolewski was on the White Sox roster the entire season, but was used little, appearing in 19 games and logging 55 innings (5.24 ERA) without a decision.
In the offseason Gogolewski decided to hang up his spikes. "My body couldn't take the physical stress anymore," he admitted. "I had developed elbow problems, and then I had back problems. I couldn't throw that much without my elbow swelling up. Back then you didn't have the surgeries like you do now." In parts of six big-league seasons, Gogolewski went 15-24 and posted a 4.02 ERA in 501 innings. He won 54 games and logged 854 innings in seven seasons in the minors. "I don't regret the decision," Gogolewski said. "I felt it was time. The transition wasn't that bad. I had two young boys getting ready to start school, and didn't want to drag them around."
A Wisconsinite by heart, Gogolewski returned to Oshkosh with his wife and two boys and transitioned to his post-baseball career. After working at a big and tall clothing store for a few years, Gogolewski began a 28-year tenure as inventory specialist at Oshkosh Trucking Corporation. Beginning in 2000, he also served on the advisory board of the city parks in Oshkosh. He still held that position and resided in Oshkosh as of 2016.
Since retiring from baseball, Gogolewski has participated in various events sponsored by the Major League Baseball Alumni Association, including golf tournaments and baseball clinics. He also returned to Arlington for the 40th anniversary of the Rangers' first season.
When asked about one of his most vivid memories in his professional baseball career, the modest Gogolewski took a few seconds to think and provided an insightful answer that gave testimony to his love and passion for baseball. "The overall experience of playing major-league baseball, and having managers like Ted Williams, Whitey Herzog, Billy Martin, and Chuck Tanner. Just being in contact with those kinds of people."
The author expresses his gratitude to Bill Gogolewski, whom he interviewed on August 17, 2015. Gogolewski subsequently read this biography to ensure its accuracy.
This biography was published in "1972 Texas Rangers: The Team that Couldn't Hit" (SABR, 2019), edited by Steve West and Bill Nowlin.
Sources
In addition to the sources cited in the Notes, the author also accessed Retrosheet.org, Baseball-Reference.com, and SABR.org.
Notes
1 All quotations from Bill Gogolewski are from the author's interview with the player on August 17, 2015.
2 Oshkosh Daily Northern, April 27, 1964: 10.
3 Oshkosh Daily Northern, May 22, 1965: 16; May 29, 1965: 5.
4 The Sporting News, October 3, 1970: 12.
5 The Sporting News, September 6, 1969: 36.
6 The Sporting News, May 30, 1970: 39.
7 The Sporting News, August 8, 1970, 44.
8 The Sporting News, October 3, 1970: 12.
9 Hudson blew off the middle finger of his left hand cleaning his .38 pistol at his apartment in Texas. Surgeons saved part of the finger by grafting bone from his elbow. He had posted a 6.00 ERA over 12 appearances and 24 innings. Amazingly, he returned on July 29, and was more effective after the injury (3.99 ERA in 38⅓ innings in 13 appearances). See UPI, "Southpaw Shoots Right Digit," Chicago Tribune, June 10, 1973: Section 3, 1.
10 Ira Miller (UPI), "Denny McLain Sent to Senators in Eight-Player Transaction," Cumberland (Maryland) News, October 10, 1970: 15.
Full Name
William Joseph Gogolewski
Born
October 26, 1947 at Oshkosh, WI (USA)
If you can help us improve this player's biography, contact us.
https://sabr.org/sites/default/files/GogolewskiBill.jpg
600
800
admin
/wp-content/uploads/2020/02/sabr_logo.png
admin
2012-01-04 20:00:26
2012-01-04 20:00:26
Bill Gogolewski