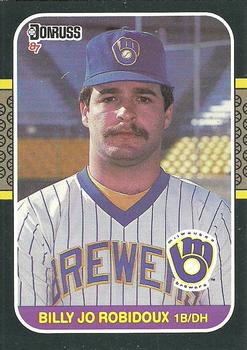 ---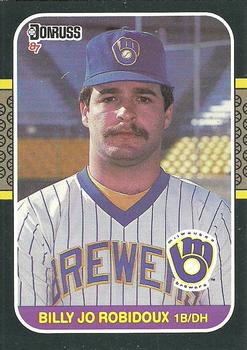 First baseman Billy Jo Robidoux tore up the Texas League in 1985. At age 21, he was in his fourth year of pro baseball, playing for the Double-A El Paso Diablos in the Milwaukee Brewers system. He led the league in batting average (.342), base hits (176), runs batted in (132), and runs scored (111).1 Robidoux was named the league's MVP.
Unfortunately, he had to undergo a number of knee and shoulder surgeries and was never able to match this production at the major-league level. "I had injuries because I always played the game hard," he said. "I'd run into walls trying for a catch. I'd slide hard trying to break up a double play. When you play baseball that way, you can get hurt."2
Robidoux played parts of six seasons in the big leagues for the Brewers, White Sox, and Red Sox. In addition to first base, he served as designated hitter and played a dozen games in left field. He was a .300 hitter (.308) over the course of nine seasons in the minor leagues but hit .209 in the majors with five homers and 43 RBIs in 173 games. His good eye at the plate boosted his on-base percentage to .412 at lower levels and .313 in the majors.
William Joseph Robidoux was born in the Western Massachusetts town of Ware, on January 13, 1964. "Ware was known as a mill town," Robidoux said. "My mother Rosemary started when she was 14, working in the mills. There were a lot of woolen mills. Everybody in Ware worked in the mills at one time. She ended up moving to a bank and ended up retiring out of the bank. I think she was a teller there for quite a few years."3
The Robidoux side of the family was from Quebec. "My father, George Robidoux, played football and baseball in high school. Went to UConn to play football." Rosemary (née Saletnik) was from a Polish family. She had athletic experience as well. "She was one of the first women on the basketball team when they only played on half-court. That was a long time ago."
George Robidoux taught U.S. history in high school. Billy Jo remarked, "Dad was a great man, a mentor for so many kids. He was an educator for 33 years, and a lot of people have told me he was the best teacher they ever had. What I learned from him was to give 100 per cent all the time, not just some of the time."4
George was also a baseball coach. "He coached both my older brothers, David and Jimmy, and myself." (The boys also had a sister named Kathie.) George coached the Ware baseball team in Billy Jo's first two years of high school. Brother Dave was coach for his final two years.5
An uncle, Don Prohovich, had been an infielder who rose as high as Triple A in both the White Sox and Milwaukee Braves systems in the years 1956-61. "He played both baseball and basketball at Holy Cross. It's a little area but there's a lot of baseball players that came from around this area."
After Little League, Babe Ruth, and American Legion baseball, Billy Jo also played with his older brothers in the Tri-County Baseball League. He became a star player in high school, batting over .500 in his sophomore, junior, and senior years, playing third base when he wasn't pitching.6 He threw a no-hitter in his sophomore year. Asked about his high school sports accomplishments, he said, "I lettered in four years of varsity football, three years in basketball, and four years in baseball." He hit left-handed and threw right. When fully grown, he stood 6-feet-1 and was listed at 200 pounds.
Ware had a standout team during his high school years. When Robidoux's induction to the Western Massachusetts Baseball Hall of Fame was announced, the Springfield Republican's Garry Brown wrote, "As a junior in 1981, he launched a last-inning homer, carrying Ware to a 6-4 victory in the state Division III final."7 He was named the tournament MVP.
"We were a small school, but we had some really good talent around here," said Robidoux. "For the four years I played in high school, I think our record was, I believe, like 230-something wins and like 15 losses."8
Ware's football team, with Robidoux at quarterback, also won a state title. In his sophomore year, the team went to the state finals but was beaten by Hoosic Valley. The same two teams played each other two years later, and Ware won. The Boston Herald reported that Ware teams on which Robidoux had played won state championships in basketball in 1980, baseball in 1981, and football in 1982.9
After he had made it to the major leagues in baseball, he was asked why he went by "Billy Jo" rather than "Billy Joe." His quip, in response: "It's easier to sign on baseballs that way."10 At age 18, just after graduating from Ware High School, Robidoux was selected by the Milwaukee Brewers in the sixth round of the June 1982 draft. Credited with his signing are scouts Tom Bourque and Walter Youse.
His first assignment, that summer, was rookie ball with the Appalachian League's Pikeville (Kentucky) Brewers. He hit .287 in 54 games, without a home run and with only 13 RBIs, but he got on base (.389) and scored 28 runs. That fall, his .419 batting average led his team during the Winter Instructional League in Arizona.11
His first full season, 1983, came in Single A for the Midwest League's Beloit Brewers. Robidoux appeared in 126 games and hit .317 (.424 on-base percentage), with 10 homers and 61 RBIs. Manager Tim Nordbrook said, "He would have won the batting title if he didn't pull a muscle in his (right) shoulder the last month of the season."12 As Stephen Katz noted in his book about baseball in Ware, "That injury was a harbinger of several others that would plague him in the course of his career."13
Robidoux's 1984 season was also in Single A, but in the California League with the Stockton Ports. He played in 97 games and hit .279 (.387 OBP), driving in 67 runs. A torn labrum in June cost him much of the season. The Brewers moved him from third base to first base during his time with Stockton, splitting time between the two positions. He returned to the Arizona Instructional League, which he led in hitting with .432. That November he had left shoulder surgery.14
Robidoux recovered nicely – in 1985, as noted, he excelled at El Paso. He was also tried out in left field at one point during that season. Future Red Sox GM Dan Duquette (another Western Massachusetts native) was assistant farm director for the Brewers at the time. He said, "We believe the move will help him get to the major leagues faster."15
His call to the majors came after the Texas League season ended. He debuted in a pinch-hitting role against the New York Yankees on September 11. With outfielder Mike Felder, Robidoux arrived at County Stadium just before game time.16 The score was tied, 3-3, in the bottom of the eighth. With runners on first and second and two outs, and righty-swinging Charlie Moore due up, right-hander Rich Bordi relieved lefty Bob Shirley. Thus, Brewers manager George Bamberger called on Robidoux, who batted left.
"I'll never forget my first big league at-bat," Robidoux recalled. "I remember the feeling that here I was, doing what I had dreamed about ever since Little League. I made an out, but I had the feeling that I was where I belonged."17 Something else had happened, though. As he settled into his stance in the batter's box, he recalled, "My right foot wouldn't stop moving. I was nervous as hell. It was hard to get a good stance." The rookie hit a popup to the second baseman. The Brewers won the game in the ninth on a walk-off single from Cecil Cooper, after Felder had pinch-hit and singled to left in his own first big-league at-bat.
On September 13, Robidoux drew a pair of walks in five plate appearances. His first major-league hit (and first RBI) came in his fourth game, on the 15th against the visiting Red Sox. Playing left field and batting third in the order, his single in the bottom of the fifth off Jeff Sellers drove in Felder with a run that tied the game, 2-2. Boston won in the end, 4-2.
His first home run was a solo shot to right-center field at Baltimore on September 19. He also singled and scored in the fourth inning. He made an impression in the final series of the season, at Fenway Park in Boston. On October 4, his RBI double into the left-field corner in the top of the 12th gave the Brewers a 7-6 lead in a game they won, 8-7. He was playing in front of 54 from Ware, family and friends for whom he had left tickets. After the game, he said, "It was a special feeling. I was here 14 years in a row as a kid. To come here and get the game-winning hit was great."18
On the 5th, he gave the Brewers a 1-0 lead with an RBI groundout in the sixth inning; they ultimately won, 3-2. And on Sunday, October 6, he was 2-for-4 with four runs batted in during a 9-6 victory. His two-run homer in the second inning started the scoring; another two-run homer in the fourth boosted the lead to 4-0. Both were hit off Bruce Hurst and the Milwaukee Sentinel said they were tape-measure blasts, first to center and then to right.19 The game played on to a 9-6 win for Milwaukee, which never trailed after he'd given them that boost at the beginning.
The Brewers had high hopes for Robidoux, who was to be "groomed as the RBI and HR man to replace [Cecil] Cooper."20 The Boston Baseball Writers Association named him New England Minor League Player of the Year.21
Robidoux spent a lot of time in the offseasons playing darts, because he felt that improved his hand-eye coordination.22 That winter, though, he planned to play baseball in the Dominican Republic. "It's a big lift for me, going down there and knowing I can hit. I don't have to worry about it now. It's just going to take some time for me to get my feet on the ground at this level."23 He was leading the winter league in batting (.404), when he had to stop because of what was diagnosed as "collapsed muscle tissue in the back of his shoulder"24 and as "minor shoulder tendinitis."25
Robidoux opened the 1986 season with Milwaukee; the spot was available because Cooper was injured. That year he appeared in the most major-league games of his career – 56. He kicked off the season with RBIs in six of his first seven games.26 "He's doing a helluva job," said Frank Howard, the Brewers' batting coach. "He has all the prerequisites to be a big league hitter. He has good balance, a short swing. He knows the strike zone. He makes good contact with runners in scoring position."27 After the first 17 games, he was leading the ballclub with a dozen RBIs. On April 26, Robidoux hit a three-run homer off Mitch Williams at Arlington Stadium in Texas. It was Ball Night, and a number of fans threw their gifts onto the field, prompting Robidoux to say, "I hit that ball so hard it multiplied."28
The Sporting News ran an article saying that Robidoux liked to hit in pressure situations and quoting Bamberger's description as "a good clutch hitter."29 Unfortunately, after an excellent start, his season was interrupted by two stints on the disabled list. On May 12, he suffered a partially torn left knee ligament from sliding into home plate. "There was no contact," he later explained, "I just twisted my knee and the next thing I knew it was burning."30 At the time, he was hitting .290 and had 18 RBIs.
Robidoux was placed with Beloit on a rehab assignment from May 13 to June 4. Though he returned to the Brewers for a while in June, the knee hadn't really gotten better. He underwent arthroscopic surgery on July 8, which revealed no permanent damage. He rehabbed with Double-A El Paso from August 1 to September 10. He also dropped some weight, to reduce some of the strain on his knee.31
After his return, Robidoux got into nine games. A bruised right thigh after banging into the tarp at Fenway Park on September 16 cost him the opportunity to play in a few more.32 By year's end, he had added only three RBIs and no more homers, and his average had dropped to .227. He drew 33 bases on balls, though, which boosted his on-base percentage to .344.
After the season, Robidoux traveled to Mayagüez, Puerto Rico to play winter ball again, but reinjured his knee in the very first game.33 He also almost got killed in a car accident. "They thought that I was dead. When I finally woke up, in the car, I was in the passenger seat and the door was up against my legs. I had to crawl to the driver's side and kick my way out. The blood that was in my shirt had coagulated already. When I finally kicked myself out, everybody was standing maybe 25-30 feet away. They all kind of snapped their head around and said, 'Wow, I think he's alive.' I remember going to bed that night and waking up and finding glass in my bed, from all the glass that had shattered."
There had been baseball injuries, but it was also suggested that "Robidoux's waistline expanded as his batting average shrank." It concerned the Brewers enough to trade for a couple of other first-base possibilities over the winter.34 He acknowledged the issue and worked hard at physical therapy over the winter. Manager Tom Trebelhorn said in March, "I really like the way Billy reported to camp. He's in great shape."35
Robidoux made the Brewers with a good spring training – during which he worked out some at third base as well – and started 1987 playing in 14 early games, mostly as designated hitter. Through May 10, however, he was batting just .186 (.271 OBP) and had four RBIs. On May 20, having not played for more than a week, and with DH Cecil Cooper coming off the disabled list, Robidoux was optioned to the Denver Zephyrs to get more playing time. He was recalled on June 12 after pitcher Len Barker was disabled. He appeared in nine June games for the Brewers, all but one at first base, but was 4-for-19, all singles, without an RBI. He scored two runs.
What's more, Robidoux had reinjured his knee on June 14 while fielding a ball. He was optioned again to Denver on June 29. He eventually needed season-ending surgery to fix torn cartilage in his left knee. He'd played just 30 games for Denver (.284 with 15 RBIs) and 23 for Milwaukee (.194, 4 RBIs.)
He returned to Mayagüez for winter ball for a month and hit .320. "I wanted to get some confidence back," he said shortly after New Year's 1988. "I wanted to try out my knee before spring training. It didn't bother me one bit. Now I don't have to worry about it." He acknowledged, "It will never be 100% again. But I know what I have to do to keep it strong."36
In 1988, Robidoux was no longer on the team's roster but was invited to spring training. Tom Trebelhorn saw him as a possible DH but said, of course, that he would have to earn the position. The three knee surgeries had held him back and Trebelhorn soon decided that Robidoux probably needed to put in a full year at Triple A. Another first baseman-DH, burly slugger Joey Meyer, made the Opening Day roster instead.
Robidoux started and finished the season with Denver, getting into 70 games, driving in 42 runs, and hitting for a .292 average (.392 OBP). He did get a midseason call-up to Milwaukee on June 12 after first baseman Greg Brock suffered a pulled muscle in his rib cage. He played pretty much every game through July 23. He hit .253 and had five RBIs during the stretch, one of which was the game-winner on July 16 at Arlington Stadium.
When the Brewers reactivated pitcher Juan Nieves, they made room on the roster by returning Robidoux to finish out the year in Denver. As it happened, he returned home to Ware a few days early after ripping thumb ligaments during a game on August 26.37
After the 1988 season, Robidoux became a free agent. Before October was over, he had signed a minor-league contract with the Chicago White Sox. He was still only 25 years old. He said, "I feel it's a good opportunity to make a new start. I was going nowhere with Milwaukee."38
White Sox manager Jeff Torborg said, "I know he's had knee problems, but I also know that he does a super job of hitting. He knows how to go the other way."39 Robidoux started the season with the big-league team as a backup infielder; batting left-handed was a plus. He played in 16 games from April 11 through May 6, but after doubling in each of his first two games, he didn't get another extra-base hit in his next 32 at-bats. This left him with a batting average of .128, and he was outrighted to the Vancouver Canadians (Pacific Coast League), where he spent the rest of the year. He did well for the Canadians, hitting .317 (.404 OBP) with 11 home runs and 42 RBIs. but became a free agent once more.
In December 1989, Robidoux signed a split contract with the Pawtucket Red Sox, the Triple-A club of the Boston Red Sox, receiving an invitation to spring training. Boston was in the market for a first baseman after Nick Esasky had signed with the Atlanta Braves.
The Springfield Republican's Garry Brown wrote of Robidoux, "He so impressed manager Joe Morgan in training camp that he named him as his opening day first baseman, ahead of veteran Bill Buckner."40 Morgan said, "Robidoux deserves a chance at the big leagues. He can hit the ball out. He's gonna hit that Wall."41 It was thought he might platoon with Carlos Quintana. He played in eight games from April 9-20, batting .250. At Fenway Park on April 14, he doubled off the left-field wall and drove in the first run of a four-run sixth-inning Red Sox rally against his former team, the Brewers, in a game Boston came from behind to win, 4-3. He had homered against Milwaukee the day before (his first home run in the majors for four years), in a Red Sox loss.
On April 17, Robidoux suffered a bruised right shoulder diving for a ground ball. After four more appearances, it hadn't gotten better. The result was another surgery on May 9 for a small cartilage tear in his right shoulder. He was sent to Pawtucket Red Sox, where he played through June after recovering from the procedure. Boston recalled Robidoux ahead of the July 2 game, in which he doubled off Nolan Ryan and drove in the tying run in the seventh inning. The Sox won, 3-2.
Robidoux played in 16 July games, 12 as a pinch-hitter and four as DH. He collected another couple of hits as DH, but none pinch-hitting. After the July 24, game, batting .186 (.294 OBP), he was sent back to Pawtucket. There was a late-season September callup after the International League season was over. He entered the September 17 game as a replacement for Mike Marshall in the seventh inning. It was his last appearance in the majors. His final at-bat was a strikeout.
Stephen Katz wrote that "the wear and tear of daily baseball had taken its toll. Billy Jo couldn't throw without pain shooting through the nerves in his elbow, couldn't swing a bat without pain that was as he describes it, as if someone had stuck a knife into his shoulder. He knew his playing days were over."42
After baseball, and with a growing family – son BJ, daughters Heather and Kaylie – it was time to seek other work. He worked at Friendly's, a regional restaurant and ice cream shop chain, in the shipping department. For the last 20 years, he has worked for the Ware Department of Public Works, in the highway unit. "I drive trucks. I cut trees. I spread tar. We go out there and we do what needs to be done, make it neat, and then move on to the next one."
Robidoux lives in Belchertown, the next town over from Ware. "I'm now with a lovely lady, Lynn Sikes. She has three kids of her own. They're all grown up. She has grandchildren. They're so smart. They're so in tune with what they have to do. It's enjoyable. It really is."
Robidoux has remained very active with baseball. For seven years, he coached high school baseball in Ware with his father. "We did the JV's and my two older brothers did the varsity." One year, the seventh and eighth grades made it all the way to the state semifinals."
Then he got into officiating. "I did coaching when my son was playing but I got into umpiring and refereeing, and I enjoy every minute of it. I started umpiring probably about 15 years ago. I also coach and referee basketball. It keeps me involved. I do anywhere from high school baseball to over-30 leagues to tri-county. I think I've had five or six state finals since I've been doing it.
"My work is pretty flexible. I don't travel very far. I maybe go 25 miles at the most, but there's enough baseball around here to keep me satisfied."
Last revised: January 11, 2022
Acknowledgments
This biography was reviewed by Warren Corbett and Rory Costello and fact-checked by Ray Danner,
Sources
In addition to the sources cited in the Notes, the author consulted Baseball-Reference.com, Retrosheet.org, and SABR.org. Thanks to Rod Nelson for scouting information.
For a detailed look at Robidoux's background, see Stephen Robert Katz, Ware's Boys of Summer: The Stories of Seven Major League Baseball Players from One Small Central Massachusetts Town (Indianapolis: Dog Ear Publishing, 2017).
Notes
1 Teammate Joey Meyer led the league with 37 home runs; Robidoux was second, with 23. He also hit 46 doubles. The Diablos finished 17 games ahead of Beaumont in the West Division standings but – perhaps in large part because Robidoux was called up the majors, lost in the league playoffs.
2 Garry Brown, "Ware's Billy Jo Robidoux part of Western Massachusetts Baseball Hall of Fame class." Springfield Republican, January 22, 2017.
3 Author interview with Billy Jo Robidoux on September 23, 2021. Unless otherwise indicated, all direct quotations attributed to Robidoux come from this interview.
4 The reported figures were .501, .583, and .611 respectively. Dave Albee, "Robidoux has confidence," Register Star (Rockford, Illinois), April 12, 1983: 1C.
5 Brown, "Ware's Billy Jo Robidoux part of Western Massachusetts Baseball Hall of Fame class."
6 The reported figures were .501, .583, and .611 respectively. Dave Albee, "Robidoux has confidence," Register Star (Rockford, Illinois), April 12, 1983: 1C.
7 Garry Brown, "Ware's Billy Jo Robidoux part of Western Massachusetts Baseball Hall of Fame class."
8 Author interview with Billy Jo Robidoux.
9 Joe Giuliotti, "Ware product hits big time," Boston Herald, September 14, 1985: 54.
10 "They said a mouthful," Las Vegas Review-Journal, April 17, 1986: 28. The Brewers' scouting director, Dan Duquette, likewise from Western Massachusetts, said of the young player's name, "That's a big-league name, a major league name. That's what everybody liked about him when we drafted him." Associated Press, "Robidoux lives up to name," Commercial Appeal (Memphis, Tennessee), April 30, 1986: 40.
11 Albee, "Robidoux has confidence."
12 Tom Shea, "Kumiega finishes in style" Springfield Union, September 11, 1983: D2.
13 Stephen Robert Katz, Ware's Boys of Summer (Indianapolis: Dog Ear Publishing, 2017), 148.
14 Don Lessem, "Athletes try 'microsurgery' on shoulders," Boston Globe, March 18, 1985: 29.
15 Tom Shea, "McKelvey gets baseball internship," Springfield Union, July 21, 1985: 46.
16 Mike Hart, "Brewer newcomer sparks victory," Milwaukee Journal, September 12, 1985: 21.
17 Garry Brown, "Ware's Billy Jo Robidoux part of Western Massachusetts Baseball Hall of Fame class."
18 Tom Haudricourt, "Robidoux's hit in 12th helps Brewers win, 8-7," Milwaukee Sentinel, October 5, 1985: Page 2, part 2.
19 Tom Haudricourt, "Brewers' lean season boasts fat finish," Milwaukee Sentinel, October 7, 1985: Page 1, Part 2.
20 Jim Jornkven, "Brewers look to rookies," Kenosha News, September 22, 1985: 33.
21 "Transactions," Boston Globe, November 17, 1985: 84.
22 Grant Kerr, "Darts sharpen hitter's hand-eye coordination," Medicine Hat News (Medicine Hat, Alberta), May 25, 1989: 13.
23 Larry Whiteside, "Sox finish with a loss; Boggs wins," Boston Globe, October 7, 1985: 38.
24 Tom Flaherty, "Milwaukee-ing Wounded," The Sporting News, February 10, 1986: 42.
25 Peter Gammons, "Yankees start with Burns," Boston Globe, December 13, 1985: 39.
26 He had apparently recovered from what one newspaper called "the best injury in spring training." On April 3, he had been talking to a sportswriter in the clubhouse. While leaning against a locker, he shifted his weight and suffered a muscle spasm "in the rear end." He went into the game but had to come out in the first inning. Paul Hoynes, "Anderson tells Evans who's boss," Cleveland Plain Dealer, April 6, 1986: 70.
27 Associated Press, "A dream comes true," Janesville Gazette (Janesville, Wisconsin), April 22,1986: 46.
28 Ken Wheeler, "Cleveland's pennant fever ended with 10-game win streak," Oregonian (Portland, Oregon), May 17, 1986: 50.
29 Tom Flaherty, "Rookie Robidoux Welcomes Pressure," The Sporting News, May 12, 1986: 28.
30 Kerr, "Darts sharpen hitter's hand-eye coordination."
31 "I started eating the right foods instead of junk," he said. "It helps the knee and is better for you in the long run. That (extra weight) might have delayed my rehabilitation some." See "Notes and Quotes," Milwaukee Sentinel, September 12, 1986: 17.
32 Robidoux, playing first base, caught a foul fly hit by Jim Rice in the bottom of the seventh inning of the second game, but banged into the rolled-up tarpaulin while making the catch. Garry Brown, "Ripken, Martin set to manage?" Springfield Union (Springfield, Massachusetts), September 18, 1986: 49.
33 Tom Haudricourt, "Knee problem sidelines Robidoux," Milwaukee Sentinel, November 20, 1986: 26.
34 Dennis Punzel, "Robidoux, Pyznarski fully aware of their situation," Capital Times (Madison, Wisconsin), March 31, 1987: 17.
35 Punzel, 17, 18. He added, "Billy Jo is in the best shape of his life. The problem last year was that he got out of shape. I had written him off and thought he would play at Denver." Associated Press, "Unlikely helpers lift Brewers," Daily Press, Escanaba (Escanaba, Michigan, April 9, 1987: 13.
36 Tom Haudricourt, "Plesac's wedding kicks off a very busy month," Milwaukee Sentinel, January 4, 1988: 16.
37 Garry Brown, "Injury forces Robidoux to miss Brewers' drive," Springfield Union-News, September 24, 1988: 4.
38 Garry Brown, "Billy Jo Robidoux signs with White Sox," Springfield Union-News, November 1, 1988: 28.
39 Garry Brown, "Winfield remains available," Springfield Union-News, December 8, 1988: 5.
40 Brown, "Ware's Billy Jo Robidoux part of Western Massachusetts Baseball Hall of Fame class."
41 Nick Cafardo, "Robidoux in; Naehring down," Boston Globe, April 4, 1990: 61-2.
42 Katz, Ware's Boys of Summer, 167.
Born
January 13, 1964 at Ware, MA (USA)
If you can help us improve this player's biography, contact us.
https://sabr.org/wp-content/uploads/2012/01/RobidouxBJ.jpg
350
247
admin
/wp-content/uploads/2020/02/sabr_logo.png
admin
2022-01-11 10:38:29
2022-01-12 22:39:23
Billy Jo Robidoux