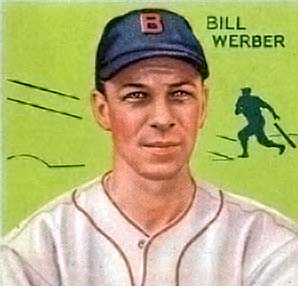 ---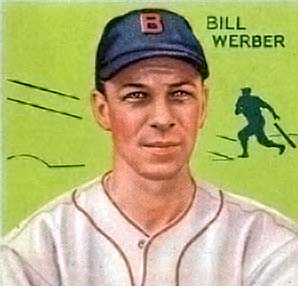 But for a bucket kick, Bill Werber might reside in the Hall of Fame rather than be remembered as a good major-league ballplayer of the 1930s who helped lead the Cincinnati Reds to National League pennants in 1939 and 1940 and to the world's championship in 1940. It happened in 1934, toward the end of Werber's second full season in the big leagues. He was playing third base for the Boston Red Sox and leading the league in batting average, steals, and runs scored. Ed Barrow, the general manager of the Yankees, called Werber the best player in the American League.
In those days before air conditioning, teams kept a bucket full of ammonia water in the dugout so that players could sponge off. Werber's teammate Lefty Grove had a habit of kicking the bucket and sending water flying everywhere after a bad inning on the mound. The team, unbeknownst to Werber, had replaced the bucket with a heavier one with iron bands, to discourage Grove from taking out his frustrations. One afternoon Werber, who had a bit of a temper himself, popped up with men on base and proceeded to attack the bucket with the front of his foot. The result was a broken toe on his right foot. Werber continued to play for the rest of the season and still finished with a .321 batting average in 152 games, leading the league with 40 stolen bases and pounding out 200 hits and scoring 129 runs. But his toe continued to bother him for the rest of his 11-year big-league career, and he was never able to replicate his 1934 performance.
Werber's athletic prowess cannot be denied, however. After starring in baseball and basketball at Tech High School in Washington, D.C., he was awarded a partial athletic scholarship to Duke University, where he became Duke's first basketball All-American.[1] He also starred on the baseball team, quickly catching the attention of Paul Krichell, the legendary scout for the New York Yankees. In the spring of 1927, after Werber's freshman year, the Yankees signed him to a handshake deal, with a five-figure bonus and a promise to finance the rest of his college education.
The deal was to be kept secret so that Werber could continue to play college basketball and baseball, and it was, even after the agreement was put in writing on May 24, 1928. Werber even spent two weeks attempting to work out with the Yankees in 1927 or 1928. "Attempting" because the veteran, hard-boiled Yankees would not let him in the batting cage or even allow him to take groundballs in the infield or fly balls in the outfield during fielding practice. He soon took his leave to play for a semipro team in Newton, North Carolina.
After Werber graduated from Duke in June 1930,[2] he reported directly to the Yankees, just as promised in his handshake agreement made in 1927. The manager was Bob Shawkey, who had taken over after the untimely death of Miller Huggins the previous September. Werber rode the bench until a doubleheader on a muggy June day at Yankee Stadium against the St. Louis Browns. Starting shortstop Lyn Lary had injured a thumb during the first game and his replacement, George "Wat" Wuestling, had been done in by the heat, so Werber started the second game at shortstop.
His first at-bat was against George Blaeholder, an effective big-league pitcher. According to Werber's memoirs, he froze, taking the first two pitches for strikes. Blaeholder then inexplicably threw four straight balls, although Werber was still frozen with the bat on his shoulder. He stumbled to first base and soon scored as Babe Ruth followed with a home run. Next time up, however, Werber rifled a single to center field and finished the day with two hits and two walks. He also handled ten chances at shortstop without an error.
The next day sportswriter Ford Frick, later to become National League president and then baseball commissioner, wrote, "Werber, in his first time at bat in the big league competition, with two strikes on him watched the next four balls go by with the coolness of a veteran."
Werber played in three more games, going 4-for-14 for a .286 average, before the Yankees sent him to the Albany Senators in the Eastern League so that he could play every day. In 84 games and 316 official at-bats he batted .339 and was named to the league All-Star team at shortstop. After the season, he enrolled in the Georgetown University School of Law in Washington with designs on joining an uncle's law firm. The Yankees, however, made it clear that if he wanted to pursue a baseball career, he would need to report to spring training in March, and so after one semester, Werber dropped out of law school.
His strong performance at Albany earned him a promotion for 1931 to the Toledo Mud Hens of the American Association, managed by none other than Casey Stengel. Werber did not get along with Casey, and perhaps his performance showed it as he dropped to a .276 average in 58 games for a veteran cellar-dwelling ballclub. In midseason, with the Mud Hens having trouble making their payroll, the Yankees transferred Werber and teammate Dixie Walker to the Newark Bears of the International League. In 52 games there, Werber hit only .211 for a team that finished two games out of first place.
For 1932 the Yankees assigned the still 23-year-old Werber to the Buffalo Bisons, also of the International League. Under manager Ray Schalk, the old White Sox catcher who is now in the Hall of Fame, Werber improved to a .289 average in 422 official at-bats for a third-place team. His performance resulted in an invitation to the 1933 Yankees' spring training in St. Petersburg, Florida.
When Werber arrived, he faced fairly formidable competition for the shortstop position. Lyn Lary and rookie Frankie Crosetti had shared the job in 1932 and were both on hand. Werber had a strong spring at the plate, however, batting .345 and running the bases aggressively, but his erratic throws to Lou Gehrig at first base gave the Yankees pause about whether he could be the everyday shortstop. Manager Joe McCarthy ultimately decided to go with Crosetti, and he would hold down the position for more than a decade and play in seven World Series.
Although Werber played a few regular-season games with the Yankees, on May 12 the team sold him to the woebegone Boston Red Sox, who had finished dead last in 1932 with a horrendous 43-111 won-loss record. It worked out well for Werber, however, as he played regularly for an improved Red Sox club and began the transition to his more natural position at third base. For his first full year, he hit batted .258 in 427 official at-bats and swiped 15 bases to tie for fifth in the league. His 39 errors, many on throws, were still a cause for concern.
Bucky Harris took over as manager of the Red Sox in 1934 and moved Werber permanently to third base, after a few more errant throws from shortstop. Until his untimely bucket kick, Werber was on his way to the MVP award, but the team still jumped from seventh in 1933 to fourth place, finishing with a 76-76 record.
Joe Cronin became the Boston manager in 1935 when the Red Sox and Senators in effect traded managers. It was not good news for Werber because he and Cronin had had several run-ins on the playing field, but the two buried the hatchet and Werber played two years of third base under Cronin. In 1935 Werber slipped to a .255 batting average in 124 games. His toe had calcified, making it impossible to flex. That made it difficult to walk and run, and he pulled leg muscles by favoring the toe, which caused him to miss a number of games. Still, Werber again led the league in stolen bases with 29. On July 17 he tied an American League record with four doubles in one game. The team finished a disappointing fourth with a 78-75 record.
Werber improved to .275 in 145 games in 1936 as the Red Sox slipped to sixth place. After the season the club traded him to the Philadelphia Athletics for Pinky Higgins in a straight swap of third basemen. Under the venerable Connie Mack, Werber hit .292 and tied Ben Chapman for the league lead in stolen bases with 35. The A's, however, finished in seventh place with an absymal 54-97 record, 46½ games out of first place.
Werber declined to a .259 average in 1938 as the A's won the race to the bottom of the American League by two games over the St. Louis Browns, finishing dead last, 46 games behind. After the season, Werber became embroiled in a salary dispute with Connie Mack. At one point, after Mack pleaded poverty, Werber even suggested that Mack sell the team and seek another line of work. Werber did not report for spring training, and not surprisingly, found himself sold to the Cincinnati Reds on March 16, 1939. After quibbling with the Reds over the $1,500 he was holding out for, he finally reported to spring training when the Reds met his salary demand. It was probably the best thing that could have happened to him.
The Reds had finished in the National League basement in 1937 but had improved under new manager Bill McKechnie to fourth place in 1938, only six games behind the pennant-winning Chicago Cubs. Werber, who replaced Lew Riggs at third base, proved to be the catalyst who would take the Reds to two consecutive pennants and a world championship. He always played the game with lots of vim and vigor and it proved infectious on the Reds. For example, after strikeouts, Werber would fire the ball around the infield rather than just lob it and pretty soon the entire infield was doing likewise. Second baseman Lonnie Frey was lithe and graceful but had a number of liver-colored birthmarks, so, with typical crude ballplayer humor, Werber began calling him the Leopard.
Soon shortstop Billy Myers wanted to know what Werber was going to call him and Werber replied, "You're the Jaguar and I'm the Tiger." In the infield Werber would, to keep everyone alert, holler, "Bounce around on the balls of your feet like a jungle cat," and so the Jungle Club was born. First baseman Frank McCormick wanted in the Jungle Club but initially Werber refused, saying McCormick didn't hustle enough. After a week or so, Werber relented and allowed McCormick in, dubbing him the Wildcat.[1]
The 1939 Reds swept to the pennant by 4½ games over the St. Louis Cardinals. In addition to the Jungle Club, the team was paced by two great pitching performances, by Bucky Walters, who won 27 games while losing 11, and Paul Derringer, who went 25-7. Junior Thompson helped considerably with 13 wins and only 5 losses as Johnny Vander Meer of 1938 double no-hit fame struggled to a 5-9 won-lost record. Right fielder Ival Goodman hit .323 and catcher Ernie Lombardi led the team with 20 home runs. Werber batted .289 leading off and led the league in runs scored with 115. He was third in steals with 15 and also led third basemen in assists and double plays (and errors with 34). On August 29 he had the signal honor of being the first batter in the first televised baseball game as the Reds played the Brooklyn Dodgers in Ebbets Field, with Red Barber as the announcer.
In the World Series the Reds ran into the juggernaut New York Yankees, who had won their fourth straight pennant by 17 games. Although New York early in the season had lost Lou Gehrig to the disease that bears his name, the Yankees still had a lineup that included Joe DiMaggio, Charlie Keller, Bill Dickey, Joe Gordon, Red Rolfe, and George Selkirk. Their pitching, led by Red Ruffing, Lefty Gomez, Bump Hadley, and Atley Donald, was deep and talented. Not surprisingly, the Yankees swept in four games in the Series made famous by Ernie Lombardi's supposed snooze at home plate in Game Four. In the tenth inning of a tie game Charlie Keller knocked Lombardi momentarily senseless at home plate, allowing Joe DiMaggio to race home from third as well. By this time, the Reds were down three games to zero, so the outcome of Game Four was not likely pivotal in any case.
Werber had a memorable run-in with legendary New York sportswriter Red Smith during the 1939 Series. Smith, who was admittedly put off by Werber's cocky and sometimes arrogant manner, had over the years written some columns critical of Bill. When the A's sold Werber to the Reds before the season, Smith had written a "good riddance" column about him, describing him as an unwanted "clubhouse lawyer." Smith was of course covering the World Series and went into the Reds dugout to see Paul Derringer, a friend from when both were in St. Louis. Werber spotted Smith sitting with a portable typewriter and immediately ordered him out of the dugout. Although Smith had every right to be there before the game, he elected to not make a scene and left. He later admitted that Werber was his "least favorite ballplayer."
Werber's cocky, aggressive nature got him into several fights or near fights during his career, including one with a teammate, Babe Dahlgren. In 1935 Dahlgren was a rookie first baseman with the Red Sox and Werber took loud exception at the end of an inning to a sloppy play by Dahlgren on a ball hit to him at first. The two exchanged punches before teammates separated them. Later Werber acknowledged that he was glad they had because it turned out Dahlgren was an accomplished amateur boxer back in his native California. Later, when Werber was with the A's, he was spiked by Buddy Myer of the Washington Senators and came up swinging. In his memoirs Werber expressed his dislike of Leo Durocher and described his unsuccessful attempts to goad Leo into fisticuffs.
The Reds bounced back strongly in 1940 from their World Series failure in 1939, this time winning the pennant by 12 games over the second-place Brooklyn Dodgers and finishing with a superb 100 wins against 53 losses. Frank McCormick hit .309 and drove in 127 runs to win the league's MVP Award while Ernie Lombardi batted .319, second in the league. The Reds' pitching was again tremendous as Walters won 22 games, Derringer won 20, and Junior Thompson, Jim Turner, and Joe Beggs all had outstanding years.
Werber had another strong year in the leadoff slot, hitting .277, finishing third in the league in runs scored with 105, and fourth in steals with 16. He reduced his errors by half to 17 and led the league in fielding by third basemen with a fielding percentage of .962. Early in the season, on May 13, Werber stroked four consecutive doubles in a 14-inning game, becoming the first batter to hit four doubles in a game in both leagues.
The regular season, however, was punctuated by tragedy. Willard "Bill" Hershberger, the Reds' backup catcher, suffered from severe depression, although his teammates did not realize the size of the problem. In late July the Reds were in a slump and Lombardi was laid up with a sprained ankle, so Hershberger was doing all the catching and blaming himself for the team's losses. On August 1 the Reds, with Bucky Walters on the mound, blew a ninth inning 4-1 lead to the Giants in the Polo Grounds and lost, 5-4. Werber remembered Hershberger on the train ride to Boston blaming himself for the loss for calling for the wrong pitches.
The following day was an offday in Boston and Werber, still trying to cheer up the disconsolate catcher, persuaded Hershberger to attend an afternoon movie with him. Unfortunately, it did not work. The Reds had a doubleheader against the Braves on the next day, and Hershberger did not show up at the ballpark. During the doubleheader, the hotel staff found Hershie, who had committed suicide in his hotel room.  
The suicide deeply affected the Reds, each in his own way. Werber reported that Bucky Walters, who had a room to himself in the Copley Plaza Hotel, where the team was staying, insisted that Werber move in with him and even moved all of Werber's clothes into his room, because he did not want to be alone after Hershberger's death. At the end of the season the team voted Hershberger a full World Series share and had the club send the check to his mother.
In the 1940 World Series the Reds met the Detroit Tigers, who had broken the Yankees' string of four straight pennants. The Tigers had survived a tight pennant race with the Yankees and Indians, and were led by Hank Greenberg, Charlie Gehringer, and Rudy York, with Bobo Newsom, Schoolboy Rowe, and Tommy Bridges on the mound. The Series was played on seven consecutive days from October 2 to the 8th. The Reds returned home for Game Six down three games to two, but defeated the Tigers 4-0 and 2-1 behind Walters and Derringer for the come-from-behind World Series victory. Werber emerged as the leading hitter in the Series, batting .370 on 10 hits in 27 at-bats.
Going into 1940, Werber had fully expected to retire from baseball after the season. His sore toe from his unfortunate bucket kick in 1933 still plagued him and caused pain in the back of both legs. (To help alleviate the situation, the Cincinnati groundskeepers kept the area around third base as soft as they could with extra sand.) He had been working successfully in his father's insurance business in Washington during the offseasons and was ready to take over the business full time. But the success of 1940, coupled with the prospect of a nice raise, compelled him to change his mind and sign on for 1941. In later years Werber always viewed that decision as a mistake.
The 1941 Reds were still a good club, but they were aging and plagued with injuries. They finished in third place with an 88-66 record, 12 games behind the pennant-winning Dodgers. Werber slipped to a .239 average, and his errors increased to 30 in 109 games. Once again he contemplated retirement but found that his baseball services were still in demand. The Cubs, Giants, and Pirates all wanted him. In December 1941 Warren Giles, general manager of the Reds, told Werber that the Reds were prepared to sell him to the team of his choice for $3,500 and hand him over that check if he would agree to play a full season for the buyer. Werber selected the Giants and promised Giles that he would return the money if he changed his mind.
Werber did not change his mind and reported to the Giants' spring training camp in Coral Gables, Florida, in March, 1942. The Giants were coming off a fifth-place finish and were led by new manager Mel Ott, who had starred for the team since 1926 and, at 33, was still a force as a player. Ott would slug 30 home runs to lead the league in 1942 and Johnny Mize would drive in 110 runs, also the league best, as the Giants improved to third place with an 85-67 record.
Werber created a good deal of controversy when he published an article in the July 25, 1942, Saturday Evening Post titled "Ballplayer Boos Back." The article arose out of a rainy day discussion with Carl Hubbell, Hank Leiber, and Hal Schumacher about the travails of big-league ballplayers. In Werber's typical outspoken manner, the article details the difficulty and pressure of playing baseball at the major-league level and is critical of the lack of understanding of sportswriters and fans. Of course, the Post's provocative title was designed to garner attention, and it did. It also helped cement Werber's reputation as a malcontent.
Although the Giants were a competitive club, Werber struggled in 1942, with his average hovering around the .200 mark. His toe became increasingly painful and at one point he entered New York's Presbyterian Hospital to have the sciatic nerve in his right leg stretched, a procedure that, he later noted, "one would scarcely choose voluntarily." Finally, with about two weeks left in the season, Werber went to manager Ott and asked permission to retire and leave the club. His request was granted, and Werber finished his last year with a .205 average in 98 games and 370 official at-bats.
Although Werber was through with baseball, it was not yet through with him. He returned to Washington to work in the insurance business, but shortly was contacted by Clark Griffith, the owner of the Washington Senators. World War II was in full force and major- league baseball was losing ballplayers to the military in droves. Griffith has lost his third baseman, Buddy Lewis, to the Army Air Corps, and offered Werber the then princely sum of $13,500 to play for the Senators in 1943.
Although that was more money than Werber had ever earned playing baseball, he turned the offer down, telling Griffith that it would cost him more than $10,000 to leave his insurance business. Werber later reported that he had been correct: He earned $100,000 in commissions on almost $2 million worth of life insurance policies in 1943.
After his retirement from baseball, Werber continued to run, very successfully, the family insurance business until he retired in 1972. He and his beloved wife, Tat, then moved to Naples, Florida. They had been married in 1926 while he was attending Duke University, and had three children, Bill Jr., daughters Patricia, and Susie. All three children attended Duke, and Bill Jr. became an All-American baseball player there in the early 1950s. He then played a year of minor-league baseball in the Cincinnati Reds organization before quitting to obtain an MBA from the Wharton School of Business and eventually take over running the family insurance business.
In retirement the senior Werber became a scratch golfer and competed well in amateur tournaments along the East Coast. He continued to be an avid bird hunter and wrote a self-published book, Hunting is for the Birds, about his bird-hunting experiences.
Although a very bright, industrious man who was an innovative and successful insurance executive, Werber was not a progressive thinker on many issues. He defended baseball's reserve clause, and was no fan of Jackie Robinson or the integration of baseball generally. An inveterate letter writer, he sometimes wrote the baseball commissioner complaining about such issues as the length of modern baseball games, the long hair of some ballplayers, and the singing of the National Anthem by women. Although a warm and engaging man, he could be difficult and impetuous, which sometimes caused him regret. Later in life, he regretted the tone of his Saturday Evening Post article, although he cast much of the blame on the magazine's editors. Larry Ritter interviewed Werber in the early 1960s for his oral history book that would become the classic The Glory of Their Times. After reading over a typescript of his interview with Ritter, Werber decided, perhaps remembering the Saturday Evening Post experience, that it was too negative and refused, despite Ritter's best efforts, to allow him to use the interview in his book.
What came through in the Ritter interview and in Werber's reflections about his baseball career generally was that it had just been a means to an end. He referred to it as not a career but a job that enabled to him to support his family in a comfortable manner, but nothing more. He often said that kicking that bucket in 1934 had been the luckiest "break" in his life, because it made him realize that his baseball career was likely to be short and that he had better figure out something else to do to support his family.
Although Werber tended to discount his baseball career, he did enjoy the attention it brought him in his later years and unfailingly signed autographs and corresponded with all who wrote him. In 1978 he wrote a self-published memoir of his life titled Circling the Bases, which emphasized his baseball career, and was ostensibly for his grandchildren and to "negate" the "negative treatment" of some books written about baseball. In 2001 he co-authored another book titled Memories of a Ballplayer: Bill Werber and Baseball in the 1930s, which was published by SABR and focused on baseball and its colorful characters during the time Werber played.
Werber lived a long and satisfying life and was for a time the oldest living former major-league player. His wife, Tat, passed away on March 11, 2000, at the age of 91. The couple had been happily married for 70 years. For many years, Werber suffered from diabetes and gave himself insulin shots several times a day. When he was in his 90s he lost a leg to the disease. The occasion of his 100th birthday on June 20, 2008, brought him national press attention and a large party in his honor in Charlotte, North Carolina, where he spent his last years. Bill Werber died on January 22, 2009.
Related link: Bill Werber's Memories of a Ballplayer is now available in e-book format at SABR.org/ebooks
Sources
Berkow, Ira, Red – A Biography of Red Smith. (New York: Times Books, 1986).   
Correspondence with Bill Werber, 1993 to 2008, on file with author.
Dahlgren, Matt, Rumor in Town – A Grandson's Promise to Right a Wrong. (Ashland, Ohio: Woodlyn Lane, 2007).
Featherston, Alan. Bill Werber: Duke's Oldest Living Sports Hero, June 19, 2008. Accessed at http://www.goduke.com/ViewArticle.dbml?DB_OEM_ID=4200&ATCLID=1481704.
Goldstein, Richard. "Bill Werber. Infielder Who Played With Ruth, Is Dead at 100." New York Times, January 24, 2009, A14.
Honig, Donald, Baseball Between the Lines – Baseball in the '40s and '50s. (New York: Coward, McCann & Geoghegan, 1976).
Mulligan, Brian, The 1940 Cincinnati Reds (Jefferson, North Carolina: McFarland & Co., 2005).
Phillips, Joe, "Billy Werber Says His Era's Gloves Were Adequate for the Job." "The Glove Collector Newsletter," No. 47, September-October 1997.
"One-Hundred-Year-Old Former Player, Bill Werber, Has a Million Stories," New York Times, June 15, 2008. Accessed at http://www.nytimes.com/2008/06/15sports/baseball/I5oldest.html?partner=rssnyt&emc=rss.
Taped interviews with Bill Werber, January 1998, on file with author.
Werber, Bill, and C. Paul Rogers III. Memories of a Ballplayer: Bill Werber and Baseball in the 1930s (Cleveland: Society for American Baseball Research, 2001).
Werber, Bill. Circling the Bases. (self-published, 1978).
Westcott, Rich, Masters of the Diamond – Interviews with Players Who Began Their Careers More Than 50 Years Ago (Jefferson, North Carolina: McFarland & Co. 1994).
Born
June 20, 1908 at Berwyn, MD (USA)
Died
January 22, 2009 at Charlotte, NC (USA)
If you can help us improve this player's biography, contact us.
http://bioproj.sabr.org/bp_ftp/images5/WerberBill.jpg
600
800
admin
/wp-content/uploads/2020/02/sabr_logo.png
admin
2012-01-04 20:33:48
2021-09-28 15:22:16
Billy Werber