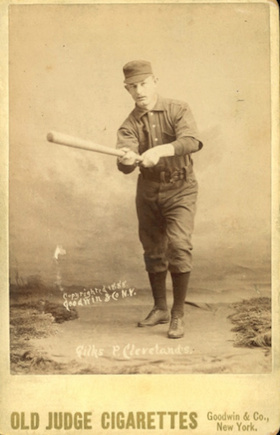 ---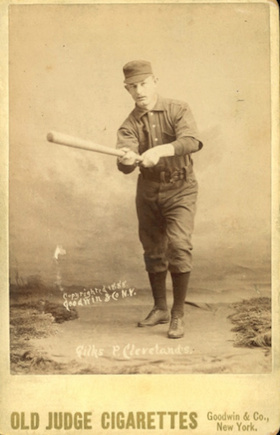 Bob Gilks devoted more than 40 years to professional baseball, as a player, manager, and scout. As a player, his greatest strengths were his versatility and fielding ability. As a minor-league manager, he schooled youngsters in the right way to play the game. And as a scout, he recognized the potential of future stars like Roger Bresnahan, Addie Joss, Shoeless Joe Jackson, and Dave Bancroft.
Robert James Gilks was born in Cincinnati on July 2, 1864 or 1865, sources disagree. He was the second oldest of the six children of Edwin and Mary Jane (Highland) Gilks. Edwin, from England, operated a profitable saloon in Cincinnati; Mary Jane was from Ireland. As a teenager, Bob pursued his passion for baseball on the sandlots of Cumminsville, a Cincinnati neighborhood now known as Northside.1
A right-handed batter and thrower, and able to play any position, Gilks began his professional baseball career in 1884 on the Hamilton team of the Ohio State League. The next year he played in the Southern League for the Chattanooga (TN) and Augusta (GA) clubs, and in 1886 he joined the Binghamton (NY) team in the International League.2
In 1887 Gilks was a third baseman and outfielder for Binghamton and batted .325 in 75 games. Bud Fowler, one of the leading Negro ballplayers of the era, played second base on the team but left in late June amid racial tension. On May 9, Gilks and Fowler had combined for seven hits in Binghamton's 16-9 victory over Buffalo. On June 4, Syracuse defeated Binghamton, 10-4, in a game featuring two Negro pitchers, Robert Higgins for Syracuse and Renfroe for Binghamton. The game "proceeded harmoniously," except when Gilks disagreed with the umpire's decisions; Gilks was fined $10 for calling him the "bummest umpire" who ever lived and for threatening to punch him.3
The Binghamton club disbanded in late August, and Gilks was immediately picked up by the Cleveland Blues of the American Association. Several teams wanted him, but he chose the team for which his brother-in-law Billy Crowell pitched. Gilks and Crowell grew up playing baseball in Cumminsville, and Gilks married one of Crowell's sisters.4
In his major-league debut on August 25, 1887, Gilks went 0-for-5 and played first base in Cleveland's 8-6 loss to the Philadelphia Athletics. The next day he played center field and stroked his first major-league hit, a double off Ed Seward of the Athletics. Short of pitchers, Cleveland manager Jimmy Williams persuaded Gilks to pitch, and on August 27, he hurled a complete game in a 16-9 victory over Philadelphia. He was hit hard but showed "lots of speed, a sharp and puzzling out-curve and good control of the ball." He even picked a runner off first base. "With such an arm and head Bob ought to keep on pitching," said the Cleveland Plain Dealer.5
And he did. On August 31, he tossed a six-hitter against the Baltimore Orioles but lost 2-1. His best outing came on September 14, when he threw a five-hit shutout against the New York Metropolitans.6 At season end, his won-lost record was 7-5 in 108 innings with a batting average of .313. Despite Gilks's sparkling performance, the Blues finished in last place with a 39-92 record. And 108 innings pitched in six weeks—a pace of more than 400 innings over a full season—was more than Gilks cared to bear. Thereafter, out of concern for his arm he was willing to pitch only occasionally.
On June 6, 1888, Gilks played left field and went 4-for-6 at the plate, including a three-run, inside-the-park homer off Louisville pitcher Guy Hecker, the only home run of Gilks's major-league career. Crowell, pitching for Cleveland, was battered by the Louisville sluggers, but he clung to a 23-19 lead entering the bottom of the ninth. Gilks rescued his brother-in-law by pitching the ninth and allowing no runs to close out the Cleveland victory.7
Sporting Life praised Gilks for his "marvelous" work in left field during a mid-July series in Cincinnati and mentioned his remarkable catch of "a liner that all but kissed the ground from plate to outfield." In August he won a throwing contest sponsored by the Cincinnati Enquirer by hurling a baseball for a distance of 343 feet, 11 inches. But Gilks struggled at the plate during the second half of the 1888 season; he batted .281 through games of July 18 but only .193 after that.8
In the offseason Gilks resided in Cincinnati and stayed in shape by bird hunting in Ohio, Indiana, and Kentucky. And he was a dandy about town. A Cincinnati newspaperman spotted him on a December day and reported that he looked like the son of a millionaire, "resplendent in a snuff-colored chinchilla overcoat, a stylish Derby and seated behind a three-minute trotter in a fine rig."9
The Cleveland Blues left the American Association and joined the National League for the 1889 season, changing their name in the process to the Cleveland Spiders. Manager Tom Loftus used Gilks as a utility man. But he appeared in only 53 games, filling in as needed in both the infield and outfield. In August his son, Robert E. Gilks, was born.10
The entire starting outfield of the 1889 Cleveland Spiders jumped to the Players League in 1890, opening a spot for Gilks in the starting lineup. On June 23, he made a game-saving catch in left field in a 4-2 Cleveland triumph over the Brooklyn Bridegrooms. On August 5, he slugged two bases-loaded doubles and drove in five runs, yet the Spiders lost 10-6 to the Chicago Colts. The next day the Spiders trounced the Colts, 8-1, as Cy Young spun a three-hitter in his major-league debut.11
Gilks batted .213 in 1890 with only 13 extra-base hits in 582 plate appearances that season, and the Spiders released him in the offseason. In May 1891, he joined the Rochester (NY) team of the Eastern Association. He played in 71 games for Rochester but left the team in late August after he and his teammates had gone 24 days without pay.12
Playing minor-league baseball was an unstable occupation. In 1892 Gilks was a member of the Omaha Omahogs of the Western League until the league disbanded in mid-July. He joined the Mobile (AL) Blackbirds of the Southern Association, and even managed the team in 1893, but the Blackbirds disbanded in August of that year. He returned to the major leagues briefly, in September 1893, as an outfielder on the Baltimore Orioles.13
Gilks enjoyed stability for the eight years he spent in Toledo, where he played from 1894-95 and 1897-1902. (He played in Grand Rapids, MI, in 1896.) An outstanding defensive outfielder and a solid hitter, he served as captain of these Toledo teams. One of his responsibilities as captain was to find and recruit players for the team. In 1898, he signed Roger Bresnahan, a Toledo teenager, and the next year he signed Addie Joss, both future Hall of Famers.14
The 20-year-old Joss pitched well for Toledo in 1900. He shut out Fort Wayne on May 2, but lost to the Hoosiers on May 31. In the latter contest, Gilks expressed his displeasure with the work of umpire Bob Caruthers. The Fort Wayne Sentinel reported that Gilks:
commenced a tirade of undertone abuse from the bench, which Caruthers would not tolerate. The umpire after warning Gilks two or three times finally assessed a $5 fine and threatened to put him off the grounds. Gilks said he would go off when carried off and Caruthers ordered him to leave and called for a policeman. The Toledo captain called Caruthers a 'dirty drunkard' and used language the most foul. . . . Caruthers assessed a fine of $25 against Gilks and Officer Spillner escorted him from the grounds. The disgraced player went to the back of the park and peeked over the fence two or three innings and once called to Caruthers to come outside and tackle him.15
Gilks resided in Toledo and operated a profitable saloon. His wife died unexpectedly in November 1898 while he was away on a hunting trip. In September 1901, he married Rosa Amanda Frett; they would divorce about 12 years later.16
In February 1903, Gilks moved to Shreveport, Louisiana,17 where he served as player-manager of the Shreveport Pirates of the Southern Association for four seasons. From 1907-08, he managed the Gulfport (MS) Crabs of the Cotton States League. Though in his 40s, he played regularly for the team.
Gilks began the 1909 season as player-manager of the Savannah Indians of the South Atlantic League. The team got off to a poor start, and he resigned under pressure on May 20. He was quickly hired as player-manager of the Galveston Sand Crabs of the Texas League. After the season ended, he accepted an offer to scout for the Cleveland Naps of the American League. Doubtless being a close friend and former teammate of Naps manager Deacon McGuire helped him land the job.18
It was during Gilks's short time with the Savannah Indians that he got a close look at the team's extraordinary 21-year-old outfielder, Shoeless Joe Jackson. The Philadelphia Athletics owned the rights to Jackson and farmed him out to the New Orleans Pelicans in 1910. Gilks watched Jackson play in New Orleans and strongly urged the Naps to acquire him. The Naps traded for him, and when the Pelicans' season ended, Gilks escorted the shy country boy to Cleveland. In 1911 Jackson was a sensation, hitting .408 as a rookie for the Naps. That same year, Dave Bancroft, a 20-year-old shortstop on the Superior (WI) Red Sox thoroughly impressed Gilks, but he could not persuade Naps owner Charles Somers to draft him. Bancroft would go on to a Hall of Fame career in the National League.19
Gilks was unlike other scouts of the time. Sporting Life explained:
As a general rule the greatest secrecy prevails about the movements of a scout. . . . Bob Gilks follows a rule the direct opposite. . . . Bob probably enjoys a wider acquaintance among minor league people than any scout in the country. . . . Immediately after his arrival in a city Gilks presents himself at the club office. He then accompanies the manager to the ball park, asks for a spare uniform, dons it and works out with the bushers. . . . He studies their dispositions and habits in addition to their native playing ability.20
Gilks scouted for the Cleveland Naps from 1910-13. The following year he managed the Montgomery (AL) Billikens of the Southern Association in 1914. He then resumed scouting, this time for the New York Yankees, from 1915-26.21 Among his finds for the Yankees were pitcher Urban Shocker, infielder Aaron Ward, and catcher Muddy Ruel.22 In 1928 Gilks, in his mid-60s, scouted for the Boston Braves.23
In his retirement, Gilks resided in Brunswick, Georgia. In 1929, he married 16-year-old Maude Strickland, the daughter of a local farmer. Bob and Maude had two daughters, Mary and Joe Ann.24 Bob died in Brunswick on August 20, 1944.
Notes
Born
July 2, 1864 at Cincinnati, OH (USA)
Died
August 20, 1944 at Brunswick, GA (USA)
If you can help us improve this player's biography, contact us.
http://sabr.org/sites/default/files/GilksBob.jpg
600
800
admin
/wp-content/uploads/2020/02/sabr_logo.png
admin
2016-05-12 23:40:28
2016-05-12 23:40:28
Bob Gilks