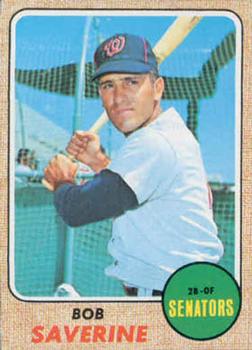 ---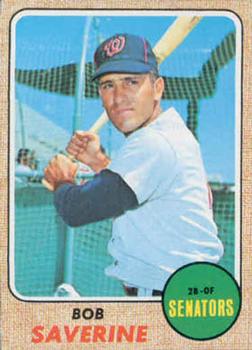 For two years, 5-foot, 9-inch Bob Saverine teamed with 6-foot, 7-inch Frank Howard on the Washington Senators. But, that's not all. The talented pair, along with several other Senators players, formed a basketball team.1 Prior to the 1968 season, newly named manager Jim Lemon watched as they played an exhibition game and defeated a team comprised of Washington Redskins players, 109-77. "Frank was a terrific basketball player," Saverine recalled. "He had great hands."2 Saverine was no slouch on the court either. Equally adept at baseball and basketball, he earned high school all-state honors in both sports during his junior and senior years.
Saverine's time with the Senators ended a big league-career that began as an 18-year-old with Baltimore in 1959. The quintessential utilityman, he played three different infield positions and two outfield spots. In 379 games over six years in the majors, the switch-hitter finished with a career .239 batting average and six homers. As a prospect, Saverine earned the nickname "Rabbit" for his speed, but he had just 23 steals at the top level.
Robert Paul Saverine (his surname is pronounced sav-a-REEN) was born on June 2, 1941, in Norwalk, Connecticut. He was the second of Joseph and Josephine D'Arrigo Saverine's three children. His older brother Richard is a dentist. His younger sister, Linda, recently passed away. His father worked for 40 years in the Stamford school system, where he taught English and history. During Joseph's senior year at Georgetown University, he captained the football and baseball teams. He was a running back and a catcher, respectively. It was Joseph who pushed and taught his son how to switch-hit.
"My father started me switch-hitting in the fourth or fifth grade. I was a natural right-handed batter. He wanted me to be able to stand in there against big right-handed pitchers," Saverine explained.3
The two-star athlete at Connecticut's Darien High School preferred basketball over baseball. "I was always a good scorer. Going into my senior year, I averaged 30 points a game playing basketball, but I hurt my knee. I suffered from Osgood-Schlatter Disease. It didn't impact my baseball playing, but it slowed me down in basketball to the point I averaged 17 points a game. I could have played college basketball, but there weren't any offers."4 Saverine, who played shortstop in high school, received baseball scholarship offers from Yale University, Georgetown, and Holy Cross.
"I was a good student, strong academically,"5 Saverine said. Yet he decided not to go to college. "Frank McGowan, a Baltimore Orioles scout, saw me play in an American Legion tournament. I got six hits in two games."6
Baltimore signed Saverine in 1959 as an amateur free agent. He received a $70,000 signing bonus, which guaranteed him a spot for at least two years on the major league roster (unless the Orioles were willing to leave him unprotected). The 18-year-old was assigned to the Bluefield Orioles in the Appalachian League. His teammates included 17-year old Boog Powell and 18-year old Dean Chance.7 In 70 games, Saverine led the league in runs scored (70), hits (89), and batting average (.353).
The 160-pound Saverine made his major league debut on September 12, 1959, against the Chicago White Sox in Memorial Stadium. In the eighth inning, he came in as a pinch runner for Billy Klaus. The latter had singled off Early Wynn. Saverine was on first base when Al Pilarcik followed with a single off Wynn.
"I saw the way the right fielder's (Jim Rivera) momentum was moving him toward the foul line. He wouldn't be able to throw me out at third, so I went from first to third on the single. I was a good baserunner," Saverine said.8 He scored on a Bob Nieman single, the third consecutive hit off Wynn. It was the Orioles' sole run in a 6-1 loss.
Following the 1959 season, Saverine spent time playing winter ball in Clearwater, Florida. The Orioles promoted him to their Fox Cities affiliate in the Illinois-Indiana-Iowa League. A 1960 scouting report said of Saverine, "Outstanding glove man, but arm is average. Excellent speed. Leg hitter. Has chance over long haul."9 He led the team in triples (11), stole 33 bases, scored 110 runs, and hit .273. "If you didn't hit .300, nothing else mattered," Saverine said.10
In 1961, Saverine reported to the Little Rock Travelers, the Orioles' Double-A affiliate in the Southern Association. After two years at shortstop, he was moved to second base. Saverine's 1961 scouting report said, "Lacks power at bat. Has outside chance, but not ready for move to the top."11 Saverine never really worried about his move to the top. He felt it was practically guaranteed because of the bonus he received. He played well. Again, he led the team in triples (7), scored 109 runs, and batted .282. His 41 stolen bases led the Southern Association. The Orioles called him up in September, but he didn't see any action. Following the season, Saverine played 49 games in the Arizona Instructional League. His 23 stolen bases led the league.
Saverine reported to spring training in 1962. At the conclusion of a three-game exhibition trip to Mexico City, the Orioles sent 15 players to the minors, Saverine among them. He was assigned to Rochester (Triple-A) in the International League. In three games between May 24 and May 26, Saverine collected 11 hits in 14 at-bats. On June 25, he had a standout game against the Atlanta Crackers, going 5-for-5 including a double and a homer. He ended the year at Rochester hitting .285 in 154 games, with 16 stolen bases and 92 runs scored. The Orioles called him up in September. His first major league at-bat occurred on September 23, 1962, against Minnesota's Dick Stigman. Pinch-hitting for Boog Powell, he hit into a fielder's choice and then was caught trying to steal second. The next day, Saverine notched his first major league hit, a fifth-inning line-drive double to the opposite field off Kansas City pitcher Ed Rakow. He came around to score on a Jerry Adair single.
The Orioles finished the 1962 season 77-85, in seventh place. They lost the last four games of the year. But there was good news for Saverine. Orioles beat writer Doug Brown wrote, "About the only encouraging aspect of the last week of the season was the play of the youngsters who were brought up from the minors. Pete Ward, Bob Saverine, Dave McNally, John Miller and Andy Etchebarren all show future promise."12
In addition to searching for a quality catcher going into the 1963 season, Orioles President Lee MacPhail was looking to add an outfielder. The Clearwater, Florida League, coaching staff turned to Saverine. MacPhail said, "He [Saverine] can help himself as well as the club, if he can play in the outfield and infield, too. If he stays with us next year, that's the sort of job we have in mind for him. You know, a guy who can play a lot of places. Down in Florida, he has played four different positions – short, second, third and center field…I saw Saverine play three games in center while I was down there. He looks good. He got a good jump on the ball, as you'd expect a guy with his great speed would, and in one game he threw out a runner at third base."13
Lum Harris was part of the Orioles Florida League coaching staff and he took Saverine under his wing. Saverine has nothing but high praise for Harris. "Lum Harris taught me a lot," Saverine recalled. "He taught me how to play center field. He also showed me how to take an extra step lead off first base and how to bunt. He really got the most out of me."14
Saverine had an excellent spring training in 1963. He was batting .420 with only three exhibition games remaining. He made the trip north with the big club. Although the Orioles figured to use Saverine in both the infield and outfield in 1963, the acquisition in January of Luis Aparicio from the Chicago White Sox gave Baltimore a formidable infield featuring Brooks Robinson at third, Aparicio at short, and Jerry Adair at second. In fact, Saverine tallied 19 games at second base, 13 games at shortstop, 1 game in left field, and 58 games in center (behind Jackie Brandt and Russ Snyder). Saverine soon realized he enjoyed the outfield more than the infield. "I learned early on to look at the catcher's glove position. I had the perfect view from center field. I'd be moving even before the batter swung. That allowed me to get to a lot of balls I would not have otherwise been able to catch," he said.15
Saverine played well defensively in 1963, committing two errors in 192 chances. Offensively, he hit .234 with eight stolen bases in 195 plate appearances. He hit his first major league home run on June 19, 1963, during the first game of a doubleheader against the Indians in Cleveland. Pinch-hitting for Adair in the seventh inning, Saverine hit a Ted Abernathy pitch over the right-centerfield wall. That was impressive because Abernathy – like most submarine-style pitchers – had an excellent sinker and gave up few homers. "I faced Abernathy in the minors. He threw underhanded. I knew the ball would be coming from behind his right knee. I just focused on his knee. I could see the ball really well," Saverine said.16
The 1964 season was one of disappointment, both at bat and in the field. Manager Hank Bauer used Saverine sparingly. He played in only 46 games, hitting .147. Defensively, he played only two games in center field, the remainder at shortstop. The Orioles had fulfilled their two-year commitment to keep Saverine on the big-league roster.
Prior to the start of the 1965 season, the Orioles assigned Saverine outright to Rochester. It was a bitter pill – he didn't want to return to the minor leagues. Saverine remained with Rochester until the end of the season. In 135 games, he hit .267 with 31 stolen bases.
Pitcher Darold Knowles, then a Red Wings teammate, gave Saverine credit for helping him with his control. Following a bullpen session in which Saverine caught Knowles, the pitcher recalled, "Bobby noticed I wasn't holding my head still enough. It seemed like a simple thing, but when I worked on it, I noticed a difference. Before then, I had always worried about getting the ball over the plate. But after Bob got me started, my control improved quickly."17
At season's end, Rochester sent Saverine to Oklahoma City, top farm club of the Houston Astros, to complete the April 24 trade that had brought Don Larsen to Baltimore. "I actually learned about the trade midway through the 1965 season. Darrell Johnson [Rochester manager] informed me. I was allowed to play out the season in Rochester."18 Saverine was ecstatic. He held Lum Harris in high regard, and Harris had taken over as Houston's manager late in the 1964 season. Saverine looked forward to playing center field for Harris.
Yet Saverine never went to nor played for Oklahoma City. On November 29, 1965, the Washington Senators paid $25,000 and obtained him from the Astros in the 1965 Rule 5 draft. Saverine was disappointed. "It was a letdown. I was eager to play for Lum Harris. And, the Senators had Don Lock in center field, so I knew I wouldn't be playing much there," Saverine said.19
Washington manager Gil Hodges had ideas about using Saverine at shortstop. The year prior, Senators shortstop Ed Brinkman had batted .185. Hodges had used Ken Hamlin as a backup. Saverine figured to be Brinkman's main competitor for the position. But Brinkman, an excellent glove man, hit .271 in spring training and got off to a fast start. The first two weeks of the 1966 season, Brinkman's average hovered around .300. Though Brinkman finished the year at just .229, Saverine played only 11 games all season at short. He was given a chance to spell Ken McMullen at third base when McMullen slumped. Saverine logged 26 games at the hot corner. Despite Hodges' preseason plan to platoon Don Blasingame and Hamlin at second base, Saverine saw the most playing time at the position (70 games). The Senators' brass wasn't satisfied. As a June report observed, "The hunt still is on for a second baseman for the Senators. Bob Saverine has been doing an adequate job at the spot, but the Nats want a regular.20 Much to his chagrin, Saverine found himself in the outfield in only nine games, five in left field and four in center.
On June 8, 1966, Saverine had the dubious distinction of setting an American League record by going hitless in 12 plate appearances in a doubleheader at Baltimore. The Orioles swept the Senators, 6-5 (in 14 innings) and 8-7.
Two days later, June 10, 1966, the Senators visited the Indians in Cleveland Stadium as Phil Ortega battled Sonny Siebert. A crowd of 10,469 witnessed a great pitchers' duel. Siebert tossed a no-hitter and the Indians won, 2-0. Only two Senators reached base: Dick Nen walked in the fifth inning and Paul Casanova reached first on an eighth-inning Chico Salmon throwing error. Only two balls were hit hard. Don Lock lined out to third baseman Max Alvis in that same eighth inning and Saverine led off the seventh with a hard liner that went directly into first baseman Fred Whitfield's glove. Whitfield didn't have to move.
With two outs and nobody on in the ninth, Saverine was the Senators' last hope to keep Siebert out of the history books. In addition to his hard shot in the prior at-bat, Saverine generally hit Siebert well. On May 18, he went 3-for-4 against Siebert. Later, in a July 25 game, he went 3-for-5 with a home run, and on August 28, he again went 3-for-5.
"Saverine was the batter again, after Siebert had disposed of pinch-hitter Fred Valentine on a harmless grounder to Dick Howser and made Blasingame bounce to Whitfield…Saverine took Siebert's first pitch for a ball, then fouled off two. Sonny came in with another pitch – a letter-high fast ball – and the batter started to swing, but desperately held back. It looked like strike three – either called or swinging – and Siebert started off the mound amid a growing crescendo from the relieved fans. For an instant, Saverine started to walk away, but everyone was called back by umpire Jim Honochick. He called the pitch ball two…On Sonny's next delivery, Saverine lofted a fly to left-center and Chuck] Hinton, who seemed to stumble once in his obvious anxiety to get it, gloved the ball for the final out."21
Siebert claimed that he had good stuff.22 After the game, however, "Saverine…made it clear he did not wish to detract in any way from Siebert's effort, but he said, 'Most of us felt he was not throwing very well. In fact, he threw bad pitches all night.'"23
Always trying to improve his batting, Saverine played with his grip, separating his hands on the bat for more control. He used a lightweight 30-ounce bat. "You can see the space between my hands on one of the baseball cards," he said.24 He also worked on improving his batting stance.
In 1966, he said, "I was fooling around the other day and decided that I could step into the ball better when batting left-handed if I straightened out my right foot."25 Prior to the change, he batted with both feet parallel. His right foot didn't face the pitcher.
Saverine finished the 1966 season hitting .251 in 120 games. One of his five home runs came in Yankee Stadium on July 8 during the first game of a doubleheader sweep of the Yankees. New York Daily News writer Norm Miller wrote, "The Yanks lost the opener after Jim Bouton served up gopher balls to Ed Brinkman and Bob Saverine, a pair of banjo-hitters who started the twin bill with averages of .234 and .213."26
Looking ahead to 1967, the Senators were counting on rookie Tim Cullen to fill their second-base needs. Cullen had been called up from Hawaii in August 1966 to replace the (released) veteran Don Blasingame. Washington general manager George Selkirk summed it up: "Bob Saverine did a good job for us at second base as well as at other positions, but Saverine isn't the answer to our second base problem. We're looking at the overall picture and we're trying to develop a second baseman who will be with us for a while. I think Cullen could be the answer and Gil Hodges agrees with me."27
Things didn't turn out as planned in '67 – Washington traded for Bernie Allen, and he got the most playing time at second base. Saverine (48 games) and Cullen (46) split most of the remainder. Saverine also filled in at shortstop (10 games), third base (eight games), and left field (two games). Cullen spent the majority of his season, 69 games, playing short. Another year had gone by and Saverine played little to no outfield. Despite getting off to a fast start (Saverine was hitting .417 in April), 1967 turned out to be his final season in the major leagues. It was a disruptive year. Saverine, along with several other players including Brinkman, spent time away from the team, fulfilling their military obligations with the National Guard. Offensively, Saverine finished the year hitting .236 in 89 games. He had eight stolen bases and hit a career-high 13 doubles.
1968 saw a managerial change in Washington. Gil Hodges went over to lead the New York Mets and Jim Lemon took over the duties for the Senators. "Hodges was always experimenting. He gave me a chance to play and I was grateful," Saverine said.28
Initially, it appeared as though Saverine would get his shot at playing center field in 1968. Don Lock had been traded to the Phillies following the 1966 season. Fred Valentine played the position for most of 1967, along with Ed Stroud and Hank Allen, but heading into 1968 the Senators were looking for a center fielder. "Ironically, the best center fielder on the club, defensive-wise is Bob Saverine, who also fills in as an infielder. Saverine has speed and a good arm. Fred Valentine, who was more or less the Washington center fielder last season, is slated to battle it out in right field with Sam] Bowens. Frank Howard, of course, will be a fixture in left field."29
In addition, the Senators signed Nellie Fox to coach first base. Part of his job was to work with speedsters Saverine, Frank Coggins, Stroud, and Valentine. "These fellows could stir up a lot of trouble if they started bunting," said Lemon.30
Saverine felt good about his chances. At a luncheon in Washington attended by congressmen, Jim Lemon announced, "Wait until you see Saverine play center field."31 But, it wasn't to be. Not only did Saverine not play center, he surprisingly didn't make the team. Instead, rookie Del Unser vaulted from Class AA to the majors.
The Senators sent Saverine down to the Buffalo Bisons, their AAA affiliate.32 He played 120 games, batted .243 with 15 doubles, eight triples, five homers, and 16 steals. He didn't appear in the outfield. He played second base, short, and third. The Senators wanted him to return in 1969, but Saverine had enough. After 10 seasons of professional baseball, he retired at the age of 27.
Saverine had taken some college accounting courses during the offseason while he played. That stood him in good stead. Following his playing days, he was offered a job as a broker by Merrill Lynch in Connecticut. He spent 13 years there before moving to Shearson Lehman and other private money management firms. After roughly 20 years in the brokerage business, Saverine permanently retired.
A hand injury suffered when he attempted to check his swing has gotten progressively worse over the years. It also limited Saverine's ability to play golf and tennis. Instead, he passes the time writing. Years ago, he wrote with a word processor, but now writes freehand. He doesn't own a computer. Saverine has written essays on Brooks Robinson, Boog Powell, Pete Ward (with whom he remains in touch to this day), and Tiger Woods. He shares these writings with friends and family. Saverine also writes on Roman Catholic topics and has published articles and letters in Inside the Vatican and The Criterion among others.
Saverine met and married Barbara Herbert in 1966. The two are still married and live together in Connecticut. They have three children, two daughters and a son. He receives about 25-35 autograph requests a month. He's happy to oblige the young collectors.
Saverine doesn't watch baseball. "There's no team loyalty anymore. We used to know who was on a roster. No longer," he said.33 He felt he was never managed properly. He wished he had a better opportunity to play center field, but back then, players weren't forceful speaking out to management.
Yet when asked over pizza and beer if he had some great baseball memories, he nodded and smiled. He cites Maury Wills and especially Lou Brock for changing the game. "They broke tradition," Saverine said. "Before them, no one would steal bases if your team was a few runs behind or ahead. It just wasn't done. They changed that."34 He also has high praise for Ed Brinkman ("best throwing arm") and Brooks Robinson and Luis Aparicio ("best reflexes").
Asked about his greatest thrill, he responded, "Batting off Whitey Ford in Yankee Stadium."35 In the second game of a doubleheader in New York on July 10, 1966, Saverine hit a single off Ford.
The toughest pitcher he faced was Denny McLain. "I struck out six times in a row against him. I couldn't see the ball. It came right out of his uniform top. I just couldn't see it. I'd hear Bill Freehan laughing behind me."36 At age 79 in 2020, Bob Saverine is sharp, confident, and content. He may have lost a step, but there was a time when he could steal bases, gobble up grounders, and catch balls heading into the gap with the best of them.
Acknowledgments
Thanks to Bob Saverine for his time and help. This biography was reviewed by Rory Costello and David H. Lippman and fact-checked by Chris Rainey. The author thanks them all for their dedication and input.
Sources
Baseball-almanac.com
BaseballLibrary.com (http://www.baseballlibrary.com/baseballlibrary/ballplayers/S/Saverine_Bob.stm)
Baseball-reference.com
Brotz, Kevin (September 8, 2008). "The Great 1965 Topps Project: Number 427, Bob Saverine"
http://1965topps.blogspot.com/2008/09/427-bob-saverine.html
Retrosheet.org
Revolvy.com (https://www.revolvy.com/page/Bob-Saverine)
The Baseball Cube (http://www.thebaseballcube.com/players/profile.asp?ID=17594)
The Sporting News
Notes
1 Other players included Darold Knowles, Bob Humphreys, Casey Cox, Dick Lines, Doug Camilli, Paul Casanova, Ed Brinkman, Hank Allen, and Fred Valentine (The Sporting News, November 25, 1967: 42).
2 In-person interview, Bruce Harris with Bob Saverine, October 31, 2019 (hereafter Saverine personal interview).
3 Saverine personal interview.
4 Bob Saverine, telephone interview with Bruce Harris, November 10, 2019 (hereafter Saverine telephone interview).
5 Saverine telephone interview.
6 Saverine personal interview.
7 Saverine and Chance became lifelong friends.
8 Saverine personal interview.
9 Baseball Digest, March 1960: 9.
10 Saverine personal interview.
11 Baseball Digest, March 1961: 79.
12 Doug Brown, "Orioles Make Early Pitch for Catcher – Could it be Battey?" The Sporting News, October 13, 1962: 17.
13 Doug Brown, "Saverine May Fill Oriole Bill as Speedy Jack-of-All-Trades," The Sporting News, November 24, 1962: 13.
14 Saverine personal interview.
15 Saverine personal interview.
16 Saverine personal interview.
17 Ron Roberts, "Knowles Banking on Sinker for Quick Flight Back to Orioles," The Sporting News, August 14, 1965: 29.
18 Saverine telephone interview.
19 Saverine personal interview.
20 Bob Addie, "Nat Progress Sabotaged by Slipping Vets," The Sporting News, June 11, 1966: 6.
21 Russell Schneider, "'I'll Hurl No-Hitter,' He Said, 'If You'll Get off my Back,'" The Sporting News, June 25, 1966: 3.
22 Joseph Wancho, SABR BioProject – Sonny Siebert (https://sabr.org/bioproj/person/9e9ff77f).
23 The Sporting News, June 25, 1966: 3.
24 Saverine personal interview. The baseball card to which Saverine refers is his 1968 Topps card.
25 Major Flashes (American League), "Saverine Alters Stance," The Sporting News, July 30, 1966: 22.
26 Norm Miller, "Yanks Tumble to 9th Place as Senators Roll, 3-2, 9-2," Daily News, July 11, 1966: 48. Note – Saverine was hitting .231 (not .213).
27 Bob Addie, "Cullen Top Pick to Collar Nats' Keystone Berth," The Sporting News, November 12, 1966: 35.
28 Saverine personal interview.
29 Bob Addie, "Selkirk Vetoes Bids; Senators Unlikely to Deal," The Sporting News, December 23, 1967: 35.
30 Bob Addie, "Senators Expecting Foxy Nellie to Teach Batters a Few Tricks," The Sporting News, November 25, 1967: 42.
31 Saverine personal interview.
32 Prior to 1968, the Buffalo Bisons (International League) were a Cincinnati Reds affiliate. The Reds pulled out of Buffalo after the 1967 season. Hawaii, in the Pacific Coast League, had been the Senators AAA team. The Islanders ended the pact following the 1967 season. Buffalo was offered to the Senators. Due to poor attendance and street rioting in Buffalo, the team played some of their home games in Hyde Park, Niagara Falls (see "Nats Tieup with Buffalo," The Sporting News, December 23, 1967: 35).
33 Saverine personal interview.
34 Saverine personal; interview.
35 Chris Grant, "Letters from Homeplate," (https://lettersfromhomeplate.com/2019/01/10/bob-saverine/).
36 Saverine personal interview.
Born
June 2, 1941 at Norwalk, CT (USA)
If you can help us improve this player's biography, contact us.
https://sabr.org/sites/default/files/SaverineBob.jpg
600
800
admin
/wp-content/uploads/2020/02/sabr_logo.png
admin
2020-02-14 14:04:48
2020-10-21 13:16:01
Bob Saverine