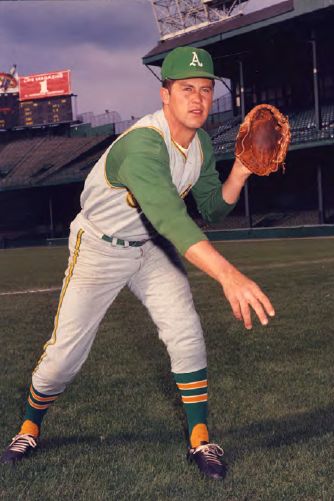 ---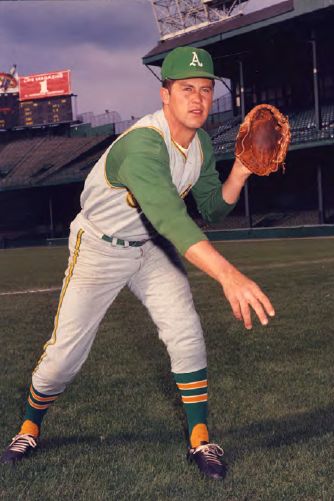 For someone who always preferred the simple things in life, James Augustus Hunter was a complex man. To most of the world, he was Catfish, the big-game, big-money, right-handed ace who anchored an Oakland A's pitching staff that won three straight World Series titles from 1972 to 1974. It was Catfish who in May 1968 pitched the American League's first perfect game in 46 years. He won 20 or more games for five straight seasons, and captured the American League's Cy Young Award in 1974. It was Catfish who, after being declared a free agent by an arbitrator in December 1974, was made baseball's highest-paid player by the New York Yankees. He paid immediate dividends with the Yankees, winning 23 games in the first year of his new contract, and then contributed to three straight pennant-winning seasons, 1976-1978.
But to those who were closest to him, had grown up with him, and knew him best, he was just Jimmy. It was Jimmy who was born and raised in little Hertford, North Carolina, the youngest and most athletically gifted of eight children. As a boy he used to catch and sell frogs to local restaurants to earn enough money to buy baseballs. It was Jimmy who earned state title victories in football, track, and baseball at Perquimans County High School. He married his high-school sweetheart, lived on a modest farm, and drove an old Ford pickup around town, even after he was baseball's highest-paid player. And it was Jimmy who chose to sign with the Yankees despite more lucrative offers elsewhere, in large part due to New York's relative closeness to his farm in Hertford. Those best acquainted with Catfish often resorted to words like "artist," "control," or "competitive" in discussions of the man and his career. Those who best knew Jimmy were more likely to use words such as "humble," "modest," "low key," or "down to earth." Hunter was a country boy who excelled on the biggest stages in the game of baseball, without ever losing sight of where he came from or who he was as a person. And it endeared him to his teammates, fans on both coasts, and seemingly all of the state of North Carolina, where after his death he continued to be revered as a legendary native son.
Jim Hunter was born on April 8, 1946, in Hertford, North Carolina, a farming town with a population at the time of about 2,000. He was the youngest of eight children, five boys and three girls crammed into a modest four-bedroom wood-frame home on 30 acres just a couple of miles from town. His father, Abbott, was a tenant farmer and logging foreman and his mother, Millie, a homemaker, and they worked hard to instill a strong work ethic and sense of discipline in their children. Abbott loved the outdoors and taught all of his children to hunt and fish at a young age. Jim proved especially receptive to the instruction and frequently trumpeted his enjoyment of the outdoors for the rest of his life.
Hunter learned the game of baseball as a boy by playing with his brothers. When they were not in school, they were expected to perform chores around the house or work in the fields with Abbott. But time allowances were made for baseball. Sometimes that meant piling in the back of Abbott's 1959 Ford for trips to Baltimore so Jim could see his favorite pitcher, Robin Roberts. Usually it meant at least a couple of hours playing games in the backyard after a long day of work. As Hunter recalled in his 1988 autobiography, "The lessons learned in those backyard games stayed with me the rest of my career. The biggest one: If you don't throw strikes to your brothers, you don't play. It was that simple."1 As they got older, the Hunter boys organized neighborhood teams made up of Jim and his three of his older brothers (Marvin, Ray, and Pete), as well as boys from the surrounding area. Jim's brother Edward played catcher in local semipro leagues. By the time he reached his teens, Jim had developed a reputation as a good all-around ballplayer, both on the mound and at the plate. He perfected a side-arm style of delivering the ball to hitters. According to childhood friend, occasional opponent, and high school teammate, Francis Combs:
"Jimmy matured early. I think it was all the playin' he did with his brothers, all the hard work on the farm. He just worked harder than anyone else coming up. Mechanically, he threw hard, always with pretty good control, and he had a good curveball. I remember how intimidated, how scared some of those hitters were. You could actually see kids' knees shakin' when they batted against him."2
Jim entered Perquimans County High School in 1960, and excelled on the gridiron, the track, and the diamond. He posted an 8-5 record on the mound his sophomore year, and followed that up with 13 wins against only one loss to lead his team to the state Class AA title his junior season. In one 12-inning game, he struck out 29 batters. He went on to throw two no-hitters in American Legion ball that year, garnering the attention of a number of major-league scouts.
One scout in particular took a liking to Jim and made himself a regular visitor to the Hunter home. Clyde Kluttz was born in Rockwell, North Carolina, and owned a farm in nearby Salisbury. He scouted for the Kansas City Athletics. He caught over 500 games in the big leagues for five different teams throughout the 1940s and early '50s. With over 25 years in the game in one capacity or other, Kluttz liked what he saw from Jim on the mound. Like a lot of others, he eagerly awaited what Jim had in store for his senior season of high school.
Jim's senior year began well enough. He made all-state in football while contributing to a 33-0 victory in the Class AA state title game. He was the 440-yard dash state champion in track and field. But on Thanksgiving Day in 1963, an accident occurred that threatened to bring Jim's athletic career to a sudden end. As they returned from a hunting trip, his brother Pete's shotgun accidentally discharged, hitting Jim's right foot and causing significant injury. He lost his small toe and suffered numerous broken bones as dozens of pellets lodged in his foot. Recalling the incident in 1974, Hunter joked, "My brother still doesn't know what happened, but his shotgun went off accidentally and got me in the foot. Then he went and had the nerve to faint on me. I had to slap his face to wake him up."3 At the hospital, doctors were able to remove six of the 45 or so pellets they found in Jim's right foot. He had no feeling in his fourth toe, and over the next few months had multiple visits to the doctor to have additional pellets removed. He recovered in time for the start of baseball season, but news of the injury caused many scouts to question Jim's future on the mound. But not Clyde Kluttz. When he heard about the accident, he immediately went to visit Jim and became an even more frequent guest at the Hunter home than he had been the previous season.
Although 30 pellets remained lodged in Jim's right foot, the injury did not seem to detract from his effort on the hill. The team began the season by shutting out its first eight opponents, including a 5-0 perfect game by Jim against rival Elizabeth City on April 15, 1964. It was his second no-hit performance in a row. By season's end, he had compiled an impressive 13-1 record with five no-hitters. In his final two seasons at Perquimans County High School, Jim's record was 26-2. Any doubts observers had about the injured foot seemed a thing of the past, as scouts were once again taking notice.
But Clyde Kluttz had always been there. He believed in Jim before the injury and never doubted him afterward either. As Hunter recalled, "Seeing his face was certainly no surprise; by now he'd almost earned himself a spot in the family portrait, stopping by as he pleased, having dinner, talking to my daddy in the fields and my mom in the kitchen."4 Kluttz, convinced of Hunter's ability, recommended signing him to Athletics owner Charlie Finley. Finley arrived in Hertford in June, watched Jim pitch in the state championship game, and then offered him a $75,000 bonus to sign with Kansas City. A few days later, Jim agreed to become a member of the Athletics.
Catfish Hunter was born inside the mind of Charlie Finley. Finley was a successful businessman, and part of being a successful businessman requires understanding how best to market a product. On a telephone call at the time of Hunter's signing, Finley asked Jim if he had a nickname. Hunter relayed the story in a 1991 interview with Edvins Beitiks of the San Francisco Examiner:
"He told me, 'A player's got to have a nickname,' and he asked me what I liked to do. 'Hunting and fishing,' I said, and he said, 'Let's call you "Catfish.'…The story is, when you were 6 years old you ran away from home to fish and by the time your parents got to you you'd caught two catfish and were just about to bring in a third. Got that? Now you repeat it to me.'"5
Shortly after signing, Hunter was dispatched to Finley's farm in LaPorte, Indiana, to rest. Arrangements were made for him to travel from there to the Mayo Clinic in Rochester, Minnesota, where 16 more pellets and bone fragments were removed from his right foot. He healed well enough to participate in fall instructional ball in Bradenton, Florida, under the watchful eye of camp coordinator Clyde Kluttz.
Nineteen-year-old Jim Hunter was a $75,000 bonus baby fresh out of high school with no real track record to speak of. Nineteen-year-old Catfish Hunter was a fireballing, can't miss, right-handed phenom whose nickname was ready-made for memorable headlines. Expectations were high despite the fact that Hunter had not pitched since before he visited the Mayo Clinic. He made his debut with two scoreless innings of relief work against the White Sox on May 13, 1965. His first start came against the Tigers in Detroit and resulted in four earned runs in just two innings of work. He finally earned his first big-league victory in his sixth start, on July 27 at Boston. He yielded five earned runs in five innings as the Athletics scraped out a 10-8 victory.
Hunter finished the 1965 season with a record of 8-8, a 4.26 ERA, and 82 strikeouts in 133 innings pitched. As a club, the A's were young, inexperienced, and losers of 103 games, resulting in a tenth-place finish in the standings. But despite mediocre numbers, Hunter impressed with his competitiveness and a maturity that belied his 19 years. A's pitching coach Ed Lopat told the The Sporting News, "He's made a believer out of me now. The thing that impresses me about Hunter is the way he reacts after someone has hit a home run against him. … Hunter doesn't scare. He keeps on throwing strikes."6 Hunter's development into a Hall of Fame-caliber pitcher would take several seasons, but the faith shown him by the likes of Kluttz, Finley, and the A's organization would be generously rewarded.
Over the next several seasons, Hunter continued to improve. He did not possess an overpowering fastball, instead succeeding largely on the basis of pinpoint control and a willingness to challenge hitters with pitches in the strike zone. In 1967 he reached double digits in wins for the first time with 13, while striking out 196 batters, the highest single-season total he achieved in his career. The following season, the A's moved from Kansas City to Oakland and won 82 games to finish over .500 for the first time since 1952. The highlight of the season was 22-year-old Hunter's perfect game against the Minnesota Twins on May 8 in Oakland. He struck out 11 batters and helped himself at the plate by driving in three runs with three hits in the 4-0 win. Teammate Jack Aker told the Oakland Tribune, "There was just one thing he did wrong. He flied to center field once."7 While the team finished in sixth place, expectations continued to grow with the improvement of a core of young players that included Hunter, Reggie Jackson, Blue Moon Odom, and Sal Bando.
Catfish won a personal-best 21 games in 1971 as Oakland won 101 games and the American League West title. They were swept in three games in the League Championship Series by the Baltimore Orioles. In his first shot at postseason glory, Hunter took the loss in Game Two of the ALCS, 5-1. Of his performance, he quipped, "And I only made four mistakes. Naturally, all four ended up in the seats. Two home runs by Boog Powell, one each by Brooks Robinson and Elrod Hendricks."8 Oakland's appearance in the postseason was the first by the Philadelphia-Kansas City-Oakland franchise since 1931. Most observers felt the club, with all of its accumulated talent, would compete for the pennant again in 1972.
Hunter entered the 1972 season as the ace of the Oakland staff and one of the unquestioned leaders on a team full of big characters and bigger egos. His country-cool attitude and all-out effort garnered respect from his teammates, who were always confident when Catfish was scheduled to take the mound. He equaled his previous season's victory total with 21, to go along with a 2.04 ERA, third best in the league. The club won 93 games to finish 5½ games ahead of the Chicago White Sox. Oakland won, three games to two, over the Detroit Tigers in a hotly contested ALCS in which three of the five games were decided by a single run and two went into extra innings. Hunter failed to earn a decision in either his Game One or Game Four start, but he pitched well, allowing just two runs in 15⅓ innings. Oakland won the first game in 11 innings, 3-2, and lost Game Four in ten innings by the same score. 
The 1972 World Series pitted the A's against the National League's Cincinnati Reds. The A's took Game One. 3-2. Catfish got the start in Game Two and delivered 8⅔ innings, allowing just one run while notching six strikeouts. Reliever Rollie Fingers was called upon to record the final out to give Oakland a two-game lead over Cincinnati. The Reds narrowly took Game Three, 1-0, but Oakland rebounded the next day to win 3-0. Up three games to one, the A's looked to Hunter to close out the series in Game Five.
It was apparent early on that Hunter did not have his best stuff. Recalling Game Five in his autobiography, he lamented, "It was all up to me now. Game Five. It wasn't to be. Pete Rose, just one for fifteen up to that point, hit my first pitch of the game over the 375-feet sign in right."9 Cincinnati won the game, 5-4. The Reds took Game Six as well, an 8-1 blowout to set up a decisive Game Seven showdown. In that game, Hunter was brought in to relieve starter Blue Moon Odom with one out in the fifth inning. He yielded just one run in 2⅔ innings while striking out three. Hunter was credited with the win while Rollie Fingers earned his second save to give the Athletics franchise its first World Series title since 1930. Hunter finished fourth in the American League Cy Young voting and received enough consideration from voters to place 11th in the Most Valuable Player balloting. He was now a two-time 20-game winner and a World Series champion.
Oakland repeated as World Series champions in 1973, defeating the New York Mets in seven games. Hunter's season record was remarkably similar to the numbers he posted the previous year. He again managed 21 victories while earning a spot on his fifth All-Star team. He was masterful in the postseason, winning two games against the Orioles in the ALCS and outdueling Mets ace Tom Seaver, 3-1, in Game Six of the World Series, to avoid elimination and force a Game Seven.
In February of 1974, Hunter signed a new two-year contract with Oakland that called for him to receive $100,000 per season. A stipulation in the agreement called for half of each season's salary to be deferred into insurance annuities. By most accounts, A's owner Charlie Finley agreed to the arrangement, and Hunter began to make preparations for the 1974 season. 
Oakland finished five games ahead of the Texas Rangers in the American League West, and dispatched the Baltimore Orioles three games to one in the ALCS to secure its third straight American League pennant. Catfish turned in what was perhaps his finest season on the mound, with a league-leading 25 wins, a 2.49 ERA and a league-best 0.986 WHIP (walks and hits per inning pitched). In the World Series, the A's faced the Los Angeles Dodgers, who had won 102 games during the regular season, the most in baseball. Oakland did not require any extra motivation for the Series, but the Dodgers provided it anyway. According to Hunter, "Dodger first baseman Billy Buckner helped matters along by suggesting to all the world that only a few of our guys could make their precious little Dodger roster. Riiiight. We didn't say so at the time, preferring to keep our words to ourselves, but Buckner made a big mistake by telling us we couldn't play."10 The A's took the series in five games, with Catfish earning a save in Game One and a win in Game Three, in which he allowed only one run in 7⅓ innings. Afterward, Buckner remarked, "I thought I should have hit the ball hard every time."11 The A's were World Series champions for the third straight season. For his efforts, Hunter won the American League Cy Young award and finished sixth in the MVP vote. Texas Ranger Jeff Burroughs won the MVP award, but some felt Hunter's contributions to the A's were more valuable. Reggie Jackson offered that he "would give Cat the Cy Young Award, the Most Valuable Player Award, the Academy Award, and the kitchen sink."12 For his part, Hunter had other things to concern himself with immediately after the season concluded.
In August Hunter's hometown attorney, J. Carlton Cherry, began sending letters to Charlie Finley requesting compliance with the terms of Hunter's contract. At issue was the fact that Finley had not yet made arrangements to pay the deferred compensation portion of the agreement. Failing to receive a satisfactory response, Cherry took the case to the Major League Baseball Players Association. On October 4, a telegram arrived at Finley's office, stating:
"Pursuant to paragraph 7(a) of contract between Mr. Hunter and the Oakland Club, please be advised that contract is terminated due to Club's default in making payments in accordance with said contract and its failure to remedy said default within ten days after receiving written notice thereof. Because of the impending playoffs and World Series, the effective date of termination shall be the day following the last game played by the Oakland Athletics in 1974."13
The telegram was signed by Dick Moss, general counsel for the union. Hunter, his representatives, and the MLBPA were contending that since Finley had failed to honor the specifics of the agreement, Hunter deserved to be declared a free agent, available to the highest bidder of his choice. Despite Finley's protests, the case was sent to an independent arbitrator under the rules of the union contract. On November 26, at the MLBPA offices in New York, the case was heard before a three-person panel: Marvin Miller, executive director of the MLBPA; John J. Gaherin, an attorney representing the club owners; and Peter Seitz, an independent arbitrator. On December 16 Miller and Seitz voted in Hunter's favor, effectively freeing him from Finley's grasp and leaving the pitcher's future in the hands of the open market. Hunter could sign with any team willing to have him. As it turned out, almost every club in the big leagues wanted him for their pitching staff.
In a series of scenes that can only be described as bizarre, executives and other representatives from 23 major-league teams descended upon the town of Ahoskie, North Carolina, to negotiate with Cherry for Hunter's services. Every team except the San Francisco Giants attempted to sign him. It soon boiled down to just a handful of clubs with a serious shot at landing Catfish. Among them were the San Diego Padres, the Kansas City Royals, and the Cleveland Indians. Some of them sent former teammates to visit Hunter at home in order to persuade him to sign. But one club had an ace up its sleeve in the form of Clyde Kluttz, the former Oakland scout who had convinced Finley to sign Jim in 1964.
Kluttz now scouted for the Yankees. They had not qualified for the postseason since 1964. In the offseason, Kluttz and Hunter enjoyed hunting together, as they had remained close since Hunter's days in high school. George Steinbrenner, the Yankees' owner, was not allowed to participate in the negotiations because he was serving a two-year suspension imposed by Commissioner Bowie Kuhn after an indictment on charges related to illegal campaign contributions. But general manager Gabe Paul had strict orders from his boss: "When his unfortunate suspension was invoked, he told me, 'Anytime you have the opportunity to buy the contract of a player for cash, I want you to go ahead whenever, in your judgment, it would be advantageous to the Yankees."14 Ultimately, Jim agreed to become a Yankee, and a press conference was held on New Year's Eve 1974 to announce the deal to the world. The agreement called for Hunter to receive $3.2 million over five years, making him the game's first free agent to cash in for big money on the open market. The influence Kluttz had on Hunter's decision to sign with the Yankees can't be understated. He was offered more money by several other teams, but said, "I don't think I would have signed with the Yankees if anybody but Clyde had contacted me for them. Clyde never lied to me about anything and I knew he wouldn't now."15 The loss was devastating to the A's, many of whom wished the best for their former ace while decrying the effect his absence would have for the ballclub. Catcher Gene Tenace expressed a common sentiment, saying, "I'm tickled to death for him. It couldn't happen to a better guy. I'm glad he was able to get all he could. But his loss will definitely hurt our club."16 Finley continued to insist that Hunter was a member of the Oakland club, contractually speaking, and filed a lawsuit to have the arbitrator's decision overturned. His relationship with his former Cy Young Award winner was irreparably damaged. The resentment Hunter held toward Finley was the result of a long list of questionable decisions and minor injustices the A's owner had committed over Hunter's ten years in Oakland.
Catfish made his debut with the Yankees on April 11, 1975, against the Detroit Tigers and promptly lost, allowing five earned over nine innings. He proceeded to lose his next two decisions as well before finally beating the Milwaukee Brewers on April 27. As the season wore on, Jim warmed up to his new surroundings. By season's end he had compiled 23 wins and a 2.58 ERA in 328 innings pitched. He made his seventh All-Star team and finished second to Baltimore's Jim Palmer in the Cy Young voting. He rose to the occasion and met the pressure of his new contract head-on, turning in one of his finest seasons in the big leagues. But the Yankees as a team regressed from their wins total the previous season, and any postseason promise implied in Hunter's signing was left unfulfilled.
In 1976 the Yankees returned to the postseason after an 11-year absence. Hunter won 17 games in the regular season, and beat the Kansas City Royals in Game One of the ALCS, going the distance and allowing a single earned run. In the World Series the Yankees were swept by Cincinnati's Big Red Machine. Hunter took the loss in Game Two, allowing ten hits and walking an uncharacteristically high four batters. During the regular season, he pitched 298⅔ innings, a total he would not come close to approaching in any of the three years remaining on his contract.
The Yankees won two straight World Series titles in 1977 and 1978. Hunter appeared in only 43 games over the course of the two seasons, with an overall record of 21-15. He suffered from arm fatigue, and was diagnosed with diabetes in February of 1978. He lost his only postseason start in 1977, allowing three home runs in 2⅓ innings in Game Two of the World Series. In 1978 he posted a respectable 12-6 record, and pitched especially well in the thick of the pennant race in August, winning six games to go with a 1.64 ERA in the month. In the final postseason appearance of his career, he beat the Dodgers in Game Six of the World Series to give the Yankees their second straight title.
For Hunter, 1979 was a devastating year personally and, as it turned out, his final season in the big leagues. On May 12 Clyde Kluttz, the man Jim most admired in baseball, died from a blood clot just one day after insisting to Jim on a telephone call that he was doing fine and was just tired. On July 26 Hunter was making preparations to pitch when manager Billy Martin called him into his office to inform him that his father, Abbott, had died after a long battle with cancer. On August 2 Yankee catcher Thurman Munson, Hunter's closest friend on the team, was killed when his twin-engine plane crashed at an airport where he was practicing landing. Acknowledging the toll the losses took, Hunter said, "Dealing with three deaths in a span of three months was beyond belief. You try not to let it affect you; you know you've got a job to do, a game to play, but Lord, it's a lot to ask of a man."17 On the field, Hunter turned in his worst season in the big leagues. He finished the season with a 2-9 mark and an ERA of over five. The Yankees finished in fourth place.
Catfish made it clear before the 1979 season that it would be his final one in a major-league uniform. After the season, in an interview that appeared in The Sporting News in October 1979, he said, "When I signed my contract with the Yankees, I told them I would play these five years and call it a career no matter what happened. Fifteen years is enough."18 His primary motivation for doing so was to spend more time with his family, and more time outdoors, hunting and fishing.
George Steinbrenner declared Sunday, September 16, 1979, Catfish Hunter Day at Yankee Stadium. Teammates and fans had an opportunity to celebrate his career accomplishments. In his speech to the crowd, Hunter spoke of wishing his father, Abbott, his friend Clyde Kluttz, and his teammate Thurman Munson could have been there to celebrate. He was leaving the game with a heavy heart, but he was just 33 years old, financially secure, and had a loving family who looked forward to having him around the house full-time.
At the time of his retirement, Jim's wife, Helen, was pregnant with their third child. Helen was Jim's high-school sweetheart, and they were married on October 9, 1966. In October 1979 she gave birth to their second son, Paul, who would join 10-year-old Todd and 6-year-old Kimberly as the lights of Jim's life. The new baby helped ease Jim into retirement. But between diaper changes and coaching Todd's Little League team, he made plenty of time to fit in as much hunting and fishing as he could manage. While he always professed that he was happiest on a pitcher's mound, those who knew him best found it hard to believe he could be any happier than when he was outdoors in North Carolina. He owned a 1,000-acre farm, where he grew corn, soybeans, and peanuts on a portion of the land. He leased the rest of it to other growers. He kept a kennel full of hunting dogs, and remained an avid outdoorsman for the remainder of his life.
In 1987 Hunter was inducted into the Baseball Hall of Fame. He won 224 games, had five straight seasons with 20 or more wins, and collected five World Series rings. In his induction speech, he thanked Charlie Finley and George Steinbrenner for giving him the opportunity to play. He spoke about the guidance Clyde Kluttz provided to him over the course of his career, and called his election to the Hall "the greatest honor that any guy could ever receive."19
Hunter lived a quiet life on his farm with his family. In September 1998, after having difficulty lifting his arms to fire his hunting rifle, he visited a hospital in Baltimore, where he was diagnosed with amyotrophic lateral sclerosis, also known as Lou Gehrig's disease. His last public appearance was in Tampa, Florida, at the Yankees' first spring-training game in March, 1999. He died at his home in Hertford on September 9, 1999, at the age of 53. He was buried in Cedar Wood Cemetery in Hertford, just behind the field where he had starred as a high-school pitcher. In a tribute to the type of competitor Catfish Hunter was on the field, and the type of man Jim Hunter was off the field, George Steinbrenner remarked, "Catfish Hunter was the cornerstone of the Yankees' success over the last quarter-century. We were not winning before Catfish arrived. He exemplified class and dignity and he taught us how to win."20 Jim Hunter was survived by his wife, Helen, their three children, and one grandchild.
Last revised: February 21, 2021 (ghw)
Notes
1 Jim "Catfish" Hunter and Armen Keteyian, Catfish: My Life in Baseball (New York: McGraw-Hill Book Company, 1988), 19.
2 Hunter and Keteyian, 21-22.
3 Phil Elderkin, "Catfish Hunter: Hooked on Pitching," Baseball Digest, March 1974, 58-60.
4 Hunter and Keteyian, 29.
5 Edvins Beitiks, "Catfish Hunter: A Lifetime of Happy Baseball Memories," Baseball Digest, November 1991, 72-74.
6 Joe McGuff, "Catfish Best Catch in A's Pitching Net," The Sporting News, September 18, 1965.
7 Ron Bergman, "Catfish Is 'Perfect,' First In 46 Years," Oakland Tribune, May 9, 1968.
8 Hunter and Ketevian, 98.
9 Hunter and Keteyian, 111-112.
10 Hunter and Keteyian, 132.
11 Joe Gergen, "Catfish Hunter: A 'Money' Pitcher From the Start," Baseball Digest, June 1975, 53.
12 Bill Libby, Catfish: The Three Million Dollar Pitcher (New York: Coward, McCann & Geoghegan, Inc., 1976), 132.
13 Libby, 130.
14 Libby, 27.
15 Phil Pepe, "Yankees' $2.85 Million Land Catfish," The Sporting News, January 18, 1975.
16 "Catfish Feels Like Million, or Three," Oakland Tribune, January 1, 1975.
17 Hunter and Keteyian, 206.
18 Phil Pepe, "Yankee Era Ends With Hunter's Retirement," The Sporting News, October 6, 1979.
19 baseballhall.org/node/11219
20 sportsillustrated.cnn.com/baseball/mlb/news/1999/09/09/hunter_obit_ap/
Born
April 8, 1946 at Hertford, NC (USA)
Died
September 9, 1999 at Hertford, NC (USA)
If you can help us improve this player's biography, contact us.
http://sabr.org/sites/default/files/CatfishHunter.JPG
600
800
admin
/wp-content/uploads/2020/02/sabr_logo.png
admin
2012-01-04 20:37:26
2021-12-09 00:21:52
Catfish Hunter