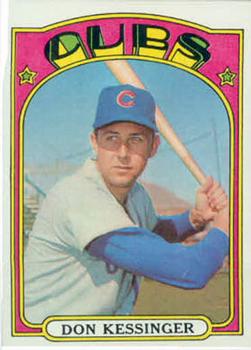 ---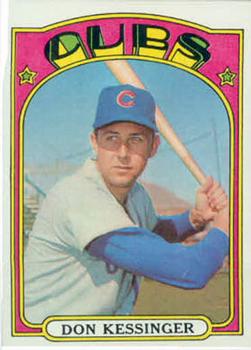 Although he was overshadowed by four future Hall of Famers on the same team, shortstop Don Kessinger played an integral role on the pennant-contending Chicago Cub squads of the late 1960s and early 1970s. After a short stint with the St. Louis Cardinals afterwards, he ended his career on the South Side of Chicago as player­-manager of the White Sox.
During his 11 years with the Cubs, the former All-American baseball and basketball player at the University of Mississippi played in six All-Star Games and received two Gold Gloves for fielding excellence. In addition, he led National League shortstops in putouts three times, assists four times, double plays four times and fielding percentage once. He also led the Cubs in triples five times and stolen bases four times.
Donald Eulon Kessinger was born on Friday, July 17, 1942, in Forrest City, Arkansas. The youngest son of Howard and Ida Kessinger had an older brother, William, who died in 2016, in Memphis, Tennessee, and an older sister, Betty, who passed away in 1995.
Kessinger's father, who died in 1976, owned and operated a grocery store and later managed a bowling alley in Forrest City. His mother, who passed away in 1984, worked at the grocery store and later operated a women's clothing store in Forrest City.
"My dad loved sports and took us to everything he could. He gave me time off to do whatever I needed to do. He'd hit me a lot of ground balls in the backyard. He was a great supporter. Apparently, he was a very good athlete in high school, but for whatever reason he didn't play past that," Kessinger said. "My brother was quite an athlete. He went to the University of Central Arkansas, which is a little smaller school but a very nice school. He lettered in four sports, but injuries kept him from moving on."1
Kessinger was an all-stater in football and basketball at Forrest City High School. The high school only had baseball during his sophomore year. Nevertheless, the baseball team finished second in the state that season.
Kessinger exemplified his football prowess when he passed for two touchdowns and kicked three extra points in a 33-0 victory over Newport High School in October 1959. During a 14-0 win over Wynne High School on Thanksgiving one year, he had an 81-yard punt. In fact, his high school football team was so good that it lost only two games in three years.
Although Forrest City High lost in the finals of the Class AAA-AA state basketball tournament his senior year, Kessinger broke the tournament scoring record with 125 points in four games and was named to the all-tournament team. He also smashed the single-game tournament record by scoring 42 points against Jonesboro High School.
In 1994 Forrest City High teammate Jim Lindsey called Kessinger the "greatest athlete [I] ever saw."2
"Probably the thing I remember about him most is he once scored 21 points in a high school track meet, and that was back when five points was the most you got for a first place," Lindsey said. "But he was the greatest punter I ever saw, too."3
Playing five years of American Legion baseball with King Beasley Post 4 in Forrest City provided a path to the major leagues, Kessinger said in 1966.
"If it hadn't been for Legion competition, I would never have had a chance in professional baseball. Nor could I have had the privilege of gaining a college education," he said. "As a matter of fact, without Legion ball, I might never have seen anything much outside of my hometown of Forrest City, Arkansas."4
After graduating from high school, Kessinger went to the University of Mississippi on a basketball scholarship. He chose Ole Miss over the University of Arkansas because in his senior year of high school, Arkansas–in the Southwest Conference then–didn't have a baseball team.
"That wasn't going to help me with what I wanted my career to be," he explained. "When I visited Ole Miss, I thought that was the right place for me."5
Kessinger was named All-SEC in baseball and basketball as a sophomore, junior, and senior, and an All-American in both sports as a senior. During his senior year, he led the SEC in batting average (.436), hits (56), and stolen bases (18). Ole Miss won the SEC baseball title in 1964 and advanced to the College World Series in Omaha, Nebraska, where it was eliminated in the second round by Arizona State.
On the basketball court, the 6-foot-1 junior led Ole Miss in scoring and had a 49-point game against Tulane. During his senior year, Kessinger finished second in the conference in scoring (23.5 points per game). Only Kentucky's Cotton Nash had a higher average (24.6 points per game).
Although some pro basketball teams expressed interest in him, Kessinger believed pro baseball offered a better long term opportunity. On June 19, 1964, scout Thomas "Shaky" Kain signed Kessinger to a contract with the Chicago Cubs for about $25,000; Kessinger was told then to report to Dallas-Fort Worth, Texas, the Cubs' Double A Texas League affiliate.
"I could have signed with anybody who wanted me. So after our season was over in Omaha, (Ole Miss baseball) coach Tom Swayze set a date for teams to come talk to me," Kessinger said. "Five or seven teams were there. My dad was there, too, and we just talked it over and decided the Cubs were the best opportunity for me. They didn't offer me as much money as some other people, but we thought they offered the best opportunity for me to get there quicker and it worked out that way for me."6
Six years later, Cub general manager John Holland recalled, "Our scouts in one area were high on two shortstops, Kessinger and a high school kid. We double checked and made our bid for Kessinger."7
On September 7, 1964, he made his major league debut with the Cubs as a pinch-hitter in the bottom of the sixth inning against the Milwaukee Braves. Batting for Jimmy Stewart, the 22-year-old shortstop flied out to left. In the bottom of the eighth inning, Kessinger singled and eventually scored on Billy Williams' single to center. The Cubs lost, though, 8-7.
On February 20, 1965, Kessinger and Caroline (Crawley) were married at a Baptist church in Florence, Alabama. The two started dating when Don was attending Ole Miss and Caroline, another Forrest City native who grew up only four blocks from his house, was enrolled at Arkansas State University. They have been married for 53 years and have two sons, Keith and Kevin, who both played professional baseball.
Despite getting a good look at shortstop during spring training the next season, Kessinger was optioned to Dallas-Fort Worth. "He's a sure-fire major leaguer as soon as he gets a li'l more experience," coach Alvin Dark observed.8
When the Cubs decided Roberto Pena wasn't the answer at shortstop, Kessinger was promoted for good on June 10, 1965. However, he got off to a rough start in the field, making nine errors in his first 11 games.
"That doesn't worry me," said Lou Klein, the new head coach. "This boy can play shortstop. That much I know."9
Although he barely hit above .200 that season, he participated in three triple plays: July 14 against the Braves at Wrigley Field, July 25 against the Pittsburgh Pirates at Forbes Field, and October 3 against the Pirates again at Forbes Field.
At that point, Kessinger was teamed up with second baseman Glenn Beckert, who was only 24 at the time. Beckert replaced 1962 Rookie of the Year Ken Hubbs, who died in a private plane crash in Utah in February 1964.
With a week left in the 1965 season, Kessinger, a natural right-handed hitter, decided to pursue switch-hitting in the offseason.
"Ok, here's what we'll do. You go home this winter, find yourself a gymnasium, and get somebody to throw tennis balls at you all winter," Dark said. "Have them throw them hard, and some of them right at you. You've got to find out whether you can get out of the way of the ball."10
At an early camp before the 1966 season, Kessinger told Klein, the camp's director, that he had worked on switch-hitting during the offseason.11 In response, Klein told Kessinger that he needed to discuss the idea with new manager Leo Durocher. A couple of weeks later, Klein came back to Kessinger and said the Cubs wanted him to keep hitting right-handed and to try hitting the ball to the opposite field.
As the Cubs were taking batting practice before a game against the Houston Astros in May 1966, Durocher came up to Kessinger and said, "I just heard yesterday that you wanted to switch-hit this spring."12
Kessinger got his first chance to switch-hit in a regular season game when he faced Gary Kroll of the Astros at Wrigley Field on May 19. After hitting a line drive out to center off the right-hander, he batted later in the same game against right-hander Don Lee and lined out to the shortstop. He hit over .300 in the second half of the 1966 season to finish with a .274 batting average.
Heading into spring training in 1966, Cubs third baseman Ron Santo noted how much progress Kessinger had made in a relatively short time.
"After being around just a month, he was making some fantastic plays. This kid has the ideal build of a shortstop–he's tall and fast and agile," Santo said. "He has as good an arm as any shortstop in the league and he can make that play in the hole."13
At first, the fiery Durocher and mild-mannered Kessinger mixed like oil and water. In fact, Durocher benched him for four games at the beginning of the season and then met with Kessinger one-on-one before the young shortstop returned to the lineup on April 23.
"They told me you were a good shortstop, but you've shown nothing so far, no spirit, no aggressiveness," Durocher said. "You can't fool me. I played that position for 17 years.
"On double plays, don't be a nice guy and throw over their heads. Fire that ball right at the eyes of the incoming runner. I did it all my life and never hit anybody. They'll get out of the way."14
Although the Cubs finished in last place with 103 losses in 1966, Kessinger led all National League shortstops with 474 assists. Despite having the best hitting infield that season, the Cubs had the worst pitching staff with a 4.33 earned run average and the eighth-best fielding average at .974. Only 702,858 fans saw the Bruins finish in the second division for the twentieth straight season.
After a six-month stint with the Army at Fort Leonard Wood, Missouri, Kessinger reported to spring training in 1967 two days after the full squad had arrived. His season was interrupted again when he left after the July 1 game against Cincinnati for two weeks of Army duty at Fort Riley, Kansas. Although his batting average slipped to .231 that season, he committed only 19 errors in 691 chances in the field.
"I know his average fell off last season, but I believe that was due to losing his timing while he served his two-week hitch in the Army," Durocher concluded after the season.15
When the Cubs finished third with an 87-74 record in 1967, fans got a taste of first place, if only for a few days.
'The whole (Cubs) phenomenon turned around in 1967. In '65, '66 we weren't a very good ballclub, but in July '67 we beat the Reds [4-1] in a Sunday afternoon game to go into first place," Kessinger recalled. "The ballpark was packed, and from that point on, it seemed like it grew more and more."16
It was the latest the Cubs had been in first place since the pennant-winning season of 1945. After being in first place as late as July 24, the Cubs lost seven straight in early August to fall out of the race.
On opening day in 1968, Kessinger had three hits in a 9-4 loss at Cincinnati. On April 28 Kessinger went 4-for-8 in a doubleheader against the Houston Astros to take over the NL batting lead. As a result, he was named the Cubs' Player of the Month for April. In addition to receiving a $200 savings bond, he got the use of a 1968 Ford Mustang from the Bob Nelson-Ernie Banks Ford Agency.
His peers voted him the starting shortstop on the National League All-Star team in 1968.
"Having the guys who played against you every day pick you is a real thrill. We won five of the six (All-Star) games I played in. The only one we lost was in Detroit when Reggie Jackson hit that ball that's still going," he said.17 Fans didn't start picking the All-Star teams again until 1970.
Kessinger played in 160 games and had 655 plate appearances as the Cubs finished third for the second straight year. He led NL shortstops in games, assists, total chances, and double plays. By the end of the season, however, his weight had dropped from 175 to 166 pounds.
Going into the 1969 season, Kessinger and many of his teammates believed the Bruins could win the pennant that year.
"Basically, we've had the same ball club for a couple of years. We used to be a second-division club, but we've been third the last two years. We like the taste of it up there. Now we know what it's like to play under pressure," he said. "And this is going to help us out. All this experience has been good for us. I really think we're ready to win."18
The Cubs started the regular season by going 16-7 in April for a two-game lead over the Pirates. In a 3-2 win over the Braves on May 31, Kessinger went into the hole between shortstop and third base to take hits away from Orlando Cepeda and Henry Aaron. "It's plays like those that give a ballclub a lift," teammate Ernie Banks observed.19
On June 15 Kessinger set a major league record when he played in his 54th straight errorless game, breaking the previous mark set by Chico Carrasquel of the Chicago White Sox in 1951. At the end of June, the Cubs had a 49-26 record and maintained an eight-game lead over the second-place New York Mets.
On July 4, 1969, Kessinger started a two-run rally off Cardinal ace Bob Gibson in the 10th inning. The Cubs won, 3-1, as Kessinger had three hits and made two outstanding plays in the field. At that point, he was the only Cub to have played in every inning of every game that season.
Once again, Kessinger was named as a starter on the NL All-Star team. His infield partners Banks, Beckert and Santo, and catcher Randy Hundley also were picked for the squad. Although the five were hitless at the plate, Kessinger made a diving catch of a line drive off the bat of Oakland's Sal Bando.
On August 8 Kessinger broke up Bill Singer's bid for a no-hitter as the Cubs had an 8 ½-game lead over the Mets at that point. Eleven days later, he played an important role in Kenny Holtzman's no-hitter against the Braves at Wrigley Field. In the ninth inning, he fell over teammate Don Young in center field while catching a pop fly off the bat of Felipe Alou.
From September 3 to September 15, the Cubs' five-game lead evaporated to a 4 ½-game deficit as Kessinger and the other regulars struggled at the plate. Midway through the month, he had played in every inning of every game and had lost 20 pounds in the process. He finally got a day off on September 17 with eight games left in the regular season.
"Kessinger still doesn't admit he is out of gas, but he says it with his eyes," Chicago sportswriter Richard Dozer said. "And what he does make clear is the fact that he's in [backup infielder Paul] Popovich's corner all the way, crediting him with a 'Great job' these last few games."20
Despite slumping at the end, Kessinger finished with a .273 batting average. He had a team-high 109 runs scored and 38 doubles. He also earned his first Gold Glove for fielding excellence as he led the league's shortstops in games played (157), fewest errors in 150 or more games (20), put-outs (266), assists (542), double plays (101), and fielding percentage (.976.)
After losing three of its first four games at the start of the 1970 season, the Cubs won 11 games in a row, equaling their longest winning streak in 34 years.
When the Cubs beat the Montreal Expos for the third straight time on September 19 the Cubs were only 1 ½ games behind. However, they blew a 4-2 lead the next night and went into St. Louis where they dropped both ends of a doubleheader by 2-1 scores. Although the Cubs won the series finale against the Cardinals, they lost the next two games in Philadelphia. The Cubs came back to win 5-3 on September 27, but the Pirates beat the Mets to take the National League title.
Nevertheless, Kessinger was named to the NL All-Star team for the third straight year and received his second consecutive Gold Glove. He led the league's shortstops with 501 assists. In addition, he led the club with 14 triples – the most by a Cub since Phil Cavarretta had 15 in 1944 – and scored 100 runs.
Kessinger became the first Cub to get six hits in six at bats in 34 years on June 17, 1971, against the Cardinals. The Cubs went on to beat their arch rivals, 7-6, in 10 innings as he scored the winning run that day. Four of the hits came off eventual Hall of Fame left-hander Steve Carlton.
"When I left that morning, I told my wife that maybe today would be a good day to give me a day off because Steve Carlton was pitching. I had played every inning of every game, and I was about 0-for-3 years against him," Kessinger said. "Then, I went to the park, and it turned out to be a day where I got six hits."21
Kessinger reached another milestone on September 22 when he recorded the 1,000th base hit of his career. He also tied a league record on July 21 when he started four double plays against the Mets.
Unlike 1970 the Cubs weren't in contention after the first part of the season in 1971. They trailed the Pirates by 10 games at the All-Star break. They finished in third place, 14 games behind the Pirates.
Even though it was another disappointing season for Cub fans, Kessinger made his fourth straight All-Star Game appearance and tied for the league lead in double plays by a shortstop (97).
The 1972 campaign was notable for a managerial move as much as anything in a game. After managing the Cubs since 1966, Durocher was replaced by Whitey Lockman midway through the season. "Leo Durocher came to the Cubs at a tough time. They had gone through the College of Coaches and a lot of other stuff. When he took over, there wasn't any doubt who was the boss. At the time, I thought that was great. Leo knew he was building a club for the future so he played some of us young guys and just stayed with us. He was always an inning or two ahead so I learned a lot about baseball from him. There's no doubt about that," Kessinger said in February.22
Kessinger helped protect Milt Pappas's no-hitter against the San Diego Padres on September 16, 1972, at Wrigley Field. In the fifth inning, he stopped Nate Colbert's shot in the hole between third and short and threw out the San Diego runner by a half step.
While the Cubs finished second in 1972, Kessinger was chosen for the NL All-Star team for the fifth straight season. He hit .274, tying his previous high in 1966. He also had a 17-game hitting streak, led the team with 577 at-bats, and tied for the club lead with six triples.
Over the winter of 1972-73, Kessinger expressed optimism about the coming season.
"I know you hear this every year, but we finished the season extremely well," he said from his home in suburban Chicago. "I'm looking forward to next year. I really think we can win it."23
On June 25, 1973, the Cubs had a five-game lead over the Expos with a 41-30 record. In late July of that year, Kessinger had eight game-winning hits to tie him for the lead in the NL East. However, the Cubs fell to fifth place with a 77-84 record under Lockman. Still, Kessinger led NL shortstops in putouts (274) and double plays (109).
By the start of the 1974 season, Kessinger was one of the few players from the glory years still wearing a Cub uniform. The Cubs fell to sixth place with a 66-96 record.
Kessinger was the Cubs' lone representative on the NL All-Star team in 1974. He tripled in his only at bat as the senior circuit beat the junior circuit, 7-2. He also had a league-high 259 putouts at short.
As spring training opened in 1975, Kessinger urged fans to be patient with the young players obtained in recent trades. By the All-Star break, the Cubs were in fifth place, six games under .500.
As the season wound down, Kessinger was moved to third to fill in for the ailing Bill Madlock, giving rookie Dave Rosello a chance to play shortstop. Although Kessinger hit .322 in 12 games at the hot corner, he apparently saw the hand writing on the wall when he sold his house in suburban Chicago and bought another in Memphis, Tenn. In his final year with the Cubs, the 11-year veteran played in 154 games, hit .243, and led the team with 10 triples and 15 sacrifice hits.
Kessinger was traded on October 28, 1975, to the Cardinals for 26-year-old relief pitcher Mike Garman and infielder Bobby Hrapmann. It didn't take long for the 33-year-old infielder to adjust to his new surroundings. By mid-May 1976, he had hit safely in 14 of his last 16 games and had missed only one game.
Kessinger then shifted to second base when 20-year-old phenom Garry Templeton arrived and second baseman Mike Tyson sustained a broken finger. Off the field, Kessinger was helping chapel leaders John Curtis and Willie Crawford increase attendance from three or four players on Sundays the previous season to 15 in the 1976 season. The veteran shortstop had shared chapel leadership duties with Hundley and Phil Regan when he played for the Cubs.
"I was raised by wonderful Christian parents," Kessinger explained. "I accepted Jesus as my Savior in my early teens."24
After playing 59 games and hitting .239 with the Cards in 1977, Kessinger was traded to the Chicago White Sox on August 20 of that season. The Sox used him mainly as a replacement for Alan Bannister at short and Jorge Orta at second.
On September 8, 1978, Don Kessinger Night drew 30,270 fans to Chicago's Comiskey Park. The White Sox obliged by beating Seattle, 3-2, as he handled seven chances flawlessly. Kessinger, with his wife and two sons present, received everything from two ponies to a trip to Hawaii. On October 10, 1978, he replaced Larry Doby as White Sox manager, while still maintaining his role as a player.
After losing 16 out of 18 games, Kessinger and his coaching staff were summoned to Chicago by owner Bill Veeck on July 2, 1979, to clear the air. At the time the White Sox had a 33-44 record. "I don't think you can blame any of this on the manager," said Veeck. "Don's not the cause of my worries."25
Ten days later Kessinger found himself in the midst of a near riot on Disco Demolition Night at Comiskey Park. A promotion by disc jockey Steve Dahl after the first game of a doubleheader went awry and the White Sox forfeited the nightcap against the Detroit Tigers.
With the team's record at 46-60, Kessinger resigned on August 2, 1979, and returned to his home in Memphis the next day. Kessinger was replaced on the active roster by 5-foot-3 shortstop Harry Chappas, and Tony La Russa was promoted from Triple A Iowa to manage the club. Kessinger played his last game in the major leagues against the New York Yankees on July 29, 1979, at Comiskey Park.
Kessinger was head baseball coach at Ole Miss from 1991 to 1996 and led the Rebels to a 40-22 record in 1995 and the school's first NCAA regional bid since 1977. During six seasons as head coach, his teams finished 185-153 and had five winning seasons. Wanting to spend more time with his family, the ex-Rebel standout became an assistant to the Ole Miss athletic director on May 25, 1996.
At present, Kessinger is president of Kessinger Real Estate Company, which was founded in 1996, in Oxford, Mississippi. His wife, Carolyn, and son, Keith, are brokers for the firm, which specializes in the sale and marketing of residential and commercial properties and new residential developments in Oxford and Water Valley, Mississippi.
In addition to his All-Star Game and Gold Glove selections, Kessinger has received several other baseball and Ole Miss honors. He is a member of the Chicago Sports Hall of Fame, the Chicago Cubs Hall of Fame, Wrigley Field Walk of Fame, and National High School Sports Hall of Fame. He was inducted into the Arkansas Sports Hall of Fame in 1981 and the Mississippi Sports Hall of Fame in 1984.
Kessinger also received the Lou Gehrig and the Danny Thompson Memorial awards. "There's no question I've been blessed. But you know, I think an award I got in 1977 or '78, the Danny Thompson Memorial Award, which was presented during the World Series in New York, means the most. It was given to 'the player who most exemplifies the Christian spirit in Major League Baseball.' Of all the trophies I've received, that's the one in the middle because it exemplifies what other people thought of your life and that's what I think it's all about."26
Last revised: April 12, 2018
Acknowledgments
This biography was reviewed by Norman Macht and fact-checked by Stephen Glotfelty.
Sources
Books
Chicago Cubs 1965 Official Press-TV-Radio Roster Book
Chicago Cubs 1966 Official Press-TV-Radio Roster Book
Chicago Cubs 1967 Official Press-TV-Radio Roster Book
Chicago Cubs 1968 Official Press-TV-Radio Roster Book
Chicago Cubs 1969 Official Press-TV-Radio Roster Book
Chicago Cubs 1970 Official Press-TV-Radio Roster Book
Chicago Cubs 1971 Official Press-TV-Radio Roster Book
Chicago Cubs 1972 Official Press-TV-Radio Roster Book
Chicago Cubs 1973 Official Press-TV-Radio Roster Book
Chicago Cubs 1974 Official Press-TV-Radio Roster Book
Chicago Cubs 1975 Official Press-TV-Radio Roster Book
Chicago Cubs 2015 Media Guide
Internet
Arkansassportshof.com
Baseball-almanac.com
Baseball-reference.com
Findagrave.com
Kessingerrealestate.com
Msfame.com
Newspaperarchive.com
Olemisssports.com
Retrosheet.org
Archives
Baseball Hall of Fame Library, player file for Don Kessinger.
Notes
1 Don Kessinger, telephone interview, February 28, 2018.
2 Jeffrey Wood, "Arkansas native stays in the game," Northwest Arkansas Times, May 15, 1994: 21.
3 Wood, "Arkansas native stays in the game": 21.
4 Edgar Munzel, "Kessinger Credits Legion Play As His Stairway to Big Time," The Sporting News, August 27, 1966: 22.
5 Kessinger, telephone interview.
6 Ibid.
7 Jim Obert, "The Cubs­It Began With Ernie," Peoria Journal-Star, March 15, 1970.
8 Ed Hayes, "The View from Here," Blytheville Courier News, April 7, 1965: 16.
9 Jerome Holtzman, "Don Kessinger: New Bruin With A Bright Future," The Sporting News, July 3, 1965: 21.
10 Doug Feldmann, Miracle Collapse: The 1969 Chicago Cubs (Lincoln and London: University of Nebraska Press, 2006), 19.
11 Carrie Muskat, Banks to Sandberg to Grace Five Decades of Love and Frustration with the Chicago Cubs (Lincolnwood, Ill.: Contemporary Books, 2001), 102.
12 Muskat, Banks to Sandberg to Grace Five Decades of Love and Frustration with the Chicago Cubs, 102.
13 Edgar Munzel, "Santo Speaking: Hottest Infield Gloves in N.L. Belong to Cubs," The Sporting News, February 5, 1966: 20.
14 "The Lion's Roaring Puts New Spark in Kessinger," The Sporting News, May 7, 1966: 17.
15 Edgar Munzel, "Kessinger's Glove Magic Will Improve," The Sporting News, December 23, 1967.
16 Kessinger, telephone interview.
17 Ibid.
18 Jerome Holtzman, "Skinny Kessinger Stuffing Himself­'Potatoes Please,'" The Sporting News, December 28: 34.
19 Feldmann, Miracle Collapse: The 1969 Chicago Cubs, 120.
20 Feldmann, Miracle Collapse: The 1969 Chicago Cubs, 226.
21 Bob Vorwald, What It Means To Be A Cub (Chicago: Triumph Books, 2010), 44.
22 Kessinger, telephone interview.
23 Jerome Holtzman, "Kessinger Looks Forward To Pennant Fight By Cubs," The Sporting News, November 18, 1972: 53.
24 Painless Barbed Wire, Baseball Chapel News, August 22, 1976.
25 Richard Dozer, "Kessinger, His Coaches Get Reprieve," The Sporting News, July 21, 1979: 28.
26 Kessinger, telephone interview.
Born
July 17, 1942 at Forrest City, AR (USA)
If you can help us improve this player's biography, contact us.
https://sabr.org/sites/default/files/KessingerDon.jpg
600
800
admin
/wp-content/uploads/2020/02/sabr_logo.png
admin
2018-04-12 13:00:15
2020-04-09 14:40:21
Don Kessinger