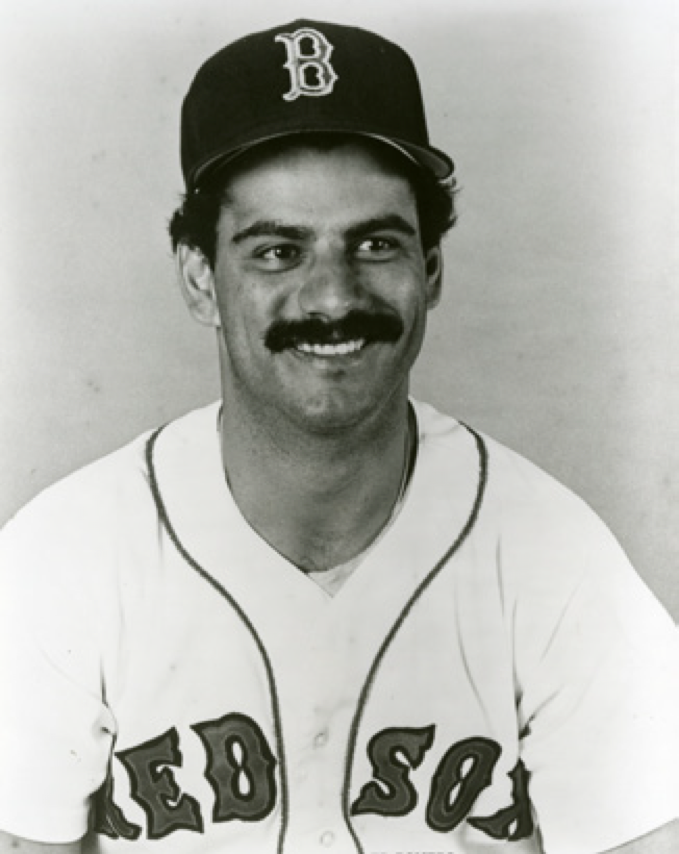 ---
Milwaukee Brewers scout Felix Delgado "found [Ed Romero playing in the mountains of Puerto Rico two years ago." Romero was 17 at the time. "After one workout, the Brewers signed … Romero, along with four others."1
Edgardo Ralph (Rivera) Romero, born on December 9, 1957, in Santurce, Puerto Rico, was indeed signed at 17, in 1975 as an amateur free agent. His family was a supportive one. Father Rafael A. Romero was a civil engineer who worked mostly on housing construction projects. "He loved the game of baseball and had played semipro baseball himself. He was with me all the way in my career, and a very proud father to have his son playing in the big leagues. My mother Flor Maria was very supportive as well; she was a housewife who took care of us, all the school stuff, etc. They attended every game I played at every level until I was signed as a pro. Even after that, they visited me in the States when I was in the minor leagues, and traveled to see me in the big leagues after that."2
Ed had an older brother, Rafael, who also played some baseball. He is a civil engineer in Puerto Rico who had worked with Chevron and Texaco. His sister Alexis, also older, worked as a secretary with a number of companies, later marring and opening up a resort on Puerto Rico's west coast.
Ed's first assignment was to Class A, the 1976 Burlington (Iowa) Bees in the Midwest League, and he was a rough talent. He played in 129 games, but hit for only a .219 batting average, though his .304 on-base percentage showed some plate discipline. He committed 41 errors in the field, in 647 changes, a .937 fielding percentage.
Romero started 1977 with Holyoke (Eastern League) and, in late July, got an unexpected break. Both Robin Yount (pulled thigh muscle) and Don Money (back spasms) were unable to play effectively and utility infielder Tim Johnson went on the DL with a groin pull.
The Brewers called up Romero. He was asleep in his room in Holyoke when manager Matt Galante awoke him, saying, "Pack your suitcase. You're going to the big leagues."3 He couldn't believe it, but he was on his way.
Romero was a right-handed infielder listed at 5-feet-11 and 165 pounds. His debut game, on July 16, saw him go 0-for-2 against the Baltimore Orioles, but he worked two bases on balls in the game. The next day, he singled three times in four at-bats and the third single (in the bottom of the eighth) drove in pinch-runner Jim Wohlford with what proved the winning run in a 3-2 win for the Brewers at County Stadium. All three singles had been off O's starter Dennis Martínez, who bore the loss.
Romero played in eight more games in July, and then — with enough Brewers back in playing condition — was returned to Holyoke. He had hit 7-for-25, and walked four times (.280 BA, .379 OBP.)  He felt it was easier to hit pitching in the majors than in the minor leagues. "Down there you don't know where the next pitch is going to be, up here or down there, way wide. But here every pitch they throw is in the strike zone. You can hit it better."4 He hit .258 for the season with Holyoke, and matched his 41 errors from the year before.
In 1978 Romero played in the Pacific Coast League at Triple-A Spokane, mostly at shortstop. He hit better (.280, with 52 RBIs) and picked up his fielding percentage just a bit. It was Vancouver in 1979 (the Brewers had switched PCL affiliations), with his fielding definitely improved (.960), though his batting tailed off a bit to .260.
Romero returned to the majors in 1980, when he got another opportunity after Larry Hisle was placed on the 15-day disabled list. He got to the Brewers in time to play in the June 6 game (and was 2-for-3 with three RBIs his first game back, with a two-run double and a bases-loaded walk). That June 6 game was an emotional one because it was also the first game of the year for manager George Bamberger, who had suffered a heart attack in spring training and undergone quintuple-bypass surgery. The Brewers won the game, 8-4, and Bamberger said, "You always want to win the first one because you know you're on the board then. Romero did great. That's what makes this ballclub great — its depth. We got a lot of guys hurt, but a guy like Romero comes in tonight and picks us up."5
Romero got into 50 games in Vancouver and hit .273 while he appeared in 42 games for Milwaukee, hitting .260. He made 12 errors in 174 chances with the Brewers, mostly at second base.
Eddie Romero forged a very successful career as a utility infielder for the next decade, into the 1990 season, playing shortstop (288 games), second base (192), and third base (176), with 32 games in the outfield, 13 at first base, and 14 as a designated hitter. He was with the Brewers in eight seasons and the Boston Red Sox in four, and played a number of games for both Detroit and Atlanta.
Romero made the postseason three times, the first time being in 1981 with Milwaukee. He had played in 44 games, driven in 10 runs, and scored 6. He hit .198. The Brewers played the New York Yankees in a best-of-five American League Division Series, and lost in five. Romero played in only the fifth and deciding game. He singled to left field with one out in the top of the third and came around to score, giving Milwaukee a 2-0 lead. The Yankees came from behind and won the game. Romero struck out his next time up and then was removed for pinch-hitter Don Money, who flied out.
Romero played in 52 games in 1982, batting .250, but driving in only seven runs (he scored 18), and then 59 games in 1983, with a .317 batting average (the best of his career), with 18 RBIs. A 1982 column by Tom Flaherty quoted Romero on the difficulty of utility work: "It can be tough. I've always been used to playing every day. In the minor leagues, everywhere I played, I played every day. It's a hard adjustment. There's no way you can afford to get down when you're not playing. If you do that, then when you get the chance, you might not do the job."6 Manager Harvey Kuenn said, "I think he's one of the best utility players in the league. Anybody who can play three positions as well as he can is a big asset. And he's not an out at the player, either."7
In 1984, with Paul Molitor out for the season, Romero was effectively Milwaukee's first-string third baseman, playing in 116 games and batting .252 with a career-high 31 RBIs. Nonetheless, he still thought of himself as primarily a shortstop. Manager Rene Lachemann thought Romero could be a regular for a number of teams, but prized his versatility for the Brewers. He too believed Romero the best utilityman in the majors. Romero put in about 15 minutes of infield work at each base, to be ready for wherever he might be needed. GM Harry Dalton said, "I can't say he's untouchable because he's a utility player," but made it pretty clear how very much he valued Romero.8
In 1985, with Molitor back at third base, Romero was back to his utility role, but he got into 88 games. He hit .251 and drove in 21 runs. 
After the season was over, the Brewers traded Romero to the Boston Red Sox on December 11 for pitcher Mark Clear, primed to be popular, according to acerbic Boston Globe columnist Dan Shaughnessy, if for no other reason than that the Sox had replaced the "universally loathed Mark Clear." Rene Lachemann was with the Red Sox, too, as their third-base coach in 1986. Romero knew he was penciled in for the same utility role, saying, "I do the best I can, but if nobody gives you a chance to play every day, you've got to be a good utility player. If I ever get a chance to play, I feel I could play every day. My lifetime average is .257, and that's not bad when you realize that you can go three weeks or a month without playing. That's tough. Just one year I'd like the chance to play every day."9
Romero committed three errors in eight games, and knew he was pressing. "I'm hurting myself and the team by trying too hard to prove myself," he said in the early going. Manager John McNamara said, "He'll settle down. I'm not worried about him. He's been a pretty steady player in this league for six years."10 Anyone who plays in 100 ballgames for a pennant-winning team during the course of one season is making a real contribution. Romero played in an even 100 games for the 1986 Boston Red Sox, mostly at shortstop, 75 games, with another 18 at third base. He made only 12 errors, but hit just .210. He pinch-ran a number of times, scoring 41 runs and driving in 23.
The Red Sox made it all the way to Game Seven of the 1986 World Series before folding to the Mets. Romero played in four postseason games, but only briefly — the first three times as a pinch-runner, though he stayed in the game each time as a defensive replacement. In Game Seven of the World Series, he came in to play shortstop in the bottom of the eighth, with the Mets ahead, 6-5. They scored twice more, the one ball hit to him converted to an out. Romero was the first batter for Boston in the top of the ninth and fouled out to first baseman Keith Hernandez. He'd had two previous plate appearances in the postseason, making an out both times as well.
Romero played only two innings in 1987 spring training, but Marty Barrett hurt his wrist the first week of the regular season, and Romero got more of a chance to play on a regular basis. Then Glenn Hoffman got hurt. Playing more regularly, Romero even put together a 15-game hitting streak from April into May, and in mid-May he was told the shortstop position was his.11 He was batting over .300 much of the season, and even after cooling off in August (where he lost a few weeks of playing time) and September, he still finished batting .272. He'd played in 88 games, though remarkably he drove in only 14 runs all season long. He'd played almost the same number of games at third base, second, and short, and even eight at first base. He started to become reconciled to the role of utility infielder: "I really don't want to be jumping around. I just want to play four or five more years. After eight years in the big leagues, it's going to be difficult to become a starter. If I didn't get it this year, I'm not going to get it."12 When he wasn't in the lineup, he often volunteered to throw batting practice.
After the 1987 season, a few days before he could have declared free agency, Romero got some extra security — a two-year contract with the Red Sox guaranteeing him $900,000.13 Romero wasn't getting a starting role out of it, though. Fair or not, manager McNamara already had him pigeonholed: "He can't play every day."14
Romero's playing time was sharply reduced in 1988, in part due to a right knee problem that led to a lengthy stint on the DL in June and July, but the team got to the postseason again. There was the annual lament again about not getting the chance to prove himself as a regular. He didn't understand why he kept hearing he wasn't an everyday player. "I'm a utility player because that's the only thing I've gotten a chance to be. You can't say someone can't do something until they get the chance."15 He played in only two June games and three in July, and just 31 games in all. Many of the appearances were late in games, on defense. Romero hit .240 and drove in five runs. The Red Sox faced off against Oakland in the ALCS. In Game One Boston went into the bottom of the ninth down by one run, 2-1. With two outs, Jody Reed doubled and Rich Gedman drew a walk. Manager Joe Morgan (who had taken over for John McNamara in midseason) put in the faster Romero as a pinch-runner for Gedman in hopes that Wade Boggs could drive in both the tying and the winning runs, but Boggs struck out. It was Romero's only appearance in the 1988 postseason.
Romero had more playing time in 1989, but chafed a bit under Joe Morgan, and his frustration at being consigned to the utility role boiled over when he was removed in the middle of an at-bat in a June 11 game against the Yankees. The Red Sox had just come from behind and scored five runs in the top of the eighth to tie the score, 7-7. There was a runner on first base with two outs. Romero ran the count to 3-and-0, when Yankees skipper Dallas Green decided to change pitchers. Once he did, Morgan decided to change batters and send up Rich Gedman. Romero exploded, throwing a Gatorade cooler onto the field. "I don't want to play for that man," Romero said of Morgan. He shows me no respect. I just want to go somewhere else and play."16 Asked what was wrong with their relationship, Romero said, "Everything."17 GM Lou Gorman said he wasn't going to be fined, but that Romero had it explained to him that no other teams had been asking about him, that no one had brought his name up.18
Morgan did, however, keep using Romero for the next couple of months, though Romero had been batting just .233 at the time. Finally, on August 5, after Marty Barrett was reactivated, the Red Sox released Romero. He was hitting .212 in 46 games, with six RBIs and only three errors in 161 chances. "I wasn't treated fairly here at all," Romero said after cleaning out his locker. "It's a relief to be getting away from here."19 Seven days later, after clearing waivers, he signed as a free agent with the Atlanta Braves. 
Romero was, of course, speaking out of frustration. "I just wanted a chance to play every day," he said many years later. "When the media asked me about it, I was very honest, never disrespecting anyone."20
Romero was 5-for-19 with a solo homer in seven games with the Braves when his old team — the Milwaukee Brewers — suddenly suffered a spate of injuries that cost them several infielders and caused them to seek out the veteran Romero. On August 23 the Braves agreed to trade him for a player to be named later; Jay Aldrich was that player. In 52 chances, Romero made just one error; he hit .200 with three RBIs. The Brewers granted him free agency in mid-November.
On January 15 Romero signed with the Detroit Tigers. He played with them until the Tigers released him on July 15. He'd gotten into 32 games and batted .229. He made just one error in 57 chances. 
Romero's final major-league stats show a career fielding percentage of .967 and a .247 batting average. He had driven in 155 runs and scored 218. And he had plugged a number of holes for his various teams in the course of the 730 games over the 12 years he'd played in the big leagues.
There was a brief return to minor-league ball in 1991, with the Las Vegas Stars (Pacific Coast League), and Romero hit .284 in 28 games. Las Vegas was a Padres affiliate, and the Padres kept him on for five years as manager of their Class-A teams (a different team each year — Spokane, Waterloo, Springfield, Clinton, and Memphis) and one year working as infield coordinator. He also worked managing seven seasons in winter ball in Puerto Rico. The Brewers then hired Romero as a minor-league manager and instructor, working in El Paso, Huntsville (where his team won the Southern League championship in 2001), and Indianapolis.  In 2007 he became their minor-league infield coordinator, and in 2008 manager Cecil Cooper hired him to become the third-base coach for the Houston Astros. He served as the bench coach for the Astros in 2009.
It was back to managing in the minors in 2010, in Greeneville, Tennessee, with assignments in 2011 and 2012 as manager of the Gulf Coast League Astros. Romero managed the New York-Penn League's Tri-City Valley Cats, of Troy, New York, an Astros affiliate, from 2013 through 2015.
"I'm happily married to a wonderful woman," he wrote on the last day of 2015. "Ivonne Romero, my high school sweetheart."21 The two met at the Colegio Bautista de Carolina high school. The married on Christmas Day in 1977 and celebrated their 38th anniversary on Christmas 2015.
Ivonne and Ed Romero have two children. Ariana Kay Romero is a registered nurse working for an orthopedic doctor in West Palm Beach, Florida. Son Eddie Romero Jr. has also forged a life in baseball. In 2006 Eddie Jr. was named as an assistant in international and professional scouting for the Red Sox.22 Within a few years, he was the team's Latin American coordinator, and by 2012 he had become the team's director of international scouting. In October 2015 he was promoted to vice president, international scouting.
Asked at the start of 2016 how he feels looking back on his first 40-plus years in baseball, Ed Senior said, "After 40 yrs in professional baseball I thank the Lord for a wonderful and successful career as a player and as an instructor."23
Sources
In addition to the sources noted in this biography, the author also accessed Romero's player file from the National Baseball Hall of Fame, the Encyclopedia of Minor League Baseball, Retrosheet.org, Baseball-Reference.com, and the SABR Minor Leagues Database, accessed online at Baseball-Reference.com.  Thanks to Ed Romero for assistance in completing this biography.
Notes
1 Lou Chapman, "Teen-Age Romero Eases Brewer Infield Woe," The Sporting News, August 6, 1977: 29. Ed Romero said of Delgado, "Felix had a good reputation as one of the best scouts in Latin America. A high number of players he signed made it to the major leagues." Ed Romero email to author on December 31, 2015.
2 Ed Romero email to author on December 31, 2015.
3 Chapman.
4 Chapman.
5 Associated Press, June 8, 1980.
6 Tom Flaherty, "Romero a Handy Sub for Brewers," The Sporting News, July 12, 1982: 38.
7 Ibid.
8 Tom Flaherty, "Romero May Be Top A.L. Utility Player," The Sporting News, July 16, 1984: 41.
9 Dan Shaughnessy, "No Substitute for Romero," Boston Globe, April 5, 1986.
10 Pete Farley, "Romero Pressing in New Role," Brockton Enterprise, April 19, 1985.
11 Steve Fainaru, "Longshot Romero Wins at Shortstop," Hartford Courant, May 12, 1987: D4.
12 Paul Jarvey, "Romero's Utility a Futility," Worcester Telegram, July 24, 1987: 17B.
13 Joe Giuliotti, "Romero Signs Two-Year, $900,000 Pact with Sox," Boston Herald, November 10, 1987: 99.
14 Stave Fainaru, "Romero's Role Is Clear: He's a Utility Player," Hartford Courant, May 5, 1988: B7.
15 David Cataneo, "Romero Reserved About Backup Role," Boston Herald, May 19, 1988: 103.
16 Joe Giuliotti, "Romero Blasts Morgan," Boston Herald, June 12, 1989: 74.
17 Steve Fainaru, "Romero Throws Tantrum, Asks to Be Dealt," Boston Globe, June 12, 1989: 38.
18 Joe Giuliotti, "No Fine, No Trade, No Interest," Boston Herald, June 13, 1989: 36. The Globe's Larry Whiteside wrote a little later that Gorman left it up to Morgan to impose any fine, that there was one, but the amount was not specified.
19 Pete Farley, "Bitter Romero Is Released," Brockton Enterprise, August 6, 1989: D1.
20 Ed Romero email to author, January 2, 2016.
21 Ed Romero email to author on December 31, 2015.
22 Nick Cafardo, "Wallace Sidelined With Hip Infection," Boston Globe, February 9, 2006: C1.
23 Ed Romero email to author, January 2, 2016.
Full Name
Edgardo Ralph Romero Rivera
Born
December 9, 1957 at Santurce, (P.R.)
If you can help us improve this player's biography, contact us.
http://sabr.org/sites/default/files/Ed%20Romero.png
600
800
admin
/wp-content/uploads/2020/02/sabr_logo.png
admin
2012-01-04 20:08:35
2021-02-03 09:53:13
Ed Romero