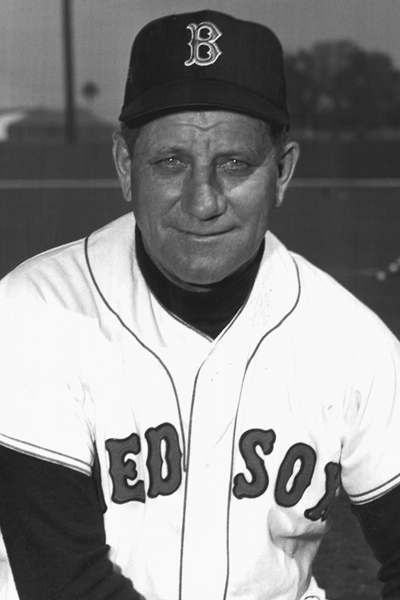 ---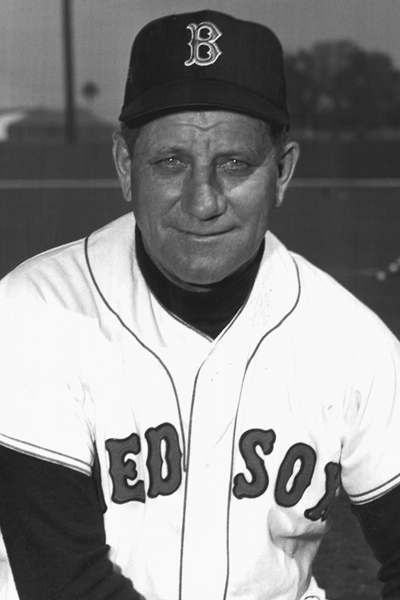 "One of the greatest things the Red Sox ever did in all the years I've known them was when they brought Pop Popowski up here after 30 years in the minors working with young players and made him a coach. He's one of the greatest baseball men I've ever known in this game." — Ted Williams 1
"The reasons for my election are many. I can never forget, nor will I, the hundreds of hours of help and inspiration given me by so many people. Both in the minor leagues starting with Eddie Popowski …" — Carl Yastrzemski, 1989 Hall of Fame induction speech
Indeed, 30 years after his debut in Organized Baseball, Eddie Popowski finally made the major leagues in 1967 – and the Red Sox won the pennant his very first year. Before the manager had even been selected, general manager Dick O'Connell hired Popowski as a coach for the 1967 season. A tough-talking but warm-hearted coach, Popowski had managed most of the players coming up in the Red Sox minor-league system and was somewhat of a father figure to several.
Edward Joseph Popowski was born on August 20, 1913, in Sayreville, New Jersey. His parents had immigrated from Poland and his father took a job at the brickyard in Sayreville. Eddie was one of five children – four boys and a girl. Eddie went to St. Stanislaus, the Polish Catholic school in town. He was known to play a little hooky from time to time so he could play more ball. There was sandlot ball, and he and his brothers played town ball for Holy Trinity church as well.
Universally called "Pop" in the Red Sox system, he was known as "Buddy" to his friends in Sayreville, his lifelong residence. Elston Howard attended a hometown banquet held in Pop's honor after the 1967 season and joked, "He may be small, but all the players look up to him. But I don't know where they get this name Buddy from. I've always known him as Ed."2
Economics forced Popowski to leave school after the eighth grade. In 1931 he was working on an ice wagon for $18 a week and playing on the Sayreville town team when the House of David baseball team signed him. The 17-year-old was conspicuous not only for his size (only 5-feet-4½ inches and 145 pounds) but for his inability to grow the trademark long beard of the House of David players.
With the House of David touring team, Popowski played as many as 256 games in one season, often playing two or three games a day. By 1936 he was earning $175 a month as a player, with another $25 for participating in a vaudeville-style pepper game after the seventh inning of each game. His gimmicks would be put to use in his coaching days. In addition to juggling baseballs in the coaching box during a lopsided game, he would also field foul balls and return them to the pitcher with a behind-the-back toss that became known to generations of Sox players and fans as the Popowski Flip.
Red Sox scouts signed Popowski to a contract in 1936, but Eddie felt he owed it to the House of David to finish the season with them. His Organized Baseball debut would wait until 1937, when he reported to Hazleton, Pennsylvania, of the Class A New York-Penn League. He led the league's second basemen in fielding average and batted a respectable .281 but with no home runs.
In those early years, Popowski played in exhibition games against a number of greats of the game, including Babe Ruth, Satchel Paige, and Josh Gibson. He termed Paige "the best pitcher I ever faced." Ted Williams was the best hitter he saw.
In 1938 Popowski remained with Hazleton, which was now part of the Eastern League. He again led in fielding, but his average dipped to .253 and again he hit no round-trippers. The Red Sox dropped their affiliation with Hazleton (which became part of the Interstate League) and the Scranton Red Sox took their place in the Eastern League, where Popowski labored in 1939-41 along with a short stint with Centreville of the Class D Eastern Shore League. He didn't play enough games to qualify for fielding honors, while his batting dropped each year to .236, .212, and .176.
He missed the 1942 season due to a stint in the Army. Like a number of ballplayers, he played in the service as well, but broke his knee in Georgia, and was discharged from the Army.
Popowski was with Double-A Louisville in 1943, his only season above Class A. Again he led in fielding but batted only .225, effectively ending the 30-year-old's prospects of making the major leagues as a player.
"They had Bobby Doerr at second base," he said in a 1973 interview. "I knew I wasn't going to beat him out. But I enjoyed the game and I thought I might be able to manage."3 He'd had his first brief taste of managing at Centreville late in the 1941 season, a team that included future star Mel Parnell. After hurting his hand late in the year, he was headed home for the winter when farm director Herb Pennock suggested he take over the Class B Roanoke Red Sox (Piedmont League). Pennock had just fired the manager. So Pop, just 28, took over; the team traveled to road games in three packed automobiles.
The stint as Roanoke skipper began a long career as a minor-league manager, though he continued to play through 1948. He was a regular from 1944 to 1946 and led his league in fielding each year, giving him the distinction of winning fielding titles in all six seasons he played as a regular. He batted .321 in 1945, his only season above the .281 average of his debut season. His career minor-league mark as a hitter was .258 with just six home runs in 3,321 at-bats.
Eddie characterized his own play to the Boston Globe's Bob Ryan thus: "I was a pretty good fielder, a hit-and-run guy, a push-bunt guy, and I could steal a base. I'd get my doubles and triples and hit my one home run a year. One year I got it when I hit a ball in the gap and Ed Stump and Augie Bergamo collided. While they were laying there, I ran around the bases."4
Pop managed for a long list of teams: in sequence, Roanoke, Scranton, Lynn, Oneonta, Louisville (coach), Greensboro, Montgomery, Greensboro again, Albany, Allenton, Alpine, Minneapolis, Johnstown, Winston-Salem, Reading, and Pittsfield. His daughter Carole Garbowski remembered some of those days well: "We would have to take him to the ballpark if we were going to the game that day or night (and we almost always did). This was in the days when there was just one family car. He was always the first one to arrive and the last one to leave after a game. We would be falling asleep waiting for him to come out of the clubhouse."5
Popowski achieved a high level of success as a manager. In 20 years of managing in minor-league ball, his teams won four pennants and finished in second place five times. Longtime associate and devoted friend Felix Maldonado recognized Popowski's many talents: "Pop is a great baseball man. His mind is always on baseball. Lots of people in this business don't know half of what Pop had forgotten … and he doesn't forget too much. He is like a policeman on the field, watching the kids, helping them to be successful in the game and in their lives."6
Eddie's wife, Mary, was Irish, from New Brunswick, New Jersey. "She loved and knew the game of baseball," said Carole. "They met in one of the parks there when he was playing ball. They were married for 46 years when she died in 1988.  With Pop gone so much of the year she was the boss. She drove from New Jersey to Florida alone with us many times. Allied Van Lines packed us up just before the end of school every year and my mother drove us to our summer home.  If the team was lucky enough to make the playoffs we started school in that city and then returned to Sayreville." 
Never having managed higher than Class A in his first 14 seasons, Popowski was suddenly tabbed as the manager of Triple-A Minneapolis in 1960, under unusual circumstances. After managing the Philadelphia Phillies' opening game in 1960, Eddie Sawyer announced that he no longer wanted the job and promptly resigned. On the eve of Minneapolis's opener, the team's manager, Gene Mauch, was hired to replace Sawyer in Philadelphia, while Popowski, only two days from his own opener for Alpine, was promoted to the helm of the Red Sox' top farm club. It was in Minneapolis that Pop worked closely with Carl Yastrzemski to convert him from an infielder to an outfielder, which ultimately allowed Yaz to take over Boston's left field after Ted Williams retired in September 1960.
After the season Popowski returned to manage in the lower minors until September 1966, when he was named a Red Sox coach for 1967. Manager Billy Herman had been fired near the end of the 1966 season. Coach Pete Runnels was named interim manager to finish the season but made it known he would not be in the picture in 1967 due to a private business commitment. Popowski was named to replace Runnels on the coaching staff, while the Sox searched for a manager.
When Dick Williams was selected as the new skipper, he designated Popowski as second in command. Perhaps Popowski's most important contribution to the Impossible Dream Red Sox was his handling of players. He was more than just a coach or manager, but also a confidant and adviser with whom many players talked over their personal, as well as their baseball, problems. Dick Williams, who would gain a reputation as a noncommunicator with his players, delegated Popowski to keep an eye on some of the younger players, particularly George Scott and Rico Petrocelli. In an interview with biographer Ron Anderson, Scott said of Pop, "I've been around baseball a long time – in and out – and I never loved a lot of people in the game, but I loved the man so much. He was like a father to me. I used to talk to Pop about everything. You get my heart [when you talk about Popowski], because this guy here, if it wasn't for Pop I doubt if I would have played in the major leagues. Pop got me when I was a young kid in A ball, and he brought me to the Instructional League and he taught me how to play. He made me a good defensive player because he hit me about 200 groundballs a day. The year I won the Triple Crown – Pop was the manager up in Pittsfield. It would be impossible for me to put into words what he meant to me."7
Rico Petrocelli was succinct: "Pop was good because he was understanding, but he would kick you in the butt."8 Baseball is far from an easy profession, and at least one time in each of their careers, both Rico and Yaz contemplated quitting. In both cases, Popowski is credited with having talked them out of resigning.
"Dick wants me to handle some of these players, we've talked it all over," said Popowski in a spring-training interview. "We'll have troubles. But, boy, it won't be because we didn't battle to find out what ails them. We won't perform any miracles, but there'll be nobody crying that we didn't handle them right."9
When Jim Lonborg won the final game of the '67 season and the Red Sox clinched at least a playoff game, one of the first out of the dugout was Pop. "He wound up on the bottom of the pile and was scared to death because he couldn't breathe. If you watch a tape of that in slo-mo," said his daughter, "you can see him going under." He was quick, though; he only lost his cap and a few buttons.
Of course, he survived – but his suit almost didn't make it. "'Thirty years,' said coach Eddie Popowski. 'Thirty years in the bush leagues I waited for this day.' Then they came and carried him like a maharajah and dumped him into the shower. 'My $25 suit,' Pop shrieked. 'You'll ruin my $25 suit!'"10
On the eve of the 1967 Series, Pop told Joseph O'Rourke of The Home News, a newspaper in New Brunswick, "Thirty years and now, in my first year up there, a pennant. Our aim was about fifth place, first wasn't even a dream. Then we made a few deals and here we are."
When Williams was fired in 1969, Popowski was named interim manager for the final nine games of the season. He again was promised a coaching position before the new manager was hired. The other coaches were let go.
He remained on the coaching staff throughout the tenures of Eddie Kasko (1970-73) and Darrell Johnson (1974-75). He served again as interim manager for the final game of 1973, a win to finish his major league managerial record at 6-4.
Popowski was a minor-league instructor at the beginning of 1976, but he was added to the coaching staff when third-base coach Don Zimmer replaced Johnson as manager. He was not retained by Zimmer after the season. He continued to work in the Red Sox system, serving as coordinator/manager/special Instructor for the Red Sox in the Florida Instructional League from 1976 to 1989. From 1989 on, he was an infield instructor for the Red Sox in the Instructional League, and he was always a presence at spring training. In 1997 Field 1 at the Fort Myers spring training complex was named in Popowski's honor. One story he loved to tell, Carole Garbowski recounted, happened in spring training when Pop was in his 80s. "Pop used to drive Ted [Williams] around in the golf cart and one day a large group of people descended on Ted for autographs. Pop just sat in the cart with his arms folded, watching. A guy came over to him and said, 'Aren't you Eddie Popowski?' Well, my dad got all pumped up and said, 'Why, yes, I am.' The guy said, 'I thought you were dead, but you look good!'"11
Pop saw himself as fortunate to have spent a life in baseball. He told Bob Ryan, "I'm a lucky kid. I'm a grammar school graduate whose daddy and mommy let him do his thing. I've raised a family and they're all educated. I'm not rich, but the important thing is to be healthy, and I've got that. I'll keep doing this as long as they let me."12
Eddie Popowski worked for the Red Sox right through spring training 2001 – for the last 15 years or so reportedly without feeling the need for a signed contract. He was a Red Sox through and through until his death of lung cancer at his Sayreville home on December 4, 2001, ending 65 years of service with the Red Sox. He was survived by two daughters, three sons, nine grandchildren, and three great-grandchildren. One son, Rickey, a standout at the Ted Williams Camp in Lakeville, Massachusetts, might have made it in pro ball; his life took him in other directions, but he played semipro softball and in 2003 was inducted into the New Jersey American Softball Hall of Fame. Son Terry played semipro softball with Rick, and daughter Sherry also played semipro softball for several years. Carole Garbowski's son Christopher played in seven father-son games at Fenway Park, and did well at high school ball. Terry's son Michael caught for Rutgers from 1998 to 2001.
Per his request, the family buried Eddie Popowski in his uniform. "The last thing we did," wrote Carole, "was to put his cap on him. He always wore it and it had to be on the 'right' way." He is buried in New Calvary Cemetery, a/k/a Our Lady of Victories Cemetery, in Sayreville, the gravestone engraved with the Red Sox logo and the inscription "Coach."
Did Pop ever express disappointment that he himself never had a chance to play in the major leagues? "No, no," said his daughter. "He absolutely adored Mr. Yawkey and would do anything and go anywhere. One winter we went to Caracas, Venezuela, for winter baseball. He would do anything. He loved it. It made him so happy to teach anybody. He was always the teacher. That was his life."
Sources
Interview and correspondence with Carole Garbowski by Bill Nowlin, May 2006
The Sporting News

ProQuest.com
Sayreville Evening News
The Home News

Dave Distel, "Popowski's Story: Buses to the Bigs," Los Angeles Times, June 15, 1973.
Thanks to Ron Anderson, Jeff Angus, Carole Garbowski, and Debbie Matson. Carole Garbowski's grandchildren follow in a family tradition perhaps befitting a man who spent over 60 years working with the Boston Red Sox. She said that one of the first things they learn how to say is, "Boo Yankees!" The second is, "Yay, Red Sox!"
Notes
Born
August 20, 1913 at Sayreville, NJ (USA)
Died
December 4, 2001 at Sayreville, NJ (USA)
If you can help us improve this player's biography, contact us.
http://bioproj.sabr.org/bp_ftp/images5/PopowskiEddie.jpg
600
800
admin
/wp-content/uploads/2020/02/sabr_logo.png
admin
2012-01-04 20:08:42
2020-09-09 07:53:18
Eddie Popowski