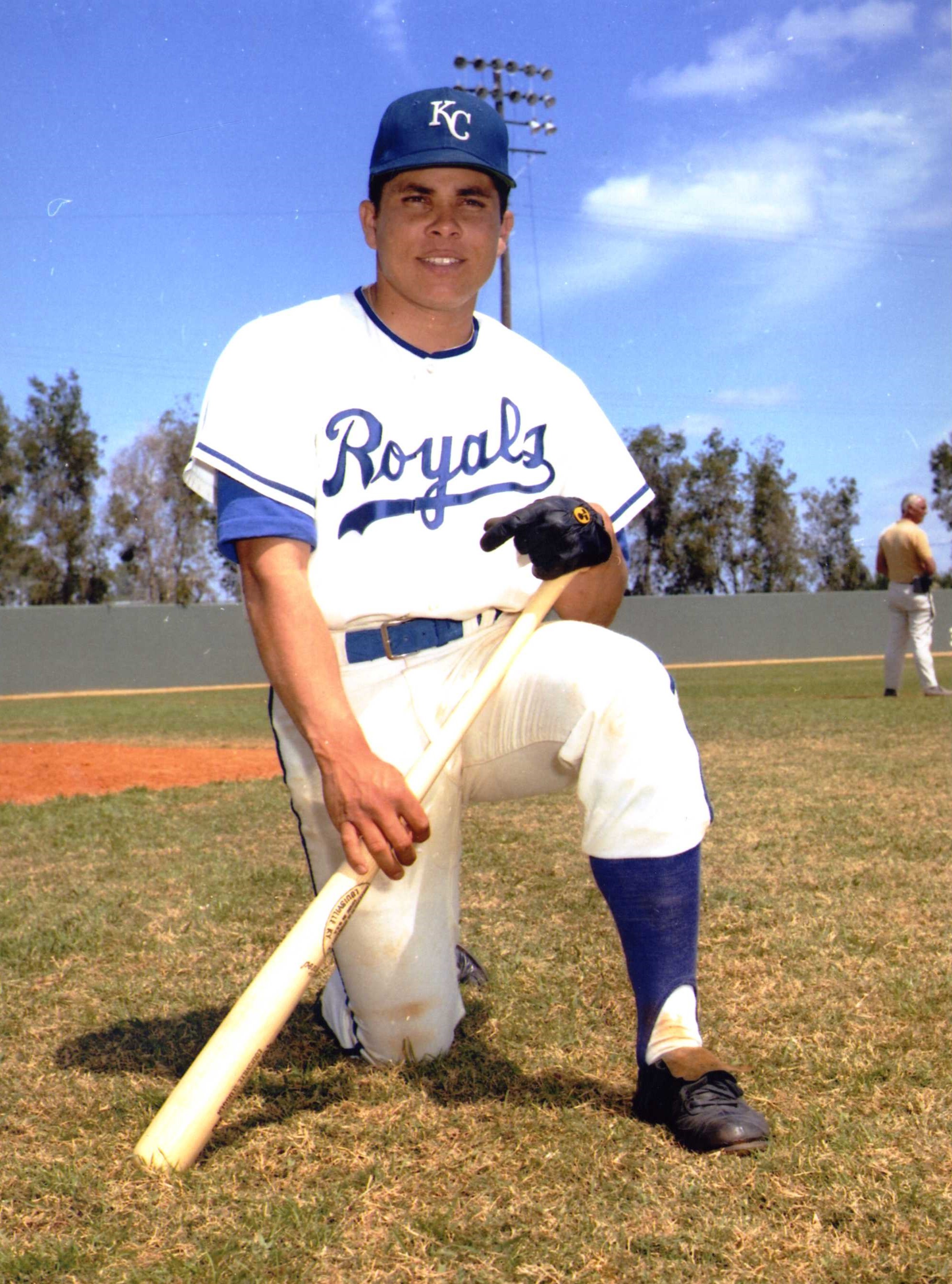 ---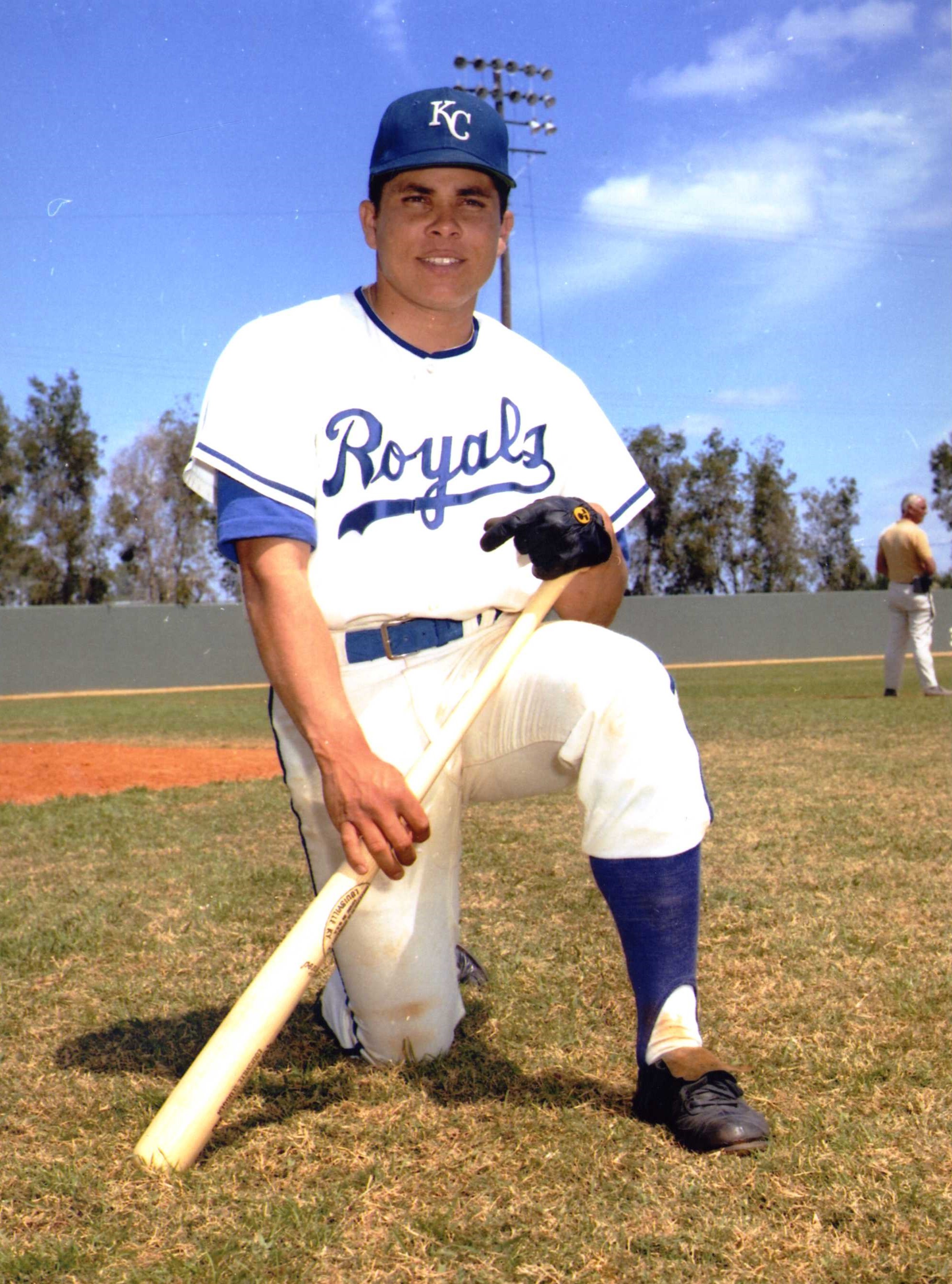 Ellie Rodriguez loved to catch. The catching position put him in the center of the action of a baseball game, from his sandlot days in the Bronx Federation League and a Spanish league in New York City to a nine-year major-league career with five teams. In 1969, Rodriguez was the Kansas City Royals' only selection to the All-Star Game.1
Eliseo Rodriguez Delgado was born in Fajardo, Puerto Rico, on May 24, 1946, to Francisco Rodriguez and Juana Delgado. Francisco farmed and Juana cared for Eliseo, his older brother, Jimmy (who owned Jimmy's Bronx Café in the 1980s), and two sisters, Daly and Iris. As of 2018, only Eliseo and Daly survive. In 1953, Francisco moved his family from the depressed economy of Puerto Rico to New York City. He worked primarily on tomato farms in New Jersey to support the family, who lived at 174th Street and Boston Road, 10 streets from Yankee Stadium. While at PS 61 in the Bronx, Rodriguez played stickball with a pitcher, batter, and outfielder. They drew the strike zone with chalk on the wall of the building and used brooms and a red rubber ball. "We'd get up in the morning and be in the schoolyard," he said.2
From about age 12, Eliseo walked to Yankee Stadium with Jimmy to watch Mickey Mantle, Whitey Ford, Elston Howard, and Yogi Berra, who became Rodriguez's boyhood idol. "The way he hit and the way he caught, he got my attention."3 Today, Rodriguez advises young players in his Roosevelt Baseball School, founded in 1994 at San Juan, to watch and learn from the best. "When you're young, you watch and learn," Rodriguez said. "I used to watch all those good catchers," naming Berra, Howard, Cleveland's Jim Hegan, and Brooklyn's Roy Campanella among those he learned from.
Rodriguez played sandlot baseball but boxing became his first real competitive sport after an incident near Herman Ritter Junior High. "One time I got out of school and these guys started pushing me around," he recalled. "My brother said, 'We've got to get you in the gym so you know how to defend yourself.' We got in the gym and learned how to fight." Rodriguez honed his skills at the St. Mary's park and recreation center on 38th Street. At age 16, he entered the New York Daily News Golden Gloves competition as a novice 175-pound middleweight and won two bouts — one by technical knockout and the other on a decision. When he broke the middle finger on his right hand during a sparring session, he turned exclusively to baseball.
Rodriguez graduated from James Monroe High School in 1964. His Spanish League team, El Gardel — which had won 16 games in a row — defeated an amateur team from Puerto Rico for the championship at New York's Central Park. Catcher Rodriguez threw out "four or five" basestealers and former Kansas City Athletics scout Felix Delgado told him, "When you get back to New York, I'm going to send a scout there to sign you." Two days later, scout Tommy Giordano signed Rodriguez to a contract that carried a $4,000 bonus and a progressive bonus of $7,500.
"When you signed and went to Double-A, you got $1,000," Rodriguez explained. "When you got to Triple-A, you got $1,500. When you reached the big leagues, you got $5,000." Eventually Rodriguez received the entire bonus from his beloved Yankees. In 1964, he played 17 Rookie League games for Daytona Beach and then batted .354 for Wytheville (Virginia), another Rookie League team in the Kansas City organization. "I hit particularly well against the Yankees," Rodriguez recalled. "They got a real good report on me." Rodriguez also played well defensively, thanks in part to instruction from Wytheville's manager, former major-league catcher Gus Niarhos, and due in part to footwork Rodriguez learned as a boxer. "It's all about your quick feet and release," he said. "If you're quick on your feet, that gets your body in position to throw the ball quickly."
After the season the Yankees selected Rodriguez in the first-year player draft and sent him to Class-A Greensboro (North Carolina), where in 1965 he drove in 45 runs in 108 games and hit .272. He played most of the next two seasons with two minor-league teams, making the 1966 Southern League All-Star team with the Double-A Columbus (Georgia) Confederate Yankees. He moved up to the Triple-A Syracuse Chiefs in 1967, batting .248. The Yankees kept Rodriguez on the major-league roster as a condition of his draft selection. "They brought me to spring training every year," he said.
Rodriguez spent the offseason of 1967-68 playing for the Puerto Rican League champion Caguas Criollos. He had an 11-game hitting streak and hit the first grand slam of the season on November 5. Caguas won the league title over the defending champion Santurce Crabbers, 17-2, on January 28 at San Juan before a record crowd of 21,812.4
One of five catchers on the Yankees' 1968 spring-training roster, Rodriguez had a shot to make the team. National Guard duty for players in those days, when the military draft was still in effect, opened the door for hopefuls like the 21-year-old Rodriguez. Yankees manager Ralph Houk chose his 25-man roster with an emergency catcher in mind.
"This is his fourth visit to the Yankee training camp," Jim Ogle wrote of Rodriguez in The Sporting News, "but the first time he has been more than a face and a number." Rodriguez told Ogle, "This is the first time I ever came here with the feeling that I was part of the team. In the past there was always an Elston Howard or Jake Gibbs and a couple of others. I knew it was only a question of how long I would be around. Believe me, when I come up, I'll be ready."5 Syracuse manager Gary Blaylock said, "Rodriguez could step in and catch in the majors right now. He still needs a little work on his hitting, but there isn't a better young catcher in baseball."6
His dream of playing for the Yankees came true on Sunday afternoon, May 26, 1968, at Yankee Stadium, in the first game of a doubleheader against the Chicago White Sox. With catcher Frank Fernandez on weekend military duty, Rodriguez caught ace pitcher Mel Stottlemyre for the entire game. The Yankees won, 5-1. Rodriguez went 0-for-3 but threw out White Sox center fielder Ken Berry trying to steal. For the highly regarded prospect, his chance came quickly and was a day to remember. He drove 4½ hours from Syracuse, arriving at Yankee Stadium at 11:30 in the morning. "I'm dressing and Ralph Houk said, 'You're playing, you're in there.'" Clubhouse manager Pete Sheehy had Rodriguez's uniform 23 in the training room. There was one empty locker — next to Mickey Mantle. "Welcome to the Yankees," said the Mick, who told Sheehy, "He going to dress right here."
Of the 23,966 in attendance, 30 or more were Rodriguez's family and friends — his parents, siblings, and "10 or 15 cousins." He got free tickets from Mantle, his roommate Bobby Murcer, and other teammates. "Other friends paid for tickets," Rodriguez recalled. Traveling back and forth between Syracuse and New York over the summer (rejoining the Yankees during Fernandez's month-long military hitch in June, a weekend in July, and a mid-September call-up), Rodriguez played nine games for the Yankees, starting and completing six with a 1.000 fielding average in 44 chances, throwing out three of six would-be basestealers, and batting .208.7 He got his first hit on May 31, 1968, off Detroit Tigers southpaw Mickey Lolich, whom Rodriguez tagged for three of his 16 career home runs.
Rodriguez caught for Caguas manager Luis Arroyo during the 1968-69 Puerto Rican League season. On October 15, 1968, he became property of the new Kansas City Royals, a second-round selection in the American League expansion draft.8 Before the 1969 season, Houk told Kansas City manager Joe Gordon that Rodriguez would be his starting catcher. Elston Howard called Rodriguez "one of the very best defensive catchers in the league."9 Two months into the season, Rodriguez had raised his batting average from .186 to .275 with 17 hits in 43 at-bats over a three-week stretch. "He's going to be my catcher," said Gordon. "Everyone has had a chance at the job and he's won it."10 With his family and friends in attendance for a weekend series at Yankee Stadium June 9-11, Rodriguez collected 5 hits in 13 at-bats, belted a three-run homer, and gunned down two basestealers. His hitting improved after he decided to use a 36-ounce bat and just meet the ball.11
His first-half play earned Rodriguez selection to the 1969 American League All-Star team, the Royals' only representative. Though a batting slump resulted in Rodriguez and John "Buck" Martinez sharing catching duties in the second half of the season, Rodriguez caught 90 games, 83 as a starter, and threw out 24 of 53 basestealers. Despite a modest .236 average with 2 home runs and 20 RBIs, Rodriguez seemed to have secured a regular job in the major leagues. New manager Charlie Metro declared that he wanted Rodriguez to catch every day in 1970. "He may even catch some doubleheaders," Metro said. "I definitely believe in one guy doing the catching."12
On June 9, 1970, the Royals replaced Metro with coach Bob Lemon, who platooned Rodriguez with left-handed-hitting Ed Kirkpatrick. "I don't see why he can't become one of the best catchers in the league," Lemon said of Kirkpatrick.13 In 1969, Kirkpatrick had hit 14 homers in 315 at-bats, mostly as a corner outfielder. The following year, he out-homered Rodriguez 18 to 1, and threw out 46 percent of potential basestealers, starting 80 games behind the plate. Meanwhile Rodriguez, who had started 36 of 52 games under Metro, became a part-time player on the trading block. "He didn't like me at all," Rodriguez said of Lemon, who started Rodriguez in 33 of 100 games. Rodriguez's lack of power became an obstacle to playing regularly.
In his return to the Puerto Rican League for the 1970-71 season, Rodriguez momentarily returned to boxing when he punched Mayaguez pitcher Bill "Spaceman" Lee outside the Caguas ballpark on November 20, 1970, causing Lee's face to strike a handrail on a stairway leading into the ballpark and breaking four front teeth. Earlier in the season, Rodriguez had homered and doubled off Lee, who warned, "Next time, I'll stick it in your ear." On November 16, Lee surrendered a home run to Caguas first baseman Willie Montanez.14 Lee said that Montanez showed him up doing "the cha-cha-cha" around the bases. The Mayaguez catcher warned Rodriguez to watch out. Lee hit Rodriguez with a pitch. Rodriguez charged the mound and took a swing at Lee, who blocked the punch and decked Rodriguez with a left hook. The umpire ejected Rodriguez from the game.15 On the 20th, Rodriguez saw Lee get off the Mayaguez team bus. Rodriguez recalled, "He was the first guy I saw and I hit him with one shot." Lee went back to Boston to get his teeth fixed that weekend. The feud reached the major leagues on May 24, 1973, when Lee hit Rodriguez with a pitch at Fenway Park. Rodriguez charged the mound and the Boston fans booed. The Red Sox won, 10-1.16
In response to Mayaguez fans throwing rocks at the Caguas team bus after Caguas had won two straight games, Rodriguez said, "One of these days, I'm going to do something that has never been done in Puerto Rico." On November 22, 1977, Rodriguez homered for Bayamon off Tony Chévez at Isidoro Garcia Stadium in Mayaguez and ran around the bases backwards, a la the Mets' Jimmy Piersall, who performed a similar act after hitting his 100th career home run on June 23, 1963. After Rodriguez touched home plate, umpire John Shulock said, "The home run's good but you're out of the game." Rodriguez received $500 from an overjoyed owner.17
On February 2, 1971, Rodriguez was sent to the Milwaukee Brewers for veteran utilityman Carl Taylor. Rodriguez became the Brewers' regular catcher, leading the AL in runners caught stealing. In 1972 he stood closer to the plate, stopped batting from a crouch, held the bat straight up, and on the advice of batting coach Harvey Kuenn used a lighter bat and started hitting to all fields. Batting second in the order, Rodriguez led the Brewers with a .285 average and made the American League All-Star team. Over a 16-game stretch in May, he batted .360 and hit a two-run homer into the upper deck at Tiger Stadium May 25 to give Milwaukee a 2-0 victory.18 By season's end, Rodriguez had nailed half of the runners who tried to steal on him. Brewers pitcher Jim Lonborg called Rodriguez a rock behind the plate. "(He) stays low and gives you a constant target," Lonborg said. "You know if you throw the ball where his glove is, it usually will be in the strike zone."19
Still, Rodriguez knew he had to compete for his starting job with Darrell Ray Porter, the Brewers' number-one selection in the June 1970 amateur draft. In 1973, the Brewers surprised the experts and their delirious fans, leading the American League Eastern Division in June. They took seriously new manager Del Crandall's order to have fun. Rodriguez had earned the starting job, but he fractured his left wrist on a foul tip at Cleveland on April 18. Porter started every game from April 19 to May 20. When Rodriguez returned, he emerged as the team leader. On June 2, he caught all 13 innings and drove in all three runs in a 3-2 victory over the Chicago White Sox at County Stadium. With Rodriguez catching every day, the Brewers on June 17 went one game up in the East Division. A crowd of 6,000 fans greeted the team bus on its arrival in Milwaukee. Rodriguez and rookie second baseman Pedro "Pete" Garcia were carried off the bus to start a two-hour celebration. "He was my roomie," Rodriguez said. "(Our team) had good chemistry that year."20
The Milwaukee miracle became a mirage in one month. From June 18 to July 15, the team posted an 11-19 record and Rodriguez's average dropped 25 points to .275. Porter, primarily a designated hitter in the first half of the season, became the regular catcher, with 16 home runs and 67 RBIs, compared with Rodriguez's zero homers and 30 RBIs. "I haven't done too much lately," Rodriguez admitted, "and Darrell is. The big thing is to win."21 Porter said, "Ellie is one of the best catchers in the game and he helped me as much as anybody."22
The day Rodriguez got a hit to beat the Chicago White Sox, Crandall yelled from the dugout, "How in the world can anybody think of trading you?," referring to rumors that Milwaukee GM Jim Wilson denied before the June 15 trading deadline.23 To his surprise, Rodriguez was traded October 22, 1973, three weeks after the season ended. Once again, he had lost the battle of the big bats and missed six weeks because of injuries. "They wanted to play Darrell Porter," Rodriguez recalled, "so I got traded. Same thing with the Yankees — Thurman Munson coming up, I gotta go." The Brewers sent Rodriguez, pitchers Skip Lockwood and Gary Ryerson, and outfielders Joe Lahoud and Ollie Brown to the California Angels for veteran left-handed starter Clyde Wright and catcher Art Kusnyer.
Rodriguez was considered the key player coming from Milwaukee but the ex-boxer would again fight for a starting job. He played regularly for manager Bobby Winkles, but in midseason, two-time World Series winner Dick Williams took over and called Rodriguez "the dumbest catcher in baseball," later claiming that he did not apply himself and did not hustle.24 Future Hall of Fame pitcher Nolan Ryan said the opposite and praised Rodriguez's handling of pitchers. "He's a good thinking catcher," Ryan said. "Like most good catchers, he wants to win. He has that drive behind him. The thing I like about him is the way he picked up my pitching pattern. He takes command. You'll see him moving infielders around all the time."25
Rodriguez led the American League in putouts (782), assists (75), and runners caught stealing (56), setting a single-season club record. On June 14, he caught 13 innings of a 15-inning victory over Cleveland, setting an American League record of 21 putouts in an extra-inning game, 19 on Ryan strikeouts over the same 13 innings. On August 12, Ryan fanned 19 in nine innings in a 4-2 victory over the Boston Red Sox, tying a major-league mark with Rodriguez calling the shots and setting a record for putouts in a nine-inning game. Ellie caught a career-high 137 games — 125 as a starter – and set individual batting marks with seven home runs and 36 RBIs.
So what was the deal with his future Hall of Fame manager? "He didn't like me," Rodriguez said. "He never did like Latinos. He jumped all over me, he jumped all over Ed Figueroa. In Montreal, he jumped all over Tony Perez, a Hall of Famer."
On June 1, 1975, Rodriguez caught Ryan's fourth career no-hitter. Activated just hours before the game after missing a month with an injured ankle, Rodriguez called Ryan's gem "better than going 4-for-4 and hitting a home run. I just want to catch his fifth." Rodriguez predicted that Ryan would win 30 games someday. "His fastball is unbelievable," he said. "And his curve's second only to Bert Blyleven's."26 In 2018, Rodriguez called Ryan "the greatest competitor that I can recall."
Rumored to be traded along with Figueroa to Cleveland, Rodriguez knew that catching Ryan's fifth no-hitter was not likely. On June 15, the Angels bought veteran catcher Andy Etchebarren from the Indians and named him the first-string catcher. By spring training 1976, Ed Herrmann had been acquired from the Yankees.27 On March 31, 1976, the Angels shipped Rodriguez to the Los Angeles Dodgers for outfielder Orlando Alvarez and cash.
In 36 games, 21 as a starter, Rodriguez batted .212 with 9 RBIs. After suffering a fractured collarbone in Puerto Rico during the 1976-77 winter league, Rodriguez opened the 1977 major league season on the disabled list. The Dodgers released him on May 2. That summer, the Pittsburgh Pirates signed Rodriguez and sent him to Triple-A Columbus. On July 25, Rodriguez caught Rod Scurry's Triple-A debut, a no-hitter.28 On July 30, Rodriguez homered and drove in four runs against Pawtucket but the comeback ended with a .224 average in 49 games.
For the next three seasons, Rodriguez played in the Mexican League. In 1978, he caught for the Cordoba Cafeteros under manager and former Angels teammate Winston Llenas, then co-managed the Coatzacoalcos Azules in 1979 and played for the Saltillo Saraperos in 1980. His last active year was 1982 with the Monclova Acereros. Rodriguez said that the players "made more money in Mexico and didn't want to leave their country."29
Eventually, Rodriguez's shoulders and knees told him it was time to retire as a player. Then former major-league general manager Joe Klein recruited Rodriguez to sign Latin American players as player-development director and chief Puerto Rican scout for the independent Atlantic League of Professional Baseball. Rodriguez signed former major leaguers Raul Mondesi, Rubén Sierra, and Andres Galarraga, among others. In 2018, he was signed to manage the Road Warriors, a traveling Atlantic League team that replaces the former Bridgeport (Connecticut) club and awaits construction of a new stadium in Texas.30
As of 2018, Rodriguez still coached at the Roosevelt Baseball School in San Juan, Puerto Rico, where youngsters from age 6 to 18 learn the basics of playing the game. Major leaguers Angel Pagan and René Rivera both came out of Roosevelt, Rodriguez said.
After Hurricane Maria tore through Puerto Rico in September 2017 leaving more than three million people without electric power and scrambling for food, water, and cash, Puerto Rican League owners suspended the 2017-18 season in November but resumed play on January 5 after negotiating a $500,000 pool to be shared equally among four teams.31 Fans got free admission and parking to games. Evaristo "Varo" Roldàn Stadium in Gubaro, capacity 2,500 and a half-hour south of San Juan, was jammed for the opening pitch of the season on January 5. Hiram Bithorn Stadium in San Juan and Isidoro Garcia Stadium in Mayaguez hosted games without lights.32
Six months after the storm, volunteers continued to provide providing equipment, trucks, clothing, food and water for the recovery effort, though "we have to import produce from other places," including South America, Rodriguez said.33
In 2018, his 55th season in professional baseball, Rodriguez said he was grateful and amazed at the sport's role in his life journey. "It changed my whole life," he told the author. "If I hadn't signed that (bonus) contract, I don't know if I'm talking to you right now."34
Last revised: December 1, 2018
This biography appeared in "Time for Expansion Baseball" (SABR, 2018), edited by Maxwell Kates and Bill Nowlin.
Sources
In addition to the sources cited in the Notes, the author consulted Baseball-Reference.com. He wishes to express his appreciation for the assistance of Jorge Colón-Delgado.
Notes
1 Russell Schneider, "Indians Seeing Red Over Sims Shutout on All-Star Balloting," The Sporting News, July 26, 1969: 20.
2 Author interview with Eliseo Rodriguez on February 27, 2018.
3 Author interview with Eliseo Rodriguez on January 26, 2018. Unless otherwise indicated, all quotations from Rodriguez came from this January interview.
4 Miguel Frau. "Caguas Muscle Brings Playoff Crown," The Sporting News, February 10, 1968: 39.
5 Jim Ogle. "An Ex-Ring Warrior Catches Yankee Eye in Fight for Mitt Job," The Sporting News, March 23, 1968: 23; Tom Owens. "Jake Gibbs Remembers Teammate Thurman Munson," Baseball by the Letters, baseballbytheletters.com/2010/04/18/jake-gibbs-remembers-yankees-teammate-thurman-munson-2/. Accessed February 8, 2018; Rodriguez interview.
6 Ogle.
7 Rodriguez interview; Ogle, "Stott Steady Pillar Supporting Yanks' Riddled Slab Staff," The Sporting News, June 15, 1968: 18; Ogle, "Yanks Tab Rocky, Lindy to Buttress Bench and Bullpen, The Sporting News, August 3, 1968: 16. Baseball Reference, baseball-reference.com/players/r/rodriel01.shtml. Accessed February 8, 2018.
8 The Yankees decided to protect their 1968 number one amateur free agent draft choice Thurman Munson who made an immediate impression batting .301 for the Double-A Binghamton, New York Triplets of the Eastern League.
9 Larry Claflin. "Pilots Select Vets, Royals Corral Kids;" "Plucked From A.L. Bag, The Sporting News, October 26, 1968: 11,18; Ogle, "Solaita Delights Yanks — Swings Home-Run Bat," The Sporting News, October 12, 1968.10.
10 Joe McGuff. "Ellie's Heavy Bat Rewarding Royals," The Sporting News, June 28, 1969: 22.
11 McGuff; Rodriguez interview.
12 McGuff, "Metro Sees .500 Plateau Just Over K.C. Horizon," The Sporting News, April 11, 1970: 43.
13 McGuff, "Royals Take 'Difficult Step' — Metro Out, Lemon In," The Sporting News, June 20, 1970: 21; Sid Boardman. "Kirkpatrick Eager for Royal Finish," The Sporting News, August 1, 1970: 20.
14 Rodriguez, January 26, 2018; Interview, Bill Lee, March 11, 2018; Miguel Frau. "Native P.R. Players Get Strong Value in Power," The Sporting News," December 5, 1970: 55.
15 "Chapter III Unfolds in Rodriguez-Lee Feud," The Sporting News, December 12, 1970: 63.
16 "Old Feud Flares Again; It's Lee Versus Rodriguez," The Sporting News, June 9, 1973: 16.
17 Jorge Colón-Delgado, email communication, March 16, 2018; Chris Jaffe, "50th Anniversary: Jimmy Piersall's 100th homer," The Hardball Times, June 23, 2013, fangraphs.com/tht/tht-live/50th-anniversary-jimmy-piersalls-100th-homer/. Accessed March 15, 2018; Rodriguez interview, February 27, 2018.
18 Larry Whiteside. "Brewers Discover Dynamite in Rodriguez' Bat," The Sporting News, June 17, 1972.
19 Whiteside.
20 Lou Chapman. "Scent of Second Miracle Descends Over Milwaukee," The Sporting News, July 7, 1973: 8.
21 Lou Chapman. "Rookie Porter Takes Over No. 1 Brewer Backstop Post," The Sporting News, August 11, 1973: 16.
22 "Ellie Rodriguez Leads Cheers for Brewers," Wausau (Wisconsin) Daily Herald, July 3, 1973: 17: Lou Chapman. "Brewers' Booming Porter as A.L.'s Premier Catcher," The Sporting News, April 13, 1974: 12.
23 Chapman. "Hot Brewers Thankful They Kept Rodriguez," The Sporting News, June 30, 1973: 19. "Ellie Rodriguez Leads Cheers for Brewers," Wausau Daily Herald, July 3, 1973: 17.
24 Dick Miller, "Rodriguez Wins Wings as Angels' Greybeard," The Sporting News, May 10, 1975: 13; Dick Miller, "Angels Are Seeking Bids on Rodriguez," The Sporting News, October 8, 1975: 32.
25 D. Miller, "Angel Hurlers High on Ellie, Better Than Scouts Reported," The Sporting News, June 1, 1974: 16.
26 D. Miller, Ryan's Pace: Four No-Hitters in Two-Year Span," The Sporting News, June 14, 1975: 5. "Ryan Laughs at Law of Averages," The Sporting News, May 17, 1975: 3.
27 D. Miller, "Rodriguez to Get Reprieve, but Andy Remains as No. 1," The Sporting News, February 7, 1976: 41; D. Miller, "Herrmann Eager to Share Angel Catching Duties," The Sporting News, March 13, 1976: 36.
28 John McNeely, "Scurry Scuttles Foe in AAA Debut," The Sporting News, August 13, 1977: 34.
29 Rodriguez interview, February 27, 2018.
30 "Atlantic League of Professional Baseball." atlanticleague.com/clubs/league-directory/. Accessed March 11, 2018; Rodriguez interview, February 27, 2018.
31 Jorge Castillo, "After Hurricane Maria, things remain far from normal for Puerto Ricans. But they do have baseball," Washington Post, January 19, 2018. www.washingtonpost.com/sports/after-hurricane-maria-things-remain-far-from-normal-for-puerto-ricans-but-they-do-have-baseball. Accessed March 15, 2018.
32 Pedro Gomez, "80th version of Puerto Rican winter league begins despite Hurricane Maria devastation," ESPN.com, www.espn.com/mlb/story/_/id/21972859/80th-version-of-puerto-rican-winter-league-begins-despite-hurricane-maria-devastation. Accessed March 15, 2018.
33 Jim Wyss, "Puerto Rico assessing Hurricane Irma damage amid widespread power outage," Miami Herald, September 8, 2017. http://www.miamiherald.com/news/weather/hurricane/article172023172.html. Accessed March 11, 2018; http://www.daily-chronicle.com/2018/03/07/acmtyt2. "Puerto Ricans Still Stranded in Hotels 6 Months after Hurricane Maria," Daily Chronicle, March 7, 2018. Accessed March 11, 2018; Rodriguez, February 27, 2018.
34 Rodriguez interview, February 27, 2018.
Born
May 24, 1946 at Fajardo, (P.R.)
If you can help us improve this player's biography, contact us.
https://sabr.org/sites/default/files/RodriguezEllie.jpg
600
800
admin
/wp-content/uploads/2020/02/sabr_logo.png
admin
2012-01-04 20:30:08
2012-01-04 20:30:08
Ellie Rodriguez