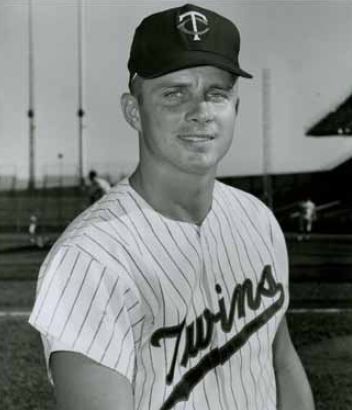 ---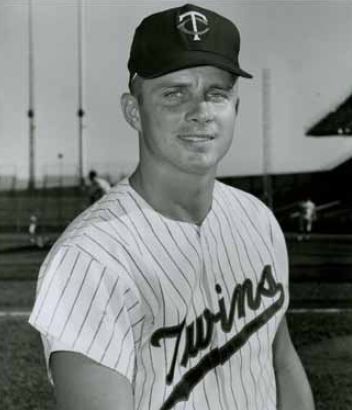 Frank Kostro played parts of seven seasons in the major leagues in the 1960s but never advanced beyond roles as a right-handed-hitting pinch-hitter and utilityman. He started only 80 games in the big leagues (at five different positions) and never had more than 151 at-bats in a season. But he earned a World Series ring as a member of the 1965 Twins, even though he was sent to the minors in June and was not on the World Series roster, and he finished his professional career with a .303 minor-league average in nearly 1,200 games.1
Kostro was born on August 4, 1937, in Windber, Pennsylvania, the same southwestern Pennsylvania town just outside Johnstown where his father, also named Frank, had been born 21 years earlier. (While some newspaper stories over the years have referred to them as "Frank Sr." and "Frank Jr.," that's not technically true; the father's name was Frank Adam Kostro, while the son is Frank Jerry Kostro.) The senior Kostro was one of 11 children and, like his father (a Polish immigrant also named Frank), worked in the coal mines.2
Athletic prowess kept the younger Frank Kostro from following his father and grandfather into the mines. He grew up in the small coal-mining community of Blough and earned 11 varsity letters in three sports at Forbes High School in nearby Kantner.3 As a senior in 1954-55, he was named Somerset County's most valuable player in football and averaged 27 points a game in basketball.4 Asked what his favorite sport was, Kostro said, "As far as the games were concerned, football," then added with a chuckle, "I didn't particularly care for the practices." He earned a combined football-basketball scholarship from the University of Michigan.
But Kostro never played a varsity game in either sport for the Wolverines, leaving school after one semester when his father was injured in a coal mining accident.5 He then turned to his other sport — baseball — to earn money, by signing with the Detroit Tigers. Tigers scouts Ed Katalinas and Cy Williams had tried to sign Kostro when he finished high school, only to have him turn them down to accept the Michigan scholarship.6
"I started playing in the Somerset County League when I was 12," Kostro said, "but I was playing with men who were working in the coal mines. My dad convinced me that I should start playing against guys my own age."7 But to do that he had to go to Johnstown, which he was afraid to do, "since I thought that it was such a huge city."8
Kostro went to Johnstown and starred in the Johnstown Junior League, which he said was "without a doubt … the biggest break for me."9 In both 1954 and 1955 he played for Johnstown teams in the All-American Amateur Baseball Association national tournament, an event attended by major-league scouts.10 "He was a special player with some real physical ability," said Ken Keiper, who coached Kostro in Johnstown. "He had a tremendous desire to succeed."11
"I learned one important thing from my dad," Kostro said. "I just learned that you had to put forth the effort for whatever you did. If you do that, things will work out."12
Kostro started his professional career in 1956, as an 18-year-old in the Class D Pennsylvania-Ontario-New York (PONY) league. He hit .332 for Jamestown (New York), was fourth in the league in runs scored with 97 and led the league's shortstops in putouts. That earned him a promotion for 1957 to the Class B Carolina League, where he was named the league's all-star shortstop playing for the pennant-winning Durham Bulls.13 Kostro batted .290 and led the league in hits, doubles, and triples.
The Tigers bumped the 20-year-old Kostro to Birmingham of the Double-A Southern Association to start the 1958 season, but when he struggled they demoted him to Augusta of the Class A South Atlantic League in May. A .288 batting average in 65 games there earned Kostro another trip to Birmingham at the end of July, and in a total of 44 games for the Barons he hit .255. Both Augusta and Birmingham won their league pennants.
It was back to the South Atlantic League in 1959, as the Tigers' affiliate moved to Knoxville, and Kostro was the shortstop on the league's all-star team that took on Gastonia on July 20.14 A week later he was promoted to Charleston (West Virginia) of the Triple-A American Association.15 Kostro hit .300 at Knoxville (only two players who spent the full season in the South Atlantic League topped that mark) and hit .310 at Charleston At the end of the season the Tigers added him to their 40-man roster.
Detroit general manager Rick Ferrell said, "In appearance and in his performance at the plate, [Kostro] reminds you of Harvey Kuenn [who had been with the Tigers since 1952 and led the American League in hits four times]. I say he's like Kuenn because he knows where the strike zone is, seldom fans, and when he connects, it's a good sharp line drive. He sprays 'em all over, too, just the way Harvey does. We have plenty of confidence in his hitting. The question has been whether we can use him at shortstop."16
Kostro went to spring training in 1960 with at least an outside shot to stick with the Tigers. "If 22-year-old Frank Kostro could field half as well as he can hit, he would be the team's No. 1 shortstop on opening day," the Associated Press's Dave Diles wrote, after Kostro drove in four runs in an exhibition game.17 "The kid's going to be great some day," said Detroit manager Jimmy Dykes. "He has a good bat and a great arm."18
But Kostro's glove prevented him from beating out Chico Fernández at short (Kostro made at least 47 errors in each of his first four minor-league seasons), and Dykes elected to send him to the Tigers' new Denver affiliate in the Triple-A American Association so he could play every day. "It's good to know I can recall him whenever I need him," Dykes said.19
It turned out the Tigers didn't need Kostro in 1960. It turned out Denver didn't need him, either. He hit .277 for the Bears, but when he made 14 errors in 21 games at shortstop he was sent down to Double-A to try some other positions, playing third base for Birmingham of the Southern Association and left field for Victoria of the Texas League. He would spend the rest of his career looking for a home in the field.
Kostro found a home off the field in 1961 after spending the season at Denver. In October he married a Colorado woman, Janet Baker, and took up residence in Denver. The Kostros were married nearly 50 years before Jan died on August 28, 2011. They had three children: Frank T. (who died in 1997 at age 35), John, and Greg.
Kostro spent the 1961 season as a utility player and pinch-hitter in Denver, with just 184 at-bats in 73 games, including 34 in the outfield and 15 at short. It wasn't clear that he would be asked to return to Denver in 1962, but "there wasn't a more determined, hustling player in the Bears' [spring training] camp," according to The Sporting News, and he made the club.20 He cemented a spot in the lineup after getting off to a blazing start, with nine home runs in his first 27 games. It was an uncharacteristic power burst for Kostro; he hit only four home runs the rest of the year and never hit more than 10 home runs in any other season.
Even after the home runs stopped coming, Kostro kept hitting and had his best season as a pro. His .321 batting average ranked third in the American Association, just behind Tom McCraw of Indianapolis and Dave Roberts of Oklahoma City, and his career-high 97 RBIs were second in the league, behind Indianapolis's Jim Koranda. Kostro was named to the postseason all-star team as a utility player after playing six different positions, with 57 games in the outfield, 45 at shortstop, and 36 at first base. An article in The Sporting News said, "Frank Kostro is in his seventh year of Organized Ball and still hasn't found his best position. Unless you consider 'hitter' a position. … [I]t's a good bet that some big league club, needing the hard-to-find utility type, will find him useful."21
The Tigers gave Kostro his first taste of major-league ball that September. He made his debut on September 2, striking out as a pinch-hitter against Eddie Fisher of the White Sox ("The slider that he threw me to strike me out was about a foot outside," Kostro later recalled). His first hit, also as a pinch-hitter, was a double off Minnesota's Jim Kaat on September 7. Later in the month Kostro started 10 games at third base and wound up with a .268 batting average for the Tigers, with three doubles among his 11 hits.
Kostro made the Tigers' Opening Day roster for the first time in 1963 after hitting .458 in spring training,22 but once the regular season started, playing time was hard to come by. He started just eight games (four at third base, two at first, and one each in left field and right field) and was 5-for-20 as a pinch-hitter, with a .231 overall batting average, before being traded to the Los Angeles Angels on June 15 with pitcher Paul Foytack for outfielder George Thomas. "[Third baseman] Felix Torres is swinging a hot bat right now," said Angels manager Bill Rigney, "so I imagine I'll use Kostro primarily as a pinch-hitter until Felix cools off or a crisis develops at another position."23
Kostro got just four at-bats, going hitless, before the Angels sent him to their Hawaii farm club in the Triple-A Pacific Coast League on July 8. But he quickly earned a return trip to the majors, hitting .415 with two home runs in 10 games for the Islanders, and was put in Torres' spot at third base to face his old teammates, the Tigers, on July 19. The next day he hit his first major-league home run, off Jim Bunning, to help the Angels to an 11-2 win.
From the time of his return through September 6, Kostro started 23 of the Angels' 47 games, which would turn out to be his most extensive experience as a starter in the major leagues, playing first base, third base, left field, and right field. But including pinch-hitting appearances, he hit just .220 during that time, and Rigney seemed to have been satisfied that Kostro was not the answer to any of his problems. For the season, combining his numbers with the Tigers and the Angels, Kostro hit .225 in 74 games, and in December the Angels sold him to Hawaii and took him off their 40-man roster.
Back in the PCL, Kostro got off to another hot start in 1964 and was batting .344 when he was traded and made his return to the big leagues. On June 11 the Angels sent him to the Twins as part of a three-team deal that also included the Cleveland Indians; the Twins acquired Jerry Kindall from the Indians, and sent Vic Power and Lenny Green to Los Angeles. (Cleveland got Billy Moran from the Angels.)
"That was probably the best thing that happened to me," Kostro said of the trade. "The Twins just had a lot of great guys on that ballclub."
At the time of the trade, Twins pinch-hitters were just 6-for-62, and Kostro was seen as a potential improvement on that weakness. "I made these deals to beef up our pinch-hitting," Twins owner Calvin Griffith said.24
Twins manager Sam Mele didn't wait long to see what his new player could contribute. Kostro got a pinch-single in his Minnesota debut on June 13; three days later, with Mele giving Harmon Killebrew a rare day off in left field, Kostro got his first Twins start and banged out a single, double, and home run against Cleveland lefty Jack Kralick. But that wasn't enough to keep Kostro in the Twins' star-studded lineup, and he started just one game over the next five weeks. He went just 2-for-12 as a pinch-hitter during that time.
Later in the season Kostro became a reliable option off the bench, getting hits seven times in nine pinch-hit appearances from late August into September, including four consecutive opportunities (September 3, 12, 15, and 18). Kostro finished the season with a .286 pinch-hitting average (10-for-35) and tied for fourth in the American League in pinch hits.
"I remember Mele as one of my favorite managers," Kostro said. "He was the kind of guy who would come up to you an inning before and say, okay, if this is the situation you're going to hit. I felt because of that it gave you a chance to get ready in your mind. He was all around just a good manager."
In 59 games with the Twins in 1964, Kostro hit .272 with three home runs and 12 RBIs in what was his most productive major-league season. He started 19 games (10 at third base, seven at second, and one each at first base and left field) and hit .281 in those games, with all three of his homers.
Kostro went north with the Twins to start the 1965 season, but playing time was hard to come by. He didn't get his first hit of the season until the team's 36th game, on May 26, and started only three games, two at third base, and one at second. His pinch-hitting success of 1964 did not carry over, as he was hitless in eight plate appearances as a pinch-hitter. When second baseman Bernie Allen was deemed sufficiently recovered from knee surgery to rejoin the team on June 21, the Twins sent Kostro to Denver, which had become a Minnesota farm club.25
Kostro had just five hits in 31 at-bats with the 1965 Twins, for a .161 average, and committed five errors in just 61 innings in the field. But after the Twins won the American League pennant, his teammates recognized his contributions during his two months with the team by voting him a two-fifths share of the team's postseason money, good for $2,653.74.26
Kostro didn't play for Denver after leaving the Twins; the Bears sent him to PCL rival Seattle in exchange for pitcher Ron Piche,27 and he hit .282 for the Angels, playing 53 games at third base and 21 in the outfield. But in 1966 Kostro returned to Denver and spent the entire season there, batting .300 with 10 home runs and 78 RBIs in 140 games, primarily in the outfield. His batting average ranked 10th in the league, and he was fourth in the league in doubles with 32.
Back in Denver again in 1967, Kostro continued to hammer PCL pitching and was leading the league with a .369 batting average (and an active 17-game hitting streak) when he was summoned to return to the Twins on June 16 to replace injured rookie infielder Ron Clark.28 He started in left field in his first two games, but although he spent the rest of the season in the majors, he did not start another game, making just two late-game appearances in the field. But he rekindled the pinch-hitting magic he had in 1964, with nine hits and three walks in 26 pinch-hit appearances for a .462 on-base percentage. His .391 batting average in the pinch was the highest in the major leagues for anyone who had more than 20 pinch-hit opportunities.29
In 1968 Kostro hit .343 in spring training and made the Twins' Opening Day roster.30 "So far I've played right, left and first base, and I'm Polish," he told reporters at the end of training camp. "Does that make me a utility Pole?"31 Again his spring success didn't lead to a lot of playing time in the regular season, but for the first (and only) time, Kostro spent the entire year in the major leagues. His appearances in the field were again limited, just 29 games including 15 starts (eight in left field, six in right, and one at first base). He finished the season with a .241 average in 108 at-bats, including a 7-for-35 mark as a pinch-hitter.
After a disappointing season in '68, the Twins went into 1969 with a new manager: Billy Martin, who was getting his first chance to run a major-league team. Martin sent Kostro back to Denver late in spring training. (Asked in 2011 what he thought about Martin as a manager, Kostro replied, "To be truthful with you, I would just as soon not answer that question. If you can't say something good about somebody, you gotta just pass on it.") As always, Kostro hit for the Bears, batting .311 (he had 516 hits during his years in Denver, the most of any player during Denver's years as a Triple-A franchise from 1955 to 1992).32 But he played in just 57 games before he was hospitalized with severe pain in his right foot on June 26.33
When the major-league rosters expanded in September and the Twins had a comfortable lead in the American League West, the club called Kostro back to the majors in order to give him enough service time to qualify for a five-year pension.34 In his first appearance, as a pinch-hitter on September 8 at Anaheim, he was retired on a groundball. "It should have been a base hit," Kostro remembered in 2011, "but I took two or three steps out of the batter's box and fell down. My foot never did come back."
He made just one more appearance in a major-league game, striking out as a pinch-hitter against the Seattle Pilots on September 21 at Minnesota's Metropolitan Stadium. Shortly thereafter, he underwent surgery to remove a bone spur from his foot.35 He finished his major-league career with a .244 average and five home runs in 266 games. His career pinch-hitting average was .241 (34-for-141).
Because of his foot injury, Kostro decided he was through playing at the end of the season, but to his surprise he was contacted by the Hankyu Braves of Japan's Pacific League. "The Japanese knew more about the American ballplayer than we did here," Kostro said. "They knew all about my foot and all about the injury. They flew me to Los Angeles to have their own doctor check my foot out, and evidently he sent a report that they could sign me and I could still play."
Hankyu purchased Kostro's contract from the Twins, and he and his family went to Japan for the 1970 season. "My foot really was still bothering me, but they seemed to think I could play," he said. "Here in the States I think the most I made [in a season] was $16,000; they offered me $30,000 tax-free. I wanted to start a business in Denver and I had no money, so that was hard to turn down."
The 32-year-old Kostro played only 37 games in Japan, mostly as a pinch-hitter, and batted .200 in 45 at-bats. He said it was difficult for his family there, as they did not have an interpreter (he did when he was with the ballclub). However, he had nothing but praise for his Japanese hosts.
"I played winter ball a number of years," he said, "and in winter ball, if you're supposed to make $1,000 they'd try to give you $800. So I expected that in Japan, but it was just the opposite, they'd do everything to make you happy. They wanted me to stay there another year, but I had enough money saved to start my business so I didn't want to. I thought they'd be upset with me when I left, but they me met at the airport and gave my wife a pearl necklace and me a pearl ring and tie clasp."
Kostro returned to Denver and had a successful insurance business, providing extended warranties to car dealers.36 He kept in touch with former teammates as a member of the board of directors of the Harmon Killebrew Foundation and became active with the Major League Baseball Players Alumni Association. He is a member of three Halls of Fame: the All-American Amateur Baseball Association Hall of Fame (inducted in 1997), the Somerset County (Pennsylvania) Oldtimers Baseball Association Hall of Fame (2000); and the Cambria County (Pennsylvania) Sports Hall of Fame (2004). Despite his foot injury, and later Tommy John surgery, he was an active handball player into his 70s.37
Sources
Unless otherwise indicated, all Kostro's quotes are from an interview conducted in January 2011 available online at twinstrivia.com/interview-archives/frank-kostro-interview/. Minor-league statistics are taken from the appropriate annual Sporting News Official Baseball Guide.
Notes
1 In his January 2011 interview, Kostro said he received a ring.
2 Frank A. Kostro's obituary appears in the Johnstown (Pennsylvania) Tribune-Democrat, January 12, 2006, A9; his middle name is confirmed in the Social Security Death Index accessed via Ancestry.com. His father's birthplace is listed in the 1940 US Census and his occupation is listed on his World War II draft registration card, both accessed via Ancestry.com.
3 Hugh Conrad, "Kostro went from Blough to the big leagues," Johnstown Tribune-Democrat, July 18, 2004, C2.
4 "Frank Kostro Named Somerset's Most Valuable Gridder," Connellsville (Pennsylvania) Daily Courier, November 26, 1954, 12; "Hornets, Kantner In District Playoff," Cumberland (Maryland) Evening Times, March 7, 1955, 9.
5 Kostro mentioned his father's accident in his January 2011 interview. The fact that he was enrolled at Michigan for only one semester was confirmed by University of Michigan associate athletic director David Ablauf in an email on August 11, 2014, citing records in the school registrar's office. "I do not have a complete roster for the 1955 freshman football team, but if he was out for the team, he did not win a freshman numeral in football," Ablauf wrote. Kostro is in a group photo of students who lived in the Cooley Hall dormitory that appears in the 1956 Michigan yearbook, accessed via Ancestry.com. Another photo of Cooley residents on the same page includes another future major leaguer, Steve Boros.
6 Hal Middlesworth, "Kid Clouter Kostro May Plug Big Gap as Tiger Shortstop," The Sporting News, February 3, 1960, 19.
7 Hugh Conrad, "Kostro went from Blough to the big leagues."
8 Ibid. The population of Johnston according to the 1950 US census was 63,232; its population is about 20,000 today.
9 Ibid.
10 Mike Mastovich, "Home-grown talent," Johnstown Tribune-Democrat, December 7, 2003. For more on the history of the AAABA Tournament, which has featured hundreds of future major leaguers over the years, go to johnstownbaseball.com/
11 Hugh Conrad, "Ex-manager spotted talent at young age," Johnstown Tribune-Democrat, July 18, 2004, C2. Keiper also managed the Johnstown team that finished second in the 1956 AAABA tournament, after Kostro had turned professional. "The guys from that team always said if we had Frank that year, we would have won the whole thing," he told Conrad. AAABA tournament results can be found at aaabatournament.com/archives/archive.html.
12 Hugh Conrad, "Kostro went from Blough to the big leagues."
13 The Carolina League all-star team is listed in "Caught on the Fly," The Sporting News, November 6, 1957, 26.
14 The all-star team is listed in the South Atlantic League notes in The Sporting News, July 22, 1959, 40.
15 Morgantown (West Virginia) Post, July 29, 1959.
16 Hal Middlesworth, "Kid Clouter Kostro May Plug Big Gap as Tiger Shortstop," The Sporting News, February 3, 1960, 19.
17 Dave Diles, "Detroit Tigers Defeat Philadelphia," Ludington (Michigan) Daily News, March 25, 1960, 6.
18 Joe Reichler, "Jimmy Dykes Blows Smoke Rings, Sees Bengals On Rampage If He Finds 5th Pitcher," Findlay (Ohio) Republican-Courier, April 1, 1960, 23.
19 Ibid.
20 "Kostro's Bat Sounds Warning to Twirlers," The Sporting News, June 2, 1962, 37.
21 Ibid.
22 Watson Spoelstra, "Aguirre Makes Early Grab to Hold Onto ERA Laurels," The Sporting News, April 20, 1963, 24.
23 Ross Newhan, "Angels Open Stand Against Pesky A's," Long Beach (California) Press-Telegram, June 18, 1963, C-1.
24 Max Nichols, "Opportunity Knocks — Kindall Opens Twin Door," The Sporting News, June 27, 1964, 17.
25 "Twins Invade Atlanta After Double Win Over Yankees," Fergus Falls (Minnesota) Journal, June 21, 1965, 8. The Twins were in Atlanta for an exhibition game against the Milwaukee Braves, who would move to Atlanta the next year.
26 Clifford Kachline, "A Ten-Grand Payoff In Series Becoming Habit With Dodgers," The Sporting News, November 6, 1965, 6.
27 Max Nichols, "Spindly Nossek: A Light Eater, Heavy Swinger," The Sporting News, July 10, 1965, 11.
28 "Frank Kostro Rejoins Twins," Mitchell (South Dakota) Daily Republic, June 16, 1967, 10.
29 The Sporting News Official Baseball Guide for 1968, 253.
30 Arno Goethel, "Hernandez Clear Winner In Twins' Shortstop Derby," The Sporting News, April 20, 1968, 22.
31 Arno Goethel, "Twins Have a Fine Chance With Dean Setting an Example," The Sporting News, April 27, 1968, 12.
32 Irv Moss, "The '60s: Turning up minor-league hits," Denver Post, June 17, 2008, available at denverpost.com/classics/ci_9606702
33 "Kostro Ailing," The Sporting News, July 12, 1969, 42.
34 Mike Lamey, "If You Win Big Like Twins, Fun Is Part of the Picture," The Sporting News, October 11, 1969, 12.
35 Ibid.
36 "Oldtimers to induct nine new members," Somerset (Pennsylvania) Daily American, September 13, 2003, available at articles.dailyamerican.com/2003-09-13/sports/26344237_1_guest-speaker-new-members-pitcher-and-catcher
37 Coloradohandball.com/main/Default.aspx?tabid=274
Born
August 4, 1937 at Windber, PA (USA)
If you can help us improve this player's biography, contact us.
http://sabr.org/sites/default/files/FrankKostro.JPG
600
800
admin
/wp-content/uploads/2020/02/sabr_logo.png
admin
2012-01-04 20:25:06
2021-07-29 13:55:21
Frank Kostro