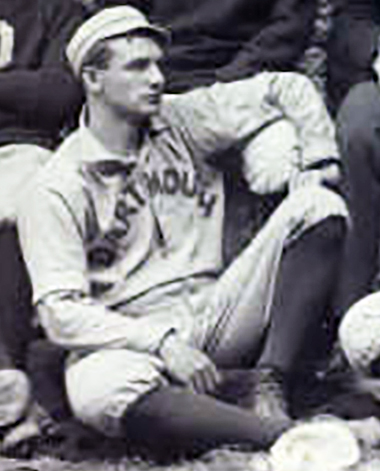 ---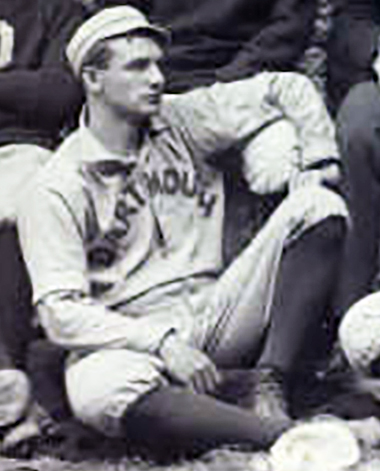 The Brattleboro, Vermont, newspaper read, "The death of Dr. O'Connor removes a capable physician…a man whose warm personality made friends of all his acquaintances, a husband who manifested a strong affection for his wife."1 Dr. F. H. O'Connor had played briefly in the major leagues, making the comments reminiscent of Minnesota doctor Archibald "Moonlight" Graham, who was immortalized by author W. P. Kinsella and the movie Field of Dreams. Graham never got the opportunity to bat in the majors. Unlike Graham, O'Connor got to the plate twice and delivered on both occasions to close his career with a 1.000 batting average and an outstanding 2.500 slugging percentage.2
Author Kinsella claimed that he chose Graham for his popular novel because of the nickname "Moonlight." "What an incredible name," Kinsella remarked. "This is better than any character I could ever create."3 Supposedly Kinsella found Graham while leafing through a baseball encyclopedia. Did Kinsella thumb through the remainder of the book and gloss over Frank O'Connor because he lacked an appealing nickname? Or was it because O'Connor had batted in the majors and therefore lacked the pathos of the untested young Archie?
Francis Henry O'Connor was the fourth child born to David and Catherine (Taylor) O'Connor, Irish Catholics born abroad. He joined his two sisters and brother on September 13, 1868, in the hamlet of Keeseville, New York, located along Lake Champlain due west of Burlington, Vermont. His father. A native of County Cork, was listed as a gardener in the 1860 census and passed away from cancer shortly after Frank's birth.4
Little is known of Frank's youth beyond his mother keeping the family intact by working as a housekeeper. In 1884 newspapers in Burlington heralded the opening of St. Joseph College (SJC). O'Connor entered the institution a few years later and found himself starring for their baseball team. He had "a fine physique, tall and broad shouldered."5 He stood six feet tall and weighed in at 185 pounds. As a ballplayer he both batted and threw left-handed. Besides baseball, he was a member of the glee club and "possessed a bass voice of singular beauty."6
O'Connor played for St. Joseph 1887-89. He pitched, played the outfield and on occasion saw action at third base despite throwing left-handed. SJC played a schedule that included the local high school, nearby town teams and the University of Vermont (UVM). As a pitcher he had a decent fastball and a sharp overhand curveball that broke downward. Against lesser competition his fastball could be overpowering, but control was an issue for him.
In the summer of 1888 O'Connor joined the Portsmouth Lillies of the five-team New England Interstate League. In his first league appearance on May 14 against Haverhill, he pitched well despite three wild pitches, but made a bigger impression at the plate by slamming a home run in the 8-5 win.7
The Interstate League shrank to two teams in the middle of July and was officially declared dead in August.8 From available box scores O'Connor had a 4-2 record in the league. Portsmouth wasted no time in joining the New England League. Portland had dropped out after about 20 games and the Lillies filled their spot in the six-team circuit.
The Worcester Grays were O'Connor's first opponent. He pitched well for four innings but then surrendered 10 runs in the fifth and sixth on the way to an 18-5 loss. His next start came against Lynn and he had to throw 12 innings before gaining a 9-8 win. Losses to Manchester, Salem and Worcester followed. Just when he was released is unknown, but he saw no action during the remaining month of the season.
He returned to college and in the spring spearheaded a powerful St. Joseph team. O'Connor appears to have saved his best performances for games against Vermont and their budding star, Bert Abbey. On April 30, 1889, SJC bested UVM, 9-6. O'Connor had two doubles and three stolen bases. In the pitcher's box he had an off day, issuing 8 walks while striking out 9.9
The two schools played a three-game set that year. The finale was held on June 18 with the series tied at one apiece. O'Connor again struggled with his control as UVM received 11 walks; since Larry Kinsella did some of the pitching it is uncertain how many O'Connor allowed. Frank recorded 13 strikeouts but went hitless against Abbey's offerings. Fortunately for SJC, his teammates played a strong game and won, 8-6.10
The UVM players remained together in the summer playing as the town team for Burlington. In 1890. Burlington business leaders were persuaded to raise $500 for the expenses of the team, which would take on all comers, including black teams and strong semi-pro outfits like the Morills, who were led by former Boston Red Stockings player John Morrill.11 The game with the Morrills took place on August 9. Abbey pitched and O'Connor played left field. Frank had three hits, including a double, and stole six bases as the locals posted a 20-2 win.12
The team also fared well against the Cuban Giants, a black touring team, winning three times. O'Connor starred in the August 1 match-up; "his left-handed zig-zags and stick work and larceny of bases" paved the way to a victory, 6-2. At bat O'Connor had four singles and a home run to left. He struck out 10 and only allowed three hits.13
O'Connor enrolled in the UVM medical school that fall. On campus he joined the glee club and prepared for the baseball season. Frank was joined by catcher Kinsella, his teammate from SJC, who ended up playing a lot of infield because catcher Archie Ranney transferred in from Dartmouth. The team added yet another transfer in sophomore Arlie Pond. Pond would go on to pitch for the champion Baltimore Orioles in the mid-1890s. Pond continued his education through medical school and became a doctor. Unlike O'Connor and Graham, most of Pond's years were spent in China and the Philippines.
There was no governing board for college athletics in 1891. That would come about 15 years later with the creation of the Intercollegiate Athletic Association of the United States, the precursor of the NCAA. Schools were free to define eligible students as they saw fit. UVM allowed undergraduates and graduates to play baseball. Charges of professionalism were leveled towards the program because of financial aid or outright payments to players. There were also complaints about athletes who had played professionally. But in an era when seemingly everybody was doing it, the school ignored the complaints.14
UVM scheduled a mix of colleges and semi-pro teams. They opened the season on April 14 against St. Joseph. O'Connor worked the first five innings and struck out 9 but went to left field trailing by a run. Abbey finished the game, won by UVM, 7-4. On April 16 a team from Lansingburgh, New York, that started pitcher Jim Devlin, who had seen action in four major league seasons, came to town. He was relieved by Bill Fagan, who had played two seasons in the American Association. O'Connor pitched for UVM, allowing three hits and striking out 14 in a 5-3 victory.
UVM won the season series against college adversaries Amherst, Tufts and Williams. They were most excited about a match against the University of Michigan on May 25. O'Connor struck out 18 and walked 11 while allowing two hits in a 6-2 win.15 The blemishes on the season were a loss to Yale and two defeats by Harvard. Vermont researcher Tom Simon credits the team with a 19-6 record in the spring.16
The team continued playing though the summer as they had the previous year. They suffered their worst loss on August 19 when they hosted a black touring team called the Gorhams. The Gorhams' roster included Sol White, Frank Grant and George Stovey. UVM "appeared to realize that they were outclassed" and fell behind 12-0 after four innings. O'Connor pitched the game, surrendering 13 hits and making two of his team's nine errors. On a positive note, he struck out White three times.17
At the suggestion of catcher Ranney, O'Connor transferred to the Dartmouth medical school in the fall. He joined the Dartmouth baseball team in the spring of 1892, his third college team over a six-year span. He played two seasons with Dartmouth for a total of six collegiate baseball seasons, the two summers with Vermont and a summer of professional ball. Times have certainly changed.
Dartmouth's 1892 team came under scrutiny from their opponents because of O'Connor and Ranney. O'Connor had minor league experience and four college seasons. Ranney had been at Dartmouth, left, and returned. Captain Sullivan of Williams College alleged that the battery duo were professionals. He tried to enlist team managers to side with him but found their rosters were similarly suspect.18
Dartmouth enjoyed a fine season in 1892, posting a 14-8 record against college teams.19 They opened the campaign with a seven-game spring trip returning home at 4-3. The trip included losses to Princeton and Virginia along with an O'Connor shutout of Penn, 8-0.
Dartmouth played four games each with Harvard, Williams and Amherst. Harvard won three matches, Williams split 2-2 and Dartmouth swept Amherst. Amherst, Williams and Dartmouth counted their games towards the Triangular League title. At 6-2, Dartmouth took the crown for the first time in five years.
Surprisingly, O'Connor was never burdened with the nickname 'Doc'. He was referred to as Frank or FH. Teammates elected him captain of the Dartmouth team for the following season. His performance in 1892 brought him recognition as one of the best college pitchers in the nation.20 Sporting Life reported that he was being pursued by the finest semi-pro teams in New England and that the Boston Athletics had the upper hand in gaining his services for the summer.21 Various sources mentioned that Philadelphia, Boston and Pittsburgh were in the hunt for his services but O'Connor made it clear he wanted to finish his studies first.
O'Connor was delayed in joining the Athletics because of his mother's illness.22 A search of box scores suggests that he never joined the team and spent the summer in Keeseville. His mother passed away on August 6 and was buried beside her husband in Keeseville's Immaculate Concepcion Cemetery.23
O'Connor returned to Dartmouth for his final year of studies. In the spring his squad visited the Philadelphia Phillies on April 11 to open their season. The day was cool and wet with the mound set at the new 60 feet, 6 inches distance. Frank had not had a chance to practice at that distance and his "drop ball often fell short."24 O'Connor pitched a fine game but took the 5-2 loss. Ed Delahanty of the Phils had two doubles and Jack Clements had a double and a single.
After the game O'Connor discussed a contract with the team; he again indicated that any decision would have to wait for the summer but "I would rather play in Philadelphia than elsewhere, as the members of the Philadelphia club seem to be a very nice set of fellows and congenial."25
A few days later O'Connor faced Yale and lost, 4-0. It was clear that his pitching was not equal to the previous year. There was also speculation that the weather and work in Philadelphia had injured his arm possibly from a "sprained ligament."26 Whatever the malady, he suffered from arm lameness and lost the zip on his fastball.
With O'Connor underperforming, the Dartmouth team posted a 6-11-1 mark in 1893. The low point came on April 26, when Harvard scored six in the first off Frank and forced him to the outfield after just three innings. The final score was 20-0.27 Dartmouth struggled in games with Williams and Amherst, posting a 2-5-1 record.
After a series of negotiations, O'Connor came to a contract agreement with Philadelphia on August 1. He joined the team and started the August 3 game against Washington. He addressed speculation that his arm was not up for the challenge by saying, "I can pitch as well as ever, and Harry Wright knows it."28
The Senators were in last place and seemed a logical choice for O'Connor's debut. A Philadelphia sportswriter described his debut: "He is a big, broad-shouldered fellow strongly resembling Jack Stivetts of Boston, and has a picturesque style of delivering the ball. First he holds both hands high above his head…then twists his left arm behind his back, throws out his right foot and lets the ball go."29 The paper stated that he threw just 14 pitches and that only two were strikes. After he walked the first three batters, manager Wright was forced to bench him. Philadelphia won easily, 22-7.
The Phils scored 14 the next day and in the finale on August 5 were ahead, 19-7, when O'Connor was sent in to relieve Gus Weyhing in the seventh inning. He finished the game allowing one run while walking 2 in a 21-8 victory. At the plate he singled in his first major-league at bat. The team left for Baltimore the next day.
Kid Carsey was given the start on August 7 and lasted only two innings after surrendering nine runs. With Baltimore batting first, Carsey was replaced by O'Connor in the batting order in the bottom of the second. He delivered "the prettiest hit of the game" by homering with two men on.30 O'Connor pitched the third but issued four walks to go with two hits for two Orioles' runs. The game was his final appearance in the majors as the Phillies released him a short time later.31
O'Connor still had some schoolwork to do and returned to Dartmouth where he graduated in the Class of 1894. In the spring of his final year he helped to coach the Dartmouth pitchers. He especially liked the potential of A.E. Carleton, a lefty who pitched much like O'Connor.32
Frank played semi-pro ball that summer. He was signed by Lowell in the New England Association for the 1895 season. His tenure with them was very short. He walked seven in the first three innings on May 11, ending his professional career.33
When his medical studies were completed, he spent two years studying philosophy in Montreal before doing his training in Brooklyn. His first job was at St. Mary's hospital in New York. From there he opened a general practice in Bellow Falls, New York.
In April 1904 he moved to Brattleboro and established his practice there. He had married Bridget Kelley on December 26, 1899, in Rockingham, Vermont. The couple purchased land in Brattleboro and built a lovely home. In 1909 he sold that home and lands to the Masonic fraternity and the home became the face of the Masonic Temple. He and Bridget moved into downtown where he built "a cozy office building."34
O'Connor gained an area-wide reputation as a fine physician and surgeon. He was never a coroner, but assisted on cases with his knowledge of science and medicine. He served as surgeon for the Boston and Maine railway and was the medical examiner for Mutual Life and Equitable Insurance companies. It was not unusual for O'Connor to travel to Philadelphia, Boston or New York to consult or perform delicate surgeries.
In the community he took a keen interest in the Village Fair association. The community festival was held annually; under his presidency the facilities were expanded and their debt was wiped out. He served as choir director for the local Catholic church and was also prominent in the Knights of Columbus, even holding high state office.
On December 26, 1913, he was in his office, apparently reading, when he succumbed to a massive heart attack. He died at his desk on his 14th wedding anniversary. Sadly, his lifeless body was discovered by Bridget when she returned from an afternoon errand. A full funeral Mass was celebrated, and he was laid to rest in St. Michael Cemetery in Brattleboro.35
Frank's home run off Bill Hawke made him the second player (the first was Buck West in 1890) to end his career with a home run. That list now numbers over 50, including Hall of Famers Mickey Cochrane and Ted Williams. One of the most recent and memorable final-at-bat home runs was by catcher David Ross in Game 7 of the 2016 World Series.
Acknowledgments
This biography was reviewed by Andrew Sharp and Norman Macht and fact-checked by Alan Cohen. Thank you to the staff, especially Nancy Smith, at the Anderson Falls Historical Society in Keeseville, NY.
Notes
1 "Dr. O'Connor's Sudden Death," Brattleboro (Vermont) Reformer, December 27, 1913: 1.
2 Esteban Yan homered in his first big-league at-bat in 2000 and singled in his only other at-bat in the majors (2003), thus also finishing with a lifetime slugging percentage of 2.500. Entering the 2020 season, seven other men have posted the same 2-for-2: Mike Hopkins (1902), Doc Tonkin (1907), Hal Deviney (1920), Fred Schemanske (1923), Steve Biras (1944), Jason Roach (2003), and Gregory Soto (2019). The major-league record of 3-for-3 for a career belongs to John Paciorek (1963).
3 Posted in an online blog https://www.amc.com/talk/2007/09/the-fictional-a. Last accessed September 7, 2019.
4 Information courtesy of Anderson Falls Historical Society in Keeseville.
5 "Dr. O'Connor's Sudden Death," Brattleboro Reformer.
6 "Sudden Death of Dr. F.H.O'Connor," Burlington Free Press, December, 27, 1913: 1.
7 Boston Daily Globe, May 15, 1888: 11.
8 "The Late Interstate League," Boston Herald, August 5, 1888: 2.
9 "A Good Game of Base Ball," Burlington Free Press, May 1, 1889: 1.
10 "St. Joseph College Wins," Burlington Free Press, June 19, 1889: 5.
11 Tom Simon, editor, Green Mountain Boys of Summer (Shelbourne, Vermont: New England Press Inc, 2000), 22.
12 "U.V.M. 20 John Morrills 2," Burlington Free Press, August 11, 1890: 5.
13 "Fall of the Giants," Burlington Free Press, August 2, 1890: 1.
14 Tom Simon, The Wonder Team in the White City (Burlington, Vermont: Gardner-Waterman Press, 2011), 14-17.
15 "Burlington Happy," Rutland (Vermont) Daily Herald, May 26, 1891: 1.
16 Tom Simon, The Wonder Team: 20.
17 "A Bad Defeat for U.V.M.," Burlington Free Press, August 20, 1891: 5.
18 "Williams Leads at Present," Boston Globe, May 21, 1892: 5.
19 https://dartmouthsports.com/sports/2016/6/13/211016193.aspx Last accessed September 9, 2019.
20 "Dartmouth's Great Pitcher," St. Joseph (Missouri) Gazette-Herald, July 9, 1892: 8.
21 "Editorial Views, News, Comment," Sporting Life, June 4, 1892: 3.
22 "Local Matters," Fitchburg Sentinel, July 15, 1892: 2.
23 Courtesy of Nancy Smith from the Anderson Falls Historical Society. Email exchange in October 2019.
24 "Dartmouth's Opening Game," Boston Herald, April 12, 1893: 12.
25 Ibid.
26 The Pittsburgh Press, August 11, 1893: 5.
27 "O'Connor Last Three Innings," Boston Herald, April 27, 1893: 12.
28 "Bases on Balls," Burlington Free Press, July 14, 1893: 5.
29 "Base Ball," The Times (Philadelphia), August 4, 1893: 6.
30 "The Phillies Beaten," Philadelphia Inquirer, August 8, 1893: 3.
31 "Sporting Comment of Interest to All," Philadelphia Inquirer, August 20, 1893: 16.
32 "Hard Hits," Boston Herald, March 9, 1894: 6.
33 "Lucky Ninth for Fall River," Boston Herald, May 12, 1895: 4.
34 "Dr. O'Connor's Sudden Death," Brattleboro Reformer.
35 Reformer
Born
September 15, 1868 at Keeseville, NY (USA)
Died
December 26, 1913 at Brattleboro, VT (USA)
If you can help us improve this player's biography, contact us.
https://sabr.org/sites/default/files/OConnor-Frank.jpg
600
800
admin
/wp-content/uploads/2020/02/sabr_logo.png
admin
2019-10-29 12:23:25
2020-04-09 14:37:29
Frank O'Connor