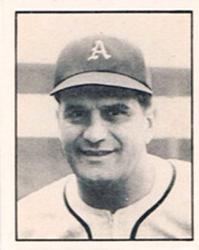 ---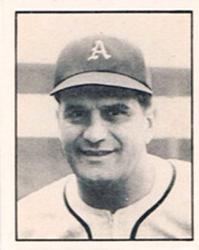 Frank Skaff's big-league playing career spanned a mere 38 games and 75 at-bats in 1935 and 1943. That was far fewer than observers projected when the talented athlete emerged on the stage. However, Skaff spent six decades in Organized Baseball as a player, coach, manager – including 79 games with the 1966 Detroit Tigers – and scout. His dedication to baseball truly lasted until his dying breath.
Francis Michael Skaff was born on September 30, 1910, in La Crosse, Wisconsin. He was the second of five sons of Michael and Bella Skaff. Bella's maiden name was also Skaff. Frank's paternal and maternal grandfathers – Habibe and Kalil M. Skaff – were Lebanese immigrants who arrived in the United States with their extended families around the turn of the 20th century.1 Michael and Bella were around 10 years old when their parents eventually settled in La Crosse. The young couple married in 1908 and moved to Lowell, Massachusetts 12 years later. Michael Skaff was variously employed as a shoemaker, a dry goods peddler, and a grocery store clerk throughout his short life. He died in 1925, just two months shy of his 41st birthday.
Frank attended Lowell High School. There he preceded (by 10 years) Jack Kerouac, the future Beat Generation icon who was also a Lowell Red Raiders football star. Though it is unclear if Kerouac excelled in other sports, Skaff was captain of his high school's football, basketball, and baseball teams. Proficient on the American Legion diamond as well, Skaff drew some interest from the Boston Red Sox during this time. But it was his gridiron success that initially launched Skaff's athletic career beyond the prep school level. Following his high school graduation in 1929, Skaff was recruited by famed collegiate football coach Harry Stuhldreher – one of Notre Dame's fabled Four Horsemen – as a defensive end for Villanova College (now University). (Since Skaff also played basketball for the Wildcats, one report suggests that the athletic scholarship included this sport as well.)2
In the summer of 1930, Skaff's football career abruptly ended, though it happened while playing baseball. In an exhibition against a Negro League squad – most likely while Skaff was playing in Philadelphia's semi-pro Main Line League – he suffered a fractured skull from an errant pitch. The injury was severe enough to end his gridiron pursuits, but it was not enough to dampen Skaff's love of baseball. Though he was retained as a junior varsity football coach, his scholarship was changed to baseball.3
For the next several years, Skaff shared the Wildcats third base job (and hardwood courts) with future major-league infielder Ben Geraghty. Over the next two decades, Skaff's and Geraghty's careers often intersected. They were teammates for Berwyn in the Main Line League. They were Grapefruit League teammates and minor-league opponents. They also faced each other as minor-league managers.
In June 1935, after he graduated from Villanova, Skaff signed with the Brooklyn Dodgers.4 His first season was spent primarily as a third baseman with the Peoria Tractors in the Three-I League (Class-B). He also played outfield (for the only time in his pro career) during a brief stint with the Class-A Reading/Allentown Brooks in the New York-Pennsylvania League. Skaff drew comparisons to Pepper Martin, the St. Louis Cardinals' four-time All-Star outfielder-third baseman, for his aggressive style of play.5 The powerfully built, olive-hued 24-year-old batted .283 for Peoria, with a team-leading nine triples in just 223 at-bats. In August, Skaff earned a quick promotion to the Dodgers after infielder Tony Cuccinello's season was cut short by injury.
On September 11, 1935, Skaff made his major-league debut at Cincinnati's Crosley Field, pinch-hitting against veteran Reds right-hander Paul Derringer. He grounded out to short. A second unsuccessful pinch-hitting appearance ensued before Skaff made his debut in the field on September 14 as a fifth-inning replacement for third baseman Joe Stripp. In his second at-bat, Skaff collected his first major-league hit, a two-out RBI single against Chicago Cubs right-hander Charlie Root. In the ninth inning Skaff's two-out infield single ignited a five-run rally that eventually came up short in a wild 18-14 loss to the Cubs.
Skaff's next appearance featured in a Sporting News article about him three decades later. On September 19, St. Louis Cardinals flamethrower Dizzy Dean was at his best, mowing down the Brooklyn Dodgers en route to a 9-1 complete game win. In the fourth inning, shortstop Lonny Frey returned to the Dodgers' dugout after three futile swings, relieved not to have been hit by one of the future Hall of Famer's blinding pitches. "I've got a wife and kids," cried the future All-Star infielder.
Three innings later, Brooklyn manager Casey Stengel, who was coaching third base, pointed in the dugout at Skaff to pinch-hit for pitcher Ray Benge. Just three months removed from the Villanova campus, Skaff's "knees [felt] like noodles . . . [as he] went up to face the mighty Dean. He never saw the first pitch. 'Strike,' the umpire bellowed. Now [Skaff] dug in. 'What the heck,' he thought. 'If he hits me, it won't hurt for long. I'll be dead.'" Skaff swung at the next pitch and squirted a grounder past the pitcher into centerfield for a two-out base hit. The seeing-eye single gave Skaff a 1.000 batting average against Dean.6
Ten days later, in the last game of the season, Skaff earned his first starting assignment in the second game of a doubleheader against the Philadelphia Phillies. He collected two hits, including an RBI double, and scored a run in an eventual 4-4 tie. Drawing considerable admiration from Stengel for his energetic play over the month-long trial, the right-handed hitter finished with six hits (including a triple) in 11 at-bats, and three RBIs.
But in the spring of 1936, Skaff faced a challenge in staying in the big leagues. The incumbent third baseman, Stripp, was a .300 hitter for much of his career with the Dodgers. Assigned to the Knoxville Smokies in the Southern Association, Skaff managed to place among the circuit leaders with 14 home runs even though injuries limited him to just 76 games.7
Skaff also lost his organizational advocate when Brooklyn let Stengel go following the 1936 season. On July 23, 1937, while playing for the Clinton (Iowa) Owls in the Three-I League, he was traded to the Washington Senators for left-handed hitting utilityman Jake Daniel.
Over the next four-plus seasons, Skaff bounced around a variety of minor-league circuits with mixed success. Injuries – including a dislocated knee – hampered his development.8 During this time Skaff spent the off-seasons at Lowell High as a physical education instructor and basketball coach. He also worked for the city's department of recreation. After the 1941 season, when injuries held him to just 46 games with the Charleston Rebels in the South Atlantic League, Skaff retired to accept a job as Lowell's recreation director. His tenure proved short-lived because the US entered World War II that December.
Skaff's draft status was 4-F, in large part because of the multiple injuries he'd sustained during his playing career. His efforts during the war were limited to working at the Portsmouth, New Hampshire Navy Yard. By then 32, he resumed play at the semi-pro level, where he soon gained the attention of Philadelphia Athletics scout Tom Fleming. In January 1943, Skaff signed with the A's.
The signing proved prescient; two months later, the already war-depleted Philadelphia roster sustained another loss when utility infielder Jimmy Pofahl retired. This departure gave Skaff more playing time during spring training in Wilmington, Delaware. He used it to good advantage. On April 4, he blasted a two-run homer to lead the Athletics to a 5-3 win against the Phillies. His overall play proved a "pleasant surprise to [manager Connie] Mack" and earned Skaff a role on the major-league roster.9
Through the first four months of the season Skaff got just 10 at-bats. He was used primarily as a pinch-hitter or late-inning defensive replacement. In August, he began spelling first baseman Dick Siebert when the veteran – who'd played in the All-Star game only the month before – became mired in a 19-for-104 slump. On September 27, in the second game of a doubleheader against the St. Louis Browns, Skaff hit his only major-league home run, a grand slam against the roof of Philadelphia's Shibe Park. The prodigious blow came after lefty Al Hollingsworth intentionally walked left fielder Bill Burgo to get to Skaff.
One week later, in what proved to be his last major-league playing appearance, Skaff collected a game-tying RBI single in four at-bats against Cleveland (the Indians eventually won in extra innings). During the offseason he was sold to the Baltimore Orioles in the International League (Class AA) along with pitcher Sam Lowry and outfielder Felix Mackiewicz.
In 1944, the Orioles returned Skaff to his familiar spot, third base. He posted a .268/.354/.435 slash line with 17 home runs to help lead the club to its first championship in 19 years. The next season, Skaff teamed with his younger brother Mike, who had entered pro baseball in 1937. Frank exploded for a career year, with league-leading marks in homers (38), RBIs (126), and runs scored (128).
Yet throughout this two-year surge, Skaff was unable to attract major-league interest. On May 29, 1946, while immersed in an early season slump, the 35-year-old jumped at the opportunity to take over the Montgomery team in the Southeastern League (Class B). The Rebels' skipper, Gus Brittain, had resigned from the last-place club a week earlier. The team won six of its first seven games under Skaff's direction and finished the season in the first division. In 1947-48 he led the Rebels to consecutive league championships. One of his opposite numbers in the Southeastern League in 1948 was Ben Geraghty.
Skaff was variously described as a genuinely nice and uncommonly honest man.10 His patience with and guidance of his young charges proved a perfect fit for the Rebels. But beneath his placid exterior was the seething drive of a fierce competitor. This exhibited itself in various ways during both his playing and managerial career. In July 1944, Skaff was one of three Orioles players to enter the stands in Jersey City in pursuit of an abusive heckler, an impulsive move that cost him a $50 fine. Three years later, he drew a $25 fine for "overstepping [the] bounds in abusing umpires" in a game against the Selma Cloverleafs.11 In 1949, a police escort was required to remove Skaff from the field after he objected to a first-inning ejection.
These tirades notwithstanding, Skaff's managerial success soon began attracting national attention. In 1949, he nearly managed the Savannah Indians – formerly the cellar-dweller in the Class A South Atlantic League – to a pennant. That May, Tommy Thomas, longtime skipper of the Orioles, resigned. Skaff, who had adopted Baltimore as his home, was rumored as the logical replacement.
Skaff's move to Baltimore was no accident. At some point while he was playing there, the longtime bachelor met and fell in love with Irene Piontek, a Charm City native 14 years his junior. They got married on January 26, 1947 and eventually had two sons and a daughter. One son, David, played professional basketball overseas. Three decades later, two of Skaff's grandchildren, Cameron and Caroline Skaff, were making their mark as college athletes. Cameron played football for Dartmouth College and Caroline played volleyball for the University of South Carolina.
The Orioles job was never tendered, but Skaff continued to make a name for himself within the Philadelphia hierarchy. Through 1953 he managed at varied levels within the farm system. He was noted for resurrecting the career of Moe Burtschy while also developing youngsters such as Art Ditmar, Arnie Portocarrero, and Bob Trice, the A's first African-American player. When Cal Ermer launched his long managerial career in earnest in 1950, he did so in part at the urging of Skaff
In 1953, Skaff received consideration for the International League's Manager of the Year award. He had kept the Ottawa A's in contention throughout most of the season before a late collapse resulted in a second-division finish. "Skaff is one of the more promising managers in our chain," said Athletics general manager Art Ehlers.12
During the offseason, Ehlers was appointed as the GM of the Baltimore Orioles as the major-league franchise prepared for its first season there after shifting from St. Louis. Shortly afterward, he named Skaff the team's first base coach. Manager Jimmy Dykes made Skaff his "hatchet man," removing pitchers from games – which Skaff had to do frequently because the Orioles lost 100 games in 1954. The dismal results prompted the firing of the entire Orioles staff.
That December, the Detroit Tigers hired Skaff to manage their Class B affiliate in Durham, North Carolina. It launched a four-decade association between Skaff and the Tigers.
Except for 1958, when he served as the Tigers' East Coast scouting supervisor, Skaff piloted throughout the organization over the next nine years. In 1956, he led the Charleston Senators out of the American Association's cellar for the first time since the club was located in Toledo five years earlier.13 That year Skaff showed how zealously he guarded his reputation in the baseball world. An Omaha newspaper wrote that he had used "strong language in an argument with the umps," Skaff demanded a retraction. "[It's] a lie," he said. "I simply don't go for profanity and resent the article very much."14
Much as he did within the Athletics organization, Skaff helped usher the careers of a notable group of prospects, including catcher Bill Freehan, outfielder Willie Horton, pitcher Mickey Lolich and future Hall of Famer Jim Bunning. In 1959, after leading the Durham Bulls, he was dispatched to the Mansfield Reformatory in north-central Ohio to observe Gates Brown. Skaff's report convinced the Tigers to arrange an early release for the 21-year-old, whom they promptly signed. After the 1963 season Skaff returned to Baltimore and resumed his duties as the Tigers scouting supervisor.
In March 1965, the Tigers made Skaff their third base coach in an emergency. Coach Bob Swift took over as interim manager following Chuck Dressen's heart attack. When the 70-year-old Dressen returned in May, Swift resumed his third-base coaching duties and Skaff moved to the first-base line.
Detroit retained Skaff in 1966 and he resumed his first-base coaching duties. That May, Dressen suffered a second, more serious heart attack – a third left him dead three months later. Once again Swift took the helm and Skaff moved across the diamond. But Swift's health was no less fragile. In July, he was hospitalized with a stomach disorder that was later diagnosed as lung cancer, which claimed his life in October. On July 14, Skaff took on the dual role of third-base coach and interim manager.
Over the first three months of the season the Tigers were in the thick of the AL pennant race. On June 25, the club moved within a game and a half of the first-place Orioles, but the next day, the Minnesota Twins swept a doubleheader from Detroit, starting a rocky patch. When Skaff took over, the Tigers had won just five of their previous 16 games. His major-league managerial debut showed promise when the Tigers held off a ninth-inning Orioles rally and won 4-3. The next day Skaff sent Earl Wilson in to pinch-hit in the 13th inning and the hard-hitting pitcher hit a game-ending three-run homer for an 8-5 Tigers win.
But far less success ensued – the Tigers dropped seven of their next eight games. Known for his team-first approach, Skaff exploded in anger at the entire 25-man squad after quotes from right-hander Denny McLain appeared in the Detroit News alluding to a lackadaisical, country club-like atmosphere surrounding the team. (The 22-year-old hurler later denied making the remarks.) "[Skaff] did a good job in handling the matter," Tigers GM Jim Campbell said. "He is a gentle guy, but look out when he gets mad."15 On August 31 the club again felt his ire following a particularly sloppy game. The Tigers committed three errors that contributed to two unearned runs in a 7-6 loss to the Chicago White Sox.
Throughout the season the Tigers struggled with pitching, eventually finishing with a 3.85 ERA (ninth among the AL's 10 teams). In August, Skaff switched to a four-man rotation and the club showed some improvement, posting a record of 33-27, 3.52 over the final weeks of the season. It was not enough, however, to make up for the hole the team had dug in July. The Tigers finished in third place, 11 games behind the pennant-winning Orioles. Skaff was in charge for nearly half the club's wins with a 40-39 mark.
As the season wound down, debate arose as to whether Skaff's interim label might be removed. More often, reports surfaced that the Tigers were pursuing experienced managers such as Al Lopez (reportedly Jim Campbell's first choice), Ralph Houk, Bill Rigney – or even Skaff's first major-league skipper, Casey Stengel (who'd stepped down from his job with the Mets after breaking a hip the prior year). Instead, one day after the season ended, the Tigers selected a dark horse candidate: former Phillies and Cincinnati Redlegs manager Mayo Smith. When Skaff heard of the selection, the ever-gracious gentleman said, "The choice of Mayo Smith was a smart move. We're all pulling for him to win it next year."16
Skaff returned to his Baltimore home, where he once again resumed his scouting duties for the Tigers. He was one year shy of qualifying for a major-league pension; thus, in 1970 Detroit brought him back to coach first base under manager Billy Martin to become eligible. The organization continued to lean on Skaff to assess upcoming talent. He reportedly played a role in the 1973 signing of Michigan inmate Ron LeFlore. He was also responsible for the signings of many prospects who were never incarcerated. After retiring as a full-time scout in 1983, he continued to beat the bushes on a part-time basis for several years afterward.
But Skaff's long involvement in sports extended even deeper. In the 1940s, he spent at least one offseason as the football and basketball coach for the McDonogh School, a private college-preparatory school northwest of Baltimore. In 1946 Skaff was the head line coach for the Johns Hopkins University football team. For several years during his scouting career, he also served as the athletic director and head basketball coach for the University of Baltimore. Skaff also maintained close ties with the Baltimore County Parks and Recreation Department. He organized many baseball clinics for children and amateur adults, many of which were sprinkled with major-league instructors whom he personally recruited.
For decades, Skaff was a tremendous ambassador for baseball, the sport he loved most. His keen wit made him a sought-after speaker on the rubber chicken circuit. He regaled audiences with his humorous take on Stengel and other associates he encountered throughout his long career.17
Skaff was very proud of his Lebanese heritage. Throughout his travels, he was heralded by several ethnic associations, including the Syrian-Lebanese American Society of Springfield, Massachusetts in 1950. He was also a proud member of the Knights of Columbus and the Professional Baseball Players Association.
In April 1974, Skaff was among the honored guests at Baltimore's Memorial Stadium during the 20th anniversary commemoration of the 1954 Orioles. Two years later he was inducted into the Villanova University Varsity Club Hall of Fame. Further honor followed in 1987 when Skaff was inducted into Lowell High School's Athletic Hall of Fame.18
In 1980, Skaff's health began to falter when he suffered his first heart attack. Yet upon his recovery, he immediately went back to work. On April 12, 1988, seven months after his 77th birthday, Frank Skaff died after suffering another heart attack. It came in the parking lot at Towson State University in Baltimore County, where he was scouting a college game for the Tigers. Several years before, he had said, "When I decided to come back [to Organized Baseball] in 1943, I stayed for keeps."19
Sources
In addition to the sources cited in the Notes, the author consulted ancestry.com. The author wishes to thank Carol Honan, a friend of the Skaff family, for her valuable assistance. Further thanks are extended to Rory Costello for reviewing and editing the narrative.
Notes
Born
September 30, 1910 at La Crosse, WI (USA)
Died
April 12, 1988 at Towson, MD (USA)
If you can help us improve this player's biography, contact us.
http://sabr.org/sites/default/files/SkaffFrank.jpg
600
800
admin
/wp-content/uploads/2020/02/sabr_logo.png
admin
2017-01-10 13:17:06
2021-09-26 09:53:59
Frank Skaff