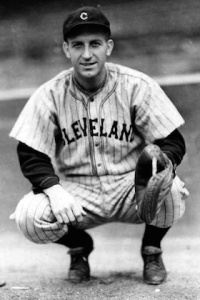 ---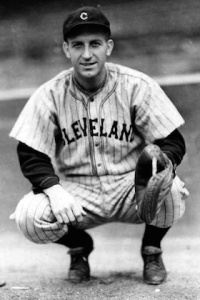 Catcher Frankie Pytlak was the youngest of eight children born to Polish immigrants Casimir and Antoinette (Niemier) Pytlak. He was born as Frank Anthony Pytlak, in Buffalo, on July 30, 1908. His father, Casimir, had arrived from Poland in 1882 and at the time of the 1910 census worked as a blacksmith for the railroad in Buffalo.
Frank was raised in Buffalo, attending the public schools and graduating from Masten Park High School. He never grew to become a large man; he described himself as 5-feet-7 and weighing 155 pounds in his Hall of Fame player questionnaire, but an anonymous appraisal of him in the file called him "a peppery catcher with a great arm."1 As a youngster playing semipro ball in the area, he also pitched in high school. Pytlak was working in the stockyards after school during his high school days.2 He also was an amateur boxer, and a local boxing promoter named Jack Singer recommended him to Buffalo Bisons manager Bill Clymer after seeing him pitch a no-hitter to win the Cornell Cup for his high school.3 Though Pytlak took both his catcher's mitt and a glove to his first training camp, in 1928, Clymer reportedly never saw him as anything but a catcher. Pytlak said he'd only brought along the catcher's mitt as an afterthought.4
After a brief lookover at Buffalo in 1928, Pytlak worked most of 1929 at Hagerstown in the Class-D Blue Ridge League. There he appeared in 72 games and hit for a .268 average. He did throw a no-hitter for Hagerstown. In 1930, it was Class B with Erie and Pytlak hit for an impressive .330 average in 86 games. Monte Cross called him "the most dangerous man in the Erie line-up."5 He put in a full season for Buffalo (which was Double-A) in 1931 and hit .306 for the year. With catchers Glenn Myatt 34 years old and Luke Sewell age 31, the Cleveland Indians knew it was time to be looking for a younger catcher. They found him in Frank Pytlak. On December 3, 1931, the Indians officially purchased his contract from Buffalo for cash and two players. SABR's Scouts Committee credits Indians scout Bill Bradley with recommending the purchase.6
One of the reasons he hadn't played more games in his minor-league years is that he'd broken his right index finger three times. "Instead of letting the pitch come into my mitt I was stopping part of the force of the pitch with my right hand," he said, "in my eagerness to get hold of the ball quickly to throw to bases, and also to try to draw up low pitches." An umpire told him, "You can't fool me, boy. When you're low you might as well let 'em stay low," and manager Steve O'Neill told him he simply needed to take better care of his hands.7
Pytlak was very impressive at Indians spring training in New Orleans, and his major-league debut saw him get one at-bat in the game against the Tigers on April 22, 1932; he doubled off the right-field screen (in a 16-3 loss). He was used sparingly and appeared in only 12 games, batting .241 with 4 RBIs. Optioned to Toledo on June 1, he spent much of the middle part of the season catching for the Mud Hens (54 games, .324 at the plate). With Cleveland he handled 47 chances without an error, collecting seven assists. Extraordinarily quick, he was particularly good at pouncing on balls hit in front of the plate. Yankees manager Joe McCarthy told of a bunt that Ben Chapman put down toward first base: Pytlak "threw off his mask and chased the ball down the line, and when he caught up with it he actually was ahead of Chapman." And later in the same game, when Lou Gehrig bunted toward third with a runner on second, "Pytlak bounced after the ball like a rabbit, going at least twenty feet down the line, and forced our man at third."8
Pytlak's roommate Willie Kamm had a little fun with him. The first time the Indians went to New York, Pytlak was told that he had to contribute $5 to the local gangsters "or the gangsters would enter their rooms while they were out and tear up their laundry."9 Kamm kept the money for a month, then returned it to him. Another player told him that the elevators offered free service only to the eighth floor and that it cost 10 cents a floor to go to the upper levels. His room was on the 33rd floor, and he was just a rookie, so he decided to save the money and walk up the rest of the way. After a couple of times, some of the other players "took pity on him and told him they had arranged with the hotel management for him to ride free."10
At age 24, Pytlak became Cleveland's first-string catcher in 1933. Appearing in 80 games for managers Roger Peckinpaugh and later Walter Johnson, he hit .310 with 33 RBIs. He also hit the first two of his seven career home runs; the first (in his first start of the season) was a three-run homer in the seventh inning of a 4-1 win over the St. Louis Browns on April 25. There were, of course, other game-winning hits, such as his double against the Browns on August 12, driving in Kamm in the bottom of the 10th and his triple that drove in the go-ahead runs in a win over the Yankees on August 25. And once more he didn't make an error, successfully handling all 303 chances. He had, however, suffered broken fingers three more times, the first one coming as early as May 8.11
Pytlak converted the first 50 fielding chances he had in 1934, too, bringing his total to an even 400 errorless chances until a first-inning error on May 6 in Philadelphia. It was one of four errors he made in 1934.
There was a longer stretch for Pytlak: between September 10, 1938, and September 18, 1940, he handled 575 consecutive chances for the Indians without an error, erasing the previous major-league mark of 452 set by Gabby Hartnett of the Chicago Cubs.12 By career's end, Pytlak had committed 29 errors in 3,382 chances for a superb .991 lifetime fielding percentage.
Pytlak held up the Indians for more money before the 1934 season got under way; at the end of spring training, Cleveland manager Walter Johnson called Pytlak "the best catcher in the American League."13 Pytlak got on base with almost the same frequency as in 1933 (.352 compared to .355), but it was due to his working more than twice as many bases on balls (his batting average dropped 50 points to .260). A recurring stomach disorder cost Pytlak in 1935, and he appeared in only 55 games, his last game coming on July 14. He went on the voluntary retired list; Cleveland GM Billy Evans gave a different reason: "He said his eyes were bothering him and [he] was very nervous."14 He was given work in Buffalo as a street foreman. He'd been ill for parts of 1933 as well.
Over the winter of 1935-36, Pytlak built himself up, adding 18 pounds by late January and working out at a Buffalo gymnasium. He put together three consecutive seasons hitting over .300, starting with .321 in 1936. (He would have played in more than 75 games except for being hit with a pitch by Monte Pearson in an August 2 game against the Yankees. His jaw was broken in three places, costing him more than a month.) In 1937, when he played in 125 games, Pytlak achieved a career high with 44 RBIs, and drove in 43 more in 1938. A fractured finger cost him about a week in September. He remained fast afoot, leading all league catchers with 16 stolen bases. And it was Pytlak behind the plate on October 2, 1938, when Bob Feller struck out 18 Tigers in one game, setting a major-league record that stood for more than 30 years.
On August 20, 1938, in an exhibition before 10,000 people, Pytlak caught a ball thrown by Ken Keltner from the top of Cleveland's Terminal Tower, an elevation of 708 feet, breaking Gabby Street's 1908 record of catching a ball from the top of the 555-foot Washington Monument.15
Pytlak and his wife, Mary (Kolk, a schoolteacher), both brought divorce suits, one against the other, in August 1938. She filed first, but said she "never really intended to go through with it" and "only try to scare Frankie."16 He filed a cross-petition on September 12 charging "extreme cruelty and gross neglect of duty." In a court hearing on the 17th, Mary Pytlak was awarded temporary alimony.17 The case was settled, largely in her favor, in November. They had been married less than a year before, on September 27, 1937. Frank married again, in November 1942, to Emily Ostrowski.
The 1939 Indians had two catchers who had to share time – Pytlak and Rollie Hemsley. They were both right-handed hitters and both put up very similar stats, but Hemsley played in 107 games to Pytlak's 63. Pytlak got on board more, but Hemsley drove in and scored runs at a better pace. Both were similarly strong defensively. Hemsley was brought on board as "Feller's private catcher," but Pytlak did catch Bob at times and did about as good a job. It was noted that Hemsley had not been behind the plate during most of Feller's biggest games.18 But Pytlak may have fallen out of favor when he cleaned out his locker in late March and quit camp, saying that the Indians VP "doesn't understand me." Indians president Alva Bradley said, "Neither do I," and manager Ossie Vitt added, "Make it three."19 It wasn't a salary dispute. Hemsley was reportedly more highly regarded by the Indians fan base, but Pytlak more so around the league.20 Pytlak suffered a couple more broken fingers during the first half of the season, and a couple of other injuries to boot. That forced more of the work Hemsley's way. There was a fair amount of trade talk about Pytlak after the season, as one of the better catchers in the league.
He wasn't traded but he was asked to take a salary reduction from $11,500 to $8,000 for 1940. He held out, and even mentioned retirement.21 Pytlak capitulated on May 4, accepting the lower salary. He didn't have much choice under baseball's reserve clause. Pytlak got into his first game on the 17th. But he didn't play that well; he hit just .141, more than 125 points below his 1939 average of .268. He had said in mid-June that he was ill, and asked to be put on the voluntarily retired list but the Indians refused to do that.22 He returned a week later. As to his poor hitting, the Plain Dealer said, "There's no way to explain it except on the ground that he missed the whole training season." 23 Demoralization was apparently not considered; there was no secret that Vitt favored Hemsley. As late as August 18, Pytlak was batting under .100.
It was probably time for a trade, and a change of scenery. On December 12, 1940, at the Winter Meetings, the Indians traded Pytlak (with Joe Dobson and Odell Hale) to the Boston Red Sox for Jim Bagby, Gene Desautels, and Gee Walker, as part of a three-way deal. (The Red Sox had to get Walker from Washington, and sent Doc Cramer to the Senators.) It was Pytlak the Red Sox wanted, as witness the Boston Herald front-page headline: "Sox Swing Three-Cornered Deal for Pytlak."24 There was even a fourth transaction involved, Burt Whitman explained, in that Boston's Joe Cronin had to buy outfielder Pete Fox from the Tigers before he could trade Cramer to Washington. Cronin told the Boston Globe, "Pytlak has been one of my favorite ballplayers for years."25 A few days later, he added, "Frankie Pytlak is a better batter and receiver than any catcher I have ever had in Boston."26
The Plain Dealer's Gordon Cobbledick wrote that getting outfielder Walker was the key to the deal for the Indians, and then offered an interesting assessment: "Pytlak may be a better first-string catcher than Desautels, and if this proves true the Red Sox may also benefit from the trade. But that Desautels will be a better second-string catcher than Pytlak is virtually certain."27 Cobbledick noted a mutual jealousy between Pytlak and Hemsley, "each of whom sulked when the other was working," while Pytlak had a "habit of packing up and going fishing" when not working.28 (Pytlak's obituary in The Sporting News characterized him as "capable but eccentric."29) Pytlak was pleased by the deal; he was aware that the Red Sox needed catching and a year earlier had asked the Cleveland front office to trade him there.30
The deal worked out fine for the 1941 Red Sox. Replacing Desautels, who had hit .225 in 1940, Pytlak batted .271 (almost doubling his own .141 from 1940) and drove in 39 runs in 106 games. There were no stretches lost due to injury or sulking.
He signed with the Red Sox for 1942, though not until late February, and a few days later the club received word that he'd been classified 1-A in the draft, subject to immediate induction now that the United States was at war. He reached camp in mid-March and trained with the team, but on April 7 his draft board said he could be expected to be called to service. He was 33, but divorced (and thus single) and without children. Rather than be drafted into the Army, Pytlak enlisted in the Navy and went to the Great Lakes Naval Training Station to join up with Mickey Cochrane, who ran the physical-education program there.31 He was sworn into the Navy as a yeoman third class on April 17, 1942, and was assigned to the recruiting section of the Ninth Naval District personnel department. He missed the next four seasons of professional baseball.
Before the end of April, Pytlak was already playing for the Great Lakes team as its first-string catcher. With his prematurely gray hair, some of the younger recruits were calling him "Pop." He visited the Red Sox when they played in Chicago during mid-May. In July Pytlak played in a charity game that pitted a combined Army and Navy "Service All-Stars" team against a team of American League All-Stars in front of 62,000 fans at Cleveland's Municipal Stadium. Feller pitched for the Service All-Stars team, but lost, 5-0.
Jokes were made about Pytlak's proclivity for going AWOL on the Indians a few times in earlier years, and how that wasn't about to happen while he was in the Navy. Pytlak himself said that what he missed most was the better bench jockeying in professional ball.32 After the Great Lakes baseball season, he was assigned to recruiting work in Buffalo.33
On August 29, 1945, at the end of the month in which the United States dropped atomic bombs on Hiroshima and Nagasaki, it was announced in Buffalo that Yeoman 2/C Pytlak would be discharged from the Navy, possibly in time to join the Red Sox at the very end of the season. On September 1 he was discharged at the Sampson (New York) Naval Training Station. He did rejoin the Red Sox on September 7. He pinch-hit in the September 9 game, pinch-ran the next day, and got his first at-bats on the 12th. The Red Sox weren't going anyplace; they finished seventh in the standings. Appearing in nine games, Pytlak singled twice in 17 at-bats (.118), something of a tuneup to get him ready for 1946.
The Red Sox did markedly better in 1946, winning the American League pennant after being in first place all year long, save for one day, April 24. Hal Wagner and Roy Partee did most of the catching. Pytlak's time with the team ended early. He had worked hard in spring training. "He actually led the athletes, old and young, in horse power of exercising," wrote Burt Whitman, but near the end of the exhibition season, his throwing arm didn't feel right and he was "in the dumps" about it. In fact, Whitman wrote, unannounced Pytlak "left the train for a short visit home, which, he indicated, might prolong into retirement."34
Pytlak played in four April games, his last being on April 25. He was 2-for-14 at the plate, with his only RBI (his final big-league run batted in) coming in his last game. On April 29 he left the club ("abandoned," wrote the Boston Globe) to return home to Buffalo to have a doctor look at his arm.35 He rejoined the team on May 22; on May 29 he had an operation on his arm in St. Louis and was placed on the voluntarily retired list. On August 5 he was given his unconditional release, and his full pay for 1946, and – because he was a 10-year man – became a free agent.36
On February 3, 1947, Pytlak signed with the Louisville Colonels for 1947 but he did not play. In April 1948 Pytlak was named coach at Buffalo's Neumann High School. On June 1 he was named manager of the New Castle (Pennsylvania) Chiefs of the Middle Atlantic League, and managed the team for 18 days, during which he "pulled the team out of a losing slump" and then resigned.37 In March 1949 he was named player-manager of the New England League's Providence Grays. On June 7 he "was released at his own request."38
Pytlak was hired by Dick Fischer Athletic Goods, a sporting-goods store in Buffalo, and worked there until his retirement in 1975.
Emily Pytlak died unexpectedly in 1963. Frank himself died from a three-month-long unknown illness at Millard Fillmore Hospital in Buffalo on May 8, 1977, survived only by his son Frank Jr.39
Sources
In addition to the sources noted in this biography, the author also accessed Pytlak's player file and player questionnaire from the National Baseball Hall of Fame, the Encyclopedia of Minor League Baseball, Retrosheet.org, Baseball-Reference.com, Rod Nelson of SABR's Scouts Committee, and the SABR Minor Leagues Database, accessed online at Baseball-Reference.com.
Notes
Born
July 30, 1908 at Buffalo, NY (USA)
Died
May 8, 1977 at Buffalo, NY (USA)
If you can help us improve this player's biography, contact us.
http://sabr.org/sites/default/files/PytlakFrankie.preview.jpg
600
800
admin
/wp-content/uploads/2020/02/sabr_logo.png
admin
2012-01-04 20:24:54
2020-09-30 12:38:36
Frankie Pytlak