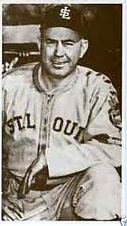 ---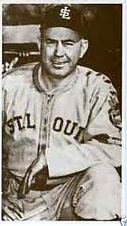 Catcher Fred "Bootnose" Hofmann played in part or all of nine major-league seasons (1919-25; 1927-28). He never played in The Show for a team other than the Yankees and the Red Sox, but his minor-league career (which began in 1915) continued through 1937. Hofmann also served as a minor-league manager, coached with the St. Louis Browns for 14 years, and became one of the scouts who helped to lay the foundation for the great Baltimore Orioles teams of the 1960s and 1970s.
Hofmann came from St. Louis. He was born there on June 10, 1894 – or, perhaps, 1895. The 1910 census had him listed as being born "about 1895" and the passport he was issued in October 1922 gave his birthdate as 1895. Fred's father John and mother Barbara (Lauterbach) had both come to the United States from Germany in 1880. John worked as a gardener in a cemetery. There were seven children in the family at the time of the 1910 census, with Fred listed as the fifth. Come 1920, his younger brother Charles was serving as a soldier in the United States Army (ten years later, he had become a cemetery foreman) and brother George was a machinist for Goodyear Rubber. The others had all left the home. Fred had applied for the passport to tour Japan, China, and Hong Kong and play baseball. On the player questionnaire Hofmann completed for the Hall of Fame, he put the year as 1894. His death certificate (which clearly postdated the questionnaire) also cited 1894 as the year of his birth.
Hofmann attended the Lowell Elementary School in St. Louis, but never went to high school. Asked about what degrees he had earned, he wrote on his questionnaire: "None (hard knocks)". He is listed as 5 feet, 11½ inches tall and said his playing weight ranged from 160 to 200. He threw and batted right-handed, though he had a good sense of humor. Asked, "How did you bat? (L, R or B)", he wrote: "Poor" before admitting he was right-handed. He had no middle name; the origins of his nickname are plain from photos (though it's not certain who gave him the unflattering tag).
What Hofmann did between grade school and becoming a ballplayer, we don't know. We know he started catching in grade school and played on the sandlots of St. Louis with a couple of other catchers who also later played for the Yankees: Mickey O'Neil and Muddy Ruel.
It was in 1915, when he was (apparently) on the brink of turning 21 that he signed with the Central Association's Cedar Rapids Rabbits. Hofmann's hitting was, indeed, not the best. In 261 at-bats for the Rabbits, he hit .165. Catchers, of course, were prized more for defense; apparently Hofmann was good enough to advance from Class D in 1916. He started with Cedar Rapids, then moved to the Waterloo Shamrocks, hitting a combined .189. He then moved up to Class C and the Charleston Sea Gulls (South Atlantic League), where he bumped up his average a bit more and hit .203 in 48 games.
In 1917, he played for both the Class B (Three-I League) Rock Island Islanders and then the St. Paul Saints in the Double-A American Association. He hit a combined .254 and got a call – from Uncle Sam. Hofmann served in the United States Navy from December 1917 until June 1919. The Yankees purchased his contract from St. Paul after he came back from the war, and he was briefly reunited with Muddy Ruel. One appearance in September was the extent of his 1919 work in baseball, but the discharged sailor at least got his feet wet. In his debut on September 29, he entered near the end of the game, made an out in one at-bat, and got in an inning of work behind the plate. He recorded one putout and one assist (catching a baserunner stealing) in his two chances.
Babe Ruth – Hofmann's roommate at one point in their careers – came to the Yankees over the winter. Ruel stayed, and so did Truck Hannah, who split playing time with Ruel. Hofmann was the third catcher on the staff, apparently traveling with the big team only sporadically.1 He got into 15 games and hit .292 in 24 at-bats, with one RBI. His first hit, a single, was on June 1 against the visiting Washington Senators. The story that Hofmann told the rest of his life, though, came from mid-September. Against Detroit, as Ty Cobb stepped into the batter's box, Hofmann sneered, "So this is the great 'Georgia Peach'?" Cobb replied, "Busher, I'm going to get on base, and when I do, I'm coming around." Cobb singled, stole second, and then leveled Hofmann with spikes high as he scored on a grounder to deep short, even though the throw had him beaten by a large margin.2
In his subsequent three full seasons with the Yanks, Hofmann increased his number of at-bats, to 68, 101, and then a career-high 238 in 1923. Wally Schang – who was struck in the groin with a flying bat – missed about six weeks in June and July. Hofmann did well, despite fluid in his knee, and continued to start frequently thereafter that year.3 Save for a dip to .177 in 1921, he hit .290 or higher in each of the four years. His first big-league homer (one of seven, all for New York) came in 1921. It was a solo shot off Chicago's Dickey Kerr and evened the score at 1-1. (New York lost to the visiting White Sox, 7-2.)
Though Hofmann was with the Yankees during the 1922 World Series, he never saw any duty, (although he was one of three team members to join the crew of major-leaguers who toured Japan after the season). His only taste of postseason action came the following year, in 1923, when the Yankees won their first World Series. Hofmann played behind Wally Schang, and appeared in two games. He pinch-hit for pitcher Sam Jones in the eighth inning of Game Three and popped up to second base. In Game Six, the deciding game, Hofmann pinch-hit in the eighth inning again. The Yankees were down to the Giants, 4-1 at the time, but had men on first and second with one out. He drew a walk, and then was pulled from the game for a pinch-runner. All three baserunners eventually scored (and a couple more), Hofmann's replacement scoring the tying run. He always said it was one of his biggest thrills in the game.4
In 1924, Schang was once more the main man behind the plate, but Hofmann still got into 62 games. His hitting dropped off, however, to .175. In 1925, Hofmann only had two plate appearances in three early-season games, the last one on May 11. Two weeks later, on May 25, he was traded to the St. Paul Saints. The Yankees really wanted Mark Koenig, and sent Hofmann, Oscar Roettger, $50,000, and in October, Ernie Johnson, all to get Koenig. Hofmann hit .305 in 40 games with the Saints in 1925, and then an almost identical .302 over the course of 141 games in 1926.
In 1927, the Boston Red Sox hoped to upgrade their catching corps of Alex Gaston, John Bischoff, and Al Stokes, and didn't bring one of them back (Gaston returned from the minors in 1929, after Hofmann had left). Grover Hartley became the main receiver for the perennially last-place team, appearing in 103 games, but Hofmann played in 87 games and hit .272 with 24 RBIs. Hoffman and Charlie Berry almost split the duties in 1928, with Fred getting 213 plate appearances and Charlie 202, though Berry was in 80 games and Hoffman in 78. Hofmann finished batting .226 with 16 RBIs. Berry hit .260 and drove in three more runs, but was nine years younger and got the nod for 1929 while Hofmann headed back to the minor leagues.
Hofmann also headed west, to the Pacific Coast League and the Mission Reds, for whom he played for five seasons (1929-1933). In terms of both playing time and hitting, he was up and down a little, but tailed off sharply in the final year. Hofmann also managed the team in part of 1932 and all of 1933. During this time, he offered Joe DiMaggio a contract, but the San Francisco Seals were able to sign him because brother Vince was already with the Seals.5
Hofmann wasn't at all unhappy to head to California. He'd been visiting Sox manager Bill Carrigan in Maine during the winter after the 1928 season and the temperature was well below zero when he received a postcard from some friends visiting the Golden State. "Bill, you know where I'd like to go some day. Right out there where this postcard came from." That very week, without a word to Hofmann, Carrigan sold him to the San Francisco team.6
As to the long stay out west, another story emerged later in 1930. Hofmann had apparently asked for return transportation to be guaranteed before he reported. Manager Red Killefer wired back, "You won't need return transportation. They never leave the Coast, once they come out here." 7
After spending 1934 out of baseball, Hofmann was named manager of the Memphis Chicks in November 1934. He married Irene Morton in February 1935. Hofmann also played part-time for the Chicks in 1935 and 1936; at age 43, he appeared in 16 games for the Columbus Red Birds in 1937. He wasn't just catching, though. In 1935 through 1937 he managed in Memphis and Columbus. In between, he managed part of the 1936 season for the Kitty League's Union City Greyhounds, who won the playoffs that year – though in part because Paducah refused to play any of the playoff games after losing the first one. Almost 20 years later, he managed part of the year for the Thomson Orioles in the Georgia State League and in 1958 part of the season for the Appalachian League's Bluefield Orioles, both times filling in at a time of need.
After his playing career was done, Hofmann coached for the St. Louis Browns for 14 years, from 1938 through 1951. St. Louis sportswriters Bob Broeg and Fred Lieb both liked to tell an anecdote about a prank that manager Luke Sewell and fellow coach Zack Taylor played on Bootnose at a War Bond sale in Missouri in either 1944 or 1945. At the pancake supper, they layered a stack of pancakes with paper doilies, dosing it all heavily with butter and syrup. Hofmann polished the plate off with gusto and asked for more.8
He'd also begun scouting for the Browns in 1950 and continued after the franchise moved to Baltimore. Boog Powell and Wally Bunker are considered his top two finds. Of Bunker, Hofmann said, "I told the boy, 'Never let anyone change your style. You are perfect the way you are. You'll get stronger as you get older. Just don't let any coach or manager tamper with you."9 Farm director Harry Dalton also gave Hofmann significant credit for Brooks Robinson.10In February 1955, Lindsay Deal – a friend and former teammate of Paul Richards, then Baltimore's manager – wrote to Richards about the young Arkansan. The farm department assigned Bootnose and Claude "Dutch" Dietrich to follow up; they liked what they saw and issued supporting recommendations.11
Dalton remembered, "I'm biased toward him [Hofmann] because of all the things he was able to do in showing me the way. Ask him about a player and you never got any qualifying reaction. He'd say he can either play or he can't."12 (If pressed, though, Hofmann also talked about 'primary abilities,' 'secondary abilities,' and 'thirdiary abilities.'"13) Another anecdote in this vein came from when Earl Weaver signed with the Browns. "As Earl junior finished high school, Earl senior asked Hofmann for an honest evaluation of his son's chances. The honest answer was 'Class A, no higher.' The supportive father didn't speak to his good friend for more than a year after that."14
Boog Powell recalled of his signing, "Jim Russo takes a lot of credit, but Freddie Hofmann was the guy. . .He used to talk to me about catching Babe Ruth, blowing smoke, and he'd say, 'You could hit a lot of home runs. I've seen a lot of young guys, and you're one of the best I've seen.' When he thought I wasn't going to sign with the Orioles, he was crying. I mean, they were real tears. When we signed he was jumping up and down."15 Powell added, "He did some things for me that weren't exactly 'under the table,' but nice. Like, I had a new glove. And a nice pair of shoes. There was no money or anything, but I knew he really wanted me."16
The franchise truly appreciated Bootnose's long service. After his death, starting in 1965, Baltimore instituted the Fred Hofmann Award, presented to a scout or manager in the Orioles organization for service and dedication to baseball.
Fred Hofmann died in a sanitarium at St. Helena, California, on November 19, 1964. The certificate of death indicates death due to acute hepatic (liver) failure, due to cirrhosis and chronic alcoholism. Hofmann was survived by his wife and adopted son, Gary, and two of his sisters. Harry Dalton viewed Hofmann as "irreplaceable" and said "We have lost not only one of our most loyal and effective men, but a wonderful person."17 Dalton later offered another fine epitaph: "Freddie Hofmann didn't sign a lot of people, but when Freddie talked about liking a ballplayer, you listened."18
Sources
In addition to the sources noted in this biography, the authors also accessed Hofmann's player file from the National Baseball Hall of Fame, the online SABR Encyclopedia, the Encyclopedia of Minor League Baseball, Retrosheet.org, and Baseball-Reference.com.
Notes
1 Bill Felber, Under Pallor, Under Shadow. Lincoln, Nebraska: University of Nebraska Press, 2011: 18.
Born
June 10, 1894 at St. Louis, MO (USA)
Died
November 19, 1964 at St. Helena, CA (USA)
If you can help us improve this player's biography, contact us.
http://bioproj.sabr.org/bp_ftp/images5/HofmanFred.jpg
600
800
admin
/wp-content/uploads/2020/02/sabr_logo.png
admin
2012-01-04 20:39:52
2012-01-04 20:39:52
Fred Hofmann