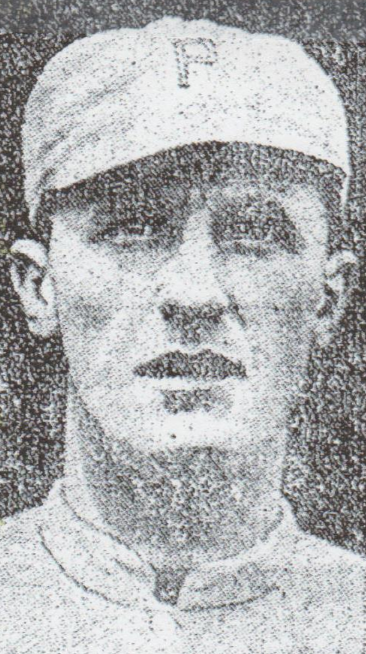 ---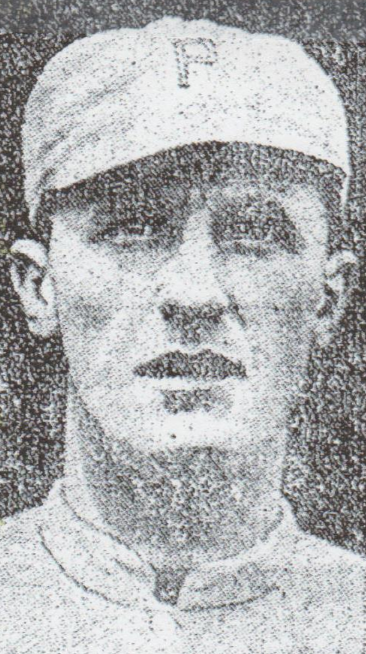 When the Philadelphia Phillies arrived for spring training in March 1911, future Hall of Famer Grover Alexander was not the only highly touted pitching prospect in camp. Held in equal regard was George Chalmers, like Alexander a recent graduate of the Class B New York State League. The previous season, Chalmers, a strapping [6-feet-1, 190 pounds] right-hander, had topped circuit pitchers in victories (25) and winning percentage (.806) while toiling for an otherwise sub-.500 Scranton club. Given a late-season audition by the Phillies, Chalmers had continued to impress, throwing a two-hitter against the New York Giants on the final day of the 1910 season.
Sadly, the promise of Chalmers' early pitching career went unfulfilled. For the next six seasons, he was beset by recurring arm miseries, alternating brief stretches of hurling artistry with longer periods of inconsistency and extended periods of complete idleness. At the end of the 1916 season the Phillies gave up on Chalmers and released him to a minor-league team. Months later, his professional playing career was over. For the remainder of his life, Chalmers lived out of the limelight, a quiet family man working as an insurance claims adjuster.
George Chalmers1 was something of a baseball rarity, one of only seven major-league players born in Scotland. He arrived on June 7, 1888, in Aberdeen, a Doric-speaking seaport located hard by the North Sea in northeastern Scotland,2 the youngest of three sons born to George Chalmers Sr. (born 1852) and his wife, Annie (née Peter, born 1860).3 In 1890 the Chalmers family emigrated to New York City, settling in upper west side Manhattan where George Sr. found work as a carpenter. Son George attended school through the eighth grade and then joined the local workforce, first as a bellboy and messenger at the posh Imperial Hotel, thereafter as a receiving clerk for the Manhattan Warehouse and Storage Company.4 During the winter, Chalmers made side money as a motorcycle-riding pacemaker for bicycle races conducted at Madison Square Garden.5
Like myriad others, Chalmers began playing baseball on city sandlots as a boy. By the time he reached his late teens, Chalmers was exclusively a pitcher and hurling for various New York area teams like the All-Hudsons, the Bradford Field Club, the Hobokens, and the Englewood Field Club, reportedly making $25-$30 per game.6 He also played in upstate New York (Red Hook) and Connecticut (Danbury). George even reportedly pitched some games for the Manhattan College nine.7 Despite success in amateur, college, and semipro ranks, Chalmers had difficulty breaking into Organized Baseball. New York Highlanders skipper Clark Griffith reportedly refused him a tryout in early 1908.8 It was also reported that while Chalmers had been signed by the Detroit Tigers, he was never given a trial by the club.9 Finally, the Scranton Miners of the middle-tier minor New York State League decided to give Chalmers a chance, inking him for the 1909 season.
During his semipro days, Chalmers had been nicknamed Dode, a handle that evolved into Dut "for no apparent reason when he became a professional."10 The nickname stuck. Once in harness for Scranton, Dut Chalmers quickly moved to the forefront of circuit hurlers. On May 29 he pitched a two-hit, 4-0 shutout against Binghamton. Two days later, he dazzled the Wilkes-Barre Barons, blanking them 1-0 in 18 innings.11 Another 1-0 gem against Utica was registered by Chalmers 10 days thereafter.12 By midseason, Sporting Life was reporting that "major league scouts are eyeing Scranton's star young pitcher, George Chalmers."13 But the Scranton Miners were a bad club, and even a standout like Chalmers struggled to maintain a winning record. In the end, he finished 16-15 (.516) in 34 games14 for a last-place finisher that otherwise went 39-66 (.371).
Chalmers returned to Scranton in 1910, and by July he was "the pitching sensation of the New York State League."15 His contract was then purchased by the National League Philadelphia Phillies for a reported $4,000.16 But under the sale terms, Chalmers would remain with Scranton until the conclusion of the NYS League season.17 Sporting Life described the Phillies' new acquisition as possessed of "a good spitter and exceedingly good control and curves … [and] a fastball with a deceiving jump to it."18 Within weeks of the transaction, Phillies manager Red Dooin put out the call for Chalmers to report, but with Scranton then in the thick of the NYS League pennant chase, the Miners declined to part with him prematurely.19 On September 15 Chalmers defeated Albany, 2-1, notching his league-leading 25th victory.20 He also posted the best winning percentage (.806) among circuit hurlers. In the estimation of the Wilkes-Barre Times-Leader, "not another pitcher comes close to George Chalmers as the New York State League's star hurler, despite the rather nifty work by [Syracuse aces] Duggan and Alexander."21
Joining the Phillies in late September, Chalmers was quickly sent into action, but was ill-treated by both sides in his major-league debut, a September 21 start against Cincinnati. The opposition touched up the newcomer for four runs on eight hits in four innings of work, although "many of the hits credited to the Reds were grounders that took bad bounds away from the innerworks quartet."22 While Chalmers did himself no favors by walking four batters, the play of the Phillies' defense was more detrimental, officially charged with four fielding errors but apparently deserving of more. In the view of Philadelphia beat writer Jim Nasium (Edgar Forrest Wolfe), "[T]he errors column in the scoring rules isn't provided with sufficient elasticity to fully account for the Phillies shortcomings in the field during the innings that young Chalmers had to stand out there."23 Still, a late-game rally propelled the Phillies to a 13-11 win, getting Chalmers off the hook in the process.
He was not so fortunate in his second start, being raked by Brooklyn in an 8-0 loss. Chalmers redeemed himself, however, in the season finale, in New York. After walking the first two batters he faced, Dut slammed the door, allowing only two more Giants baserunners in a masterly 6-1, two-hit triumph called after eight innings. The victory squared his Philadelphia record at 1-1, and restored Chalmers to a position of high regard with both club management and the baseball press. Indeed, "[O]ne or two scribes even declared that he is the best young right-hander that has broken into fast company since the debut of Christy Mathewson."24
Over the winter, the Philadelphia North American, noting the praises sung by Phillies club president Horace Fogel and manager Dooin, observed that "no young pitcher has entered the league with better press notices" than George Chalmers.25 Shortly thereafter, the club reportedly rejected a $7,000 offer made by the Detroit Tigers for the release of their one-time chattel.26 Once spring training began, Chalmers pitched consistently well.27 Yet, when the regular season commenced, Dooin went with a three-man starting rotation composed of veterans Earl Moore and Jack Rowan plus rookie Grover Alexander.28 Chalmers was relegated to second-line duty. While on the sidelines, he benefited from the tutelage of veteran backstop Pat Moran, who persuaded Chalmers to abbreviate his long, swinging windup. The result was better command of Chalmers' lively stuff – when he got the chance to use it.29
Employed fitfully in the early going, Chalmers eventually got a start against Brooklyn on May 4. He responded with a seven-hit, 6-0 shutout victory. More than a month would pass before he got another such opportunity, suffering a 5-0 loss to Cincinnati on June 6. By July, however, Chalmers had become a semi-regular member of the Phillies rotation and performed admirably. On July 29 he defeated Chicago, 4-3, to raise his personal record to 9-2. The following day, by-now staff ace Alexander registered his 21st victory, putting the (56-36) Phillies a full 20 games over the .500 mark and into the thick of the NL pennant chase. But from there, neither Chalmers nor Philadelphia could keep up the pace. By season's close, Chalmers had slipped to 13-10, while a campaign-closing six-game losing streak left the (79-73) Phillies a distant fourth-place finisher to the league champion New York Giants.
Although his numbers paled in comparison to those of fellow rookie Alexander (28 wins, a 2.57 ERA, and 227 strikeouts in 367 innings pitched), Chalmers had had a decent freshman season. Over the winter, big things were again predicted for the 23-year-old, and club owner Fogel ensured that the Phillies would be the beneficiary, signing Chalmers to a handsome three-year contract, with a bonus clause for a 30-win season.30 But unbeknownst to all concerned, Chalmers' best pitching was already behind him. The chronic arm trouble that would short-circuit Dut's major-league career first surfaced during a postseason exhibition-game tour of Cuba by Phillies players. Chalmers later explained that "when he went to Cuba with the barnstormers, he felt a catch in his shoulder" that still had not disappeared when he arrived in Phillies camp for 1912 spring training.31 But arm problems had not been the only difficulty wrought by the Caribbean sojourn. Just getting back into the country had been a hassle for Chalmers. Although he thought of himself as a proud New Yorker, the young hurler was not yet, in fact, an American citizen, a matter that led to his temporary detention by immigration authorities at Key West.32 Immediately upon his release, Chalmers set about obtaining naturalized US citizenship.33
Chalmers' arm was still aching when he arrived in spring camp. After he was diagnosed with a torn ligament in the throwing shoulder,34 Chalmers was placed on the shelf indefinitely. He finally got a start in the second game of a Decoration Day doubleheader against New York, losing 6-1. Several uneven performances later, Chalmers was sidelined again. This prompted impatient club owner Fogel to suspend the right-hander without pay "until he is condition to take his regular turn in the box."35 But that would not come until September 4, when "our erstwhile reluctant pitcher"36 set down the first-place New York Giants on five hits, 4-2. A month later, Chalmers completed his brief season work with a route-going 11-2 triumph over the now pennant-winning Giants. In all, Dut had gone a disappointing 3-4 in only 57⅔ innings pitched, barely a quarter of the 208-plus frames that he had hurled the previous year. This led Fogel to grouse that Chalmers had cost him about $800 per game pitched, and to propose a never-adopted scheme to pay pitchers by the game, rather than the season.37
His roster spot largely guaranteed by the three-year contract that Fogel had given him, an optimistic Chalmers reported over the winter that he felt "like a two-year-old, and his shoulder now swings without a twinge."38 However well his pitching wing may have felt, Chalmers had plainly lost stuff. In 26 appearances in 1913, he posted a dismal 3-10 log, with a Deadball Era-high 4.81 ERA, for a second-place (88-63) Phillies club. During the offseason, Chalmers rejected overtures from the newly arrived Federal League and returned to Philadelphia. But not for long. His arm miseries had resurfaced, and after Chalmers went 0-3 in three early-season games pitched, the Phillies released him unconditionally.39 Hopeful of continuing his career, Chalmers underwent $20-per-day electronic massage treatments and worked out at the Polo Grounds under the watchful eye of Giants manager John McGraw, a pitching reclamation specialist.40 But Chalmers pitched no more that season.
A seemingly recovered Dut Chalmers was brought South by McGraw in spring 1915 and pitched well in exhibition-game outings. With Rube Marquard regressing and longtime ace Christy Mathewson near done, the Giants needed pitching help. So Chalmers remained with the club as Opening Day came and went. But with his 21 roster spots all contract-committed, McGraw felt unable to sign Chalmers. The best he could offer him was a berth with the International League Jersey City Skeeters, managed by former Giants pitcher Hooks Wiltse.41 After a disappointed Chalmers had cleaned out his Polo Grounds locker, he encountered his friend and one-time mentor Pat Moran, now manager of the visiting Philadelphia Phillies. Having heard reports of Chalmers' encouraging spring performance, Moran decided to take a chance on him. In fact, Moran put Chalmers in the box on April 21, the day after he had signed him – against the New York Giants, no less. Dut responded brilliantly, holding the Giants to two hits in a complete-game 6-1 victory. Used sparingly thereafter, Chalmers pitched well but with little luck, dropping a number of close decisions. A 5-4 win over Brooklyn on June 29 reversed his fortunes. From there on, Dut won six of his final nine decisions to finish at 8-9, with a career-best 2.48 ERA in 170⅓ innings pitched.
Behind the Triple Crown pitching of Grover Alexander (31 wins/1.22 ERA/241 strikeouts), the 90-62 Phillies captured their first National League pennant. But in the World Series against the Boston Red Sox, the Phils did not hit (a .182 team BA). With Alexander having already pitched twice and Philadelphia behind two wins to one, Moran bypassed Al Demaree (14-11) and Eppa Rixey (11-12) and handed the ball for Game Four to Chalmers. Dut rewarded his manager's confidence with a capable performance, scattering eight hits. But he was undone by the Phillies' lack of offense, dropping a 2-1 decision to Red Sox righty Ernie Shore. The following day Boston rallied for a 5-4 victory to take the Series in five games.
The next month brought a happier occasion to the life of George Chalmers. On November 24, 1915, he and Brooklyn bookkeeper Elizabeth Ann Hechler were married at the Scotch Presbyterian Church in Manhattan. In time, the birth of children George (born 1919) and Jean (1922) would complete the family.
Featured in an upbeat Baseball Magazine profile,42 Chalmers entered the 1916 season with bright hopes, only to see them dashed by the return of arm trouble. He appeared in only 12 games, going 1-4 in 53⅔ innings pitched, and sat out the last two months of the campaign. In certain quarters, the failure of Chalmers and former 21-game winner Erskine Mayer to perform at their 1915 levels was viewed as costing the 91-62 Phillies an encore NL pennant.43 After the season, the Phillies gave up on the oft-injured Chalmers, selling him to the Kansas City Blues of the American Association.44 Although still only 28, George Chalmers' major-league career was over, its early promise left unfulfilled. In seven seasons, all with the Philadelphia Phillies, he had posted an underwhelming 29-41 (.414) record, with a 3.41 ERA. In 646⅓ innings pitched, Dut had allowed 645 base-hits, striking out 290 batters while walking 279. A "fine, upstanding, intelligent young fellow with all the sturdy Scotch virtues," Chalmers had been well-liked by his teammates and wished the best by them.45
Chalmers' time in Kansas City was brief. He went 2-2 in seven games.46 His release by the Blues in late May of 1917 brought Chalmers' professional baseball career to a close.47 By 1920 George was working as a boilermaker and living with his young family in The Bronx.48 Thereafter, he was employed for decades as a small-claims adjuster by various insurance companies. In his later years, Chalmers suffered from arteriosclerosis, and in June 1960 he suffered a stroke. Six weeks later, a second stroke proved fatal.49 He died at home in The Bronx on August 5, 1960. George "Dut" Chalmers was 72. Following funeral services, his remains were interred at Lutheran All Faiths Cemetery in Queens, New York. Survivors included his wife, Elizabeth, and children, George and Jean.
Sources
Sources for the biographical detail recited herein include the George Chalmers file maintained at the Giamatti Research Center, National Baseball Hall of Fame and Museum, Cooperstown, New York; US and New York State census data; Chalmers family info posted on Ancestry.com; and certain of the newspaper articles cited below. Unless otherwise noted, stats have been taken from Baseball-Reference and The Encyclopedia of Minor League Baseball, Lloyd Johnson and Miles Wolff, eds. (Durham, North Carolina: Baseball America, Inc., 2d ed. 1997).
Notes
Born
June 7, 1888 at Aberdeen, Aberdeen (United Kingdom)
Died
August 5, 1960 at Bronx, NY (USA)
If you can help us improve this player's biography, contact us.
http://sabr.org/sites/default/files/Chalmers-George.png
600
800
admin
/wp-content/uploads/2020/02/sabr_logo.png
admin
2016-05-19 19:12:13
2016-05-19 19:12:13
George Chalmers