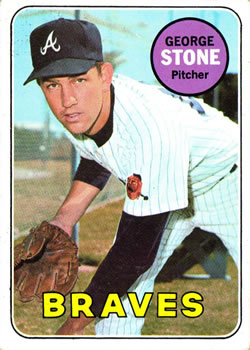 ---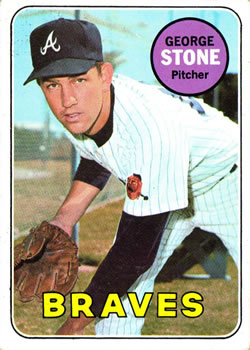 In 1971 The Sporting News contributor Wayne Minshew submitted a report on the Atlanta Braves' "bona-fide future ace . . . the pitcher visiting scouts like most when they visit Atlanta Stadium."1 Minshew was not referring to Phil Niekro, who at the time was just one-third of the way along his path to Hall of Fame induction. Instead the minor league pitcher-turned-sportswriter was referring to left-handed hurler George Stone.
This was not the first time Minshew gushed about the youngster. Three years earlier the Atlanta beat writer had raved that Stone's addition to an already deep Braves staff gave the club "their best pitching since the days of Warren Spahn, Lou Burdette and Bob Buhl."2 And Minshew was not alone in his flattering assessment of the sneaky-fast hurler with remarkable control. In 1971 the 24-year-old drew favorable comparisons to two-time 20-game winner Claude Osteen. And future Hall of Fame slugger Hank Aaron tabbed Stone as a sure bet to join Osteen in the 20-win circle. "I know he's young, but he pitches like he has been in the big leagues for 10 years," said Philadelphia Phillies manager Frank Lucchesi. "The kid is smart and knows how to pitch. And what a competitor."3
George Heard Stone, Jr. was born on July 9, 1946, the older of two sons of George Heard and Ethel (Martin) Stone, in Ruston, Louisiana, 70 miles east of Shreveport.4 The family's roots in the Pelican State trace to the ballplayer's paternal great-grandfather, a South Carolina native who arrived in sparsely populated Union Parish a few years after the Civil War. The family farmed the northern Louisiana soil through the 1930s. George Senior was born in 1917 in the aptly named town of Farmerville. He served as a U.S. Army corporal during World War II, and shortly after his return from that conflict he married Ethel Martin.
The young family moved to the tiny village of Doyline, 20 miles east of Shreveport, where their children began their formal educations. A return to Ruston ensued, and George went to Ruston High School. In a school notable for producing gridiron stars such as quarterback Bert "The Ruston Rifle" Jones and pro football Hall of Fame defensive end Fred Dean, Stone made his mark in basketball and baseball. In 1963 he earned the school's Outstanding Player award after leading the Ruston Bearcats baseball team with a .444 average while also tying the season mark for wins by a pitcher. Further, he led his American Legion squad to the state finals in 1963 and 1964.
But it was his basketball prowess that earned Stone an athletic scholarship to play under legendary coach (and former minor league baseball player) Scotty Robertson at Louisiana Tech University in Ruston. In 1966 the sophomore starter averaged 14 points a game playing alongside future Naismith Memorial Basketball Hall of Famer Leon Barmore.
Despite his skill on the hardwood court, Stone did not forsake baseball. A two-time All-Gulf States Conference selection, in 1966 the lefty delivered a no-hitter in route to a career 1.49 ERA with the Bulldogs (second only to the 1.39 mark established by Tech Athletics Hall of Famer George Woodson).5 These extraordinary accomplishments soon captured the attention of Atlanta Braves scout and former minor league hurler Mel Didier. Two years earlier Didier had signed Stone's third cousin, Centenary College of Louisiana baseball and basketball standout Cecil Upshaw. At Didier's urging the Braves selected Stone with their fifth pick in the 1966 amateur draft, making the lefty the first Louisiana Tech player ever drafted in the major leagues. Assigned to the Class-A Kinston (North Carolina) Eagles as the youngest player on the team, Stone compiled a record of 8-2 with a 2.25 ERA in 80 innings (11 starts), helping his club to a first-place finish in the Carolina League. Placing among the league leaders in WHIP (1.050), strikeouts per nine innings (9.8) and a stingy home runs per nine innings (0.3), Stone was tabbed among a deep young corps of Braves pitching prospects as having an "exceptionally bright future."6
The following spring Stone's strong Grapefruit League performance made an equally strong impression on management, such that when righty ace Tony Cloninger was sidelined by injury early in the season the club immediately promoted the 20-year-old lefty to the majors. However, Stone did not make an appearance before being reassigned to the minors on May 25, 1967. He was briefly teamed with his cousin Upshaw in Richmond (Class AAA) until July, when the latter was promoted to Atlanta at the same time Stone was reassigned to the Class-AA Austin Braves in the Texas League.
In a 3-0 loss to Amarillo on July 24 the control artist pitched well but suffered a fourth inning lapse when all three runs scored on a hit, a wild pitch, a hit batsman and an uncharacteristic error by the normally sure-handed Stone. Far more success ensued in August, when Stone collected 20 strikeouts over two of his team-leading three shutouts. He placed among the league leaders with seven complete games (a remarkable feat in only 14 starts) and, for the second straight season, in WHIP (1.010).
Selected as one of the Braves' late season call-ups, Stone made his major league debut on September 15, 1967 in Atlanta Stadium against the Chicago Cubs. It was far from a storybook beginning. He entered the eighth inning of a 4-1 deficit and induced a shallow fly ball out from future Hall of Fame outfielder Billy Williams, but then a triple and two singles brought on his rapid exit.
However, two weeks later, when Stone got his first starting assignment, he experienced much more success. Locked in a pitching duel at home against St. Louis Cardinals ace Bob Gibson, Stone surrendered one run and five hits over seven innings before he was lifted for a pinch-hitter. He did not figure in the decision in the 3-1 extra-inning loss.
Promoted to the Braves 40-man roster in 1968, Stone lost out in fierce competition with fellow rookies Ron Reed and Jim Britton for the club's few remaining roster spots. He was assigned close to home, to the Braves' newly-relocated Texas League affiliate in Shreveport. When the team was at home Stone commuted 150 miles a day to Ruston and back to continue his education at Louisiana Tech. However, the commute lasted only through late May when, after having opened the season with 11 scoreless innings, Stone was promoted to the Richmond Braves in the International League. His stay in Richmond was equally short when, in his second appearance, he delivered a 4-0 one-hit win over the Louisville Colonels on June 1, followed five days later by a three-hit 2-1 victory over the Columbus Jets. He made two more appearances with Richmond before being recalled by the Braves.7
On July 4, in his second appearance of the season with the Braves, Stone suffered his first career loss. He entered the fifth inning of a knotted contest with the San Francisco Giants and retired the first six batters he faced before a double and homer led to his demise. Three weeks later he earned his first major league win with two innings of relief against the Phillies. On August 7, following a series of injuries to the starting staff, Braves manager Lum Harris inserted Stone into the rotation. He responded with a 10-2 complete game win over the Cubs. (A very capable hitter, Stone helped his own cause with two hits, three RBIs and a run scored.) Stone won four of his last five decisions to finish his rookie campaign with a record of 7-4 and a 2.76 ERA in 75 innings (10 starts).
As the season wound to a close Stone's strong run presented a dilemma for the Braves with the pending 1968 MLB expansion draft. "We thought maybe we could gamble with Stone and get him by the draft," said manager Lum Harris. "But he has looked so good, he would be grabbed in a minute by San Diego or Montreal if we did not protect him."8
Stone started the 1969 season in the Braves bullpen where he collected a league-leading three wins in quick succession. "You have to be in the right place at the right time,"9 the lefty cracked. In late April Stone moved into the rotation where he earned three additional victories.
Stone developed a reputation as a sneaky-fast hurler whose success stemmed from two different change-ups and a slider taught him by Braves GM Paul Richards. "[He] doesn't seem to be throwing hard at all," marveled Cardinals vice-president Stan Musial as he watched Stone handcuff St. Louis on June 2. Echoing the Hall of Famer's comments, Lum Harris said, "This guy is a winner . . . [He doesn't] seem to have great stuff, but all [he does] is win."10
On June 14 Stone carried a 2-1 no-hitter into the seventh inning against the Pittsburgh Pirates before an error sandwiched between two singles tied the game. He was lifted after seven innings without surrendering an earned run and did not figure in the decision. Two weeks later Stone's unsuccessful bid for his first major league shutout was marred by a second inning bench-clearing tussle with the Houston Astros after Louisiana native Don Wilson knocked Stone over on an aggressive tag along the first base line. Stone won easily—his third of five wins against the Astros during the 1969 season—but lost the shutout following a sixth inning error by shortstop Sonny Jackson.
On July 3 Stone collected the first of three career-high, 10-strikeout performances in a 5-4 win against the Giants. Four days later he tamed the Los Angeles Dodgers to lift his record to 9-2, 2.77 in 84⅓ innings.
But far less success ensued in Stone's next 10 appearances (four starts) as he surrendered 28 earned runs and 48 hits over 33⅔ innings to lose six consecutive decisions. But then he pivoted again to win four of his last six decisions. They included a 4-3 win over the Astros on September 12 in which Stone knocked in the decisive run with his only career home run, a two-run blast against righty Tom Griffin. Stone's contributions helped the Braves to the West Division pennant as he finished among the club leaders in wins (13), innings pitched 165⅓) and strikeouts (102). Stone made one appearance in Game Three of the NLCS sweep at the hands of the New York Mets, surrendering a run-scoring single in the fifth inning and a leadoff double in the sixth before being lifted in favor of Upshaw.
Stone opened the 1970 season with his first career shutout in—where else? —Houston. It was his first of six wins in seven decisions as Stone placed among the league leaders in ERA through July 10. But 1970 marked the first of a decade-long march toward mediocrity for the Braves as the club tumbled to a fifth-place finish. Stone's fate appeared to crumble alongside that of his teammates as he lost eight of next nine decisions through August 5. A month later he retired just one hitter when his favorite patsies, the Houston Astros, batted around in the first inning, scoring six unearned runs on four hits, two walks, and two Atlanta errors. Stone finished the season with a record of 11-11, and a 3.86 ERA in 207⅓ innings.
Despite Stone's disappointing second half, the Braves were inundated with trade offers for the still-promising lefty, including an aggressive pursuit by the Dodgers who were offering future Hall of Fame righty Don Sutton.
But Stone's struggles continued into 1971. He did not collect his first win until nearly half way into the season, a shutout against the Cincinnati Reds that seemed to jolt him back into form. A miniscule 1.34 ERA in July earned Stone three additional wins including a five-hit shutout of the Dodgers. Through mid-August Stone placed among the league leaders with a 2.76 ERA before an arm problem surfaced. With a miserable yield of 19 earned runs over his last 17 innings he finished the season on a four-game losing streak. "I have to believe that Stone . . . [is] better than [he] showed," GM Paul Richards said after the season.11
In December Stone married Dianna Sumlin, a Ruston-area schoolteacher. Months later the exuberant newlywed had even more to celebrate after he built a strong Grapefruit League campaign on an improved change-up and a seemingly sound arm. But his enthusiasm was short-lived after he failed to survive the second inning in each of his first two starts of the season. A move to the bullpen brought some improvement when, over his next 12 appearances, Stone lowered his ERA from a dreadful 30.38 to 7.91.
In June sheer necessity forced the lefty back into the rotation as the Braves staff was plagued by injuries and general ineffectiveness. On July 6 Stone held the Cubs to one hit through five innings in a 4-3 home win. Two weeks later he suffered a heartbreaking four-hit 2-1 loss to St. Louis. The Cardinals scored an unearned run in the first inning on an error and two wild pitches, and completed the scoring in the sixth on a Bob Gibson homer. On August 9, in what proved to be his last career shutout, Stone delivered a six-hit gem against the Astros. Sixteen days later he appeared equally strong as he carried a one-hit shutout into the seventh against the Mets before settling for a 2-1 win. But Stone was hit hard in September (18 runs in 15⅔ innings) and finished the season with a disappointing record of 6-11, 5.51 in 111 innings.
In 1972 the Braves compiled a major-league worst 4.27 ERA. During the offseason GM Eddie Robinson—who had replaced Richards in June—sought to rectify this scourge via trade with the pitching-rich Mets. On November 2 Robinson sent Stone and All-Star second baseman Felix Millan to New York for promising right-handers Gary Gentry and Danny Frisella. Many reporters viewed Stone as a throw-in as the Mets primary need was second base in the wake of the struggles of injury-prone Ken Boswell. Moreover, Stone was not popular with New York fans after he fractured Mets slugger Rusty Staub's right wrist on a hit-by-pitch. But Mets manager Yogi Berra had a distinctly different take. "I'm banking on . . . Stone," the New York skipper said. "Rube Walker (Mets' pitching coach) likes Stone . . . [and] believes he can change him a little and make him a winner. Rube thinks he has good stuff."12
Three years removed from a world championship, the Mets were no longer the National League doormats of a decade earlier. Still, as staff anchors Jerry Koosman and future Hall of Fame righty Tom Seaver could readily attest, pitching for the punchless club (a league worst .225 batting average in 1972) presented its own set of challenges. The 1973 season would see little improvement as Koosman placed among the league leaders with a 2.84 ERA but was rewarded with a pedestrian 14-15 record. Meanwhile Stone, who had started the season in the bullpen, appeared far less often than Koosman but enjoyed far more run support. On May 24, in the longest game ever won by the Mets, Stone delivered six innings of four-hit, no run relief against the Dodgers to collect his first win in a 19-inning, 7-3 victory. Nine days later, in the midst of number-four starter Jim McAndrew's continued struggles, Berra inserted Stone into the rotation. Two initial losses gave way to a three-game winning streak, including a 7-6 win against the Phillies on June 27 in which Stone's two-run first-inning single proved the decisive margin. Eleven days later he surrendered two home runs to slugger Hank Aaron in a 4-2 loss to the Braves, but this proved to be Stone's last loss of the season. He compiled a record of 8-0, 2.80 over his last 13 appearances to help the Mets overtake three other contenders and capture the East Division championship. Interestingly, on August 27 Stone established a franchise record by becoming the first Mets batter to ever reach base on catcher's interference.
On October 9, 1973 Stone got the starting nod in Game Four of the NLCS against the Reds. With a chance to eliminate Cincinnati and advance to the World Series, Stone clung to a slim 1-0 lead over the offensively-charged Big Red Machine through 6⅓ innings—yielding just two hits—before future Hall of Fame first baseman Tony Perez parked a pitch beyond the Shea Stadium confines. Stone was lifted after two more batters and did not figure in the decision, an extra-inning 2-1 loss. But the next day Seaver won handily and the Mets continued to the World Series against the AL champion Oakland Athletics.
On October 14 Stone entered the 12th inning of Game Two of the Fall Classic, tasked with preserving a four-run lead. With runners at the corners and no one out, he yielded a run-scoring single to outfielder Jesus Alou before inducing catcher Ray Fosse to ground into a force-out at second. A walk to the next batter loaded the bases before Stone retired the next two hitters to earn the save.
Stone was slated as the starting pitcher in Game Six, but Berra instead gambled with Seaver on three days' rest. The 3-1 loss forced a Game Seven, which Stone entered in relief in the seventh inning with the Mets trailing 5-1. The Athletics immediately threatened with two singles before Stone, facing the heart of the Athletics lineup, struck out Joe Rudi, Sal Bando and future Hall of Fame slugger Reggie Jackson to stem the threat. In the eighth inning he yielded a single to Fosse before retiring the side. This proved to be Stone's last appearance in post-season play.
That winter Stone's season-long rebound attracted considerable trade interest. In November the Mets turned away queries from the Cardinals, Astros and Baltimore Orioles in which All Stars Joe Torre (in a potential multi-player swap), Jim Wynn, and Paul Blair were reportedly offered in exchange for the left-hander. "[W]e won with pitching," said Mets GM Bob Scheffing. "I'm not going to break up this pitching staff."13
Scheffing's confidence appeared to be rewarded when Stone opened the 1974 season with eight innings of four-hit pitching against the Cardinals. But two weeks later the lefty was chased by the Dodgers in the second inning after yielding six hits and seven runs (four unearned). On May 21 Stone delivered his only complete game of the season when he scattered 12 hits (and knocked in four runs) in a 10-5 win against the Cubs. "I guess you might call it a nifty 12-hitter," cracked the historically quiet lefty.14 Unfortunately, the win proved to be Stone's last of the season when a shoulder problem surfaced in July.15 Shut down following a relief appearance against the Pittsburgh Pirates on July 30, Stone finished the season with a record of 2-7 and 5.03 in just 77 innings. "[The injury] looks real bad," said Mets GM Joe McDonald, who had replaced Scheffing after the season. "The problem is in the rotary cuff of the shoulder and the record of operations on that area is not good."16
Despite this gloomy outlook, the Montreal Expos were willing to take a chance with the injured lefty. But nothing came of their interest.
Convinced Stone would never regain his former velocity, the Mets considered releasing him at various times throughout the offseason and again in spring training. The lefty began the 1975 season on the disabled list as he worked diligently toward a comeback. On May 15, in only his second game setting in 10 months, Stone pitched in the annual Mayor's Trophy exhibition in New York against the Yankees and delivered six strong innings. Four weeks later he made his season debut with the Mets. After surrendering a first-inning leadoff double and a run-scoring single, Stone buckled down to hold the San Diego Padres to two walks and no hits over the next 6⅓ innings to collect his first win in over a year. Then on June 23 he held the Cardinals scoreless through 7⅓ innings before reliever Jon Matlack yielded a Ted Simmons grand slam for a 4-0 loss. One week later an error by third baseman Wayne Garrett was the only thing that stood between Stone and his sixth career shutout as the left-hander settled for a 5-1 win over the Cubs. "There have been few guttier comebacks in baseball than George Stone's in just getting back on the mound," said The Sporting News columnist Dick Young. "In spring training, I didn't think anyone would have given a nickel for his chances . . . no one comes back from a rotary cuff tear. I honestly thought we had seen the last of George Stone."17
But July opened a less productive chapter in Stone's career. Except for a win over the Pirates on August 1—the last win of his career—he did not survive past the fourth inning in his next seven starts. A pulled back muscle on August 11, which put him back on the disabled list, did little to help the situation. On September 27, in what proved to be his last major league appearance, Stone entered the sixth inning of a game against the Phillies and surrendered three runs over two innings.
On February 24, 1976 the Mets traded Stone to the Texas Rangers for right-handed veteran Bill Hands. The Rangers assigned Stone to the Sacramento Solons in the Pacific Coast League, but he opted to retire instead.
Stone returned to northern Louisiana where he completed a physical education degree at Louisiana Tech. He had always been generous with his time during his career; in 1968 he joined his cousin as an instructor at a Ruston children's baseball clinic. And four years later he accompanied his Mets teammates to a charity event where he entertained the guests with his juggling skills. Now Stone channeled his interest in children by becoming a teacher and coach in the Ruston area. He and Dianna raised two daughters, and years later Dianna became the Lincoln Parish Voter Registrar.
In 2013 Stone was honored with induction into Louisiana Tech's Athletic Hall of Fame. At the time he still held the school's record for fewest hits allowed in a season (23) and ranked among the leaders in single-season ERA (1.02) and strikeouts per nine innings (11.41).18
Much more success in the majors appeared to be in store for Stone before he sustained his career-ending rotator cuff injury at age 27. Besides his physical gifts, it was his self-confidence that drove his success to that point. In 1970 he confessed, "I am not overpowering . . . [but w]hen I go out there I feel I can beat any club."19 This confidence gave him the ability to compile a record of 60-57 with an ERA of 3.89 in 1,020⅔ innings over a nine-year major league career.
Acknowledgments
The author wishes to thank Patsy Caver and SABR members Bill Mortell and Rod Nelson, chair of the SABR Scouts Committee for their valuable research. Further thanks are extended to Joe DeSantis for review and edit of the narrative.
Sources
Ancestry.com
Notes
Born
July 9, 1946 at Ruston, LA (USA)
If you can help us improve this player's biography, contact us.
http://sabr.org/sites/default/files/StoneGeorge.jpg
600
800
admin
/wp-content/uploads/2020/02/sabr_logo.png
admin
2016-11-09 23:26:49
2016-11-09 23:26:49
George Stone