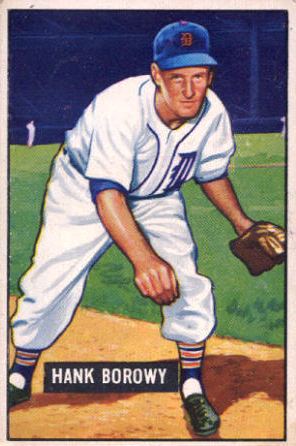 ---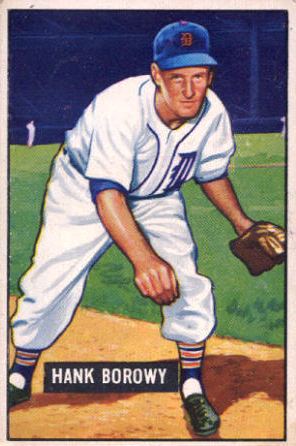 From Babe Ruth in 1920, through Reggie Jackson in 1977, and down to Alex Rodriguez in 2004, when the New York Yankees announce a player transaction it usually involves a big-name player coming to New York, with large amounts of money going elsewhere. But it was quite the reverse on July 27, 1945, when the Yanks sold Hank Borowy, their best pitcher, to the Chicago Cubs for a sum that turned out to be $97,500. True, Borowy does not rank in the Yankee pantheon with Ruth, Jackson, and Rodriguez, but at the time of the sale he was their best pitcher, and by World War II standards, he was a big star.
Any of the seven other American League clubs could have had Hank for the $7,500 waiver price, but all chose not to claim him. Perhaps they thought the Yankees were not really serious about parting with their ace and would have withdrawn his name had another team claimed him. Nevertheless, Borowy's sale to the National League-leading Cubs outraged many club owners, particularly Washington's Clark Griffith, who said of the Yankees: "It's just one of those things they put over on you."1 The Yanks "have been asking waivers on everybody on their ball club trying to get somebody out of the league,"2 said Griffith, whose Senators were in the thick of the pennant race, trailing the league-leading Detroit Tigers by three games.
"I'm going to fight for a return to the old waiver rule which said in effect that you may put a player up for waiver once, but if you put him up a second time he has to go." Griffith called the 27-year-old Borowy "a real attraction, a great pitcher, and one of the best ball players in the league."3
American League president Will Harridge ruled that the deal was in order, while Yankee president and co-owner Larry MacPhail dismissed Griffith's comments saying, "Mr. Griffith's squawk is nothing more or less than an alibi. As a matter of fact, Mr. Griffith wouldn't have given up $100,000 for Borowy with the Queen Mary thrown in."4
Henry Ludwig Borowy was born on May 12, 1916, in Bloomfield, New Jersey, a town situated across the Hudson River, 11 miles west of New York City. Alexander Borowy arrived in America from his native Ostrow, Poland, in 1907; he worked for decades as a hatter. His wife Alberta was also a Polish immigrant. Hendrick, or Henry, was the middle child in a family of four boys and one girl. Weighing a mere 135 pounds, the scrawny youngster was the star pitcher at Bloomfield High. As a senior in 1935, he established a state record by fanning 27 batters in an extra-inning game while leading his school to the Greater Newark Tournament championship. He was named to the all-New Jersey scholastic team, a team that included two other future big leaguers, George Case and Monte Irvin.
As a reward for being voted the town's most valuable schoolboy player, Hank was able to spend a portion of the summer traveling with the Newark Bears, the Yankees' International League farm team, led by their former manager and onetime pitching star, Bob Shawkey. The Yanks could have signed Borowy that summer for as little as $5,000, but Shawkey was unimpressed with him and the club never made the offer.
Hank spent the following year at Montclair Academy, while also pitching for the Verona team in New Jersey's Essex County League, before enrolling at Fordham University. There, under the Rams' longtime coach, Jack Coffey, he became one of the nation's outstanding collegiate pitchers. In his three years at Fordham, Borowy compiled an astonishing 23-1 record, including a no-hitter against Rutgers. The one loss was to Villanova, a game he pitched despite having played nine innings in the outfield the day before. Following his sophomore year, the Chicago Cubs offered Borowy $7,500 to sign with them, but he refused the offer, hoping to get an even bigger signing bonus later.
During his college years, Borowy did not limit his mound efforts to Fordham alone. In the summers he pitched surreptitiously under the name Gene Brown for the Brooklyn Bushwicks, one of the nation's strongest semipro teams. The Bushwicks played on Sundays and holidays and in those years just before World War II often had more people at their games than the also-ran Dodgers.
After he graduated in 1939 with a degree in business administration, the Yankees came calling. By now, Borowy had grown to six feet and 175 pounds and was much sought after by several big league clubs, including the Dodgers, Red Sox, Giants, Cubs, Athletics, and Senators. But Borowy, a bright young man with a good sense of both business and history, had his heart set on the Yankees. Although aware that he could probably get to the big leagues faster by signing with another club, Borowy had grown up idolizing the Yanks and they were his first choice. Of greater significance in his decision was the presumption that playing for them would bring him more World Series checks than playing anywhere else.
Yet even though the Yankees were aware of his preference for them, he was still able to negotiate an $8,500 signing bonus for himself. Famed Yankees scout Paul Krichell signed Borowy in the Fordham gymnasium. Hank had rejected Krichell's first contract offer, which had him going to their Class-A Binghamton team in the Eastern League, insisting that he was good enough to pitch for the International League team at Newark. The Bears were a Class-AA club, the highest designation at that time, and was New York's top farm club.
Krichell and Borowy had agreed to an $8,000 price, but, so the story goes, before Borowy could sign, Krichell's pen ran out of ink. While he went to borrow another one, Borowy raised the price $500. Krichell had learned what general manager Ed Barrow would soon discover — that Borowy was not only a fierce competitor on the mound, but also when it came to negotiating money matters. Often described as cold and unemotional with a burning desire to get to the top, Borowy acknowledged that he planned to make as much money out of baseball as he possibly could. The Yanks agreed to send him to Newark that summer, which was close to his home in Bloomfield – so close, in fact, Bloomfield had once been a part of the city of Newark.
In those years, the Bears were so strong that many in baseball considered them a better team than some major-league clubs. There were also those who felt that the International League was too high a level of competition for Borowy, or any collegian, at which to begin his professional career. Hank quickly proved the doubters wrong. Making his professional debut on June 11, 1939, he allowed Toronto only four hits although he was beaten, 2-0. Pitching in only the second half of the season, he won nine games and lost seven.
In 1940, his first full season, he had a 12-10 record, and on October 27 of that year married Katherine Connolly, his high school sweetheart. (The couple would have three children.) Borowy was the best pitcher in camp at spring training in 1941. He allowed only one run in 17 innings and seemed a sure bet to make the Yankees' staff. But when the club left St. Petersburg to barnstorm their way north, Borowy lost his touch, and manager Joe McCarthy sent him back to Newark.
Borowy had a first-rate year for the Bears, going 17-10 with a 2.91 earned run average, but his teammate Johnny Lindell did even better. Lindell, The Sporting News' Minor League Player of the Year, went 23-4 with a 2.05 ERA as the Bears, under manager Johnny Neun, won the International League pennant and the Little World Series for the second consecutive season.
The Yankees expected Lindell to be the only rookie pitcher to make the team in 1942, so they again signed Borowy to a Newark contract. However, he was once more so impressive during training camp that McCarthy decided to bring him to New York. His major-league debut, on April 18, was spectacular: five hitless relief innings in a loss to the Red Sox. Five days later, against the A's, he made his first big-league start in a game the Yankees won, though he was not involved in the decision. Borowy got his first major-league win on May 5, with 7 1/3 innings of relief work against Chicago, during which he allowed only one hit and fanned seven. On May 28, he earned his first win as a starter while also earning a spot in the Yankees' regular rotation.
In all, the 26-year-old Borowy had a marvelous rookie season. He won 10 of his first 11 decisions on his way to a 15-4 won-lost record, which gave him the league's second highest winning percentage (.789). His 2.52 earned run average was the league's fifth best, and only teammate Ernie Bonham, with six, had more shutouts than Borowy's four. On September 2, in the second game of a doubleheader against the St. Louis Browns, he came within a questionable scorer's call of pitching a no-hitter. The play occurred in the first inning when Yankees second baseman Joe Gordon mishandled a ball hit by Harlond Clift. Most in the crowd took for granted that any ball the acrobatic Gordon could get his hands on he should have, and so assumed it was an error. The Browns did not get any more hits that afternoon, and because the Yankee Stadium scoreboard in those days did not post hits and errors, the fans believed they were witnessing a no-hitter. They had already run out on the field to congratulate Borowy when the scoreboard posted the totals showing St. Louis with one hit. Borowy also thought he had a no-hitter, and was very disappointed to find out after the game that the scorer had awarded Clift a hit on that first-inning play.
America had been an active participant in World War II since December 1941; still, not many players were in the military as yet, so the 1942 season was quite different from the three wartime seasons that would follow. Led by Joe DiMaggio, Charlie Keller, Bill Dickey, and Joe Gordon, the Yanks ran away with the pennant, finishing nine games ahead of Boston. Facing a young St. Louis Cardinals team, one that had staged a dramatic comeback to win the National League pennant, the New Yorkers were heavy favorites to win another World Series. But after losing the opener to Red Ruffing, the upstart Cardinals swept the next four to give the Yankees their first World Series loss since the Cards had upset the Ruth-Gehrig powerhouse of 1926. Borowy started the fourth game and was driven out during St. Louis's six-run fourth inning. New York eventually lost the game, 9-6, but because they had rallied to tie the score after Borowy left, the loss went to his replacement, Atley Donald.
Borowy, who always worked out in the offseason to keep himself in condition, spent the winter of 1942-43 working in a New Jersey defense plant as a supervisor, a job that had him walking three to four miles a day. He won 14 and lost nine in 1943, finishing in the top 10 in the American League in shutouts, strikeouts, and games started. New York romped to another pennant, and this time beat the Cardinals in the World Series, avenging their defeat of the year before. Borowy won Game Three, 6-2, as the Yanks rallied from a 2-1 deficit to score five runs in the eighth inning, three on a bases-loaded triple by Billy Johnson. The crowd of 69,990 at Yankee Stadium set a World Series attendance record, breaking the mark set in Game Four the year before, a game also started by Borowy. After allowing the two runs in the fourth inning, Borowy held the Cards to just one hit over the next four. Relief specialist Johnny Murphy pitched the ninth. Hank was pleased that he had avenged his loss to the Cardinals in 1942. "It sure feels good after last year," he said. "A little revenge."5 Making it even sweeter for him was the presence at the Stadium of his brother Bill, on leave from the Navy.
Two months after the Series, in December 1943, Borowy joined a group of major leaguers led by Frankie Frisch and including Stan Musial, Dixie Walker, and Danny Litwhiler on a two-month USO tour that entertained servicemen in Alaska and the Aleutians. Borowy won praise for his work in washing dishes, making beds and preparing breakfast for the troops. But more than anything, the homesick men wanted to hear about baseball and the World Series. Borowy obliged, telling the men that despite his win against the Cards in the Series, he just did not have the stuff he had during the season.
Worthwhile as it was, the trip took its toll. While in the Aleutians, he lost his footing during a windstorm and fell on some rocks, injuring his knee. Overall, the tour was physically debilitating, and Borowy reported to spring training weighing 160 pounds, 15 pounds below his normal playing weight. Nevertheless, he was the Yanks' best pitcher during the spring, and McCarthy chose him to pitch the season opener against the Red Sox at Fenway Park. He responded with a five-hit 3-0 shutout, but the manager was not there to see it. For the first time in his 14 seasons as Yankees manager, McCarthy was not with the club on Opening Day. Coach Art Fletcher managed the team in the opener, and for the season's first two weeks while McCarthy, suffering with respiratory and gall bladder problems, was recuperating at his home in Buffalo.
After having lost to the Browns on August 10, Borowy had won his final seven decisions of the 1943 season and then followed his triumph in the 1944 opener with three more victories. His 11-game winning streak (plus one in the World Series, which had extended over two seasons, finally came to an end on May 16 in a 10-4 thumping by the White Sox.
McCarthy chose Borowy as the American League's starting pitcher in that year's All-Star Game in Pittsburgh. Hank held the National Leaguers scoreless in his three innings, but the Nationals pounded his replacements: Boston's Tex Hughson and Detroit's Hal Newhouser, for seven runs and a 7-1 victory. Borowy's second-inning infield single off Cincinnati's Bucky Walters drove in Cleveland's Ken Keltner with the American League's only run.
The Yankees stayed in the 1944 race all season before fading at the end and finishing third, six games behind St. Louis, who won their first and only American League pennant. Borowy lost his last three decisions, but in those three games the Yanks scored a total of two runs for him. In his final start of the season, he pitched a two-hitter against the Browns but lost 1-0 to Nelson Potter.
His record had been 11-4 at the All-Star break, but he'd slumped in the second half and finished with a 17-12 mark. Yet Borowy was clearly the Yankees' best pitcher. He led the club in wins (17), winning percentage (.586), games (35), games started (30), complete games (19), innings pitched (252 2/3), strikeouts (107), shutouts (3) and earned run average (2.64). He was nevertheless dissatisfied with his season, believing that he should have won 25 games rather than just 17.
Hank blamed part of the discrepancy in wins on his trip to the Aleutians, which he felt took a lot out of him. The pale, slender, frail-looking Borowy also had to constantly battle other physical problems. He had contracted allergies while touring in Oklahoma in the spring of 1941, and the allergies would strike him every May and June after that. And though he took pills to keep it under control, he felt the allergy attacks weakened him. He was also subject to recurring blisters on his fingers, which plagued him every summer, especially early in his career. Nevertheless, in three full seasons since reaching the majors in 1942, he had won 46 games with only 25 losses.
At spring training in Atlantic City in 1945, Borowy worked on a new pitch, a knuckleball, but eventually abandoned it. He got off to another terrific beginning in '45, winning his first five starts, all complete games, but could only split his next ten decisions. One of the wins came on (June 10, when he defeated Dave Ferriss of Boston 3-2 after the rookie Ferriss had won his first eight decisions.)
Due to wartime restrictions on travel, the major leagues canceled the All-Star Game for 1945. Even so, the Associated Press had conducted a poll of managers to see who would have made the team had the game been played, and Borowy was one of the pitchers chosen for the American League squad. So although he was currently nursing a sore arm (an injury that MacPhail used as part of his rationalization in asking for waivers), Borowy was an All-Star with a solid 10-5 record, factors that made his sale to the Cubs the baseball bombshell of 1945. Columnists and reporters would spend weeks, months – and in some cases, years – trying to make sense of the deal.
MacPhail had a simple explanation. He had been in the park on June 15 when Borowy had yielded the longest home run of the season at Yankee Stadium to Detroit pitcher Zeb Eaton. It was the fourth of five consecutive starts that Borowy had failed to complete. The possessor of an even more mercurial personality than present-day Yankees owner George Steinbrenner, MacPhail supposedly decided right then that Borowy was finished as a Yankee.
The owner claimed that an analysis of Borowy's record indicated that he lacked the stamina to be a winner in the second half of a season. "I got rid of Borowy, with McCarthy's approval, because I did not like his record with the New York club," explained MacPhail. "This year he pitched four complete games for us after April, none after June 24. Last season he won only five and lost eight after July 15. In short, he has not been, for the Yankees, a pitcher who could be relied on when pitching class was needed most."6
MacPhail went out of his way to emphasize that he had discussed the deal with McCarthy (who was again recuperating in Buffalo after having collapsed), and that McCarthy had given his approval. He said that both he and McCarthy felt that with the return of prewar ace Red Ruffing from military service, Yankees pitching was sufficiently strong, but that other parts of the club needed strengthening. "This deal can be regarded as the first step in a general plan worked out by Joe McCarthy and myself to improve the Yankees," MacPhail said, while suggesting that the Cubs would be sending several players to New York.
But in spite of MacPhail's claim that McCarthy was in favor of the deal, it now seems apparent it was the loss of Borowy that directly led to the end of McCarthy's 15-season tenure as Yankees manager. According to Glenn Stout in Yankees Century, "The manager couldn't take it. … Throwing away a potential pennant and selling the staff ace in the midst of the race was something he couldn't understand … McCarthy turned inward. Baseball was everything to him. Even in 1945 wins and losses mattered. His drinking problem grew worse."7 McCarthy soon left the club for three weeks, and eventually offered to resign. MacPhail held him to his contract for 1946, but that May, he finally accepted McCarthy's resignation.
After the season, MacPhail reiterated his reasons for making the deal. "Borowy had his chance with us and he failed," he said. Borowy, on the other hand, had reacted with mixed emotions when his sale to the Cubs was announced. "I hate to leave the Yankees and the American League where I have spent my major league career," he said, "but that's baseball. Of course, in a sense it may be a break for me. I'm going to a club that is leading the pennant fight and I may get into a World Series. I'll give them my best as I have given it to the Yankees. I hope I can."8
Making the move even more palatable for Borowy was MacPhail's telling him that the way he was pitching, his $19,000 salary would probably have been reduced to $10,000 in 1946. "Go and beat the Cincinnati Reds a half dozen times and you'll get another $6,000, making it $25,000 next year."9 (The Cubs won a record 21 of 22 from Cincinnati, but could beat the Cardinals, their closest competitors, only six times.)
The Cubs did win the National League pennant, with the acquisition of Borowy no doubt being the major factor. The speculation was that in return one of the Cubs' legitimate stars, like Andy Pafko, Phil Cavarretta, or Bill Nicholson, would be going to the Yankees after the season. But Chicago would send no players to New York in exchange for Borowy, and all the Yanks would ever get from the deal was money, reportedly about $100,000.
MacPhail's bluster about Borowy's shortcomings aside, many observers continued to believe that money was the motivating factor behind the deal. In one scenario he was accused of selling Borowy because he was setting up a new club at Yankee Stadium and needed the $100,000. That may well be; there was not much in the way of chicanery of which MacPhail was not capable. However, many years later, another very plausible explanation surfaced for the Yankees' seemingly inexplicable sale of Borowy to the Cubs. It was, the theory went, MacPhail's repayment to Chicago general manager Jim Gallagher. Four years earlier, Gallagher had sold him future Hall-of-Fame second-baseman Billy Herman, a deal which helped the Dodgers, then run by MacPhail, to win the 1941 National League pennant, their first in 21 years.
Borowy, who had a 2-B draft classification, had spent the winter of 1944-45 working at the Eastern Tool and Manufacturing Company in Bloomfield. The 2-B was reserved for essential workers in war industries, but when Borowy made news by being sold to the Cubs, his local draft board decided to take another look at his status. After their review, they reclassified him as 2-A: "contributing to the war effort, but not actually on the assembly line."
In late July, the war was very near its end, and the 29-year-old Borowy, married with one child at the time, was never called. He made his Cubs debut on the 29th, with a 3-2 win over the Reds before a packed house at Wrigley Field. From that point on, to the end of the season, he was Chicago's best pitcher. His 11-2 record, combined with his 10-5 Yankees mark, gave him a full-season won-lost record of 21-7. Winning 20 games fulfilled a lifetime ambition of Hank's, while also making him the first pitcher to achieve a 20-win season while pitching in both leagues since Joe McGinnity did it in 1902 with the Orioles and the Giants. Several other pitchers have since accomplished this feat, but only Borowy and Bartolo Colon, pitching for Cleveland and Montreal in 2002, have reached the 20-win plateau by winning at least 10 games in each league. Borowy also led the National League with a 2.13 earned run average, giving him an excellent overall 1945 ERA of 2.65 for 254 2/3 innings pitched.
Win number 11 as a Cub was the pennant-clincher at Pittsburgh, and as if to refute MacPhail's claim that he could no longer throw complete games, he completed his first nine starts as a Cub and 11 of the 14 he made for them. He won the only three games the Cubs won from the runner-up Cardinals played after he joined them (out of 12 played), twice defeating St. Louis in extra innings. Despite playing less than a half-season with Chicago, the Sporting News chose him as the National League's outstanding pitcher for 1945, as well as the pitcher on their Major League All-Star team, while the baseball writers placed him sixth in the voting for the league's Most Valuable Player Award.
The winner of that award was Cubs first baseman Phil Cavarretta, who attributed much of the team's success to their purchase of Borowy. Cavarretta was the National League batting champion, and while the team had some other legitimate big league stars, including Stan Hack at third and Pafko and Nicholson in the outfield, Cavarretta believed Borowy was the key to Chicago's season: "He won 11 games for us. Three of those were wins over the Cardinals who we battled for the pennant. If we had not gotten Borowy from the Yankees, which I credit to Charlie Grimm, who was our manager for the second time, we could not have won it."10
Chicago's opponent in the World Series was the Detroit Tigers, who had edged Washington to win the American League pennant. Detroit opened with Hal Newhouser, on his way to his second consecutive Most Valuable Player Award. Borowy, having been the Cubs' best pitcher down the stretch, and having beaten the Tigers 11 times in 14 decisions as a Yankee, was the logical choice for the Cubs. The first three games would be in Detroit, whereupon the teams would move to Chicago for as many games as was necessary.
Game One was all Chicago, as they blasted Newhouser for seven runs in 2 2/3 innings on the way to a 9-0 victory. Borowy allowed just six hits in pitching the shutout, though he did walk five batters. The win, coupled with his victory over the Cardinals in 1943, made Borowy only the second pitcher (Jack Coombs was the first) to win a World Series game in each league.
Detroit won two of the next three to tie the Series, setting up a rematch between Borowy and Newhouser for the crucial fifth game. After five innings the score was 1-1, but the Tigers reached Hank for four straight hits to start the fifth, leading to his departure and an eventual 8-4 Detroit victory. Faced with elimination, the Cubs rallied to win Game Six, 8-7, scoring the winner in the bottom of the 12th inning. Borowy picked up the win with four outstanding innings of relief.
Following a day off, both managers came back with their aces for the seventh and deciding game. Tigers manager Steve O'Neill's choice of Newhouser was the obvious one, but Grimm raised some eyebrows by coming back with Borowy. Like Newhouser, Borowy had started Game Five, but unlike the Tigers' ace, he had pitched four innings in relief in Game Six. Many baseball people felt Borowy was too frail for such a heavy-duty effort, and they proved to be correct. Borowy had nothing in Game Seven. Skeeter Webb, Eddie Mayo, and Doc Cramer, the first three Detroit batters, all singled, and with slugger Hank Greenberg coming up, Grimm replaced Borowy with Paul Derringer. The Tigers eventually scored five runs in that first inning in winning the game, 9-3, and the Series.
Newhouser's 22 strikeouts in his three starts set a new World Series record. With the loss, Borowy now also holds the distinction of being the last Cubs pitcher to lose a World Series game. He also joined three other pitchers, all American Leaguers, who were involved in four decisions in a single World Series: Bill Dinneen Boston, 1903; Joe Wood, Boston, 1912; and Red Faber, Chicago, 1917. Borowy, the first National Leaguer to accomplish the feat, was 2-2, while the others all had three wins and a loss. For his heroic efforts down the stretch and his two World Series wins, the Cubs voted him a full Series share ($3,930.21).
By the next season, with all the stars having returned from the military, the Cubs reverted to a so-so team, finishing third, but well behind St. Louis and Brooklyn. Borowy also became a so-so pitcher, winning 12 and losing 10, with an unimpressive 3.76 earned run average. Perhaps his most memorable win was his first, a 13-1 triumph over the Phillies on May 5. A lifetime .173 hitter, Borowy batted in four runs in this game, all the result of two seventh-inning doubles.
Going into the 1947 season, manager Grimm still considered Borowy his ace and chose him as his opening-day pitcher against Pittsburgh. In his only other opening-day assignment, as a Yankee in 1944, Borowy had shut out the Red Sox. He pitched just as well this day, but lost to Rip Sewell, 1-0, on a run driven in by Greenberg, making his National League debut. Overall, though, his numbers got worse in 1947, an 8-12 mark and a 4.38 ERA, as Grimm started using him more in relief than as a starter.
He was just 5-10 in 1948, but on August 31 pitched the best game of his career. In the first game of a doubleheader against the league-leading Dodgers, he beat them 3-0 while facing the minimum 27 batters. Only Gene Hermanski, with a second-inning single, reached base for Brooklyn, and he was thrown out stealing. The win evened his record at 5-5, but he dropped his final five decisions to finish with the 5-10 mark.
On December 14, the Cubs traded Borowy and first baseman Eddie Waitkus to the Phillies for pitchers Dutch Leonard and Walter "Monk" Dubiel. The 1949 season proved to be a nice comeback year for Borowy. Used strictly as a starter by Phillies manager Eddie Sawyer, he won 12 and lost 12. And while his former team, the Cubs, slipped into the National League cellar, the Phillies finished third with their first winning season in 17 years. But at age 34, Borowy did not fit into Philadelphia's plans for 1950, so on June 12, after having used him just three times in relief, Sawyer sold him to Pittsburgh for the $10,000 waiver price.
Borowy was 1-3 for the atrocious 1950 Pirates when they sold him on August 3 to Detroit. "We paid considerably more than $10,000 for Borowy," said Tigers general manager Billy Evans, "but we figured it was a pretty good gamble. He still has a lot of good pitching left, and we figure he can help us a lot."11
However, Evans was wrong. Borowy split a pair of decisions the rest of the season and then split four more with a 6.95 ERA in 1951. Oddly, both wins came on consecutive days against Boston, on August 4 and 5. He made his last big-league appearance on September 14, pitching an inning of relief at Yankee Stadium, scene of his early glory. In November, Detroit released him, ending his ten-year big-league career. Coincidentally, the release came on the same day the Tigers released Charlie Keller, his former Yankees teammate. Borowy had been an outstanding 67-32 (.677) after his first four seasons, but went only 41-50 over the next six years to finish with a 108-82 record (.568).
Buffalo of the International League signed him for the 1952 season. He won his first three starts for the Bisons but then got shelled regularly, before finishing the season at 10-12. It was his final season as a player, though one in which he did get to do a stint as manager. He filled the role for several games in May when regular manager Jack Tighe was stricken with appendicitis.
Five years later Borowy did get back in uniform for a while and even briefly considered attempting a comeback. In September 1957 the Yanks were short of batting practice pitchers and manager Casey Stengel asked the club to hire a new one. They hired the 41-year-old Borowy. When asked if he was about to make a comeback in 1958, he did not dismiss the idea. "I sure would like to be an active pitcher again," Borowy said. "Who knows? I'll see how I react and maybe I will be a candidate next spring."12 He wasn't, but he did stay close to the Yankees, though, appearing regularly at their old-timer games.
After leaving baseball, Borowy owned a very successful real estate and insurance business in his hometown of Bloomfield for 30 years, before retiring to Point Pleasant, New Jersey, a resort town on the Atlantic Ocean. He was living in Brick Township, New Jersey when he died at age 88 on August 23, 2004. Borowy, who was buried in Bloomfield, was predeceased by his wife Katherine and survived by his son and two daughters. In 1970, Hank Borowy was one of the first four men inducted into Fordham University's Athletic Hall of Fame.
Sources
Spatz, Lyle, New York Yankee Openers (Jefferson, North Carolina: McFarland & Co., Inc.), 1997.
Spatz, Lyle, Yankees Coming, Yankees Going (Jefferson, North Carolina: McFarland & Co., Inc.), 2000.
Hank Borowy Files at the National Baseball Hall of Fame and Museum in Cooperstown, New York.
Notes
1 New York Times, July 28, 1945: 14.
2 New York Times, July 28, 1945: 14.
3 New York Times, July 28, 1945: 14.
4 Hartford Courant, July 28, 1945: C1.
5 Joe King, New York World-Telegram, October 8, 1943.
6 New York Herald Tribune, September 13, 1945.
7 Glenn Stout, Yankee Century as quoted in the New York Sun, August 26, 2004.
8 New York Times, July 28, 1945: 14.
9 New York Times, October 4, 1945: 14.
10 Jim Sargent, "Remembering Yesterday's Heros,"
http://www.baseball-almanac.com/hero/hero2002b.shtml. Jim Sargent interview with Phil Cavarretta on June 1, 1995.
11 Los Angeles Times, August 4, 1950: C1.
12 The Sporting News, September 18, 1957: 5.
Born
May 12, 1916 at Bloomfield, NJ (USA)
Died
August 23, 2004 at Brick, NJ (USA)
If you can help us improve this player's biography, contact us.
http://bioproj.sabr.org/bp_ftp/images4/BorowyHank.jpg
600
800
admin
/wp-content/uploads/2020/02/sabr_logo.png
admin
2012-01-04 20:46:37
2021-10-23 08:38:08
Hank Borowy