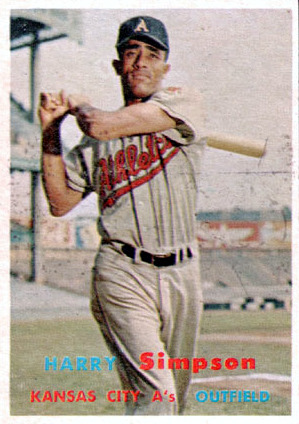 ---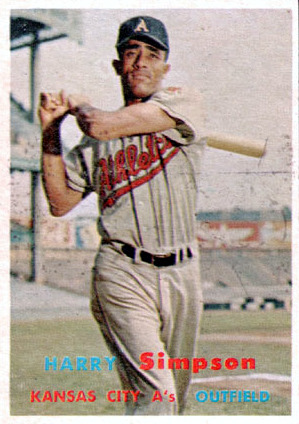 Harry Simpson first saw life as a child in the segregated South. He went on to be one of the first black players to break the color line. Born in Atlanta, Georgia on December 3, 1925, (many accounts list his birth year as 1923 or 1924), Harry was the fourth child of Frank and Maggie Simpson; according to the 1930 Census, he had three brothers and two sisters. As a lad around Dalton, Georgia, a carpet-manufacturing city in the northern part of the state, Harry was called "Goody"1 because of his kind disposition and willingness to help.
In September of 1941, with conflict escalating in Europe, Harry enlisted in the Army; he was assigned to Fort Benning, Georgia, for basic training and served until the war ended in 1945. Discharged from the Army, he married the former Johnnie Cooper on August 15, 1946.
Goose Curry, manager of the Philadelphia Stars of the Negro National League, signed Simpson for his team in 1946. Originally a right-handed pitcher, Simpson moved to the outfield and hit a respectable .333 in 52 games.
With the Stars in 1947, his average slipped to .244 and a dejected Simpson started to second-guess his career choice. Life in the Negro leagues was hard and Simpson became discouraged. He left the Stars and got a sales job outside of baseball. Johnnie, his wife, convinced Harry that his future was in baseball; she pleaded with him to return to the diamond and he abided by her wishes.
Simpson later recalled those days: "It was a tough life" in the old Negro leagues. "Sometimes you'd play in five cities in five nights and never see a bed. We thought nothing of playing three games in the same day. … We never had a trainer. You carried some liniment and rubbed it on when you hurt."2 But despite the tough life, there were great players in the Negro Leagues. Simpson recalled Josh Gibson as "the greatest hitter I ever saw. He was dying when I saw him, that last year. He couldn't even stoop down behind the plate, but man, he could still hit."3
Simpson played against Satchel Paige and commented, "He wasn't the fastest pitcher in our league. Maybe he had better control, but he wasn't the fastest. Think what these fellows could've done if they'd been given a chance in their prime."4 Simpson said Negro League stars earned $2,000 a month during the summer, then would play in Mexico or South America for as little as $50 a month. "Many of them, like Gibson, contracted fatal diseases while earning eating money south of the border,"5 he asserted.
He picked up his nickname during his Negro League days. Harry wore a size 13 shoe, and a sportswriter dubbed him "Suitcase" Simpson, based on a character by that name with feet as large as suitcases, in the comic strip "Toonerville Folks."6 A cartoon appeared in the paper showing Harry with feet as long as a bed. "At first, I didn't like the name," Simpson said much later, "now I'm used to it."7
In 1948, Simpson caught the eye of NBA coach Eddie Gottlieb, who doubled as an unofficial baseball scout. Gottlieb was greatly impressed and began calling him "the tan Ted Williams," making a comparison to the slugging Boston Red Sox star. "He's built like Ted, is faster and can field much better."8 Gottlieb said. "I am not going to say that he will hit better than Ted, but he has a chance."9 Simpson was described by writer Doc Young in Great Negro Baseball Stars as "a lean, bony, gangly man who was as loose as a dishrag at the plate."10 In his prime, the trim outfielder stood 6-feet-1 and weighed 180 pounds.
Based on glowing recommendations, eight major league scouts offered a tryout; all declined the opportunity to sign the prospect. At his own expense, Gottlieb financed a trip to Arizona for Simpson to get a look-see by Cleveland Indians general manager Hank Greenberg. The Indians, owned by Bill Veeck, had signed Larry Doby to be the first black player in the American League and were one of the first major league teams to scout and sign black players. During a split-squad game, Harry went 4-for-4, including two home runs, and Greenberg hustled to sign Gottlieb's protégé.
In 1949, Simpson was assigned to the Wilkes-Barre Indians of the Class-A Eastern League. He hit .305, leading the league with 31 home runs, 120 runs batted in, and 125 runs scored. He made the league's all-star squad. His club finished in third place, making the playoffs, but losing the finals.
In 1950, Simpson was promoted to the San Diego Padres of the Pacific Coast League. He hit .323 and led the loop with 156 RBIs in the 200-game season; he also contributed 19 triples and 33 home runs. After such an impressive season, it appeared the young man was headed to a prominent big-league career. GM Greenberg called Simpson "one of the finest prospects I've ever seen."11
Harry reported to the Indians' 1951 training camp in Tucson, Arizona, and manager Al Lopez started with the Ted Williams comparison too. "He cocks that bat like Williams," Lopez told reporters, "and waits until the last moment to uncoil. Simpson lashes with the bat as if it were a buggy whip."12 But the Indians roster included four black players – Larry Doby, Luke Easter, Minnie Minoso, and Simpson. According to several sources including The Sporting News, Indians management wondered if four Negroes on the club were too many. Internally, they decided to keep three.
When it came time to trim the roster, Greenberg decided to stick with Simpson and peddle Minnie Minoso to the Chicago White Sox. Harry hit over .400 during spring training, but wound up having a disappointing season, getting 332 at-bats but hitting only .229, while driving in a measly 24 runs. Simpson split his time between the outfield and first base. Doc Young of the Pittsburgh Courier wrote that Simpson "should have been playing minor league ball for experience. The early promotion to the major leagues stunted a potentially promising career."13 Simpson admitted that the rush to meet expectations left him anxious in the batter's box; he altered his stance daily to try to get untracked. The pressure on Simpson was magnified when Minoso went on to become a big star with the White Sox.
Determined to find himself in 1952, Simpson attended a pre-spring-training batting school conducted by ex-Indian great Tris Speaker. Speaker remarked that Simpson "has got to find his own way." Coincidentally, Simpson located an article authored by Ty Cobb on the subject of hitting. When in a slump, the article said, Cobb concentrated on only one thing — hitting the ball back at the pitcher. Simpson tried it, abandoning the power stroke he used in the Pacific Coast League. "Might as well face it, I'm not strong enough," Simpson said. "Out there a man hits a ball 360 feet and he has himself a home run. Up here, he's just got himself a big out."14 An early-season high point for Harry came on April 26 when he broke up a no-hitter by Detroit's Art Houtteman with two outs in the ninth inning. But a hot start (.347 by May 10), cooled to just .266 by season's end, with 10 home runs and 65 RBIs. Simpson was durable, though, playing in 146 of Cleveland's 155 games, over 80% of them in the outfield. His .266 average was slightly above the Indians team average of .262.
In spring training of 1953, the Indians changed Simpson's stance, moving him closer to the plate and placing his left foot slightly behind his right. Simpson believed this stance helped him put better wood on the ball and improved his timing. Sure enough, he was banging away at a .541 clip after 11 Grapefruit League contests, but GM Hank Greenberg cautioned against optimism regarding the highly touted outfielder. "To call him the greatest prospect to come out of the Coast league since Joe DiMaggio is silly. He does have ability and could develop into a fine ballplayer."15 Simpson ultimately saw his average dip to .227 in 82 games with the Indians.
The 1954 Cleveland Indians won 111 games while claiming the American League flag, but it was without the services of Simpson. On March 24 he broke his wrist on a close play at the plate. Doctors predicted a recovery period of six weeks and the parent club decided to send Simpson back to the minors. The wrist healed and Harry returned to the lineup with the Indianapolis Indians, playing in an even 100 games. The club finished at the top of the American Association and Simpson contributed a .282 average with 12 home runs.
Spring training of 1955 and the arrival of Ralph Kiner proved that room no longer existed on the Indians roster for the trim outfielder. Simpson was sold to the Kansas City Athletics on May 11. When he reported to the A's, manager Lou Boudreau recommended returning to his original loose stance, spraying the ball to all fields. This relaxed approach plus plenty of playing time produced positive results, culminating in a .301 average and making him a fan favorite. He also showed his versatility by playing all three outfield positions as well as first base.
The next year, 1956, was a banner year for Simpson. He hit .293 with 21 homers and 105 RBIs. Naming him to the All-Star team, Yankees manager Casey Stengel took note of his long, smooth stride in the outfield and strong throwing arm, and called him the best right fielder in the league. On June 24, Simpson became a bit of a folk hero by depositing a homer onto Brooklyn Avenue, outside of Kansas City's Municipal Stadium. The ballpark had a concrete wall atop a 40-foot-high embankment in right field, making it appear impossible to ever plant one on the other side. A barnstorming Babe Ruth even had trouble hitting the target during exhibition games. Simpson accomplished the Herculean feat on a pitch served up by Dave Sisler of the Red Sox.
In 1957, Simpson moved to the Yankees in the aftermath of the brawl at the Copacabana nightclub in New York involving some Yankees players. Simpson was hitting .296 when traded to the Yankees on June 15, along with pitcher Ryne Duren and outfielder Jim Pisoni, in exchange for infielder Billy Martin, a participant in the Copacabana fight, pitcher Ralph Terry, infielder-outfielder Woody Held, and outfielder Bob Martyn. The consensus was that the A's got the better of the deal. Simpson was initially pleased to become a Yankee, but came to regret the deal that sent him to the big city. "The worst break I ever got was being traded to the Yankees,"16 he said later. He sensed something was wrong upon reporting to the Yankee clubhouse and meeting Casey Stengel. "I introduced myself to Casey,"17 Simpson recalled. "He didn't say he was glad to have me or anything else. Instead he started talking about how he hated to lose Billy Martin. … It made me feel a little funny."18 Simpson's sense of the situation was pretty much on the mark. He knew he'd platoon with the Yankees and history showed that he wasn't at his best coming off the bench. He ended the season hitting .250 in 75 games. During the 1957 World Series, Simpson and Elston Howard alternated at first base, spelling an injured Moose Skowron. Simpson hit a disappointing .083 in the Fall Classic as the Milwaukee Braves prevailed over the Yankees in seven games.
Simpson was hitting a mere .216 on June 15, 1958, when the Yankees traded him back to Kansas City along with pitcher Bob Grim for A's hurlers Duke Maas and Virgil Trucks. The deal was announced during a Yankees game against the Detroit Tigers, but Casey Stengel decided to send Harry up as a pinch hitter anyway. Back in Kansas City, he posted a .264 average in 78 games.
Simpson's signed contact for the 1959 season was accompanied by a letter to Parke Carroll, general manager of the A's, in which he wrote, "I'm a better ballplayer than I showed you last year. I just hope you will believe in me. I'll prove I'm better. I've just got to vindicate myself."19 On May 2 Harry was hitting a solid .286, but the A's sent him to the Chicago White Sox in exchange for infielder Ray Boone. Chisox owner Bill Veeck and his general manager, Hank Greenberg, had signed Simpson to his first major-league contract and were of course very familiar with him. They hoped that Simpson would add spark to the Sox lineup and wanted to take advantage of Harry's versatility.
But Simpson batted only .187 in 38 games with the White Sox before being dealt to the Pittsburgh Pirates on August 25 for slugging infielder Ted Kluszewski, a 34-year-old veteran of 13 National League seasons. Simpson got into only nine games with the Pirates, hitting.267 in 15 at-bats. Big Klu hit .297 during the balance of the White Sox season and contributed a torrid .391 batting average during the World Series. After all of the hoopla was over, the White Sox eventually bought Simpson back from the Pirates on October 13. Simpson was about the unluckiest player in all of major-league baseball during 1959; his timing in and out of Chicago cost him a World Series check.
In 1960, Simpson saw action with the PCL San Diego Padres, batting.222 in 95 games. Back with the Padres in 1961, he appeared in 146 games, hitting .303 with 24 home runs and 105 RBIs.
In 1962, the veteran was back with the Indianapolis Indians, where he hit .279 in 132 games with 24 home runs. He started 1963 in Indianapolis, hitting .382 in 11 games, before moving onto the Mexican League Diablo Rojos, where he hit .334 with 21 home runs. He continued with the Red Devils in 1964, hitting .306 with 14 homers. On that note, he retired as a player.
Simpson moved to Akron, Ohio, in 1959. He worked as a machinist at Goodyear Aerospace from 1967 until he retired in 1976. He suffered a heart attack and died on April 3, 1979, in Akron. Services were held at the New Trinity Baptist Church, where Harry was a deacon. He is buried at West Hill Cemetery in Dalton, Georgia.
Harry Simpson criticized any ballplayer who didn't give 100 percent and especially black players who didn't hustle. "The important thing as I see it, is that I, as a Negro, have been given a great privilege and I just wish all members of my race felt the same deep gratitude as I do," he once said. "Here I am making more money than a great percentage of the men of my race. Here I am on a ballclub where I've been given every chance in the world to make good. What more could I possibly want? I live as good as anybody could. I get a good salary. I've got a good job. Baseball has given this to me. Where could I have gotten all this? In what other profession could I have been given the same chance?"20
All told, Simpson hit a workmanlike .266 in a career spanning 1951 through 1959. In 888 major-league contests, with 2,829 at-bats, his on-base percentage registered a respectable .331. The versatile outfielder/first baseman had a career fielding average of .984. All of these factors certainly contributed to his longevity in the days when each league had eight teams.
An earlier version of this biography originally appeared in SABR's "Go-Go To Glory: The 1959 Chicago White Sox" (ACTA, 2009), edited by Don Zminda.
Sources
In addition to the sources cited in the Notes, the author also consulted a number of newspapers, baseball-almanac.com, baseballlibrary.com, baseball-reference.com, sabr.org, and the following:
Johnson, Lloyd, and Miles Wolff. Encyclopedia of Minor League Baseball (Durham. N.C.: Baseball America, 1997).
Reichler, Joseph L., editor. The Baseball Encyclopedia (New York: Macmillan, 1982).
Rosenthal, Harold. "Simpson Made It the Second Time," Sport Magazine, September 1957
Notes
1 Cleveland Indians Sketchbook, 1951.
2 Dick Mittman, "Old Negro Loop Players Greatest," News-Palladium (Benton Harbor, Michigan), May 2, 1963.
3 Ibid.
4 Ibid.
5 Ibid.
6 Cleveland Indians Sketchbook, 1951.
7 Ibid.
8 Rick Swaine, Black Stars Who Made Baseball Whole (Jefferson, North Carolina: McFarland, 2006), 237.
9 Frank T. Blair, "Simpson Hailed As Second Williams," Long Beach Press-Telegram, May 4, 1951.
10 A.S. "Doc" Young. Great Negro Baseball Stars and How They Made the Major Leagues (New York: A.S. Barnes, 1953), 67.
11 "Sad-Eyed Suitcase Simpson Unpacks For Stay In Majors," The Daily Review (Haywood California), March 8, 1951.
12 The Sporting News, January 28, 1951.
13 Doc Young, Pittsburgh Courier (undated clipping).
14 "Cobb and Speaker Helped Simpson Find Himself," Coshocton (Ohio) Tribune, May 11, 1952.
15 Ray McNally, "Sportingly Yours," Tucson Daily Citizen Sports, March 21, 1953.
16 Sam Lacy, Afro-American, March 25, 1959.
17 Ernest Mehl, "Simpson of Joy for A's," The Sporting News, July 18, 1956.
18 Ibid.
19 "Simpson Adds Pledge to A's With His Pact," The Sporting News, January 21, 1959.
20 Larry Moffit & Jonathan Kronstadt, Crossing the Line: Black Major Leaguers, 1947-59 (Iowa City: University of Iowa Press, 1994), 67.
Born
December 3, 1925 at Atlanta, GA (USA)
Died
April 3, 1979 at Akron, OH (USA)
If you can help us improve this player's biography, contact us.
http://bioproj.sabr.org/bp_ftp/images5/SimpsonHarry.JPG
600
800
admin
/wp-content/uploads/2020/02/sabr_logo.png
admin
2012-01-04 20:45:59
2021-09-17 01:07:22
Harry Simpson