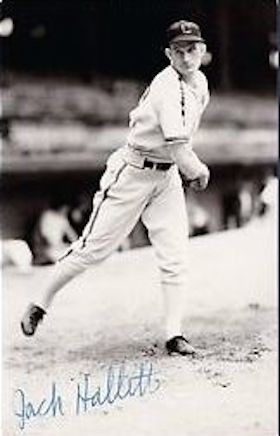 ---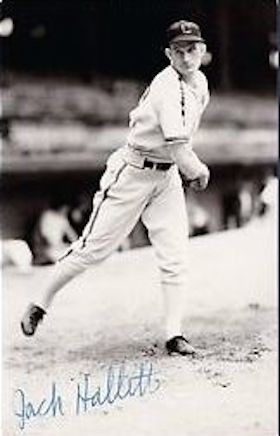 Like so many ballplayers of his generation, Jack Hallett gave what may have been the best years of his career to the service of his country. Yet, after Navy duty called him from the Pittsburgh Pirates' pitching staff in 1943, he had enough talent to return as a major leaguer in 1946 against postwar competition and figured prominently in the New York Giants' plans for 1948 before slipping back to the high minors. And that "Dad" and "Grandpa" played major league baseball, accomplishing the unachieved dream of so many young men of his era, continues to give his son and granddaughter special memories, bonding three generations and spanning a century.
Jack Price Hallett was born on November 13, 1914, to Wallace Hallett and Nellie Price Hallett in Toledo, Lucas County, Ohio. Wallace Hallett's ancestors were English and Norman-French; Nellie Price Hallett was a native Ohioan of Welsh-German lineage. Jack was the couple's only child before a divorce interceded. On January 12, 1917, Nellie married George W. McDowell, a conductor for the New York Central Railroad.1 He was an Indiana native who had also been married previously. The wedding was in Monroe, Michigan, just across the state line from Toledo; by the 1920 census, George and Nellie Price McDowell, Jack Hallett, and his half-brother George McDowell were a family of four living in Toledo.2
A big (6'4", 215), strong right-hander who naturally gravitated to pitching, Hallett started his amateur career under coach Earl Hisey in the Toledo Blade Baseball League, and then graduated to pitching for Hisey's South Side Merchants in the Toledo City Amateur Baseball Federation.3 Taking advantage of all opportunities, he also played American Legion4 baseball and starred at Libbey High School.5 Hallett was good enough at age 15 to warrant a workout with the local Mud Hens of the American Association. There, Hens' manager Casey Stengel told him: "You will be a real pitcher, some day. But forget about becoming a professional pitcher for four or five years."6
Hallett pressed that timetable just a bit. At age 18 in August 1933, "I had just graduated from high school when I got my [professional] start. I went to school with a fellow whose father was a friend of Dave Bancroft,7 who managed Minneapolis8 that year. I had been pitching a lot of amateur ball and doing all right and one evening when Bancroft was at this fellow's home for supper I was mentioned.
"The next morning I was told that I would go to the Toledo ball park and would be given a tryout with the Minneapolis team. I couldn't believe it but I was there and pitched batting practice. They were leaving for home at six-thirty that night and I was with them."9
Hallett never appeared in a game for Minneapolis but by 1934 the 19-year-old was squarely on Stengel's suggested progression, pitching a total of 54 innings for two teams in the Class-A Western League, St. Joseph (Missouri) and Cedar Rapids. The fireballer got his first real work in 1935 at a lower level with the Class-D Crookston (Minnesota) Pirates, and a one-inning cup of coffee with the Class-AA Milwaukee Brewers (American Association).
Hallett's split-season routine continued in 1936 when he logged a combined 9-17 record with clubs in Class C and then Class D. Although slowed by a sore arm he later attributed to trying to master the curve ball, he gained greater confidence in his control10 and was finally affiliated with a major-league organization, the Cleveland Indians. He stayed in the Indians' system to emerge with an 11-9 record in Class D in 1937 and blossom to 16-9 in 237 innings with Class-B Bloomington (Illinois) in 1938.
That caught the Chicago Cubs' interest. Hallett began the 1939 season with their Class-AA Pacific Coast League affiliate in Los Angeles, but pitched most of 1939 with lower-classification Tulsa (Texas League). With both teams, he was 12-12 in 196 1/3 innings.
In 1940, the now-25-year-old Hallett again pitched for two teams. He spent time with Tulsa, where Dizzy Dean, five years older than Hallett, had landed for the summer after being demoted by the Cubs.11 Hallett also pitched for another Texas League club, Shreveport. Between Tulsa and Shreveport he was a workhorse, appearing in 38 games, pitching 244 innings, and winning 12 games. But with all the work came 21 losses, often the fate of a reliable pitcher always ready to start on short rest whenever he gets the call.
Keeping an eye on their cross-town rivals' prospects, the Chicago White Sox liked what they saw in Hallett and purchased his contract from Shreveport on August 15, 1940. The next day the Associated Press reported the transaction in a small item: "White Sox officials said Hallett may be brought up before the end of the season."12
Hallett did get his call to the majors before the end of the 1940 season. The Sox were still on the fringes of the American League pennant race13 on Friday, September 13, 1940, when manager Jimmy Dykes entrusted the rookie with a start in the second game of a Friday doubleheader. The superstition-loaded date didn't bother him; he spun a complete game against the hapless Philadelphia A's as the Sox won, 8-4. Hallett allowed eight hits, never trailed, and added two hits and a run batted in of his own.14 With a 1-0 record after his major league debut he had certainly fulfilled Casey Stengel's "real pitcher" prediction of a decade earlier.
A week later in St. Louis, Hallett got the ball again—this time with different results. He and the Sox spotted the Browns four runs in the first inning. Although Hallett settled down to allow only two more runs through five innings and the Sox pecked away to make the final score close, he was the losing pitcher as St. Louis prevailed, 7-6. The two September starts were the totality of Hallett's 1940 major league log. In 14 innings he was 1-1 with a 6.43 ERA. Those appearances brought his workload for the season to an arm-wearying 258 innings. The debut win was a high point, but the rest of his numbers showed that he'd indeed been a rookie in faster company than he'd yet experienced.
The 1940 White Sox pitching staff had the second-best ERA in the American League, and the following spring Hallett was competing with steady veterans Ted Lyons and Thornton Lee as well as Johnny Rigney and Eddie Smith, pitchers his own age who had already posted double-digit winning seasons in the majors. Nevertheless, he hung on through spring camp in Pasadena, California, made the 1941 roster, and started the sixth game of the new season on April 23 in Detroit. This first outing against one of the tougher AL clubs wasn't auspicious; he allowed seven earned runs in 3⅔ innings and absorbed the Sox' 13-5 whipping. He was reduced to mop-up work with only five more starts over the season, but enjoyed some distinction on July 26 against the Yankees in New York.
Hallett took over to start the sixth inning in relief of Johnny Rigney and on the short end of a 6-3 score. Although he yielded three more runs in his first inning of work, he retired Joe DiMaggio on a ground out. DiMaggio was only a week and a half past the end of his historic 56-game hitting streak and already in the ninth game of a new streak, hitting .377 on the season. Hallett faced DiMaggio again in the seventh after a two-run homer by Tommy Henrich—and struck him out—"the first time since June 8 any elbower has been able to push a third strike past Joe."15
Although Hallett managed a 5-5 record for the 77-7716 White Sox, the generally disappointing nature of his 1941 season motivated the club to trade him and outfielder Mike Kreevich to the Philadelphia A's during the offseason for Wally Moses, a steady outfielder who had not hit lower than .301 in seven major-league seasons. Hallett went to spring camp with the 1942 A's, but even though owner-manager Connie Mack's team was in the midst of what would be a four-year stay in the American League cellar, there's wasn't room for Hallett on the pitching staff. At the end of camp Mack shipped him off to the Toronto Maple Leafs of the International League (AAA).
Back in the high minors, Hallett was once again a workhorse, and his 187 strikeouts in 219 innings led the league. The steady work, strikeouts, and his 2.88 ERA at Toronto caught the attention of the Pittsburgh Pirates. They sent players and cash to Toronto on September 8, 1942, for the rights to Hallett and within four days the brand-new National Leaguer was Pittsburgh's starting pitcher for the second game of a Saturday doubleheader in Boston. Hallett's NL debut was impressive. He went all 11 innings of a game suspended at a 2-2 tie to allow the Pirates to catch their train to New York,17 yielding only 13 baserunners and striking out six Braves. He hit his first and only major league home run in the fifth inning to give Pittsburgh a brief 2-1 lead.18
Over two more September starts with the Pirates Hallett showed enough potential in matchups against National League stalwarts Johnny Vander Meer and Paul Derringer that the Pittsburgh front office deemed him "one of the most promising pitchers of the year in the big show"19 for 1943. With World War II raging, however, this optimism was quickly tempered. As the 28-year-old trained with the Pirates in Muncie, Indiana, "Hallett, up from the Toronto club, has just received notice from his Toledo, O., board to take his first Army test. In the event that Jack passes, he will be placed in I-A and will be subject to immediate call. Pirate manager Frankie Frisch figured on Hallett as a likely winner for the Bucs this season."20
Hallett did pitch well in the two months he was with Pittsburgh in 1943. In nine appearances totaling 47⅔ innings between April 24 and June 23 he had a sterling 1.70 ERA. His best performance was a complete-game, four-hit shutout against the Giants at Forbes Field on June 6.
But the near-certainty of a draft call prompted Hallett to enlist in the Navy on June 24, just when he "was doing the best work of his career."21 Hallett had married the former Erma Marie Reaser of Toledo on October 2, 1937; she was seven months pregnant with their first child (Jack Price Hallett, Jr., born August 21, 1943)22 when Hallett reported to Great Lakes Naval Training Center. There, Lt. Cmdr. Mickey Cochrane, in charge of the Great Lakes baseball program,23 added the righty to his 1943 Great Lakes Bluejackets pitching staff. Hallett settled in with his old White Sox teammate George Dickey and fellow major leaguers including Johnny Mize of the Giants, Barney McCosky of the Tigers, Tom Ferrick of the Indians, and Johnny Schmitz of the Cubs. At Great Lakes, "where competition was stiff," Hallett "was effective in [exhibition] games against the Dodgers and Yankees."24
By 1944, Hallett was a Navy specialist second class based on Maui, Hawaii. Still involved with Service League baseball, he was now "the only big leaguer on his team,"25 and managed the squad while also doing duty as the base's athletic trainer.26
Baseball beat writers in major league cities kept a close eye on players from their teams in military service during World War II, and Chet Smith of the Pittsburgh Press was no exception. On July 26, 1944, Smith wrote in his column about a report from "our agent in the islands expanding on the subject of Twirler Hallett."27
"The big, gangling, farmerish-looking sailor in the faded blue dungarees had a wide grin on his face as he ambled up to meet 'this guy from Pittsburgh who wants to see me.'"28 The "guy from Pittsburgh" wanted to talk service baseball in general, but also to ask Hallett about a perfect game he had pitched a few games earlier—mixed in with "a one-hitter, a pair of two-hitters, one three-hitter, and three four-hitters."29
Hallett brushed off talk of his achievements and instead emphasized the talent of the young, inexperienced, players he was molding into a solid team, citing some of them as major league prospects and pointing out that they were in no way fazed by facing and winning games against opponents with major league experience like Mize, Ferrick, and Hugh Casey. "Our kids didn't even know who they beat," Hallett told Smith's correspondent.30
Hallett closed the interview with an observation about the meaning of service baseball, with its traveling teams of elite stars making appearances in remote parts of the 14th Naval District,31 to those stationed in the Pacific Theater. "I read the other day where one writer, returning to the States, claimed that the boys out here would prefer to have their baseball stars back in the majors. That's straight bunk, pal. They would a darn sight sooner have the main dish to themselves than hear about someone else eating it back home, as the crowds of 25,000 here easily prove."32
In October 1945, with the war in the Pacific finally over, the Navy celebrated with its "Little World's Series" at Furlong Field, Pearl Harbor, played before crowds ranging from 18,000 to 28,000.33 The National League won the first three games before Hallett, borrowed from the Nationals and pitching for the American League because of his former affiliation with the White Sox, kept the AL alive with a seven-hit, 12-1 win in the fourth game on October 3. The National League took its fourth win, 4-3, on October 5, to close out a best-of-seven format. The teams played another game the next day; the American League won 5-2 behind Bob Lemon.34
Hallett was discharged from the Navy on November 11, 1945, and returned home to Erma and Jack Jr.. Pittsburgh reserved him for 1946 with several other returning servicemen, and writers heralded him as having been one of the top pitchers in the Pacific Theater as the Pirates started spring training in San Bernardino, California.35 Now 31, and still young enough to compete for a rotation spot on a staff that included Rip Sewell, 39, and Fritz Ostermueller, 38, Hallett made the 1946 roster, but as a relief man and spot starter. He started the second game of a doubleheader on April 21, but pitched ineffectively. The starts were strung out after that, but by September, with the Pirates lodged in seventh place, manager Frankie Frisch gave Hallett six starts. He responded well to the opportunity, going the distance to win 1-0 at Boston on September 12 and pitching all 13 innings of a 2-1 victory over Cincinnati at Forbes Field on September 21. Satisfyingly, Hallett started the game-winning rally with a one-out single in the bottom of the 13th inning.
Off that promising late-season work, Hallett lasted in the Pirates' major league camp until mid-March 1947. The Pirates had added Tiny Bonham, an experienced American League pitcher, over the offseason, though, and there was no room for Hallett on the staff.36 Pittsburgh sent him to their top farm club, Indianapolis, in the International League (AAA). He showed enough there with 136 strikeouts in 152 innings to attract the attention of the New York Giants. They drafted him in the 1947 Rule 5 draft, held November 10 in Cincinnati, and he immediately became a top Giants prospect for 1948. He was "one of four big fellows coming up, thoroughly experienced in the high minors, all of whom can throw hard."37
Writers covering the Giants were high on Hallett. In February, before the club left for 1948 spring training, Ken Smith,38 stringing for The Sporting News, got either a little behind or substantially ahead on his holiday references and deemed Hallett one of the "unwrapped packages on the Polo Grounds Christmas tree. The strings will be untied during March at Phoenix, Ariz., and perhaps out will pop that long-sought winning pitcher Gotham fans have been craving so avidly."39 By early April Hallett was "showing encouraging results;"40 he ultimately made the team out of spring training as a member of manager Mel Ott's bullpen, although Smith opined that the big, hard-throwing newcomer might get an occasional start.41
All that spring promise quickly faded, though, as Ott used Hallett only twice in the early season, on April 24 and April 29. Both appearances were in mop-up relief. Quite possibly the victim of the arm woes that can quickly strike hard-throwing pitchers, especially as they accumulate more and more innings of work, Hallett returned to the Pittsburgh organization with Indianapolis in late May, the Giants having lost interest. He pitched 132 innings at Indianapolis in 1948 and managed to win 11 of 16 decisions. But his earned run average was more than a point higher (4.91) than it had been at Indianapolis just the year before (3.79) and his strikeouts were down.
When Hallett was unable to stick with Indianapolis in 1949, the Pirates released him. He caught on briefly with San Diego, a Cleveland affiliate in the Pacific Coast league, but spent most of 1949 with another Indians' affiliate, Class-AA Oklahoma City (Texas League). Hallett was now two levels below the major leagues, pitching ineffectively, and at 34 years old, had come to a point all professional athletes must ultimately confront.
When he left baseball after the 1949 season Jack Hallett had pitched in excess of 2,000 innings professionally for 18 different teams, with untold additional innings against top-flight competition during his military service in 1943, 1944, and 1945. He had reached the majors and recorded 12 wins there; another 110 wins in the minors illustrated his dogged perseverance.
While Jack, who "by his own admission, 'played in every bush league in the country,'"42 settled into post-baseball life back in Toledo with Erma and young Jack Jr., he took a final fling on the mound. In June 1952, in what the Sandusky Register called "the Toledo season's top fun game,"43 the 37-year old pitched a few innings for Roy Lee's Major and Minor League All-Stars against the Ethiopian Clowns, billed as "the Negro World Champions."44 He worked for 12 years after baseball as sales manager of the Bob Eddy Buick dealership in Toledo and later in sales for Grogan Realty Co.
For recreation, Jack hunted and fished and after earning a pilot's license, acquired part interest in an airplane. He enjoyed long cross-country flights including a one from Toledo to visit Jack Jr. and his family in Texas.45 After Erma died in February 1957, Jack married Marjorie Lou Huber on August 24, 1957; they had three daughters, Christine, Suzanne, and Fae. Jack Jr., their older half-brother, graduated from US Air Force Officer Training School and served in various Air Force flight assignments stateside and in Vietnam from 1965 to 1975 before a second career as a commercial airline pilot. Christine became a public school music teacher, Suzanne an accountant, and Fae an equestrian instructor and trainer.
Jack Hallett died of a heart attack on June 11, 1982, in Toledo. He was just 67. Jack Jr.'s daughter Jennifer remembers, "Grandpa had had a pacemaker for some time, but in the summer of 1982 it just wasn't enough anymore."46
In 2014 Jack Jr. and Jennifer visited the Louisville Slugger factory museum and searched the signature wall for Jack Sr.'s barrel plate, not even knowing whether a relatively obscure pitcher from the 1940s would be represented. "At first we didn't know how they were organized and it seemed like an impossible task to find the name, even if it was there," Jennifer recalls.47 But as Jack Jr., Jennifer, and her step-mother looked at different places on the wall, Jennifer's boyfriend Fred, a French-speaker limited in English and not entirely sure what the group was looking for, "went right up to it and picked it out of the thousands of names like he just instinctively knew where it was."48
"Dad and I were so excited," Jennifer remembers. "It might sound corny, but it felt like Grandpa was showing it to us because Fred went right up to it while the rest of us native English speakers had been scouring the wall. We left there feeling grateful, proud, and nostalgic for Jack Sr. and his time of living the dream in baseball."49
Acknowledgments
The interest of Dr. Jennifer S. Hallett, Chair of the Department of Communication Studies at Young Harris College, Young Harris, Georgia, in her grandfather's place in baseball history, expressed in a chance meeting on campus, was instrumental in my undertaking this biography. She and her father, Jack Hallett Jr., provided details on Jack Hallett's life that would have been otherwise unavailable to an unconnected researcher. This biography could not have been written without Professor Hallett's and her father's committed and conscientious help.
Sources
In addition to the Sources cited in the Notes I also used the Baseball-Reference.com, Baseball-Almanac.com, and Retrosheet.org. websites for player, team, box score, and season pages, pitching and batting game logs, and other material pertinent to this biography. I obtained information from Ancestry.com through the resources of the Transylvania County Library, Brevard, North Carolina. Newspapers.com provided access to articles other than The Sporting News items, which were accessed through PaperofRecord.com. The Toledo Blade archives resources provided a copy of Jack Hallett's obituary. My SABR colleague Gabriel Schechter assembled material from Jack Hallett's Hall of Fame file.
Notes
Born
November 13, 1914 at Toledo, OH (USA)
Died
June 11, 1982 at Toledo, OH (USA)
If you can help us improve this player's biography, contact us.
http://sabr.org/sites/default/files/HallettJack.JPG
600
800
admin
/wp-content/uploads/2020/02/sabr_logo.png
admin
2016-12-09 13:55:08
2016-12-09 13:55:08
Jack Hallett