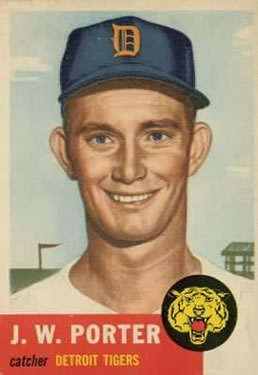 ---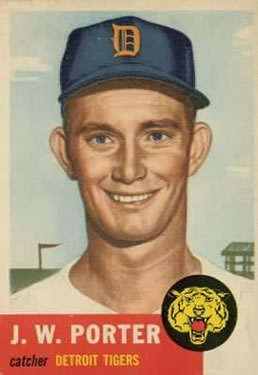 The story of J.W. Porter is one of paradox. A talent of renown, he was praised by scouts as perhaps the greatest prospect they had ever seen. Before he was 18 years old, the Baseball Hall of Fame in Cooperstown hung a plaque bearing his name. He received a record signing bonus; but his rise to predicted stardom was interrupted by an unthinkable tragedy, and ultimately derailed by perplexing decisions made by veteran baseball men.
J.W. Porter's uniqueness began just after his birth on January 17, 1933, in Shawnee, Oklahoma. His parents, William ("Will") and Ruth Porter wrestled with what to name the youngest of their six children. Will Porter liked James William and also Jimmie Willie. "After thinking up names for five children, I wanted to have one with just initials," said his mother Ruth. 1 The couple settled on J.W.
Porter's father had been a pitcher of some acclaim in Oklahoma when, in 1913 at the age of 17, he was shot in the pitching arm in a hunting accident and never pitched again. The youngest Porter's first taste of the game came when his mother stitched together a baseball from a rag. "I bounced it off the side of a house," J.W. Porter said. "I bounced it every day until one day it exploded." There was no money in the Porter household for a mitt or bat, let alone a real baseball.
By the early 1940s Will Porter's attempts at farming were being quashed by Mother Nature "No rain, nothing would grow," J.W. Porter said. "The Dust Bowl hit our side of the state. Everybody in our area left." In November 1943, the Porters did too.
Will, Ruth, their four daughters, and two sons moved west. The family settled in Oakland, California. The senior Porter took a job at American Rubber Company. "It was across the street from the old Oakland ballpark," J.W. explained. "He'd get off work after they'd stopped selling tickets, so he could go in and catch two or three innings."
For 10-year-old J.W., the ballpark was on his path to and from school. In the spring of 1943 Porter walked by the ballpark on his way home one afternoon. Inside the Oakland Oaks were playing the San Francisco Seals. A roar went up from the crowd. "Here came a home run ball over the left field wall. It bounced off the side of a building. About 20 of us wrestled for the ball and I got it," Porter recalled.
The lure of baseball tugged at the youngest member of the Porter household. He sought and was hired to work at the Oaks' ballpark. First, he retrieved seat cushions from the stands for one penny apiece, then moved up to bagging peanuts. "I didn't like that so much," he said with a chuckle. "You worked in a room and you couldn't see the game." After the visiting clubhouse boy, a Japanese American, was sent to an internment camp, Porter was given his job. In 1945, Porter moved to home clubhouse duties where he worked for the next three seasons.
Every chance he got, he watched the play on the field. He relished Pacific Coast League ball. "It was our major leagues," he said. He became a fan of the Oaks outfielder Brooks Holder and appreciated being around professional baseball on a daily basis. "I just soaked up everything I could from them." Among his many tasks was shining shoes. "I shined the shoes of two guys who I later roomed with in the major leagues, Gene Beardon and Ferris Fain."
When Porter wasn't going to school or working at the ballpark he was playing ball. Street ball was popular with youths throughout Oakland. Teams made up of pre-teens and teens came from almost every street in the city. Games were played on vacant lots. Once Porter reached his teenaged years, he signed up for and played in Oakland's competitive Police Athletic League. Champions from the different areas of the city played a championship event in the minor league ballpark. "That was something to look forward to," he said. "I was a pitcher. What a thrill to pitch in the stadium."
When he enrolled at Oakland Technical High School in 1948, Porter tried out for third base. An injury to a teammate moved him across the diamond to first base. Then, one outburst by a teammate changed the course of Porter's future.
In the ninth inning of a game, with the bases loaded, his team's catcher missed the third strike. Rather than retrieve the ball, the player argued with the umpire. As he did, three runners scored, and Tech lost the game. The following Monday when the team gathered for practice the catcher was a no-show. Al Kyle, the Oakland Tech coach, asked if anyone wanted a try at the position. Porter raised his hand. "I'll try it," he said. From that day forward until the second season of his professional career, Porter never missed an inning behind the plate. "I loved it. It just came natural," he recalled.
Porter's 6-foot-2 height made him tower over his classmates. His baseball skills pushed him beyond others in the Bay Area. J.W. could hit, and hit for great power. His was a strong and accurate throwing arm.
When he played in the Police Athletic League, Porter came under the tutelage of George Powles. "He was the best baseball man that I ever knew and that includes a dozen managers I knew in the big leagues," Porter said. Powles was the baseball and basketball coach at McClymonds High School. He also coached two teams in the Police Athletic League, an American Legion team, and a Connie Mack League team. He also opened and supervised play at a local park to give youths the opportunity to play pick-up ball. "He wasn't just a coach, he was a father figure to so many of us," Porter explained.
Porter played multiple sports at Oakland Tech High. In basketball he went head-to-head against a young center at rival McClymonds High, Bill Russell. "Bill was not a good basketball player then," he said. "He was so awkward. He didn't dribble well, and he couldn't shoot. But by his senior year he became pretty good." It was on the diamond, however, where J.W. Porter excelled.
During his junior season, Porter blasted a home run in the 15th inning of a game that made Oakland Tech the league champions. In the summer of 1949 Powles recruited him to join his American Legion team, Captain Bill Erwin Post 337, which was better known as the "Trader Scotts" for their sponsor, Trader Scott Motors.
Over an arduous summer schedule, the team won its area title, then captured the state crown before traveling to Winslow, Arizona, where they won the regional championship and finally, the sectional title in Hastings, Nebraska. The championship steps brought the right to play in the 1949 American Legion United States Junior National Championship series in Omaha.
The Trader Scotts joined teams from Cincinnati, Atlanta, and Wheeling, West Virginia, to battle over five nights for the national championship before record crowds. Before 10,430 fans, Oakland first defeated Wheeling.2 Next, they beat Cincinnati to reach the double-elimination final. The Cincinnati entry rebounded with a win to meet Oakland in the final. With a record turnout of 11,168 cheering, Cincinnati rallied from behind to win in a thriller, 13-12. The following day, Powles' players beat Cincinnati 8-6 to claim the national crown.3 Through the state, regional, sectional and national tournaments, Porter hammered out 27 hits in 49 trips to the plate. Hillerich & Bradsby presented Porter with the silver cup for being the best hitter of the championship series. His .551 batting average was the highest in the 24-year history of the American Legion tournament.4 Porter would later call the accomplishment his greatest thrill in baseball.
In September 1949 Porter began his senior year at Oakland Tech. He had a steady girl, Pat Singleton, and was chosen by his classmates to be student body president. In the spring of 1950 Porter led Tech to a second league title with a batting average of .558.
Following his high school season, Porter and his father were invited to Chicago by the White Sox, whom he had impressed during a workout with the team in Comiskey Park. "If you let that kid get away without signing him you're crazy," White Sox manager John Corriden said to the team's owner, Chuck Comiskey.5
Porter had a more immediate goal in mind, which was to help his Legion team win an unprecedented second straight national title in 1950. A new member of the team was a 14-year-old third baseman named Frank Robinson. "Even at that age he was so good. He was already the second-best hitter on the team," said Porter.
Powles' club again put away all competition in the area. In mid-August the team traveled to Los Angeles for a best-of-three series with Crenshaw Post 715 for the state title. Of the 750 fans in the stands at Olive Recreation Park, many were scouts who were enamored of Crenshaw's third baseman, Billy Consolo, and shortstop George "Sparky" Anderson. The Angelenos were considered favorites but were stunned by the Oaklanders who swept the series with 12-6 and 18-9 triumphs.6 In the final, Porter had four hits including a monstrous home run to send the Trader Scotts to the regional championship.
The performance ignited interest among regional scouting supervisors, most of whom lived in the Los Angeles area and had not ventured north to observe players in Oakland. "They said that in the snap of a finger Bobby Mattick (Cincinnati Reds super-scout) sold his house in Los Angeles and bought one in Oakland," Porter said. Figuratively, perhaps; but in actuality Mattick arranged for Powles to become his associate scout or bird-dog. Over the next 10 years, on Powles' recommendations, Mattick would sign Oakland products Robinson, Vada Pinson, Curt Flood, Tommy Harper, and Jesse Gonder.7
From Los Angeles, a flock of scouts followed Porter to Arizona for the regional tournament, then to Hastings, Nebraska, for the sectionals. By the time the Trader Scotts won both to earn a second successive trip to Omaha for the national tournament, the group of scouts who followed the teenaged sensation had grown to a throng. Behind Porter's bat, the Trader Scotts capped a 28-1 summer with nine wins in a row and an 11-0 win over St. Louis to win the 1950 Little World Series.8 The Oaklanders became the first team to ever win back-to-back American Legion national championships. Porter won a second consecutive batting title with a .488 average. He was named the American Legion Player of the Year.
The coach of the Colorado entry called Porter "the most finished player that I ever saw or ever hope to see."9 The Baseball Hall of Fame in Cooperstown hung a plaque in its amateur baseball display to tell of Porter's achievement. Porter received invitations to join the US national team for the Pan American Games tournament in Buenos Aires, and also the 1952 Olympic Games in Helsinki, Finland. He declared, however, that he planned to pursue his dream and play professional baseball.
Once the celebrating subsided, major-league scouts beat a path to the Porter family home at 3012 Brook Street. "Certainly, there has never been another high school star in the Bay Area who has attracted as much attention from major league scouts," the Oakland Tribune reported. 10 The Los Angeles Times cited scouts who said, "He's perhaps the greatest prospect in diamond history."11 Fourteen of the 16 big-league clubs were hopeful of signing Porter. The local Pacific Coast League clubs, the Oakland Oaks and San Francisco Seals, expressed interest as well. But as each club made their offer they received a surprising response. Porter told them he would not sign.
Talk had been rife throughout organized baseball that teams planned to eliminate the bonus rule at the baseball winter meetings that December. The policy, implemented in 1947, was designed to suppress escalating signing bonuses paid to amateur players. "If the rule is eliminated I might get a better deal," Porter said, "Two major-league clubs have offered to top any price offered me."12
While he waited, Porter took classes at San Francisco City College. The Chicago White Sox remained persistent. Their scout, E.S. "Doc" Bennett, phoned regularly and arranged for the prospect and his father to be the team's guest at the World Series.
On December 6, 1950, when the major and minor leagues assembled at the Vinoy Park Hotel in St. Petersburg, Florida, the bonus rule was abolished by unanimous vote. Four days later, one month shy of his 18th birthday, J.W. Porter agreed to a contract with Chicago White Sox scouts Doc Bennett and Hollis "Sloppy" Thurston. The teen received a $67,500 bonus. The White Sox paid $25,000 up front; the rest was to be paid in $8,500 increments annually over the ensuing five years. The bonus was the largest ever paid to a prospect from the Bay Area.13
George M. Trautman, President of the National Association of Professional Baseball Leagues, expressed concern with some facets of the contract. He asked the two sides to rework them. As they did, Porter continued his studies and took a part-time job through the Christmas holidays as a stock boy at an Oakland department store.
On February 15, 1951, new White Sox manager Paul Richards greeted 27 players for a two-week conditioning camp in Palm Springs, California. Among the six catchers to train under the new skipper's eye was 18-year-old J.W. Porter. Photographers scurried about, as busy if not busier than the players. Their desired subject was not Gus Zernial, Nellie Fox, or any of the other White Sox standouts. It was J.W. Porter.
On February 28, Richards shifted camp from Palm Springs to Pasadena, where the team began its schedule of exhibition games. As Porter tried to make a name for himself on the diamond, Edgar Munzel of the Chicago Sun-Times did so in print. The sportswriter informed the rookie that he would refer to him in articles only as Jay. Porter shrugged and told him it was okay with him because the initials didn't stand for anything anyway.
The 18-year-old got his first game action on March 11, when he drew a start and batted eighth against the Chicago Cubs. Porter singled home a run in the White Sox's 5-4 defeat. Against Pittsburgh two days later, he pinch hit and reached base on an error. Richards sent the rookie up to pinch hit the next day against the St. Louis Browns; Porter popped out. The following day, the opposition was Cleveland fireballer Bob Feller, against whom the bonus baby grounded out. On March 17, Porter got his second spring training start. In the game against the Browns, Porter shined. He singled and drove in a run early in the game. Then in the eleventh inning, Porter smashed a triple to center field, then scored the winning run when the next batter singled.14 Less than two weeks later the inevitable came to pass. Porter was dispatched to the minor leagues.
In his first official professional game with the Waterloo White Hawks of the Class B Three-I League, Porter tripled. It was a rare highlight through his first month in pro ball, however. It wasn't until mid-May that fans got to see what earned Porter his sizeable signing bonus and high expectations. On May 14 he rapped out four hits. Two days later he began an eight-game hitting streak. During that span Porter hiked his batting average eighty-one points to .314.15 On May 30, with Sox owner Chuck Comiskey, manager Paul Richards, general manager Frank Lane, and farm director John Rigney watching him play, Porter slugged a three-run home run to highlight Waterloo's 7-2 win in Davenport, Iowa.16 "There isn't any doubt that he'll go all the way, if he continues to learn in Organized Ball," said Waterloo manager Otto Denning.
On July 1, in a matchup of bonus babies, Porter belted a three-run home run off Cedar Rapids pitcher Billy Joe Davidson, who months earlier had received a $125,000 signing bonus from the Cleveland Indians. Porter finished the 1951 season with a .302 batting average, 15 home runs and 95 runs batted in. He was selected the Three-I League Rookie of the Year.
Following his first season in professional baseball, Porter returned home to Oakland. He kept in shape by playing basketball with fellow ball players. In January 1952, Porter married his high school sweetheart, Patricia Singleton. He confided to inquirers that he had "Wooed her with poetry."
Weeks after the wedding, Porter joined three other catchers and 14 pitchers at the White Sox conditioning camp in El Centro, California. His was not the cursory participation of the year before. Paul Richards had concerns about his team's catching corps. He wondered if Porter could be a solution. Ed Burns wrote in The Sporting News, "There has been some discussion of retaining the Bonus Baby from Waterloo, J.W. Porter."17
Porter received starts and pinch-hitting opportunities throughout the 1952 exhibition schedule. The highlight was perhaps his start against the St. Louis Browns in which the 19-year-old had two hits, one of them a triple. In late March, the team packed its bags for exhibition games in Arizona, Texas and Louisiana. After an exhibition game in Los Angeles against the Cubs, Richards pared his roster. He retained Porter. Over the last two weeks of the exhibition season sportswriters wrote that Porter had a shot to make the club.
Then, in the White Sox's final series of exhibition games veteran catcher Sherm Lollar's bat came around and Phil Masi threw out two baserunners in a game against the Cubs. Their improved play sealed Porter's fate. "He's ready right now," Richards said. "He should play every day and he hasn't the experience right now to chase Sherm Lollar or Phil Masi off the club. Sitting on the bench all season is no good for a youngster like that. So, he'll have to go out."18
With the Class AA Memphis Chickasaws of the Southern Association, J.W. Porter got off to a hot start. He had eight hits in his first 14 plate appearances. At the end of April, he sported a .375 batting average. The Memphis club, however, was awful. Losses and injuries mounted. Few came to the ballpark to see their games. The team's frustrated manager, Luke Appling, appealed for new players. When a new shortstop didn't arrive when expected, Appling put Porter at the position for two games.
Then, unexpectedly, in mid-May Porter was sent to the White Sox's Class-A farm club in the Western League, the Colorado Springs Sky Sox. He was disappointed and could not understand the reason for the demotion.
J.W. and his new bride set up their house in Colorado Springs, where Porter terrorized pitchers. A pinnacle performance came on June 10 when Porter smashed three home runs, driving in all of his team's runs in a 4-1 win over Des Moines. The feat tied the league record for most home runs in a single game.19 Four nights later, Porter went 4-for-4 to hike his batting average to .432. Over a seven-game span from June 10 to 16, J.W. hit six home runs, had 19 hits, scored 12 runs and drove in 18 runs. Nearing the end of June, Porter had a league-leading batting average of .407, 44 points higher than his closest pursuer in the race for the 1952 Western League batting title.
In late July, the Sky Sox set out for a road trip. Porter's father-in-law had flown into town to visit the newlyweds. He agreed to keep his daughter company while the ball club was on the road.
On July 28, before a game in Lincoln, Nebraska Porter's manager urged him to "hit one so I can remember it." The player took the field with a feeling he was about to be promoted to the Chicago White Sox. When the game ended, Porter was informed that he had been traded. The deal had been in development for weeks and was why the White Sox had sent him to Colorado Springs — to learn to play the outfield.
The White Sox had dealt the young slugger and Ray Coleman to the St. Louis Browns for Darrell Johnson and Jim Rivera. Porter hurriedly rushed to catch a train, one that would take him to the big leagues. But as he traveled the rails, he wondered why St. Louis had traded for him. "They had just gotten Clint Courtney, so I couldn't understand why they would trade for me," he said.
In St. Louis, Browns manager Marty Marion was pleased to land Porter. "I'm going to give him a thorough trial immediately to see if he can make the grade. I think he can," he said.20 Porter had no sooner arrived in St. Louis and donned a big-league uniform when Marion sent the rookie up to pinch hit in the ninth inning of the team's July 30 game with the Washington Senators. When Porter struck out looking to end the game, he became Bob Porterfield's 10th strikeout victim in a 6-2 Washington Senators victory.
After the game Porter phoned his wife with the news. They discussed the Browns' remaining schedule. The player suggested that his wife and her father head home to Oakland. He would join her once the season ended.
The next afternoon, J.W. Porter's life went from the zenith of his first big-league game to the depths of unimaginable despondency. Bill Veeck, the Browns' president, somberly broke devastating news. Porter's wife and her father had been killed in a head-on car crash during their journey to Oakland. The big, strong ballplayer crumpled under the weight of the news. He was disconsolate.
Driven by compassion, Veeck phoned Porter's parents and broke the news. He arranged for the parish priest to deliver the news to Porter's mother-in-law and to stay with and comfort the woman. Veeck instructed the Browns' assistant trainer to gather Porter's things and accompany the young man home to Oakland.
Even now, more than six decades later, Porter's voice fills with emotion when he recalls the tragedy. "I flew to the town after the season. The sheriff took me to the scene and told me what happened. It was a family from Oklahoma. The man had won a trip from his company for a vacation to Denver. They had been driving all day," he explained. "It was a windy road in the mountains. The guy got tired and went into the other lane. The cars struck, and she went over a cliff." Two people in the other car were also killed.
After the funerals, Porter rejoined the Browns. He had only been away for seven days. Getting back to baseball, he thought, would help him to get his mind off the tragedy. "It wasn't very easy," he said. When he wasn't playing, Porter sat alone in his hotel room. He played the couple's song over and over on a phonograph, "until the needle wore through."
A week after his return, Porter entered the Browns dugout before a game and was surprised to see his name on Marion's lineup card. Marion not only had Porter batting sixth but playing center field. "Skipper," he said, sidling up to Marion on the bench. "Is that lineup card correct?" When Porter explained that he had never played center field Marion replied that because of injuries he had no other option. The manager asked if Porter had any questions. "Yeah," he answered. "Where's center field?"
Against his former team, the White Sox, Porter flied out three times and reached base once on a walk. Marion liked what he saw. His teammates did too. They embraced the freckle-faced, red-haired youth. He was nicknamed "Firefly" by Browns pitcher Satchel Paige.21
Porter was in the starting lineup for 26 of the Browns' remaining 40 games. In addition, Marion used him as a pinch hitter in two games, a pinch runner once and as a defensive replacement in a game as well. Porter's first big-league hit came on August 17, 1952 off future Hall of Famer Hal Newhouser. It was a single in the top of the fourth inning that drove in Bob Nieman to give the Browns a 1-0 lead in a 4-2 win over Detroit. Two nights later Porter went four-for-four against the Senators' Connie Marrero. Porter had two more hits two days later in an 8-1 win over the Senators.
Then, in the final game of the season playing against his former team, the White Sox, Porter ripped a two-run double, singled home another run, and reached base a third time on a single. "Marty Marion is strong for young Jay Porter," Bill Veeck said. "The kid's a pretty good hitter. I saw him make a catch against Detroit that was out of this world. If Jay can go get the ball like that, he'll do — I hope."22
The enthusiasm would soon be dampened. J.W. Porter's three-hit game would be the last game of Organized Baseball he would play for the next two years.
When Porter returned home to Oakland he took a job in a jewelry store. He received orders from the draft board to take a physical for possible induction into the US Army. He did so and was classified 1A. To Porter, it seemed inevitable that military service would soon beckon.
Porter also made time to visit his mother-in-law, Helen Singleton. He found the woman struggling with her grief and with being alone. So the ballplayer moved in with her. In the early morning hours of December 4, 1952, Mrs. Singleton heard a report from the radio on her nightstand. "She woke me up," Porter recalled. "She said she heard my name on the radio, 'Something about you and baseball.' I called a reporter that I knew at the newspaper, and he told me."
Porter had once again been traded. The rookie was part of a blockbuster trade between the St. Louis Browns and Detroit Tigers. He accompanied Bob Nieman and Owen Friend to the Detroit Tigers. Virgil Trucks, Johnny Groth and Hal White went to the Browns. Bill Veeck told sports writers, "I hated to give up Porter for he really is a fine prospect. The kid can hit and showed a lot of promise, but he's faced with two years in the armed services, so why wait around that long for him to be available."23
The Tigers, on the other hand, had pushed hard to make Porter part of the trade. Jack Hand wrote for the Associated Press, "Porter is the 'sleeper' who may turn out to be the most important player in the deal."24
On February 4, 1953, Porter received notice that he was to report to his draft board for induction on February 16. As his new team was gathering for spring training, Porter was taking the oath of enlistment and being fitted for Army khakis. His papers sent him to Fort Ord, in Monterey, California, 120 miles south of his home in Oakland.
Any worries that there would be no opportunity to play baseball were quickly quashed. The base team was not only competitive but was expected to compete for the championship of the Sixth Army. Porter was tabbed to manage the team, the Fort Ord Warriors. He kept in touch with his new major league team, dropping occasional notes to Tigers general manager Charlie Gehringer. In one sent in August of 1953 he informed Gehringer that he was batting .370, had hit 24 home runs, and batted in 102 runs for his Army team.25
In 1954, Porter helped to power the Fort Ord Warriors to the Sixth Army championship tournament. He hit two home runs in a game to push his team to the title game where they defeated Fort Lewis 14-8 for the trophy.
Though he had been away from the major leagues for two seasons, Porter was still held in high regard. At a sportswriters' party in New York in January 1955, Bill Veeck, Frank Lane, and Detroit Tigers owner Spike Briggs found themselves seated at the same table. "I'm waiting for spring training to find out what's wrong with J.W. Porter," Briggs said to the men who had each traded the rookie in the span of five months. "There's nothing wrong with him," screeched Veeck. "We hated to give him up." Frank Lane then turned to Briggs and snapped, "I think so much of him that I'll give you $100,000 for Porter right now." Briggs declined the offer.26
On February 15, 1955, Porter received his discharge papers and soon joined the Tigers for spring training in Lakeland, Florida. It didn't take long for Detroit's new manager, Bucky Harris, to be impressed. He declared that Porter was his left fielder. Porter fueled regard with a single and a stolen base in the team's first exhibition game, then hit a two-run home run the next afternoon. Against Cincinnati, Porter had two hits, stole a base and scored a run. He hit a three-run home run in a 7-6 win over the Phillies and tripled and singled in a game with the Red Sox. "I'm sold on Porter's abilities," said his teammate Harvey Kuenn. "From the first time I saw him swing, I've admired his stroke."27
One consistency in Bucky Harris's days in Lakeland was to write Porter's name in the fifth spot in the batting order and station him in left field. "The kid has one of the smoothest batting strokes I've ever had the pleasure of seeing. He has terrific power and he owns one of the best throwing arms in the majors right now. If he doesn't develop into one of the stars of the game, I'll never tout another youngster."28
The flow of praise would be short lived, however. In the final days of spring training Detroit's first baseman Ferris Fain injured his right knee while fielding a bunt. Harris became convinced Fain would not recover in time for the start of the season. The manager pondered options. On April 6, before an exhibition game against Detroit's Atlanta farm club, Harris gave Porter a first baseman's mitt with instructions to learn the position.
The Tigers' first game of the 1955 season, and Porter's first Opening Day in the major leagues, came in the very first major-league game in Kansas City following the Athletics' move from Philadelphia. Porter drew the start at first base. In the fourth inning he doubled to center field. The next afternoon his single drove in two runs and he reached base two more times via walks in a 10-2 Detroit win.
But after going hitless in the ensuing series with Cleveland, Porter was replaced in the lineup by Fain. Pinch-hitting duties and occasional starts were his only action over the next month-and-a half. On May 11, he drew a start at first base against Washington and rapped out three hits. But once again he returned to the dugout bench and a pinch-hitting role. "I got mad," Porter said. "I'd had a great spring but after the fourth game he took me out. I was at the end of the bench. It was driving me crazy. Finally, I went to him. I said, 'If you're not going to use me why don't I go to the minor leagues before I forget how to play.'" On June 2, Harris complied.
With Little Rock in the Class AA Southern Association, Porter batted .318. After 25 games he was promoted to Class AAA Buffalo. With the Bison's he fell into a slump. His frustration grew when the manager shuffled him between first base and left field. When, in late July, a teammate received his military induction orders, Porter returned to catching. He was elated. "Never felt right in the outfield or at first base and I believe it affected my batting," Porter said.29 Over the final month of the minor league season, Porter again drew attention from Detroit.
Following the International League season the Tigers recalled Porter, and on September 9 in Baltimore he made his first big-league start at catcher and had a two-hit game. Bucky Harris gave him a second start at the position 10 days later and Porter singled and doubled in a 4-0 win over Kansas City. His play drew praise from Detroit's general manager Muddy Ruel: "Everybody agrees that Porter should be a catcher. He has soundness in calling pitchers," he said, also lauding Porter's "natural actions."30
But when Porter failed to beat out Frank House, the Tigers incumbent catcher, in spring training, he spent the 1956 season on the bench. Porter played little. When he did it was in left field and center field, and in only a few games behind the plate. In all, Porter came to bat just 21 times in 14 games. He managed only two hits and finished the 1956 season with an .095 batting average. "You do what they had me do but pretty soon you get a reputation," Porter said. "'He's a utility player.' But you don't win a job."
Frustration drove Porter down a destructive path. When games ended, night time began. Diversion often didn't end until morning. "I took out my frustrations at night. I did some things I wasn't proud of," Porter said.31
Again in 1957, Porter filled a utility role. He caught, played right field, left field, first base and pinch hit. There were games in which he showed flashes of the talent that had once captivated veteran evaluators. He enjoyed a three-hit game with two doubles against the White Sox on April 25. A particular highlight was the game in which he cracked his first major-league home run. It came off the Yankees' Don Larsen on June 7.
Unbeknownst to Porter, he had one particularly ardent admirer in the big leagues, Frank Lane. The general manager who had originally okayed giving Porter his big bonus ran the St. Louis Cardinals in 1957. Throughout the season Lane pestered the Tigers to trade Porter. "Have you got my boy yet?" Fred Hutchinson, the Cardinals manager would ask Lane. Following the season Lane became general manager of the Cleveland Indians and resumed his quest for his one-time bonus player.
In February 1958, Porter was driving from his Oakland home to Detroit's spring training headquarters in Lakeland, Florida. While having breakfast in a diner in Oklahoma he noticed a woman at a nearby table reading the newspaper. The headline caught Porter's eye. It read that he had been traded to Cleveland. The Tigers had dealt Porter and Hal Woodeshick to Cleveland for Hank Aguirre and Jim Hegan. Frank Lane told reporters, "I know the boy, I know his background and I like his bat. I'm glad I've got Porter on my side again."32
The 1958 Indians got off to a slow start. When the club lost six of eight in late June, Lane changed managers. He dismissed Bobby Bragan and put Joe Gordon in charge. Almost immediately Gordon made Porter his catcher. Gordon had been a coach with Detroit. He knew and liked Porter, and Porter rewarded the new manager's faith. In Gordon's first game in charge it was Porter's pinch-hit single that scored the go-ahead run in a 6-5 win. The next afternoon Porter hit a game-winning single in the bottom of the ninth. The following day he slugged a two-run home run off Baltimore's Milt Pappas. "I really was surprised how well he did behind the plate. I expected him to be rather dusty," Gordon said.33 In time Gordon would rotate the catching chores between Porter, Russ Nixon, and Dick Brown.
The 1958 season would forever link Porter with two future Hall of Fame players. He became the road roommate of Larry Doby. "Larry and I were the first black-white roommates in baseball. No finer man have I ever met," Porter said.34
The second Hall of Fame connection involved Hoyt Wilhelm. Wilhelm's knuckleball proved to be a challenge for Cleveland's young catchers. "A coach asked if I had ever caught a knuckleball pitcher," Porter said. "I told him I had in high school and in the minor leagues. The coach said Wilhelm was going to make his first start the next day and I was going to catch him. That night, I couldn't sleep. It was tough enough to catch him for an inning, but the thought of catching him for six or seven or eight."
Porter decided to experiment. He used his first baseman's mitt rather than a catcher's glove. "I had to be the first and the only one to use one." In the first two innings of Wilhelm's July 20 start against Baltimore, Porter committed three passed balls. "I came back to the dugout and threw that darned glove as far up the tunnel as I could and went back to the catcher's mitt," he said. When Porter was charged with his fourth passed ball in the eighth inning, he tied an American League record set in 1911 for most passed balls in a game.35
Porter finished the 1958 season with four home runs, 19 RBIs, and a .200 batting average. He had an optimistic feeling about his future with the Indians. He was so optimistic that he rented a house in Cleveland and pledged to do publicity work for the ball club in the offseason. But, barely three weeks into the off season, Frank Lane ran into Calvin Griffith, President of the Washington Senators, while the two were in Cuba. The result of their conversation was a trade that sent Porter to Washington for Senators shortstop Ozzie Alvarez.
Manager Cookie Lavagetto had wanted Porter. He liked his versatility. The Senators were lacking at catcher, first base, and in the outfield. When Porter arrived for spring training a week early, he further endeared himself to the manager. "He wants to vindicate himself as a big leaguer. Whether true or not he insists he never had a fair shot at a job with those other clubs. He'll get it here," Lavagetto said.36
Porter's time with the Senators, however, would be most remembered for painful injuries. Early in spring training, while playing first base Porter was hit on the forehead by a ball that had taken a bad hop. He needed five stitches to close the cut. During the season Porter tried to play peace-maker when Pedro Ramos and Jimmy Piersall brawled during a game with Cleveland. Porter was spiked. It took 13 stitches to close the gash and Porter had to sit out 10 days while recovering.
For much of the 1960 season, Porter split catching duties with Ed Fitz Gerald. In July, however, he found himself changing teams again. In need of a catcher, the St. Louis Cardinals purchased Porter from the Senators. Solly Hemus used Porter to spell Hal Smith and help keep the Cardinals' starting catcher fresh during the hot and humid part of the season. On the final day of the season Porter replaced Stan Musial at first base in the top of the seventh inning. It would be the last time J.W. Porter would play in a major-league game.
Following the season, the Cardinals' front office decided to clear roster space for up-and-coming prospects. Porter was among the players removed from the 40-man roster. He was initially assigned to the Cardinals' farm club at Rochester before the Milwaukee Braves bought his contract.
For the next seven seasons Porter bounced among several Braves farm clubs. "They got ahold of me and used me as the guy who could help a team that needed a player," Porter said. From Sacramento in 1960 he moved to Denver for the 1961 season. He spent 1962 with Toronto, then returned to Denver in 1963. He split 1964 between Toronto and Denver and in 1965 was with Atlanta and Austin. At each stop he hit with power and put up impressive numbers. "I kept waiting for the phone to ring and it never did," he said.
In 1966 while with Austin of the Texas League, Porter received a rare opportunity. Pondering a career change, he got permission from the league president to umpire two innings of Austin's game with Arkansas in Little Rock. A week later, Austin would celebrate winning the Texas League playoffs on what would be Porter's last day as a professional baseball player.
After leaving the game, Porter worked in sales. But he longed to return to baseball. During the winter prior to the 1969 season, the Montreal Expos hired him to manage the expansion franchise's inaugural assembly of rookies in the Gulf Coast League. "We won the pennant with an expansion teams' kids," Porter said. "Nobody's done that before or since." Porter was tabbed to guide Montreal's Instructional League program that fall, then received a promotion for 1970 when he was appointed skipper of Montreal's team at West Palm Beach in the Florida State League. "I loved it (managing)," he recalled. "But I ran into a guy who didn't love me." Porter clashed with the Montreal farm director, Danny Menendez. "He cooked my goose." At the end of the 1970 season Porter was let go.
With the help of his friend Ted Williams, Porter hooked on with Sears. He spent almost 20 years with the department store chain before he retired. In September 1965, while working for Sears in Atlanta, Porter asked the secretary to the corporate treasurer, Zelma "Zee" Rudisill, for a date. A year and a half later, in June 1967, the couple married at Lutheran Church of the Redeemer in Atlanta.
In the winter of 1998, Porter attended a St. Louis Browns alumni event. He became reacquainted with a man who had been a batboy on the 1952 club, Bill DeWitt. Porter was surprised to learn that DeWitt now owned the St. Louis Cardinals. Porter explained that he lived five miles from the spring training complex the team was building in Jupiter, Florida. He said he thought the new complex would be a gem. DeWitt offered Porter a job, and for the next several springs the one-time phenom worked as a "glorified usher" at Roger Dean Stadium.
As of this writing, J.W. and Zee Porter continue to reside in Palm Beach Gardens, Florida. They have three children and seven grandchildren.
J.W. Porter's big-league numbers belied his lavish amateur acclaim. In a career that spanned six seasons with five teams, Porter came to bat 544 times, had 124 hits, eight of which were home runs. He drove in 62 runs and batted .228. "I've never spent one minute mourning over my career," Porter reflected. "If I had my career to do over, it would be 'No sir. I'm a catcher.' And I'd spend more time in chapel than Joe's Bar and Grille."37
Last revised: June 3, 2019
Acknowledgments
Much of the information is from telephone conversations with J.W. Porter on September 15, 2018 and again on September 29, 2018. The author extends his gratitude to Mr. Porter for his time and insights and to Zee Porter for facilitating the conversations.
1951 exhibition game information is from The Sporting News.
Unless otherwise noted, major league game accounts are from BackToBaseball.com. Game statistics are from Retrosheet.org and season and career statistics are from Baseball Reference.
Thanks to Chris Rainey and Joe DeSantis for their thorough assistance and review, and to Rod Nelson and SABR's fact-checking team for their diligence in that area.
Notes
Born
January 17, 1933 at Shawnee, OK (USA)
Died
October 11, 2020 at Jupiter, FL (USA)
If you can help us improve this player's biography, contact us.
https://sabr.org/sites/default/files/Porter%20JW.jpg
600
800
admin
/wp-content/uploads/2020/02/sabr_logo.png
admin
2019-06-03 16:20:49
2022-04-04 13:52:35
Jay Porter