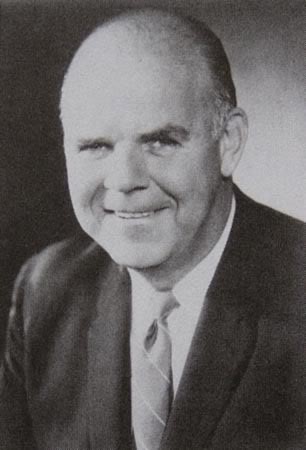 ---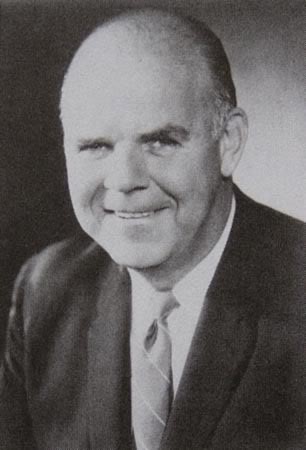 By the end of 1987 Jim Campbell had set the major league record for most years as a general manager or president of one club (26), the Detroit Tigers. He continued to add to that record as president and CEO until his abrupt dismissal in August 1992. In all, Jim worked for the Tigers for 43 years, his entire career. He often said his first love was the Tigers, and there is little doubt that the Tigers benefited from that dedication.
James Arthur Campbell was born in the small Lake Erie town of Huron, Ohio, February 5, 1924. He was one of two children of Arthur A. and Vanessa Hart Campbell. His father, a salesman, died while Jim was still in high school, several years after he was severely burned in a freak electrical accident. Jim's mother, in addition to raising him and his sister Betty, was a school teacher and later the first woman postmaster for Huron, a post she held for 25 years. Young Jim excelled in athletics at Huron High School. He played six-man football, basketball, and ran track for the Huron Tigers. The school did not have a baseball team, but Jim played baseball for the Huron G's, a local department store team that played teams from nearby towns. Jim went to Ohio State University in 1942 on a football scholarship. He was part of the "Baby Buckeyes" coached by Paul Brown before he interrupted college following his freshman year to serve in World War II with the Naval Air Corps. Discharged in October 1945, Jim returned to Ohio State in 1946 and graduated in 1949 with a BS degree in commerce (now business administration). This time at OSU Jim's main sport was baseball. He was a star outfielder for the Buckeyes, lettering three straight years, and batting a respectable .271 his senior year. But, as his lifelong friend and classmate, Dick Klein, noted, Jim already knew that what he wanted was a career in the management end of baseball. In December 1949 he got his first break—the only break he would ever need. A local Huron businessman with connections to then-Detroit Tigers General Manager Billy Evans got Jim an interview. Evans hired Campbell as business manager of the Tigers' Class D farm team in Thomasville, Georgia, for the 1950 season.
The challenge presented the new business grad was one for which his schooling could never have prepared him. The first night of the home season the baseball park burned to the ground. "I thought that was it for me," Campbell later told baseball writer Dan Ewald. But Jim's response to the catastrophe showed the Tigers' organization plenty. He borrowed uniforms to keep the team playing and had the field roped off so ticket admissions could be collected. He then had the stadium rebuilt in record time and, along with the rebuilding, added amenities like a popcorn machine and renovated women's restrooms. The Tigers' bosses were impressed enough to promote Jim the next year to business manager of the Tigers' top farm club, the Toledo Mud Hens. Including the 1952 season as business manager at Buffalo, it took only three years for Jim to get his first organization-wide job as business manager for Detroit's minor league system in 1953. In that post, Jim undertook the building of the Tigertown complex at the Tigers' spring training site in Lakeland, Florida. He personally designed the buildings, dormitories, and diamonds. Though built in 1953, Tigertown is still considered one of the finest spring training facilities in major league baseball.
When Campbell began his rise through the Detroit organizational ranks, the team was still owned by the Briggs family. Jim faced a second critical point in his career when the Briggs heirs sold the team to an 11-man syndicate. Jim later told Dan Ewald, "We were just like the fans. We didn't know what to expect. There were so many owners; it looked like most just wanted to be around a major league team. They wanted to make decisions about things they really knew nothing about." Jim did not need to worry. Instead of a setback the arrival of new ownership proved to cement Jim's relationship with the Tigers for the rest of his career. Once the dust settled and John Fetzer emerged as the lead owner of the group and later the primary owner, Campbell's future was assured. He became overall business manager in May 1957 at age 33. A year later Fetzer named him vice-president in charge of farm operations, making Jim one of the youngest men at the time to hold an officer's job at the major league level. After a disastrous experience with veteran baseball man Bill DeWitt running the operation, Fetzer installed himself as president with Rick Ferrell as interim GM. After looking at all his options, Fetzer took a risk, naming Campbell general manager—the office with which his name later became synonymous in Tigers lore. Jim Campbell was 38.
To fully appreciate the boldness of Fetzer's move, it is necessary to know that in 1962, when Jim was named to the post, the general manager was the chief policy maker. General managers, not the owners, ran the whole show, from signing and trading players to deciding ticket prices and choosing ballpark food. It was a time, Dan Ewald wrote, "when any baseball executive under 40 was considered to be just a greenhorn learning the intricacies of the game." Fetzer himself told Ewald that when he started his search for a new permanent general manager he thought Jim was "about ten years away" from being able to step in and run the ballclub. But Fetzer soon recognized that Campbell "demonstrated an ability to take charge. He knew our whole system. He knew the game. And more than anything else, Jim Campbell was probably the most honest man I had ever encountered." Fetzer never regretted his choice. The two worked together to build the Tigers into a winning franchise and keep the team competitive for 21 years, until Fetzer sold the team to Tom Monaghan, who wisely left the team in Jim's capable hands until shortly before he sold the team to Mike Ilitch in 1992. John Fetzer set down three basic principles to guide the team's operations: Stay competitive; build from within; and don't lose money in the process. Jim Campbell implemented those principles. But it was the way he implemented them that made his reputation as one of the great baseball executives of all time. He proved that the traditional small-town values he had brought with him from Huron—honesty, integrity, loyalty and hard work—could produce and maintain a successful major league franchise even in the modern era.
One of Campbell's first and most difficult tasks was not purely in the baseball realm. John Fetzer ordered Jim to make certain that all Tiger players were treated equally regardless of race. Although the Tigers had had black major league players since the late 1950s and had integrated their farm system with future major league prospects without regard to race, black major league players and their families still had to deal with segregation when they went to spring training in Florida. They had the choice of staying with local black families or living at the integrated Tigertown complex. They could not eat at area restaurants. As the civil rights movement grew in intensity in the early 1960s, Fetzer determined that he wanted to be on the right side of history. Yet he knew the situation could be explosive. Jim brought together the mayor of Lakeland, members of the city commission, and the Lakeland Chamber of Commerce. The deal he negotiated required the local Holiday Inn, close to where the major league team trained, to house all major league players on a nonsegregated basis starting with spring training in 1963. The talks also yielded concessions to integrate dining establishments in the area. Typically, Campbell's report to his boss gave the credit to others: "All of these men have recognized this problem, not only with baseball, but in other enterprises.…They feel the time has come when they want to take a stand."
Fetzer's gamble with Campbell was soon rewarded on the baseball field as well. Jim built the Tigers into consistent winners in only three seasons and world champions in six. The 1968 Tigers were built around homegrown talent. Joining veterans like Al Kaline and Dick McAuliffe were the likes of pitchers Denny McLain, Mickey Lolich, and John Hiller, and in the field, Mickey Stanley, Jim Northrup, Willie Horton, Gates Brown, and Bill Freehan, all Detroit farm products. These Tigers were a far cry from the "Fat Cats" of the 1950s, so named because they were overpaid and underperforming, consistently finishing in the second division and out of contention in the American League. Starting with his years as head of the farm system, Jim Campbell had developed an eye for talent—and just the right kind of talent to make the Tigers winners. New Yorker writer Roger Angell paid tribute to both general managers in describing the teams in this last "pre-inflationary, pre-playoff" World Series as "deep, experienced and exciting teams, whose individual attributes were admirably designed for the dimensions of their home parks—the Cardinals, the defending world champions, quick on the bases, brilliant in defense, knowing in the subtleties of the cutoff, sacrifice, and hit-and-run; the Tigers a band of free-swingers who had bashed a hundred and eighty-one homers and could eschew the delicate touch in the knowledge that their runs would come, probably late and in clusters." When the Tigers capped off their comeback from a three-games-to-one deficit to capture the Series with a win over the previously indomitable Bob Gibson, Jim Campbell, as the architect of that team, stood at the pinnacle of his profession. Recognizing his accomplishment, The Sporting News named him Major League Baseball Executive of the Year for 1968.
Just as he reached the heights, however, Campbell faced new challenges. Baseball was changing. Continued expansion, playoffs, and free agency altered the staid baseball world. But Campbell, although a baseball traditionalist until his death, managed not only to survive but prosper in the new environment. It was Campbell's style, and Fetzer's, not to snow Tiger fans with a lot of promotions and gimmicks. The Tigers held few promotions. Jim built the best teams he could, believing that what attracted the fans most was a winning team. Hewing to the Fetzer principles, Campbell continued to keep the Tigers competitive most years, building from within and still turning a profit. There were two 100-loss seasons, in 1975 and 1989, but many more years with exciting teams and races. Despite tight budgets, the Tigers under Campbell finished second six times, won the American League East titles in 1972 and 1987, and won one more World Series in 1984. The 1984 team, like the 1968 team, featured a nucleus of players who had grown up in the Tigers' minor league system, among them Lance Parrish, Kirk Gibson, Alan Trammell, Lou Whitaker, Jack Morris, and Dan Petry. At the postgame celebration following the 1984 World Series victory, Campbell told a Detroit newspaper reporter, "You know, a lot of guys have been in baseball for 34 years like I have and have never won anything. To win a league championship and a World Series is anyone's goal. But it's a long grind. You take a lot of heat. But the reward in the end is worth it all."
While some general managers promoted, marketed, and bought high-priced free agents to attract fans and build champions, Jim Campbell stayed true to his principles. In choosing this path his own personal values helped him. John Fetzer was not the only man who thought Jim Campbell was the most honest man he knew. Although jokingly called "Buddha" because of his premature baldness, round face, and beer belly, Jim was anything but inscrutable. Tigers Hall of Famer Al Kaline said when Jim died, "one thing I'll never forget is how totally honest he was. You didn't need a signed contract, a handshake was just as good." Even the media, who were often critical of his decisions and with whom he had little patience, admired this quality. Longtime Tigers broadcaster Ernie Harwell praised Jim: "To the media he is one of the most trusted of all sports executives. His honesty and integrity have never been questioned." Detroit News sportswriter Joe Falls noted that, if he got information from a source and wanted to check it with Campbell, Jim would always be truthful, either telling him he was right or saying "I wouldn't use that if I were you."
Campbell's honesty also helped him bridge the gap between labor and management and make the transition to the free agent era. Players trusted him. They felt free to come into his office and collar him at the ballpark or on the team bus just to talk baseball with him. They knew his passion for the game was as great as theirs. But they also knew he would be honest and fair with them regarding their contracts. Players from different eras tell the same story. In 1969 Tigers catcher Bill Freehan, a thoughtful university graduate, felt comfortable enough with Jim to informally negotiate with him while a dispute between the owners and the Major League Baseball Players Association was pending. Once the dispute was settled, they were able to compromise on a figure with just over an hour of man-to-man talk at the ballpark. After his 1976 breakout year the free-spirited and talented young pitcher, Mark "The Bird" Fidrych, who had become a media sensation, had offers from many agents to negotiate million-dollar contracts for him. But Jim Campbell chose a typically low-key, direct approach. Treating Fidrych as he had other players in the past, Jim called him and asked when he wanted to talk contract and whether he was going to get an agent. When Fidrych said he wasn't getting an agent, Campbell was concerned enough to ask the young man who was going to help him. When Fidrych answered that his dad would help, Jim promptly offered to fly Mark's father out to Milwaukee, where the Tigers were playing, so they could all negotiate face-to-face. This impressed Fidrych. Even more impressive to him was that the minute he saw the contract he was able to sign it. In his own inimitable style Fidrych related to author Tom Clark: "He had what I wanted. It was weird. It was like we—like he already knew what my mind was talking about before I even got in there." In typical Campbell fashion, after the signing, they all spent the rest of the meeting talking baseball. Even Sparky Anderson claimed he signed his contracts with Jim without reading them. All he would ask was whether what they had talked about was in the contract. When Jim said it was, Sparky signed. "He wasn't going to lie to me," Sparky said. "He wasn't going to cheat. He didn't know how to. When Jim Campbell gave his word, it was like the tablets that Moses brought down from the mountain."
Another quality of Campbell's too infrequently seen in powerful men was his loyalty and ability to let others do their jobs without interference. He demanded loyalty and was a tough boss, setting a high standard of work and commitment. But he was loyal as well, not only to John Fetzer and later Tom Monaghan above him, but to those who worked for him. These qualities made it possible for him to snare Sparky Anderson, already a proven field general, as the manager to guide the Tigers in a run that eventually led to the 1984 world championship. Sparky wrote in his memoir Bless You Boys: "Throughout all my days with Cincinnati, everyone told me there was no better general manager in baseball than Jim. He's the one man everyone wants to work for. That's because he lets you do your job. He's a real man's man." Campbell also showed that loyalty under difficult circumstances. Shortly after Jim moved himself up to chairman of the board and CEO, ceding the Tigers' presidency to former University of Michigan football coach Glenn "Bo" Schembechler, Bo fired the popular Ernie Harwell at the end of the 1990 season. Despite media criticism and fan outrage that lasted months, Campbell did not overrule Schembechler. Other teams' executives admired Jim's ability to attract loyal staff. One of them, Roland Hemond, noted that the Tigers under Jim were a very consistent organization: "People were still there decades after you met them. That's a credit to leadership." Jim's staff worked long hours with no overtime. Although they were required to be in early each morning and stay until after each game ended, they respected Jim, and he in turn gave them chances to shine. Jim once told Detroit Free Press sportswriter George Puscas: "I was grateful that my bosses gave me opportunities and responsibilities and I like to do that with my people."
Campbell demanded nothing of others that he did not demand of himself. In fact, he demanded the most from himself but claimed never to have regretted it. Although he worked seven days a week throughout the year and took only one vacation that he could remember, he refused to call himself a workaholic. "I enjoy my job too much to be a workaholic," he told Joe Falls in 1985. He did admit to Falls that his love of his work had cost him his marriage. On January 16, 1954, he had married Helene Grace Mulligan, of Lakewood, Ohio, after a brief courtship. In July 1969, only a few months after Jim's triumph with the 1968 Tigers, they divorced. "The Tigers are my whole life. Why kid about it?" Jim said. "I guess you can say I'm married to the ballclub. My wife always said she was no better than fourth in my life—behind the ball club, Ohio State and my home town of Huron, Ohio. You know something? She was right." Jim never remarried.
The Campbell routine was to arrive at the office each day, in suit and tie, promptly at nine in the morning. His staff was expected to be there at 8:30. Jim felt he owed it to the scouts and other people in the field to be there for their calls. They were working for him, and he was working for them. Only on winter Saturdays and Sundays would he allow himself to come in late, to get things done in the quiet office he could not get done earlier in the week. Jim's dedication to the Tigers led him to reject suggestions that he become president of the American League or even commissioner, posts many more ambitious executives would have coveted.
Jim's loyalty to the Tigers ran deeper than to the organization alone. He told more than one reporter that in the final analysis it was the fans and the importance of baseball to the city of Detroit and the state of Michigan that kept him working. From someone other than Jim Campbell such a statement would have seemed cloying and clichéd. But no one doubted that Jim meant exactly what he said. The motivation to win for the fans helped him make one of his most difficult decisions in 1979. It was one time when he had to choose between two loyalties. Jim had hired career professional Les Moss to manage the Tigers at the beginning of the year. Les had the team playing better than .500 ball and beginning to jell when Jim fired him and replaced him with Sparky Anderson. Jim admitted it was one of the most difficult decisions he ever had to make. He felt, however, that he could not pass up the chance to get Anderson, already a proven winner with the Cincinnati Reds. His intuition proved correct. Sparky arrived promising that within five years he would make the Tigers champions, and he did just that. Although Campbell offered Les Moss another job with the Tigers, Les left the organization—a sad moment for Jim.
The businessman in Campbell recognized that he needed to provide for his own succession. Health problems, including a serious angina attack in 1983, may have hastened his planning. When Tom Monaghan bought the Tigers in 1983, Jim became president and CEO, with Bill Lajoie replacing him as general manager. As early as 1985, Jim told Joe Falls that he didn't want to be one of those persons who stayed on too long. He outlined plans to give Lajoie more responsibilities and to gradually step aside. In 1990 he named Bo Schembechler president and became chairman of the board and CEO. But, despite his best intentions, he remained effectively in charge. For a man who had spent his life working seven days a week, 365 days a year at a job he loved, the temptation to stay on was too strong.
On August 3, 1992, Tigers owner Tom Monaghan fired both Jim Campbell and his hand-picked president, Bo Schembechler. Monaghan reportedly executed the firings as part of a deal with his fellow pizza magnate, Mike Ilitch, to whom he was selling the club. Ilitch wanted the decks clear for him before he took over to minimize negative publicity for the beginning of his tenure as owner. Once he left the Tigers, Jim Campbell never returned to the ballpark despite numerous invitations and an attempt to have a day in his honor. Reportedly he did not so much regret his own firing but did not like the way his longtime employees were treated by the Ilitch group. Many of them were unceremoniously dumped with little or no warning. Still, he never spoke out against the new owners and continued to follow the Tigers and baseball on television. After leaving the Tigers, Jim divided his time between his home in Dearborn, his retirement condo in Lakeland, Florida, and his home town of Huron, Ohio. He did not take another baseball job.
Jim Campbell died October 31, 1995, little more than three years after his firing. He had had heart problems for years and died a few days after being admitted to the Regional Medical Center in Lakeland. The cause was cardiopulmonary arrest.
When Campbell died, eulogies came from throughout the baseball world remembering Jim for his honesty, loyalty, and passion for baseball. But Campbell was remembered best and is still remembered by those who knew him the longest: the people of Huron, Ohio. Detroit sportswriters who covered him made little if any mention of his continuing connection to his hometown. They assumed that because of his devotion to his work and his simple lifestyle he had few friends. Yet throughout his life Jim maintained contact with friends he had known since childhood and made new friends in Huron. He visited often, not only to see his mother, who lived into her nineties, but to see old friends. And, anyone who wanted to come up to a ball game in Detroit knew they had only to pick up the phone and call Campbell to find box seats waiting for them. But Jim did more. He had become a wealthy man working for the Tigers. Reportedly, John Fetzer had rewarded his loyalty by giving Campbell a 3 percent stake in the ownership of the Tigers. Jim established a scholarship fund of approximately a million dollars in his mother's name to provide four-year college scholarships based on need and activities for Huron High School graduates. In his will he set aside another $1 million for the fund. Today the fund allows scholarships of $6,000 each year ($24,000 total). In some years as many as twenty four-year scholarships have been awarded to deserving Huron students. It is little wonder that the main street leading to Huron High School has been re-named Jim Campbell Boulevard, in honor of the small-town boy who took the values he learned there and left a legacy that extended beyond baseball.
The Campbells were of Scottish descent. Nineteenth-century Scottish historian Thomas Carlyle provided the perfect epitaph for Jim Campbell when he said: "Blessed is he who has found his work; let him ask no other blessedness; he has a work, a life-purpose; he has found it and will follow it." Jim Campbell found his work and loved it, and that love benefited many others.
Sources
Anderson, Sparky, with Dan Ewald. Bless You Boys. Chicago: Contemporary Books. 1984.
Angell, Roger. The Summer Game. New York: Popular Library. 1972.
Detroit Tiger Yearbook. Detroit: Detroit Tigers. 1976 and 1984.
Detroit Tiger Scorebook and Official Program. New York City: Professional Sports Publications. 1987.
Ewald, Dan. John Fetzer. On a Handshake. Dan Ewald, Champaign, Ill.: Sagamore Publishing. 1977.
Fidrych, Mark, and Tom Clark, No Big Deal. Philadelphia and New York: Lippincott. 1977.
Freehan, Bill. Behind the Mask Bill Freehan, New York: Popular Library. 1970.
Harwell, Ernie. Tuned to Baseball. Ernie Harwell, South Bend, Ind.: Diamond Communications. 1985.
Makio (Ohio State University yearbook). Columbus: The Ohio State University. 1948, 1949, and 1950 editions.
Ohio State University Alumni Magazine. Columbus: The Ohio State University. May 1993.
OSU—The Ohio State University Alumni Magazine. Columbus: The Ohio State University. December 1984.
Falls, Joe. "The Tigers are his life…" Detroit News, February 17, 1985.
Falls, Joe. "Campbell loved game, not agents." Detroit News, November 1, 1995.
Green, Jerry. "Longtime Tiger GM dies in Florida at 71." Detroit News, November 1, 1995.
Guidi, Gene, Steve Kornacki and John Lowe. "Ex-Tigers boss Campbell dies at 71." Detroit Free Press, November 1, 1995.
Puscas, George. "Campbell was a symbol of an era's greatness." Detroit Free Press, November 1, 1995.
New York Times, November 2, 1995.
Vincent, Charlie. "Campbell devoted a life to his true love." Detroit Free Press, November 1, 1995.
www.BaseballLibrary.com
Mallett, Jeanne M. Interview with Richard L. (Dick) Klein, Huron, Ohio, June 14, 2007.
The City of Huron, Ohio, Chamber of Commerce.
The Ohio State University Alumni Association and The Ohio State University Alumni Records Archive.
Note
This article originally appeared in the book Sock It To 'Em Tigers–The Incredible Story of the 1968 Detroit Tigers, published by Maple Street Press in 2008.
Born
February 5, 1924 at Huron, Ohio (US)
Died
October 31, 1995 at Lakeland, FL (US)
If you can help us improve this player's biography, contact us.
http://bioproj.sabr.org/bp_ftp/images4/CampbellJim.jpg
600
800
admin
/wp-content/uploads/2020/02/sabr_logo.png
admin
2012-01-08 21:23:19
2021-09-22 19:00:56
Jim Campbell