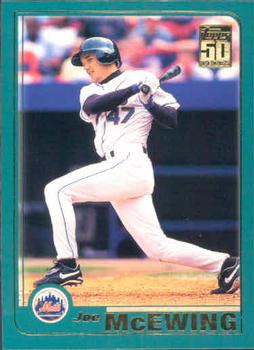 ---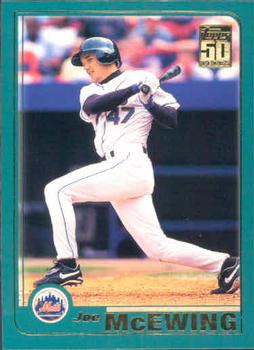 Joe McEwing might be the most beloved .251 hitter in baseball history. Never a standout player, he nonetheless impressed teammates, coaches, and fans alike with his ability to play almost any position on the field and for his endless energy and positive attitude.
"He's a guy who doesn't have great ability," St. Louis Cardinals manager Tony La Russa said about McEwing, "but he has good ability in everything he does. His biggest strength is how he competes. He plays every game like it's the seventh game of the World Series."1
Joseph Earl McEwing was born on October 19, 1972, to Joseph and Elaine (Haines) McEwing in Bristol, Pennsylvania.2 It didn't take long for Joe Jr., or "Little Joe" as he was called, to fall in love with baseball. Starting at three years old, he would fall asleep with a baseball glove on his hand and would tell people he wanted to be a professional ballplayer. As a child, kids nearly 10 years older than him would come to house and ask him to play baseball.3
"I was probably four or five and the older kids in the neighborhood would come by and I was fortunate enough that they would grab me and want to go play," McEwing said. "So I went out there and played backyard wiffleball and then just carried on from there."4
McEwing's father, who worked as a diesel mechanic, missed a good amount of his son's games due to his job, but the two of them would play catch at night with the help of a spotlight outside their home. Elaine made sure to never miss any of his games, going so far as to alter her work schedule so she could always be there.5 
While attending Bishop Egan High School in Fairless Hills, Pennsylvania, McEwing told a guidance counselor about his goal of playing baseball professionally. He was told to be more realistic about his future. "That kind of stuff pushed me," McEwing said. "You can measure speed and weight," McEwing's father said. "You can't measure heart. He had the heart. I thought we would see him in the major leagues someday."6
McEwing tried out for the high school baseball team his sophomore year, but oddly didn't make the roster that was posted. Coach Rich Papirio realized his mistake during the first practice when he looked around and McEwing wasn't there. Papirio found the nearest phone and called McEwing to tell him the good news. "[McEwing] left his house and was at the field in about three minutes" Papirio said. "I can still see him running through the gate with his chest out, so proud. And after practice, he wanted to stay longer so I could hit him some balls."7
McEwing finished high school with a batting average above .400, and he was elected to the school's Sports Hall of Fame in 2014.8
After graduating high school in 1990, McEwing went on to play baseball at County College of Morris in Randolph, New Jersey, where he hit .495 and earned second-team All-America honors in 1992. His team won the Garden State Athletic Conference Championships both years he played for them and he was inducted into the school's Hall of Fame in 2001.9 When he graduated, he sent "Thank you" notes to all of his professors, the secretaries in the school office, the custodians, and the groundskeepers who maintained the baseball field where he played.10
"Joe had an entire college community fall in love with him," County College baseball coach Dennis Morgan said. "Everyone feels like they have a vested interest in Joe."11
McEwing's childhood dream of becoming a professional baseball player came true when the St. Louis Cardinals drafted him in the 28th round of the 1992 MLB draft.
He spent the next seven years in the minor leagues, hitting below .250 three times and above .300 twice. He had his best year in 1998, hitting .354 for the Class AA Arkansas Travelers, then .334 with the Class AAA Memphis Redbirds. In September, he was called up to the big-league team.
"I had the dream, but I don't think it ever becomes a realistic dream until the manager calls you into his office and tells you you're going to the big leagues," McEwing said about being called up. "That was probably the greatest thing that ever happened to me. We were in Tucson, Arizona. I wasn't in the lineup and that was the first time that had happened all season. I was a little puzzled, but all of a sudden, the manager came over and said, 'Come here. I need to see you in my office.' I went in and he said, 'You're going to the show.' I couldn't believe it at first. I looked at him like he had ten heads."12
On September 27, the last day of the 1998 season and just McEwing's 10th game in the majors, he was a part of baseball history. There were two outs in the bottom of the seventh inning in a 3-3 game when McEwing got on base with a single, just the fourth hit of his young career. Fellow rookie J.D. Drew kept the inning alive with a single of his own, sending McEwing to third. The next batter up was Mark McGwire, who smacked the first pitch he saw over the wall for his second home run of the night and a record 70th on the season.
"Just think of it: We saw a man hit his 70th home run," McEwing said. "It's just been an outstanding year for me. To think I was here to be a part of history, to watch hit No. 70, to stand there and shake his hand when he crossed home plate after he did it. But at the time, I was just thinking of trying to get something started. The game was tied. We needed a run."13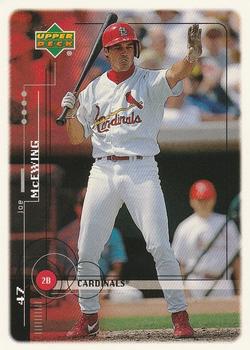 McEwing stayed in the majors for the start of the 1999 season and began the year by playing in each of the Cardinals' first 27 games. It was during this stretch that he began to establish himself as quite the useful utility player. During those 27 games, he played second base (15 games), left field (8), third base (6), center field (4), right field (3), and first base (1). 
"Being able to play a lot of different positions definitely helps your chances of staying on a ballclub," McEwing said about his versatility. "That's one of the main reasons I'm here. I like the challenge of being prepared for whatever the team needs that day."14
"We call him 'Super Joe' because he gets to the ballpark so early and, when he takes his clothes off, the uniform is already underneath his clothes," McGwire said. "At least it seems like it. He just has that Pete Rose mentality. He plays as hard as he can play."15
Of course, McEwing still had to prove to some in the Cardinals organization that he had what it takes to play at the big-league level. Hitting coach Mike Easler, for example, didn't think that McEwing, at 5'10" and 170 pounds, had the look of a major-leaguer.
"He looks like the pizza delivery boy…he definitely doesn't look like a ballplayer," Easler said. "You look at his swing and you go, 'Yuck!' But he works hard day in and day out. And what he doesn't have in attributes he makes up for by giving 110 percent in desire and passion. He's almost perfect fundamentally and in approach, which is why I enjoy watching him be successful so much."1617
On June 8, he began a hitting streak that lasted for 25 games, the 5th-longest for a rookie all-time.18 He batted .318 over the 25 games and recorded nine multi-hit games. He finished the year batting .275 over 152 games, in which he played every position except pitcher and catcher. He came in 5th place in Rookie of the Year voting, behind Scott Williamson, Preston Wilson, Warren Morris, and Kris Benson.19
The following spring, McEwing was traded to the New York Mets in exchange for reliever Jesse Orosco. "In the beginning, I was shocked because it was the first time I had been traded," McEwing said about the move. "I spent nine years in the organization. The worst part about it is you leave good people. You come to a new situation and meet a lot of great people also. That's what's so wonderful about the game. You go out there and continue to meet great people and learn from everybody. It's been very enjoyable."20
"There were a lot of sad people in this clubhouse when he was traded," McGwire said. "That's how special of a guy he is. He's one of the hardest working guys I've ever seen — the first one to the ballpark and the last one to leave. It's incredible. You have to be around him all the time to really understand."21 La Russa liked McEwing so much that he asked him for a pair of autographed cleats before he left for New York.22
McEwing started the 2000 season in the minors, where he hit .257 in 43 games for the Class AAA Norfolk Tides. He was called up to the majors in May when Melvin Mora, also a utility player, got injured.23 McEwing would only hit .222 over 87 games with the Mets in 2000, but he still impressed teammates with his high-energy style of play.
"He's a throwback from the old school," Mets relief pitcher John Franco said. "He comes out, keeps his mouth shut and plays hard. That's what I like about him. When I first came up, that's how everybody was. Now, some of the younger guys, when they come up, it's a little different."24
"For what he lacks in pure size and ability, he makes up with his gutsy play," Mets catcher Mike Piazza said. "He's fun to watch."25 With McEwing providing support, the Mets won the National league pennant, but fell to their crosstown rivals, the Yankees, in the World Series, 4-1.
While many players spend spring training fighting for a starting job, McEwing spent the spring of 2001 trying to prove that he can be a backup to anyone. He had already shown that he could play all three bases and anywhere in the outfield, but he also began taking reps at shortstop, a position he had only played five times up to that point in his career, vying to be the second-string behind Rey Ordóñez.26
"Guys in my situation are always fighting for a job," McEwing said.27 "I feel comfortable in a lot of different positions; when I was coming up through the minor leagues, I played a lot of multiple positions. As long as I'm prepared for the situation and not surprised by it, I feel comfortable."28
He finished the year with 116 games played, mostly in the outfield and third base, thanks in part to lackluster performances from starters Timo Perez and Benny Agbayani. Manager Bobby Valentine confirmed that, saying it was "true" that "if everybody else earned their playing time, Joe would not have had it."29
Following the terrorist attacks on September 11, 2001, McEwing and the Mets were brought back to New York from Pittsburgh to assist in the relief efforts.30 "To be able to help load trucks and deliver food…anything to put a smile back on people's faces, that was probably one of the biggest things that happened during my career," McEwing said. "I'm sorry it happened, but what I'm thankful for is that I was able to give back in that capacity."31
McEwing hit .283 with a .449 slugging percentage in 2001, which would both be the highest of his major-league career. In November, he signed a one-year deal with the Mets for $750,000, three times higher than what he had been earning.32
In 2002, he batted .199 with three home runs and 26 RBIs. He made Mets history, however, by becoming the team's first player ever to start at seven different positions in one season. He played everywhere except pitcher and catcher.33 After the season, he signed another one-year contract worth $600,000 to stay with the Mets.34
"There's nothing like playing there," McEwing said about New York. "Nothing. If you're the 24th or 25th guy, it's like being the second or third guy in other cities. I miss it every winter. I miss getting the paper in the morning, going for sandwich and coffee, and everyone in deli congratulates you or asks you what happened the night before. There's always that buzz."35
Over the offseason, McEwing was honored for actions off the field at the 23rd Thurman Munson Awards Dinner, named after the Yankees catcher and captain who was killed in a plane crash in 1979.36
"I'm very honored and very humbled to be chosen," McEwing said about being named one of the honorees. "But I love doing it. For me, it's about being a good person every day…To shake a kid's hand or say hello to someone less fortunate is what it's all about."37
McEwing received more playing time in the infield in 2003, serving as the primary backup to second baseman Roberto Alomar.
On July 21st against the Philadelphia Phillies, McEwing hit his only home run of 2003, and it was one of the most special moments of his career. It came on a 2-1 pitch off Brandon Duckworth in the top of the second, giving the Mets a 4-2 lead. The game was played in Veterans Stadium, which was in its last season as the Phillies' home field and would be demolished later that year. To McEwing, who grew up 20 miles outside Philadelphia and who lived in Yardley, Pennsylvania, it was basically a home game. "It was special to do it in front of my whole family," McEwing said.38
The next day, also at Veterans Stadium, he went 3-for-4 with two doubles and two runs in a 7-5 win for the Mets. It was his 15th career three-hit game, and his batting average over those two games in Philadelphia rose from .222 to .241. "We've been working hard in the cage on trying to quiet down a little bit and eliminate some movement," McEwing said about his increased offensive production.39
In December 2003, McEwing and the Mets agreed to a two-year, $1 million contract.40 Even with his new seven-figure paycheck, the 31-year-old McEwing remained an utilityman for the Mets to start 2004, mostly filling in here-and-there for first baseman-catcher Piazza, second baseman Jose Reyes, and shortstop Kazuo Matsui. And when Matsui injured his finger during spring training, McEwing was right there to take over.
"Our starting shortstop goes down and Joe fills in nicely," new manager Art Howe said. "It's great to have him around. He can play anywhere on the diamond and do a solid job. That's why they call him Super Joe."41
"That's my job – to be prepared every single day," said McEwing. "I want to look at myself in the mirror every day and know I was prepared. I play the game in my mind and keep myself ready for any situation — pinch hitter, pinch runner, defensive replacement…I'm more mentally fried when I don't play than when I do."42
Unfortunately, McEwing's season ended on August 19 when J.D. Closser of the Colorado Rockies slid into him at second base, fracturing his left fibula. Later in the game, Mets pitcher Braden Looper returned the favor, beaning Closser in the leg with a fastball.43 "That's what means the most, because it comes from a teammate," McEwing said about Looper's act of retaliation. "It was much appreciated."44
He was out for the season, but he never lost his positive attitude. "If you're going to have to break in your leg, that's the one," McEwing said about his injury. "It heals on its own. I try to take the positives out of every situation. I've been in the big leagues for six full years and this was the first time I was hurt. But I got to see my son (17-month-old Joseph) at a stage in his life where I'll never get those times back again."45
He spent the next few months working to get back in shape for the 2005 season, but the Mets' offseason acquisition of infielder Miguel Cairo put McEwing's employment in a precarious position.
"I've been here five years," McEwing said about the possibility that his days with the Mets were numbered. "I've seen the good, the bad, and now I want to be here when it turns around again. But I only try to think about things I can control."46
His time with the Mets came to an end in March 2005 when he turned down a demotion to the minor leagues and was released.47
"It's like saying goodbye to a family member," Mets third baseman David Wright said. "If people saw me play and thought of Joe. I'd like him to be remembered in New York. I want his influence to mold my character so I can be like him."48
"He was so unselfish and he was the biggest cheerleader for everybody and wanted nothing but for everybody to be successful," Piazza said. "And he was always there to pick up the slack. This is a sad day."49
"I've been here for the great times and the bad times," McEwing said following his release. "I've enjoyed them all. Even though I'm from Pennsylvania, I feel like I'm a little bit of a New Yorker. It's a great place to play."50
A week after being let go from the Mets, McEwing found a new home, signing a minor league deal with the Kansas City Royals.51 He played five games in Class AAA before being called up, and he hit .239 in 83 games for the Royals in 2005. After the season, he signed another minor league contract to stay with Kansas City.52
However, in March 2006, McEwing's contract was purchased from the Royals by the Houston Astros.53 He played seven games for the Astros in May, going hitless in six at-bats, but spent most of the year with the Class AAA Round Rock Express before being designated for assignment in July.54
He entered free agency in October and signed a one-year deal with the Red Sox in December. He spent the 2007 season with the Class AAA Pawtucket Red Sox, hitting .268 with eight home runs and 49 RBIs. He again became a free agent in October 2007 and announced his retirement in January 2008.
McEwing wasn't out of baseball long, joining the Chicago White Sox organization in 2008 as the hitting coach for the Class AAA Charlotte Knights. The following year, he was named manager of the Class A Winston-Salem Dash. "I'm having a blast," McEwing said. "I'm very fortunate in that I have a great staff and a great bunch of players. It's an absolutely fun group to be around. They go about their business the right way."55
He compiled a 154-123 record over two seasons with the Dash, making it to the Carolina League finals in his second year, in which the team lost to the Potomac Nationals. McEwing was also named Carolina League Manager of the Year in both seasons.56 In 2011, he was promoted to manager of Class AAA Charlotte Knights, leading them to a 69-74 record.
McEwing said about being a manager in the minor leagues: "I know what these guys are going through…I've been in their situation before. The younger guys are trying to get to the big leagues for the first time and want to make an impression. The veteran guys are looking to get back to the big leagues. And I've been in both shoes, mentally and physically, every day. To me, the big thing is that you have to get everyone together and still develop each individual to get them ready to play in Chicago and to win here, as well."57
After four seasons coaching in the minors, McEwing was back in the majors to serve as the third-base coach under manager Robin Ventura.58
"I've known him for a long time," said Ventura, who played with McEwing for two seasons on the Mets. "I think playing with him for a few years, you see every day what a guy brings and understands about the game. He relates well, works hard, and that's the kind of stuff you're looking for. For me, there had to be a comfort level with the people I was going in with."59
McEwing spent five years as the third-base coach for the White Sox under Ventura. When Rick Renteria took over as Chicago's new manager in 2017, he kept McEwing on board, moving him to bench coach.60
"He's a hard worker. He's in there early looking for anything that will give us an edge," Renteria said about McEwing. "His managing experience and coaching experience also allows him an opportunity to be able to serve me well…We both are kind of high energy. Joey might be a little higher energy than me, and I didn't think that was possible. He brings a lot to the table."61
McEwing has received interest for several manager openings over the years; he interviewed with the Cardinals in 2011 and with the Twins, Rangers, and Diamondbacks in 2014, and he was a potential managerial candidate for the Mets, Tigers, and Phillies in 2017.6263
"My ultimate goal is to manage, but you know, if it happens, it happens," McEwing said. "If not, it doesn't justify who I am as a person or as a baseball mind. If teams call and ask for permission, that would be outstanding, but I don't actively want to go out there and search for something. It's rewarding to be mentioned in those articles and in the company of a lot of great baseball people."64
McEwing did get a chance to manage in the majors in April 2018 when he filled in for Renteria following the death of his mother.65 The team went 2-1 against the Royals in McEwing's three games as acting skipper.
"Every day that you walk into the ballpark, there are nerves," McEwing said. "It's the nerves of excitement. There's opportunity to do something special on that day."66
In 2013, McEwing was inducted into the Irish-American Baseball Hall of Fame alongside former Met Rusty Staub, San Diego Padres owner Peter O'Malley, and columnists Dan Shaughnessy and Bill Madden.67
McEwing has been married twice. His first marriage was to Julia (Licciardello) on November 6, 1999.68 Together they have three children, Joseph, Grace, and Ashlyn.69 They were divorced on July 15, 2013.70 His second marriage was to Courtnie (Wilford) on October 19, 2018.71
Joe McEwing was never truly an everyday player, and he never did anything extraordinary or miraculous on the baseball field, but his hardworking style of play earned him a spot in the major leagues, as well as the love of his teammates, coaches, and fans.
"Sometimes you can't measure what's inside somebody…only thing you can control is what you do," McEwing said.72 "I say this all the time to anybody who is playing in the minors or high school, 'If, like me, you dreamed as a kid about playing in a big-league stadium against big-leaguers, once you finally get here, it's even more than what you ever dreamed of.' Every day I realize how lucky I am."73
Last revised: March 18, 2020
Acknowledgments
This biography was reviewed by Chris Rainey and David S. Lippman and checked for accuracy by SABR's fact-checking team.
Notes
1 Chuck Johnson, "McEwing Handy With A Glove," USA Today, May 7, 1999.
2 https://www.baseball-reference.com/players/m/mcewijo01.shtml
3 Mike Eisenbath, "Cards Rookie 'Little Joe' Stands Tall," St. Louis Post-Dispatch, April 27, 1999: C3.
4 Steve Serby, "A Leadoff Man Worth Rooting For," New York Post, May 19, 2000: 94.
5 Eisenbath, 1999.
6 Ibid.
7 Ibid.
8 Ibid.
9 David Danzis, "Joe McEwing Looks to Build on '09 Managerial Success," Bleacher Report, March 20, 2010.
10 Eisenbath, 1999: C3.
11 Ibid.
12 Frank Fitzpatrick, "Cardinals' McEwing Having Big-League Fun," Philadelphia Inquirer, May 11, 1999.
13 Mike Eisenbath, "McEwing Comes A Long Way For A Close-Up View Of History," St. Louis Post-Dispatch, September 28, 1998.
14 Chuck Johnson, 1999.
15 Ibid.
16 Claire Smith, "Cardinals' McEwing Is No Ordinary Joe," Philadelphia Inquirer, June 30, 1999.
17 Fitzpatrick, 1999.
18 Scott Boeck and Alejandro Gonzalez, "Streaking Joe," USA Today, July 7, 1999.
19 https://www.baseball-reference.com/players/m/mcewijo01.shtml
20 David Wilhelm, "McEwing's Spirit Missed In St. Louis," Belleville News-Democrat, 2000.
21 Ibid.
22 Peter Botte, "Mets Give Little Mac Big Shoes," New York Daily News, May 17, 2000.
23 Tyler Kepner, "McEwing Uses Unconventional Approach," New York Times, May 23, 2000.
24 Wilhelm, 2000.
25 Jack Curry, "Johnson Is No Match For Mets' McEwing," New York Times, May 22, 2000: D1.
26 Tyler Kepner, "McEwing Takes Early Lead In The Mets' Bench Derby," New York Times, March 7, 2001: D3.
27 Ibid.
28 Serby, 2000: 94.
29 Jack Curry, "McEwing's Light Shines On A Dreary Day," New York Times, August 12, 2001: 3.
30 Teddy Greenstein, "A Highlight From Joe McEwing's Playing Days: Helping Survivors On 9/11," Chicago Tribune, April 27, 2018.
31 Ibid.
32 USA Today, November 28, 2001.
33 "McEwing Re-ups For One Year," New York Post, December 14, 2002.
34 Ibid.
35 Mike Olshin, "McEwing A New York Kind Of Guy," NJ.com, January 30, 2005.
36 Christian Red, "Mets' McEwing Fills Bill For Munson Award," New York Daily News, February 5, 2003.
37 Ibid.
38 Dave Caldwell, "McEwing's Home Run Is For Real," New York Times, July 23, 2003: D3.
39 Ibid.
40 "Millwood Wants To Stay In Philly," Albany Times Union, December 21, 2003.
41 Bob Herzog, "McEwing Keeps Himself Busy," Newsday, March 9, 2004.
42 Ibid.
43 Lee Jenkins, "McEwing, Out For The Year, Is Moved By Met Retaliation," New York Times, August 21, 2004: D11.
44 Ibid.
45 Olshin, 2005.
46 Ibid.
47 Marty Noble, "McEwing's Release Hits Wright Hard," MLB.com, March 17, 2005.
48 Ibid.
49 Charles Nobles, "McEwing Moves On, So Do Mets," New York Times, March 18, 2005: D8.
50 Noble, "McEwing's Release Hits Wright Hard," 2005.
51 New York Post, March 23, 2005.
52 Omaha Royals, "McEwing, Dessens Sign Deals With Royals," MiLB.com, December 8, 2005.
53 "Giambi, Sheffield Shrug Off News Of Steroids Investigation," Albany Times Union, March 31, 2006.
54 Kevin Yanik, "Huff Bound For Houston," MLB.com, July 12, 2006.
55 Dan Collins, "Rookie Of The Year? First-Time Manager Joe McEwing Has Led The Dash To Success Despite Distractions And Lineup Upheaval," Journal Reporter, August 8, 2009.
56 http://chicago.whitesox.mlb.com/team/coach_staff_bio.jsp?c_id=cws&coachorstaffid=136607
57 Kevin Clooney, "'Super Joe' McEwing Managing His Time Well," The Intelligencer, July 4, 2011.
58 Doug Padilla, "Source: White Sox Adding To Staff," ESPN.com, October 10, 2011.
59 David Lennon, "For Joe McEwing, It's All About The Waiting Game," Newsday, June 29, 2012.
60 Scott Merkin, "McEwing Named Bench Coach Amid Staff Changes," MLB.com, October 14, 2016.
61 Ibid.
62 Scott Merkin, "McEwing Drawing Interest For Manager Gigs," MLB.com, September 30, 2017.
63 Mike Puma, "Mets Not The Only Ones Interested In Joe McEwing," New York Post, October 5, 2017.
64 Merkin, 2017.
65 Robert Falkoff, "McEwing Covering Bases As Interim Manager," MLB.com, August 27, 2018.
66 Ibid.
67 Michael O'Keefe, "The Daily News' Bill Madden Selected To Be Part of Irish-American Baseball Hall Of Fame Class Of 2013," New York Daily News, April 20, 2013.
68 buckscounty.org
69 Clooney, 2011.
70 buckscountyonline.org
71 buckscounty.org
72 Serby, 2000: 94.
73 Fitzpatrick, 1999.
Born
October 19, 1972 at Bristol, PA (USA)
If you can help us improve this player's biography, contact us.
https://sabr.org/sites/default/files/McEwingJoe.jpg
600
800
admin
/wp-content/uploads/2020/02/sabr_logo.png
admin
2020-03-18 13:31:20
2020-06-23 17:20:03
Joe McEwing