---
Baseball's Sad Lexicon
By Franklin Pierce Adams 
 These are the saddest of possible words:
"Tinker to Evers to Chance."
Trio of bear cubs, and fleeter than birds,
Tinker and Evers and Chance.
Ruthlessly pricking our gonfalon bubble,
Making a Giant hit into a double —
Words that are heavy with nothing but trouble:
"Tinker to Evers to Chance."
On September 14, 1902, the scorer of the game between the Chicago and Cincinnati team wrote the results of a double play as Tinker and Evers and Chance. The following day, another double play turned by the trio was written Tinker to Evers to Chance. Those were the first and second times a scorer entered in the scorebook a double-play combination that in the history books is the most memorable of all time.1
Joseph Bert Tinker was born in Muscotah, Kansas, on July 27, 1880, to Elizabeth Williams. Elizabeth, born in 1856, came to Muscotah as a child, along with her parents, three older brothers, and a younger sister. Joe and his twin sister were born when their mother was about 24, but his sister died as a young child. Muscotah was a farming community that was on the Central Branch Railroad. The railroad workers, many of whom were of Italian descent, traveled through and stayed in Muscotah. Joe's mother's parents were Irish, but because of Joe's olive skin, prominent Roman nose, and dark black hair, many of the townspeople said that his father was one of the railroad workers.2
Muscotah was on the western fringes of the Bible Belt, and Elizabeth was scorned because she was an unwed mother. She and her son had to keep on the move. When Joe was 4 years old, his mother met another wanderer, William W. Tinker, and the three of them settled down in one of the poorer sections of Kansas City, Missouri. There is no record of marriage, but Joe took the name Tinker. How Elizabeth and William met is unknown.3
William W. Tinker was born in Oquawka, Illinois, a town on the Mississippi River, in August of 1859. He lived in Oquawka until at least 1880, when the census listed him as a clerk in a butcher shop.4
As a child, Joe attended public schools and played pickup baseball games in Kansas City's parks and sandlots. "Lacking companionship at home he sought it in baseball," said sportswriter F.C. Lane.5 By the time he was 14, he played at the level of much older boys.6 Tinker joined the Young People's Society of Christian Endeavor, a nondenominational religious organization that not only offered a path to social respectability, but openly encouraged physical activities and athletic competition.7 It was mainly a middle-class group, and because Joe was from a poor family, he had to try harder to be accepted. His ballplaying did just that.
In 1894 Tinker joined a school team called the Footpads and became its star infielder.8 Within two years he was recruited to join a young-adult city league team called the John Taylors, named after a dry-goods merchant who bought their equipment and uniforms. In Kansas City, Tinker ran across future Chicago teammate Johnny Kling. Kling, who was five years older than Tinker, played for Hagen's Tailors and recruited Tinker to play for his team, which won the league championship. Kling started a new team, took Tinker with him, and they won the league championship again the following year.9
Tinker played semipro baseball in Parsons and Coffeyville, Kansas, in 1898. A dispute over salary with the Parsons owner resulted in salaries being eliminated and players sharing the proceeds of the games. Tinker's share sometimes approached $1 for a Sunday afternoon game. Coffeyville signed him to play for $35 a month and Tinker finished the season there. At 18, Tinker faced a crucial decision: keep working at a job he didn't like as a wallpaper hanger, or bet on his baseball skills. On his days off, he went to the ball field. He would sneak over the fence and carry bats or do any odd jobs that he could find to be able to see the games. He had only one driving ambition: to be a ballplayer. Jimmy Manning, manager of the Kansas City Blues, saw Tinker play third base in a couple of exhibition games and contacted two scouts from the Denver Grizzlies, a Western League (Class B) team. Tinker signed with Denver for $75 a month. Against his mother's wishes, Tinker packed his bags and headed west. Denver already had a third baseman, so player-manager George Tebeau had Tinker play second base. Tinker never got used to playing second and his hitting also suffered. After 32 games, Tinker was hitting only .219 and on June 11 Tebeau cut him loose.
The Montana State League, an up-and-coming circuit led by league president William H. Lucas, was desperate for ballplayers. With a population of less than 250,000, Montana had a hard time filling the rosters of a four-team league. (The teams were in Butte, Great Falls, Helena, and Anaconda.) Tinker attended a tryout with the Great Falls team and made the club. After just one game at second base, the Great Falls Tribune declared that he was the star of the team. But while Tinker was doing fine, the club was not. It could not meet its payroll. Tinker was making $90 per month.) Manager John McCloskey traded Tinker to Helena for a third baseman and $200.10 Tinker was able to move back to his more comfortable position of third base in Helena and the change was good for him. After hitting only .219 in Denver and not much better in Great Falls, Tinker turned his game around and finished the season with a .322 batting average. Lucas, who once before tried to create a league in Oregon and Washington, tried again and this time was successful. The Pacific Northwest League was formed with teams in Spokane, Seattle, Tacoma, and Portland. Tinker was sold to the Portland team and had a breakout season, with a .290 batting average, 27 doubles, 7 triples, and 3 home runs. He made some spectacular plays at third base for the Webfoots, but also committed 61 errors.11
After the 1901 season, McCloskey (who, like Tinker, had landed in the Pacific Northwest League, managing Tacoma) was spreading the word about Tinker, and the Cincinnati Red Legs and Chicago Orphans both showed interest. Cincinnati's owner, John T. Brush, thought he could get Tinker with no compensation to Portland even though Tinker still had one year left on his contract with the Portland team. This was in violation of an agreement between the American and National Leagues and the National Association of Professional Baseball Leagues, a group that was formed to protect the members from this kind of poaching.12 Tinker did not like what Brush was doing to Portland and refused to sign with Cincinnati.
Meanwhile, the Chicago Orphans offered something Cincinnati would not: $600 if Tinker "made good." Tinker showed up at training camp in Champaign, Illinois, and made the major-league roster. In May, the Oregonian reported that C.A. Whitemore, president of the Portland Baseball Club, had received a telegram from the Chicago team stating that Tinker "made good" in Chicago and the Orphans would pay Portland $600 for Tinker's release.13
In 1902 Tinker, who was 21 and in his first year with Chicago, joined catcher, first baseman, and right fielder Frank Chance, a 25-year-old who had been with the team since 1898, and Johnny Evers, a 20-year-old rookie second baseman to form the most memorable double-play combination in baseball history. Even though the middle infielders didn't hit well, or field particularly well, either (Tinker made 74 errors at shortstop), Tinker and Evers soon built a chemistry that gave them the confidence that when one fielded the ball and flipped it to second, the other one would be there, even without looking first. Chicago team finished the 1902 season in fifth place in the National League with a 68-69 record.
In 1903 the Chicago Cubs improved their record to 82-56, good for third place in the National League, in part by Tinker improving his batting average from .263 to .291 and Evers improving from .222 to .293, and both playing well in the field. Frank Chance also improved his batting average to .327. The improvement over the last year with a roster full of youngsters impressed, Fred A. Hayner, a Chicago Daily News sportswriter, who thought that Orphans was too long to put in headlines, and began calling them the Cubs. The name stuck.
Tinker met Ruby Rose Menown at a social gathering, probably a Young People's Society of Christian Endeavor event in Kansas City in May of 1899. Ruby Rose was only 16 at the time and Tinker did not want to propose marriage until he was a major-league baseball player, so he waited four years.14 The two were married in the fall of 1903 and resided in Chicago's South Side. It was a long commute for Tinker to the West Side Grounds, but he had his eye on a vacant storefront that he wanted to turn into a saloon, as ballplayers needed to supplement their baseball incomes during the offseason. Tinker did acquire the property and opened a saloon.15
The 1904 season was even better for the Cubs. They finished with a 93-60 record, good for second place behind the Giants with a 106-47 record. The Cubs manager, Frank Selee, was fighting tuberculosis, and finally had to turn over his managerial duties to Frank Chance.
The 1905 season was comparable to 1904, but the Cubs finished in third place with a 92-61 record.
Even though Tinker's and Evers's batting averages were down a bit in 1906, they played excellent defense and the team won the pennant with a 116-36 record before losing the World Series to the crosstown White Sox.
Between 1906 and 1910, the Cubs had one of the best streaks of any team in major-league history, winning over 100 games in four of the five seasons, with 99 wins in 1908 as the exception. The backbone of the franchise was the double-play combination of Tinkers, Evers, and Chance.
The players were getting old or moving on and the great team was in a decline. Charles W. Murphy, the owner of the Cubs, and Chance didn't seem to get along. Chance's health took a turn for the worse. After a hospital stay in September 1912, Chance came back to manage the Cubs through their annual exhibition series with the White Sox that began on October 8. The Cubs were leading the series three games to one, with one more win needed to win the city championship. The White Sox won the next game 16-0 and Murphy was so furious that he came down to the bench and fired Chance on the spot.16
On December 15, 1912, Tinker was traded to Cincinnati and became the player-manager.17 The Red Legs did not do very well in 1913 and Ruby Rose, Tinker's wife, fell ill. Tinker had to leave the team in July for a few weeks to tend to her.18
Cincinnati dropped from fourth place in 1912 to seventh place in 1913 and Tinker was viewed as a poor manager. After the 1913 season, Cincinnati owner Garry Herrmann sold Tinker to Brooklyn for $15,000 and Charles Ebbets agreed to pay Tinker $10,000 for signing a Brooklyn contract. Tinker decided to jump to the new Federal League to become manager of the Chicago team, owned by Charles Weeghman instead of signing with Brooklyn.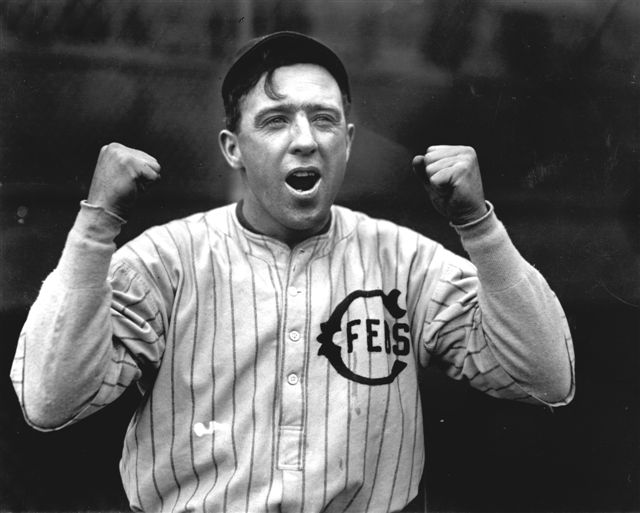 On April 23, 1914, the ChiFeds, as the team was called, played its home opener. Before the game, a ceremony welcomed the new team and the new league as the sellout crowd treated Tinker and President Weeghman as celebrities. The ChiFeds won the game 9-1 over the Kansas City Packers. As the season progressed, the ChiFeds were drawing much larger crowds than the White Sox or Cubs.19 Chicago finished the season with an 87-67 record, barely beaten out by the 88-65 record of the Indianapolis team. Tinker played in 126 games, batting .256 with 46 RBIs and 19 stolen bases. His sons, Joe Jr. and Roland (Rollie), served as batboys for the season.20
The 1915 season started with President Weeghman sponsoring a "name the team" contest. He wanted the team to look "big," so he settled on the name Whales.21 Tinker had a pain in his side that kept him from playing shortstop as much as he wanted. It turned out that he had a rupture in his right side. A doctor decided that he didn't need surgery, but had to take it easy. He did compile 82 plate appearances in 31 games and hit .269, but preferred to let Jimmy Smith play shortstop. It was a close race between Chicago, St. Louis, and Pittsburgh. Going into the final day of the season, a single game separated the three contenders. Chicago and Pittsburgh split a doubleheader and St. Louis won, resulting in a .001 pennant-winning margin for Chicago.22
The Federal League disbanded after the 1915 season. As part of a settlement with the National and American Leagues, Weeghman was able to purchase the Chicago Cubs. He brought Tinker with him to manage the club for the 1916 season. Tinker decided that it would be much better if he did not play, so he could see how all of the players were doing instead of concentrating on his own playing.23 He only made 12 plate appearances during the season. The Cubs finished in fifth place with a 67-86 record.
The Cubs replaced Tinker with Fred Mitchell for the 1917 season. On December 22, 1916, Tinker and a Chicago stockyard capitalist and sporting-goods manufacturer, Thomas E. Wilson, purchased the Columbus Senators of the American Association for $65,000.24 Tinker took over as the captain, manager, and team president for the 1917 season. The team was moderately successful at first, but lost many key players to the armed forces in World War I. In March of 1918, he announced that all ballpark employees would be women, so that the men could do war work. The ticket takers, change makers, ushers, peanut vendors, scorecard sellers, scoreboard operators, ground crew were all women.25
Tinker's wife continued to have medical problems. A sunny climate was recommended, so he sold his interest in the Columbus team and they moved to Orlando, Florida, in December 1920. Tinker looked for new challenges and soon became owner-manager of the Orlando Tigers. The Tigers held on to first place from wire to wire and were the Florida State champions in 1921. The city of Orlando built a ballpark and named it Tinker Field. Garry Herrmann, owner of the Cincinnati Reds, chose to hold the Reds' spring-training camp at Tinker Field, in which they did for the next eight seasons.26
Tinker had another vision and that was in real estate. He joined in a partnership called the Tinker-McCracken Realty Company. The real-estate boom in Orlando kept Tinker busy building housing developments and commercial buildings, but his heart was always in baseball. He remained involved with both real estate and baseball, but Tinker suffered a devastating blow.27 On Christmas morning in 1923, Ruby Rose killed herself with a revolver. She was 41.28
Tinker's real-estate ventures became very successful; he claimed to be worth $1 million, according to friends quoted in Orlando newspapers. He said that he had $400,000 in the bank.29
Tinker married Mary Edington on April 15, 1926, in Cincinnati. Joe moved into his new wife's home at 809 Lucerne Terrace in Orlando and the rest of the Tinker clan remained in Joe's old home. Things were good for Tinker.30
On February 3, 1927, Tinker was sued by a real-estate partner, Jay F. Pitts, who alleged claimed that Tinker was spending funds without the permission of the company's board of directors; Pitts also claimed that he was not given his fair share of the profits. On February 26, the court ruled against Tinker and he had to pay up. Things kept spiraling down. Tinker was arrested for running a gambling house. Then the Florida real-estate boom started to collapse, and a hurricane and the stock market crash left real-estate developers like Tinker wiped out.31
Tinker returned to baseball as a scout for the Cubs in 1929. He then worked with the Buffalo Bisons and the Jersey City International League clubs as a scout.32
Tinker got back into real estate in 1931 and opened a billiard parlor billiard equipment sales company in 1932. On December 5, 1933, after Prohibition was repealed, he opened Tinker's Tavern in Orlando.33 Soon after the tavern opened, Tinker's wife became ill and she died on February 28, 1934. She is buried in her family's plot in Greenwood Cemetery about 20 paces away from Tinker's first wife.34
Tinker kept plugging away with real estate and baseball and in 1937 had a new wife, Helen.35
In 1938 something unexpected happened. The Cubs won the pennant played the Yankees in the World Series. Tinker and Evers were asked to go on the radio together. After not talking for 30 years, they figured that they could just each say what they had to say and work together as they did on the ballfield. But when they meet, neither had anything to say; they just put their arms around each other and embraced.36
Tinker still had time for romance. Nobody knows what became of his third wife, but he married Suzanna Margaret Russell Chabot on April 14, 1942. The marriage didn't last long and she left for New Jersey.
Tinker, Evers, and Chance were all elected to the National Baseball Hall of Fame in 1946, but none of them were at the induction ceremony. Chance had died in 1924 and the other two were not well enough to attend.37
Diabetes took a toll on Tinker and his left leg was amputated just above the knee on January 15, 1947.38
Joe Tinker died on his 68th birthday, July 27, 1948, in Orlando. He is buried in Greenwood Cemetery.
An earlier version of this biography appeared in SABR's "Deadball Stars of the National League" (Brassey's, Inc., 2004), edited by Tom Simon.
Sources
In preparing this biography, the author used Retrosheet.org and Baseball-Reference.com for standings, stats, and game information. Most of the biographical information was retrieved from the books Tinker, Evers, and Chance: A Triple Biography by Gil Bogen and Tinker to Evers to Chance by David Rapp.
Notes
1 Gil Bogen, Tinker, Evers, and Chance: A Triple Biography (Jefferson, North Carolina: McFarland & Company, Inc., 2003), 1.
2 David Rapp, Tinker to Evers to Chance (Chicago and London: University of Chicago Press, 2018), 47, 52.
3 Rapp, 47.
4 Rapp, 52-53.
5 Rapp, 53.
6 Rapp, 47.
7 Rapp, 47.
8 Bogen, 18.
9 Joe Tinker, "How I Became a Ballplayer," New York Evening Telegram, August 27, 1913.
10 Rapp, 62
11 Tinker.
12 Rapp, 65.
13 Oregon Daily Journal (Portland), May 16, 1902: 8.
14 Rapp, 48.
15 Bogen, 51.
16 Bogen, 125.
17 Will Leonard, "Tinker to Evers to Chance," Chicago History, Vol. 1, No. 2, New Series (Chicago Historical Society, 1970), 79.
18 "Tinker's Blood for Wife," New York Times, July 15, 1913.
19 "Chicago Welcomes Feds: Who Triumph Over Packers, 9-1," Chicago Tribune, April 24, 1914.
20 Bogen, 153.
21 William Hartel, A Day at the Park: A Celebration of Wrigley Field (Champaign, Illinois: Sagamore, 1994), 6.
22 Bogen, 157.
23 "You Can't Do Two Things at Once, Says Tinker, Who Plans to Become a Bench Boss," Philadelphia Public Ledger, May 9, 1915.
24 Bogen, 175.
25 Bogen, 176.
26 Bogen, 178.
27 Bogen, 179.
28 "Joe Tinker's Wife Suicides," Evening Independent (St. Petersburg, Florida), December 26, 1923.
29 Mark Andrews, "Tinker's Fortunes Vanished Quickly," Orlando Sentinel, November 28, 1999: K-2.
30 Bogen, 193.
31 Andrews.
32 Bogen, 196-198
33 Andrews.
34 Andrews, 208.
35 Andrews, 213.
36 Andrews, 216.
37 Andrews, 226.
38 Andrews, 227.
Born
July 27, 1880 at Muscotah, KS (USA)
Died
July 27, 1948 at Orlando, FL (USA)
If you can help us improve this player's biography, contact us.
http://dev.sabr.org/wp-content/uploads/2012/01/TinkerJoe-CDN-s054302.jpg
600
800
admin
/wp-content/uploads/2020/02/sabr_logo.png
admin
2012-01-04 20:40:14
2022-06-07 14:44:55
Joe Tinker