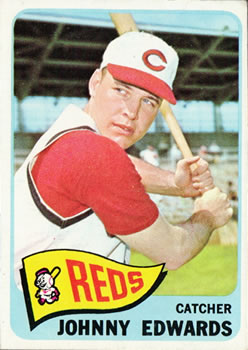 ---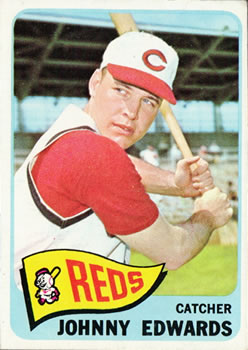 "I prided myself on being a good defensive catcher," three-time All-Star and two-time Gold Glove winner Johnny Edwards told the author.1 Edwards debuted on the Cincinnati Reds' pennant-winning squad in 1961, inaugurating a 14-year career, including a one-year stop on the 1968 NL champion St. Louis Cardinals before spending his final campaigns with the Houston Astros. "I enjoyed catching all of my pitchers," he declared. "That was my job. I didn't concentrate on hitting. I concentrated on getting the pitcher by that day. Sometimes they didn't have good stuff and then we had to try different things."
John Alban Edwards and his twin brother James were born on June 10, 1938, in Columbus, Ohio, to Evan Alban and Marcella Beulah (Smith) Edwards. Sister Judy followed a year later. Growing up in the Midwest in the post-World War II years, baseball was the center of young Johnny's universe. "We had knothole ball and no coaches," he said about his earliest baseball experiences, which sound almost like those of Scotty Smalls from the cult movie classic Sandlot (1983). "We just formed a neighborhood team and went off and played." His "key to baseball" was his mother, who had played some semiprofessional softball in her younger years. She taught him how to throw, catch, and hit. His father, a mechanical engineer and later employed as a civil servant, was sick, often confined to their home in a stable middle-class neighborhood, and "didn't have any impact on my baseball career," Edwards revealed.
Though Ohio's capital city is located almost equidistant from Cincinnati and Cleveland, Johnny was an unabashed Indians fan. "They had all those pitchers, [Bob] Feller and [Early] Wynn, and also [Bobby] Avila and [Al] Rosen," said Edwards, "but my hero was the catcher – Jim Hegan." Edwards was a scrawny kid, only 5-feet-8 and 135 pounds, entering his senior year at West High School, and was "too small" to play football in the gridiron-crazed state commanded by legendary Ohio State University coach Woody Hayes.
But that didn't deter his dream of following the footsteps of the Tribe's sturdily-built 200-pound All-Star backstop. "I always wanted to be a catcher," said Edwards, who began donning the tools of ignorance in junior high. Edwards found a willing mentor in high-school coach Dutch Schmidter. "He taught me a lot about catching," he said. "He had a big influence on me." Schmidter's belief in Johnny paid off when the 17-year-old showed up for spring baseball standing 6-feet-4, the product of a Herculean growth spurt. Edwards also played American Legion ball for Post 98, but the admittedly awkward youngster had no suitors or scouts calling his name when he graduated from high school in 1956.
Always a good student, Edwards enrolled at OSU in the fall to pursue a degree in engineering. As big as some of the Buckeye football players, the left-handed-hitting Edwards earned a spot on the freshman baseball team as a walk-on in the spring, and never looked back. A prescient moment in Edwards' career came after his sophomore season on renowned coach Marty Karow's varsity squad. Based on Karow's recommendation, Edwards was invited to play in the Basin League in South Dakota after earning second-team All-Big Ten honors. Established in 1953, the league showcased top collegians and minor leaguers, and developed into a showcase for big-league prospects. For the first time in his life, Edwards, who caught and played in the outfield, attracted the attention of scouts. He returned to OSU, but his situation had changed dramatically. "There were several clubs interested in signing me," said Edwards. "Cincinnati, Philadelphia, New York Yankees, and St. Louis. It was just a bidding war really. My twin brother handled the negotiations. With my dad sick, my family needed the money." Based on scout Paul Florence's recommendation, the Reds signed Edwards at his parents' house in the fall. His contact was worth $50,000, which included a $12,000 annual salary for three seasons, a then-exorbitant sum for a minor leaguer.
Interrupting his studies, Edwards began his professional baseball career at the Reds' spring-training facility in 1959. "They needed a bunch of catchers. Every pitcher had to throw every day so they brought me to camp." Suddenly finding himself next to All-Stars like Frank Robinson, Gus Bell, and catcher Ed Bailey, Edwards recalled how professionally he was treated. "There wasn't any harassment or anything. I wasn't expecting it."
Edwards was assigned to the Class-C California League, where he torched the opposition (.320, 16 home runs, 99 RBIs) as a member of the Visalia Redlegs. The biggest impression on the still green catcher was from his manager and teammate, 26-year-old Dave Bristol. "He was a fiery guy," recalled Edwards with a laugh. "We had at least 10 fights that year because he'd want to knock someone down. He'd get suspended, and because I was a college kid, I'd get to manage the team." Bristol's passion and uncompromising competitiveness rubbed off on the rookie. "I learned the will to play," he said. "I like that attitude."
After the minor-league season ended, the Reds invited Edwards to Cincinnati to see a game. He recalled vividly the first time he saw the aging steel and concrete Crosley Field with its famous terraced outfield. "I had never been to Crosley Field as a kid. It was a rude awakening to see the ballpark," said Edwards. "It was shaped like a boomerang. I was a left-handed hitter and the farthest part of the ballpark was in right field with the Moon Deck. Then you had center field with a hill, and then there was the fence in left field with the big scoreboard in left-center."
After another spring camp in Tampa with the Reds in 1960, Edwards jumped all the way to the Double-A Nashville Volunteers in the Southern Association. Facing much more mature competition, the majority of whom had or would have major-league experience, Edwards emerged as the circuit's top catching prospect and fared well at the plate (.293-14-70) while playing in one of baseball's most peculiar ballparks. "Sulphur Dell was a strange stadium with its outfield terrace," recalled Edwards. "The fence in right field seemed like it was just behind second base. [It was 262 feet from home plate]. You'd have a better chance to hit a home run if you'd hit a long ol' fly ball than if you really smacked one. If you hit a deep one to right, the outfielder was playing half way up the hill and he could throw you out at first." Edwards credited his skipper, Milkman Jim Turner, a former big-leaguer hurler, for his development behind the plate. "He was the first to give me good insights on catching," remembered Edwards. "Turner did a lot to help me learn to block [the plate], [set] my footwork." The baseball lifer Turner was unequivocal in his praise of the prospect, "You could tell he was going to be an outstanding catcher. He has intelligence and a real good arm."2
Assigned to the Triple-A Indianapolis Indians to start the 1961 campaign, it was just a matter of time before Edwards was promoted to the big-league club. That call came sooner than expected when Bailey was shipped to the San Francisco Giants in a multiplayer trade two weeks into the season. Edwards recalled excitedly how his skipper, Cot Deal, teased him with the good news in late June. "Deal called me into his office and said 'You can't play for me anymore.' I said 'Goddammit, give me a chance. I don't want to go to A-ball,'" recalled Edwards, who had been in a slump at that time. "Then he said, 'You're going to the big leagues.' I went from down in the dumps to really elated."
Edwards joined the Reds in Chicago on June 26 and made a splashing debut, against the Cubs. After drawing a walk pinch-hitting for catcher Jerry Zimmerman in his first plate appearance and then taking his place behind the plate, he belted an RBI single the next time up. Edwards' baptism of fire came the next day. "I got on the bus and sat next to Bob Purkey who was pitching that day. He starting going over the hitters with me. When we got to the ballpark, damn, I was playing," said Edwards, surprised by skipper Fred Hutchinson's decision. "I hit a home run off the right-field foul pole. After that my hitting was not very good the rest of the season, but my defense was. Hutch stuck with me."
Edwards immediately won the starting job and less than two weeks after his call-up, he was described by Queen City sportswriter Lou Smith as a "cinch to blossom into one of the top receivers."3 That assessment was not just blind homerism. Former big leaguer Lou Boudreau, who was then a Cubs announcer, quipped, "He handles himself well for a rookie and owns a gun for an arm."4 Edwards struggled at the plate, batting only .186, but earned the respect of his pitchers and manager. The Reds got a scare when Edwards went down on September 9 with a serious groin pull while ducking a heater to his head against the Cardinals.5 He missed two weeks, but was behind the plate on September 26 when the Reds overcame a 3-0 deficit beginning with Edwards' solo home run in the sixth to beat the Cubs at Wrigley Field and clinch their first pennant in 20 seasons.
The Reds faced the heavily favored Yankees, winners of 109 games, in the World Series. More known for clubbing a then-record 240 home runs, the Bronx Bombers shut down the Reds, allowing only 13 runs in their Series victory in five games. Edwards, who started Games Two, Three, and Five against right-handed starters, was the Reds' "most surprising player," according to sportswriter Bob Broeg.6 Edwards went 4-for-11 and knocked in two runs, both in Game Two at Yankee Stadium, in the Reds' only victory. More than a half-century after the Series, Edwards remained upset, but not necessarily because the Reds lost. "I still don't like what Jim Turner did," he said of his ex-manager, by then the Reds pitching coach. "He was an ex-Yankee. When we were practicing at Yankee Stadium, he took us around showing us the statues and stuff. I didn't like that. We were playing the Yankees, not worshipping them." No one ever doubted Edwards' fire.
Over the next four seasons, Edwards emerged as one of the best all-around catchers in baseball, named to three consecutive NL All-Star squads (1963-65), and earned Gold Glove Awards in 1964 and 1965. "What can you say?" replied Edwards when asked about his reactions to those accolades. "They were the biggest awards in my life. [They were] voted on by your peers." (After the Cincinnati Reds All-Star ballot-box-stuffing brouhaha in 1957, fans lost the right to choose All-Star starters until 1970; managers voted for the Gold Glove recipients.) Edwards went 0-for-3 with a walk and run in All-Star competition.
The Reds' decision to send Edwards to the Florida Fall Instructional League in 1961 paid dividends the following season as the native Ohioan was named "Sophomore of the Year" by the Cincinnati Chapter of the Baseball Writers Association of America – and for good reason.7 He led the NL in games caught (130), assists (92), and attempted basestealers thrown out (31); he also proved he was no slouch with the bludgeon, hitting .254 with eight homers, 50 RBIs, and a career-high 28 doubles while the Reds pressured the San Francisco Giants and Los Angeles Dodgers in a tight pennant race, winning five more games (98) than in the previous season, but finishing in third place.
Expectations for Edwards were raised in 1963, and Big John delivered. He started off on a tear, hitting safely in his first seven games, culminating with a grand slam and all five RBIs in a victory over the New York Mets on April 17. At the end of the month he was hitting .411, and though he finished with comparable numbers from the previous season (.259-11-67), the Reds counted on him defensively, not offensively. He paced the majors in games played by a catcher (148) and putouts, and led the NL in fielding for the first of four times.
Like all the great catchers, Edwards' importance cannot be quantified by empirical statistics. Said the Milkman, "[W]hen it comes to blocking home plate, Edwards is as tough as anyone."8 Few baserunners wanted to test Edwards, who had filled out his frame to about 220 pounds and was as solid as a linebacker. Edwards' intelligence – and not just the bookish engineering kind – set him apart, too. "He works as a team with the pitcher," gushed Purkey. "He doesn't catch a game by the book. He knows his pitchers and what they throw. And he knows the hitters."9
Edwards admitted that one of the few things he dreaded was catching Purkey's knuckleball. "When he had the wind in his face, that thing was dancing. When a knuckleball lands in a glove, it's real light and you don't really know where it hits. After seeing his catcher "run back to the screen so often," Hutch suggested that Edwards use a larger catcher's mitt. That tip gave both Edwards and Purkey confidence.
The transformation of the Reds into an annual pennant contender in the early 1960s can be attributed to Fred Hutchinson, the wildly popular manager, whom Edwards credited with helping him develop into an All-Star. "Hutch was the best coach in the world," said Edwards. "He knew how to handle players. I was a guy who was always looking for him to tell me how well I played that day. He never did and so I tried harder to please him. He made me a better player. He had the ability to bring out the greatness in everybody." With a chuckle, Edwards recalled that Hutchinson "had a temper," but also noted that he was like a father to his players, a psychologist, and an innovative thinker. "He'd come out and ask me how the starting pitcher was doing," said Edwards, adding that he was also among the first skippers to rely heavily on the bullpen.
The entire baseball community was shocked when Hutchinson announced on January 3, 1964, that he had inoperable lung cancer. Despite radiation treatment and chemotherapy, Hutchinson joined the team in spring training. While the disease withered his body, Hutchinson's courage, pride, and concern for his team inspired others. Few players on the clubs were as close to the skipper as Edwards. "I'll never forget Hutch sitting in the dugout during the game with cancer. He had a hard time getting up. I offered to help him back to the clubhouse and he wouldn't accept it."
While players were often moved to tears by Hutchinson's battle, the Reds started off slowly, hovering around .500 in early June. By then, Edwards had found his stroke, batting .354 and driving in 19 runs over a 24-game stretch ending June 24. The inevitable came on August 13 when Hutchinson announced that he was taking a leave of absence, to be replaced by coach Dick Sisler. The Reds didn't roll over as many expected. "I'll never forget that season," said Edwards. Trailing the Philadelphia Phillies by 8½ games on September 15, the fourth-place Reds stormed back, winning 12 of 13 games to move into first place by a game on September 29.
The "Phillies' Phold" might be best remembered about one of the most dramatic pennant races in history, which almost ended in an unprecedented three-way tie; however, the Reds faltered too, losing four of their last five games, all at Crosley Field, and squandering a share of the title on the last day of the season. According to Edwards, the deciding blow came in the next to last game, against the Phillies on October 2, with the Reds up 3-0 in the bottom of the seventh. "[Chris] Short knocks down [Leo] Cardenas, and he charges the mound. When you are playing bad like the Phillies, you're looking for something to motivate you. And Cardenas motivated the Phillies." The Phillies won the game, 4-3, and tensions ran high. "After the game, [starting pitcher Jim] O'Toole went after Cardenas in the clubhouse and that upset everybody. It was just a bad scene." Jim Bunning provided the final indignity, shutting out the Reds, 10-0, in the season finale. Edwards' solace was another sturdy season with the bat (7-55, and a career-best .281) and his stalwart play behind the plate.
After another All-Star season in 1965 (a career-high 17 round-trippers to go along with 51 RBIs and a .267 batting average), Edwards' career took an unexpected downward path resulting from an injury. "I made a real bad mistake in 1966," began Edwards. "We were playing our last game in spring training, and dammit if I don't fracture my finger on a foul tip. I should have gotten it fixed, but I wanted to play. So, I convinced them to put a splint shaped like a baseball on it. My finger kept popping out of its joint." In a self-admitted "terrible year," Edwards batted .191 and made just 84 starts.
Edwards had high praise for Reds speedballer Jim Maloney, who was a threat to toss a no-hitter any time he took the mound. He was behind the plate when Maloney tossed 10 no-hit innings and struck out 18 against the New York Mets in Cincinnati on June 14, 1965, only to yield a leadoff home run in the 11th and lose, 1-0. More than a half-century later, Edwards was still steaming about that game. He led off the 10th with a single, then was lifted for pinch-runner Chico Ruiz. "You don't change catchers in a no-hitter," said Edwards of skipper Dick Sisler's decision. It was déjà vu for the batterymates just over two months later, on August 19 against the Cubs in the Windy City. "It was unbelievable," recalled Edwards about Maloney's 10-inning no-hitter, in which he emerged victorious on Leo Cardenas's home run. "He walked 10 batters and every time I looked up it seemed like there was a man in scoring position. He was so wild, I had to do everything just to block the ball. He threw 187 pitches. He was worn out after the game, and I was right there with him."10
"I was mentally not the same," declared Edwards about his 1967 season. "I didn't play all the time like I had in '65. Of course, Johnny was coming up." He was once again platooned with Don Pavletich, and made only 57 starts before 19-year-old Johnny Bench took over as full-time backstop on August 29.
"There were some excellent baserunners when I was a catcher," recalled Edwards. "[Maury] Wills, [Lou] Brock, and others. A lot of catchers used to pitch out with those guys on base, but I didn't. I asked for a fastball on the outside, and didn't want to take the ball out of the pitcher's hands by giving up a pitch. So maybe they stole bases on me. But, boy, when they came to the plate, they better avoid me. I could block the plate with the best of them." Six times Edwards finished in the top three of total baserunners thrown out and three times in the top five for highest percentage of basestealers caught.
Edwards was in a rut in Cincinnati and knew he needed a new team to resurrect his career. His trade to the St. Louis Cardinals for catcher Pat Corrales and utilityman Jimy Williams on February 8, 1968, was not surprising, though Edwards regretted leaving Cincinnati. "I really enjoyed playing in Crosley Field," he said. "I liked it because the fans were right down on the field. There was a fence, maybe three feet high, between the field and the box seats. We'd warm up before the game right next to the fans."
Edwards was initially upset about landing on the Cardinals, whose All-Star backstop, Tim McCarver, was one of the most durable in baseball. "It turned out OK because [manager Red] Schoendienst wanted to keep his catchers strong and I was a good thrower." The now 30-year-old Edwards made 52 starts and batted a respectable .239 for the pennant winners in the "Year of the Pitcher," when major-league teams cumulatively hit a paltry. 237. He caught Ray Washburn's no-hitter on September 18 in San Francisco, one day after the Giants' Gaylord Perry did the same to the Cardinals. [Coincidentally, the same situation happened the next season when Edwards was with the Astros. One day after former Reds teammate Jim Maloney tossed a no-hitter, Edwards was behind the plate when Don Wilson returned the favor on May 1 at Crosley Field.] Said Edwards about Bob Gibson, who won the Cy Young award with a 22-9 slate and 1.12 ERA, "[We] used to argue quite a bit. He loved his fastball, but he had a good slider too. When he was in a tough situation and you knew everyone was looking for a fastball, I'd call for a slider and he'd shake me off. I'd call for it again. Then he'd call me to the mound. He was a stubborn son of a gun, but we worked well together."
"I was very disappointed in the World Series," said Edwards, who struck out as a pinch-hitter in Game Six in his only appearance in the Redbirds' upset by the Detroit Tigers in seven games. "I feel if I had caught Bob [Gibson] in the World Series, the result would have been different." During the regular season Edwards had caught 10 of Gibson's starts during which the hard thrower posted a 0.89 ERA. "I found out later the reason [I didn't play]. After we lost the last game, Schoendienst called me in and told me that I had been traded before the Series."11 The next day, October 11, the Cardinals announced that Edwards had been shipped to the Houston Astros for catcher Dave Adlesh and pitcher Dave Giusti.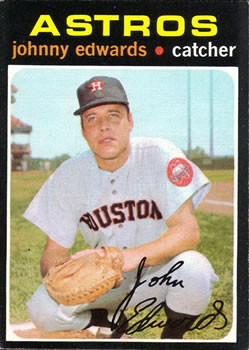 "I went from first place to last place in one minute," joked Edwards about his trade to the Astros, who finished 10th in a 10-team league in 1968, but it was the catcher who had the last laugh. To say that he resurrected his career is an understatement. Over the next three seasons, Edwards staked his claim as the NL's best defensive backstop not named Bench. In fact, Edwards led the league in fielding percentage in each of the next three campaigns (1969-1971), and co-led the circuit in most games as catcher in his first two years in Houston, while batting in the .220-.230 range.
"The pitching staff had great potential," declared Edwards about the 1969 Astros team, which finished fifth in the NL West in the first year of divisional play but also posted the first nonlosing season in franchise history. "We had [Larry] Dierker and [Don] Wilson, [Denny] Lemaster and [Tom] Griffin. They were all hard throwers, and helped me set a record for putouts (1,135)." Remarkably, Edwards still held the major-league record as of 2017.
Notwithstanding his fielding success, Edwards claimed it was difficult adjusting to the Astrodome, the world's first indoor stadium, which opened in 1965. "I didn't like the Astrodome very well or playing on the hard Astroturf," he said honestly. "Popups behind the plate were hard to see [because of the painted ceiling]. I always had someone from the dugout pointing out where the ball was." He acknowledged that the climate-controlled 68-degree Astrodome made the experience more pleasurable for the spectators in hot and humid Houston; however, he explained that the cooler temperatures made his accumulated aches from years of crouching that much more pronounced.
Edwards' reputation as one of the slowest players of his era is perhaps not as warranted as his 15 stolen bases suggest, and he had a humorous anecdote on the subject. On August 7, 1970, at Candlestick Park in San Francisco, the lumbering 33-year-old on creaky knees legged out two triples, scored twice, and knocked in three runs from his customary eighth spot in the lineup. "At that time, they were filming a movie with Peter Lawford (Step Out of Line, also starring Peter Falk and Vic Morrow)," said Edwards with a laugh. "I'm in the movie hitting two triples. Once you got me going I was pretty fast." He had a point: He hit 32 triples in his career, including a career-best six in 1969.
Beginning his 14th and final season in 1974, Edwards "knew [retirement] was getting close. I was not a guy who wanted to sit on the bench and not play at all. It was getting to the point that the young kids were taking over. Getting up and down 20,000 times a year slows you down a little." After making just 27 starts all season, he hung up his spikes for the last time. He ranked 20th all-time with 1,392 games caught, and finished with a .242 batting average with 81 home runs and 524 runs batted in. Along the way, he suffered enough injured fingers, bruised shoulders, and sore ankles, knees, hips, and back to last a lifetime – and it did. He had success against Glen Hobbie (12-for-27, .444 batting average), Bob Shaw (16-for-37, .432), and Lew Burdette (12-for-34, .353); and struggled against Steve Renko (3-for-36, .083), Claude Osteen (3-for-29, .103), and Don Cardwell (6-for-44, .136).
"When I played, we didn't have all the fancy stats you have today," replied Edwards when asked about the difference for catchers from his days and the current sabermetric-led era of 2017. Nonetheless, Edwards was always prepared and explained his routine. "The pitcher for the following day would chart where the batter would hit the ball. The pitcher from the day before charted balls and strikes and location. That info was given to me so I could see the trends of the hitter. It was my job to go over everything, where to position players in the field. The day of the game, I'd go over all the hitters with the starting pitcher."
Edwards was especially well prepared to transition to life away from baseball. True to his promise to his parents, he had completed his engineering degree (with a specialization in metallurgy) by attending Ohio State University in fall and winter quarters, and graduated in 1963. During the offseasons he had worked as a research engineer for General Electric Nuclear Materials and Propulsion Laboratory in Cincinnati. Upon his trade to the Astros, he relocated to Houston with his wife, Barbara, whom he had married in 1959, and their two children, David and Lori. Beginning in 1970, he worked for Cameron Ironworks in Houston, Texas, gradually advancing to operations manager. Beginning in 1992 he was vice president for C.T.C. International in Houston and was promoted to plant manager when Baker-Hughes acquired C.T.C. in 1995. He retired at the age of 64, in 2002.
As of 2017, John and Barbara Edwards still resided in the greater Houston area.
Last revised: September 25, 2017
Acknowledgments
This biography was reviewed by Len Levin and fact-checked by Stephen Glotfelty.
Sources
The author expresses his gratitude to Johnny Edwards, who was interviewed on March 7, 2017. Edwards subsequently read this biography to ensure its accuracy.
In addition to the sources cited in the Notes, the author also accessed Retrosheet.org, Baseball-Reference.com, the SABR Minor Leagues Database, accessed online at Baseball-Reference.com, SABR.org, and The Sporting News archive via Paper of Record.
Notes
Born
June 10, 1938 at Columbus, OH (USA)
If you can help us improve this player's biography, contact us.
https://sabr.org/sites/default/files/EdwardsJohnny-Reds.jpg
600
800
admin
/wp-content/uploads/2020/02/sabr_logo.png
admin
2017-09-26 16:18:48
2021-09-24 13:56:09
Johnny Edwards