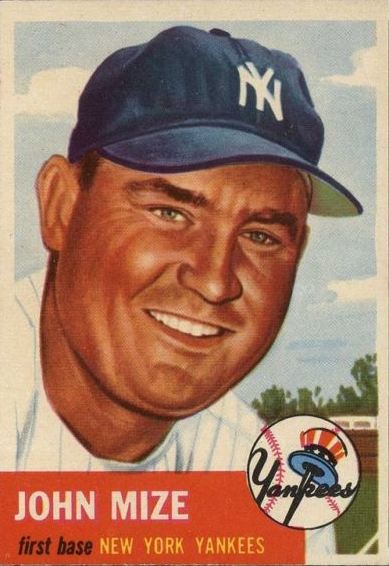 ---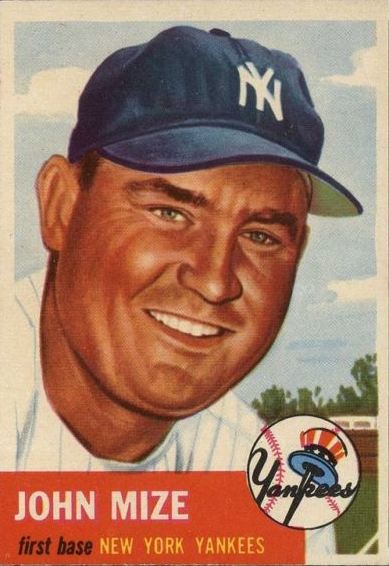 In 1947 Johnny Mize did something unmatched in baseball history. He became the first player to hit 50 or more home runs in a season while striking out fewer than 50 times, one of the game's extraordinary records and a sole distinction Mize still held more than 65 years later.
Few, if any hitters have combined meticulous bat control with brute power the way Mize did in '47, back when the New York Giants carried two trunks of bats when they hit the road. "One trunk was for Johnny Mize," said Buddy Blattner, Mize's roommate on the Giants. "The other was for the rest of the team."
So yes, Mize had plenty of bats, and he knew how to use every one of them. This was his arsenal, his black bag, and throughout a 15-year Hall of Fame baseball career the Georgian used his tools with the precision of a surgeon and the stylistic beauty of an artist. Built like a slugger (6-feet-2, 215 pounds in his prime), Mize was a line-drive hitter who could hit for distance, to all fields, and generally for high average, especially earlier in his career. "Nobody had a better, smoother, easier swing than John," said Don Gutteridge, who roomed with Mize on the Cardinals. "It was picture perfect."
Mize split his career among the St. Louis Cardinals (1936-1941), the Giants (1942, 1946-49), and the New York Yankees (1949-1953), and was a ten-time All-Star who led his league in most major offensive categories at one time or another. A first baseman through most of his career until injuries took their toll, Mize reinvented himself in his late 30s, becoming one of the game's premier pinch-hitters on a Yankee club that won five straight World Series titles.
John Robert Mize was born on January 7, 1913, in Demorest, Georgia, a small college town in the rural Appalachian foothills of Northeast Georgia. He was the second son of Edward Mize, a local merchant and salesman, and Emma Loudermilk, a homemaker who had to go to work in an Atlanta department store after the couple separated.
Johnny stayed with his grandmother in Demorest, and was actually more interested in tennis than baseball as a youngster, winning a county championship with a racket in his hand. Mize may have been a hitter on some molecular level, as if it were in his DNA somehow — a distant cousin was another Georgian of note, Tyrus Raymond Cobb. Mize also was related to the game's greatest hitting star, though not by blood –Clara Mae Merritt, who became better known as Mrs. Babe Ruth, was a cousin.
Between the ages of 13 and 15, Mize grew rapidly and his sweet swing caught the attention of the Piedmont College baseball (and football and basketball) coach Harry Forester, who persuaded the muscular teen to try out for the team. "The fact is, when I was 15 and a sophomore at high school, I played on the varsity baseball team for the college," Mize said in his instructional book, How to Hit. "I could do this because Piedmont College didn't belong to any athletic conference and therefore there were no rules governing eligible players."
Mize hit over .400 for Piedmont in his two seasons on the college team while attending the local high school, Piedmont Academy. Stories have been passed down in Demorest of long home runs, baseballs sailing over the college administration building, and onto or beyond US Route 441. Mize, as a low-key old man living back in his hometown, admitted that most of it was a myth. But tales of his actual prowess — which probably came from Forester, a former minor-league pitcher — reached Branch Rickey, general manager of the St. Louis Cardinals, and he sent his brother Frank to scout the young slugger.
The college season was over and Mize was playing semipro ball in nearby Toccoa, Georgia. That's where Frank Rickey saw a young outfielder, slow-footed, but quick-minded, playing like a veteran — never swinging at bad pitches or making mistakes on the basepaths or throwing to the wrong base. He signed the 17-year-old Mize after seeing him play just once.
It was 1930, the middle of the baseball season. Mize was sent to the Class C Greensboro (North Carolina) Patriots, deep within the Cardinals' vast farm system, where he got into 12 games and batted .194. The next season, though, began a string of 14 consecutive seasons during which Mize hit over .300.
The 18-year-old returned to Greensboro in 1931, and batted .337. He was promoted to Elmira in the New York-Penn League in 1932. That year, after consulting with Elmira manager Clay Hopper, Branch Rickey decided the ponderous Mize should switch to first base. It was evident early on that Mize, with his plodding pace and limited range, would never be a defensive star. And yet, he always claimed that he earned his famous nickname, the Big Cat, because of his fielding. The man supposedly responsible was Cardinals infielder Joe Orengo.
"One day the infielders were having a pretty bad time and were making some bad throws to me at first base," Mize said late in his career. "After digging a few out of the dirt, Joe Orengo called over to me, 'Atta boy, John, you look like a big cat.' Some of the writers overheard the remark and asked Joe about it later. The nickname has stuck with me ever since."
Others, like St. Louis sportswriter Bob Broeg and broadcaster Buddy Blattner, maintained that it was sort of a derisive nickname that described the way Mize stalked around the bag. Either way, Rickey moved the 19-year-old Mize to first base, and that remained his regular position for the rest of his career. Certainly, nobody was complaining about his glove or his range in 1932, when he batted .326 and drove in 78 runs in 106 games for Class B Elmira.
In spite of that showing, the Cardinals inexplicably sent Mize back to Greensboro in 1933, and he responded by hitting .360, with 22 home runs and 104 runs batted in in just 98 games. He finished the year at Rochester, one of the Cardinals' top teams, batting .352 with eight homers and 32 RBIs in 42 games. In St. Louis, however, the Cardinals already had a hard-hitting first baseman with a better glove, Ripper Collins. Thus, Mize's eye-popping offensive numbers didn't seem to be moving him any closer to the big leagues, though he was becoming a known commodity around major-league front offices.
But something happened in 1934 that almost ended his career. While legging out a double for Rochester, Mize felt a painful snap in his groin. The injury limited him to 90 games, but he batted .339, drove in 66 runs and hit 17 homers. It was good enough for the Cincinnati Reds to buy him from the Cardinals in the spring of 1935 for $55,000 (a sum that qualified as a bona-fide star investment in the midst of the Great Depression). But it was a conditional deal — Mize had to prove he was healthy enough to play. He couldn't.
Spurs had developed on his pelvic bone, a result of the groin strain months earlier. He couldn't swing a bat without wincing, couldn't dig out low throws, and ran even more slowly than usual. So the Reds sent him back to the Cardinals, whose club surgeon, Dr. Robert Hyland, said he was fit enough to play the 1935 season in Rochester. Mize didn't last three months. He was hitting .317 after 65 games, but the pain and immobility forced him out of action and he went on the voluntarily retired list. At the age of 22, he thought his playing days were over.
Hyland performed a daring bit of surgery that winter, and by the time spring training began, Mize had made an amazing recovery. He made the Cardinals' big-league roster and by midsummer had moved Collins off first base. Mize's rookie campaign was nothing short of brilliant — in 126 games he batted .329, with 19 homers and 93 RBIs. Moreover, he was on pace to lead National League first basemen in fielding percentage had he played in enough games to qualify. Mize actually led his league in percentage, assists, and putouts twice each. Then again, he also led in errors twice and finished second in that dubious category three other times. "He was a big, lumbering guy, and some groundballs got by him, sure, but if he could reach it, if he ever got his hand on the ball, he held it," Don Gutteridge said.
Proving his rookie season was no fluke, Mize batted a career-high .364 in 1937, second in the league to his teammate and rival, Joe Medwick (who captured the Triple Crown that year). Mize also was second in the NL in on-base percentage, total bases, slugging percentage, and doubles. He belted 25 homers, drove in 113 runs, and made the All-Star team for the first time in his career.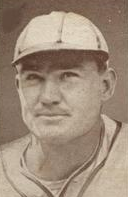 Mize broke in with the St. Louis team known as the Gas House Gang, the Cardinals of Dizzy Dean and Pepper Martin and Leo Durocher. They were World Series champions in 1934, two years before Mize's rookie season, and finished second in Mize's first year with the team. Medwick was another of the team's stars. Mize and Medwick played 5½ seasons together in St. Louis (Medwick was dealt to the Brooklyn Dodgers in June 1940), forming one of baseball's most terrifying tandems. But they didn't get along — hardly anyone on the club got along with Medwick, and there may have been some jealousy between the two sluggers.
"John wanted to drive in runs, and so did Medwick," Gutteridge recalled. "And there was some times when John was on base and Medwick got a hit, and he thought John should have scored. Then, Medwick would get on him. But Joe was kind of arrogant. We called him the Mad Hungarian because he was mad all the time."
Outwardly. Mize was a low-key person, never a rah-rah kind of guy or an emotional team leader. At times he was something of a clubhouse lawyer and salary holdout. But he usually got along well with his teammates and the press. "He is a quiet, pleasant, easy-going giant," wrote Dick Farrington in The Sporting News in 1937.
According to Hal Epps, Mize's teammate in St. Louis for two seasons and a fellow native of Northeast Georgia, "Johnny was always smiling, and if he had a bad moment, I didn't know about it. He had a good attitude. Easygoing. Nothing seemed to bother him much."
Instead, Mize bothered National League pitchers. He hit .337 in 1938, led the league in triples, hit 27 homers, and led in slugging percentage, something he also would do the next two seasons. (He won four slugging titles in five seasons). The home runs came in clusters — Mize twice hit three in a game in 1938. (He was the first player to do this, and he did it again in 1940.)
In 1939 Mize finished second in Most Valuable Player voting after leading the National League in batting (.349), home runs (28), total bases, and slugging, hitting a career-high 44 doubles and posting a career-high OPS of 1.070. (That last figure, the sum of Mize's slugging average and on-base percentage, is retrospective; it wasn't compiled in those days.)
Mize recalled arriving for spring training in 1940 at the Cardinals' camp in St. Petersburg, Florida. When he walked into the clubhouse he saw 43 bats lined up along the clubhouse wall — his bats, some left over from the year before, and new ones ordered by the team at his request. The clubhouse man "was most vigorously complaining that they occupied an entire bat trunk. I asked him how he expected me to work without my tools — for which he had no answer," Mize said. Or, as his teammate Gutteridge said, "When you hit .350, they buy you all the bats you want."
So Mize started the 1940 season with 43 bats, and when it was over he'd hit a club record 43 home runs, leading the league in that category and in RBIs (137). "To this day I wonder what would have happened if I had started the season with 61 bats," he mused in How to Hit. He eventually would take his shot at Ruth's record of 60 home runs in a season, or as Mize called it, "Cousin George's mark." But it would have to wait until a blockbuster deal sent him to New York City. And then, of course, there was World War II.
"He had bats of different sizes and weights, 34 ounces, 37, 40. The harder the thrower, the lighter the bat," said Don Gutteridge, who remembered an incident when the left-handed-hitting Mize was about to face a tough, hard-throwing left-handed pitcher (Gutteridge could not accurately recall who) who'd been giving him fits. "We were at home in St. Louis, and John says, 'Next time I get up there, I'm gonna get one of those light bats and I'll get around on that high fastball, you watch.' So, next time up he hits the first pitch out onto Grand Avenue outside of old Sportsman's Park. He comes back and says to me, 'See, I told you.' "
In 1941, with most of the Gas House Gang gone, the Cardinals made a serious run at the National League pennant, winning 97 games, but finishing 2½ games behind Brooklyn, which won its first flag since 1920. As it turned out, rookie Stan Musial joined the Cardinals for the final two weeks of the season, batting .426 in 12 games. Mize, who missed the end of the season with a bum leg, complained, "We might have gone ahead and won the pennant" if Rickey had brought Musial up sooner.
Surprisingly, that season was the end of Mize's stint in St. Louis. Back in New York, new manager Mel Ott had his eyes on the Big Cat. Ott, who held the National League record for career home runs at the time with 511, insisted that the Giants make a deal for the 28-year-old slugger. That's exactly what they did, getting Mize from the Cardinals in exchange for $50,000 and three players..
It was big news in baseball, but not particularly earth-shattering considering the times — four days before that deal, the Japanese attacked Pearl Harbor and the US was at war. Mize had one season in a Giants uniform (.305 average, 26 homers, and a league-leading 110 RBIs) before putting on a Navy uniform, which he wore for three years — three prime years, and as has been said about lots of stars of that era, there's no telling how gaudy his career numbers would have been had his career not been interrupted.
Like so many other ballplayers who served during World War II, Mize carried a bat in lieu of a gun. His combat was limited to the baseball diamond, against other professional ballplayers who provided a welcome and entertaining respite for GIs.
Mize returned to the Polo Grounds in 1946 and picked up where he left off, batting .337 with 22 homers in 101 games. In the second Mayor's Trophy game versus the Yankees on August 5, Joe Page broke Mize's hand with a pitch. Mize was out until September 13 and then promptly broke a toe in his return. Yet he was only setting the stage.
In 1947 the talk was over who would catch the Babe — Mize or Pittsburgh Pirates slugger Ralph Kiner. After Mize hit his 44th home run on August 28, he said, "It dawned on me that I might give that record a scare." Though he finished well shy of Ruth with 51 homers, it was his career high and it tied him with Kiner for the major-league lead. He helped the fourth-place Giants to what was at the time the record for home runs by a team in one year (221). Mize also had career highs in RBIs (138) and runs (137), leading the majors in both categories in 1947. The Giants' big first baseman also hit .just 302 — the lowest mark of his big-league career to that point — but he struck out just 42 times.
Mize tied Kiner for the National League home-run title again in 1948 with 40 blasts (striking out only 37 times). It would be his last full season with the Giants, his last great statistical season as a full-time player. But some of his biggest thrills were ahead.
In 1949 Mize was 36, struggling at the plate, and unhappy playing for Giants manager Leo Durocher. He was about to get a lot happier. In August the Big Cat was sent to the Yankees for $40,000. Although the press criticized the Yankees' wisdom, the move ultimately helped make Casey Stengel a genius as the aging slugger became an important cog in baseball's greatest dynasty, helping the Yankees win a record five straight World Series championships. "Your arm is gone, your legs likewise, but not your eyes, Mize, not your eyes," wrote New York sportswriter Dan Parker, inspired by the aging slugger's ability to drag his bulk to the plate and deposit baseballs anywhere on the field, and often beyond it.
"He didn't run very well and he'd injured his arm so he couldn't throw very well, either, but Mize was an extremely valuable guy on our team, because he was such a dangerous hitter, especially in the clutch," said former Yankee third baseman (and American League president) Bobby Brown. Or, as former Yankees star and teammate Hank Bauer noted, Mize had "an abnormal ability to respond to the most urgent demands."
Nursing an injured shoulder, Mize performed admirably as a pinch-hitter down the stretch as the Yankees nipped the Red Sox in a blistering 1949 pennant race. His two-out, ninth-inning, bases-loaded single broke a tie score and brought the Yankees a critical win over the Dodgers in Game Three of the World Series.
Playing a part-time role in 1950, he put up full-time numbers, with 72 RBIs and 25 homers in only 274 at bats. He was among the leaders in the American League in pinch hits each of the next three seasons and earned the Most Valuable Player Award in the 1952 World Series, as he hit three home runs (and just missed a fourth), batted .400, and led the Yankees in a classic seven-game victory over Brooklyn.
Normally a quiet giant, Mize was nonetheless happy to offer his opinion on hitting. He even wrote about it in How to Hit, by Johnny Mize as told to Murray Kaufman, published in 1953. "He's the one guy I'd tell the other guys to imitate at the plate," said Gutteridge. "He was absolutely one of the great students and teachers of hitting."
Sometimes, though, Mize's unsolicited advice backfired. During the 1953 World Series — Mize's last hurrah — Brooklyn pitcher Carl Erskine was throwing a masterpiece in Game Three at Ebbets Field, striking out a horde of Yankees with his sharp-breaking off-speed pitches. As teammate after teammate went down on strikes, and Erskine got closer to a World Series strikeout record, Mize kept grumbling that the Yankees should lay off pitches in the dirt.
"A lot of our players were getting pretty annoyed, they looked at him like he was crazy," said teammate Whitey Ford. "Then Casey (Stengel) sent him up to pinch hit in the ninth. He ends up swinging at a curveball in the dirt, and Erskine set the World Series strikeout record."
Mize was Erskine's record 14th victim, swinging three times at pitches that were down around his ankles. When he returned to the dugout, tight-lipped and none too happy, the Yankees' mouthy second baseman Billy Martin managed to rip Mize's whiff and bad defense in one quip: "What happened, John, that low curve take a bad hop?"
When he left the game following the 1953 season (during which he hit .298 as a pinch hitter and led the league with 17 pinch hits), Mize had 359 home runs, sixth all-time when he retired, and had hit one in all 15 of the ballparks in use at the time. He also had 1,337 RBIs and a .312 batting average, plus a .397 on-base percentage and a .562 slugging percentage (higher than Hank Aaron or Willie Mays). He was the first player to hit three homers in a game six times — a record since matched by Sammy Sosa. His 43 home runs in 1940 remained a Cardinals record until Mark McGwire broke it in 1998.
After retiring as a player, Mize bounced around between businesses in Florida (real-estate development, orange groves, liquor store) and the occasional foray into coaching (New York Giants, Richmond in the minors, and Mexico City, among others).
His wife of 20 years, Jene, died tragically in 1957 — she fell asleep while smoking and later died from the burns suffered in the fire at their Deland, Florida, home. Three months later, however, Mize married Marjorie Pope in Deland, and eventually adopted her children, Jim and Judi. In his later years, Mize played a lot of golf, and attended old-timer's games and baseball card shows, where he signed a lot of autographs — and donated his fee to local Boy Scout troops.
In 1974 the Mizes moved to his boyhood home in Demorest, across the street from Piedmont College, where he died on June 2, 1993. Mize went to bed after watching the Atlanta Braves on TV and never woke up.
The greatest moment of Mize's post-playing career finally came on August 2, 1981, when he was inducted into the Baseball Hall of Fame after waiting nearly 30 years. Bob Broeg and others suggested that Mize's defensive liabilities probably cost him, but many fans, journalists, and baseball people wondered why it took so long. Mize wondered himself, but took it in stride and announced with his typical wry humor on the day of his induction, "Years ago the writers were telling me that I'd make the Hall of Fame, so I kind of prepared a speech. But somewhere along in the 28 years it got lost."
An updated version of this biography appeared in "Van Lingle Mungo: The Man, The Song, The Players" (SABR, 2014), edited by Bill Nowlin.
Acknowledgments
Thanks to my SABR colleague Rory Costello for his support as this story took final form.
Sources
Interviews (conducted between 2000 and 2002): Buddy Blattner, Bob Broeg, Bobby Brown, Whitey Ford, Don Gutteridge, and Judi Mize.
Golenbock, Peter, The Spirit of St. Louis: A History of the St. Louis Cardinals and Browns (New York: Avon Books Inc., 2000).
Mize, Johnny, How to Hit (New York: Henry Holt and Company, 1953).
The Sporting News
Baseball Digest
Born
January 7, 1913 at Demorest, GA (USA)
Died
June 2, 1993 at Demorest, GA (USA)
If you can help us improve this player's biography, contact us.
http://bioproj.sabr.org/bp_ftp/images5/MizeJohnny.JPG
600
800
admin
/wp-content/uploads/2020/02/sabr_logo.png
admin
2012-01-04 20:37:40
2012-01-04 20:37:40
Johnny Mize