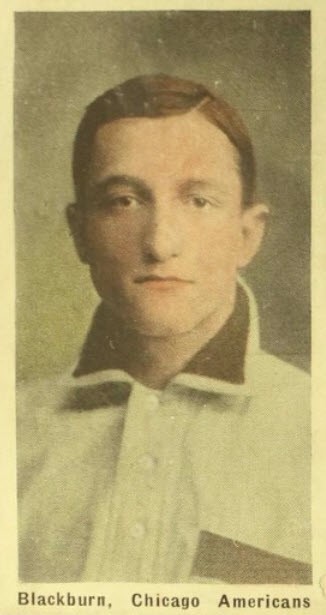 ---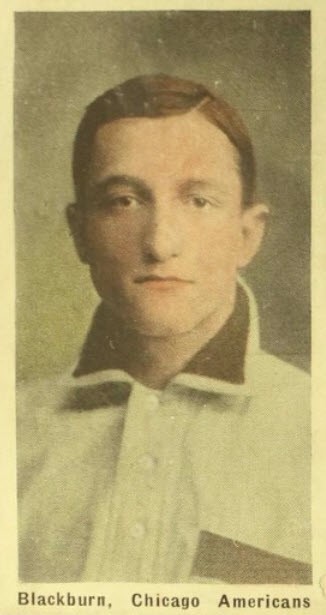 Always hustling and full of pep, Russell "Lena" Blackburne was a superb defensive infielder from 1908 to 1926. Though a solid hitter in the minors, he struggled to hit major-league pitching. After his playing career ended, he served for three decades as a coach, manager, and scout. He is perhaps best known for a unique contribution he made to the game: supplying a muddy concoction for removing the slippery sheen from new baseballs.
Russell Aubrey Blackburne was born on October 23, 1886 or 1887 (sources disagree) in Clifton Heights, Pennsylvania, near Philadelphia. His sister, Ada, was born in 1890. Their parents were William Priestman Blackburne and Cecilia (Landis) Blackburne. Cecilia died in 1896.
According to Philadelphia city directories, William held a variety of jobs, including salesman (1878), bookkeeper (1892), and conductor (1893). After Cecilia died, the family moved to Palmyra, New Jersey, across the Delaware River from Philadelphia. William became financially well-off in 1914 when he inherited about $90,000 from a wealthy aunt.1 In the 1915 New Jersey State Census, his occupation is listed as "capitalist."
Russell attended Palmyra High School. In the summer of 1904, he rescued two teenage boys who were drowning in the Delaware River.2 Also that summer, he batted leadoff and played shortstop for the Victor Athletic Club of Palmyra,3 an amateur team organized and managed by his father. Years later, Russell recalled a game that was lost due to his fielding error and the punishment he received for it—his father sent him to bed that evening without dinner.4
Russell also pitched, beginning with the Victor team in 1905,5 and for other teams in the Philadelphia area in 1906 and 1907. On September 1, 1906, he threw a five-hitter and struck out 17 batters, including seven in a row, for the Riverton-Palmyra Athletic Club in a 9-2 victory over the Delair Athletic Club.6 Pitching for a Burlington, New Jersey, team on August 2, 1907, he went the distance and gave up only six hits in a 10-inning, 3-3 tie against the Philadelphia Giants,7 a leading Negro team that included future Hall of Famers John Henry Lloyd and Pete Hill.
Connie Mack, manager of the Philadelphia Athletics, signed Blackburne in the fall of 1907 and farmed him out to the 1908 Worcester, Massachusetts, team of the Class B New England League. Blackburne was a right-handed batter and thrower. He was quite lanky at 5-feet-11 and 160 pounds, and was called Leaner, Slivers, and Slats by Jesse Burkett, the Worcester manager. The nickname "Leaner" was repeated by Worcester fans with a New England accent and became "Lena," a sobriquet that would stick with Blackburne for the rest of his life.
Blackburne was a sensational shortstop on the pennant-winning Worcester club. His .934 fielding percentage was the highest among the league's shortstops who had played at least 60 games, and he hit .271 and ranked third in the league with 26 doubles. The league batting average was only .231.8 A slick-fielding shortstop who could hit was rare, and Blackburne attracted considerable attention. He was soon acquired by the Providence Grays of the Class A Eastern League.
On the Grays in 1909, Blackburne continued his stellar defensive work, and he stole 32 bases and batted .273 (the league average was .235).9 Grays manager Hugh Duffy called him "a real wonder," and Monte Cross, a former major-league shortstop, said Blackburne is "by far the best shortstop developed in the minor leagues in years."10 The Chicago White Sox purchased Blackburne's contract from the Grays for a substantial but undisclosed price. He was thereafter touted as "the $9,000 beauty," for the supposed sum paid by the team.11
Duffy was hired to manage the 1910 White Sox, and Blackburne made his major-league debut as the team's shortstop on Opening Day, April 14, in Chicago. He went hitless in the game but got his first major-league hit the next day, a double in the first inning off Barney Pelty of the St. Louis Browns.12 On July 1, in the first game ever played at Chicago's Comiskey Park, Blackburne's two singles off Pelty were the first two hits by a White Sox player at the new ballpark.13 A week later, Blackburne made a dazzling defensive play in New York on a ball hit by pitcher Jack Warhop:
"Warhop's drive started over second base with serious intentions of going on to center field. It was going fast and so was Lena. He let out his left arm to its full capacity, managed to get the ball on a hop and hold it with his gloved hand, and then shifted it to his whip in time to get the Yank pitcher, who was terribly surprised."14
Despite these highlights, Blackburne's 1910 season was an unmitigated disappointment. He batted only .174 and was benched at times. And on August 2, he suffered a serious injury to his left knee in a collision at second base with Philadelphia's Jack Barry, who was attempting to steal the bag.15 Blackburne reinjured the knee at training camp the following spring16 and missed all of the 1911 system. In June of 1911, he underwent an operation on the knee.17
On December 1, 1910, Blackburne married Grace Cecilia Born of New Jersey.18 They would share a lifelong bond, and she played an important role in encouraging him through difficult times. The couple had no children.
Healthy in 1912, Blackburne lost out to Buck Weaver, a 21-year-old rookie, for the shortstop position on the White Sox and was traded on August 9 to the Milwaukee Brewers for Ray Schalk, a 19-year-old catcher who would go on to have a Hall of Fame career for the Sox. None other than Hugh Duffy managed the 1912 Brewers, and he was glad to give his former player another chance. Blackburne responded by batting .286 in 31 games. The next year, with Harry "Pep" Clark as manager, the Brewers won their first American Association pennant. Blackburne hit .264 in 165 games for the 1913 Brewers, and his superlative play at short prompted one sportswriter to call him "the marvel of the Association."19
The White Sox reacquired Blackburne in 1914 and moved him to second base, alongside Weaver at short. Blackburne quickly adapted to the new position. He led American League second basemen in assists, and his .963 fielding percentage ranked second at the position, behind only the .970 rate achieved by Philadelphia's Eddie Collins, the league MVP. Blackburne's .222 batting average was underwhelming, but he contributed in other ways. He led the White Sox with 66 walks and stole the second most bases on the club with 25, and his 31 sacrifice hits were tied for fourth most in the league. He was praised for "his ginger and his ability to keep his mates peppered up"; he was "always in there talking and encouraging."20 And he hustled, as demonstrated in a 2-0 victory over the Washington Senators on August 7, 1914:
"Blackburne popped a small fly half way between first and the plate. It looked like it might go on foul ground, and was almost a certain out, as either [Senators first baseman Chick] Gandil or [catcher John] Henry could have handled it. But these considerations never checked Blackburne. He ran as though he had poled the ball to the center field fence. Then came the break.
"Gandil went after the ball, hesitated, then started again. It finally slipped through his fingers and rolled toward the Washington bench. Henry pounced on it, but Blackburne made such good time that he landed safely on second. Then [Shano] Collins poled a single to left that scored the run. … Blackburne's hustling qualities in running out the pop can readily be seen. Not all the players on the South Side team would have kept going."21
In the first game of a doubleheader at Boston on July 8, 1914, Blackburne was credited with his first major-league home run. His fly ball to right-center field was pursued by both Tris Speaker, the center fielder, and Harry Hooper, the right fielder. The pair "came together in a terrific crash" and "dropped to the ground as though dead," as Blackburne circled the bases.22
In the offseason, the White Sox acquired the great second baseman, Eddie Collins, from the Athletics, so Blackburne moved to third base in 1915. With Jack Fournier at first base, Eddie Collins at second, Buck Weaver at short, and Blackburne at third, the White Sox infield was regarded as one of the finest in baseball. Pitcher Red Faber, who won 24 games for the team, certainly appreciated them. Years later, he said, "Buck Weaver and Lena Blackburne were two I knew who never wanted to leave the field, not even in practice."23 But after Blackburne hit only .216 in 1915, the White Sox sold his contract to the Toronto Maple Leafs of the International League.
Blackburne led International League third basemen in fielding percentage in 1916 and 1917,24 and his batting average was respectable both seasons: .279 in 1916 and .266 the following year. He captained the pennant-winning 1917 Maple Leafs, managed by Nap Lajoie. W.A. Hewitt of the Toronto Star said Blackburne's "hustling style has kept the team on its toes during the championship race and the players appreciated him at his full worth. His favorite expression 'shake 'em up' (an admonition to the pitcher and catcher) is now a byword in the game."25 After receiving offers from several major-league teams, the Maple Leafs sold Blackburne's contract to the Cincinnati Reds in December of 1917.
The 1918 Reds were managed by Christy Mathewson. Blackburne became the team's shortstop and again excelled in the field, leading the National League in double plays by a shortstop (72) and recording the second highest fielding percentage at the position (.938). On July 25, in the second game of a doubleheader at Boston, Blackburne teamed with Reds first baseman Hal Chase on a triple play. With no outs in the third inning, the Boston Braves had Buck Herzog on first base and Lefty George on second. Braves manager George Stallings called for the hit-and-run, and the runners took off as the next pitch was delivered to the batter, Red Massey. But Massey lined the ball to Blackburne at short, who touched second base to retire George and threw to Chase in time to get Herzog.26
Blackburne blundered, though, on August 3, in the second game of a doubleheader at Brooklyn. With two outs in the fifth inning and Brooklyn's Jimmy Johnston on second base and Burleigh Grimes on third, Reds catcher Ivey Wingo threw the ball to Blackburne in an attempt to pick off Johnston. It was a close play at second base, but Johnston returned to the bag safely, according to umpire Bob Emslie. Blackburne disagreed and while holding the ball with his back to home plate, he argued with Emslie, claiming he had tagged Johnston for the third out. Grimes, meanwhile, saw an opportunity and scampered home with the tying run.27
In the offseason, Blackburne worked at a New York shipyard at the tail end of World War I. In 1919 he played third base for the Braves and Philadelphia Phillies, but he hit only .199 for the Phillies, and the team sold his contract to the Toronto Maple Leafs in February of 1920. The 1920 Maple Leafs were managed by Hugh Duffy, who never lost faith in him. The Maple Leafs compiled a remarkable 108-46 record that year, yet they finished in second place in the International League standings, 2½ games behind the Baltimore Orioles. In 2001, historians Bill Weiss and Marshall Wright ranked the 1920 Orioles and Maple Leafs as the 9th and 21st best minor-league teams of all time.28
Blackburne played third base and hit a career-high .314 for the 1920 Maple Leafs, and he cleverly collaborated in the field with shortstop Frank O'Rourke. When the bases were loaded, Blackburne, the third baseman, would shout "Watch for a bunt! He's going to bunt!" and would run toward home plate as the pitcher wound up. It was an effective decoy; the baserunner on third naturally moved toward home plate, unaware that O'Rourke was moving in behind him. The pitcher would throw a pitchout, and the catcher would fire the ball to O'Rourke who tagged the startled baserunner.29
Jesse Altenburg told a story about Blackburne's "sore" arm. Altenburg played for the Reading, Pennsylvania, team, in 1920, and before a game against the Maple Leafs, Blackburne told him, "I've got a lame wing, Alty. It hurts me every time I cut a ball across the diamond; don't know whether I'll be able to play or not." He raised his right arm as if it pained him and kindly asked Altenburg not to bunt his way. Altenburg said he would not, but on the first pitch he saw, he dropped a bunt toward Blackburne, thinking it would be a sure base hit. "I had to laugh to myself as I tore toward first," said Altenburg, but "the ball whizzed past me and into [first baseman] Eddie Onslow's waiting glove while I was yet two steps from the bag."30
Blackburne led International League third basemen with a .962 fielding percentage in 1921,31 and he hit .278 for the Toronto club. In July, he replaced Larry Doyle as manager of the team. He was released the following spring and played briefly for the Toledo Mud Hens before joining the Kansas City Blues. The Blues split a doubleheader with the Louisville Colonels on August 6, 1922, and for Blackburne, it was a day to remember: He went 7-for-11 with two triples and scored seven runs.32 In an October exhibition game against the Kansas City Monarchs of the Negro National League, Blackburne went 2-for-4 facing pitcher Bullet Rogan, a future Hall of Famer.33
Blackburne played second base and shortstop for the Blues in 1923 and 1924. The 1923 team won the American Association pennant with a 112-54 mark and was ranked by Weiss and Wright as the 18th best minor-league team of all time.
For the next two seasons, Blackburne played for the last-place Little Rock Travelers of the Southern Association, and he managed the team in 1925. That year he discovered Bill Dickey, a future Hall of Famer, who at the time was an 18-year-old catcher. In a semipro game, Dickey fielded a bunt and rifled a throw to first base that struck the right-field fence on one bounce. "Lena knew he had seen one of the greatest throwing arms in baseball and he wasted no time in signing Dickey to a Little Rock contract."34
The 1927 Chicago White Sox were managed by Ray Schalk, and Blackburne rejoined the team as a coach. Schalk chose the spirited Blackburne in part because of his ability to "make a lot of noise on the coaching line and keep the team steamed up."35 The 40-year-old coach helped the Sox in an unexpected way against the Cleveland Indians on June 28. He pinch-hit in the bottom of the ninth and smacked a single that drove in the tying run, and then he came home on a sacrifice fly with the winning run.36
Blackburne continued as coach of the White Sox in 1928, and became manager of the team in early July after Schalk resigned. Under Blackburne's leadership, the team won half its games and finished the season in fifth place in the eight-team American League, and he earned the opportunity to manage the team in 1929. Charles Comiskey, the White Sox owner, called him "one of the greatest hustlers in the game and a man who inspires his players."37 The hard-nosed Blackburne wanted his players to be hustlers and competitors like himself. "In my day we'd have ripped our hearts out to win," he said. "There was no handshaking and necking on the field. The gray and the white uniforms didn't meet except as sworn enemies."38
One member of the 1929 White Sox made Blackburne's life miserable: Art Shires, a 22-year-old rookie first baseman from Texas. He was brash, defiant, and uncontrollable. Blackburne suspended him once during spring training for violating team rules and again in May after Shires punched Blackburne, giving him a black eye.39 The talented youngster batted .312 in 100 games during the season, but in September he was suspended for a third time, again for punching Blackburne.40 Sportswriter Alan J. Gould called Shires a "malignancy."41 The White Sox finished the season in seventh place. The next year Donie Bush took over as manager of the team and Blackburne served as a coach of the St. Louis Browns.
During the second half of the 1932 season, Blackburne managed the Toronto Maple Leafs, who were affiliated with the Detroit Tigers. He joined Connie Mack's staff in 1933, and served for many years as a coach of the Philadelphia Athletics. He also scouted for the Athletics and managed several of their minor-league affiliates, including the 1944 and 1945 Lancaster (Pennsylvania) Red Roses, who won consecutive Interstate League championships. Teenage Nellie Fox was a member of those Lancaster teams and benefited from Blackburne's mentoring.
In the late 1930s, umpire Harry Geisel complained to Blackburne about the difficulty in removing the slickness from new baseballs, which was one of the duties of umpires before a game. The glossy sheen on a new ball makes it hard to get a good grip on it.
Blackburne solved the problem. He dug up some mud at low tide from the bottom of Pennsauken Creek near his Palmyra home. He filtered the mud to remove any stones, and he added a secret ingredient that gave it the consistency of cold cream and prevented it from staining the ball. When rubbed on a new baseball, the muddy concoction worked like magic, removing the slippery sheen without discoloring the ball. Soon teams in major and minor leagues were purchasing cans of Blackburne's "rubbing mud." He shared the money he earned with his wife, who jokingly referred to it as her "mud money."42
Blackburne was a scout for the Kansas City Athletics in 1955, and retired after the season.43 His wife died on June 18, 1967, and he died in Riverside, New Jersey, on February 28, 1968.44 They are buried at the Morgan Cemetery in Cinnaminson, New Jersey.
After his death, Blackburne's mud business continued. In 2018, a four-pound container of Lena Blackburne Baseball Rubbing Mud could be purchased online for $100 from Baseballrubbingmud.com.
Acknowledgments
This biography was reviewed by Skylar Browning and fact-checked by Kevin Larkin.
Sources
Ancestry.com.
National Baseball Hall of Fame file.
Notes
1 Philadelphia Inquirer, October 3, 1914.
2 Philadelphia Inquirer, June 26, 1904.
3 Philadelphia Inquirer, June 19, July 3, and September 18, 1904.
4 The Sporting News, March 16, 1968.
5 Philadelphia Inquirer, July 5, July 9, and September 10, 1905.
6 Philadelphia Inquirer, September 2, 1906.
7 Philadelphia Inquirer, August 3 and August 11, 1907.
8 Sporting Life, December 5, 1908.
9 Sporting Life, January 22, 1910.
10 Sporting Life, July 3 and November 13, 1909.
11 Sporting Life, July 10 and July 31, 1909.
12 St. Louis Post-Dispatch, April 16, 1910; Sporting Life, April 23, 1910.
13 Chicago Tribune, July 2, 1910.
14 Chicago Tribune, July 9, 1910.
15 Philadelphia Inquirer, August 3, 1910.
16 Chicago Tribune, March 12, 1911.
17 Sporting Life, June 24, 1911.
18 Sporting Life, December 10, 1910.
19 Sporting Life, April 14, 1914.
20 Muncie (Indiana) Star Press, April 4, 1914.
21 Chicago Day Book, August 8, 1914.
22 Sporting Life, July 18, 1914.
23 The Sporting News, February 8, 1956.
24 Sporting Life, December 9, 1916; Toronto Star, December 10, 1917.
25 Toronto Star, September 17, 1917.
26 Cincinnati Enquirer, July 26, 1918.
27 Brooklyn Daily Eagle, August 4, 1918.
28 Milb.com/milb/history/top100.jsp.
29 Brooklyn Daily Eagle, July 12, 1929.
30 Toronto Star, April 16, 1921.
31 Washington Times, January 12, 1922.
32 Louisville Courier-Journal, August 7, 1922.
33 Kansas City Kansan, October 16, 1922.
34 Corning (New York) Evening Leader, August 9, 1951.
35 Chicago Tribune, December 12, 1926.
36 Chicago Tribune, June 29, 1927.
37 Harrisburg (Pennsylvania) Telegraph, January 1, 1929.
38 Brooklyn Daily Eagle, August 19, 1928.
39 Muncie (Indiana) Evening Press, May 17, 1929.
40 St. Louis Post-Dispatch, September 14, 1929.
41 Havre (Montana) Daily News, October 15, 1929.
42 The Sporting News, March 16, 1968.
43 Ibid.
44 New Jersey death certificate.
Full Name
Russell Aubrey Blackburne
Born
October 23, 1886 at Clifton Heights, PA (USA)
Died
February 28, 1968 at Riverside, NJ (USA)
If you can help us improve this player's biography, contact us.
https://sabr.org/sites/default/files/BlackburneLena.jpg
600
800
admin
/wp-content/uploads/2020/02/sabr_logo.png
admin
2018-02-15 15:18:57
2020-04-09 14:40:24
Lena Blackburne