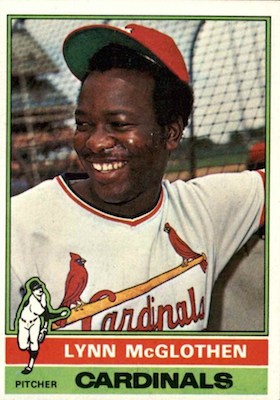 ---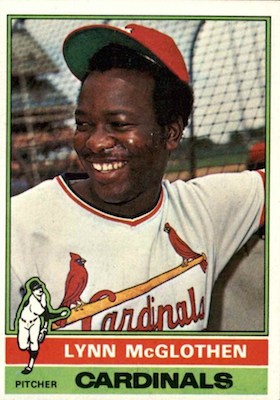 In November 1970 Boston Red Sox slugger Carl Yastrzemski was in Florida working with the organization's young hitters when a hard-throwing right-handed hurler commanded his attention. "[Lynn McGlothen] is going to be a winning pitcher in the major leagues," predicted the future Hall of Fame outfielder. "I don't just mean a pitcher. I mean a winner."1 Three years later perennial All-Star slugger Reggie Smith,– in an opinion soon echoed by former All-Star catcher and major-league manager Wes Westrum – compared McGlothen to St. Louis Cardinals great Bob Gibson. "[McGlothen] reminds you a lot of the [future HOF flamethrower]," Smith said. "He works fast, has a good fast ball and excellent curve … that [mound] out there belongs to him."2
In 1972 McGlothen's 3.41 ERA was the best by a Red Sox rookie with at least 20 starts since Mike Nagy in 1969 (a record that still stood through 2016). But the combination of the sophomore jinx, several injuries and a questionable work ethic — McGlothen was hounded by accusations of being overweight — led to a less than Gibson-like career. Moreover, McGlothen encountered assorted challenges with the women in his life. In 1984, shortly after divorcing his third wife, he was killed alongside his girlfriend in an accidental mobile-home fire.
Lynn Everett McGlothen was born on March 27, 1950, the fourth of five children of John L. and Lennie (Dupree) McGlothen, in Monroe, Louisiana. He grew up 60 miles east of Shreveport in the village of Simsboro in sparsely populated Lincoln Parish. (Named after Abraham Lincoln, it is one of the several Louisiana parishes established during the Reconstruction Era.) Lynn's paternal family can accurately trace its Louisiana roots to the second half of the nineteenth century in neighboring Bienville Parish. His grandfather Odie lived a hard-scrabble existence as a tenant farmer while raising eight children with his wife, Jennie (Green) McGlothen. During World War II Lynn's father served as a cook in the US Army before settling in Simsboro –Lennie's birthplace – where he farmed and did general labor.
Lynn did everything with his left hand except throw a baseball. He attended Grambling High School in nearby Grambling, where he excelled in baseball, football, basketball, and tennis. (He was a three-time state champion in tennis.) Lynn's father was an avid football fan and tried to steer his son toward the gridiron. "He never considered baseball a sport," Lynn cracked years later.3 In high school Lynn was a star middle linebacker and he considered a football career. But it was his prowess on the diamond that attracted the attention of major-league scout Ed Scott. A former Negro League player, Scott was responsible for signing such African-American notables as Hank Aaron, George Scott, Dennis "Oil Can" Boyd, and Amos Otis. In 1968 Lynn graduated from high school and began taking courses at Grambling State University during the summer semester. His schooling was soon interrupted when, at Scott's urging, the Red Sox selected McGlothen in the third round of the June 1968 amateur draft.
In "The History and Future of the Amateur Draft," Baseball America coeditor John Manuel tabbed the 1968 draft as one of the most fruitful ever. Boston found four future All-Stars in the June regular phase – a feat matched only by the Chicago White Sox in 1990.4 After the draft the Red Sox sent two of the four, McGlothen and left-handed hurler Bill Lee, to the Waterloo (Iowa) Hawks in the Midwest League (Class A). Despite an eye-popping 36 walks in 46 innings, McGlothen finished his first professional season with a respectable 3-2, 3.33 record in 46 innings (17 appearances, six starts). In 1969 Waterloo became an affiliate of the Kansas City Royals and McGlothen was laterally transferred to the Winter Haven Red Sox in the Florida State League. In May he married his high-school sweetheart, Marilyn Sue Sephus, in Polk County, Florida. The union would produce one son. Though control problems continued to plague McGlothen – he placed among the league leaders in walks (106), HBP (14), and wild pitches (10) – the 19-year-old also posted among the leaders with 15 wins, 27 starts, 179 innings and 153 strikeouts. During the offseason, he was the youngest player on the Red Sox 40-man roster.
In 1970 McGlothen was assigned to the Winston-Salem Red Sox in the Class A Carolina League. Though a deep roster of Double-A and Triple-A pitchers may explain why he was not advanced, McGlothen soon showed that he had mastered Class A ball. Pitching a career-high five shutouts, he led Winston-Salem to its first championship in six years while either leading or placing among the league leaders in nearly every pitching category – a yield that included a 1.98 ERA (league average: 3.23) over his last 132 innings. In November McGlothen was selected as the Carolina League Player of the Year by the Topps Chewing Gum Company.
The following spring McGlothen reported to the Red Sox training camp where The Sporting News contributor Fred Ciampa tabbed him alongside right-hander Mike Garman as "the most impressive [rookie] pitchers."5 But the club's veteran staff, second oldest in the AL, made it especially difficult to make the cut. Days before the start of the 1971 season, both youngsters were assigned to the Louisville Colonels in the International League. Though McGlothen collected a win in his first Triple-A appearance, far less success ensued. At the end of May his record stood at a frightful 1-3, 7.45 over 29 innings. But June proved a turning point with a two-hit, 5-2 complete-game victory over the Charleston Charlies. "[McGlothen] was in a two- or three-inning groove at first, and then he'd lose it," explained Colonels manager Darrell Johnson. "Now he's up to six or seven innings. When he gets so he's consistent for nine innings, watch out." On August 10 McGlothen "was groovy enough to strike out 12 … on the way to his seventh victory," a 7-4 complete-game win against the Syracuse Chiefs.6 He posted a record of 8-7, 3.00 in 21 starts and was upset when he was not among the Red Sox' late-season call-ups. On September 1 McGlothen took out his frustrations by striking out 14 batters while delivering his first shutout of the season in a 14-0 win over the Winnipeg Whips. He spent the winter pitching in the Puerto Rican League, where he had very little success (one win in 10 decisions).
The 1972 season proved pivotal to McGlothen's development. Returned to Louisville at the start of the season, he mastered the curveball to give up 3.2 walks per 9 innings while completing eight of 13 starts (including four shutouts). On June 12 McGlothen lifted the Colonels into first place with his ninth consecutive win, a four-hit gem against the Richmond Braves. Selected to the All-Star team, McGlothen was chosen by Topps as the International League's Player of the Month for June. But he did not finish the month with the Colonels. Around June 20 veteran Boston right-hander Bobby Bolin, who struggled in relief through the first half of the season, accepted an assignment to Louisville and McGlothen was called up.
On June 25, 1972, McGlothen made his major-league debut in Milwaukee's County Stadium, starting against the Brewers in the nightcap of a doubleheader. He struck out seven and held the opposition to one hit through six innings before left fielder John Briggs led off the seventh with a double. Three batters later Briggs scored on a sacrifice fly. The run was the first of two charged to McGlothen as the Red Sox, the AL's highest-scoring team, suffered a shutout. Four days later, in his Fenway Park debut, McGlothen carried a 4-0 shutout through eight innings against the Detroit Tigers before a ninth-inning error by second baseman Doug Griffin opened the floodgates to an 8-4 loss. (Reliever Don Newhauser suffered the defeat.)
On July 4 McGlothen retired 19 of the last 20 batters as he collected his first major-league shutout, a three-hit, 2-0 win against the Minnesota Twins. The victory was the fourth of five consecutive complete-game wins by Boston pitchers (a feat not seen in more than 20 years) and the fourth of nine straight complete-game wins at home (unprecedented in the club's then 40-year history of ownership by Tom Yawkey). Through August McGlothen posted a record of 6-4, 3.06, including four complete-game wins, as he helped the Red Sox close to within two games of first place in the AL East. Though the Red Sox continued to surge, McGlothen showed signs of weariness in the closing weeks of the season. He won just two of his last seven starts and on October 1 the rookie, tasked with protecting a 1½-game lead, lost a nail-biting 2-1 duel against the Baltimore Orioles' former Cy Young Award winner Mike Cuellar. The Red Sox finished the season a half-game behind the Tigers and McGlothen, despite the September fall, finished with a respectable 8-7, 3.41 record in 145 innings. During the offseason he drew comparisons to Vida Blue and future HOF righty Bert Blyleven as one of the best young pitchers in the AL.
When the season ended McGlothen did not return to his family. In July, during the Red Sox' West Coast swing through California, he met Brenda Joyce Kelley. Three months later McGlothen briefly moved into her San Francisco apartment before leaving to play winter ball in Puerto Rico. The couple talked about a permanent union before Brenda learned that McGlothen was already married with a small son. She eventually followed him to Boston and St. Louis, where they lived together until his divorce in November 1974. They eventually married and had two sons.
In 1973 McGlothen reported to the Red Sox spring training as the Puerto Rican League's reigning Pitcher and Player of the Year, with a record of 10-1, 1.53 and 96 strikeouts in 105 innings. It was the first time both honors were awarded to one player. McGlothen's success in the Grapefruit League prompted Red Sox manager Eddie Kasko to boldly predict 15 wins from his young righty. But when the season began, McGlothen looked like anything but a 15-game winner, surrendering 14 runs in 13 innings over his first three appearances. Moved to the bullpen, McGlothen showed modest improvement before a May 12 outing against the Cleveland Indians in which he yielded eight hits and five runs (four earned) in 3⅓ innings. Moreover, McGlothen's challenges were compounded by a seemingly minor injury sustained while running pregame sprints in the outfield. Optioned to Triple-A Pawtucket, McGlothen made two unremarkable appearances before the team doctor discovered torn cartilage in his right knee. On June 11 McGlothen had surgery in Boston.
McGlothen was expected to be lost for the season, but his rapid recovery had him back on the mound by August 10. His successful rebound convinced Pawtucket manager Darrell Johnson to move him into the rotation during the playoffs. On September 10 McGlothen got the nod in Game One of the International League's Governor's Cup finals and delivered a 4-1, seven-hit complete-game win over the Charleston Charlies. Nine days later, in Game Three of the Junior World Series, McGlothen shut out the American Association champion Tulsa Oilers on two hits. The strong performance against the Cardinals Triple-A affiliate would play a significant role in St. Louis GM Bing Devine's later insistence that McGlothen be included in a forthcoming six-player swap with the Red Sox.
The Cardinals weren't the only team interested in McGlothen. Indians GM Phil Seghi made several queries only to be told that the righty was untouchable. He was livid when, on December 7, he learned that McGlothen was being sent to the Cardinals with pitchers Garman and John Curtis for pitchers Reggie Cleveland and Diego Segui and third baseman Terry Hughes. McGlothen, meanwhile, was elated with the move. Two months earlier the Red Sox had added Cardinals hurler Rick Wise to their already crowded staff and McGlothen was projected as no more than a potential fifth starter. Going to the Cardinals,McGlothen was eager to absorb the wisdom of the aging Bob Gibson, to whom he was frequently compared. McGlothen later confessed that Gibson was less than forthcoming: "The only thing he told me in two years was, 'You can't get the fastball past Hank Aaron.'"7
In the spring of 1974 McGlothen made an immediate impression on his new teammates when, in his first three Grapefruit League appearances, he yielded no runs and just three hits in nine innings. The positive impression continued into the regular season. On April 13 McGlothen made his NL debut in Pittsburgh against the offensively-charged Pirates and held the Bucs to two hits over the first 4⅓ innings in a 6-4 win. Five days later, after not having had a major-league at-bat in two years, he opened the scoring with a fifth-inning two-run double against Philadelphia Phillies righty Ron Schueler to lead his club to a 6-2 win. "He's just a good athlete," said Cardinals manager Red Schoendienst. "[He can] handle himself at the plate."8
Success continued on May 7 when McGlothen collected the first of his team-best three shutouts (tied with veteran Sonny Siebert) by blanking Cincinnati's Big Red Machine on four hits. On June 27 a run-scoring triple by New York Mets outfielder Cleon Jones was the only thing that stood between McGlothen and a fourth shutout as the righty collected his league-leading 11th win. Selected by Mets manager Yogi Berra to the NL All-Star team, McGlothen entered the midsummer classic in the seventh inning to protect a 4-2 lead. He retired the side in order, striking out Oakland slugger Reggie Jackson.
But McGlothen soon discovered that pitching for the Cardinals presented its own set of challenges. With a major-league-low 83 home runs, the club's small-ball offense was largely generated from the record-setting 118 stolen bases posted by future HOF outfielder Lou Brock. Fine as this was – the Cardinals held a first-place perch through nearly half the season – a little heft undoubtedly would have helped McGlothen avoid a 4-9 record over his last 16 appearances. Counting a 2-1 loss to Phillies ace Steve Carlton on May 20, McGlothen suffered five of his 12 1974 losses while yielding an average of less than two earned runs. (Three no-decisions resulted from an even lower yield.) Placing among the league leaders in shutouts, wins (16) and ERA (2.69), McGlothen's strong performance earned him consideration in both the Cy Young and MVP balloting.
Inconsistency spelled much of 1975 for McGlothen. After a miserable spring training, he struggled to keep his ERA below five through the first seven weeks of the season. At some point during this malaise, the Cardinals offered the righty to the San Francisco Giants for first baseman Willie Montanez, a deal that collapsed only when the veteran infielder reportedly declined the terms offered by St. Louis. On June 2 McGlothen appeared to turn his season around with a four-hit shutout of the Atlanta Braves that ushered in a string of five wins in his next six starts. Two months later he matched his career-high of 10 strikeouts while holding the Reds to four hits in a 2-1 win. But far too often McGlothen encountered difficulty, as was the case 10 days later when the Reds chased him in the fifth inning. Despite his inconsistency, including eight losses in his last 13 decisions, McGlothen finished among the club leaders in nearly every pitching category as the Cardinals collapsed to a third-place finish.
On April 9, 1976, McGlothen, in the only Opening Day start of his career, delivered a six-hit shutout of the Chicago Cubs. But the impressive debut yielded little return in his next two starts, one of them an April 20 appearance against the Mets that devolved into a beanball contest and on-field brawl after McGlothen hit New York southpaw Jon Matlack in the fourth inning. He was ejected and, after later admitting that the HBP was intentional, suspended for five days and fined $300 by NL President Chub Feeney. He returned April 27 to launch a string of four wins in his next five decisions while placing among the league leaders with a 2.34 ERA. But before long the inconsistency that plagued McGlothen the year before resurfaced. Except for three shutouts –one a four-hit whitewash of the Pirates on September 25 that put the nail in the Bucs' hopes of repeating as NL East champions – McGlothen struggled with a record of 5-12, 5.82 in his last 20 appearances (19 starts). On December 10 the Cardinals, to shore up their infield defense, traded him to the Giants for Gold Glove third baseman Ken Reitz. "I wasn't too surprised with the deal," McGlothen said. "I think I'm a top-caliber pitcher and I think I'm capable of turning … around."9
In the spring of 1977 The Sporting News contributor Art Spander was banking on this same rebound when he projected the Giants as having "the best pitching staff in the National League."10 He could not have foreseen the arm problems that would plague McGlothen through much of the season. On May 11 the righty collected his second win against three losses; few would have predicted it would be his last win of the season. Sore-armed, McGlothen tried to pitch through the pain but after a brief appearance against the Braves on June 3, Giants manager Joe Altobelli sat him down. "I give McGlothen a lot of credit for trying to work it out," said the rookie skipper. "[B]ut he just can't go any longer. … he may need a long recovery."11 McGlothen returned on June 21 in relief and could not find the strike zone on 12 consecutive pitches (including two wild pitches). He made just nine appearances (four starts) through the rest of the season and finished with a disappointing record of 2-9, 5.63 in 80 innings. In November, McGlothen planned to work out his problems in the Puerto Rico Winter League but canceled the plans when the arm was still bothersome.
With the emergence of left-hander Bob Knepper and the offseason acquisition of southpaw Vida Blue, McGlothen was given a short leash in the Giants' 1978 rotation. On April 9 he was chased by the San Diego Padres in the fourth inning and immediately moved to the bullpen. Used sparingly thereafter, McGlothen was not shy in expressing his displeasure. "I think, 'What am I going to the park for?' I know after I get there, I'm going to run, pitch in batting practice … and then my day's over."12 He was ecstatic when, on June 15, the Giants traded him to the first-place Cubs for outfielder Héctor Cruz. With veteran right-hander Rick Reuschel anchoring a promising rotation, the Cubs looked to McGlothen to bridge the gap between the starters and closer Bruce Sutter. Though the Cubs were eventually overtaken in the standings, finishing in third place a distant 11 games behind the Phillies, McGlothen filled his role masterfully, winning three of four decisions while surrendering just eight earned runs over his last 37⅔ innings in relief (28 appearances). Perhaps in anticipation of not being able to sign free-agent left-hander Dave Roberts during the offseason, manager Herman Franks gave McGlothen a trial-start on the last day of the season. He responded positively with seven innings of four-hit pitching in a 5-3 loss to the Mets.
The one-game trial proved fruitful when injury or underperformance plagued Cubs' starters Ray Burris, Mike Krukow, and Dennis Lamp during spring training. Though he had to leave for a brief period to attend to his mother in Louisiana after she suffered a stroke, McGlothen stepped into the rotation and responded with a club-best 1.00 ERA in 27 Cactus League innings. "All I needed was a chance," he said. "I think I'm more valuable to this team as a starter."13 On April 15, 1979, in his second start of the season, McGlothen was robbed of a shutout on a seventh-inning sacrifice fly by future Hall of Famer Gary Carter in a 5-1 win over the Montreal Expos. A month later another future Hall of Famer, Mike Schmidt, blasted a seventh-inning homer to rob McGlothen of a shutout in a 7-1 win over the Phillies. He finally collected a whitewash in September two weeks after a ninth-inning homer by Carter deprived him again. Despite surrendering a career-high 27 home runs, McGlothen was among the team leaders in nearly every pitching category while also placing among the NL leaders with 147 strikeouts. A free agent at the end of the season, he was rewarded with an $800,000 contract deferred over six years.
During the offseason Cubs GM Bob Kennedy forecast a 20-win season for the comeback hurler. But when the club opened spring training in February 1980, more focus was spent on McGlothen's girth when the righty reported to camp 20 pounds over his playing weight of 185. He suffered through a miserable Cactus League campaign and opened the season in the bullpen. Finishing April with a 10.97 ERA, McGlothen was rumored to be heading to Atlanta for slugger Gary Matthews in a trade that didn't happen. After a failed attempt to convert left-handed reliever Willie Hernandez into a starter, the Cubs shoved McGlothen into the rotation. On July 20 he collected his 12th career shutout, a six-hit gem against the Padres. Two months later McGlothen threw his last career whitewash, a four-hitter against the Pirates. But most of his season did not go as swimmingly as McGlothen finished with a record of 12-14, 4.79 in 182⅓ innings. Adding to his misery were three instances in which his Chicago apartment was burglarized.
McGlothen began the 1981 season in the Cubs rotation with mixed success. Moved to the bullpen in May, he realized some gain after going unscored upon in seven of his next nine appearances (15⅓ innings). But June told a different story. In his next four appearances McGlothen surrendered nine runs over 6⅔ innings before the campaign was interrupted by the players strike. When the season resumed in August the Cubs were upset to see the righty in even worse physical shape. McGlothen made one miserable appearance against the Mets on August 10 and was immediately placed on waivers. Selected by the crosstown White Sox, he finished the season with a combined record of 1-4, 4.60 in 76⅓ innings. But McGlothen's challenges were not limited to the ballfield. In September he did not accompany the White Sox during a West Coast swing to avoid legal service in his wife's divorce filing. Citing several instances of abuse and assault, Brenda had escaped to her parents' home in California shortly after the birth of their second child. The divorce was granted during the offseason.14
In 1982 McGlothen reported to the White Sox spring camp with renewed vigor that prompted catcher Jim Essian to project him as the club's closer. The righty survived cut after cut until the choice came down to McGlothen and rookie right-hander Salome Barojas. Two days after the start of the season, McGlothen was released. Signed by the New York Yankees a month later, he was assigned to the Columbus Clippers in the International League. McGlothen slowed Syracuse outfielder George Bell's path to the majors when an errant pitch struck the slugger in the face and broke his jaw. On July 16, as a severe thunderstorm darkened the skies around Columbus's Cooper Stadium, McGlothen was the first to alert his teammates to a tornado. (There were no casualties.15) In August McGlothen was sidelined by a broken finger but recovered to join the Yankees at the end of the month. He looked strong in two of three relief appearances before the Brewers clobbered him for four runs in an embarrassing 14-1 loss on September 19. It proved to be McGlothen's last appearance in the major leagues. The club released the 32-year-old hurler the next day.
There is no evidence indicating that McGlothen sought to continue his career. Instead, he returned to Louisiana and re-enrolled at Grambling State University. Sometime after his divorce from Brenda, he married Lincoln Parish native Johnnie Underwood. The union proved short-lived and McGlothen began a relationship with single mother Gloria Smith Reed. In the early-morning hours of August 14, 1984, a fire started in Reed's mobile home in the town of Dubach. She safely evacuated her two daughters and re-entered the burning structure in a failed attempt to save McGlothen. Both were overcome by smoke and perished. McGlothen was buried at Harmony Baptist Church Cemetery, near Simsboro, his boyhood village.
McGlothen concluded an 11-year major-league career with a record of 86-93, 3.98 in 1,497⅔ innings. Remembered for his perpetual smile and fan-friendly approach, McGlothen's tragically early passing came as a blow to all who knew and loved him.
Acknowledgments
The author wishes to thank Carolyn McGlothen Jenkins, the ballplayer's sister, for her valuable assistance. Further thanks are extended to Len Levin, for review and edit of the narrative.
Sources
Besides the sources cited in the Notes, the author consulted Baseball-reference.com and Ancestry.com.
Notes
Born
March 27, 1950 at Monroe, LA (USA)
Died
August 14, 1984 at Dubach, LA (USA)
If you can help us improve this player's biography, contact us.
http://sabr.org/sites/default/files/McGlothenLynn.jpg
600
800
admin
/wp-content/uploads/2020/02/sabr_logo.png
admin
2016-11-29 17:57:33
2016-11-29 17:57:33
Lynn McGlothen