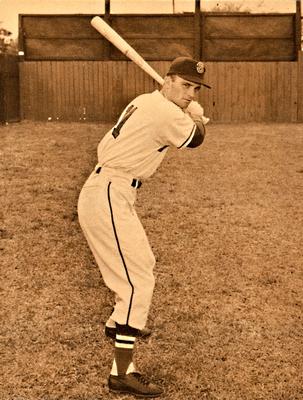 ---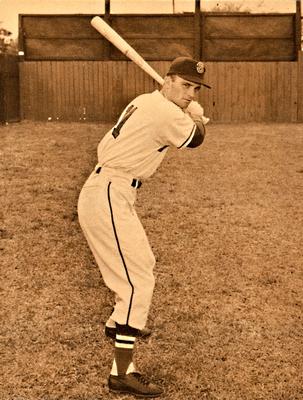 There was baseball in Marlan Coughtry's family. "My dad began throwing baseballs at me as soon as I could walk," he said. "My uncle, Ray Coughtry, had played in the Cardinal chain; my dad wants me to rise even higher."1 Perry Coughtry was Marlan's father. A native Californian, Perry worked as a checker for a wholesale tire company in Monrovia, California. Perry's wife Ida hailed from Nebraska. Marlan had a brother, Wayne, who was about three years younger.
Marlan's daughter Kathleen recalls that of her paternal grandfather, "He wasn't just a checker. He worked in tire manufacturing. We really think he just got sick from working at that. Ever since I remember him, he was always sick. He had emphysema. He had a couple of types of cancer."2
James Marlan Coughtry was born on September 11, 1934 in Hollywood, California. He attended Eastmont Elementary and Junior High School for nine years of schooling, and then three years at Montebello Prep. He studied engineering at Long Beach City College for one year. In May 1953, Coughtry played second base for the Long Beach City College Vikings in the state junior college baseball finals; Long Beach lost out to Sacramento Junior College.3 Coughtry was named MVP of the Southern California Junior College Tourney.4
Six months later, Coughtry was signed to the Boston Red Sox by scout Joe Stephenson, enticed by a $4,000 bonus.5 The 19-year-old infielder was scheduled to report to the Albany Senators in the Class-A Eastern League. In good part thanks to the pitching of Al Schroll, Albany won the 1954 Eastern League pennant and the playoffs.6
Coughtry was assigned to play in Class D, for the Corning (New York) Red Sox in the PONY League. Corning, under manager Sheriff Robinson, finished first in the league standings just percentage points ahead of Jamestown, thanks to a grand slam hit by Coughtry in the final game. Corning won both rounds of the league playoffs. Boston manager Lou Boudreau said, "There's an 18-year-old kid second sacker name of Marlen (sic) Coughtry…who looks like the best kid prospect I've seen since Charley Gehringer. All he hit was .358. Left-handed batter. Too bad he's going into the Army."7 Actually, he was 20 at the time, had hit .333 in 93 games with 13 home runs, and it wasn't until 1957 that he went into the Army. He was still a good prospect.
In 1955, Coughtry was placed in Class-C ball, playing for the San Jose Red Sox in the California League. He played in 141 games and hit .295. He led the league in assists (363) and double plays (82), and was voted the league's all-star second baseman.8
He did make it to Albany in 1956, but his season was abbreviated to 72 games and he only hit for a .225 average. Why he only appeared in 72 of Albany's 138 games is something we have been unable to determine; perhaps he was hampered by injuries.
Coughtry began the 1957 season in the Texas League (Double A), playing in 29 games for the Oklahoma City Indians. He hit .264 in 87 at-bats, but showed a good eye at the plate, drawing 19 walks in 110 plate appearances, earning a .396 on-base percentage. Then he was summoned to military service. Coughtry served in the Army from May 28, 1957 to February 27, 1959. During that time, he married Joanna Mae Perkins, on May 31, 1958.
Younger brother Wayne Coughtry (born 1937) pitched a no-hitter for Orange Coast College against Fullerton on March 27, 1956.9 He was signed by the Boston Red Sox and pitched in their minor-league system from 1957 through 1959, going 30-13. Other than two games for Class-B Raleigh, Wayne never got above Class D.
With his military service completed, Marlan Coughtry began the 1959 season with the Minneapolis Millers but ended up in Allentown. At Triple A (Minneapolis), he only hit .172 in 12 games. Allentown was Single A and he got back on track there, batting .296 with 19 homers.
On October 10, 1959 he was formally brought up to the Boston Red Sox, and in the spring of 1960 he joined the Red Sox at Scottsdale for spring training. He was active in some of the intrasquad games, on March 6 collecting three hits, one of which won the game. Manager Billy Jurges took advantage of the early exhibition season to look over some of the prospects, and Ed Rumill of the Monitor noted, "Jurges is also pleased by the showings of two young infielders, Marlan Coughtry and Carl Yastrzemski. Both of them look like natural hitters. Coughtry has the added advantage of being one of the few rookies around who plays equally well at second and third bases."10
The Boston Traveler's Bill Liston wrote, "Put down the name of Marlan Coughtry, youthful slender Californian, as future-book big-league material for the Red Sox." To those who cynically claimed that Red Sox scouts are always high on the players they signed, Joe Stephenson said, "This lad won't fall on his face. If he ends up there, someone will have knocked him over the head."11
One problem in Coughtry advancing was the position he played—the Red Sox were far from a contending club but they had Frank Malzone at third base and batting champion Pete Runnels at second. Coughtry garnered some favorable comment in the spring of 1960, though Bill Lee of the Hartford Courant saw him "at least a year away."12 As late as the end of March, however, the UPI named him in tandem with the man they came to call Yaz; after mentioning Jerry Mallett, the wire service continued, "Others who have impressed Jurges are infielders Marlan Coughtry and Carl Yastrzemski."13 Since both Yastrzemski and Coughtry were primarily second basemen, they were often paired together—but both seemed to need at least one more year of seasoning.14
Coughtry and Yaz ended up together at Minneapolis to start the season, but again Coughtry struggled. While Yaz hit .339, Coughtry hit just .163 in 15 games and was once more sent to Allentown on May 18. Nevertheless, it was Coughtry who reached the big leagues first.
After hitting .308 in Allentown, and drawing an impressive 105 walks in 434 plate appearances, Coughtry got the call from the Red Sox when shortstop Don Buddin was hit in the head by a pitch. He was promoted to Boston on September 1.
Coughtry's major-league debut came as a pinch-runner in the second game of the September 2 doubleheader against the visiting Washington Senators. He played second base and recorded his first putout in the top of the ninth. On September 7, at Tiger Stadium, he scored his first run. Pinch-running for Vic Wertz again, this time he scored the fifth run in a game the Red Sox won, 5-4.
Manager Mike Higgins (he had taken over from Jurges during the season) was said to "likes what he has seen of young Coughtry. Though a slender left-handed hitter, Marlan occasionally reveals surprising power. His line drive to right field in last night's third inning made Snyder reach high off the fence. In the field, the rookie, recently called in from Allentown of the Eastern League, shows a pair of big league hands and a quick arm."15
After 11 games in the big leagues, Coughtry still didn't have a base hit—though he did have five strikeouts and two walks in nine plate appearances. He made three outs his first three times up on September 27. The Orioles were at Fenway and had a 17-2 lead when he came up in the bottom of the eighth. With a runner on first base and two outs, he singled to right field. The batter behind him grounded out, but he had his first base hit, and a big-league batting average of .091. Unfortunately, his first base hit was overshadowed by his committing three errors in the game.
The very next day, he was a part of (and a witness to) history. Coughty played second base. He singled in the fourth and walked in the seventh, and then saw Ted Williams come to bat in the bottom of the eighth inning and hit a home run in his last at-bat in the major leagues. A photograph shows Williams running out to take his position, side by side with Coughtry. Williams then was beckoned in for another curtain call, before action started in the top of the ninth. Carroll Hardy ran out to take his place.
The Williams home run (the 521st of his career) had made the score Orioles 4, Red Sox 3. In the bottom of the ninth, with one out, Coughtry singled and then pinch-hitter Wertz doubled. Pumpsie Green walked to load the bases. Willie Tasby grounded out third to second, while Coughtry scored the tying run. Pinch-runner Tom Brewer scored the winning run when the Orioles second baseman's throw to first base went astray.
On September 30 in New York, Coughtry may have cost the Sox a game. Boston was leading, 5-3, with one out in the bottom of the ninth and runners on first and third. Hector Lopez singled and it was 5-4, then Roger Maris singled to tie the game. Coughtry was playing second base and again there were runners on the corners. Bob Cerv grounded the ball to Coughtry, who "fiddled around playing tag with Maris. He finally chased him slowly back toward the bag. But, by the time Coughtry tagged Maris, the batter—slow-moving Cerv—had crossed first base, and Lopez—from third—made a belated but unchallenged dash home with the winning run."16 There were "howls of laughter from the crowd" at Yankee Stadium, something Coughtry said he "will never forget and may never recover from."17
On October 20, for roster reasons, his contract was sold outright to the Seattle Rainiers, Boston's Triple-A affiliate, as was Haywood Sullivan's.
Coughtry realized that 1961 was key for him. "This is my year of decision. I'm 26. I've got to roll now." He added that he'd come to have a "complex" about buses. "Every league I've been in was a bus league. You never traveled any other way. I've been on club busses that broke down and on busses that ran out of gas. Always, those things happen in the small hours of the morning."18 He knew that Malzone had first made it to the majors when he was 27, but that was rare, and he certainly didn't want to go backwards now that he had two children to support. (At the time, he and Joanna had two children, Kathleen and Jon. A third followed later.) He did see some hope for players such as himself due to the expansion of the American League to 10 teams in 1961.
Rainiers manager Johnny Pesky converted Coughtry to become a third baseman. He continued to have a discerning eye at the plate, and the better lights in Triple-A ball may have helped him sharpen his vision. By midseason, he'd already been dubbed the "wonderful walker" and the "walking legend" as he continued to get on base by way of working walks.19
His 151 walks led the Pacific Coast League and set a new Rainiers team record (the previous high had been 99). He hit a solid .296, but boasted an even more impressive .465 on-base percentage.
On November 27, though the Red Sox themselves didn't draft a single player, they saw the Los Angeles Angels select Coughtry in the Rule 5 draft (along with four other players from the Red Sox system.) Scout Rosey Gilhousen had recommended Coughtry to Angels farm director Roland Hemond and GM Fred Haney. He said, "I watched him in several games with the Rainiers last season. He's always hit around .300, which is very good for an infielder…or anybody else for that matter. Marlan (as he likes to be called) always gives you 100%. That was one of the things that attracted me to him first. He's a lot like Gene Mauch (Phillies manager) when he was playing."20
Coughtry trained with the Angels at Palm Springs and had a very good spring training. After the first nine exhibition games, he had a .688 on-base percentage. He'd worked 11 walks. Hy Zimmerman of the Seattle Times said, "He's not a power hitter but hits crisp line drives. He knows how to wait for his pitch as well as any batter we had in the league last year. I think he was on base at least 45% of the time. He's a hungry player, so you can expect him to give all he has."21 Coughtry said, "I've been trying to make a major league team for several years so I guess it's now or never. You can bet that I'll give it all that I've got."22
In playing for the Angels, Coughtry was pretty much playing for his hometown team. He started off more or less the way he'd started for the Red Sox two years earlier—not getting a base hit in any of the first six games in which he appeared. In fairness, all but the first game (when he was 0-for-4) was in a pinch role. In his seventh game, on April 27, he was 2-for-4. Then the next day, he finally drove in his first major-league run. He was playing third base at Dodger Stadium against the visiting Cleveland Indians. In the bottom of the third, facing Gary Bell and with Leon Wagner on third base, Coughtry singled to drive in the tying run and make it 3-3. In the end, the Indians won, 6-4.
He drove in another run on May 10, this time in a 6-4 Angels win over the Tigers, a single to center field off Jerry Casale, which knocked in the first run of the game. Two days later, he was traded to the Kansas City Athletics for a player with a not-dissimilar record, Gordie Windhorn. Windhorn had appeared in 14 games, batting .158. The Chicago Tribune wasn't impressed, running the brief two-paragraph A.P. story under the headline: "This is a trade?" 23
It wasn't Coughtry's last stop in 1962.
For the Angels, Coughtry had 22 plate appearances in 11 games, batting .182 with the two RBIs. For the Athletics, he played in six games, with 16 plate appearances, also batted .182, and added one more RBI to his record (on May 16 in a loss to the Indians.) He appeared in only one game in June. He injured his back on June 8, but it was not in a game. He characterized it as a "pinched sciatic nerve or something like that."24
On July 2, perhaps having been impressed that two-thirds of his career RBIs had been at the expense of their ballclub, the Indians purchased his contract from the Athletics. They had actually had their eyes on him for a while. Coughtry had apparently been placed on waivers on May 11, but then played in a game the next day. Being placed on waivers made him ineligible to play for 48 hours, said Indians GM Gabe Paul. "In fact, we claimed him," Paul said. "I'm going to seek an explanation."25
As it happens, once he made it to the Indians, he hit .500 for them—but that only meant he was 1-for-2, singling in the bottom of the seventh inning in the second game of the July 8 doubleheader against the White Sox. Overall, he pinch-hit in three appearances for the Indians, walking once.
Coughtry's major-league career was over. He appeared in 35 games, for four teams, with a career .185 batting average. He tallied four RBIs and scored five runs. He had not one extra-base hit.
His fielding percentage offered no hope of salvation. In 82 career chances, he committed 10 errors (for a fielding percentage of .878).
On June 29, the Athletics designated him for assignment. On July 2, the Indians purchased his contract to fill a need, having sold Ken Aspromonte to Milwaukee.
On July 20, after calling up Sam McDowell and another player from their club in Salt Lake City, Cleveland sold Coughtry and another player outright to Salt Lake.
Rather than report to spring training with the Indians in 1963, on February 24, Coughtry mailed back the check he had been given for spring training expenses and announced his retirement from baseball. He had reportedly done so under doctor's orders, due to a slipped disc in his back that looked to prevent his return to baseball.26
In the years after baseball, Coughtry said in response to a questionnaire that he, "Sold sporting goods for 20 years. Then my brother and I bought a wood products company."27 Caughtry's daughter Kathleen supplied some more information, saying he initially "worked for Colin Brothers Sporting Goods, the company he had worked for in the offseason. He sold sporting goods to all the schools—the high school and college teams—and the professional football people. He did the whole southern California area. Uniforms and equipment. He retired from them." She continued, "At some point after he retired—I believe it was 1980—he moved to Oregon, to the Rogue River area. He and Wayne did buy a company that dealt mostly in cabinet stock—cabinet-making material. They bought a lumber yard from someone in LA. He moved back down there, but then my uncle [Wayne] got brain cancer. It was Rayhill Lumber but then they changed it to Forest Plywood. He continued to work with them [in the transition] for a few years, but then he moved to Vancouver, Washington. He just liked it up here."28 All three of Coughtry's children now live in the area.
Coughtry was asked, on the same questionnaire, which was his favorite of the major-league teams he had played for and he said it was the Red Sox. Kathleen said, "He loved all that. He always signed everything that people sent to him. The Red Sox were the favorite team that he played for, but he wouldn't wear anything representing any particular team. He just loved baseball. He just loved the game."29
His wife Joanna died of cancer on December 24, 2005. In 2007, he married Sylvia Reed. She too died of cancer.
When Coughtry died in Vancouver, Washington, on November 8, 2016, he was predeceased by wives Joanna and Sylvia, but survived by three children—Kathleen Keeler, Jon Coughtry, and Kevin Coughtry—as well as seven grandchildren and three stepchildren. He had been an active member of the Vancouver First Friends Church at the time of his death, and the family requested that in lieu of flowers, donations be made to the church's scholarship fund. He was an elder in the church and head usher.
His death was peaceful, perhaps the sort of death most hope to experience. Kathleen explained, "He was just going about his business. Perfectly healthy. Talked to us a couple of times that day. He was going to the doctor to have some blood drawn. He had some heart issues—nothing major. He'd found out he had cataracts just the day before he had an appointment to go in later that afternoon. He had his lunch, sat down and read his book, fell asleep just like he normally did, and he just never woke up."30
Sources
In addition to the sources noted in this biography, the author also accessed Coughtry's player questionnaire from the National Baseball Hall of Fame, the Encyclopedia of Minor League Baseball, Retrosheet.org, Baseball-Reference.com, Rod Nelson of SABR's Scouts Committee, and the SABR Minor Leagues Database, accessed online at Baseball-Reference.com.
This biography was reviewed by Skylar Browning and fact-checked by Chris Rainey.
Notes
Born
September 11, 1934 at Hollywood, CA (USA)
Died
November 8, 2016 at Vancouver, WA (USA)
If you can help us improve this player's biography, contact us.
https://sabr.org/sites/default/files/CoughtryMarlan.jpg
600
800
admin
/wp-content/uploads/2020/02/sabr_logo.png
admin
2017-10-31 14:10:04
2020-04-09 14:40:30
Marlan Coughtry