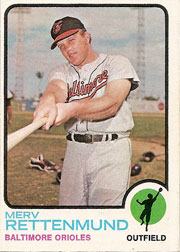 ---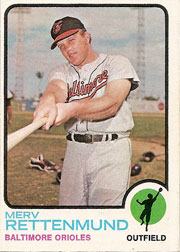 By his own account, Merv Rettenmund was a "scuffler" more than a ballplayer. He never found his niche as a regular starter with the Baltimore Orioles, but he starred as a super-sub and was a key cog for the Orioles as they won three consecutive American League pennants, from 1969 to 1971. He twice led the team in batting average in those years while playing all three outfield positions. More than that, Rettenmund always seemed to find himself as part of a winner — as a player and coach, his teams reached the postseason in 13 of his 33 seasons in major-league baseball. He played in four World Series, winning championships in 1970 with the Orioles and in 1975 with the Cincinnati Reds. Later, he became one of the game's top pinch-hitters with the San Diego Padres and California Angels.
After he retired, Rettenmund became one of the most respected hitting coaches in baseball, and he was on staff for three more World Series — with the Oakland Athletics in 1989 and 1990 and the San Diego Padres in 1998. He once called his job as a hitting coach "50 percent comedian, 25 percent psychologist, and 25 percent teacher," but his methods worked.1 Led by Hall of Famer Tony Gwynn, who won half of his eight batting titles under the tutelage of Rettenmund, the Padres set franchise records in nearly every offensive category in the 1990s. In a rare move for a coach, Rettenmund remained with the team through three managerial changes.
Mervin Weldon Rettenmund was born on June 6, 1943, in Flint, Michigan. His father, Weldon, worked for many years with General Motors, as did his uncle and Swiss-born grandfather. His mother, Dolores (nee Tucker), was from Carsonville, a small village in eastern Michigan. Dolores's grandfather had emigrated from England.2
Merv came from an athletic family. His mother and sister Susan both played softball. "There was always an opportunity to play," he recalled.3 In his spare time, Weldon played baseball in semipro leagues around Flint and he was good enough to earn a tryout with the Detroit Tigers. He turned down their contract offer, however, and "always regretted it." When Merv had his own chance to sign with the Tigers after high school, Weldon urged his son not to pass it up. But Merv opted for college instead.4
Baseball was always Merv's ambition. "I'd go to games at Tiger Stadium all the time, see those guys in their uniforms and watch them play," he recalled. "I thought, 'Gosh, I'd love to do that.' " 5 In addition to baseball, the speedy teenager also starred as a halfback in football at Southwestern High School in Flint.
After graduating from Southwestern in 1961, he spent the summer as a hard-hitting catcher on Michigan's top American Legion team, the Buick Colts. The Colts won city and state championships — Rettenmund hit .588 to earn the Kiki Cuyler Award as the state tournament MVP — and went on to play at a regional tournament in Princeton, Indiana. "That's the summer Merv really developed," said Legion teammate Wayne Schmitz, who later played in the Atlanta Braves organization. "Scouts wanted to sign him right then."6
During the Princeton tournament, Rettenmund was approached by Ray Louthen, the baseball and football coach at Ball State University in Muncie, Indiana. As Merv recalled: "I had been considering Western Michigan or Michigan State — I was looking at them, but I don't know if they were looking at me, you know? … Ray Louthen came up to me [at Princeton] and said, 'If you'll come play for us, I'll give a scholarship to your cousin and to your friend.' " It was a football scholarship, Rettenmund said, "so they could bring more players in."7 Merv took it.
At Ball State, Rettenmund broke the school's single-season rushing record held by Timmy Brown, who played for the Philadelphia Eagles and Baltimore Colts. Rettenmund was good enough to get drafted by the Dallas Cowboys — much to his surprise, because he had played just three games as a senior because of injuries. In baseball, he was a two-time All-Indiana Collegiate Conference first-team selection, hitting .321 in his career. He later became a charter member of the Ball State Athletics Hall of Fame.8 In 1966, two years into his professional career, he earned his bachelor's degree in education.
Merv also met his wife, the former Susan Clark, at Ball State. She was from Findlay, Ohio, a Spanish major who would later accompany him on trips to Latin America and South America for winter ball when he was in the minor leagues. Travel always plays a major role in the life of a ballplayer, and Merv and Susan loved it. In the off-seasons, they began taking trips around the world — including a cruise to Antarctica. "The Red Sea, Jordan, Israel, Ireland … pretty much anywhere you can think of, we've been there," he said. The Rettenmunds married in 1964 and had their first child, Cyndi, in 1965. In 1970, they welcomed their second daughter, Christy.9
In November 1964, just a few weeks after Merv and Susan were married, Baltimore Orioles scout Jim Terrell signed Rettenmund as an amateur free agent, with a reported $15,000 bonus. He was sent to Single-A Stockton to finish out the year, and returned to the California League for his first full professional season in 1966. He hit .307 with 21 home runs in 127 games to earn a spot on the California League All-Star team. In 1967, he continued his quick ascent up the minor-league ladder by hitting .286 before a shoulder separation sidelined him late in the summer. That winter, he played in Venezuela and hit .313 for manager Luis Aparicio. Because of the injury, he said, "I couldn't lift my arm. But the one thing it did was it cut my swing down. I think it was the turning point of my career. I really became a good hitter."10
As a result, Rettenmund made the 1968 Orioles roster out of spring training. His major-league debut came on April 14, when he struck out as a pinch-hitter against the Angels' Clyde Wright to end the game. He made three more appearances that week, getting two hits and walking once, before being sent down to Triple-A Rochester when pitcher Pete Richert was activated from National Guard duty. In Rochester, the sweet-swinging right-hander flourished, hitting .331 with 22 home runs to earn International League MVP and Rookie of the Year honors, as well as The Sporting News' Minor League Player of the Year award. When outfielder Curt Motton was injured in late August, Rettenmund was called up to Baltimore for good.
Three days after Rettenmund's call-up, he was sent in to pinch-hit for Ellie Hendricks in the bottom of the ninth inning. He homered on the first pitch he saw from Oakland reliever Warren Bogle to beat the A's, 5-3.11 Rettenmund batted .265 in the final month as manager Earl Weaver moved him up and down the lineup. He was a valuable utility man for the Orioles in their championship years, but he never settled into a regular position.
There was also no room for a rookie outfielder to break into Baltimore's lineup. Future Hall of Famer Frank Robinson, who had won the American League's Triple Crown in 1966, held down the fort in right field, while Paul Blair was considered the game's best defensive center fielder and Don Buford was a solid starter in left field. In the 1969 World Series against the upstart New York Mets, Rettenmund made his only appearance as a pinch-runner in a Game Two loss. The Orioles lost the Series in five games, in one of baseball's biggest postseason upsets.
By 1970, Rettenmund's ability was getting hard to ignore. Preseason work with batting coach Jim Frey turned him into a stronger hitter to the opposite field, and he got off to a hot start, hitting .333 in April. But he still couldn't break into the lineup as an everyday starter. So Rettenmund became the Orioles' "noble substitute," spelling the regular outfielders when they were tired or slumping. It took an injury to Paul Blair, who was hit in the face by a pitch on May 31, to finally give Rettenmund the chance to start. He did not take it lightly. "We expected to win every game," he recalled. "It was not a showcase [for prospects]. You were expected to produce."12
Rettenmund did. During the second half of the season, he batted a blazing .373, hitting safely in 16 of 17 games between July 26 and August 15. He had three four-hit games in a five-week span, finishing the year with a team-high .322 average and 18 home runs. In the league playoff with the Twins he started Game 2 and played well — he walked twice, stole a base, and had an RBI single in the ninth inning of a tight game, and the Orioles swept the series. In the World Series, he did not get a chance to start until the fifth game, and did not learn of this until late in the Orioles Game 4 loss.
"I was sitting in the manager's office during that [eighth] inning," he recalled. "You can see the game better that way, you can get a better view on TV than you can from the dugout. I watched [Lee] May hit his home run and Earl comes running in. Boy, is he pissed. He starts yelling. 'Get your feet off that damn desk! Get your ass out of this office! … Oh, and by the way, you're starting tomorrow!' That's how I found out I was playing.' "13
Rettenmund made the most of his opportunity. In the third inning, after the Orioles had taken a 4-3 lead, he singled home Boog Powell and then scored on Dave Johnson's RBI single with one out. In the fifth, he capped off the Orioles' World Series-clinching victory with a long home run down the right-field line off Tony Cloninger. The Orioles cruised from there, winning 9-3, and celebrated the franchise's second championship deep into the night. "It's a moment you'd like to have kept the rest of your career," Rettenmund recalled. "You think it'll never end. … I was thinking, after winning all those pennants, that in spring training what we were doing was getting our pitchers ready for the playoffs, you know? We thought that's how it would always be."14
Rettenmund's confidence was sky-high. Teammate Mark Belanger liked to say then, "Merv always says two things in life are certain: There will be snow in the winter and I'll get my two hits." Second baseman Dave Johnson recalled the quote a little differently: "Death, taxes and my three hits."15
Whatever the case, the 28-year-old Rettenmund continued to hit like a machine in 1971 — leading the team again with a .318 average, good for third in the American League behind Tony Oliva and Bobby Murcer — no doubt helped by the fact that he finally was receiving steady playing time in the Orioles' lineup, even if he was never sure which position he would play until he got to the ballpark. Rettenmund started 58 games in right field, 38 in left field, and 37 in center field, but logged more innings (1,170) than any other Orioles outfielder. At the plate, he set career highs with 75 RBIs, 81 runs, 15 stolen bases, and 491 at-bats in 141 games. His performance earned him a few MVP votes at the end of the year as the Orioles swept the Oakland A's to clinch the AL pennant.
In the 1971 World Series, Rettenmund earned a spot in the Orioles' lineup as Baltimore prepared to defend its title against the Pittsburgh Pirates. His three-run home run off Dock Ellis in the third inning of Game One proved to be just enough of a margin for Dave McNally, who shut down the Pirates on three hits, but the Orioles ultimately fell in seven games.
Surprisingly, the Orioles relieved the crowded outfield by dealing Frank Robinson, their biggest star and leader, to the Los Angeles Dodgers in November. With Robinson gone, Rettenmund inherited the starting job in right field and got the chance to play regularly. But injuries plagued him from the beginning. During a four-hit day in Detroit, he dove for a ball and landed awkwardly on his right shoulder. The next day, he couldn't lift his arm. In August, he suffered a torn abdominal muscle and was placed on the disabled list.16 In between, he suddenly, inexplicably lost the ability to hit.
His batting average fell below .300 on the season's second day and it never returned. By the end of the year, Rettenmund was hitting .233 — an 89-point drop from his team-leading average in 1970. He couldn't figure it out. One theory suggested that Weaver put extra pressure on Rettenmund to supply the Orioles' power with Boog Powell and Brooks Robinson getting older and Frank Robinson no longer around. So Rettenmund tried to change his stance to pull the ball and hit more home runs — then made other variations such as keeping his bat still and holding his hands lower — and all the adjustments disrupted his swing.17 Years later, Rettenmund explained his slump this way: "I had a weird swing. And when it was broke, I knew what was wrong and everybody could tell me how to fix it, but I just couldn't fix it."
He dismissed the idea that Weaver played a role in the slump, explaining that he was too easily satisfied as a young player: "You cause these things yourself. I had two goals when I started playing. One, to be a .300 hitter in the major leagues, and two, to make X number of dollars. … That's all I wanted to do. And after two years in the majors, I had been doing everything I wanted to do. I didn't have any more goals and I didn't know how to set any more goals. I got myself in a mental rut."18
Rettenmund got off to a poor start in 1973, hitting .230 before the All-Star break, and after severely bruising his chest crashing into the outfield wall in Kansas City in May, he lost his job in right field. After a one-year hiatus from the postseason, the Orioles were rolling along to another division title. The club benefited from a powerful farm system that continued to produce strong outfield prospects — before, it had been Blair, Buford, and Rettenmund; now Don Baylor, Al Bumbry, and Rich Coggins were muscling in for more playing time. When Rettenmund's slump continued in the playoffs, in which he hit .091 in a losing effort against the Oakland A's, he too was deemed expendable.
Rettenmund was given a fresh start with the Cincinnati Reds, who traded for the 30-year-old in a five-player deal that sent pitcher Ross Grimsley to Baltimore in December 1973. Merv seemed pleased to go from one winning franchise to another, but moving to the National League did not help his hitting get back on track.
In two seasons with the Reds, he batted just .227 and drove himself deeper into despair at the plate. He later said the slump also carried over to his outfield play — "I got to dropping fly balls, which I never did" — and it even affected him driving to the ballpark. "I put so much pressure on myself in Cincinnati," Rettenmund said, adding that it got so bad that he took to swinging at the first pitch in nearly every at-bat "so they wouldn't have time to put my average on the scoreboard!" After making three pinch-hit appearances in the 1975 World Series, he was dumped to San Diego in a trade during spring training the following year. He and Terry Crowley, his old friend and teammate who was sent to the Atlanta Braves the same week, celebrated by taking a joyride all around the Reds' practice field in Tampa, Florida.19
In the sunny climate of Southern California, and no longer fighting to start every day, Rettenmund began to relax and enjoy the game. And just as suddenly as it began, his debilitating slump seemed to be far behind him. "I could hit fine," he said. "I could hit the curveball. I was pinch-hitting and having success at it. … I started having fun again." In 1977, he became one of the league's top specialists — setting a Padres franchise record with 21 pinch-hits in 67 at-bats and setting two National League records as a pinch-hitter, by walking 16 times and appearing in 86 games.20
Rettenmund signed as a free agent with the California Angels in 1978 and was an asset off the bench, hitting the first pinch-hit grand slam in team history on May 6. In 1979, he helped the Angels to their first postseason appearance by hitting .263 in 76 at-bats. In the ALCS that year, he returned to Baltimore along with three other former Orioles — Don Baylor, Bobby Grich, and Larry Harlow — to face their old team, still piloted by Earl Weaver, whom Rettenmund has called the smartest manager he knew in baseball. "The only way to measure a manager is by how his guys produced for him, and guys played for Weav," he recalled.21 Weaver's players outperformed Rettenmund's Angel teammates in the playoffs, winning Baltimore's fourth and final pennant for the Hall of Fame manager. Rettenmund was limited to just four plate appearances in the ALCS.
That offseason, Rettenmund began to consider life after playing baseball. His education degree made him well-suited for teaching, and coaching was the next best thing. For years, he had helped his teammates — many of them among the best in the game — tinker with their swings, observing what worked and what didn't to develop his own philosophies on hitting.
More than most coaches, hitting coaches work in almost total obscurity. Rettenmund often said that his work ended when the game began, having spent most of his day under the stands in the batting cages or the video room tutoring players.22 But his reputation as a hitting coach over three decades did not escape notice.
After retiring as a player in 1980, Rettenmund joined the Angels' coaching staff under manager Jim Fregosi. With California — and later the Texas Rangers and the Oakland A's in the 1980s — his primary responsibility was to work in the farm system, teaching young prospects in the minor leagues how to improve their focus and discipline at the plate. But when his old teammate Don Baylor was in a 3-for-64 slump in 1981, Rettenmund was asked to help. Said manager Gene Mauch, "Merv came in … and both (Bobby) Grich and Baylor went crazy with the bat. If there's any connection to having him here and what we did … he's got to be the greatest hitting instructor there is."23
In 1989, after serving three years as Oakland's roving hitting instructor, he moved up to become Tony La Russa's hitting coach with the A's, who won pennants in both years Rettenmund was on the coaching staff. Rettenmund maintained that the 1989 A's were the best team he'd ever seen, better even than the two championship teams he played on, the 1970 Orioles and the 1975 Reds.
"That team had thunder, and tons of speed. Oh man, they were loaded," he said of the A's dynasty. "The Orioles had pitching and defense, but they didn't have the thunder. The Reds had thunder and they had the speed. … The difference is, the A's had four quality starters and (Dennis) Eckersley waiting in the bullpen. The Reds always worried about pitching."24
Rettenmund's third World Series ring, he said, was more satisfying than the two he had earned as a player. "That's when you finally realize how difficult it is," he said. "(As a player), the game was easy. But (winning), it's not always going to happen like that."
In 1991 Rettenmund returned to San Diego — the city he and Susan had made their permanent home since he was traded there more than a decade earlier — as a hitting coach with the Padres. He began working with then four-time batting champion Tony Gwynn, or as Merv liked to call him: "the 'man with the little hands,' the greatest hitter I've ever seen."25
It was a match made in hitting heaven. Gwynn had battled injuries on the field and dissension off it to hit for one of the lowest averages of his career, .309, in 1990. Rettenmund, a gregarious personality who was easy to talk to and loved to discuss hitting as much as Gwynn did, helped the pudgy outfielder reach new heights for the rest of the decade. The future Hall of Famer never hit below .317 again and won four consecutive batting titles from 1994 through 1997 to tie Honus Wagner's National League record with eight in his career.
Rettenmund said the most amazing quality about Gwynn was his consistency: "We'd hit off the tee every day. I think there were years when he hit off the tee 365 times. … And he never ducked a pitcher. Some guys will take a day off against a Randy Johnson. Tony would be in there every time." He added that he rarely discussed mechanics with Gwynn, knowing full well that the only time Gwynn stopped hitting was when his knee was hurting.
Other Padres benefited from their new hitting coach, among them Steve Finley, Ken Caminiti, and Gary Sheffield, the latter of whom made a run at the Triple Crown in 1992 (he won his only batting title, but finished third and fifth, respectively, in home runs and RBIs). Rettenmund said the nine years he spent with San Diego were the best times of his career.26
After leaving the Padres in 1999, he bounced around with three organizations (Atlanta, Detroit, and Toronto) before returning to the San Diego coaching staff in mid-2006. Instantly, the Padres — who ranked last in hitting, runs, and home runs at the time — began a surge to the NL West division title. "That was one of the most gratifying years I've ever had," Rettenmund said. "And I know better than to think it was just because of my presence. But that was very gratifying."27
Rettenmund was fired partway through the 2007 season and, after more than four decades in baseball and in his mid-60s, he said he didn't plan to get back into full-time coaching again. In between trips around the world with his wife and spending time with his grandchildren, he offered private hitting instruction to youths in the San Diego area. He occasionally attended Padres games at nearby Petco Park — "I like to watch. But I like it more when they score some runs!" he said of his offensively challenged former team.
He said he has as much energy as ever. "I feel great, I'm exercising a lot," Rettenmund said. "I might get back in one day, but not at the big-league level. … I'd go help out at spring training, evaluate some guys in camp, something like that. I still love it."
Last revised: May 1, 2012
This biography is included in "The Great Eight: The 1975 Cincinnati Reds" (University of Nebraska Press, 2014), edited by Mark Armour. It originally appeared in "Pitching, Defense, and Three-Run Homers: The 1970 Baltimore Orioles" (University of Nebraska Press, 2012), edited by Mark Armour and Malcolm Allen.

Notes
Born
June 6, 1943 at Flint, MI (USA)
If you can help us improve this player's biography, contact us.
http://sabr.org/sites/default/files/images/RettenmundMerv.jpg
600
800
admin
/wp-content/uploads/2020/02/sabr_logo.png
admin
2012-01-04 20:44:40
2020-09-07 02:06:47
Merv Rettenmund