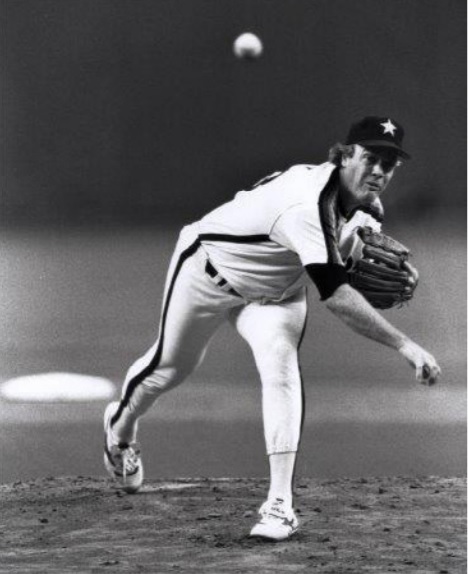 ---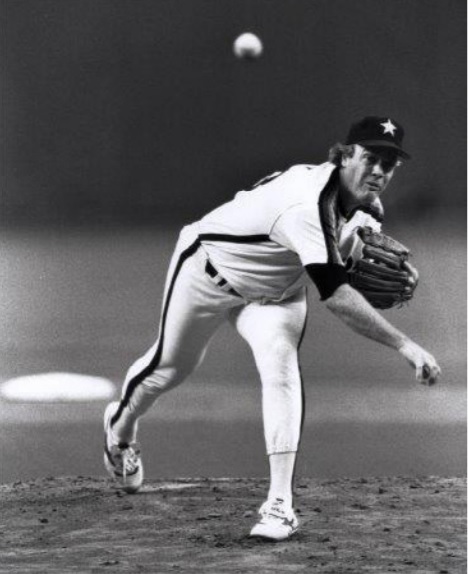 The split-finger fastball became a popular weapon for pitchers in the 1980s. Few if any used it better than righty Mike Scott. With the splitter, he went from mediocrity to ace. Though many believed he was doing something else to make the ball move so much — namely, scuffing it — that was never proven conclusively. Scott tapped into what made Gaylord Perry so effective on the mound: mind games. The mere idea of a defaced ball was a stealthy agent against batters. In 1986, when he won the Cy Young Award with the Houston Astros, Scott said, "I think the hitters lose some of their concentration when they worry about other things besides hitting."1
Scott's prime lasted for five seasons: 1985 through 1989. During that period, he won 86 games and lost 49, with a 2.93 ERA. He struck out 1,038 batters in 1,192⅓ innings, and his WHIP (walks plus hits per inning pitched) was an outstanding 1.06. He won a career-high 20 games in 1989 and was runner-up for another NL Cy Young Award. That year, though, he hurt his shoulder and began to struggle. Scott pitched his last game in the majors in April 1991, aged just 35.
Michael Warren Scott was born on April 26, 1955, in Santa Monica, California. His father, Warren Scott, worked in human resources for Chevron, the oil company. His mother, Kathy, worked for North American Rockwell.2 There were two other children in the family: a brother named Jerry and a sister named Susie.3
Scott grew up in Hawthorne, a town about 15 miles southeast of Santa Monica. In 2002, in an interview with the Astros Daily website, he said, "I played basketball as well as baseball. I liked basketball better, but thought I had a better chance to go further in baseball."4 According to another Hawthorne resident, Dean Morris, "Mike was simply a natural who could do anything, including surfing and golf."
Morris said Scott's father was an excellent Little League coach who "hit infield drills harder than I ever experienced in high school or at Stanford. … Warren never dished out more than he believed we could handle and he helped to create lots of great competitors."5 In 1990, Mr. and Mrs. Scott received the George and Barbara Bush Little League Parents of the Year Award.6
Scott went to Hawthorne High School, where he was team captain and made all-league in both basketball and baseball. As a senior, the pitcher was 9-1 with a 0.67 ERA; he also hit four homers.7 Even so, he wasn't drafted out of high school, and he didn't have any scholarship offers either. He was about to attend junior college, but then he got a call from Wayne Wright, the head baseball coach at Pepperdine University in Malibu, just a little farther up the Pacific coast from Santa Monica. Scott retained very fond memories of his school and its team. Looking back in 2014, he said, "I couldn't have been happier. If I could go back and select any college in the country to go to, it would absolutely be Pepperdine. I got what you should get out of college. What a university is supposed to do is have you ready for your next step in life, and I was ready."8
With the Waves, Scott earned all-conference honors in the West Coast Athletic Conference for three straight years. During his career there, he was 26-14 with a 2.10 ERA, setting school records for wins, strikeouts, and innings pitched. (All have since been surpassed.) He threw a perfect game against Cal-Lutheran on February 17, 1976.9
Scott also took part in international baseball competition. He was a member of the United States College All-Star team, led by Paul Molitor, that defeated the Japanese College All-Stars in 1975. In Game Two of the best-of-seven series, Scott pitched the final seven innings in relief of Floyd Bannister, allowing just one run. He got the win when Ken Phelps hit a solo homer in the 13th.10 That October, Scott also pitched for the United States in the Pan American Games. In Mexico City, Team USA's squad was also loaded with future big leaguers. They went 6-2 and took the silver medal behind Cuba.
The New York Mets drafted Scott in the second round of the 1976 amateur draft, after his junior year. "I was surprised when the Mets drafted me," he said, "because I hadn't heard much from them. I had heard from and talked to a few teams, but the Mets weren't one of them."11
The 21-year-old was first assigned to Double-A. He pitched well for the Jackson (Mississippi) Mets of the Texas League in 1976 and 1977. His 14 wins and 14 complete games led the league in '77, earning him promotion to Triple-A near the end of the season.
Scott went into the 1977 season as a married man. His wife, Vicki, also grew up in Hawthorne and went to high school with Mike. They had two daughters, Kimberlee and Kelsey. They celebrated their 38th anniversary on February 26, 2015.
Scott had a merely fair year in 1978 (10-10, 3.94 ERA) with the Mets' top affiliate, Tidewater. "I threw a fastball, a curveball and a slider," he said. "The higher the level I went, the more I realized I needed an off-speed pitch."12
Nonetheless, Scott made the big club's roster in spring training 1979. General manager Joe McDonald was not able to add a veteran reliever, so Scott became the last man kept on the 10-member pitching staff. He got the good word from manager Joe Torre, who called out, "Don't forget you need a jacket for traveling."13 Later that summer, New York sportswriter Jack Lang wrote that the franchise's stinginess then was also a factor. "McDonald and the people at the Mets who count pennies shoved Neil Allen, Mike Scott, and Jesse Orosco down Torre's throat. … They just weren't ready this year."14
Indeed, Scott was sent back down to Tidewater in mid-June. After performing well there (8-4, 3.18), he was recalled in September. "I went to Puerto Rico to play winter ball in 1979," Scott remembered, "but I was only there a couple of weeks. I came home when my daughter was born."15 Scott also spent the bulk of the 1980 season at Tidewater, cementing his status as a good prospect (13-7, 2.96). Again he was called up when the rosters expanded in September, and he never pitched again in the minors.
During his time with the Mets, from 1979 through 1982, Scott posted a record of 14-27 with a 4.64 ERA. The team was dreadful in those years, yet according to the general manager, Frank Cashen (who was hired in February 1980), Scott "was a nice young man and he always had a good arm, but he was just trying to be mediocre."16
Scott himself noted, "I really didn't have any mentors with the Mets."17 That statement is surprising because in 1982, the team had two excellent pitching instructors in manager George Bamberger and coach Bill Monbouquette. Jesse Orosco, for one, benefited greatly from their tutelage.
On December 10, 1982, Scott was traded to Houston for outfielder Danny Heep. Heep was a useful reserve in New York for four seasons, and he too remained in the majors as late as 1991. In retrospect, however, Scott's development via the splitter skewed the deal heavily in the Astros' favor. Yet at the time, Jack Lang's acerbic comment was, "One by one, the New York Mets are ridding themselves of their disappointments."18
In Scott's own view, "I probably needed a change, I wasn't going anywhere with the Mets. The change of scenery was a good thing."19
With Houston in 1983, Scott pitched fairly well (10-6, 3.72), although he missed the first month of the season with shoulder tendinitis. In 1984, however, he had a poor year (5-11, 4.68). "I didn't know if my career was over," he told author Pat Jordan in a People magazine interview in 1987, "but I did know it wasn't moving very fast." Jordan wrote, "He still had a good 95-mph fastball that was as straight as a draftsman's ruler, and control that was adequate, but his curveball and slider appeared only in his dreams. 'Batters,' he says, 'just sat back on my fastball and ripped it.'"20
After the 1984 season, Scott went to the Astros' annual postseason golf holiday, which owner John McMullen hosted. At dinner one night, teammate Enos Cabell, who had been with the Detroit Tigers in 1983, told Scott about what Tigers pitching coach Roger Craig had done for that staff, notably with the splitter. Craig was in temporary retirement after Detroit won the 1984 World Series. McMullen overheard the conversation and took it up with Houston's general manager, Al Rosen. The team's manager, Bob Lillis, was an old teammate and good friend of Craig's. This enabled an approach.21
As Scott recalled, "Al Rosen arranged the meeting, I spent a week in San Diego with Roger Craig for about an hour a day. The first time I threw the pitch [competitively] was in spring training and I was amazed at how successful the pitch could be."22
According to Pat Jordan (a former pro pitcher himself, as described in his classic memoir, A False Spring), "Scott has been able to elevate the pitch to an art form for several reasons: His oversize hands allow him to get a comfortable grip on the ball for better control, and he can throw it with consistently high speed (usually in the mid-80s). More important, perhaps, was the realization that he had to surrender his career to the pitch or be out of baseball for good. 'I was just looking for a decent second pitch,' says Scott. 'I never thought it would become the pitch it has.'"23
In 1985, Scott — who turned 30 years old early that season — emerged as a star. He was 18-8 with a 3.29 ERA. "He was throwing the split-finger at least 35 percent of the time, sometimes more. He discovered that the more he threw it, the better it got. And if for some reason it wasn't working quite as well as it had been, he simply readjusted his grip and got it back."24
Already, however, the scuffing accusations swirled. After a game at Wrigley Field on May 26, Cubs manager Jim Frey had umpire John Kibler check Scott on the mound. The players saw something drop from Scott's glove. After the inning was over, Frey said that his first baseman, Leon Durham, found a small piece of sandpaper. Frey later sent an advisory letter with the alleged evidence to Chub Feeney, president of the National League.25
Houston won the National League West in 1986. The Astros were a deep and well-balanced team, but pitching was a great strength of the club. The staff was led by Scott, who added a cut fastball to his repertoire. His won-lost record in the regular season was not spectacular (18-10), but he led the league in ERA (2.22), strikeouts (306), and shutouts (five). He became an All-Star for the first time that summer. In mid-August, Scott Ostler of the Los Angeles Times stated, "Mike Scott is the best pitcher in baseball right now. … This season, he is a monster."26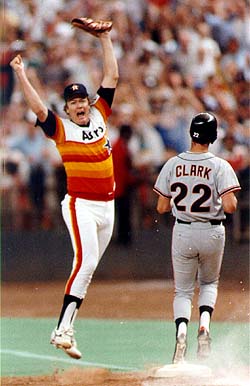 On September 25 Scott threw a no-hitter against San Francisco to clinch the division title. The Giants manager was none other than Roger Craig, who said afterward, "I told one of my coaches in the fourth or fifth inning, 'We're not going to get a hit off of him.' It was unbelievable." 27
In his next and final outing of the regular season — again versus the Giants — Scott made a bid to match Johnny Vander Meer's unique feat: back-to-back no-hitters. The first San Francisco hit did not come until Will Clark led off the seventh with a double. Clark scored, and Scott left trailing 1-0, but the Astros tied it in the ninth and won it in the 10th.
In the National League Championship Series against the New York Mets, Scott had authoritative complete-game victories in Game One and Game Four. After Game Four, he said, "I don't know if I've ever thrown better than in the last four or five games."28 He became the second of just three Most Valuable Players from the losing team in an LCS.29
Scott had extraordinary command of his splitter in that series. "I've never seen anything like it in my life," said Mets outfielder Len Dykstra. "It's like a Wiffle ball moving in the wind." First baseman Keith Hernandez said, "He painted us with it."30
Yet the Mets also complained long and loudly about Scott. They harped on the belief that scuffing was helping his splitter to "drop off the table." Their manager, Davey Johnson, showed a group of reporters eight balls that were abraded in exactly the same spot — a mark about the size of a 50-cent piece. Johnson said, "It [sandpaper] is in his palm. He doesn't rotate the ball, he just makes a grinding motion. It's blatant to me." However, Chub Feeney called Scott "innocent until proven guilty" — though he added, "We will be watching closely the next time he pitches."31
Doug Harvey, the crew chief of the umpires for the 1986 NLCS, emphasized, "I have never found any evidence that Scott has been doing anything wrong."32 A quarter-century later, Scott himself remained cagey. "They can believe whatever they want to believe. Every ball that hits the ground has something on it. … I've thrown balls that were scuffed but I haven't scuffed every ball that I've thrown."33
The lingering threat of Scott in Game Seven was in the Mets' heads. Ron Darling, who would have been the opposing starter, said in 2006, "I felt I couldn't give up any runs because Mike Scott wasn't going to."34 Second baseman Wally Backman said, "If we had lost [Game Six, an excruciating 16-inning battle] and had to face Scott tomorrow, I wouldn't have slept at all."35
The Astros did not win a pennant until 2005. With regard to the 1986 NLCS, Scott said, "The loss was extremely tough for the team, and nothing good came out of it."36 Yet if there had been a Game Seven, he was not one to issue a Joe Namath-style boast. "I've been asked that a hundred times," he later said, "and who knows? I could've been knocked out in the first inning. You never know what's going to happen. There's no guarantee."37
In 1987 Scott was an NL All-Star once more. His marquee numbers weren't as impressive (16-13, 3.23) for a sub-.500 team, but he still struck out nearly a batter an inning. He finished seventh in the Cy Young voting that year.
Another noteworthy outing against San Francisco came on September 7, 1987. The Giants reached Scott for two runs in the first inning, but he then retired the last 26 men he faced. Craig and opposing pitcher Mike LaCoss were both ejected after arguing that Scott was defacing the ball. "He was caught red-handed," Craig said. "He put something down his shirt. Two of the umps saw it but said they didn't have the right to search him."
Scott's response: "I'm used to it by now. I'm sure they did find a scrape on the ball [one such ball was confiscated in the eighth inning, and Scott received a warning]. I threw it in the dirt a couple of times and [Harry] Spilman fouled one off and hit a groundball."38 Looking back, he noted, "Craig's players were complaining, so he did what a manager should do when his players are complaining — he had the umpire check."39
Scott received no Cy Young consideration in 1988 (14-8, 2.92), nor was he an All-Star. Nonetheless, Atlanta Braves manager Russ Nixon said, "He's one of the premier pitchers in baseball." That remark came on June 12, after Scott came within an out of his second no-hitter. Ken Oberkfell broke it up with a line single to right field. Catcher Alan Ashby, who also handled Scott in the no-hitter against San Francisco, said, "If you're comparing him to two years ago, he was great today. Two years ago he was superhuman." Scott concurred, saying, "I don't think I had the stuff I had against the Giants."40
Scott had two other one-hitters in the majors. The first was on April 15, 1987, versus the Los Angeles Dodgers. The spoiler was Mariano Duncan, with a third-inning single. The other came against the Pittsburgh Pirates on May 19, 1989. That time Glenn Wilson singled to lead off the eighth.
When Scott won 20 games in 1989, he lost just 10 and posted a 3.10 ERA. He made his third All-Star team (though he did not appear in the game). He received four of the 24 first-place votes for the Cy Young Award. Mark Davis, who had a career year out of the bullpen for the San Diego Padres, got 19; the other went to Orel Hershiser.
By that time, though, Scott had developed a tear in his rotator cuff. In 2003 he said, "The second half of 1989, I was done. I had a real good start in 1989. I won a lot of games before the All-Star game and barely hung on. I had a real good chance to win a lot more than 20 that year, but I just barely got there. I remember the 20th game was against LA and my arm was just done."41
In 1990 Scott got off to a poor start — after his first nine outings, he was 1-5 with a 6.33 ERA. However, he corrected a flaw in his stride and despite his injury, he still logged more than 200 innings, finishing with a record of 9-13, 3.81. He was the subject of trade rumors during the season — the Astros parted with several veteran pitchers that year. In December, he had arthroscopy on his labrum and was asked not to throw until spring training began in February 1991.42
When Opening Day 1991 came around, Scott was on the mound for the Astros. He was hit hard in that start, though, as well as his next five days later. He went on the disabled list the next day. He started to throw lightly in late April, but suffered a setback when he tried to work the shoulder harder. The Houston front office decided to rest him completely for another month. "It's back to square one," Scott said.43
In late June, Scott reported from his home in California, "Things are about the same. I haven't been able to do much of anything." He ruled out open surgery in view of the recovery time — indeed, that was why he had chosen the less invasive arthroscopic procedure before. Astros general manager Bill Wood said, "We've all faced the possibility that we've seen the last of him in a uniform." Team physician Bill Bryan observed, "It probably falls into the category of when the car is ready to break down, it breaks down."44
Shortly thereafter, Bryan described the problem more clearly. "If you don't have the ball held tightly in the socket of the shoulder joint, you cannot pitch with velocity, you cannot pitch with control and it hurts." Scott did open up the slim possibility of a major operation, but said that it was very doubtful — even though his shoulder was so painful that he could not swim or lift weights.45
In retrospect, Scott did not associate his injury with heavy use of the splitter. When asked in 2003 if he thought it shortened his career, he responded, "I think it extended my career. … Eventually I had a rotator cuff tear that just happens to pitchers. … I don't buy into that it's a pitch that will hurt your arm."46
On September 25, 1991 — the fifth anniversary of his no-hitter — the Astros honored Scott with a special day at the Astrodome. He said then that his pitching days were over, and in November, he made his retirement official.47
The Astros paid tribute to Scott once again on October 3, 1992, by retiring his uniform number, 33. "It was a great honor," he said, "and nice to share that honor with José Cruz, who I have always had a lot of respect for."48
In retirement, Scott played a lot of golf — he finally had his shoulder fixed for this reason in 2002 — and played the stock market. He said, "I tell people I'm a broker with one client — myself." He also kept his hand in with baseball to a small extent, helping out with the team at Aliso Niguel High School.49
Travel was also a frequent activity for the Scotts — "England, Scotland, Ireland, Wales, Spain, Morocco, New Zealand, Australia and a family trip to Hawaii every year." They had two granddaughters as of 2015: Drew (8) and Sawyer (3).50
Pat Murphy, a college teammate of Scott's, summed him up as a player and man in 2014. "He had a quiet confidence about him. He didn't say a lot but had a great arm. He went out there and just did it, didn't make a big deal of himself. He was a leader that way. And he's the exact same guy 40 years later as he was as a freshman. He's humble, a great family man and a great person."51
Last revised: July 1, 2015
Acknowledgments
Thanks to Mike Scott for his help.
Notes
1 Charley Feeney, "Umps: Scott Doesn't Scuff," Pittsburgh Post-Gazette, October 14, 1986, 32.
2 David A. Goss, "Michael Warren Scott," Biographical Dictionary of American Sports (David L. Porter, editor) (Westport, Connecticut: Greenwood Publishing, 2000), 1376.
3 Warren L. Scott obituary, greenhillsmortuary.com, November 2, 2013.
4 Ray Kerby, "An Interview with Mike Scott," astrosdaily,com, February 4, 2002.
5 Cougartown.com (website devoted to happenings in and around Hawthorne and Hawthorne High School), Feedback page 1145.
6 First given in 1981, this award is presented annually to the parents of a major-league baseball player who were actively involved in their sons' Little League experience. Lance and Robin Van Auken, Play Ball! The Story of Little League Baseball (University Park, Pennsylvania: Pennsylvania State University Press, 2001), 228.
7 Goss, "Michael Warren Scott."
8 "Mike Scott Inducted into WCC Hall of Honor," pepperdinesports.com, March 8, 2014. See also Pepperdine Baseball Records Book, 2015 (pepperdinesports.com).
9 "Mike Scott Inducted into WCC Hall of Honor."
10 "U.S. Stars Rip Japan Twice," Desert Sun (Palm Springs, California), June 23, 1975: B4.
11 Kerby, "An Interview with Mike Scott."
12 Kerby, "An Interview with Mike Scott."
13 Jack Lang, "Three Kid Hurlers Surprised by Mets," The Sporting News, April 21, 1979: 5.
14 Jack Lang, "Mets Get Two Vets to Replace Kid Hurlers," The Sporting News, June 30, 1979: 27.
15 Letter from Mike Scott to Rory Costello, received December 12, 2015 (hereafter "Scott letter").
16 Ron Fimrite, "No Wonder He's Hot," Sports Illustrated, January 12, 1987.
17 Kerby, "An Interview with Mike Scott."
18 Jack Lang, "Mets Trying Hard to Unload [Pat] Zachry," The Sporting News, January 3, 1983: 32.
19 Kerby, "An Interview with Mike Scott."
20 Pat Jordan, "Mike Scott Got a Grip on the Split-Fingered Fastball and Threw His Career a Nice Curve." People, July 6, 1987.
21 Fimrite, "No Wonder He's Hot."
22 Kerby, "An Interview with Mike Scott."
23 Jordan, "Mike Scott Got a Grip on the Split-Fingered Fastball and Threw His Career a Nice Curve."
24 Fimrite, "No Wonder He's Hot."
25 Joe Mooshil, "Scott 'Roughed Up' by Frey," Associated Press, June 5, 1985.
26 Scott Ostler, "Great Scott, He Throws a 'Splitter'," Los Angeles Times, August 14, 1986.
27 "Scott's No-Hitter Clinches for Astros." Associated Press, September 26, 1986.
28 Joseph Durso, "Scott Stymies Mets; Series Tied, 2-2," New York Times, October 13, 1986.
29 The other League Championship Series MVPs from losing teams, as of 2015, were Fred Lynn (1982, California Angels) and Jeffrey Leonard (1987, San Francisco Giants).
30 Durso, "Scott Stymies Mets; Series Tied, 2-2."
31 "Mets accuse Houston's Mike Scott of Scuffing Baseball" and "Feeney Clears Scott — for Now," Associated Press, October 15, 1986.
32 Charley Feeney, "Umps: Scott Doesn't Scuff," Pittsburgh Post-Gazette, October 14, 1986: 32.
33 "Network Recalls 1986 Postseason," Major League Baseball press release, November 4, 2011 (m.mlb.com/news/article/25882718/). Quote from an interview Scott gave for Major League Baseball's documentary A Postseason to Remember: 1986.
34 Richard Sandomir, "Mets' Announcers Slide Into New Roles," New York Times, October 14, 2006.
35 Wire service reports, October 17, 1986.
36 Kerby, "An Interview with Mike Scott."
37 Phillip Lee, "Classic Catches Up with Mike Scott," ESPN Classic, November 19, 2003.
38 "Scott Accused of Scuffing Again," United Press International, September 8, 1987.
39 Kerby, "An Interview with Mike Scott."
40 Michael A. Lutz, "Mike Scott Misses No-Hitter by 1 Out," Associated Press, June 13, 1988.
41 Lee, "Classic Catches Up with Mike Scott."
42 "Astros' Scott Hesitant About Upcoming Year," Associated Press, February 11, 1991.
43 "Astros Halt Comeback of Scott," Victoria (Texas) Advocate, May 10, 1991: B1.
44 "Scott May Be Through with Injured Shoulder," Associated Press, June 28, 1991.
45 Mike Forman, "Scott May Call It Quits," Victoria Advocate, July 7, 1991: B1.
46 Lee, "Classic Catches Up with Mike Scott."
47 "Astros' Mike Scott Will Retire," Associated Press, November 21, 1991.
48 Kerby, "An Interview with Mike Scott."
49 Lee, "Classic Catches Up with Mike Scott."
50 Scott letter.
51 "Mike Scott Inducted into WCC Hall of Honor."
Born
April 26, 1955 at Santa Monica, CA (USA)
If you can help us improve this player's biography, contact us.
https://sabr.org/sites/default/files/ScottMike.jpg
600
800
admin
/wp-content/uploads/2020/02/sabr_logo.png
admin
2017-02-09 13:48:44
2017-02-09 13:48:44
Mike Scott