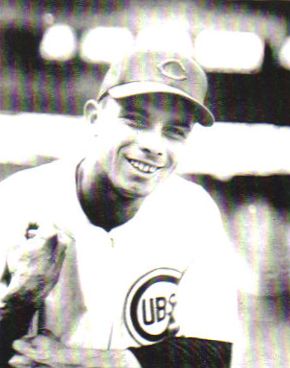 ---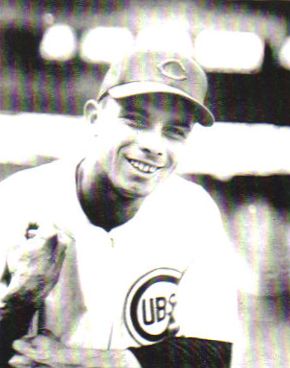 High atop the left-field foul pole in Wrigley Field waves a flag bearing Cubs uniform number 14, retired in honor of a slugging 1953 rookie. Paul Schramka wore number 14 for Chicago on Opening Day, 1953, when he pinch ran for Clyde McCullough in the seventh inning against Cincinnati. He did not score.
Two days later Paul replaced Gene Hermanski in left field in the final inning of a 3-0 loss to the Cardinals in St. Louis. No ball was hit to him.
On April 25, 1953, the Chicago Tribune reported, "Outfielder Paul Schramka, who made a good showing during the exhibition season, was shipped to the Springfield, Mass., Cubs farm, of the International League, subject to 24 hour recall." The recall never came.
On September 17, 1953, Cubs uniform number 14 was worn for the first time by a slender rookie shortstop named Ernie Banks. His legendary 19-year career resulted in Paul Schramka's number being retired by the Chicago Cubs on August 22, 1982. Afterwards, Paul sent Banks a telegram: "I left all the base hits in the jersey for you."
Paul Edward Schramka was born in Milwaukee on Thursday, March 22, 1928, the oldest of three sons, the others being Gene and Tom. Gene became the captain of the 1951-52 Marquette University basketball team. Paul's parents, Eugene and Rose Fons Schramka, operated a funeral home in a poor Polish neighborhood on Milwaukee's northeast side. The business had actually been started in 1892 by Paul's Polish-German immigrant grandfather, who in 1899 became one of the first to receive a mortician's license. Before that, no license was required.
Of course, the family lived upstairs from the funeral parlor. "When there was a funeral," Paul recalls, "you couldn't do anything. We had no money. There were no rugs on the floors. We couldn't make any noise. Other than that it was okay."
Paul's family was well known in the neighborhood. "My dad used to go on a Sunday to three or four churches and stand outside after church, just to be seen," Paul explains. "They weren't customers or clients, they were friends." It was a demanding business, though. "My parents never took a vacation together. Someone had to always stay at home, just in case."
Paul received his elementary education from the nuns at the parish school of his family's Roman Catholic Church, St. Mary of Czestochowa. As the United States was entering World War II, Paul was beginning his years at Messmer High School, a Catholic school on Milwaukee's north side. He loved sports, but his physical development arrived late. He wanted to play basketball but thought he was too short. By his senior year he had finally grown to 5′ 10 ½", an inch and a half less than his adult stature, so he tried out for the basketball squad. He not only made the team but also earned all-conference honors, finishing fifth in scoring and leading Messmer to fourth place in the state tournament a few months before graduating in 1945.
Playing baseball on the sandlots and Catholic Youth Organization teams, Paul caught the eye of longtime Chicago Cubs scout Jack Sheehan. The Cubs actually signed Paul to a minor league contract, but they allowed him to be released from it so that he could accept a baseball scholarship from the University of Notre Dame.
Unfortunately, the school with the golden dome did not provide Paul with a golden opportunity. In addition to baseball, he wanted to play on the basketball team. So, however, did a large percentage of the all-male student body. A huge number of would-be hard-court stars showed up at the tryouts. "I was trying to impress the coach," Paul remembers, "but he was mostly busy passing out towels. I didn't want that to happen in baseball."
After one semester in South Bend, Paul transferred out. His high school basketball coach had attended Loyola College of Los Angeles, and he was able to arrange a scholarship for Paul, in both basketball and baseball, from another West Coast Jesuit college, the University of San Francisco. Paul majored in General Business there from the spring semester of 1946 through his graduation in 1950.
"It was a real nice atmosphere out there," according to Paul. "The school was in the middle of San Francisco. There was no gymnasium and no baseball field. They finally built a field for the baseball and football teams, and ROTC had to share it. We only had 1,800 kids in the whole school, and they were all day students."
Paul roomed a short walk from the campus in the Haight-Ashbury district, two decades before it became the center of the hippie movement during the "summer of love" in 1967. "It was 920 Ashbury Street," Paul says. "It was a nice neighborhood at that time. USF didn't have any dorms. My last year they did make some Army barracks into dorms. I stayed there with a bunch of the baseball players."
One of the influential people in Paul's life was Pete Newell, his baseball coach at USF. Newell was also his basketball coach. The athletic program operated on a shoestring, so Newell coached baseball, tennis, and both varsity and JV basketball, all for $3,500 a year. Newell became a legendary basketball coach at several universities, one of three men (along with Bobby Knight and Dean Smith) to win championships in the NIT, the NCAA, and the Olympics.
The University of San Francisco allowed Paul opportunities that might not have been available at some larger schools. "At Notre Dame they had 200 guys out for baseball," Paul explains. "At USF we're lucky if we had 20."
Travel expenses were kept to a minimum. USF did not belong to a conference. Instead they scheduled opponents within the state of California. When they could, they drove to their away games. "Newell had a Hudson coupe," Paul remembers. "It couldn't shift out of second gear. If it stopped he had to start it with a coat hanger. A couple guys on the team also had cars." When they traveled a long distance, they went by train. "Coach kept the tickets. He'd tell us, 'Take off, spread out.' We always had more players than tickets."
In his freshman season at USF, Paul played center field, batted .410, smacked four home runs in 19 games, and was named the outstanding collegiate ballplayer in the Bay Area. Returning to Milwaukee for the summer, he played amateur ball for a team sponsored by Nerad Furs. He was selected to compete in the Hearst Diamond Pennant Series All-Star Game at Borchert Field, the home park of the Milwaukee Brewers of the American Association. The opposing manager in the game was Bunny Brief, whose major league career was aptly described by his surname but who, according to SABR's Minor League Baseball Stars (p. 17), holds the American Association career records for home runs, doubles, hits, runs scored, and runs batted in. Paul's team's manager in the game was Jack Kloza, also a cup-of-coffee big leaguer and former Milwaukee Brewer.
Two ballplayers from the game were selected by vote of the players to take part in the Hearst National Series championship game in the Polo Grounds on August 15, 1946. Paul, who had singled and doubled and stolen two bases, was chosen unanimously. One of the judges was Milwaukee Brewers manager Nick Cullop, "Ol' Tomato Face". (The alternate player chosen was Red Wilson, who went on to a 10-year career as a big-league catcher, mostly with the White Sox and Detroit Tigers.)
The Hearst championship game, matching the New York All-Stars against a team comprising two youngsters from each other city that had a Hearst newspaper, was a star-studded affair. Mayor William O'Dwyer threw the ceremonial first pitch; Eleanor Gehrig, Lou Gehrig's widow, presented the outstanding player trophy. The two rival managers were both future Hall of Famers, Rabbit Maranville for the New Yorkers and Ray Schalk for Schramka's team. The umpires were Bill Klem, Dolly Stark, and Butch Henline.
"Playing in the Polo Grounds was a thrill," Paul says unsurprisingly. He was the starting center fielder and the first batter in the game. He grounded out twice and tripled off the right-field wall in his five-inning stint. Aside from the game itself, played in front of nearly 16,000 fans, Paul enjoyed many unforgettable experiences on the week-long trip: the train ride to New York, staying in the luxurious New Yorker Hotel, an outing at Jones Beach, a tour of Radio City, and a Yankee-Red Sox game in Yankee Stadium.
At USF Paul played basketball for Coach Newell for one season, on the junior varsity, or as Paul describes it, "I practiced with him." After the season he went to the coach and said, "Pete, I'd just like to concentrate on baseball." He explains why. "I wasn't going to start. I was good around the basket, but I couldn't shoot from out. I could see the handwriting on the wall."
Paul played two more years of baseball for the Dons, batting .393 in 1948. Newell called Paul "the finest all-around outfielder I have ever coached."
In summer of 1948 Paul played semipro baseball in the Bay Area for a company team called the Moffat Mantecas. He batted .474 while leading them to the California semipro championship. In the title game, he went 4-for-5 with two home runs.
While at USF, Paul became a close friend of an enterprising young man who did publicity work for the athletic department. The young man was Alvin "Pete" Rozelle, who later transformed professional football from a second-rate sport into a giant industry.
"Pete and I double-dated a couple times," Paul recalls. "I used to play hearts with him. We were chums. He was a little older, but we both graduated in 1950." Years later when Rozelle was commissioner of the National Football League, he always made sure Paul was invited to the fancy Super Bowl parties, with all expenses paid.
On August 10, 1948, a Los Angeles Times headline, in the wonderful newspaper patois of the time, announced Paul's entry to organized baseball: "Seraphs Get Don Flash." The article reported, "Paul Schramka, outfield sensation for the University of San Francisco for the last three years, signed a major league contract with the Chicago Cubs yesterday and was immediately optioned to the Angels." According to the Times, the Cubs outbid 13 other teams for the right to sign him.
Five days after committing to the Cubs, Paul was running up some steps on his way to church when he tripped and fell. Trying to break his fall, he injured his right shoulder badly enough to require surgery. San Francisco surgeon David Leventhal performed the operation, which the Cubs paid for. Paul recuperated for about a week and a half at Pete Rozelle's house until he could take care of himself. Paul explains, "I used to take the bus from Pete's house to the doctor's office and the hospital to get checked out." His shoulder healed, but he never did regain his full range of motion in that arm, which fortunately was his non-throwing arm.
Paul spent several months at home in Milwaukee, then joined his new teammates in Chicago to catch the Santa Fe Grand Canyon Limited for the long ride to spring training in Los Angeles. The club stayed at the Biltmore Hotel and worked out in Wrigley Field, the home of the Angels of the Pacific Coast League. Since 1921, except for three years during World War II, the Cubs had held spring workouts at owner P.K. Wrigley's private playground on Santa Catalina Island, located, as the Four Preps' chart-buster described it, "twenty-six miles across the sea." This year, though, the club bowed to manager Charlie Grimm's wishes and stayed on the mainland. Grimm disliked Catalina's heavy morning dew and cool ocean breeze.
When the Cubs broke camp on March 27, Paul was assigned to their Class A farm team, the Des Moines Bruins. The manager was Smilin' Stan Hack, a five-time All-Star third baseman with Chicago.
"He was a nice guy," Paul remembers, "easy to play for. I don't recall one time that he got on the ballplayers. He'd just say, 'Get 'em tomorrow, boys.' Nice fellow. He coached third base.
"One time in Lincoln, Nebraska, I got a base hit to center field, and I rounded first base. I see the center fielder just standing there, so I faked him like I was gonna go to second. Then he faked me, and we went back and forth. Finally, I decided, what the heck, enough of this foolishness, I'm gonna get back to first and get on with the game. I just made it back. The ball had gone through his legs. The right fielder picked up the ball near the fence and darn near threw me out before I could get back to first.
"The next batter got a base hit, and as I came into third base, there was Hack with his arms folded and a big smile on his face. He said to me, 'That a boy, Paul. Way to stretch those triples into singles.'"
That year the Bruins finished fourth in the six-team Western League, then reached the playoff finals before losing to the Pueblo Dodgers. Paul batted .260 for the season and hit 11 home runs.
By spring of 1950, the Cubs had a new manager; Charlie Grimm was out, Frankie Frisch was in. That brought two changes: the Cubs returned to Catalina, and the easy-going, clownish manner of Grimm gave way to the intensity of Frisch. "He was a little Napoleon," Paul says of Frisch. "He was a tiger."
Catalina was an eye-opening experience for Paul. He arrived late because he was still attending classes at USF. He flew to Los Angeles, then took a small plane to the island. "It was just like waking up in dreamland," he recalls. "I was just a young kid. It was so quaint. There were no cars, just little carts. Wrigley took us up to his ranch. We toured his home up there. He had a group of cowboys, and they put on a rodeo for us. He had a stable of Arabian stallions. He had silver saddles from Mexican generals. Some of the ballplayers were out there wrestling with some of the animals. Hal Jeffcoat I remember was one guy who did."
Paul was the youngest ballplayer in camp. His roommate, legendary left-hander Johnny Vander Meer, was the second-oldest. "Two things impressed me about him," Paul says. "He wasn't loosey-goosey. He worked real hard. The other thing was, even though he was 35 years old, he was the second-fastest runner on the club (behind Frankie Baumholtz). He told me at Cincinnati they used to use him as a pinch runner."
Paul himself had earned a reputation as a fast runner, but he downplays that. "I looked fast because I was running all the time I was out there, but I was maybe a little above average. I tried to hustle my way into the lineup. Nobody out-hustled me."
Thinking back to his short time on Santa Catalina, Paul says, "In retrospect now it's even greater than when I was going through it."
On March 24, 1950, Paul was re-assigned to the Des Moines Bruins, playing this time for manager Charlie Root. "He was a tough egg, a grisly fella," Paul says of Root. "Everyone knows the story about him and Babe Ruth. I've heard him respond a couple times when someone said, 'Oh, you were the one that was pitching when Babe Ruth pointed and hit that home run.' All you had to do was say that to Root and he'd say, 'Nobody points on me! That SOB. He'd be sittin' on his can in the batter's box.' He was mean."
The Bruins opened the season with three games in Sioux City. Paul got four hits in the series–all home runs. That pretty much set the pattern for the year. He hit with power, slamming 20 homers and driving in 92 runs, but for much of the season he had the lowest batting average in the league among regular players. He struggled to bring his average up to .246 by season's end. He was a fan favorite nevertheless, always hustling and contributing some fielding gems.
In May, Paul acquired a new teammate, a shortstop named Gene Baker. Baker had played in the Negro American League with the Kansas City Monarchs in 1949. He was the first African American (modern term) to sign with the Cubs organization. "He couldn't stay at the same hotel when we went to Wichita," Paul remembers. "I think that was the only place. I got to know Gene pretty well. Nice guy."
The Des Moines Register on June 29 described Baker as "a brilliant fielder" whose fielding "verged on the miraculous."
On June 4 the Bruins played a doubleheader with the last-place Pueblo Dodgers in the Des Moines home park, Pioneer Memorial Stadium. Paul slammed a three-run homer in game one. In the third inning of the second game a pinch hitter sent the Bruins' pitcher Bill Adkins to an early shower. When he reached the dressing room under the stands, he encountered a stranger rifling through the ballplayers' clothes, helping himself to rings and other personal articles. He had gained entry by knocking a hole in the wall. Adkins chased the intruder out the door, across the outfield, and into the stands. Several fans and an on-duty detective joined the pursuit. The thief was apprehended and his loot returned, but the Bruins lost the second game.
In July the Cubs came to Des Moines and played an exhibition game against their Class-A affiliate. The starting pitchers, for one inning, were Paul's ex-roomie Johnny Vander Meer and his current 51-year-old manager, Charlie Root. The old skipper hurled a shutout inning. The Cubs won the game, and Paul went 0-for-4 against Frank Hiller, Chicago's best pitcher that season, and one-time 20-game winner Bill Voiselle.
On Saturday night, August 12, Uncle Sam came calling. Paul was 22 and single. Six weeks earlier President Harry Truman had ordered US ground troops to assist South Korean forces. Paul was ordered to report for his military physical exam on Wednesday in Milwaukee. After 12 days the results came back–he was 1-A. His induction was scheduled in September but was delayed to allow him to complete in the league playoffs. The Bruins lost to Sioux City, three games to two, and on October 20 Paul became a soldier. He received his basic training at Fort Benning, Georgia. By a stroke of good fortune, he was sent not to Korea but to Germany. Corporal Schramka was stationed at Friedberg, where Elvis Presley would be stationed during his Army days from 1958-60.
By an additional stroke of fortune, while at Fort Benning in January 1951, Corporal Schramka was recruited to the camp baseball team organized by Mike Munsinger, who, until he was drafted, had been a right-handed pitcher in the Brooklyn Dodger organization. With 10 (of 20) team members, including Paul, who had played minor league ball, Munsinger's outfit formed a formidable ballclub. Arriving in Germany, they entered the Western Conference of the European GI baseball league. Their team was called the 8th Infantry Regiment Bullets.
In the Army as in civilian life, ballplayers often received special treatment–like not living in barracks. "It was really nice," Paul recalls with a smile. "We'd stay in Bad Nauheim in a hotel, rugs on the floor. During the season we'd get up in the morning and go down to the mess hall. This was all part of the reparations. They'd say, 'What would you like to eat?' Then we'd sit there and read the Stars and Stripes. After that we'd go up to our rooms and clean up, put on Class B uniforms and go over to the snack bar and have coffee. We'd come back, put our baseball uniforms on and go practice. We'd practice and come back and eat dinner. Aside from playing games, we traveled around pretty well. We flew to England for one game, and we went to Berlin a couple times in the eastern zone."
In 1951 the Bullets appeared unbeatable. They won their first 28 games. Paul, who thanks to his father's line of work had acquired the inevitable nickname of "Digger," was their leading hitter, and Cleveland Indian farmhand Norm Camp, a right-hander, was their star pitcher. During the season Camp hurled 54 consecutive scoreless innings and finished the year with a 25-2 record.
By winning their conference the Bullets qualified for the EUCOM (European Command) playoffs. In a three-game series, Paul's team defeated the Second Armored Division Artillery Redlegs, two games to one. The Bullets won game one, 5-2, as Paul drove in four runs and scored the other. In the deciding game Paul contributed two doubles, two RBIs, and two runs scored in a 5-0 victory.
Beating the Redlegs advanced the Bullets to the G.I. World Series to take on the 26th Infantry Blue Spaders. The two teams split the first four games. In game five Paul singled in the eighth inning, stole second, then scored on a base hit for the only tally in a 1-0 win.
After that the Bullets' bats went silent. They lost game six, 10-2, scoring only on a Schramka two-run homer. In the deciding game they managed just two base hits, both singles by Schramka, and lost, 5-0.
The next season was also memorable for Paul and his fellow Bullets. He remembers, "In '52 before the season I was working in the Special Service office. The lieutenant took good care of me. We spent seven or eight days of spring training in Tripoli, Africa. That was a neat experience. There was this good friend of mine–he became Ernie Harwell's sidekick. His name was Paul Carey. Poor guy, he was working in the company, so he didn't get many breaks. Whenever we had sporting events I'd always get him to be the announcer. He later worked for WJR in Detroit. He had a terrific voice. The sportswriters called it 'the voice of God.' When Harwell retired, Paul Carey retired with him."
The 1952 Bullets were as dominant as they had been the year before, winning 19 straight games and again leading their conference. Schramka batted .432 for the regular season. The Bullets appeared ready to avenge their previous World Series loss, but fate intervened. Three of their starting players, including Russ Sing, their home run and RBI leader, were rotated back to the United States. Their lineup depleted, the Bullets lost the playoff round in three games. On October 20 Paul received his Army discharge.
Returning home, Paul married his sweetheart from his college days, California native Barbara Malley, on November 29, 1952. After a couple months of readjusting to civilian life, he reported to the Cubs' spring training headquarters, transplanted during his absence from Catalina to Mesa, Arizona.
Paul had a great spring. On March 13 he pinch-hit for Johnny Klippstein and slammed a home run. Six days later he batted for Warren Hacker and smashed a two-run homer. Four days after that he belted a double and a home run. Like AM radio, the hits just kept on a-comin'. His average for the exhibition season was .310.
His heroics with the bat did not go unnoticed. The Chicago Tribune, in its March 28 preseason analysis of Cubs strengths, cited "the solid slugging of rookie Paul Schramka."
Cubs shortstop Roy Smalley compared Paul to Enos Slaughter. "He can hit, and he can do it in the clutch," Smalley told the Tribune (April 6). "He has speed, hustle, and goes after a ball like a rabbit. But at the plate he gives the pitcher an inferiority complex."
Cubs player personnel director Wid Matthews, a man frequently given to overstatement, was quoted in The Cubs on Catalina (p. 52) as saying, "Schramka is the only ballplayer around who swings like Ted Williams."
A week before the season opener, Chicago manager Phil Cavarretta announced his starting lineup. His left field choice was Paul Schramka. "He certainly has been a surprise to me," the skipper told the Tribune (April 8). A contributing factor in Cavarretta's selection was that Chicago's regular left fielder, 1952 MVP Hank Sauer, had suffered a broken finger on his right hand on March 16. Initial reports indicated he was unlikely to return much before the end of April.
Four days before the opener, the Tribune carried a photo of the Cubs' starting outfield: Frankie Baumholtz, Preston Ward, and Paul Schramka. The next day the newspaper told its readers that "the ex-GI (Schramka) will try to fill Sauer's shoes."
After all the buildup, the Cubs opened the season in Wrigley Field against the Redlegs with Gene Hermanski in left field. Rookie Schramka rode the bench, appearing only in the seventh inning as a pinch runner for the catcher. The supposedly disabled Sauer, making the most miraculous recovery since Lazarus, pinch-hit in the eighth inning and popped out.
Game two of the Cubs season was more of the same–Hermanski in left, Sauer pinch-hitting in the eighth, Schramka cooling his heels in the dugout. This time Paul replaced Hermanski in left field for the bottom of the eighth. The ball never got near him.
That turned out to be Paul's last gasp in the big leagues. The Cubs endured four straight cancellations due to snow and cold temperatures. By the time they resumed playing baseball, Sauer had returned to the starting lineup. Paul was the odd man out.
"The Cubs had seven outfielders at the time," he says dispassionately. "I was number seven. I knew my place."
Beginning on April 25 his place was in Springfield, Massachusetts, with the Cubs' International League farm team. After a brief stay Paul was reassigned to his old club in Des Moines. The Bruins finished fourth and barely made the playoffs, but they caught fire in the postseason and won the Western League championship. Paul batted .271 for the Bruins, with nine home runs and 57 RBIs. In the playoffs, though, he was their leading hitter at .307.
On October 1, 1953, the Cubs sold Paul to their Beaumont club in the Texas League. A week later the Los Angeles Angels of the Pacific Coast League purchased him from Beaumont. He went to spring training with the Angels but was the first man cut. On April 2 he was shipped back to the Beaumont Exporters, the Cubs' Double-A affiliate. By the first week in May he was a Macon (GA) Peach.
"I actually had my best year in Macon," Paul remembers. He batted .288 and hit 21 home runs. He has fond memories of his manager there, Nick Cullop. "He remembered me from when he was managing in Milwaukee," Paul explains. "He saw me in that qualifying game in Borchert Field. I scored from second on a passed ball. Went to third and kept on going. That may have impressed Cullop."
Despite having his best year in Macon, Paul was released on September 9. He was 26 years old and had been released by a Single-A Sally League club. His career path was clear to him. He returned to Milwaukee and enrolled in the Wisconsin Institute of Mortuary Science.
"You had to have two years of college," he says, which he had, "and then you had to get another year of mortuary school." After a one-year apprenticeship he became a licensed mortician, working with his father. He inherited both the business and his dad's sense of humor. He takes pleasure in inviting his friends and acquaintances to "drop over some time." He also enjoys repeating, in mock dismay, "Business is terrible. Nobody's even sick." But besides putting "the fun back in funeral," Paul has a quip for every occasion.
Paul and Barbara raised five children: Stephen, Michael, MaryAnne, Peter, and Gregory. One of his sons is a funeral director, and Paul never totally retired from the business; he still does a little consulting. Barbara died on September 25, 1997. In 2002 Paul married Ruth Ondrejka Willborn. They live in the northern Milwaukee suburb of Germantown.
Paul's baseball life, however, did not end when he became an undertaker. From 1955 through 1967 he was a hard-hitting outfielder on the Milwaukee Falk Corporation semipro team. He helped his club win 10 league championships and six state titles and finish among the top seven semipro teams in the United States four times.
In 1957 Paul was invited to join the national champion Sinton (TX) Oilers team representing the United States in the third annual (and final) Global World Series, a round-robin competition matching non-professional baseball teams from eight countries on four continents. The tournament was the creation of Milwaukee industrialist (and Paul's team's sponsor) Dick Falk and former baseball commissioner Happy Chandler.
"Dick Falk was ahead of his time," Paul declares. "He used to say, 'We all don't speak the same language, but baseball is something we all understand.'"
The 1957 games were played in Detroit's Briggs Stadium. The US team was the prohibitive favorite. Led by Paul's two triples and former New York Giant Clint Hartung's winning RBI single, the Oilers won their opening game against Colombia in 10 innings. Japan surprised the hosts, though, and defeated the United States, 3-2, and won the tournament.
"The reason we lost," Paul explains, "is our pitcher was running and missed third base. It cost us a run." The only consolation for Paul was that he was named Outstanding Outfielder in the series.
Paul's final year of competitive baseball was 1968. With Falk no longer supporting a team, Paul joined a club sponsored by Ed Raatz Inn. At age 40 he led Raatz to the Wisconsin championship, earning a berth in the national tournament. In the state title game, Paul blasted two doubles and a home run and drove in six runs. He was named the tournament's most valuable player.
Still, scuffling against factory teams in Wichita is a long way from playing on a big-league ballclub. For three decades Paul has been president of the Old Time Ballplayers Association of Wisconsin and a member of a comparable Chicago organization. He was elected to the Halls of Fame of the University of San Francisco athletic department (1973), the Old Time Ballplayers' Association of Wisconsin (1987), and Messmer High School in Milwaukee (2001). He has remained in and around baseball for a lifetime, but doesn't he have regrets about being this close to a big-league career?
"I had fun, and it all turned out super," Paul says with a grin. "I feel very fortunate. How many guys can say they played major league baseball?"
Sources
Personal interviews with Paul Schramka, mostly on January 9 and January 31, 2007
Chicago Tribune
Des Moines Register
European Stars and Stripes
Los Angeles Times
Milwaukee Journal
Milwaukee Sentinel
New York Times
Vitti, Jim. The Cubs on Catalina. Darien, CT: Settefrati Press, 2003.
www.retrosheet.org
Photo Credit
Paul Schramka
Born
March 22, 1928 at Milwaukee, WI (USA)
Died
July 8, 2019 at Menomonee Falls, WI (USA)
If you can help us improve this player's biography, contact us.
http://bioproj.sabr.org/bp_ftp/images/SchramkaPaul.jpg
600
800
admin
/wp-content/uploads/2020/02/sabr_logo.png
admin
2012-01-04 20:49:05
2022-04-04 13:52:38
Paul Schramka