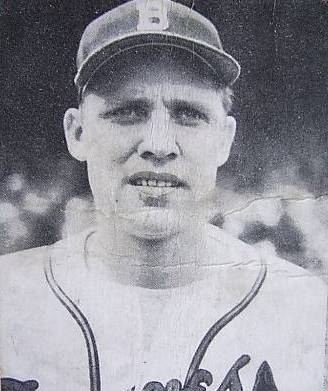 ---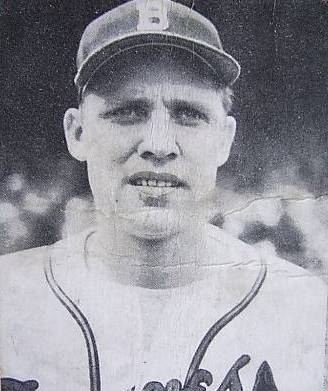 Not unlike the lead character in Winston Groom's 1986 novel Forrest Gump, Raymond Floyd Sanders (through happy coincidence or, less likely, adroit planning) was able to build a reservoir of memories in baseball, both delightful and unfortunate, that other ballplayers with much longer careers could only envy. In fact, Sanders' appearance in four World Series in just seven years as an active player is simply the beginning.
Sanders was born on December 4, 1916, one of six children, just outside the mining city of Bonne Terre, Missouri. About 40 miles due south of Sportsman's Park, the St. Louis home of both the National League's Cardinals and the American League's Browns, Bonne Terre was also home at the time to the largest known lead ore deposits in the world. Its residents enjoyed a thriving mill-town baseball culture, with several leagues and teams competing for bragging rights on the many playgrounds in and around the community.
Known by friends, neighbors, and, later, teammates as Ray, Gabe, or Sandy, Sanders was a good-looking, popular young man with an outgoing, "easy-does-it" disposition. At 6-feet-2 and 185 pounds, tall and rangy, a right-hander batting left-handed, Ray developed into an outstanding athlete. Although he played no baseball in high school (legendary coach Bert Fenenga would not keep him on the roster, citing his "lackadaisical" approach to the game), he starred for his local American Legion team. After graduating, however, he spent most of his leisure moments playing softball and developed a reputation as an exceptional player on the St. Louis playgrounds. In 1938, having played softball for three years since school, he was discovered and signed by Cardinals scout Walter Shannon, who was also credited with signing Earl Weaver, Harvey Haddix, Ray Fosse, and Terry Crowley, among others.
The Cardinals assigned Sanders, then 21, to their Paducah Indians farm club in the Class D Kitty League. He was one of some 600 players in the Cardinals' vast minor league system, which was composed at one time of more than 30 ballclubs. Ray quickly adapted to being away from home and to the rigors of Depression-era minor-league baseball, and slowly but steadily advanced through the system by demonstrating a powerful bat and a skilled glove at first base, the position he played throughout his pro career.
Except for his first season, when a broken foot shut him down for a month (a precursor to a history of fractures and injuries later in his major-league career), Sanders was either selected to his league's All-Star team or received honorable mention every year until his promotion to the big leagues in 1942. In 1938 with Paducah, he batted .322 while clubbing 13 home runs and 22 doubles, driving in 68 runs, and stealing 10 bases. His ascension to Class C Kilgore (East Texas League) in 1939 led to a .333 batting average with 14 home runs and 95 runs batted in.
In 1940, Sanders was promoted to the Columbus, Georgia, Redbirds of the Class B South Atlantic League. He had an outstanding year; he was the circuit's MVP, hitting .349 with 14 homers, 16 triples, and a league-record 152 RBIs. He continued to move up in the Cardinals ranks and in 1941 at Double-A Columbus of the American Association was selected as the Rookie of the Year. Solidifying his reputation as a run producer, he scored 119 runs while knocking in 120, led the league in doubles with 40, hit 14 homers, and batted .308.
After the 1941 season, Cardinals general manager Branch Rickey made a bold move that directly affected Ray and his promotion to the parent club. Rickey, driven partly by economics (i.e., a sizable contract for the day) and a belief in moving players before their skills eroded, traded popular first baseman and future Hall of Famer Johnny Mize to the New York Giants, essentially for cash. Mize held the Cardinals' single-season home run record with 43 (set in 1940), and at 27 was just two years older than Ray.
The spirit of the Gashouse Gang was alive and well in St. Louis, where they would "pay little attention to how a player hits or fields, so long as he will run through a brick wall after a ball." Mize had missed a number of games with a sore or broken thumb during the 1941 pennant race with the Dodgers, which didn't sit well with manager Billy Southworth. He injured his shoulder later in the season, and his home run production declined accordingly, from 43 in 1940 to just 16 in '41. Trading Mize opened a slot for Sanders, and with his reputation as a slick-fielding, run-producing first baseman, Ray began the 1942 season with the Cardinals.
Sanders' transition to major-league ball was not as smooth as his ascent through the farm system. He was 25 years old when he broke into the majors on April 14, 1942, with a 1-for-4 day, and he split time at first base with another farm graduate, speedster Johnny Hopp. Sanders appeared in 95 games and finished with a .252 average (after never dropping below .308 in the minors), 5 home runs, and 39 runs batted in. Though coming off an excellent 1941 season in which he batted .303, Hopp finished with similar stats in the platoon arrangement. Sanders was superior on defense, though, proving an outstanding glove man around the bag with only six errors in 77 games, while Hopp finished with 14 in 88 contests.
The Cardinals ended the season going a red-hot 43-8, coming from 10 1/2 games back to win the pennant. They then beat the defending champion New York Yankees in five games to take the World Series. This was the first season of wartime baseball; most teams had already lost or were bracing themselves for the loss of key players to the armed forces or the defense industry. The Cardinals, whether by design or need, had successfully absorbed a large influx of rookies in 1942, with Stan Musial assuming Hopp's outfield position, Whitey Kurowski taking over at third base, and rookie pitcher Johnny Beazley winning 21 games. St. Louis fielded the youngest team in the big leagues during 1942 with an average age of 26 and only one regular over 30.
Manager Southworth went with Hopp in the Series, hoping he'd show some of his 1941 form. Sanders pinch-hit in two games. In the ninth inning of Game One, he walked and scored on Marty Marion's two-run triple, although St. Louis lost, 7-4. Sanders popped out to third while pinch-hitting for pitcher Howie Pollet in the seventh inning of Game Four, as the Cards won 9-6.
As World War II ground on and more players left for the war effort, the Cardinals — hoping to salvage their extensive system — even advertised for players with an ad in The Sporting News. Sanders, however, wasn't going anywhere. He became a regular for the next few seasons, one of those fortunate young men who could continue to earn a living playing ball thanks to a 4F classification due to a condition that ultimately led to heart disease.
Ray continued to demonstrate deft glove work around first base in 1943, participating in a league-leading 142 double plays and making just seven errors in nearly twice as many chances as in '42. His hitting picked up too, as in 144 games he batted .280 with 11 home runs, 21 doubles, five triples, and 73 RBIs. He further endeared himself to Southworth and fans of "Gashouse" baseball with 15 sacrifice hits, and also walked 77 times. Sanders ended the season with a strong .381 on-base percentage, well above the league OBP of .339.
Not everything was fine, however. On September 6, Sanders suffered the first significant injury of his career when he was struck in the head by a batted ball in a game against Pittsburgh. He was carried from the Sportsman's Park field on a stretcher. He was pronounced fit after being sent to the hospital for X-rays, but missed several games at the urging of the team physician.
For the second year in a row, Sanders went to the World Series on a team that won at least 105 games (actually 106), as the Cards trumped second-place Cincinnati by 18 games. In the Series, though, the Yankees turned the tables and won the rematch in five games. Sanders started each game, batting sixth and playing first base, and hit .294 with three runs scored. He was one of the few heroes for St. Louis, as his two-run homer in Game Two accounted for the winning run in the only victory of the Series for the Cardinals.
Although the season ended on a down note, the year ended well when Sanders married his hometown sweetheart on Christmas Day. Ray and Bernice Magre enjoyed a 39-year marriage, raising a son, James, and a daughter, Sandra.
The 1944 campaign was Sanders' best by far. He played in all 154 games, hitting a robust .295, with 12 homers, 34 doubles, and nine triples, and scoring 87 runs while finishing fourth in the National League with 102 RBIs (all career highs). His on-base percentage was .371, thanks to 71 walks. Ray again demonstrated the Cardinals' trademark of outstanding defensive expertise, leading all National League first basemen with a .994 fielding percentage while participating in a league-leading 142 double plays and two triple plays — 14 days apart — in July. His all-around performance earned Sanders a 15th- place finish in voting for the National League MVP; teammate Marty Marion, the club's sparkplug shortstop, won the award. Sanders was named first baseman on The Sporting News Major League Baseball All-Star team.
Winning their third straight pennant, the Cardinals helped St. Louis enjoy its first and only "Streetcar Series" as they faced off against their Sportsman's Park landlords, the Browns. "The funny thing about that World Series," said Stan Musial, "the fans were rooting for the Browns, and it kind of surprised me because we drew more fans than the Browns during the season. The fans were rooting for the underdog, and I was surprised about that, but after you analyze the situation in St. Louis, the Browns in the old days had good clubs. They had great players like George Sisler and Kenny Williams, and the fans who were there were older fans, older men, old-time Brownie fans. But it was a tough Series."
The World Series turned into a pitching showcase, with the powerful Cardinals hitting a subpar .240 while the Browns countered with an anemic .183 average. The Series resulted in a postseason record for strikeouts, with the Browns fanning 49 times in six games while the Cardinals went down on strikes 43 times — Johnny Hopp leading the way with eight whiffs.
Despite all the misses, it was an exciting matchup. The Browns, led by right-hander Denny Galehouse, won a taut pitching duel in Game One, 2-1. Sanders, batting second, went 1-for-3 and did not figure in the scoring. Game Two proved to be another thriller, with Missouri Senator and vice-presidential candidate Harry S. Truman in attendance. Sanders returned to his traditional sixth spot in the order and sparked the Cardinals to a 3-2 victory in 11 innings by scoring two runs — including the game-winner in the bottom of the 11th.
The buildup to his game-winning tally was thrilling in itself. In the top of the 11th, Browns first baseman George McQuinn led off with a "near-home-run" double off a protective screen in right field, but the Cards then cut him down at third base as he attempted to advance on a bunt. Sanders started the Cardinals' half of the 11th with a sharp single. After a sacrifice moved him to second, the Browns intentionally walked National League MVP Marion to set up a double play. Southworth retaliated by sending up top pinch-hitter Ken O'Dea to bat for Emil Verban, and O'Dea delivered a single to right that scored Sanders and tied the Series at one game apiece.
The Browns took the Series lead again by winning Game Three, 6-2, but the Cardinals won Game Four, 5-1, as Sanders participated in two key double plays that seemed to take a lot of energy out of the upstart American Leaguers. Sanders led off the sixth inning for the Cardinals with a single and scored the club's fifth run of the game on a Marty Marion double.
Game Five represented a matchup of the Game One pitchers, Denny Galehouse and the Cards' Mort Cooper. It remained scoreless until the sixth inning, when Galehouse threw one of "only two pitches he regretted" that day — a slider that Sanders blasted over the right-field pavilion to put the Cardinals ahead 1-0. A second Cardinal home run, in the eighth, resulted in a final score of 2-0 and a three-games-to-two Cardinal lead.
The next day the Cards wrapped up their second World Series victory in three years, winning Game Six, 3-1. Sanders contributed this time by scoring in the pivotal fourth inning, when the National Leaguers wiped out a 1-0 deficit with all three of their runs off Nels Potter and Bob Muncrief.
Sanders finished his three-year run of Word Series participation for the Cardinals with a .282 batting average in 13 games, swatting 11 hits in 39 at-bats with two homers. Ever the glove man at first base, he tied the record for the position with five assists in the 1943 Series and also tied a World Series record by recording a hit in each game of the 1944 classic.
Sanders' aggregate postseason reward for appearing in the 1942, '43 and '44 World Series was $15,141, a significant and substantial sum of money at the time (and higher than the average big-league salary during the era). It would have been even higher, but the World Series winner's share in '44 came to just $4,626, the smallest since 1933, largely due to the limited seating capacity of Sportsman's Park.
In 1945 Uncle Sam accomplished what the National League could not. Although the '45 season saw a trickle of former major leaguers returning from the war, with some, like the Tigers' Hank Greenberg, significantly affecting their teams' fortunes, most teams continued to see their 1945 lineups negatively affected by the loss of players. The Cardinals had the third lowest number of players called up for service through 1944 (23, in contrast to Detroit, which had the most at 36), but were then dealt the loss of Stan Musial for the entire 1945 campaign and star pitchers Max Lanier and Mort Cooper, along with brother Walker Cooper (the Redbirds' starting catcher) in midseason of that year.
Even with the loss of these players, the Cardinals still managed to win 95 games and finish just three games back of the Chicago Cubs for the National League title. In addition to the war losses, St. Louis struggled with nagging injuries to Sanders and Whitey Kurowski. Sanders missed 11 games with assorted bumps, bruises and scrapes, and ended the year hitting .276, with a decline in power numbers (29 doubles, three triples, eight home runs, and 78 RBIs, 24 fewer than the year before). Of concern to a club that often employed the sacrifice and hit-and-run, his strikeout total increased to 55, ninth highest in the National League. And, perhaps due to being in less than ideal health, his errors more than doubled, to 19.
Change was in play for the Cardinals after their "disappointing" 1945 campaign. In 1943, owner Sam Breadon had fired his high-paid GM, Branch Rickey, architect of the Cardinals' most successful period to date. (Rickey moved to Brooklyn to run the Dodgers organization.) In the 1945 off-season, again feeling constrained both by stadium capacity and his club's on-field success in 1942 through 1944 (e.g., "You don't pack them in when your club is 15 to 20 games ahead"), Breadon engaged in a bargain-basement sale of players — Cooper, Hopp, and Jimmy Brown to name a few. The owner even decided it was time for the team and Billy Southworth to part company. Manager Southworth was offered a significant increase in pay to manage the Boston Braves, and Breadon let him go. Despite the moves, Rickey and Southworth continued to play prominent roles in Sanders' future.
The return of prewar stars, along with rumors of a "lively" ball, marked the start of the 1946 season. The '45 champion Detroit Tigers, for example, with an influx of players returning from the service, started only four members of their World Series-winning club. It was an unprecedented turnover in the time before the era of free agency.
As a result of this full-scale switch, the Cardinals were flush with talent once again. The return of outfielders Musial, Terry Moore, and Enos Slaughter, along with the addition of Harry Walker in center, helped make the Cardinals the prohibitive favorites in the National League. Additionally, a slugging rookie phenom named Dick Sisler, son of Hall of Famer and local hero George Sisler, was a sensation during Cuban Winter League ball to the extent that he earned mention in Ernest Hemingway's new novel The Old Man and the Sea. With Cardinals coach Mike Gonzalez managing Sisler in winter ball and providing first-hand reports as to his abilities, Breadon dreamed of a big box office in St. Louis, and when new Cardinals manager Eddie Dyer chose Sisler as the starting first baseman just before Opening Day of '46, Sanders was relegated to the bench.
Sisler ultimately flopped, hitting only three homers and .260 in part-time play. Manager Dyer, however, didn't call Ray's number. Rather, he threw a first baseman's glove into Musial's locker one day and asked him to make the move for the good of the cause.
Unfortunately, asking Stan Musial to relocate to first base may have had less to do with a desire to get more offense out of an overcrowded outfield than another underlying reason. As Marty Marion later explained: "When he was with us, we used to call Ray 'Dead Body.' He was a big, tall, skinny guy. He was the laziest man I ever saw in my life. The first day in spring training he was sitting next to me. He said, 'Marty, I wish the season was over!' Ray was touted. A St. Louis boy. He had good talent, but he was lazy. He was supposed to be better than he turned out to be."
In the meantime, a number of former Cardinals, including Hopp and Mort Cooper, had found their way to Boston, reunited in '46 with Southworth on what came to be called the "Cape Cod Cardinals". With the St. Louis first base position promised to a young and inexpensive winter ball phenom, and with a future Hall of Famer in Musial as fallback, Sanders was not surprised to find himself on the trading block as well. On Opening Day, April 16, he was pleased to find that he would be joining his fellow Cardinal alumni playing for the Braves. He'd been sold to Boston for the then-princely sum of $25,000.
Many ballplayers enjoyed suiting up for Southworth in these years — he was what might be referred to as a player's manager in modern terms — and Sanders was no exception. With his team picked to finish in the second division in the National League, Southworth was anxious to add some punch to what he felt was a weak-hitting Braves lineup. Ray provided a veteran left-handed bat with pop who, it was hoped, could take advantage of the short right field fence in Braves Field while providing two staples of any Southworth team: speed on the bases and defensive skill around first base.
The Braves saw the benefit of Sanders' presence almost immediately, when he collected nine hits in 17 at-bats during an early-season sweep of the New York Giants, and got off to a .321 start. During the early going, though, the "soft" nature of the Braves lineup remained apparent, as Boston was no-hit by Ed Head of the Dodgers on April 23, 5-0. Sanders was in the lineup, batting cleanup, and went 0-for-3.
Sanders' fast start at the plate quickly subsided as he re-established a trend that had begun in 1945; he was struggling against postwar pitching. His average had declined to .243 by the time a series with the Cardinals in St. Louis began on August 20, with just six homers and 35 runs batted in despite the inviting right-field porch of Braves Field beckoning in home games. After Boston lost the first game of the two-game series, the clubs squared off on August 21 in a night game at Sportsman's Park.
The Cards were leading 2-1 in the seventh when third baseman Erv Dusak led off in the bottom of the inning. He laid down an exceptional bunt toward Braves third baseman Nanny Fernandez. Only an outstanding throw would get Dusak at first base. Fernandez charged in, picked the ball up with his bare hand, and in the same motion whipped it across the infield toward Sanders at first base. It was one of the fielding highlights of the game, but the throw was to the home-plate side of first base. Sanders had to reach out to his left, extending his left arm parallel to the baseline, into the path of Dusak, barreling down the line.
Dusak crashed into Sanders' outstretched arm, shattering it so badly that second baseman Connie Ryan, who was nearest to the play, actually went white. By the time Ryan, Dusak, and everyone else in the vicinity had reached Sanders, he was writhing in pain on the baseline. He was carried off the field and taken to St. John's Hospital, where it was determined that he had suffered fractures of his elbow and upper left arm. His arm was actually broken in three places, and the Braves announced that he would undergo surgery and miss the remainder of the 1946 season.
This injury proved devastating. Sanders remained in St. Louis to rehab for more than a year, undergoing a series of surgeries to repair the damage to his left arm. The Braves paid him his full salary in 1947, even though he did not report to Fort Lauderdale for spring training. In fact, he was out of professional baseball for about 18 months, an enormous amount of time for anyone but a figurative lifetime for someone who would be 31 years old upon his return to the game.
In the interim, the Braves continued to build their team, with an eye toward challenging for their first National League pennant since 1914. Coincidentally, on the day Sanders was hurt, the Braves had purchased highly touted Earl Torgeson from Seattle of the Pacific Coast League for $50,000 and four players. Torgeson, a big, bespectacled slugger, proved difficult for Sanders to displace, as he brought with him all the tools — left-handed power, speed, defense — valued by Manager Southworth and initially sought after in Sanders. Torgeson was also seven years younger.
Finally, Sanders' doctors pronounced him fit to rejoin the Braves in spring training of 1948. Torgeson was coming off a superlative rookie campaign and the Boston organization felt it was close to championship form. Sanders was seen as a spare part but, more importantly for Braves management, as a bargaining chip as they tried to close some holes in their team.
On March 6, 1948, the person who signed Sanders to his first professional contract re-entered the picture. Dodgers general manager Rickey, assured by doctors that Sanders would return to being 95 percent of the ballplayer he was prior to his injury, acquired him along with holdout second baseman/outfielder 'Bama Rowell and $40,000 in cash in exchange for Brooklyn's "holler guy" — second baseman Eddie Stanky. Stanky, described by Leo Durocher as a player who "can't hit, can't run, can't field…but all the little son-of-a-bitch can do is win," was seen by the Braves as a missing piece to their infield puzzle who could stabilize double-play partner and acclaimed rookie shortstop Alvin Dark. With 1947 league MVP Bob Elliott at third, sophomore sensation Torgeson at first, and a double-play combination of Stanky and Dark, Southworth felt he had a championship-caliber infield in place.
Several scribes questioned the value the deal held for the Dodgers while seeing it as strengthening one of their chief rivals for the pennant. Others wrote that now Rickey and manager Durocher could move 1947 Rookie of the Year Jackie Robinson from first base to his natural position of second, replacing Stanky, while improving the club's overall infield defense by inserting Sanders at first. "Sanders looks like the Sanders of old," Durocher said during spring training. "And if he still is when the season opens he'll be my first baseman." Durocher was also quoted, however, as saying he intended on keeping Robinson at first and inserting hotshot rookie Eddie Miksis at second to replace Stanky.
But Sanders was carrying a reported 12 or so extra pounds, which affected his quickness, and it was clear that his left arm still had not mended fully. Once Durocher and other Dodgers officials saw Ray wince after swinging at a pitch in a spring training game, he was returned to the Braves as damaged goods. Brooklyn received a $60,000 refund for its trouble.
"I started coming along pretty good in the spring," Sanders later recalled. "Rickey told me to take all the time I needed. 'It doesn't matter if it is June before you are ready to go,' he said. So I took it easy. The arm was quite stiff at first, and it hurt when I topped the ball or missed completely. But that was only natural after the layoff and operation. It wasn't long before I was playing three or four innings in the exhibition games and doing all right. I was getting my share of hits, too."
"Then all of a sudden I was put on the bench," he continued. "They just didn't use me any more, and no reason was given. I couldn't imagine what was wrong. I finally found out. Rickey had decided to send me back to Boston and take the cash. He gave me that 'old father' business, saying that if I were his son he wouldn't want me to play and jeopardize my arm. I don't know what he was talking about. A lot of doctors had examined my arm and said it was OK. They told me to go ahead and play, that everything was coming along fine. It really hurt when Rickey turned me back. Everyone values his opinion. So in the eyes of the baseball world I was washed up."
Manager Southworth was secretly pleased to have one of his favorite veteran ballplayers back, although few felt Sanders had much left to offer in terms of playing ability. On May 1, doctors in St. Louis who had been monitoring his rehabilitation pronounced him fit to play, though his elbow and arm clearly still were not at "95 percent". Nonetheless, he returned to the Braves as they set to play the Pirates in Pittsburgh on May 5.
The Braves, stacked with infielders, and especially first basemen, assigned Sanders to Buffalo of the International League on May 25 before he got into a major-league game. Sanders fought the assignment, and was re-assigned to Triple-A Seattle (Pacific Coast League) the next day, but his elbow and arm did not permit him to crack the stacked Seattle lineup. He was called back East to play for Hartford of the Class A Eastern League, where he could get enough playing time to determine whether he could help the Braves from the bench.
The Braves, battling for first place with the Dodgers and Cardinals, intended to recall Sanders on September 4 for the pennant stretch. He had hit .329 in 49 games for Hartford, demonstrating his trademark gap power with 17 doubles while driving in and scoring 24 runs. He had also already been through four previous pennant races, played in three World Series, and had seemingly healed sufficiently to recapture his batting stroke.
As fate would have it, on September 3, in his last scheduled game with Hartford, Sanders was hit in the head by a pitch. Sanders said he could tell the pitch was a fastball, but "just couldn't get out of the way" of it.
Doctors kept Sanders in the hospital for a week under observation, and it was not entirely clear that he had fully recovered when he reported to the parent club. Upon arrival, Ray promptly drove in the game-winning run in his first at-bat for the Braves on a bases-loaded pinch single in a game against the Phillies. "A clutch spot," said manager Southworth, "was a chance to restore the confidence of a guy who has power and heart." However, despite the auspicious return to the lineup, Sanders played sparingly, making four more unsuccessful pinch-hitting appearances down the stretch as Boston clinched the NL pennant.
Then came one more big shot. After center fielder Jim Russell was hospitalized late in September with rheumatic fever and outfielder Jeff Heath broke his ankle, Sanders was added to the World Series roster. "Ray is a great guy to have in your dugout," Southworth said. "He can hit the long ball for you and can hit left-handers as well as he does right-handers." Southworth was the only manager Sanders had played for in the big leagues, and rumors were flying that Sanders would play a significant role in the Series between the Braves and the Cleveland Indians. But rumors were all they were. His only appearance was as a pinch-hitter, for pitcher Nels Potter, and he ended Game Two by grounding out to the pitcher with Eddie Stanky at second. The Braves lost the Series to the Indians, four games to two; for his brief appearances during the regular season and the Series, Sanders received a one-quarter World Series share of $1,142.68.
Contrary to the reputation for "laziness" that may have preceded him, Sanders was determined to prove he could still play. He agreed to a contract with the Braves on the eve of spring training in 1949, and put forth a spirited battle with Earl Torgeson for the first base position after Southworth proclaimed that "all berths were open." Then, injuries once again took their toll. On March 30, after struggling with what he felt was a minor wrist ailment, Sanders was placed on the 60-day disabled list once the Braves determined that he in fact had broken his right wrist in an exhibition game. Upon his return on June 18, Sanders appeared in only nine games for the Braves the rest of the year, getting to the plate 21 times with four hits. In 1950 he was demoted to the Triple-A Milwaukee Brewers, and after a season in which he batted just .195 in 159 at-bats, he retired.
It was several years before Sanders connected with professional baseball again, attending a reunion of the 1942 World Series champion Cardinals on July 1, 1962, at Sportsman's Park. In 1966, he signed on as a scout for the Cleveland Indians, before ultimately retiring with his wife to the St. Louis area, scene of their youth and his greatest professional success. But the bad luck that plagued Sanders during his later playing career never quite left him. He suffered from a "weak heart," a malady that had kept him from serving his country in World War II and one that also kept him from attending the 40th reunion of the 1942 champion Cardinals in his hometown in 1982.
But Sanders left the game secure in the knowledge that he had earned a solid place in both Cardinals and baseball history. Immortalized in the 2002 David Finoli book For the Good of the Country as a true star of baseball's war seasons, he lived out his years in the company of his wife of 39 years, Bernice.
In October 28, 1983, Ray Sanders died as the result of an automobile accident in Washington, Missouri. He was 66 years old and was survived by his wife and two children.
Note
This biography originally appeared in the book Spahn, Sain, and Teddy Ballgame: Boston's (almost) Perfect Baseball Summer of 1948, edited by Bill Nowlin and published by Rounder Books in 2008.
Sources
Finoli, David. For the Good of the Country: World War II Baseball in the Major and Minor Leagues. (Jefferson, North Carolina: McFarland & Company, Inc., Publishers, 2002).
Heidenry, John and Brett Topel, The Boys Who Were Left Behind: The 1944 World Series Between the Hapless St. Louis Browns and the Legendary St. Louis Cardinals. (Lincoln, Nebraska: University of Nebraska Press, 2006).
Hirshberg, Al, The Braves: The Pick and The Shovel (Boston: Waverly House, 1948), pp. 190-91.
Phillips, John. The Story of Ray Sanders (Kathleen, Georgia: Capital Publishing, 2007).
SABR Baseball Encyclopedia
Articles (with author cited)
Broeg, Bob "Of Ray Sanders And Game He Loved." St. Louis Post-Dispatch, November 1, 1983.
Broeg, Bob. "The '42 Cardinals." Sport. July 1963.
By Pap. "Batting for Mize." Christian Science Monitor, June 25, 1942.
By Pap, "Taking Up Slack." Christian Science Monitor, June 29, 1945.
Conklin, Les. "Sanders Going Back To Braves?" Lowell Sun, April 14, 1948.
Dove, "With Malice Toward None, The Hartford Courant, September 11, 1948.
Eck, Frank. "Durocher Doubles-Decks Dodgers." Nashua Telegraph, April 10, 1948.
Golenbock, Peter, The Spirit of St. Louis (New York: Harper-Collins), p. 367.
McGowen, Roscoe. "Taylor Tests Arm At Dodgers Camp." The New York Times, March 10, 1948.
Rumill, Ed. "In the Dugout with Rumill: Hope Springs Eternal." Christian Science Monitor, April 16, 1949.
Rumill, Ed. "Sanders Battles Torgy For First Base Berth." Christian Science Monitor, April 6, 1949.
Rumill, Ed. "Big League Trades May Be Underway." Christian Science Monitor, April 16, 1946.
Rumill, Ed. "Card Developed Players Pacing Braves." Christian Science Monitor, May 14, 1946.
Smith, James F. "Southworth Counts on Sanders To Help Braves Down Stretch." Titusville (Pa.) Herald. September 17, 1948.
Newspaper articles without author bylines
"Ray Sanders." 1942 National League Green Book, page 55.
"Ray Sanders, Johnny Hopp Battle For Mize's Vacated Post." Hartford Courant, March 3, 1942.
"Sanders of Cards Married." The New York Times, December 27, 1943.
"Cardinal Defensive Skill Now Officially Recognized." Christian Science Monitor, December 12, 1944.
"Sisler Back At 1st for Cards." Reno Evening Gazette. April 16, 1946.
"Redbirds Lose to Si Johnson; Sanders Suffers Broken Arm." St. Louis Post-Dispatch. August 22, 1946.
"Ray Sanders Not Ready to Report for Training." Walla Walla Union-Bulletin. February 4, 1947.
"Ray Sanders Still Ailing." Lowell Sun, February 4, 1947.
"Ray Sanders to Be Out Of Action Indefinitely." Charleston Gazette. February 22, 1947.
"Cocky Rookie Making Good." Walla Walla Union-Bulletin. March 27, 1947.
"Brooklyn Trade Stanky for Sanders, Rowell." Charleston Gazette. March 7, 1948.
"Stanky Arrival Awaited By Manager Southworth." Christian Science Monitor. March 8, 1948.
"Braves — Dodgers Player Trade." Christian Science Monitor, March 8, 1948.
"Ray Sanders Sent Back To Braves." San Antonio Express. April 21, 1948.
"Sanders to Rejoin Braves Tuesday." Lowell Sun, May 1, 1948.
"Sanders, Post Optioned." Lowell Sun, May 20, 1948.
"Ray Sanders Is Assigned To Seattle of Coast Loop." Hartford Courant, May 26, 1948.
"Sanders, Due to Join Braves, Felled by Pitch." Lowell Sun. September 4, 1948.
"Ray Sanders Leaves Local Hospital Today." Hartford Courant. September 7, 1948.
"Ray Sanders Best in Clutch Says Bill Southworth; Big Help for Down the Stretch." The Era, Bradford, Pennsylvania, September 23, 1948.
"Ray Sanders To Sub For Jim Russell." Charleston (Pennsylvania) Mail.September 28, 1948.
"Ray Sanders Substitutes For Russell On Boston List of Eligibles In Series." Hartford Courant. September 28, 1948.
"Ray Sanders Accepts Braves Contract; Yankees Announce Yogi Berra In Fold." Hartford Courant. February 27, 1949.
"Sanders Out for Six Weeks." The New York Times. April 12, 1949.
"Ray Sanders Is Placed On Disabled List." Hartford Courant. April 16, 1949.
"Obituaries." The Sporting News. November 14, 1983, Vol. 196, Issue 20
"Police Reports: Traffic Fatalities, Franklin County." St. Louis Post-Dispatch. October 29, 1983.
St. Louis Cardinals Vintage World Series Film 1943, 1944, 1946 (A&E Television Networks)
www.baseball-reference.com
Born
December 4, 1916 at Bonne Terre, MO (USA)
Died
October 28, 1983 at Washington, MO (USA)
If you can help us improve this player's biography, contact us.
http://bioproj.sabr.org/bp_ftp/images3/SandersRay.jpg
600
800
admin
/wp-content/uploads/2020/02/sabr_logo.png
admin
2012-01-04 20:03:08
2012-01-04 20:03:08
Ray Sanders