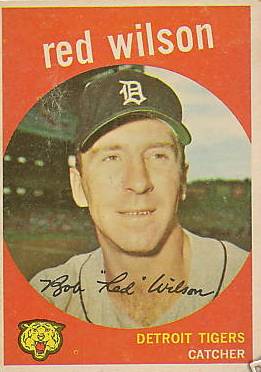 ---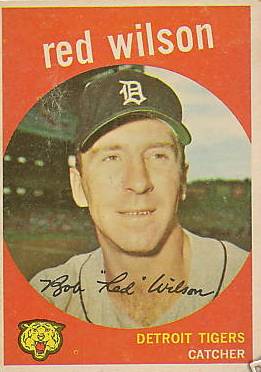 A Wisconsin hero on the football gridiron and the baseball diamond, Robert James 'Red' Wilson was a bright, talented, and dedicated student-athlete who later enjoyed a good major league career as a catcher for the Chicago White Sox, the Detroit Tigers, and, briefly, the Cleveland Indians from 1951 to 1960. One of the greatest athletes in the history of the University of Wisconsin at Madison, the onetime center-linebacker was inducted into the university's Athletic Hall of Fame in 1991. During his senior year he starred at end and won the Big Ten's MVP Award, earned a grade average of 2.9 on a scale of 3.0, and won the John Kress, Jr., Award as the most outstanding student, as an Accounting major in the School of Commerce. Catching for the Tigers, he achieved several memorable feats, including to bat .299 in 1958, the second highest mark that year for a catcher (Cleveland's Russ Nixon hit .301); to team with battery mate Frank Lary, Detroit's famed "Yankee Killer," for a career 16-3 record, with two no-decisions, against the New York Yankees, and to hit .354 in those 21 Yankee games, an average 96 points above his career mark of .258; and to catch Jim Bunning's no-hitter against the Boston Red Sox at Fenway Park on July 20, 1958.
Born on March 7, 1929, the son of James and Vesta Wilson, Bob, nicknamed "Red" because of his bright mop of auburn hair, grew up in Milwaukee playing sports, notably baseball. His parents, however, would not let their sons play football. In the summer before his freshman year at Washington High, Bob said he wouldn't go back to school if he couldn't play football. His parents relented, and the hustling Wilson, a late bloomer, competed at Washington in football, basketball, and track (the school did not field a baseball team). After playing three seasons as a reserve fullback, Red switched to center as a senior, became the regular, and won All-Milwaukee honors and All-State laurels. He also lettered in track and basketball, starting at guard on the hardcourt in his final season. As a senior on the team, Red, who turned sixteen in March 1945, won the state discus title with a throw of 160 feet and two inches, and he finished second in the shot put. However, he loved playing baseball. A right-handed batting catcher, he competed in the Stars of Yesterday League while in grade school and played in the junior American Legion and Cadet leagues in high school. Twice he became an all-star selection.
A skilled, versatile, and aggressive athlete, Wilson received football scholarship offers from Wisconsin, Purdue, and Northwestern. He picked Wisconsin, where he enrolled in the fall of 1946, along with dozens of players who were veterans of World War II. A reserve in his freshman year, he lettered all four seasons in football and baseball. Wilson earned many honors at Wisconsin, including being voted the team's Most Valuable Player during his last three seasons in football and MVP in baseball as a sophomore. Red played center and linebacker during his first three years on the gridiron. Coach Ivy Williamson, Wisconsin's new mentor in 1949, found his football eleven undermanned at the end position. The coach asked Wilson, a hard-hitting senior with a positive attitude and a good work ethic, to play offensive end as well as linebacker. Partly as a result, the Badgers fashioned a record of 5-3-1 and a league mark of 3-2-1, good for fourth place in the Big Ten. Standing 6'0″ and weighing 205 pounds, Wilson, a rugged 60-minute man, led his run-oriented team in pass receptions, again earned Wisconsin's MVP award, was voted to the All-Conference team for the second time (he was named All-Conference as a sophomore), and won the Big Ten Conference's 1950 Medal of Honor, the MVP award, which was an actual-size silver football.
According to baseball coach Art "Dynie" Mansfield, speaking in the spring of 1950, Wilson was a great athlete, a tough competitor, and an exceptional leader on and off the field. Mansfield called the 21-year-old Milwaukee star "everything a coach could want in an athlete." A gentleman off the field, Red became Wisconsin's regular catcher as a sophomore. He won the team's MVP award, leading the way in hitting with a .342 mark as the Badgers posted a 14-14 record. Missing six games in an injury-marred start as a junior, he made a good comeback, batting .426, but Wisconsin's diamond ledger fell to 8-17. As a senior, Red led the Badger nine to an overall record of 19-9 as well as a 9-3 finish in the Big Ten, earning Wisconsin a co-Big Ten Championship with Michigan. While being scouted by a number of major league teams, Wilson had his second straight .426 season, and his excellent receiving led Wisconsin to a spot in the College World Series in Omaha. In the double-elimination NCAA event, Wisconsin advanced by defeating Colorado State, 7-3, on June 15. Two days later the Badgers fell to Rutgers, 5-3. On June 19 Wisconsin defeated Red's future teammate Frank Lary and Alabama, 3-1, eliminating the Crimson Tide from the tournament. But the Badgers were ousted after losing again to Rutgers, 16-2, in the quarterfinals. Texas then defeated Rutgers and Washington State to win the 1950 NCAA baseball championship.
After the College World Series ended, Wilson signed a contract with the Chicago White Sox. Reflecting on that experience in a 2007 interview, Wilson said, "George Moriarty, a Tiger scout, followed me through the 1950 season, and he wanted to sign me. After the College World Series, he asked me to call Detroit's front office. I did, but they wouldn't accept the charges for a long-distance call. So I called Frank Lane, the general manager of the White Sox, because they also scouted me. Lane invited me to Chicago, and I signed a contract for the major league minimum of $6,000. They were in a hurry to get it done. We had no agents in those days."
The Sox sent Wilson to Waterloo, Iowa, of the Three-Eye League. The late start didn't faze the redhead, who hit Class B pitching at a .319 clip for 67 games. Showing power, he slugged 15 doubles, a pair of triples, and a career-best 11 home runs, eight of which he hit in the first 30 games. He also produced 42 RBIs. In a summary story about Red's collegiate background and his smooth adjustment to pro baseball, Henry J. McCormick, sports editor of the Milwaukee State Journal, quoted Waterloo manager Otto Denning as calling Wilson a "sure bet" to reach the majors. Asked how long it would take, Denning correctly predicted, "This season … and two more. He's ready for double-A ball now." Wilson was then hitting .367, and his defensive skills were good. Denning liked Red's strong wrists and bat speed as well as his excellent skills: "He has a strong arm, and he is fast," adding, "Very fast for a catcher."
Following the 1950 season, Wilson returned to Madison and the University of Wisconsin, completed his bachelor's degree in February, and departed for spring training with the White Sox. For 1951 Chicago sent him to Memphis of the Double-A Southern Association. Red enjoyed a good season, catching 82 games and averaging .327, with 11 doubles, three triples, four homers, and 30 RBIs. His strong performance with Memphis won him a late-season call-up. Wilson caught four games, hitting .273 with one double in 11 at-bats. In 1952 Chicago sent the good-hitting backstop to Seattle of the Pacific Coast League, which then held an open classification, leaving the PCL just a shade below the major league level. Still, Wilson came through with a fine season, helping the second-place Rainiers to a 98-82 finish, eight games behind the first-place Hollywood Stars. Proving his durability, Red played a career-high 155 games, hitting .297 in 562 trips, belting 32 doubles, nine triples, seven home runs, and producing a career-best 75 RBIs. He finished the season with Chicago, where he went hitless in three at-bats in two games.
The modest, friendly, and down-to-earth Wilson was in the major leagues to stay. In 1953, however, Chicago, managed by Paul Richards, fielded a solid lineup featuring the right-handed hitting Sherman Lollar behind the plate. Lollar, who averaged .287 with eight homers and 54 RBIs, owned the club's third highest average, following left fielder Minnie Minoso, who led the team with a .313 mark, 15 homers, and 104 RBIs, and reserve first sacker Bob Boyd, who hit .297 with three home runs and 23 RBIs in 165 at-bats. Still, Richards used the smooth-fielding Wilson when possible, and Red averaged .250 with 10 RBIs in 164 trips in his first full season. Richards' club fashioned an 89-65 record, good for third place in the American League, 11.5 games behind the perennial powerhouse Yankees. "I liked playing for the White Sox," Wilson recalled in 2007. "But Richards was a tough man to play for. He was cool, sometimes cold."
Chicago opened the 1954 season with Lollar behind the plate and Wilson as the backup. But on May 29, Red's career took a turn for the better when the White Sox traded him to the Tigers in return for veteran Matt Batts, a right-handed hitter who averaged .278 while catching a career-high 103 games for Detroit in 1953. Batts, the regular, had suffered an injury in Detroit's first game, opening the door for heralded prospect Frank House. Detroit, managed by Fred Hutchinson, was rebuilding after a terrible 50-104 season in 1952. In 1953 Hutchinson led the Tigers to a sixth place finish at 60-94. The Motor City club's "youth movement" featured such players as speedy right fielder Al Kaline, an 18-year old bonus rookie, shortstop Harvey Kuenn, twenty-three, a rookie from Wisconsin-Madison in his second season as a Tiger, southpaw Billy Hoeft, twenty-two, a Wisconsin native entering his third season with Detroit, and House. A left-handed batter who signed a $75,000 bonus contract after graduating from high school in Bessemer, Alabama, House made the majors briefly with the Tigers in 1950. Tall and strong at 6'2″ and 190 pounds, Frank spent 1952 and 1953 in the Army, but when Batts was injured, he became Detroit's catcher in 1954.
Actually, House and Wilson both filled Detroit's needs behind the plate. First, they gave the Tigers left-handed and right-handed batting receivers, allowing the manager to platoon them against opposing lefties or right-handed hurlers, a common practice during the era. Also, with the right field fence of Briggs Stadium 325 feet away down the foul line, Detroit had long sought a left-handed hitting catcher with good power who could launch home runs into the right field seats. The front office hoped House would fill that gap. Instead, he averaged .248 lifetime while hitting 42 homers as a Tiger (and 47 overall), before being traded to Kansas City after the 1957 season. Wilson hit for a higher career average, .258, and showed occasional power, although he hit fewer career homers, 24. Still, as a receiver, Red was a stabilizing influence on the pitchers, and he came through with timely hits. His first appearance for Detroit came in the second game of a Memorial Day doubleheader at Briggs Stadium. Red contributed a single, double, and walk, scoring one run and driving home another. The Badger star was off to a good start as a Tiger.
Besides House and Wilson in 1954, the Tigers fielded a good lineup. Youthful Al Kaline took over in right field from veteran Steve Souchock, and Kaline, who hit .276 and became a spectacular fielder, went on to a Hall of Fame career. Detroit also featured fleet Bill Tuttle, twenty-five, in center; veteran Jim Delsing in left; heavy-hitting Ray Boone, acquired in mid-1953 from the Cleveland Indians, at third base; singles-hitting Harvey Kuenn, who led the Tigers with a .306 mark, at shortstop; steady Frank Bolling, a rookie from Mobile, Alabama, at second base; and big Walt "Moose" Dropo, the former Red Sox slugger, at first. On the mound, the Tigers were led by right-handed veteran Steve Gromek, a former Indian who won seven of his first eight games and finally posted an 18-16 record with a 2.74 ERA, fifth best in the league. Also, Detroit's rotation included Ned Garver, a right-hander who went 14-11 with a 2.81 ERA; tall George Zuverink, the Holland, Michigan, right-hander who was 9-13 with a 3.64 ERA; and Billy Hoeft, the erratic lefty who was 7-15 with a 4.58 ERA. However, Detroit's bullpen staff, led by Al Aber, a 6'2″ southpaw with a 5-11 record, three saves, and a 3.97 ERA, and right-hander Dick Marlowe, who enjoyed a career-high 5-4 mark (5-2 in relief) with a 4.18 ERA and two saves, often proved inconsistent in the late innings.
Detroit started strong in 1954 and played .500 ball in May, before slipping later in the summer. Still, the Tigers improved to 68-86 and climbed into fifth place, one notch above the club's 1953 finish. Wilson, now in his second full season, started mostly against left-handed hurlers, batting .282 with a pair of homers and 22 RBIs in 170 at-bats. House, usually playing against right-handers (the two split catching duties in twin bills), batted .250 with nine four-baggers and 38 RBIs in 352 at-bats. Frank, nicknamed "Pig" (for big) as a youth, started strong, hitting over .300 by June, and his first 33 hits produced 17 RBIs from the eighth slot in the order. But Wilson, who kept improving, passed House in hitting as the season progressed.
After the season, Fred Hutchinson, who insisted on a two-year contract, was replaced by Bucky Harris. A longtime big league pilot who began his managerial career with Washington in 1924, Harris looked for an improved Tiger lineup, thanks in part to the addition of rookie right-hander Frank Lary, a hard-throwing former University of Alabama star with an excellent college record and a strong start in the minors. As it developed, Wilson often caught Lary, who turned out to be an anchor of Detroit's staff and, most notably, a standout performer against the Yankees (Lary was 28-13 lifetime against New York), the American League's best team in the Fifties.
The Lary-Wilson duo made an auspicious start in 1955. The first time Wilson caught the Alabama native came on June 8, when Lary–New York manager Casey Stengel called him "bulldog" for his tenacity–defeated "Bullet Bob" Turley and the Yankees, 3-1. Lary gave up one run on eight hits, walking four and striking out six, and Wilson went 0-for-2 with a walk and one run scored. For the season, the Lary-Wilson battery made two starts against the Yankees, and Lary emerged with a 1-1 mark. On June 16 at Yankee Stadium, Lary lost to New York and veteran lefty Tommy Byrne, 3-2. Lary worked 8.1 innings, yielding all three runs on eight hits and three bases on balls, while striking out five. Wilson caught and went hitless in four at-bats. On August 7, Lary pitched seven innings in the second game of a twin bill at Yankee Stadium. The Tigers lost, 3-2, but "Babe" Birrer lost in relief, while House handled receiving duties and went 1-for-4. On August 23, Lary topped the Yankees, besting Bob Turley, 7-1, and House had a 1-for-4 day.
Overall in 1955, Detroit spent much of the season's first half in fourth place and fashioned a record of 79-75, the team's first winning mark since 1950, while recording another fifth-place finish. The Tigers played exciting ball but trailed the pennant-winning Yankees by 17 games, despite scoring an AL-high 775 runs. The brightest star was Kaline, who led the league with a .340 average, belting 27 homers and contributing 102 RBIs. Ray Boone tied Boston's Jackie Jensen for the league's RBI lead with 114, and Ray batted .284 with 20 homers, while Harvey Kuenn, the leadoff hitter, batted .306 for the second straight year, adding eight home runs and 62 RBIs. The Tigers also featured an improved rotation, topped by Lary with a 14-15 mark and a 3.10 ERA. Ned Garver, a 20-game winner for the St. Louis Browns in 1951 who injured his shoulder in 1952, was 12-16 with a 3.98 ERA, while Billy Hoeft enjoyed a 16-7 season and Steve Gromek had a 13-10 mark. Once again, however, Detroit's Achilles Heel was the bullpen, as spot starters and relievers Duke Maas (5-6), Babe Birrer (4-3), and Al Aber (6-3) combined for 15 wins and only six saves. But the Bengal catchers played well. House batted .259 in 102 games (93 as catcher) and hit a career-best 15 homers while producing 53 RBIs. Wilson hit .289 in 78 games (all behind the plate), and he connected for two home runs and drove in 17 runners.
According to Detroit News columnist Watson Spoelstra, writing in The Sporting News for July 15, 1955, "Red Wilson deserves an assist in the conclusion that improved pitching has made Detroit a solid first division club." The Tigers' rotation of Lary, Garver, Gromek, Hoeft, and Maas was turning in more complete games. Also, Wilson proved to be a steadying influence, after moving from platoon duty to number one receiver by mid-summer, when his batting mark passed .260. He also became the regular catcher for Hoeft, who racked up 16 victories. Fellow Wisconsin baseball star Harvey Kuenn observed Wilson was looser in the shoulders, having played baseball, but no football, for five years. Added Red, "I do feel much looser this year but I believe this is because I'm playing regularly. This is my best break since 1952. That year I was in 155 games for Seattle (Pacific Coast) and I must have started 140 games."
In 1956 Harris' club again finished in fifth place, this time with an 82-72 record, thanks to Detroit winning at a .615 clip (48-30) following the All-Star break. Also, the Bengals featured four .300 hitters. Kuenn enjoyed his fifth straight .300 season, averaging .332 (ranking third in the league, behind Mickey Mantle and Ted Williams), hitting 12 homers and collecting 82 RBIs. Charlie Maxwell, the new left fielder who hailed from Paw Paw, Michigan, exploded onto the Motor City's baseball scene with a .326 average, fourth best in the AL, 28 home runs–a new record for Tiger left-hander hitters, and 87 RBIs. Kaline, an All-Star for the second year in a row, batted .314 with 27 four-baggers and a club-best 128 RBIs. Finally, the good-fielding Boone batted .308 with 25 homers and 81 RBIs. Lary led the pitching staff with his 21-13 record, Hoeft won twenty games for the only time in his 15-year career, going 20-14, and rookie right-hander Paul Foytack, pitching his first full season, went 15-13. Speaking in 2007, Wilson recalled that Hoeft developed a sinker in 1956: "Billy had a good fastball and a good curve, but he wasn't overpowering. When he developed the sinker, his third pitch, he won twenty games. But he also hurt his arm, and he was not as effective after that." Once again an inconsistent bullpen hurt the Tigers. Also, Gromek, nearing the end of his 17-year career, was 8-6, Garver, suffering arm problems, made three starts and posted a 0-2 mark, and second-year right-hander Duke Maas, who started seven times in 26 games, finished at 0-7 with a 6.54 ERA.
Regardless, Lary posted a 6-1 record (almost one third of his wins) against the Yankees, and with Wilson behind the plate, Lary stopped the Bronx Bombers won four times without a loss. On May 22 in Detroit, he hurled a complete game and edged the Yankees' ace southpaw, Whitey Ford, 3-2. Wilson swung the biggest Tiger bat, sealing the victory with his first home run of the year, a two-run shot into the lower left field seats in the ninth inning with Maxwell, who led off with a double, on third base. On June 1 at Yankee Stadium, Lary won again, this time hurling a complete-game 6-3 victory over Tommy Byrne, while Wilson singled in three trips. On July 18 in the Bronx, Lary pitched a complete game and outlasted lefty Mickey McDermott, 4-3, in the nightcap of a doubleheader. Wilson handled the receiving, singled, and scored a run in four at-bats. Finally, at Briggs Stadium on September 15, Lary defeated southpaw Rip Coleman, 6-2, as Wilson went 2-for-4 with a double and a run scored. For the season, Lary made seven starts against the Yankees, winning six times, and Wilson caught four of those starts, all victories, while hitting .333 with lefties on the mound for New York.
Reflecting on Lary's hurling in 2007, Wilson explained, "Frank Lary was a hard-throwing right hander, more of a power pitcher. He had a good curve and a good slider. He gave you a lot of good innings, and he was a tough competitor." The redhead, however, believed Lary could have won more games if he had more control: "Frank didn't cut the corners very well. He wasn't what I would call a 'control pitcher.' Most big leaguers can hit a good fastball, so you have to get it over the corners. But playing New York, Frank had a real desire to beat the Yankees, like we all did, because they were the best team in the league."
Watson Spoelstra summarized Wilson's value for the Tigers in an article for The Sporting News dated September 19, 1956. The Milwaukee native hit better during the first half of 1955, but in 1956 he reversed himself, hitting best in the season's second half. Everybody concerned hoped Red would bat well for the entire 1957 season, thus leaving the Tigers with few worries about catching. "Late in August, the stocky one-time Wisconsin football player took over the No. 1 catching job from Frank House," commented Spoelstra. "His timely hits for better distance than ever before won games for Detroit. With efficient glove work, he steadied the pitching staff at the same time into one of its best spurts of the season."
Wilson also participated in an oddball play against the Red Sox at Fenway Park, scoring from first base uncontested in a game that Lary finally won, 6-3, on August 28. With Detroit ahead, 4-0, in the sixth inning and Bill Tuttle on second base, Wilson, who was hitless in four at-bats but scored twice, poked a grounder up that middle that Milt Bolling fielded behind second base. Bolling threw home trying to nail the flying Tuttle, but umpire Frank Umont ruled him safe. Boston catcher Sammy White protested and, disgusted, heaved the ball into center field. According to the Chicago Tribune, Wilson "tiptoed" around the bases. Jim Piersall retrieved the ball and threw it back to the infield, but the Boston players, watching the argument, paid no attention. Red stepped around the umpire to score, as Umont was brushing off home plate. Manager Pinky Higgins joined the fray, arguing time was called. But Charley Berry, the umpire at first base, stated, "When White threw the ball into center field, it placed us in a position where we couldn't call time out." Wilson, playing heads-up ball, scored his most unusual run ever!
In late 1956 Wilson explained Lary's success, as the Alabama fastball ace went from his 14-15 ledger of 1955 to an AL-high 21 wins along with 13 losses. Notably, Frank pitched from behind the batters for most of the first half of 1956, going 4-10 through July 1, but he often pitched ahead in the count thereafter. Beginning with a 13-7 victory over the Indians on July 5, Lary turned in a 17-3 second-half performance. Speaking to Hal Middlesworth for The Sporting News following the season, Wilson credited the turn-around to a knuckleball Lary developed midway through the year. "Before he started using it," Red explained, "batters used to wait him out all the time. They knew what to expect–fastball, curve, slider–and about when to expect it.
"They're getting those pitches, but they know when Frank gets a couple of strikes on them, he's going to come in there with that knuckler. They don't want any part of it, so they start taking their cuts earlier now. Of course, that works to Frank's advantage another way. He can put a little more on the fast one and still have the knuckler as a threat in reserve. How can you beat it?"
After the season, Wilson, who had married his college sweetheart Vera Koepke on September 9, 1950, returned to his home in Madison, where the couple lived ten minutes from the University of Wisconsin's campus. The redhead continued his work as a freshman football coach, helping with the afternoon practices and spending the evenings with his family. It was Wilson's sixth season as an assistant coach for Wisconsin. "I live baseball in the summer," he remarked, "but I enjoy getting back to the old campus in the fall."
Further, Detroit's 1956 campaign had hardly been helped by off-the-diamond turmoil revolving around the sale of the ballclub. Before the season ended, a syndicate, headed by radio executives Fred Knorr and John Fetzer, purchased the team from the Briggs family. The front office soon named former coach Jack Tighe as the new manager, and the Tigers were moving forward. For 1957, with Kaline, Tuttle, and Maxwell in the outfield along with the veteran Boone at first base, Kuenn at shortstop, Bolling at second base, and either bonus rookie Reno Bertoia or Jim Finigan, obtained from Kansas City, at third, Detroit's regular lineup seemed to be set. Lary, Foytack, and Hoeft would anchor the Tigers' mound staff, while right-handed fastballer Jim Bunning, who spent much of 1955 and 1956 in the minors, was ready to join the rotation. Tighe had Wilson and House to catch, and by the end of spring training, the manager was again platooning them.
While the Motor City's hopeful fans again had great expectations, the Tigers started slowly, as several key players slumped early in the season. On April 26, 1957, the new owners shook up the front office by firing president "Spike" Briggs, son of the late owner. But Kaline and Kuenn continued to struggle at the plate, while Lary and Hoeft didn't win often. Finally, the Tigers began playing good ball in the second half of the season, paced by Kaline, who hit 17 of his 24 homers after the All-Star break and led the team with a .295 average and 90 RBIs. Bunning, in his first full season, compiled a fine 20-8 record, tying him for the AL lead in wins with Chicago's Billy Pierce. However, Foytack ranked second for Detroit with a 14-11 record, Lary finished at 11-16, Hoeft, with a sore arm, was disappointing with a 9-11 mark, and Maas went 10-14. Detroit ended with a 78-76 ledger, a full 20 games behind the pennant-winning Yankees.
Behind the plate, the House-Wilson tandem spent most of the season platooning, with House playing the most games, 106, and catching 97 contests. Frank batted .259, matching his career high set in 1955, but he produced only seven homers and 36 RBIs. Wilson played in a career-low 59 games, all as catcher, slipping to .242 with three home runs and 13 RBIs. As it happened, Lary, who was 4-11 by the All-Star break and did not record his fifth win until August 14, pitched mainly against right-handers when he opposed the Yankees. Thus, Wilson caught Lary in only two Yankees games. On July 16 in Detroit, Lary started and worked seven innings, but Foytack suffered the 10-4 loss. Facing right-hander Johnny Kucks, Wilson went 2-for-2 and scored one run in the losing effort. On August 26, also at Briggs Stadium, Lary and the Tigers beat Tommy Byrne, 5-2, and Wilson singled in four trips. Still, while Detroit climbed into the first division by finishing fourth, many Tigers, Wilson included, had disappointing seasons.
Seven weeks after the season ended, Detroit made a blockbuster 13-player trade with Kansas City, sending Frank House to the Athletics along with outfielders Bill Tuttle and Jim Small, pitchers Duke Maas and John Tsitouris, infielder Kent Hadley, and a player to be named later. In return, the Tigers received infielder Billy Martin, the former Yankee (who managed Detroit from 1971 through most of 1973), outfielders Gus Zernial and Lou Skizas, pitchers Tom Morgan and Mickey McDermott, and catcher Tim Thompson, a left-handed batter who got into only four games in 1958 before being sold to Toronto of the International League. On February 18, 1958, just before spring training, the Tigers made a four-player deal with the Indians, acquiring longtime catching stalwart Jim Hegan, a right-handed hitter who debuted in 1941 and averaged .228 in 17 seasons, and southpaw Hank Aguirre. The Indians received two players: rookie lefty Hal Woodeshick and onetime bonus prospect J.W. Porter, neither of whom blossomed in Detroit.
Wilson began as the club's third catcher in 1958, behind Hegan and Thompson, but the redhead kept working and improving. Finally, after hitting two of his season's three homers in early June, Wilson won the starting job from Hegan. Thompson was already back in the minors, and Hegan, who hit .192 in 45 games, was traded to the Philadelphia Phillies on July 27. Thus, the little-heralded Wilson, "Often Counted Out," noted The Sporting News on July 2, 1958, caught most of the remaining Tiger games.
Wilson enjoyed his finest year, batting .299 and missing the .300 mark only because he went hitless on the last day of the season. Red, who contributed three home runs and 29 RBIs, ranked fourth on the team in hitting, behind reserve flychaser and pinch-hitter Gus Zernial, who batted .323, Kuenn at .319, and Kaline at .313. The front office seemed stabilized with Spike Briggs gone and John Fetzer serving as chairman of the board. Also, Billy Martin, the longtime Yankee sparkplug, was expected to fire up the team on the field. Instead, Detroit played mediocre ball in April, as Kaline, hurting with assorted injuries, was hitting .196 by the end of the month. To make matters worse, Bunning and Hoeft were injured and out of the rotation, while Martin was limping with a torn leg muscle. In the end, the Tigers slid a notch to fifth place at 77-77.
Finally, Fetzer called a meeting of the team's top executives, and on June 10 they fired Tighe, replacing him with Bill Norman, manager of Detroit's Triple-A farm club, Charleston of the American Association. Also, the Tigers brought up infielder Ozzie Virgil, the team's first black player, who was hitting .293 for Charleston. On June 15 Detroit traded veteran Ray Boone, who batted .237 in 39 games, and rookie right-hander Bob Shaw (1-2 in 11 games) to Chicago for right-hander Bill Fischer (2-3 in 17 games) and flychaser Tito Francona (.258 in 41 games).
Shortly thereafter Norman's Tigers began playing inspired ball, climbing from the AL basement to second place on July 13. But lacking bench strength and good relief pitching, Detroit finished fifth. Lary, known as the Yankee-Killer, fashioned a 7-1 record against the Bronx Bombers, but only a 16-15 mark for the season. Wilson had a big hand in those victories, catching all but one of them–Lary's 3-2 win over right-hander Art Ditmar in New York on August 24. In that game, rookie receiver Charlie Lau, a left-handed batter who averaged .147 after being called up from Charleston in early September, rapped two hits and scored a run.
Catching Lary, Wilson, as usual, enjoyed good success hitting against the Yankees. Facing Whitey Ford in the Bronx on April 30, Lary won, 10-1, and Wilson contributed a two-run single in four at-bats. In Detroit on May 24, Lary outdueled veteran right-hander Sal Maglie, but Wilson went hitless in three trips. On June 15 at Yankee Stadium, Lary topped right-hander Don Larsen, while Wilson collected two hits in four trips and scored a run. On June 21 at Briggs Stadium, Lary outpitched Duke Maas, 1-0, while Wilson singled in two official at-bats. In his last three appearances as Lary's batterymate against the Yankees, Red contributed two hits in each game. On July 15 Lary lasted 7.2 innings but got the victory against right-hander Zack Monroe, 12-5. Eight days later the Alabama star worked the first six innings in Detroit against Art Ditmar but got hit hard, and Detroit lost, 16-4. Finally, on September 16, Lary defeated right-handed fireballer Ryne Duren in a complete-game 4-2 performance. The Yankees won another pennant, finishing 15 games ahead of the fifth-place Tigers, but Wilson hit New York's hurlers at a .385 clip, going 10-for-26 against the league's best staff.
Wilson's greatest highlight of 1958 came on July 20, when he caught Jim Bunning's no-hitter, a 3-0 victory against the Red Sox before 9,529 fans at Fenway Park. Bunning, mixing his fastball, curve, slider, and changeup (he threw 132 pitches, mostly fastballs), fanned twelve Red Sox, but missed a perfect game by walking two batters and hitting Jackie Jensen on the arm. In the ninth, the Kentucky right-hander, who would hurl a perfect game for the Philadelphia Phillies in 1964 and finish with a Hall of Fame career, struck out Vern Stephens and Ted Lepcio before wrapping up the gem by retiring Ted Williams on a high fly to Al Kaline in right. Wilson, who handled the receiving, stroked a single in four trips.
In 1959, the Tigers again had high hopes in spring training, especially after a number of trades apparently improved the club. Billy Martin, who hit .255 in 131 games, did not prove to be the shortstop Detroit needed, and Martin moved on to Cleveland along with pitcher Al Cicotte (3-4 with a 4.06 ERA in 1958). The Tigers acquired two good hurlers, right-hander Ray Narleski and southpaw Don Mossi, both of whom could start or pitch well in relief. Also, infielders Reno Bertoia and Ron Samford plus outfielder Jim Delsing (who had spent three seasons in the upper minors) were traded to the Washington Senators for third sacker Eddie Yost, shortstop Rocky Bridges, and outfielder Neil Chrisley. Yost and Bridges would strengthen the left side of the infield, and at first base the Tigers had team home run leader Gail Harris (.273 BA, 20 HR, 83 RBIs in 1958) and at second the productive Frank Bolling (.269 BA, 14 HR, 75 RBIs). Further, Detroit traded Tito Francona to Cleveland for slugging outfielder Larry Doby, the AL's first black player in 1947 and a popular star with the Indians who was inducted into the Hall of Fame in 1998. The aging Doby, a seven-time All-Star who made his last appearance in the mid-summer classic in 1955, banged out 253 career homers, but he batted only .218 with no four-baggers before the Tigers sold him to the White Sox on May 13. Finally, the front office hired former catcher and later Hall of Famer Rick Ferrell as general manager, after John McHale resigned and took a similar position with the Milwaukee Braves.
But instead of roaring, the Tigers again stumbled, losing fifteen of their first seventeen games in 1959. The bad start led Fetzer and Ferrell to fire Bill Norman, the "wonder boy" of the Tigers' second-half resurgence in 1958, and to hire 62-year-old Jimmy Dykes, who played 22 years in the major leagues as an infielder and later served 17 years as a manager. In a story now virtually legendary among Tiger fans of the Fifties, Dykes took Charlie Maxwell off the bench and returned him to his left field position, switched Doby to right field, and sent perennial All-Star Al Kaline to center. Kuenn, normally the center fielder, was injured and out of the lineup after being hit on the elbow. In a doubleheader against the Yankees at Briggs Stadium on Sunday, May 3, Maxwell responded with his greatest day ever, going 5-for-7 with four home runs, three in the second game, and eight RBIs. Actually, "Paw Paw" belted four homers in four successive official at-bats (he walked in his second trip in the nightcap), matching a big league record set by Bobby Lowe in 1894 and tied by six modern players, the last being Ted Williams in 1957.
On May 3rd Lary won the first game, 4-2, scattering eight hits and benefiting from Maxwell's run-scoring single and solo homer. Both New York runs were unearned, as Kaline, chasing starter Bob Turley's a short fly in right center, collided with Doby in the second inning, allowing both runners to score. Lary upped his career mark against the Yankees to 17-5, and Don Mossi won the nightcap, 8-2, also spacing eight hits. But Maxwell's "Sunday Punch" of a solo shot, a two-run homer, and a three-run blast was Detroit's big story of the sunny May afternoon. Wilson, who often caught Lary against the Yankees, handled the second game for Mossi, as Lou Berberet, a left-handed batter acquired in a trade with Boston on December 2, 1958, worked the opener against Bob Turley. Also, Wilson singled twice in four trips and knocked in one run.
By late June, the Tigers had won 32 out of 46 games since Maxwell's heroics on May 3, climbing within half a game of first place. But injuries hampered Detroit later in the season, and while Kaline and Kuenn battled each other all year for the league's hitting title, the Tigers finished in fourth place, 18 games behind the pennant-winning White Sox. The Tigers' 76-78 ledger, the club's worst record in five years, led to further changes, including the hiring of flamboyant Bill DeWitt as general manager and the usual round of offseason trades.
Wilson enjoyed a solid season behind the plate and at bat in 1959, hitting .263 with four home runs and 35 RBIs. However, Dykes, like his Tiger predecessors, usually chose to platoon Wilson with Berberet, who played 100 games (he caught 95) while batting only .216. Still, Lou slugged 13 homers and produced 44 RBIs, and Tiger managers were always looked for more run-producing hitters. Detroit's big guns were Kuenn, who topped the AL with his .353 mark and hit seven homers while amassing 71 RBIs, and Kaline, who finished second in the league with his .327 average while belting 27 home runs and producing 94 RBIs. Maxwell enjoyed a stellar season, averaging .251 but slugging a career-best 31 homers and adding a team-high 95 RBIs. Mossi led the staff with his 17-9 record and 3.36 ERA, while Lary and Bunning equaled his production with 17 wins each. Foytack, the fourth starter, endured an up-and-down year, finishing with a 14-14 record out of an AL-high 37 starts. Billy Hoeft was traded after pitching two games, and Ray Narleski, working mostly out of the bullpen, went 4-12 with a league-best seven saves in his final season.
In 1960, his last year, Wilson again shared the catching duties with Berberet, but it was an unsettling season. Bill DeWitt, ever the trader, made a good move when he shipped infielder Steve Demeter to the Indians for first baseman Norm Cash, who hit. 286 with 18 homers and 63 RBIs in 1960 and, the following year, won the 1961 batting title with a .361 mark. DeWitt's biggest deal came just before the opener, when he swapped batting champion Harvey Kuenn to the Indians for the 1959 home run champ, flychaser Rocky Colavito, who belted 42 round-trippers while batting .257 with 111 RBIs. It was the major leagues' first-ever trade of a batting title-winner for a home run champion. Regardless, the Tigers won their first five games, dropped ten straight, and later finished with a 71-83 record. Even Kaline worried about being traded. Finally, on August 6, with the Tigers mired in sixth place, DeWitt further surprised the baseball world by swapping managers, acquiring Cleveland's Joe Gordon for Detroit's Jimmy Dykes. By then Wilson was gone. On July 26 Red was sent to the Indians in a three-team waiver deal along with Rocky Bridges, and Detroit obtained Cleveland catcher Hank Foiles and Kansas City receiver Harry Chiti. Remarked DeWitt, "We got Foiles for his glove and Chiti for his bat."
Wilson, who averaged .216 in 45 games with Detroit and .216 in 32 games with Cleveland, called it a career after the 1960 season. Talking baseball in 2007, Red, retired after spending twenty-five years as a loan officer and then bank president in Madison, called his .299 season in 1958 the most satisfying. "But most catchers don't hit for a high average, because catcher is the toughest position to play. You are in on every play of the game, and you have to call the game."
Married in September 1950, Red and Vera lived in several places, but usually they rented a house in Detroit during the summer and lived in Madison during the offseason. The couple had three children: Daniel, Jean, and James. "When I played for the Tigers," Wilson recollected, "Detroit was a nice place to live, and the Tigers had good fans. The newspapers and the radio stations gave the Tigers great coverage." As it developed, Red spent most of his career playing platoon ball. "Sure, I would have liked to hit for a higher average and made an All-Star team," he said, "but baseball has been very good to me."
Wilson's favorite memories include catching Jim Bunning's no-hitter against Boston in 1959, leading the Tigers in stolen bases with ten in 1958, and hitting a two-run homer to help Frank Lary beat the Yankees, 3-2, in 1956. The one-time Big Ten MVP showed more athletic skills than most catchers. He was aggressive but dependable behind the plate, at the bat, and on the bases–as seen when he scored from first base during an argument against the Red Sox in 1956.
A former gridiron standout who remains one of the best players in the history of Wisconsin-Madison, Bob "Red" Wilson enjoyed a first-rate major league career as he called the games from behind home plate. He was the kind of talented, hard-working, sensible hero who inspires fathers and youngsters alike to attend ball games and–seeing the game played the way it is supposed to be played–dream about being on the field too. "Most of all," the catcher, banker, and Wisconsin alumnus reflected, "I was fortunate enough to have the opportunity to play major league baseball against some of the best players of all time. I played in the major leagues when baseball was really fun."
Acknowledgements
Gary Fink, longtime SABR member, helped with the research for this article, including information about Wilson and the 1950 College World Series. Also, with Gary's help, I compiled a table showing all of Frank Lary's games pitched against the New York Yankees and data for each game, including the catcher's batting stats. I created the table to help with the writing of my article on "Frank Lary" for SABR's BioProject, and that information proved useful for Wilson's role in those games. See http://bioproj.sabr.org/bioproj.cfm?a=v&v=l&bid=1955&pid=7989. Also, Ray Nemec, another longtime SABR member, provided Wilson's minor league stats.
Sources
Books
Baseball Encyclopedia. New York: Macmillan Publishing, Ninth edition, 1993.
Baseball America, Inc. The Encyclopedia of Minor League Baseball, second edition, 1997.
Smith, Fred T. Tiger S.T.A.T.S.: Statistics, Trades, Alumni, Trivia, Stories. Ann Arbor, MI: Momentum Books, Ltd., 1991.
Articles
The Sports Information Office at the University of Wisconsin at Madison provided copies of several stories from the Wilson file, including two columns by Henry J. McCormick, "Playing the Game," not dated, from the Wisconsin State Journal, one from 1949 and another from 1950; Bob Wolf, "Major Scouts on Star's Trail: Milwaukee Lad Wrote Records which May Stand for Years," n.d. [spring, 1950]; "Coach Williamson Presents Honor to Another Famous Badger Hero," n.d. [1950]; "Bob Wilson ** One of Wisconsin's Greatest Athletes," press release, n.d. [June, 1950]; University of Wisconsin / Athletic Hall of Fame, Induction Ceremony, April 26, 1991; and "The Best Player I Ever Coached," by Ivy Williamson, n.d. [1951].
Watson Spoelstra, "Detroit Gives Full House to House in Batts-Wilson Deal", The Sporting News, June 9, 1954, p. 8
Spoelstra, "Wilson Catching Posies for Tigers' Twirling Step-Up," The Sporting News, July 15, 1955, p. 8
Louis Effrat, "Tigers Topple Yanks on Wilson's Homer in Ninth / Two-Run Wallop Beats Ford," New York Times, May 23, 1956
"[Wilson] 'Tiptoes' Home as Tigers Beat Red Sox, 6 to 3," Chicago Tribune, August 29, 1956
"Red Wilson Circles Bases as Bosox Squawk to Arbiters," The Sporting News, September 5, 1956, p. 24
Spoelstra, "Tigers Look Past 1956, See Better Hurling, Catching," The Sporting News, Sept. 19, 1956, p. 17
Hal Middlesworth, "Lary Started Soaring on Butterfly Ball," The Sporting News, November 21, 1956;
1957: Spoelstra, "Disappointed Tiger Bosses Plan Changes," The Sporting News, August 14, 1957, p. 22
1958: Spoelstra, "Foytack and Hoeft Help Steady Tigers in Hill Balancing Act", The Sporting News, May 7, 1958, p. 9
Spoelstra, "Kaline Shakes Off Slump, Helps to Put Bounce in Bengals," The Sporting News, June 4, 1958, p. 4
"Tigers Thick-Legged Wilson Contender in A.L. Thefts Race," also The Sporting News, June 4, 1958, p. 4
Spoelstra, "Uphill Pull to .500 Mark, Tighe's Aim on Tiger Trip," The Sporting News, June 11, 1958, p. 10
"Wilson Often Counted Out, Again Bengals No. 1 Catcher," The Sporting News, July 2, 1958, p. 6
Middlesworth, "Bunning Was Gunning Early for His No-Hitter," and "Battery With Game-Ending Ball," The Sporting News, July 30, 1958, pp. 13-14
Spoelstra, "Third Base Looms as New Tiger Spot in Martin's Future," The Sporting News, Aug. 6, 1958, p. 14
Spoelstra, "Harris Stretches His Spring-Hitter Label to Autumn," The Sporting News, Sept. 10, 1958, p. 7
1959: Spoelstra, "Parade of Pilots Picks Up Speed in Tigertown," The Sporting News, May 13, 1959, pp. 5-6
"Charlie Maxwell" on Bio-Project: http://bioproj.sabr.org/bioproj.cfm?a=v&v=l&bid=1424&pid=9009
1960: "Bengals Obtain Chiti and Foiles," The Sporting News, August 3, 1960, p. 15
Online
Baseball-reference.com has game logs for all pitchers starting with 1957 season, and stats on all major leaguers.
Paper of Record has a number of newspapers archived and indexed, including The Sporting News from 1886-2003. See: http://www.paperofrecord.com/default.asp
Interview
Bob "Red" Wilson, June 26, 2007
Photo Credit
The Topps Company
Born
March 7, 1929 at Milwaukee, WI (USA)
Died
August 8, 2014 at Fitchburg, WI (USA)
If you can help us improve this player's biography, contact us.
http://bioproj.sabr.org/bp_ftp/images2/WilsonRed.jpg
600
800
admin
/wp-content/uploads/2020/02/sabr_logo.png
admin
2012-01-04 20:30:31
2012-01-04 20:30:31
Red Wilson